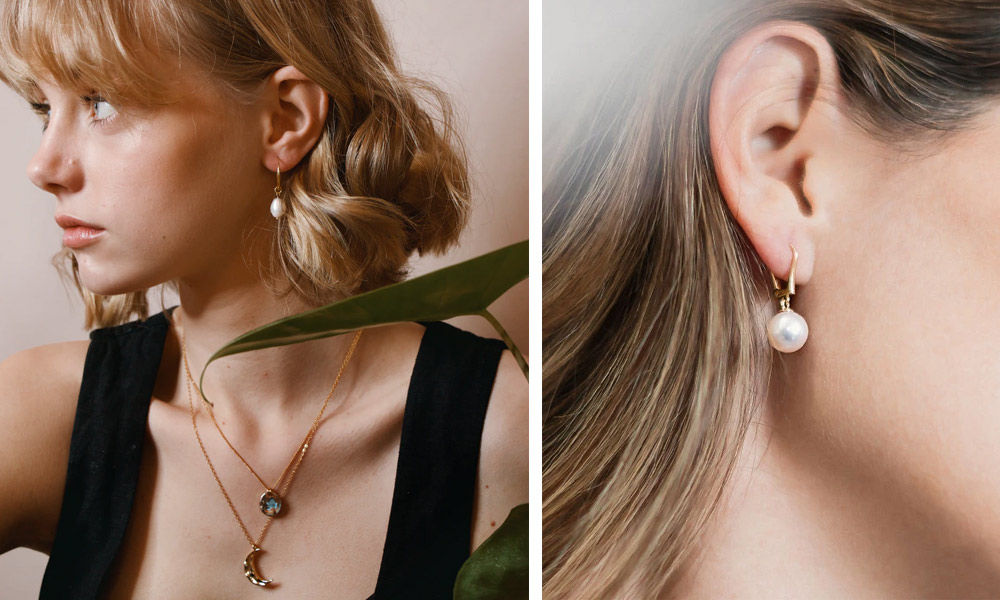 From necklaces to watches, there are a few timeless jewelry items that every jewelry box should contain. These things help create a unique fashion sense and make it easy to get ready when going out.
Below is a list of jewelry items every woman must add to their collection.
Photo by KYLE CUT MEDIA from Unsplash
Necklaces
Pearl necklaces
Pearl necklaces are an absolute classic. They can make you look casual when you need to, and you can also use them to dress up and look elegant. For some women, a single-strand pearl necklace is a perfect accessory when dressed for a formal event.
Having a pearl necklace is almost as necessary as having a little black dress, and they complement each other perfectly. Visiting a pearl jewelry store can feel like heaven with so many different choices, from one-string to multiple-string necklaces, that can be ideal for an anniversary dinner, graduation, or a job interview.
Pendant necklaces
If you want to avoid eye-catching jewelry then small pendant necklaces are the way to go. Very often you can see women wearing a simple necklace with a small pendant in the shape of a diamond, pearl, or other items that have meaning. These are also a classic among gifts for graduations or anniversaries.
The pendant can be the piece that stands out while the chain blends in with your complexion as well as the rest of your outfit. These days personalized pendants are becoming more popular either in the shape of the person's name, or a word of their choice.
Long necklaces
The next classic jewelry piece you must have is a long necklace. The options are endless, from long-chain necklaces to a string of pearls or other precious stones that hang below the collar. These types of necklaces are a great addition to tops with high necklines or simple outfits.
Long necklaces can be eye-catching without being over the top, and can easily be paired with other jewelry pieces like earrings or a ring. One of the best classic styles is a combination of jeans with a white or black t-shirt paired with a long necklace.
Earrings
Pearls earrings
Pearl earrings are simple yet elegant however you choose to combine them. They are a classic and add a little diversity to your everyday fashion style. Compared to diamond earrings, pearls make you look more low-key and relaxed if that's the style you tend to go for.
Stud pearl earrings add an easy touch of sparkle and can be worn for any occasion whether it's to the gym or an elegant evening dinner party. You can use your pearl earrings regularly as a cool touch to your look.
Diamond earrings
Diamond earrings are an example of a typical must-have jewelry item as they are elegant, timeless, and add sparkle to any outfit. Instead of owning an expensive diamond necklace, opt for diamond earrings since they go well with any outfit, and will make you look classy but still chic.
They shine in the spotlight and will make you look absolutely beautiful for family events or special dates. If you don't feel like accessorizing for an event, putting on simple stud diamond earrings is enough of a fashion statement.
Hoop earrings
These days hoop earrings are becoming more and more popular. They come in different shapes and sizes and can be made of any material including diamonds. Matching them with other jewelry will never be a problem since they go well with everything.
Hoop earrings can be the perfect accessory for work or a night in the town. They are a classic style that delivers a subtle attitude. Whether big or small, they will make a statement without being over the top.
Photo by Joeyy Lee from Unsplash
Bracelets, rings, and watches
Some people prefer to wear rings as a simple accessory to complement their look. And if you're not much of a bracelet person, small and simple rings are the look for you. If you love wearing bracelets then you'll love wearing watches.
Combining the two can look quite interesting and unique. You can wear bracelets for any occasion whether a simple tennis bracelet or a pendant one. Some women prefer to wear them for special occasions while others have a few they never take off.
Final thoughts
If you don't have some of the items mentioned above, now is the time to expand your jewelry collection and add a few new pieces from the list. Bear in mind that the jewelry you buy has to go well with your wardrobe to create the best outfit pairings. Just remember to try something new from time to time. Subscribe to get more fashion tips on herstylecode.com!