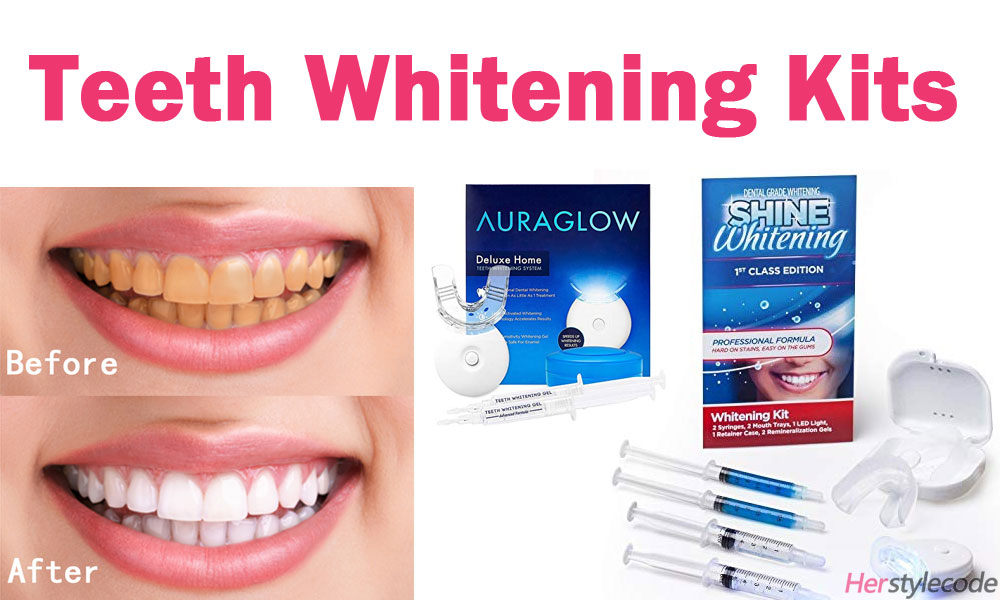 Your smile is one of the most important parts of your appearance. People with dull, yellowed, or stained teeth are generally considered less attractive than people who have bright, white smiles to show off. If your teeth are yellow, dull, or stained, that's normal. The natural color of teeth is slightly yellow, and many foods and products stain your teeth. However, that doesn't mean you have to live with teeth that make you want to hide your smile from the world.
Everyone deserves to be proud of their smile. Brighten and whiten your teeth with one of these top-quality teeth whitening kits. These five teeth whitening kits are all different. Some are made with all-natural ingredients, while others use bleach or light-activation whitening technology. However, one thing that all of these teeth whitening kits have in common is their safety and effectiveness. These kits won't strip your enamel or make your teeth more sensitive, but they will noticeably whiten your teeth more quickly and affordably than any professional teeth whitening treatment.
1. Active Wow Teeth Whitening Natural Charcoal Powder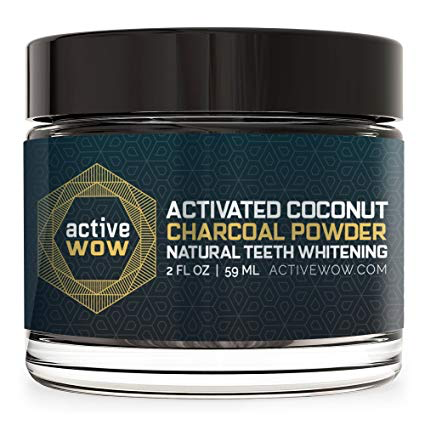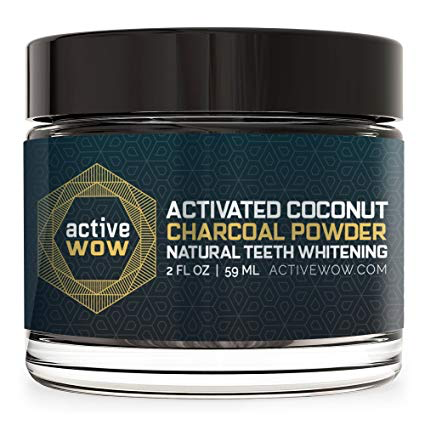 Whiten your teeth the natural way with this natural teeth whitening charcoal powder. This teeth whitening powder is made with all-natural, high-quality ingredients. It is formulated without any of the bleach or other harsh chemicals that are found in many dental-grade teeth whitening kits. You will notice visible whitening results after using this powder just one to two times. You can safely use the powder up to two times per day without worrying about sensitivity or nerve pain.
The blend of active whitening ingredients this powder includes is completely natural and very gentle on your teeth. These ingredients include bentonite, orange seed oil, and organic coconut activated charcoal powder. Bentonite has a high mineral content that remineralizes your teeth and promotes healthy gums. Orange seed oil is an antiseptic, anti-inflammatory substance that improves your dental health as it naturally whitens. Coconut activated charcoal powder effectively pulls stains from your teeth and naturally whitens and brightens your smile.
Pros
Made from a blend of all-natural ingredients
Does not include any harsh chemicals or harmful ingredients
Protects your gums with gentle whitening
Purifies and detoxifies your mouth to improve your dental health
2. Crest 3D Professional Effects Whitestrips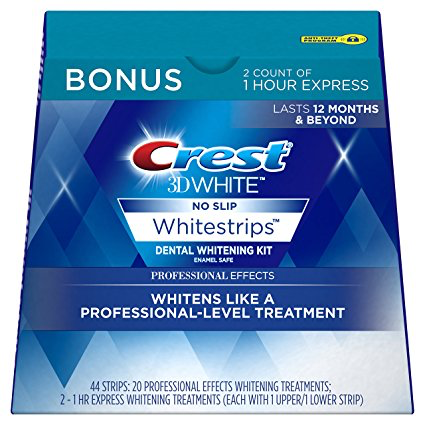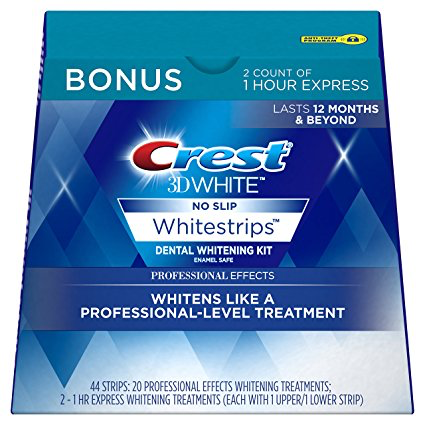 Using at-home whitestrips is one of the most affordable and convenient ways to whiten your teeth, and these whitestrips are some of the most effective on the market. After just a single one-hour treatment, you can enjoy a noticeably brighter, whiter smile. These whitestrips whiten the natural shade of your teeth and remove years of stain build-up that many other teeth whitening kits can't eliminate. Apply one strip daily for one hour to achieve the most noticeable results.
These whitestrips are extremely easy to use. Just open the individual whitestrip package, peel the strip off its protective backing, and press it firmly against your teeth. If you want to whiten on the go, just stick a whitestrip in your pocket or purse to get a brighter, whiter smile wherever you are. Don't worry about looking or sounding silly with these white strips in your mouth. They are designed to be completely invisible and allow you to talk and drink water normally. No one will notice you're wearing them if you don't tell them.
Pros
Whitens your teeth after just one use
Takes only one hour to whiten
Removes stain build-up for a brighter smile
Looks invisible to allow you to talk and go out in public while wearing a whitestrip
3. AuraGlow Teeth Whitening Kit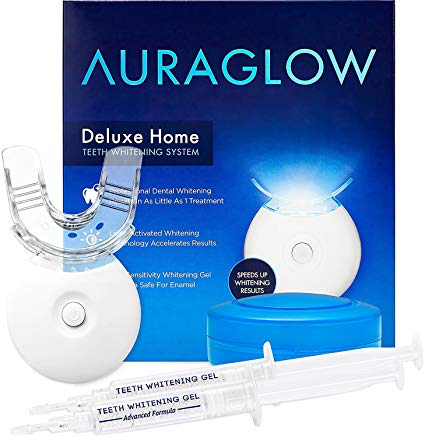 Light-activated whitening is the new teeth whitening method that is replacing harmful bleaching trays and expensive in-office professional whitening treatments in many people's teeth whitening routines. This light-activated teeth whitening kit comes with a mouth tray, dental-grade teeth whitening gel syringes, and a special LED light. When you insert the gel-filled trays in your mouth and turn on the light, the light activates the gel to speed up the whitening process and give you pearly whites in thirty minutes or less.
Unlike other methods of teeth whitening, this light-activated teeth whitening kit does not increase tooth sensitivity or cause nerve pain or other discomfort. In fact, it is even good for your teeth and helps keep them clean and healthy. As the LED light and teeth whitening gel work together to whiten your teeth, they also help remove sticky, harmful plaque from the surface of your teeth while leaving your protective enamel intact.
Pros
Offers effective light-activated whitening
Takes only thirty minutes per day
Helps remove plaque without stripping enamel
Does not contribute to pain or sensitivity
4. Natural Teeth Whitening Charcoal Powder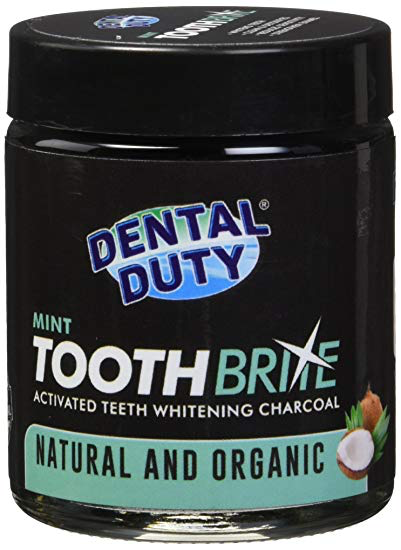 In addition to whitening your teeth, this teeth whitening powder also cleans your teeth as it whitens. Its blend of natural and organic ingredients effectively cleans your teeth and keeps your teeth and gums healthy without the harmful chemicals that can be found in many brands of mainstream non-natural toothpaste. If you want to stick with the toothpaste you have, you can safely use this powder as a whitening agent only in addition to your regular toothpaste.
It is formulated with exclusively natural ingredients that won't strip the protective enamel off your teeth or increase your sensitivity and nerve pain. It does not include any chemicals, artificial colors, artificial flavors, hydrogen peroxide or any other bleaching ingredient, surfactant, fluoride, or GMOs. Orange seed oil, activated coconut charcoal, peppermint, and baking soda are the active natural ingredients in this teeth whitening powder. These ingredients whiten your teeth effectively without any of the harsh chemicals that are present in most professional bleach-based whitening kits.
Pros
Made with 100% natural and organic bleach-free ingredients
Works as a replacement to toothpaste or in addition to toothpaste
Does not cause nerve pain or sensitivity
Whitens without stripping tooth enamel
5. Shine Whitening Teeth Whitening Kit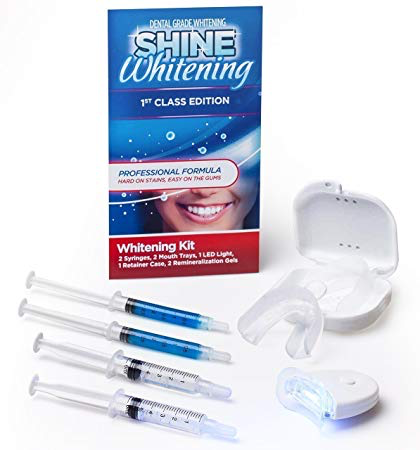 Achieve the pearly whites you associate with professional whitening treatments at home for a fraction of the price you'd pay at a dentist's office with this teeth whitening kit. It whitens your teeth using carbide peroxide gel-filled trays, but you don't have to pay for a tray that molds specifically to your mouth. Instead, the thermoform trays included in this kit effectively adapts to any mouth size and shape and molds itself to your teeth for a perfect fit. Just one of these teeth whitening kits includes twenty whitening gel syringes for twenty treatments. It also includes a shade chart that helps you track how many shades your teeth whiten over time with regular use of this kit.
Unlike many other teeth whitening kits, you don't have to keep these whitening trays in your mouth for hours on end. It takes less than fifteen minutes a day to whiten your teeth with this teeth whitening kit. If you have sensitive teeth and want gentle whitening, keep the trays in for five minutes. For more visible whitening results, wait for a full fifteen minutes before removing them. Not only does this quick daily treatment take less time out of your day, it also prevents pain and sensitivity and keeps your teeth consistently whiter for a longer period of time since you don't take long breaks between whitening sessions.
Pros
Whitens in fifteen minutes or less per day
Contains 35% dentist-grade carbide peroxide gel
Adapts to your mouth size and shape with flexible thermoform trays
Comes with a shade chart that helps you track your whitening progress