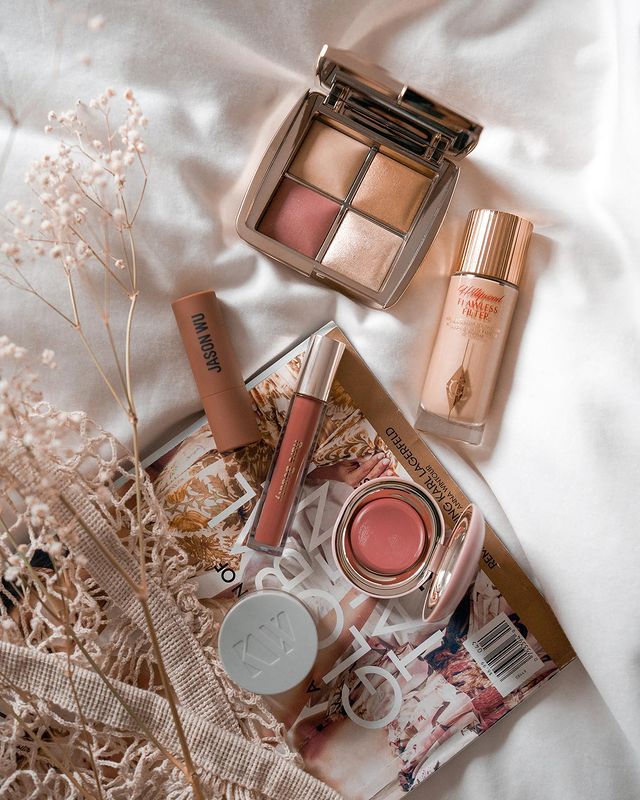 Bronzer and highlighter are currently two of the trendiest products on the makeup market. Both of these makeup products have become much more popular in recent years as makeup trends have shifted toward bronzing and highlighting your skin to enhance your facial features and give your skin a warm, dewy, and glowing finish.
Highlighter has a shimmery finish that makes your face look brighter. Some highlighters are more shimmery than others; certain highlighters have almost-matte finishes and add very subtle brightness to your face. The bronzer comes in either matte or shimmery finishes. It adds warmth and a glowing finish to your skin and lends more depth to your facial features.
You can use bronzer and highlighter in many different ways. Some women wear either bronzer or highlighter, while others wear both at the same time. Whether you're new to the world of highlighting and bronzing or are a seasoned professional looking for some extra tips and tricks, keep reading for tips on how to use bronzer and highlighter to get the best results for your skin.
1. Choose Your Products Carefully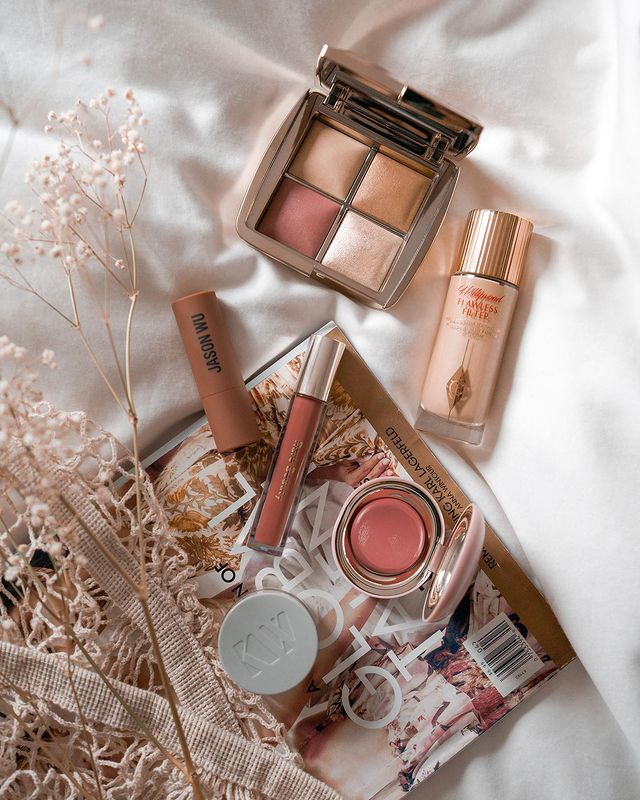 There are hundreds of bronzer and highlighter products available on the mainstream makeup market. Almost every major and even most smaller makeup brands sell a wide selection of bronzers and highlighters. Bronzers and highlighters come in many different forms: powder, cream, and liquid are the three most popular types of bronzer and highlighter products.
If you are a beginner when it comes to bronzing and highlighting your skin, a powder palette is likely the perfect choice for you. Powder highlighters and bronzers are the easiest forms of bronzers and highlighters to apply, and you can build them up to the intensity of your choice with ease.  With bronzer and highlighter powder products, you can effortlessly create both subtle and dramatic looks by starting with a little bit of product and building it up to your desired level of intensity.
Cream highlighters and bronzers are best for women with normal to oily skin. These cream products can be somewhat tricky to use, but when used correctly they give your skin lovely warmth and a subtle dewey finish that doesn't look sparkly or glittery. Cream bronzers and highlighters are also ideal for women with aging skin who are hoping to add a soft and supple finish to their skin.
Liquid highlighters and liquid bronzers have their own advantages and disadvantages as well. Glowing liquid formulas are best for normal to dry skin types, because they add hydration to your skin and give it a supple finish. You can also blend liquid highlighters and bronzers with your moisturizer or makeup primer for all-over warmth and glow. Like cream products, however, liquid highlighters and bronzers are not usually recommended for beginners because they can be frustrating to apply with the right intensity.
2. Get Your Shade Right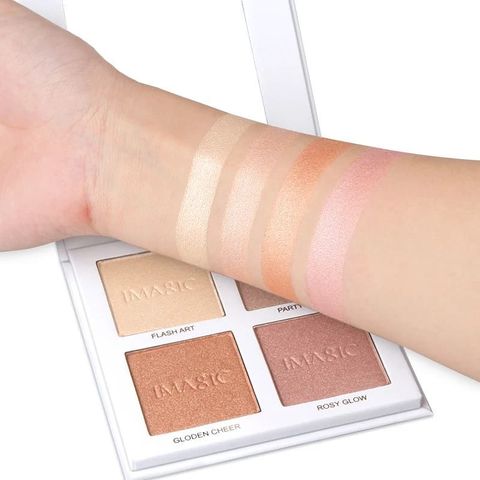 Just like foundation or any other skin makeup product, getting your shade right is one of the most important parts of applying bronzer and highlighter in a way that looks natural and helps you avoid an overdone clown-like look for your face.
It can be difficult to find the right shade of bronzer for very light skin because darker shades of bronzer look way too intense against fair skin. Fair skin tones pair best with light tan bronzers with warm, peachy tones. Shimmery and metallic bronzers are easiest to use on fair skin tones because their effect tends to be less severe than that of matte bronzers, and you can add more warmth to your skin with a lighter shade of shimmery bronzer. Medium skin tones are complemented best by matte bronzers with yellow undertone to add natural-looking warmth to your already-tan skin. Shimmery bronzers that are close to matching your natural skin tone are ideal for adding warmth to deeper, darker skin tones.
As for highlighter shades, women with fair skin should look for pearlescent, champagne or very light pink-toned highlighters with a slight shimmer to add a subtle glow to their light skin. Medium skin tones are complemented by pink or peach-toned highlighters with gold undertones. Darker rosy pink highlighters with gold undertones also complement deep skin tones. Some shimmery bronzers that are designed for lighter skin tones also work well as highlighters for women with darker skin.
Bronzer and highlighter palettes can help make it easier for you to choose the right shades for your skin tone and ensure that your bronzer and highlighter shades complement each other as well. These palettes generally include one or more shades of both bronzers and highlighters and are designed for different skin tones ranging from light to medium to dark.
3. Apply in the Right Order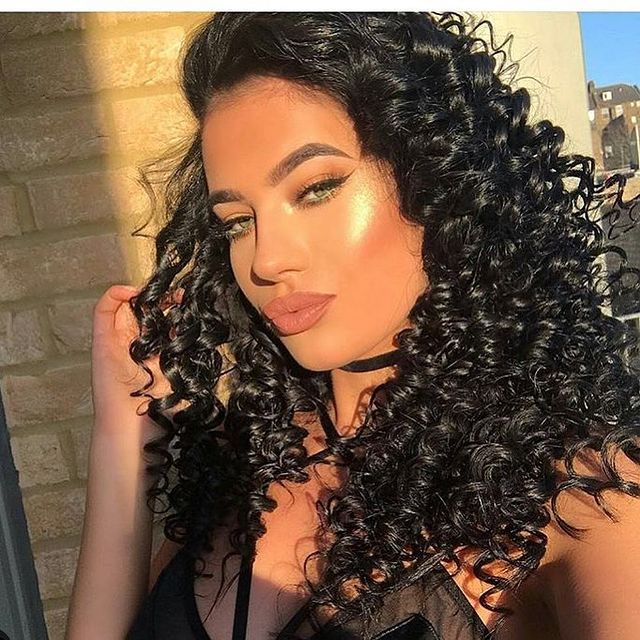 If you're new to using bronzer and highlighter as a part of your everyday makeup looks, you might be a little confused about where these makeup products fit into your day-to-day makeup routine. You should always apply both bronzer and highlighter after you apply your foundation and setting powder.
Always apply bronzer to your skin after applying your foundation and concealer and before applying blush and/or highlighter. In addition to adding warmth to your skin, bronzer also helps replace the natural shadows on your skin that you cover up with your foundation. Reversing the order in which you apply these makeup products can create a muddy finish that you definitely want to avoid.
If you choose to add blush to your makeup look, you should apply your blush directly after applying your bronzer to add a subtle, natural-looking flush to your skin. Finally, it's time to apply your highlighter. Highlighter should be the last skin makeup product you apply to your face because it works best to enhance the way your skin looks when light hits it when it is not covered up or dulled down by any other skin makeup products.
4. Use the Right Brushes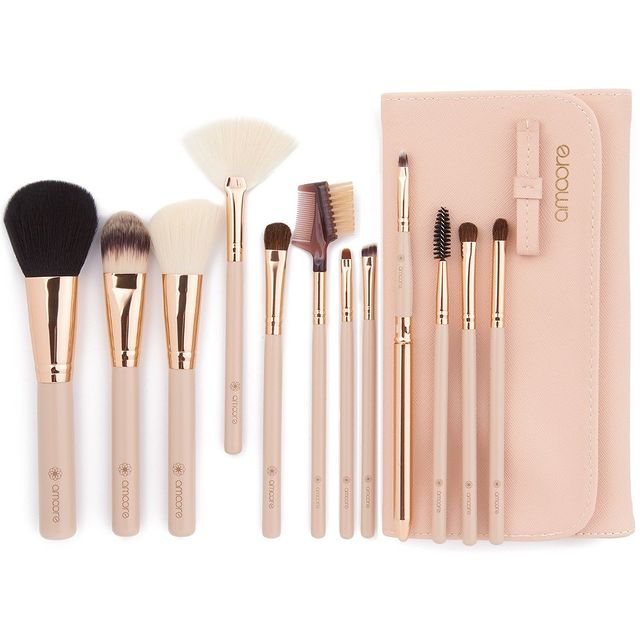 Using the right makeup brushes when applying bronzer and highlighter is a major key to making sure that your makeup looks flawless. First off, you should make sure that the makeup brushes you are using are high-quality brushes that will allow you to blend out your bronzer and highlighter with more ease.
Second, make sure that you are using the right type of makeup brush. Fluffy, angled makeup brushes with soft bristles are ideal for applying both bronzer and highlighter. Just make sure you have two of these brushes, because you don't want to use the same one to apply both bronzer and highlighter in order to avoid muddling your makeup.
5. Add Blush and Contour (Or Not)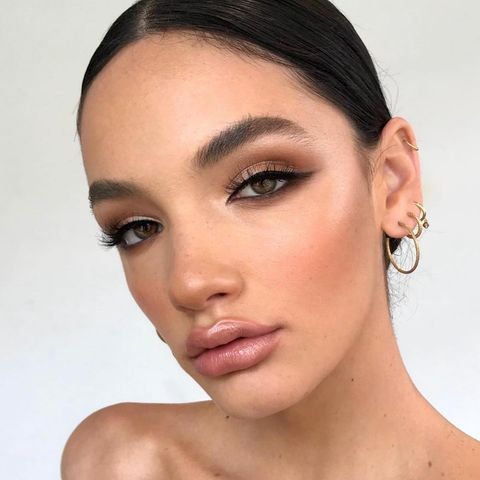 If you are wearing highlighter and bronzer, you don't necessarily need to add blush and contour to your makeup look as well. Bronzer and highlighter do enough to add warmth and glow to your skin. However, you can wear highlighter, bronzer, blush, and contour all at the same time if you really want to get glamorous.
Apply your contour before anything else. Contour is the darkest makeup you'll apply to your face, so you want to make sure it goes on your skin right after your foundation and concealer to avoid creating a muddy finish for your makeup look.(herstylecode.com)
If you have already applied contour to your face, you should apply only a small amount of bronzer to your skin to add subtle warmth and glow to your skin. After you've applied your contour and bronzer, add blush and finish up with your highlighter.
6. Apply in the Right Places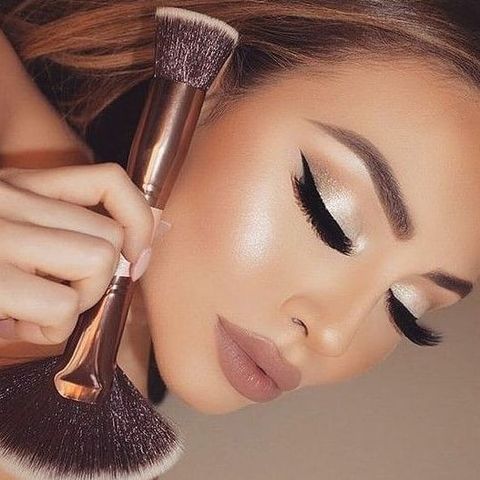 In order to achieve your desired makeup look, it is crucial to apply your bronzer and highlighter to the right areas of your face.
It can be tricky to know exactly where to apply your bronzer, but it's fairly simple once you get the hang of it. The easiest way to remember where to apply bronzer is to apply it in the shape of a 3 on your face. Start about an inch away from your lips and line the hollows of your cheeks in a crescent shape that moves up to your hairline at your temples to form the bottom of the 3. Next, apply bronzer at your hairline along the edges of your forehead in a crescent shape to form the top of the 3.
For a natural-looking finish, apply highlighter liberally to the areas where light hits your face with the most intensity. These areas include along your cheekbone, under the arches of your eyebrows, at the inner corners of your eyes, down the middle of the bridge and at the tip of your nose, and just above your lips in the cupid's bow area.
7. Have Fun With It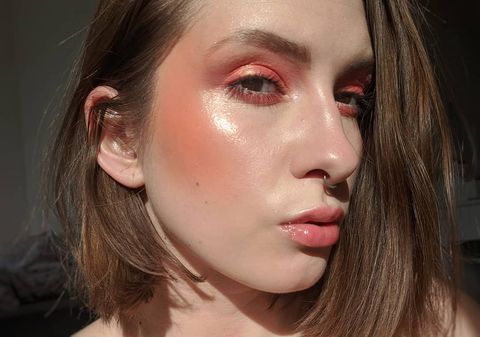 Bronzers and highlighters are some of the most fun and simple products to use once you get the hang of using them. They can dramatically transform your makeup looks, or just add subtle warmth and a glowing finish to your skin. It's your choice to determine the intensity of your look based on how much product you use on your face.
Once you know how to properly choose the right shades of bronzer and highlighter for your natural skin tone and how to apply these makeup products in the right places, have fun with the process of actually applying your highlighter and bronzer to your skin.
Experiment with different shades within the range of shades that suit your natural coloring, try out different types of bronzers and highlighters with different finishes, and play with the intensity of your makeup looks. Above all else, don't take yourself too seriously and let yourself have fun with creating a gorgeous, warm glow for your skin.