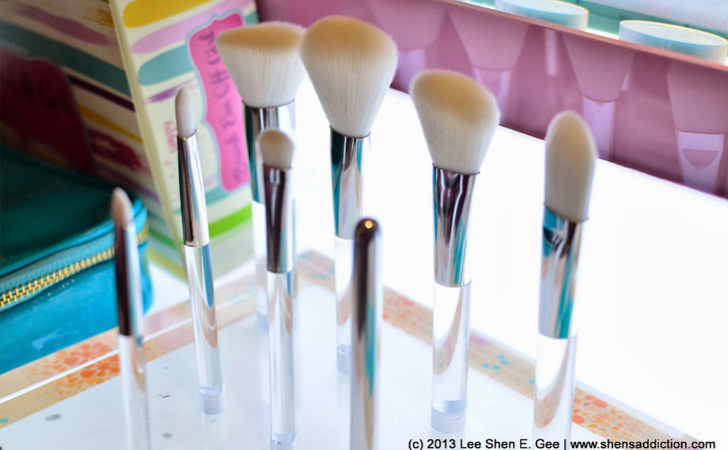 Having high-quality makeup brushes is just as important as having quality makeup. You need them for applying almost every skin makeup product. If your makeup brushes aren't up to par, your makeup will likely end up looking uneven, cakey, and otherwise unattractive.
Many skin makeup brushes tend to shed, are too rough, cause loose powder fall out, fail to distribute product evenly onto your face, or are weak and excessively flimsy. These challenges are frustrating inevitabilities of trying out new skin makeup brushes.
However, there's no need to throw away countless low-quality makeup brushes in your search for the ones that really works. Read the following makeup brushes reviews to discover the top rated best skin makeup brushes currently available on the makeup market.
10. Lamora Foundation Brush Flat Top Kabuki

This kabuki brush from Lamora is a soft and sturdy makeup brush that is designed for buffing and stippling on skin makeup products in both liquid and powder formulas. The brush has soft and silky synthetic, vegan-friendly bristles that are not made with any animal materials. Although the brush's bristles are soft, they are also sturdy enough that you can press down hard on them to buff in makeup without causing them to splay or separate.
The Lamora brush is a long-lasting brush that is designed for use on any skin type, including extremely dry or oily complexions. It blends makeup smoothly into any area of your skin for an easy airbrushed finish. This brush never soaks up excessive product and instead picks up just the right amount of makeup and distributes it evenly onto your skin without fall out or absorption.
9. ACE Professional Single Makeup Brush Blush/Powder Sector Soft Fan Brush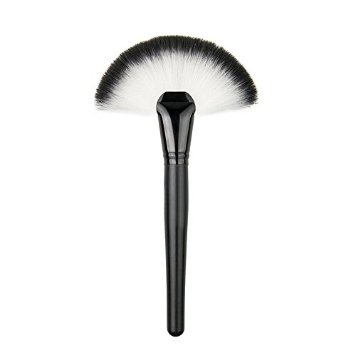 This fan brush from ACE is primarily designed for the application and blending of loose powders onto your face. It works well for dusting on highlighter, blush, bronzer, and setting powders to your skin. The brush's unique fan shape is also effective at sweeping away loose powder fallout from eyeshadow or eyeliner.
The ACE brush has extremely soft and gentle bristles. They are crafted from synthetic material that is specifically designed with anti-bacterial properties in order to prevent bacteria growth within the brush and protect your skin from irritation or infection.
8. Make-Up For You Aisxle Retractable Kabuki Brush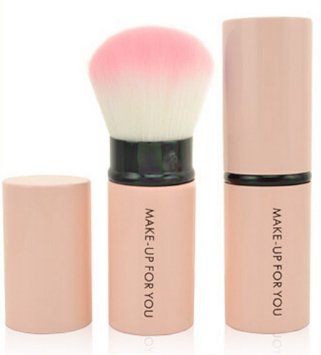 This kabuki brush from Make-Up For You is a high-quality, professional brush that flawlessly applies and blends liquid, gel, cream, and powder products into your skin. The bristles of the brush are dense and soft and are crafted from synthetic material. This brush gives your skin an airbrushed finish without shedding or causing streaks or patches in your makeup.
The brush has a unique retractable construction. It comes in a sleek, slim tube into which it can be retracted and stored for effortless protection while traveling. The small, retractable construction of this brush makes it easy to transport in a purse or makeup travel bag without getting ruined.
7. Aesthetica Cosmetics Double Ended Contour and Highlight Makeup Brush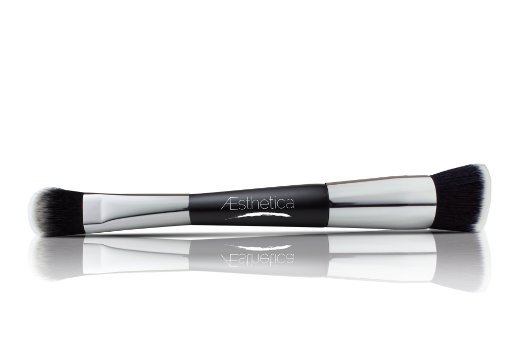 This brush from Aesthetica Cosmetics is a double-ended brush that is designed for the application of contour and highlighter products. It works effectively with both powder and cream makeup formulas. The brush is lightweight and is crafted from one hundred percent synthetic fibers. Its bristles are soft and non-porous to ensure an even distribution of product and minimal absorption.
The double-ended construction of the brush takes up less space in your regular makeup storage. It is also easy to transport in a small travel bag or purse.
6. Messon Kingstar Bigger Oval Makeup Brush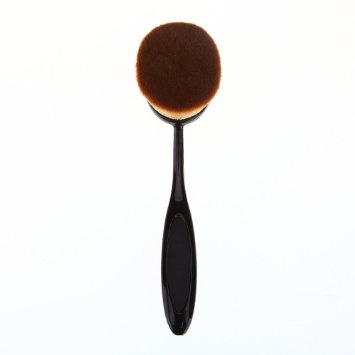 This oval, hairbrush-shaped makeup brush is a trendy and unique brush that is designed to blend foundation and other skin products into your skin. It can blend and buff moisturizer, primer, liquid foundation, powder foundation, concealer, setting powder, and any other skin makeup product into your skin for a seamless finish.
The brush is the perfect size for quick and easy skin makeup application. Its bristles are soft and extremely dense to ensure minimal product fall out and absorption. They are crafted from silky and gentle synthetic fiber.
5. EcoTools Flat Foundation Brush

This foundation brush from EcoTools is designed for use with powder, liquid, or cream foundation. Its bristles are made from synthetic material; they are hand-cut to ensure a perfect shape and are soft and firm.
The brush is one hundred percent cruelty-free and eco-conscious. Its bristles are completely synthetic and contain no animal material, and its handle is crafted from recycled aluminum ferrule. Even the packaging pouch the brush comes in is made from material that is free of PVC and phthalates.
4. Real Techniques Powder Brush

This makeup brush from Real Techniques is designed to seamlessly apply any powder makeup product, including powder foundation and setting powder. The bristles of the brush are made from synthetic taklon and are hand cut to ensure that the brush maintains a perfect shape for flawless powder product application.
This brush's bristles are also specially designed to not trap anything within them. They are non-porous and resist against excessive absorption of product; they also do not hold any dead skin cells or bacteria after application that can be harmful and irritating to your skin. The synthetic taklon bristles are strong and will not break, shed, or become dirty easily.
3. Hotrose US 2015 Professional Face Liquid Foundation Concave Makeup Brush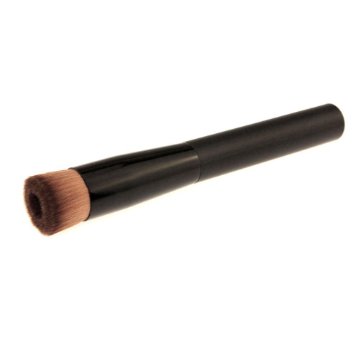 This makeup brush from Hotrose is useful for the application of liquid makeup products. The brush has a unique concave shape with a small cut-out in the center of the bristles. This concave shape helps the brush apply and blend liquid makeup products seamlessly into your skin without streaking.
The bristles of the brush are formed from high-quality synthetic fiber hair for a soft and gentle feel on your face that is ideal for sensitive skin complexions that are easily irritated by other makeup brushes. The brush's handle is crafted from natural wood that feels smooth and comfortable in your hand while you apply your makeup.
2. 

Etude House My Beauty Tool Secret Brush 121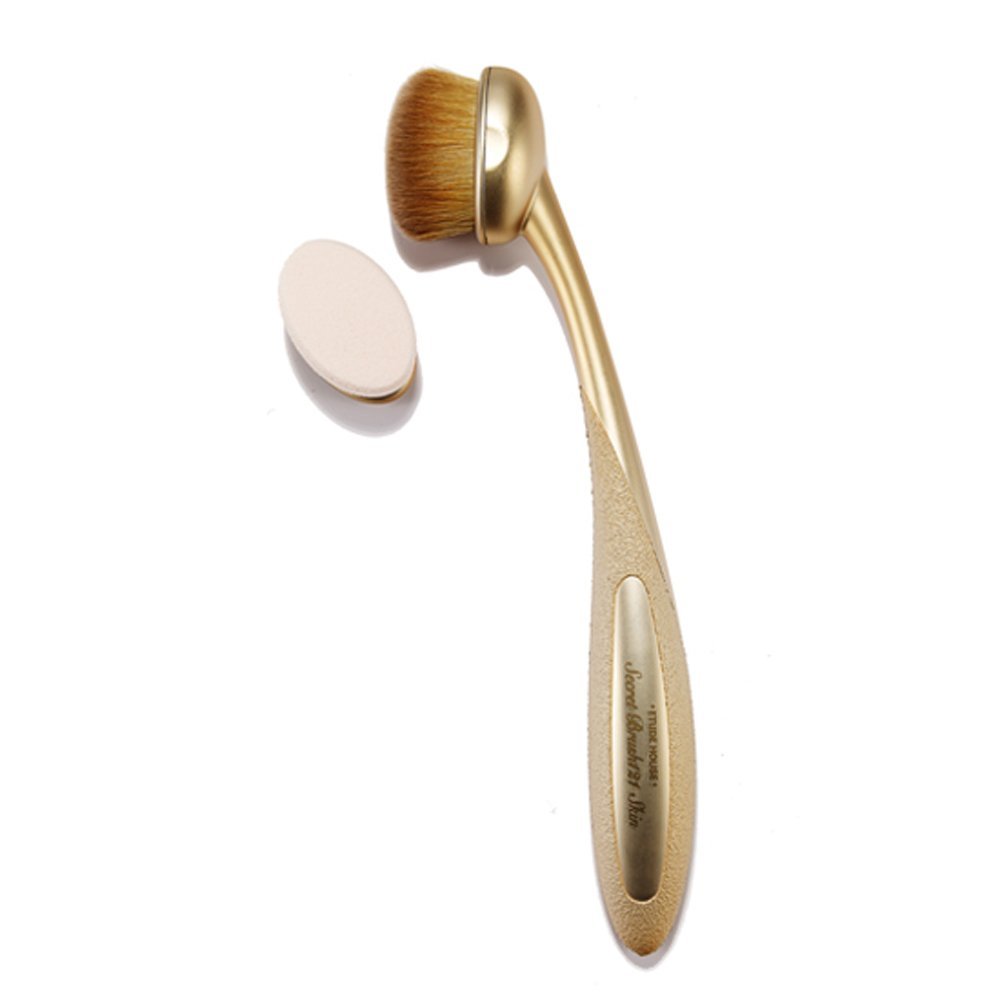 This makeup brush from Etude house is a hairbrush-shaped oval foundation brush. It is designed to apply your liquid, cream, or powder foundation smoothly to your face and blend it into your skin for a seamless and flawless finish.
The brush comes with an included sponge brush head that can replace the bristled brush head to blend stubborn products more intensely for a smoother finish when needed.
1. Bare Escentuals Maximum Coverage Concealer Brush

Good concealer brushes can be especially difficult to find. The areas you want to conceal, such as over blemishes or under eyes, are usually very sensitive and require a soft, gentle touch that many brushes aren't able to provide. This concealer brush from Bare Escentuals, however, has extremely soft bristles that won't irritate your skin.
The brush's bristles are soft, but they are also firm and dense in order to provide you with smooth, maximum coverage that hides all of your blemishes, dark circles, and other natural skin imperfections.
Good skin makeup brushes can be a challenge to find. The next time you're in the market for a new makeup brush, use this list of the current top ten best skin makeup brushes to pick out a brush that won't disappoint you.