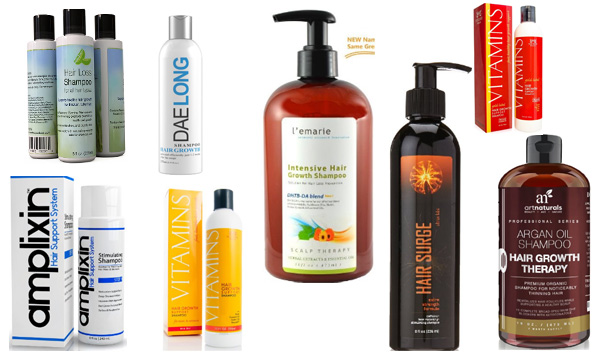 Best Hair Growth Shampoo For Women and Men
Hair Growth Shampoo Reviews: If your hair is thinning-out and you want to stop hair loss, it's well-worth using a hair growth shampoo.  For women, hair grows as part of the natural processes of the human body and there is nothing that can make it grow more than about ¼ inch per month.  However, to grow healthy hair-shafts that won't split, break or fall-out you need to have a healthy scalp.
Hair growth shampoo gets your scalp in great condition to stimulate new cells and extend the life-cycle of hair follicles. Some ingredients of the best hair growth shampoo for women are traditional, like Rosemary, which is used extensively in all-natural hair-growth shampoo.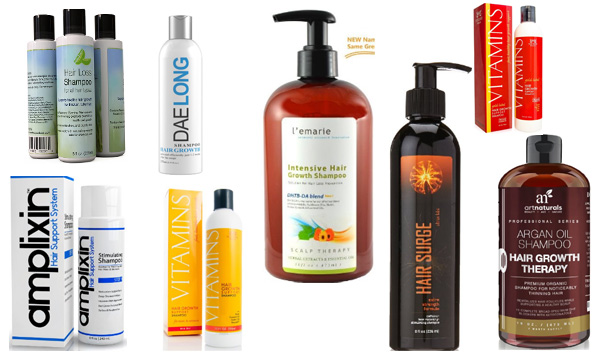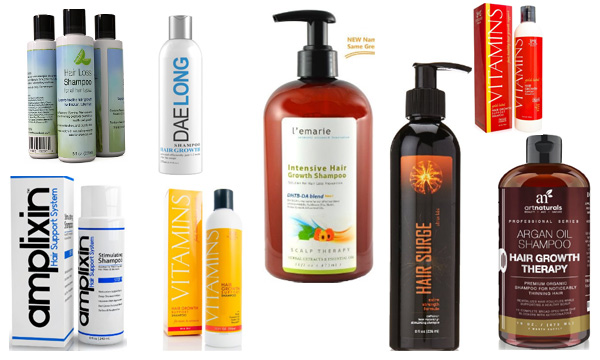 In other hair growth shampoos for women, Ketoconazole combats inflammation or fungal problems that may be weakening hair-shafts.  In some studies into hair growth shampoo for women, caffeine has been shown to prolong and stimulate the life-cycle of hair-shafts.  Saw Palmetto has been tested in clinical trials seeking a way to block DHT, which is widely considered to be a major cause of baldness.  In our review of the Top Rated 10 Best Hair Growth Shampoo for Women this year, we have included a wide range of all-natural and 'scientific' hair growth shampoos.
10. Amplixin Stimulating Hair Growth Shampoo for Women & Men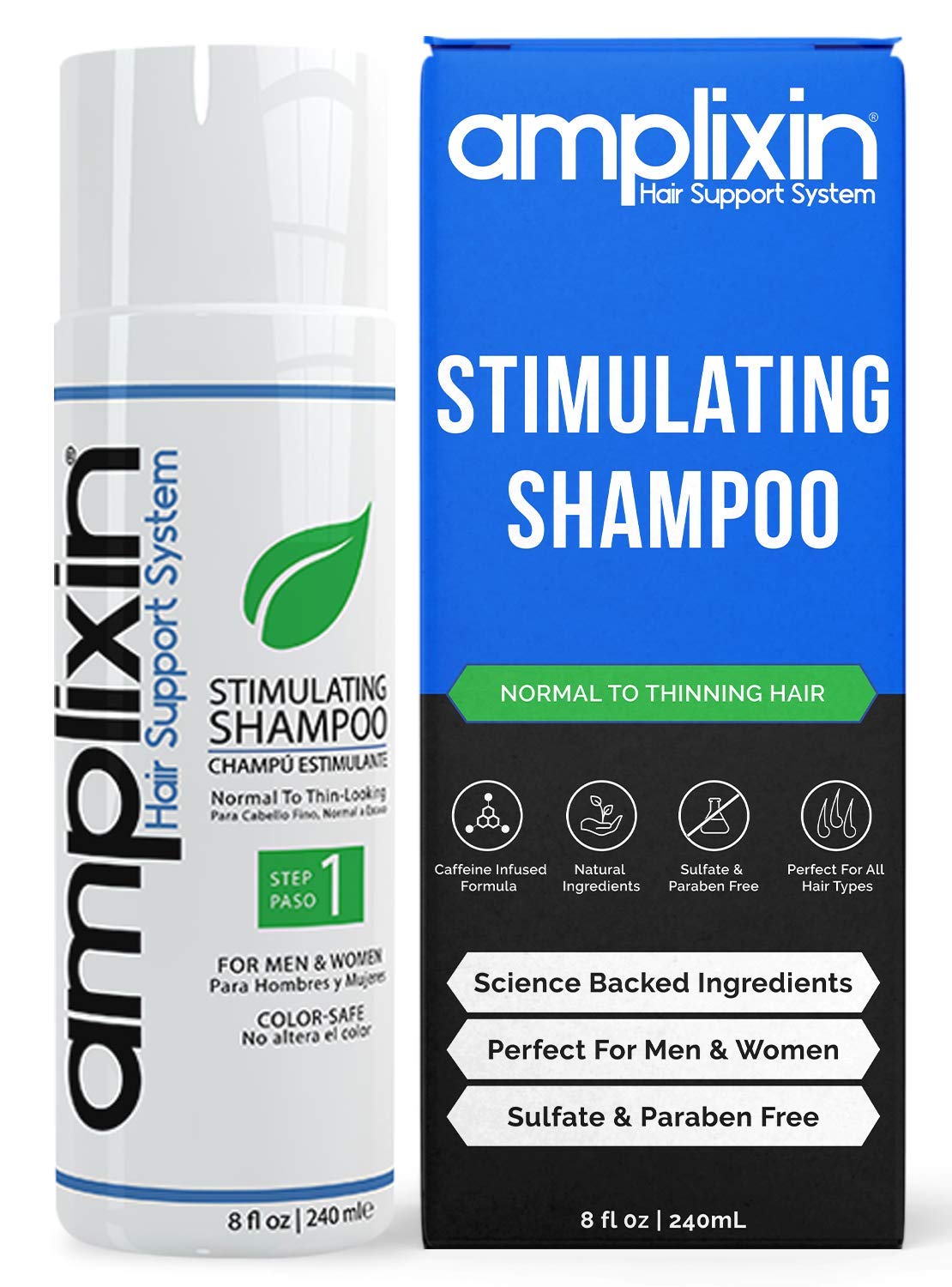 This is a 'doctor approved' hair loss shampoo aimed a suppressing the production of DHT, so avoiding the testosterone that caused hair loss in women and men.  It contains ingredients including Red Clover, Acetyl-Tetrapeptide-3 and Caffeine to stimulate the scalp.
It also contains natural oils that cleanse the scalp gently and remove dirt and air-pollutants, giving your new hair growth the best conditions to flourish.  Users say it helps reduce the amount of hair being lost and leave hair in silky-soft condition.  This hair growth shampoo for women is a 100 % free of sulfates and parabens.
9.

Honeydew Anti Hair Loss Shampoo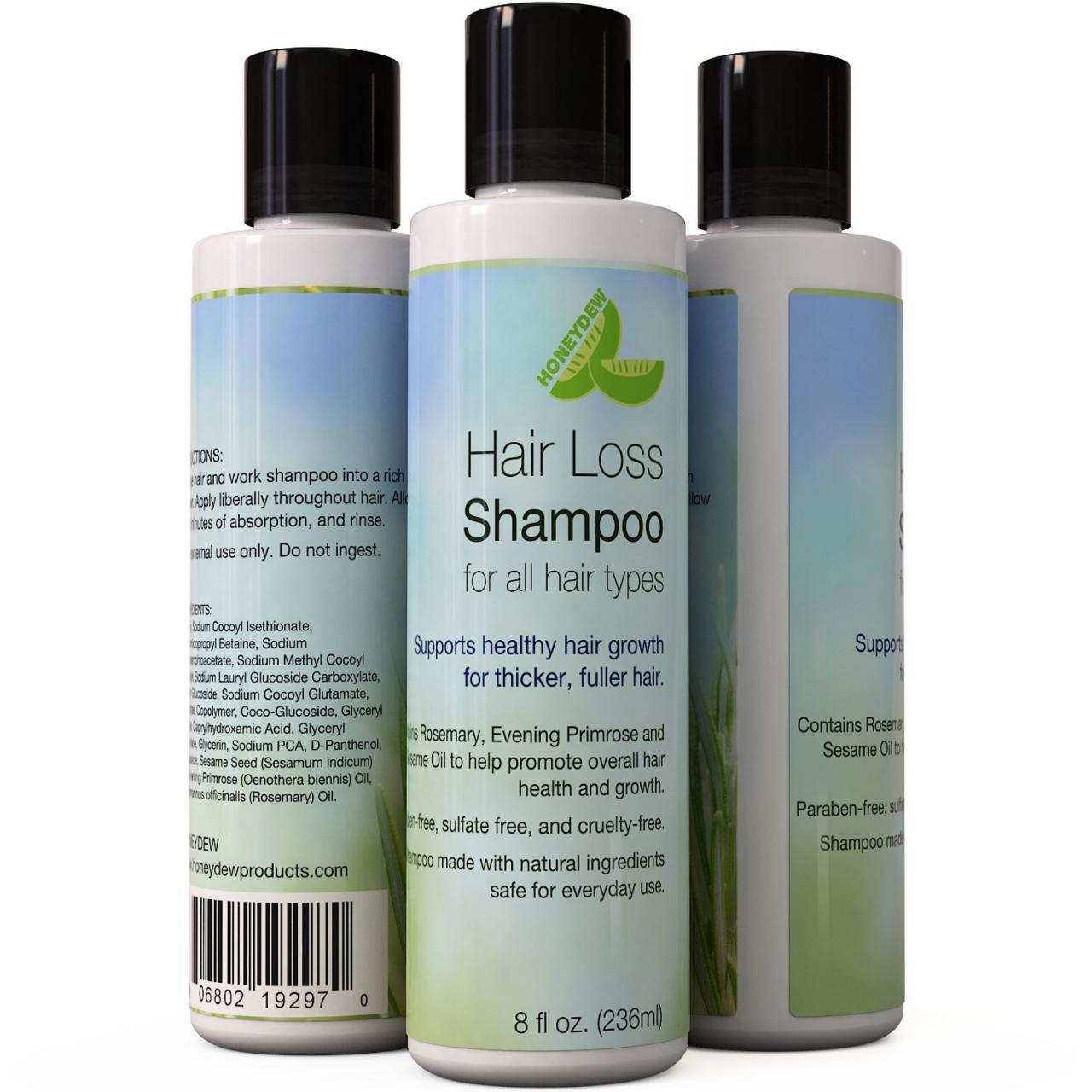 This hair growth shampoo for women is a more traditional, natural approach to reducing hair loss.  The main ingredients are Evening Primrose, Sesame and Rosemary oils intended to clean the scalp of dandruff and inflammation.  This is also a hair growth shampoo that's free of sulfate and parabens.
It's also a 'clarifying shampoo' for women who use a lot of styling products on their hair.  This shampoo removes all traces of styling products that may be blocking hair-follicles and causing hair-loss and stimulates new growth naturally.  It can be used on all types of hair and users with dry hair said its moisturizing and nourishing ingredients had reduced breakage, making their hair thicker.
8. L'emarie Hair Growth & Hair Loss Shampoo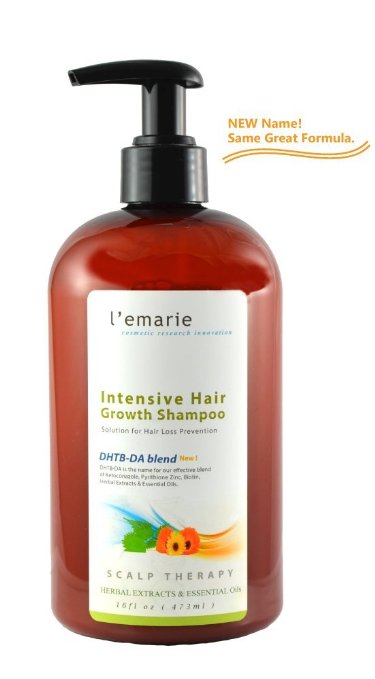 This is another hair growth shampoo for women with scalp problems and hair loss, containing Ketoconazole to block the production of dihydrotestosterone DHT.  It also contains Salicylic Acid and Tea Tree Oil, to combat inflammation, dry flaky dandruff and fungal infections.  This is a good shampoo for treating a greasy scalp that over-produces sebum.
The ingredient Pyrithione Zinc is an efficient treatment to reduce seborrheic dermatitis, which damages hair growth and is uncomfortable and unsightly for sufferers. Used 2/3 times a week for 2 months our reviewer said it had helped a lot to reduce itching and flaking and that she would continue using it.
7. Art Naturals Organic Argan Oil Hair Loss Shampoo for Hair Regrowth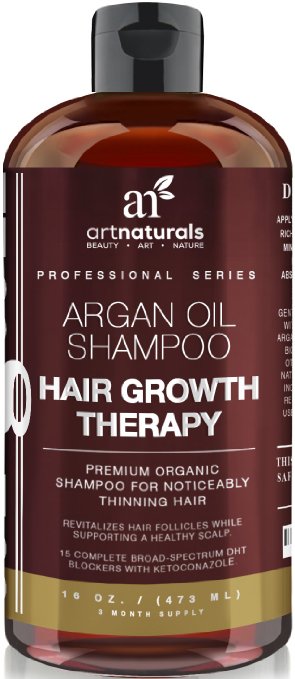 Here's a hair growth shampoo for women that's suitable for Vegans and anyone with sensitive skin or allergies.  The Argan Oil shampoo's approach to hair loss includes several DHT-blockers, so a full and healthy blood supply is returned to hair follicles.  Good blood flow is important as blood carries vital nutrients to the scalp and removes waste-products.
This leaves cells clean and in good working order. This hair growth shampoo also bathes the scalp in fatty acids and Vitamin E, with all-natural Argan Oil.  Users with dry hair said it made their hair seem thicker and with more volume.
6. DermaChange Platinum Hair Growth Shampoo – with Vitamins – To Make Hair Grow Fast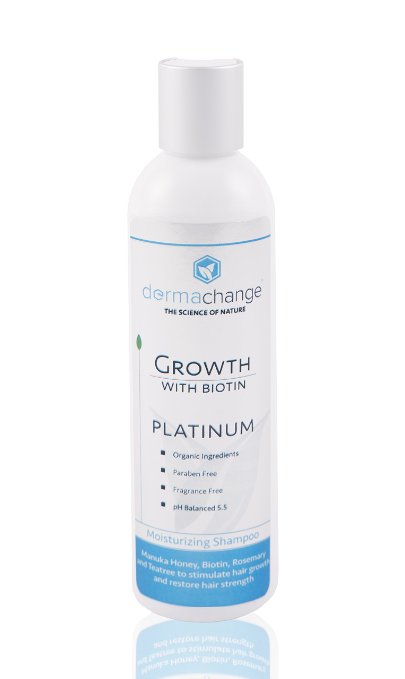 Dermachange contains a variety of natural ingredients including Tea-tree, Rosemary, Argon Oil, Manuka Honey, Aloe Vera and Biotin. The formula does not include sulfates, parabens, preservatives or any harsh chemicals that damage the scalp and hair follicles.
They believe their formula can solve the problem of hair loss caused by damaged scalp or a hereditary problem. Giving your oily or dry hair nutrition and treatment from natural ingredients will definitely add strength and retain more hair-shafts in place.  Reviewers felt it did thicken-up their hair and make it less likely to break off.
SHOP NOW
5. Rapunzel Hair Growth Shampoo – with Safe Natural Ingredients that Promote Hair Growth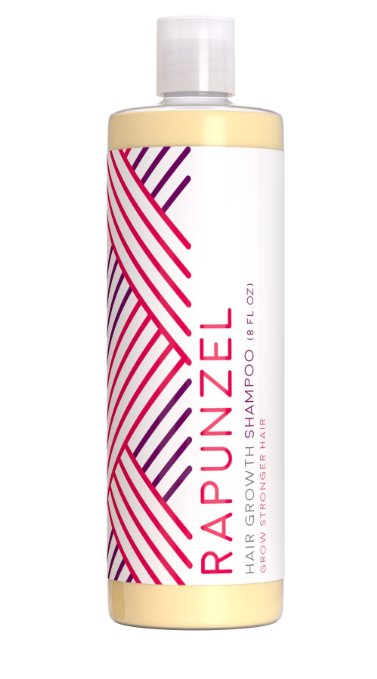 This hair growth shampoo for women also has organic plant extracts to nourish your scalp and stimulate hair-cells e.g. asparagus, cilantro, rosemary, chamomile, jojoba, olive oil, borage, oregano and tea tree oil. Reviewers said it has a nice consistency and left their scalp feeling tingly, as if the blood circulation was waking up.
It smells pleasantly of lime and flowers and reduces breakage and hair loss if used regularly.  Hair seems more flexible and less brittle and for those with an oily scalp, this hair growth shampoo doesn't leave a greasy residue on your hair.
4. Hair Growth Shampoo – Prevents Hair Loss & Hair Breakage – Anti-Oil Formula – Enriched With Natural Extracts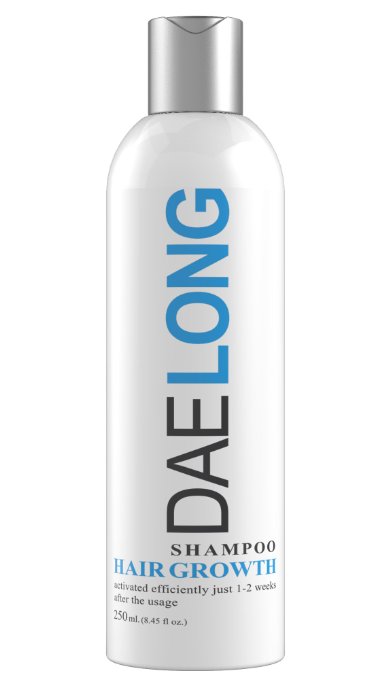 This promises strong and healthy hair which will grow longer without falling out or breaking.   This is a hair growth shampoo for anyone with greasy hair, as it tackles excessive scalp oil that clogs up follicles and suppresses new hairs.  This is a shampoo that's suitable for women and men, and with natural ingredients, you can use it every day to improve hair health.
Testers liked the subtle fragrance that doesn't leave male users smelling of flowers or fruit.  Everyone agreed their hair seemed to have more body and volume after a week or two of washing with this frequent-use hair growth shampoo.
3. VITAMINS Shampoo for Hair Loss- 121% Growth and 47% Less Thinning in Clinical Trials – Natural Biotin Treatment for Faster Regrowth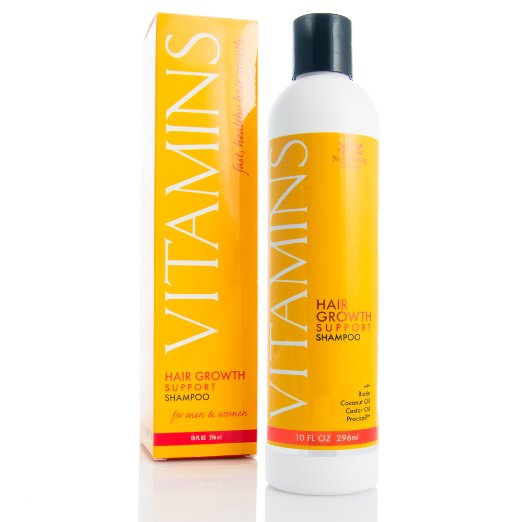 This hair growth shampoo for women claims to reduce hair-loss by 46% and stimulate hair growth with a combination of natural and scientifically formulated ingredients.  These are herbal oleanolic acid, apigenin derived from citrus, coconut oil and castor oil and Biotin.
In addition, this vitamin-rich shampoo contains Procapil which is a herbal DHT blocker that is used to prevent this hormone from causing hair loss.  This product increases the length of time each hair remains in the growth phase, which obviously means hairs will grow longer before being shed naturally.
2. Organic Premium Hair Growth Shampoo with Argan Oil, Biotin and Caviar Extract – Clinically Proven and Guaranteed to Reduce Hair Loss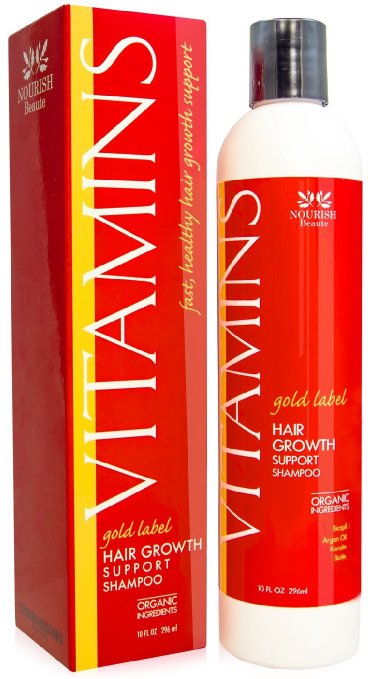 Faster hair growth shampoo: This is the gold label version of the Vitamins hair growth shampoo range. It is recommended for increasing your overall hair volume and actual density in cases of hair loss caused by alopecia, thin hair, receding hairline, thyroid-hormone related hair loss and all types of balding.
The ingredients are Bicapil, organic pro-botanic complex with Biotin, argan oil, castor oil, jojoba, caffeine and keratin and this shampoo is sulfate-free.  It's a helpful product that will increase hair re-growth and by making hair shafts healthier, they will stay in place longer before being shed naturally.  Suitable for all ethnic groups. This product available both at Walmart and Amazon!
1. Ultrax Labs Hair Surge Caffeine Hair Loss Hair Growth Stimulating Shampoo (Editor's Choice)

The Ultrax Hair Surge hair growth shampoo for women and men contains essential oils, DHT-blocking Saw Palmetto and Ketoconazole for reducing inflammation.  Uniquely, it also contains caffeinated compounds, which they claim gives better results than all other hair growth shampoos.  Their view is that other hair growth shampoos have fewer hair growth ingredients, whereas the Hair Surge formula is a complete hair-health delivery system.
This gets all the right ingredients to your scalp's follicles and ensures they stay there long enough to give the maximum effect. Our tester, who regularly counts how many hairs she sheds each day, says her rate of hair loss went down by 50% in the first 4 weeks of use!
This hair growth shampoo is not only good for women, but also great for men! Buy it now on Amazon!
Looking for more quality and best selling products? Check them out on herstylecode.com!