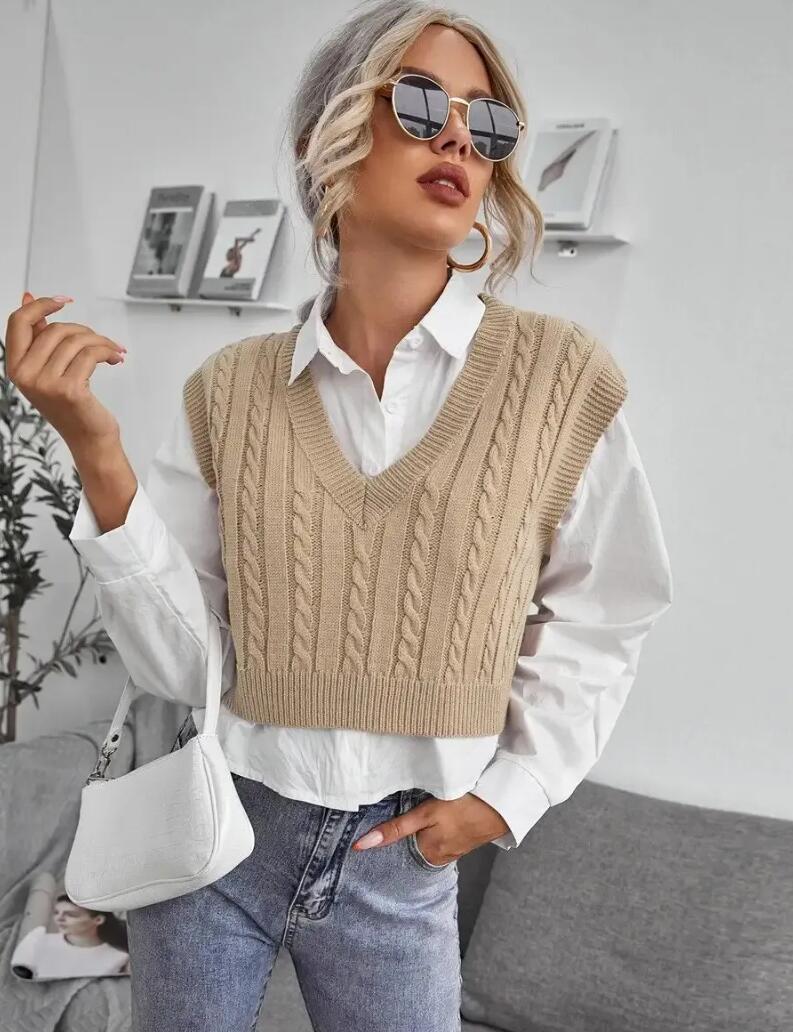 Unlike many short-lived fashion trends which came to the fore during lockdown, Light Academia is one that's caught our imagination and is due to last through next year and way beyond.
And that's probably because it's based on a long tradition of upper-class, student outfits that have been traditional and great looking for over 100 years.
What exactly is the Light Academia fashion aesthetic?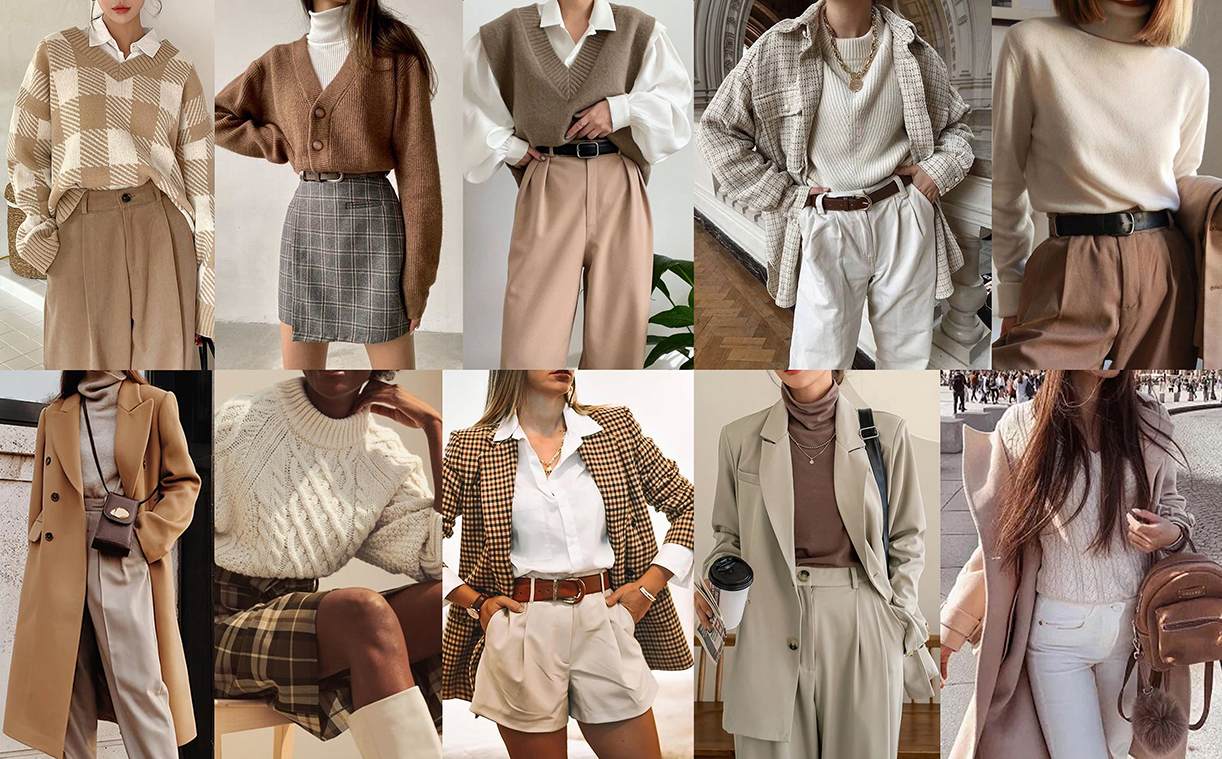 Dark Academia leans towards Goth trends, and encompasses dark colors, thick sweaters and a definite 1940/50's take on clothing, like you see in the Harry Potter, Hogwarts boarding-school movies.
But Light Academia is a lighter and brighter version of this trend that offers the preppy style and optimistic feel of vintage student-wear. And one of the ways it does this is with an appealing, pastel color-range.
This style was inspired by the fashions traditionally worn by students at European universities in the 1940/50's and now it's been taken up and given a fresh twist by 21st century designers!
Current designers have widened its appeal by adding touches from other cultures, like Japanese and Korean fashions. Thereby making Light Academia edgier and even more appealing to a keen global fan-base!
Light Academia vs Dark Academia
With the Harry Potter movies being so incredibly popular with generations of school-children, it was inevitable that Hogwarts' fashions would become a worldwide trend.
The New York Times tells us that Dark Academia fashion trend came up from grass-roots fashion-fans who started posting on TikTok in 2020.
This happened because when schools had to close owing to the pandemic, the only way for students to keep in touch with each other was through social media online.
And the Dark Academia style was favored by those who loved the retro-fashion of students who attended the top-rated, traditional universities pre-1960.
So this was smart shirts and pleated skirts, long knee-socks, sensible shoes and heavy knitwear for cold study halls, before central heating.
Any woman going to university in these times would have come from a fairly well-off family and so the trend includes lots of smart blazers and classy, well put-together outfits.
The major difference between the two themed fashion trends, is that Light is focused on optimism, being well-motivated to achieve in whatever you do, and looking to a positive future!
And the main difference in actual fashion garments is that Dark Academia favors darker, wintry colors like black, gray and deep browns. Whereas Light Academia is perfect for spring and summer with its cream, white, beige, camel, light-browns and pretty pastels.
Light Academia Fashion Staples
Of course, you don't need to be a student to appreciate the classic fashion style of Light Academia clothing. This trend is full of clothing styles worn by the elite, the wealthy and the fortunate in the 40's and 50's, so it's definitely a 'winners' look!
It's a way to show your self-confidence and that you see yourself as member of an educated and successful group.
So in stores such as Depop, you'll see that Light Academia is one of the most popular trends, just after Cottagecore and winter-weather, Dark Academia.
And if you want to get started on this rapidly-rising fashion, look around for dressy white shirts, cream blouses, knitted vests, pleated skirts, flowing dresses, ruffled-top socks, hair-ribbons and checked jackets in complementary colors.  
Light Academia Color Palette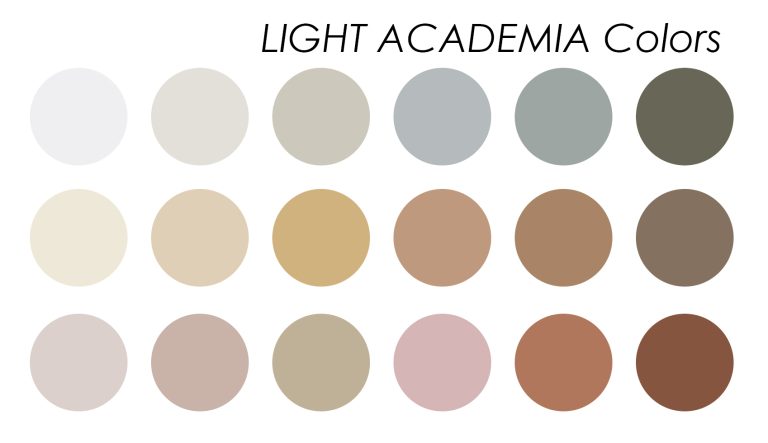 In the realm of light academia aesthetics, the significance of color cannot be overlooked. The term 'light' inherently leans towards subtler, milder shades. This differs from the moody, deeper aura of dark academia, which leans into more profound themes and visual elements. Light academia offers a refreshing and passionate perspective on learning, and this sentiment is mirrored in its distinctive hues.
Broadly, light academia gravitates towards the understated and pale earthy shades. Meanwhile, its counterpart, dark academia, is distinguished by its affinity for somber hues such as blacks, greys, and the deeper variations of browns.
To get a feel of the light academia ambiance, consider these typical shades:
Pure white
Hues akin to ivory or a bubbly champagne
Colors reminiscent of beige, taupe, and desert sands
Pale greys paired with metallic steels
Olive-inspired khakis and muted greens
Gentle pinks and washed-out rose tints
Rich tones like maroon and the deepness of chocolate brown.
Elements of the Light Academia Aesthetic
Light academia, much like other aesthetics, draws from a wide spectrum of influences that span across fields like architecture, art, and philosophy. These elements come together to shape its unique visual narrative.
Preferred Locales of Light Academia
Cultural hubs like museums and art exhibitions
Sanctuaries of knowledge such as libraries
Historical marvels like castles and majestic palaces
Cozy, intimate coffee houses
The serenity of natural landscapes and the great outdoors
Key Influences of Light Academia
Photography Styles: Emphasis on natural illumination, tones bathed in warmth, and nostalgic sepia filters.
Artistic Eras: The elegance of the Renaissance, the grandeur of the Baroque, and the refined lines of Neoclassicism.
Architectural Inspirations: Designs echoing Classic Greek pillars and Neoclassical intricacies.
Philosophical Leanings: A strong bend towards idealism, with echoes from the Renaissance era.
Central Tenets and Philosophies
A profound appreciation and ardor for academia and intellectual pursuits.
The act of studying perceived not just as a duty but as a pleasurable pastime.
The pursuit of knowledge hailed as a cardinal virtue.
A drive for cognitive engagement and challenges.
A deep-seated love for timeless aesthetics, notably from classical edifices and literary masterpieces.
Light Academia Accessories
Spectacles: Let's kick off with eyewear – it's clear as day that vintage-style frames have cemented their place in the academia aesthetic. Seen both as a stylish accessory and an emblem of scholarly pursuits, they're a nod to the intellectual spirit of academia.
Pearl Paraphernalia: Here's the deal – while diamonds might dazzle too bright for the subdued academia palette, pearls own the scene with their understated glow. From necklaces to earrings, these timeless gems aren't just confined to jewelry but are sprinkled onto attire and even some knick-knacks around the house.
From the Top: Rocking that Parisian touch, berets lend a nostalgic and posh feel to the light academia look. Best buddies with trench and pea coats, they scream chic!
Tress Ties: Hair game needs a boost? Reach for headbands, or perhaps hairpins and clips dressed in velvet, tweed, or pearls. And if you're feeling extra, why not tie it up with large, plush bows?
Sock it Up: The academia flair doesn't stop at the knees. Thigh-high socks, whether they're knit, crochet, or cable, give a playful nod to schooltime vibes.
Time Keepers: Be it a dainty wristwatch, an old-school pocket watch, or a chain watch that feels straight out of a period drama, watches are crucial to the academia toolbox.
Pin It Down: While we're talking metals, let's not forget the brooches. Think vintage – butterflies, cameos, or golden leaves – these add the perfect touch to a lapel or scarf.
Carry Alls: Every academia lover needs a trusted sidekick – and bags are it. Saddle bags, with their worn-in charm, scream 'I'm reading, always!' On the other side, tote bags – often muted, and sometimes boasting literary quotes – are the simple yet profound choice.
Belt it Out: When you're layering up with sweaters or tweed trousers, leather belts, whether sleek or rugged, are your go-to choice to cinch the deal.
Now, with these accessories in your arsenal, you're more than ready to rock that light academia vibe! Remember, it's all in the details.
Light Academia is sustainable fashion
Another important aspect of Light Academia is that as it's based on vintage style, and so you can often find low-cost items in second-hand, charity shops and thrift stores. Long-lasting, natural fabrics like cotton, wool, silk and linen were stalwarts of this academic style in the past.
And that feeds in perfectly to the need for eco-friendly, slow fashion, recycling and sustainability, which was definitely the way people behaved in the 40's and 50's.
There's no doubt that Light Academia is racing up the fashion popularity chart and will be a major trend for spring, summer and autumn next year!
Fabrics and Patterns of the Light Academia
Alright, buckle up buttercup, we're diving into the hip and happening world of light academia fabrics and patterns, all mixed up and turned on its head!
Tweed: This ain't your grandma's yarn! It's a rough-n-tough type of wool perfect for strutting your stuff in chilly weather. Those winter threads? Probably made from this bad boy.
Gingham: This one's a game of checkers on cloth! Typically made of cotton, gingham's a two-tone square dance of contrasting colors.
Houndstooth: If checks had a rebellious teen phase, it'd be this. Houndstooth is all about those broken checks going head to head in contrasting shades.
Corduroy: Look at Mr. Fancy Pants! With those raised 'cord' textures, corduroy's all about that ritzy parallel line vibe.
Argyle: Diamonds are a sock's best friend. Rock this pattern, and your feet will be the life of the party!
Cashmere: The cream of the crop! Spun from fancy goats, it's like a gentle caress every time you wear it.
Flannel: Soft as a baby's bottom, whether it's for PJ jams or a lumberjack vibe, flannel's got your back.
Leather & Suede: Whether you're going genuine or fakin' it with faux, leather's all about that sleek edge. And suede? That's the smooth operator of the leather world.
Linen: The summer breeze in fabric form. Lightweight and chill, it's like wearing an island getaway.
Silk: Slippin' and slidin' in smoothness, from shirts to shindig dresses, silk's where it's at.
Crochet: Your granny's favorite pastime just became cool! It's all about that loop-de-loop yarn action.
Tartan: The Scottish Highlander of the cloth world. You might not hear bagpipes, but you'll sure feel majestic.
Glen Check: It's like houndstooth had a big bro, mixing big and small checks into one.
Lace: The dainty darling of the fabric world. From knit to crochet, it's all about that fancy web.
Cable Knit: It's like your cloth went to the gym and got ripped. Those swole patterns? That's the cable knit flex.
Tattersall: Think of it as a board game on your shirt. Stripes playing tic-tac-toe and making fashionable squares.
Madras: The distant cousin of tartan. Soft, muted, and straight out of a summertime dream.
Wool: Fluffy sheep, bunnies, and goats giving us their best! It's cozy central, especially when winter's knockin'.
To sum it up, light academia is the bee's knees when it comes to fabrics and patterns! It's like a patchwork quilt of all things cool, bringing the old school into the new groove. Whether you're going luxe or laid-back, light academia's got a fabric for every vibe.
Light Academia Outfits ideas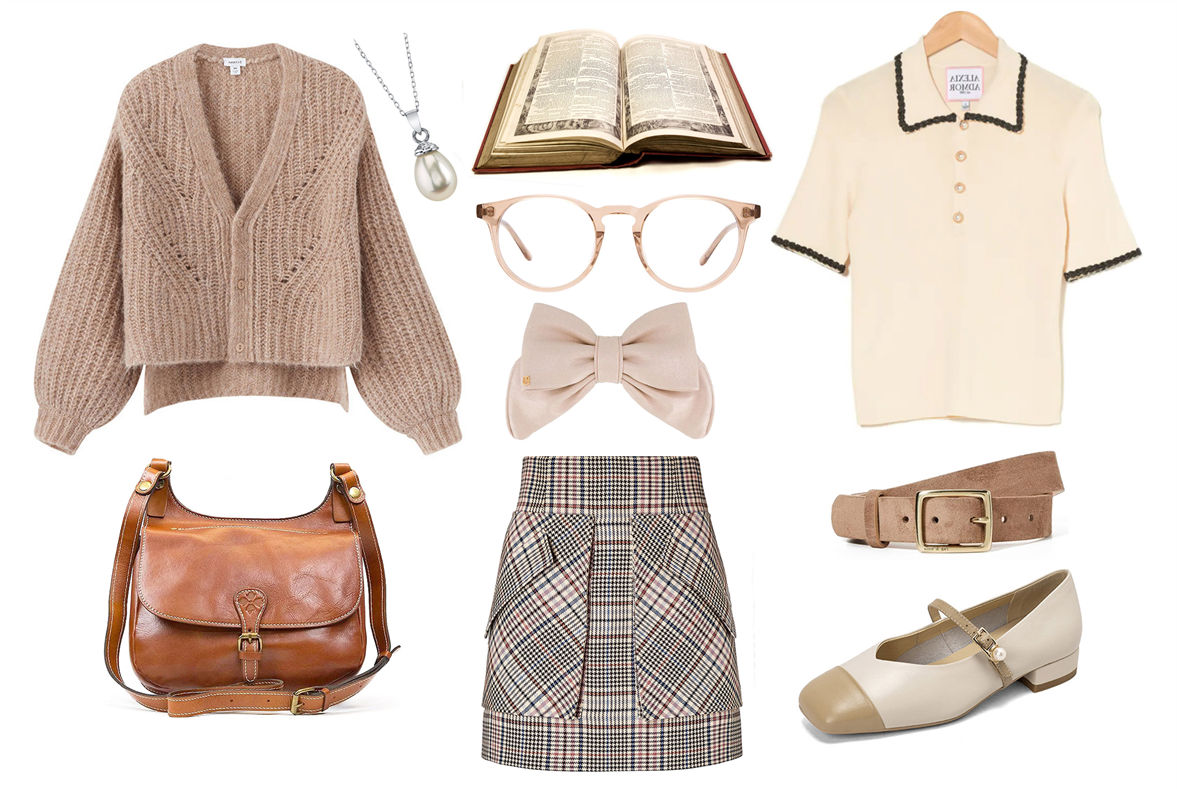 So now let's get started on your academia-style wardrobe basics, with some of the main items you must have:-
Separates are the basis of any spiffy academia ensemble, so you'll need long- and short-sleeved blouses and shirts, cardigans, checked skirts, checked blazers, sweaters and turtlenecks.
Rather than swamp your figure in thick, heavy knitwear, the Light Academia style uses layers to create a warm outfit for chilly days.
1. The Classic White Shirts
All types of white shirts look great with Light Academia outfits. You can go for the trendy oversized look or stick to the authentic fitted shirts – it doesn't matter – because you can put your own personal spin on this aesthetic.
Wear your shirt under a sweater with the collar out to get the cute, preppy look that you're aiming for. And a classic shirt always looks so flattering with trendy, high-waist, straight-leg jeans. For a smarter look add a checked jacket.
2. Turtle Neck Sweaters
These can be fine-knit and smooth-textured or ribbed and will be a mainstay of your comfortable, Light Academia wardrobe.
3. High-waisted dress trousers
High-waisted, tailored trousers are back and they are so flattering with a shirt or blouse. To emphasize your Light Academia look, go for sharply styled, dainty trousers in smart black, which will match with the camel, tan, beige, white, cream and pastel colors of your shirts.
Look for styles that end at the ankle or just above, and you can also wear straight-cut denim jeans with a blouse, sweater and blazer. Invest in a good-quality pair of black, tailored trousers and you'll get lots of wear from them.
4. Roller Spectacle Frames
In the 40's spectacle fashions were more about looking functional than vanity and most frames were dark and round. So if you wear glasses, choosing a roller frame will show that you're a serious student type, rather than a frivolous girly.
This type of frame projects the image of above-average intelligence and eyes damaged by years of reading improving books! And this fits in perfectly with the academic theme.
5. Blazers & Tweed Jackets
A couple of blazers will always show your Light Academia credentials, and if you can find them with a pocket crest, or school-days contrasting trim, perfect!
Tweed jackets in small dogtooth check are great for giving your look that classic, polished look, too. They can totally transform your whole outfit!
6. Pleated Skirts
Pleated skirts can be plain, checked or tartan. Wear your skirt as a mini or knee-length – whatever suits your body proportions best. They always look so feminine and remind us of our classic school uniforms!
7. Chunky Cardigans, Jackets & Overcoats
Chunky cardigans were always worn with authentic academia outfits, as indoor heating was not as efficient or widespread as today. So you can top off almost any Light Academia outfit with a cozy and comfy long cardigan.
And duffle coats, pea-jackets and trench coats are an ultra-cool part of Light Academia style.
8. Satchel Bag
The European fashion culture has always favored minimal, classy and simple accessories. So you need a suitable, color-matched handbag to complement your Light Academia outfits.
Colors like tan, camel, light-brown will match all your outfits and complete a classic, well-groomed Light Academia look!
9. Light Academia Shoes
And you'll need some brogues and loafers to strike the right note of sensible, comfy and simple, for the classy look you're after.
The basic styles are Oxford shoes, combat boots, Mary Janes and loafers. When you want to look cute and especially feminine, wear pastel colored ballet shoes or dainty Mary Janes to get the right look!
And you won't need to be struggling to walk in high-heels for this aesthetic, which is more looking and being smart, than glamor!
The return to a smarter, classic vintage fashion style that's linked with the idea of study and success in life is the opposite of the slouchy, leisure-wear that was popular in the last 18 months.
So if you want an optimistic, sustainable trend that flatters the body, is comfortable to wear and looks polished and classy, this is it. So why not join with millions of other girls and women who can't wait to wear this gorgeous look right now!
Light Academia outfits are what life's winners wear and always have done!
Your Comments
We love to keep in touch with our international readers and hear your comments and opinions! Please take a moment to answer these questions:
1. Do you already wear Academia styles? If so which, Dark or Light?
2. Do you find it easy to source Light Academia clothing?
3. Which do you prefer Cottagecore of Light Academia fashions?
4. What fashion trend is your overall favorite right now and why?
Thank you! If you've got an opinion, why not share it with the whole HerStyleCode community and let your expertise help others!