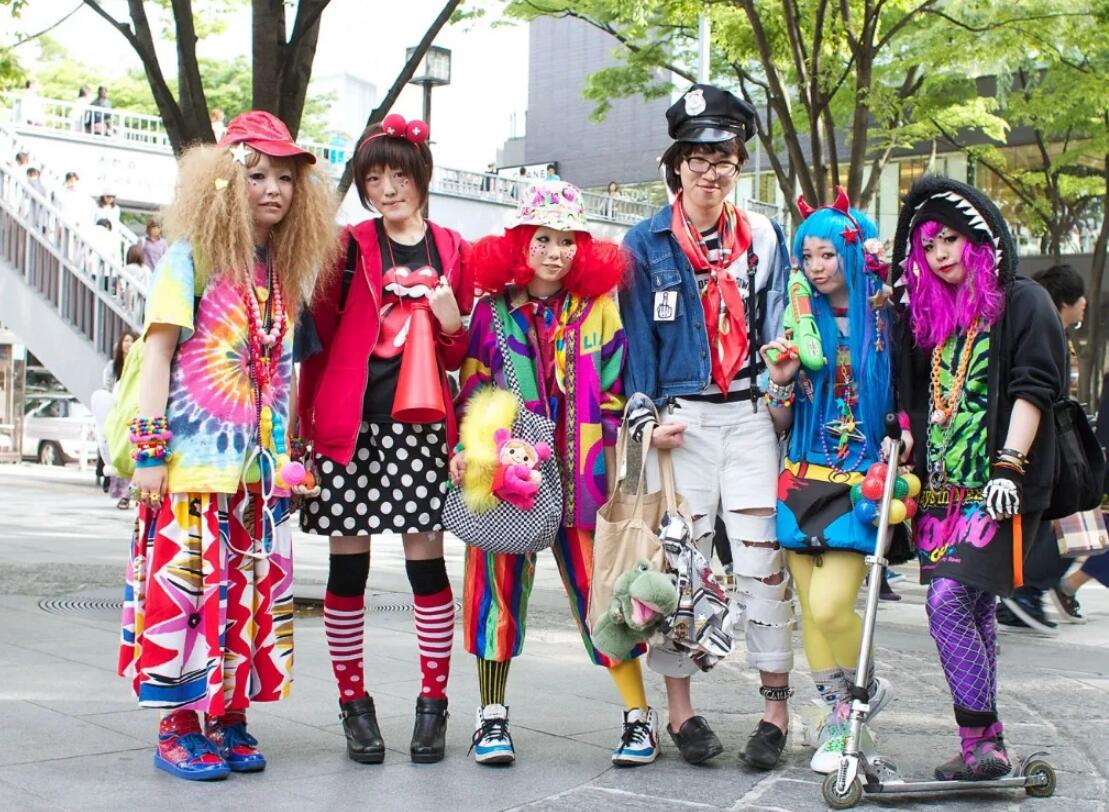 Straight from the edgy, fashion-obsessed Harajuku streets of Tokyo, Japanese fashion trends are focused on culture, self-expression, risk-taking and community.
And this variety of inspiration is what makes Japanese fashion such an exciting and wildly popular trend around the globe!
How is Japanese fashion different from Western trends?
The rules and traditions of fashion in Japan are completely different from those of the western world.
And because of this, Japanese designers aren't the least bit afraid of breaking all the western fashion rules, like mixing plaid with floral prints and adding lots of kitsch detail and accessories!
Japanese fashion is extremely fashion-forward and the following fashion trends have been plucked fresh from the super-trendy, Harajuku area in the capital city of Tokyo.
So if you love daring fashion ideas and above all, something very different from the typical high street fashion chains, read on and revel in rebellious, outrageous new looks!
How to rock the freshest Japanese Fashion Trends for 2022?
1. Mixed Plaids – Japanese fashion
This is one of the most iconoclastic fashion concepts ever, which makes all Scots shudder, but Japanese fashion-fans love it!
R13 Blue Plaid Pieced Shirt
Buy from FLANNELS
Made from re-sewing different plaid, flannel shirts this is also an eco-friendly fashion idea. Wear with platform shoes for the most authentic Japanese streetwear look.
The Ragged Priest – Mom Jeans in mixed plaid
Buy from ASOS
You get a slightly more harmonious look if you ensure the different plaids are color complementary to each other.
And if you want to wear plaid at work, you can vary the intensity of this fabulous, brash fashion, by mixing just one plaid item with your other clothing.
2. Oversized Hoodies – Japanese fashion
The baggy clothes trend began as Tokyo streetwear and was taken up by designers to create the oversized hoodie – the US hip-hop revolution's most significant aesthetic.
Paco Rabanne Lose Yourself tie-dye hoodie
And now it's been re-imagined as brashly patterned, tie-dyed or vivid colored extra-large hoodies – back on the streets of Tokyo!
Come Back as a Flower drawstring tie-dye hoodie
Wear your big, bold hoodies with skinny trousers, Lolita miniskirts, form-fitting frocks and tight tops, to get the future-fashion, Japanese look this year.
This is also a unisex look that's chunky, casual and exaggerated creating a big silhouette! And the brighter you go the better!
3. E-girl – Japanese fashion
E-girl or 'electronic girl' clothing is a mix of several popular aesthetics, and dates back to the early 2000's. This unique fashion style is still evolving incredibly quickly, and will become one of the top 5 fave aesthetics for this year!
Khrisjoy Khris Vellus Puffer Jacket
E-girl clothes are similar to K-Pop fashion and rave culture, bringing together a special mix of anime, skater, vaporwave, gothic and grunge, plus Y2K.
Nike Ambush Color-block tapered trousers
And you can pick and choose items from this popular Japanese fashion aesthetic to create your own take on super-cool!
4. Techwear – Japanese fashion
Owing to their incredibly original and contemporary look, Japanese techwear labels are riding high on all social media sites this year.
The Matrix movies were the original inspiration for techwear, and last year's release of a new Matrix adventure has boosted this Japanese fashion trend enormously!
Black Y-3 Zipped Crop Top
Buy from FARFETCH
And it deserves its popularity, because Japanese techwear producers are utilizing some amazingly innovative fabrics to create a true avant-garde fashion aesthetic!
White Vento Sneakers from Adidas BY Stella McCartney
Buy from SSENSE
Tokyo's techwear is the best you can get worldwide and investing in this look will keep your wardrobe at the cutting-edge of fashion all through this year and into the future!
5. Goth Grunge – Japanese fashion
Goth midi-dresses
Buy from FARFETCH
The original late 1980's grunge fashion clothing was often sourced from charity shops/thrift stores and represented a rejection of flamboyant and glittery, mainstream 80's trends.
Jordan Air Jordan 1 High – Comme Des Garçons
Buy from FARFETCH
However, fashion designers took on the goth-grunge aesthetic and have made it into a powerful style that influences some of the most fashionable outfits for this year.
Goth-grunge has inspired fairy-grunge – a darker type of fairy-core – which is incredibly popular in the USA.
Wear your Gothic-grunge clothing with fabulous Jordon Air Jordan 1 retro-bootees, which are made from sustainable, modern materials, but have a great vintage vibe!
6. Designer Face Masks – Japanese fashion
Marine Serre moon-print face mask
Buy from FARFETCH
Wearing a face-mask to protect against catching or passing on virus infections is nothing new in Japan, because their culture is very focused on protecting each other.
And in tune with the Japanese love of fashion, their face-masks are highly original and match lots of different trends.
The varied styles include designer face-masks with individual cut-out sections, logos, nifty patterns and all colors!
7. Loud Printed Shirts – Japanese fashion
This huge trend, which has been dominating Japanese fashion mags since the end of last year, is the printed shirt – with a Japanese twist!
Ports V – Graphic-print long-sleeved shirt
Buy from FARFETCH
Instead of using the traditional decorative prints, like bamboo, cherry trees, snakes, dragons and Boho florals, Japanese designers have started mixing western and eastern images on the same shirt.
Monki Luca Tropic-print shirt in multi-colors tropic print shirt in multi
Buy from ASOS
This creates a totally new look, with vivid prints, wild patterns and strong, statement items. It's very exciting!
8. Bubblegum-Pink Denim – Japanese fashion
Denim in bubblegum-pink is a powerful thing! It's positive, youthful, bright and about as extrovert as you can get!
Andrea Bogosian flared leg jeans
Buy from FARFETCH
Bubble-gum pink denim is an extreme look that fits in with lots of Japanese fashion trends, and comes in two main shades – vivid or soft.
Tommy Jeans pink mom jeans
Buy from ASOS
424 flag-print denim jacket
Buy from FARFETCH
Bubblegum-pink denim is a big feature in kawaii fashion, which has a huge influence on Japanese trends.
And this pink shade can be mixed and matched with lots of cool, neutral colors like off-white, beige and sandy shades.
9. Pop & Block – Japanese fashion
The Pop & Block fashion aesthetic is inspired by the rise of androgynous fashion clothing and the gender-free trends last year.
And as you can see, Japanese fashions are now bursting with color-block items and bright rainbow colors that really pop!
SweatyRocks – long-sleeved block color print hoodie
Buy from AMAZON
So to join the Pop & Block tribe, wear e-girl pencil skirts and classic trousers along with tops that come from the opposite side of the color-wheel.
This could be an exciting mix of bright pink with its complementary color, orange. Royal blue and orange are also complementary colors.
Prada color-block nylon hooded jacket
Buy from MATCHES FASHION
The best way to pull this off is to pair colors of the same intensity level, so wear vivid colors with other vivid colors.
Don't pair bright shades with light, pastel colors, or it won't work. And try to match fabrics that have a similar texture, or you may get an unharmonious look.
10. Knitted Headwear – Japanese fashion
Woolly hats are a traditional British headgear for cold weather wear, and also popular in Australia, Canada, New Zealand and the US.
Loverboy wool-blend beanie
Buy from FARFETCH
And as far as Japanese fashion-fans are concerned, all types of woolly hat are incredibly trendy right now, so you can join this trend by wearing any round shaped, knitted style hat.
Cashmere knitted beanie
Buy from UNIQLO
This look is great with a simple, relaxed outfit of casual separates.
11. Camo Queen – Japanese fashion
Young Japanese fashion fans are crazy about camo clothes, either with unconvential touches of bright color or particularly in the darker camo colors.
Sexy Cherry casual camouflage jacket
Buy from AMAZON
Worn with boots, military-inspired camo clothes really attract Japanese designers and their most ardent fans.
Maje camouflage-print cargo pants
Buy from FARFETCH
So look out for clothes in drab olive, beige and black-on-black layers for a gothic twist.
Khaki ripped-pocket denim camo/cargo jeans
Buy from BOOHOO
Camo stitch-detail cat-suit
Buy from BOOHOO
12. Dalmatian Dog Dots – Japanese fashion
Japanese fashion designers just love the history and heritage of the British Isles and they create fabulous new combos blending traditional British culture with fantasy, movies and cartoons.
Daisy Street Plus relaxed Dalmatian spot knit cardigan
Buy from ASOS
And Dalmatian dots are the latest UK fashion tradition to have hit Tokyo's Harajuku hotties! The Dalmatian dots trend began in 1961, when the original, 101 Dalmatians, cartoon movie came out.
Burberry Dalmatian print pumps
Buy from FLANNELS
And when the new version, Cruella, hit cinemas last year it unleashed a whole fresh pack of Dalmatian-print fashion clothes.
13. Daring & Warm Coatigans – Japanese fashion
Long, thick cardigans used to be associated with grandparents and considered more as a substitute for central heating than a fashion garment.
Apbondy V-neck button down cardigan
Buy from AMAZON
But the latest coatigan designs are a lot more bright and chic than those frumpy cardigans, and are designed to be worn as coats for outdoor wear.
Coatigans are made of thick, chunky mixed yarns and look great worn over a color complimentary shirt or blouse, a block-color, or a patterned frock.
Cara Santana x Nine West Duster-cardigan
Buy from KOHLS
They also look super over a mini-skirt or pants and an asymmetrical design can add a cozy, contemporary look to your wardrobe!
14. Graphic Athleisure & Joggers – Japanese fashion
Athleisure continues to be popular in western fashion, and it's also a huge trend that Japanese designers have refreshed for this year!
Koral Maddox infinity bra
Buy from FARFETCH
Get the authentic Tokyo look with graphic athleisure outfits that include experimental color combos and different accessories.
Puma Downtown sweatshirt in off-white
Buy from ASOS
The latest Japanese athleisure is simply gym wear given a new twist to make it into trendy streetwear.
So you can wear Japanese fashion and still be extremely comfy in jogging kit, track suits and running sneakers.
P.E Nation Fadeaway tonal-logo track pants
Buy from FARFETCH
The major players in this trend are the Lululemon label, squat-leggings and anything with the triple white stripe signature feature of Adidas athleisure clothing.
Complete your look with a tailored trench-coat or fabulous flat boots!
15. Deconstructed Trench Coats – Japanese fashion
The trench coat has been a popular fashion staple for many years, especially in locations that have frequent spells of showery weather.
Burberry paneled trench coat
Buy from FARFETCH
And this year's trendiest, Japanese trench coat style is deconstructed, which means taken apart and re-imagined with every basic feature switched and swapped.
ASOS Design check-spliced oversized trench coat
Buy from ASOS
Look out for trench coats that are unconventional, with supersized logos, reversed panels, upside-down elements and generally very different in tone!
Maison Margiela deconstructed trench coat
Buy from JULIAN FASHION
16. Oversized Trench Coats – Japanese fashion
The extra-large trench coat is also extremely popular in Tokyo this year, like lots of clothes inspired by military uniforms from the early 1900's.
Ganni oversized belted trench coat
Buy from FARFETCH
The oversized trench coat isn't one that suits every body shape and style, so approach this Japanese trend carefully.
But if you want a comfortable-fit, light shower-proof coat you can wear over anything from a jacket, to athleisure, jeans, mini-skirts and silky dresses, the practical trench can't be beaten.
Nerazzurri Autumn oversized long leather trench coat
Buy from ALIEXPRESS
Look for coats with extra flaps, belts and buckles with an oversized fit, and match with chic accessories for a 'cool' image!
17. Matrix Monochrome – Japanese fashion
Monochrome clothes have been pushing forward since the final weeks of last year and designers are adding contrasting colors to create interesting fashion alternatives.
Alexanderwang.T – Flocked logo T-Shirt
Buy from SSENSE
Adding daring colors can have an amazing effect on the way a design is perceived, and it doesn't need to be too bright or 'whacky' to fit with Japanese fashion for this year.
Off-White vulcanized low-top women's sneakers
Buy from FARFETCH
This year's colors are a mix of neutral beige shades, rich chocolate brown and off-white with textured, classic color-blocks and monochrome styles which offer something trendy for all tastes!
Pull & Bear bomber black jacket
Buy from ASOS
18. Minimalism – Japanese fashion
Minimalism is something that enhances your body silhouette in a very special way. And it is a classic look loved as much by chic, French women as young Japanese fashion fans.
Undercover black zip t-shirt
Buy from SSENSE
The idea is to concentrate the look on one of two aspects, which could be a simple shape and harmonious color.
So to achieve this look you should avoid any clashes of style or color, and keep accessories simple and to the minimum.
Comme Des Garçons black wool raw split coat
Buy fromSSENSE
Minimalism isn't solely a Japanese concept, but their ancient, practical approach to clothing design, coupled with a desire to avoid extravagance or waste is being embraced by more designers than ever.
19. Camel-Toe Boots – Japanese fashion
Camel-toe boots are one of those innovative looks that divide people, and it's definitely a love-it-or-hate-it new look. So what do you think?
Maison Margiela Tabi boots
Buy from FARFETCH
This year's square-toe boots can have a comfy, block heel and just cover the ankles, or be flat soled and thigh-high.
Split Toe Air Cushion Ankle Tabi Boots
Buy from ALIEXPRESS
For a casual weekend look, choose unusual white patent, square-toe boots with a geometrical vibe and a flat heel.
Wear your camel-toe boots with straight-cut denims, daring, loose flowy tops, oversized blazers or coats with an animal print to instantly raise your style credentials!
20. White-on-White – Japanese fashion
White-on-white is an ancient, Asian clothing trend and Japanese fashion designers have brought it back with an exciting new twist for this year.
Baserange Shaw belted oversized sweatshirt
Buy from FARFETCH
This year's white-on-white challenge is to create a minimalist white look using layers of different shades of white!
It's a superb idea that also encourages you to wear different fabric textures, from old lace to thrift-store linen worn with transparent nylon blouses and sustainable cotton.
Baserange ribbed-knit organic cotton track pants
Buy from FARFETCH
Wear your white-on-white with denim and chunky sneakers for a super-fresh, casual look!
21. Silver & Metallic-fabric – Japanese fashion
Japanese fashion designers are now mixing up the different fashion decades to create a fun, retro-futurist trend, with 1980's silver and metallic futurist items.
Gucci metallic effect bodysuit
Buy from FARFETCH
Look out for seductive, metallic chain or sequined tops, shiny, shimmery pleated skirts, cropped satin pants and silver- or copper-lamé mini-skirts and dresses.
Accessorize with metallic-fabric shoes and glittering clutch bags, plus silver eye-shadow and hair glitter.
MM6 Maison Margiela silver metallic triangle tote bag
Buy from SSENSE
Ask for silvery-fabrics, and shiny, metallic items from the 1980's in your local thrift shop, too! There must still be loads of it in warehouses!
22. Designer Clogs – Japanese fashion
Another ancient footwear trend from Japan, and Holland, has resurged in Japanese fashion for this year.
Stella McCartney Tan Daisy-heel clogs
Buy from SSENSE
Clogs aren't the most elegant footwear, but they send a message that you are free to wear what you want!
Sandro Paris Hayden leather clogs
Buy from FARFETCH
And they are certainly banging around the streets of Harajuku – filling the cafés and art galleries with the sound of a huge new trend.
23. Slouchy Outerwear – Japanese fashion
Outerwear used to be totally focused on keeping us warm and dry, but nowadays we like a variety of coats and jackets designed to suit different moods and outfits.
Valentino X Undercover VLOGO Lovers print jacket
Buy from FARFETCH
And slouchy outerwear is the idea of relaxed comfort, with oversized jackets and coats you can fit over whatever you're wearing underneath, from a baggy hoody to a chunky-knit sweater!
Asos Design oversized hero quilted maxi coat
Buy from ASOS
24. Cropped & Hip-length Blazer – Japanese fashion
In bright colors, this is probably the trendiest Japanese fashion for this year.
Acne Studios cropped asymmetric striped blazer
Buy from FARFETCH
The cropped, hip-length or shorter, blazer is inspired by the Japanese love of uniform and could be described as the worker's everyday jacket for this year.
In The Style X Yasmin Chanel cropped blue blazer
Buy from ASOS
Cropped blazers give clean lines and look fabulous with high-waist jeans and trousers for a super-stylish look.
25. Wide-Leg Pants – Japanese fashion
Japanese fashion is moving right away from skinny trousers of all types and switching to wide-leg trousers.
Pinko cropped palazzo-trousers
Buy from FARFETCH
Be careful to balance wide-leg pants with close-fitting tops, to get a slim look. So wear with vintage T-shirts, statement shirts and cropped cardis.
+J wide-leg pink pants
Buy from UNIQLO
26. Patent Leather Jackets – Japanese fashion
Japanese fashion's favorite type of 'leather' jacket this year's is the super-cool, patent-leather jacket.
Helmut Lang patent leather trucker jacket
Buy from FARFETCH
So if you like the 'leather' jacket vibe, this is the only way to go this year.
It's an affordable style that looks sleek and very stylish and if your budget is limited, investing in single, patent-leather jacket will instantly add Japanese style to all your clothes!
Monki Rori brown patent leather belted jacket
Wear with vintage accessories, dark glasses, baggy socks and bleached-blonde hairstyles!
Buy from ASOS
27. Vegan Shearling Jackets – Japanese fashion
Vegan 'shearling' jackets are bringing glamor back to fashion this year in the shape of biker- and aviator-style, faux lambskin-lined jackets.
Urbancode Siris reversible faux shearling coat
Buy from ASOS
This type of jacket is timeless and incredibly warm – I have one myself. And it's an excellent slow-fashion investment that will add personality to your wardrobe for many years.
Stella McCartney Luna faux-shearling coat
Buy from FARFETCH
I bought my vegan aviator jacket with lambskin lining from Zara, at a very affordable price, so don't think this super-stylish, luxury jacket is only available from expensive, designer labels!
28. Traditional Kimono jacket – Japanese fashion
The traditional kimono jacket is an incredibly comfortable garment to wear as a casual or classy loose jacket.
Alice+Olivia Koko reversible kimono jacket
Buy from FARFETCH
Two cutting-edge Japanese designers – Yohji Yamamoto and Chitose Abe have revived traditional fabrics to create gender-neutral, unisex kimonos.
And muslin/thick gauze kimono's are center-stage of the Tokyo fashion industry this year.
3/4 Sleeve Japanese Kimono
Buy from AMAZON
So if you'd love to emulate real Japanese girls from the Tokyo streets, wear a mix of a cute, pastel-colored dress made from traditional cotton fabric with a muslin, kimono jacket!
——————–
Japanese fashion is all about feeling free and uninhibited, and creating your own individual style from the fashion trends swirling around you!
So keep checking back at HerStyleCode to see how these exciting trends continue to evolve throughout this year.
Your comments
Did you know about Japanese fashion trends before you read this article?
Which of these Japanese fashion trends are your favorites and why?
What do you really think of camel-toe boots?
What do you think about the Japanese fashion aesthetic in general?