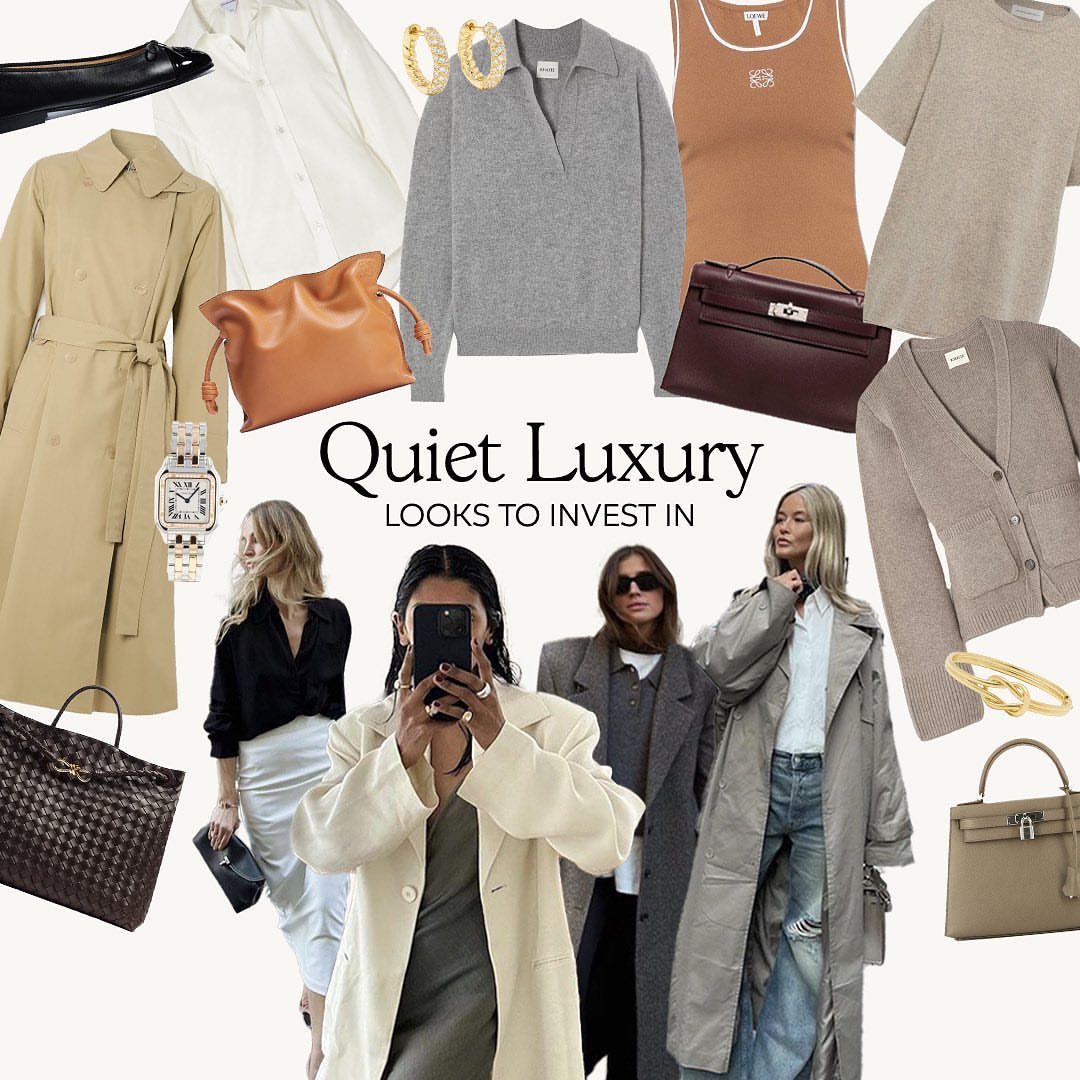 Between the muted elegance of Gwyneth Paltrow's courtroom outfits and the exquisite taste of Sofia Richie's old-money style, a new trend has emerged for an industry facing accusations of wasting the earth's precious resources.
It's known as the 'quiet luxury' trend and it focuses on sustainable fashion clothing and the use of versatile, capsule wardrobes.
The main idea is to return to the way people used fashion in the past, for example buying fewer, higher quality items that are classically styled and last for many years.
What is the 'quiet luxury' fashion trend?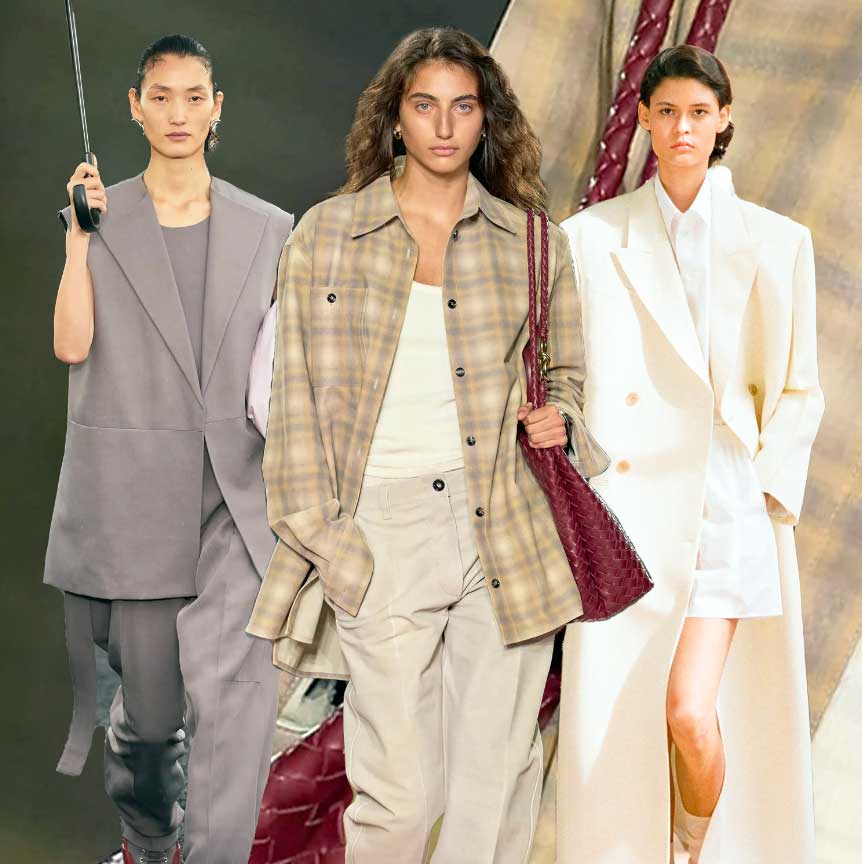 'Quiet luxury' focuses on planned shopping for quality, investment garments to build-up outfits that mix and match efficiently and keep their classic appeal for many years.
And for some women, it has always been their preferred style, for example:
Amal Clooney
The Olsen Twins
Gwyneth Paltrow
Olivia Palermo and Johannes Huebl
Succession's Shiv Roy
It's a trend that was universal up until the 1950's when fashion underwent a huge metamorphosis as teenagers emerged as a separate group in society.
And over the next couple of decades, fast-changing, teenage fashion evolved to become a separate entity to the mainstream fashions your mother wore.
The contemporary idea of quiet luxury is to look well-heeled and understated by wearing good quality, classic clothing and staying away from extreme fashions that are thrown away at the end of the season.
So anything with a prominent logo advertising the designer's name is definitely not QL, because quality clothes are easy to identify by their cut and the quality of the fabric, colors and finish!
And the move towards 'one-size fits all' clothing in the 1970's, made it easier for manufacturers to quickly and cheaply churn out shapeless clothes that definitely do not fit all sizes.
Tailored clothing, and especially dresses that flatter the female figure, became impossible to find on the high street.
And we started buying cheap clothing that didn't fit well or last long – until we became addicted to changing fashion garments frequently.
Re-discover flattering 'quiet luxury' styles
In essence, quiet luxury fashion is the opposite of cheap, buy-wear-discard 'fast fashion' that runs through the earth's resources at a frightening speed.
And as well as saving the planet, it's about re-discovering the timeless, well-tailored garments that impress through beautiful cuts and an excellent fit, to flatter your individual figure.
So if you're interested in wearing quiet luxury, here's a gallery of outfits that show contemporary classic styles for anyone planning a switch to sustainable, but affordable, fashion-wear!
1. Superb Chanel-Style Jacket & Wide-Legged Black Trousers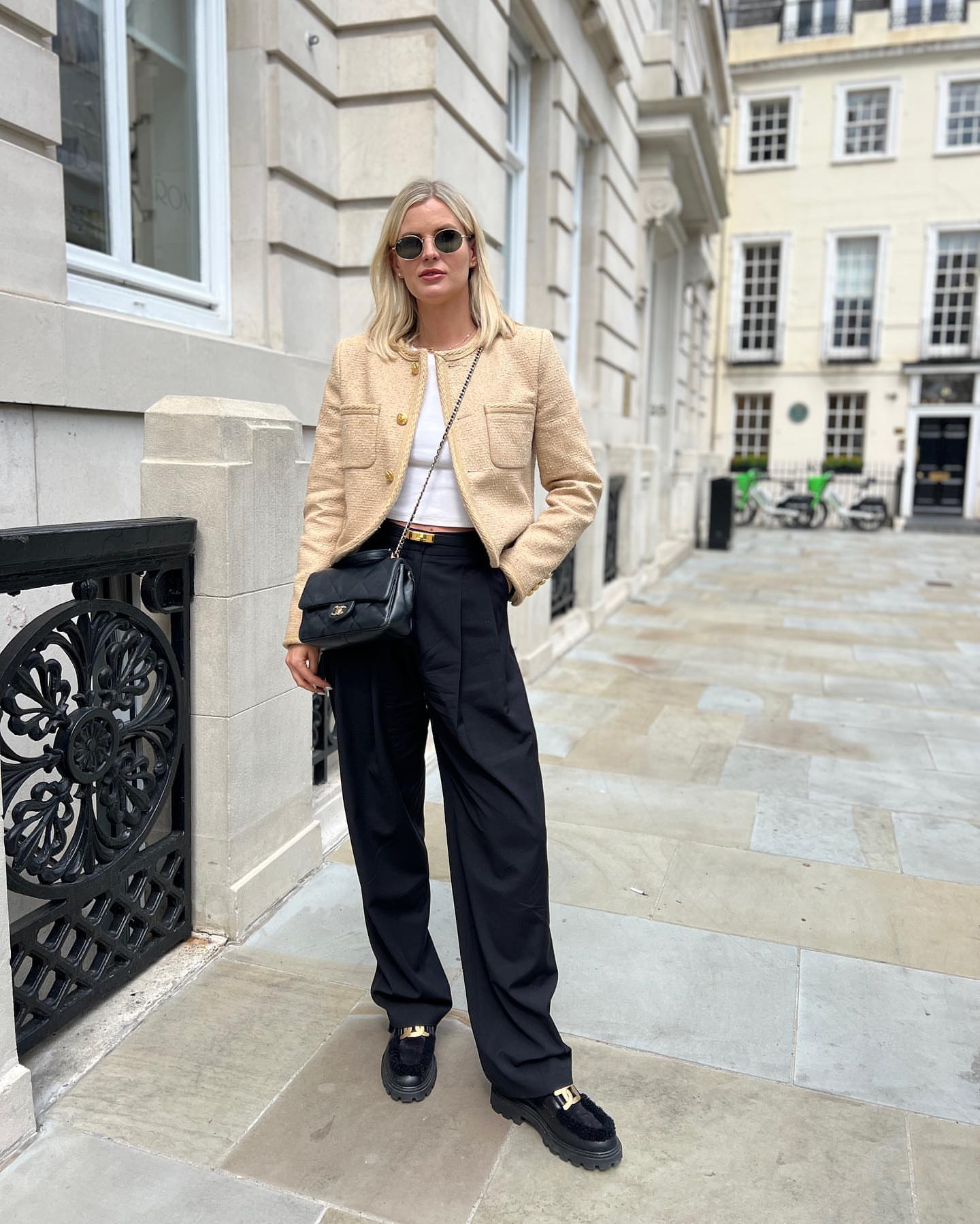 Ever since Jackie Kennedy delighted the world with her chic Chanel suits, this style has been synonymous with good taste and the moneyed classes.
However, you can now find lots of Chanel inspired jackets or cardigans on offer at reasonable prices, so this is an absolute 'must-have' for your 'quiet luxury' capsule wardrobe!
The jacket is a soft yellow-beige, which matches the model's hair perfectly and makes an attractive contrast with wide-leg, black trousers and accessories.
And notice how the gold belt buckle matches the buttons, the shoulder-bag fastener and the shoe buckles.
It's this attention to detail that elevates an outfit to a classy, quiet luxury level!
2. Classic White Blouse & Camel Trousers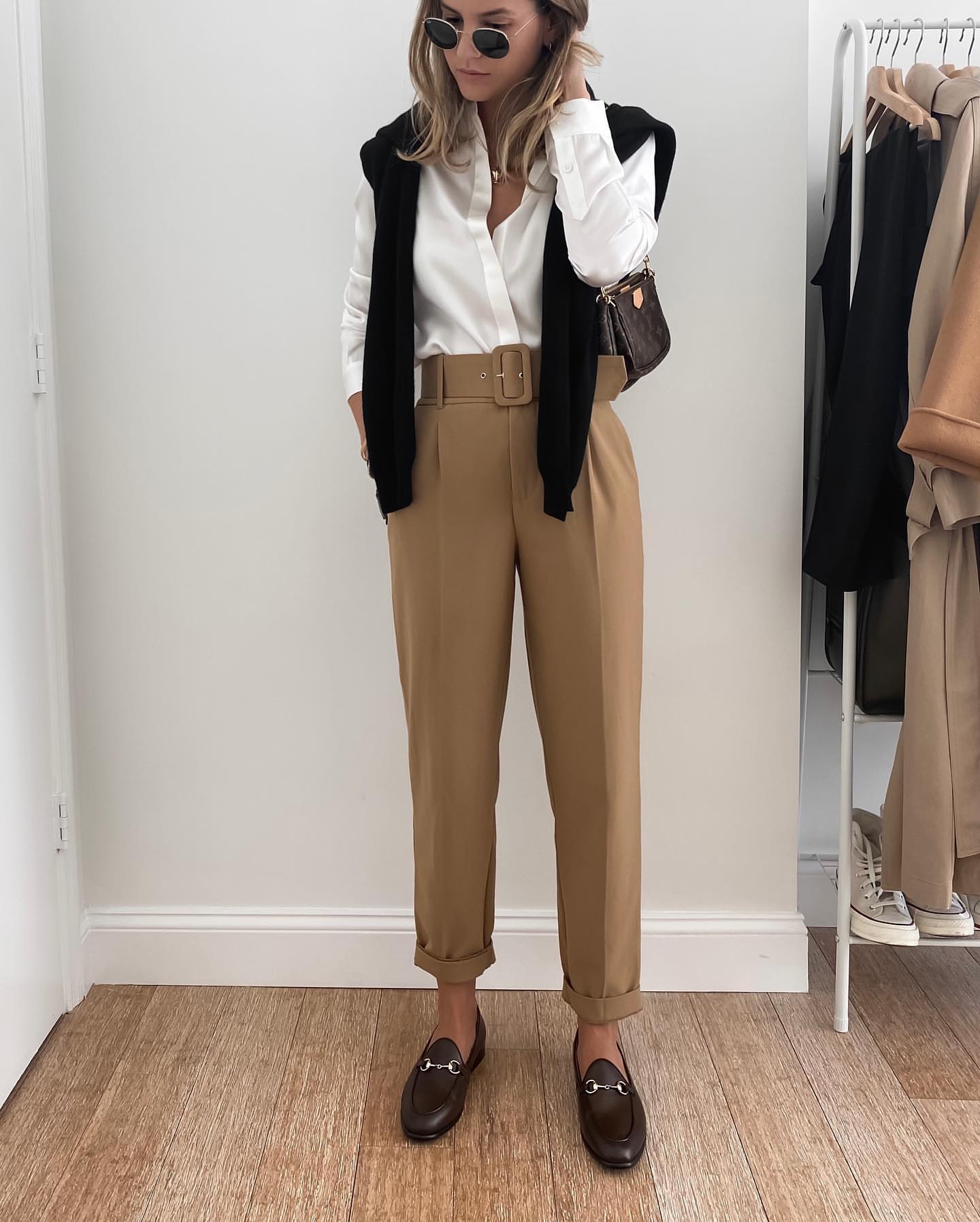 'Quiet luxury' doesn't include vivid colors and loud prints that quickly go out of fashion.
So this combination of a classic white blouse with camel-colored trousers and matching brown bag and loafers is perfect.
Notice the chic wide belt that delineates your waist, the flattering waist darts that ensure an excellent fit around the hips, smart front creases and casual turned-up hems.
And finish with another neutral color like the black sweater casually draped around the shoulders!
3. Lovely Light-blue Shirt over Gray Tank with Black Trousers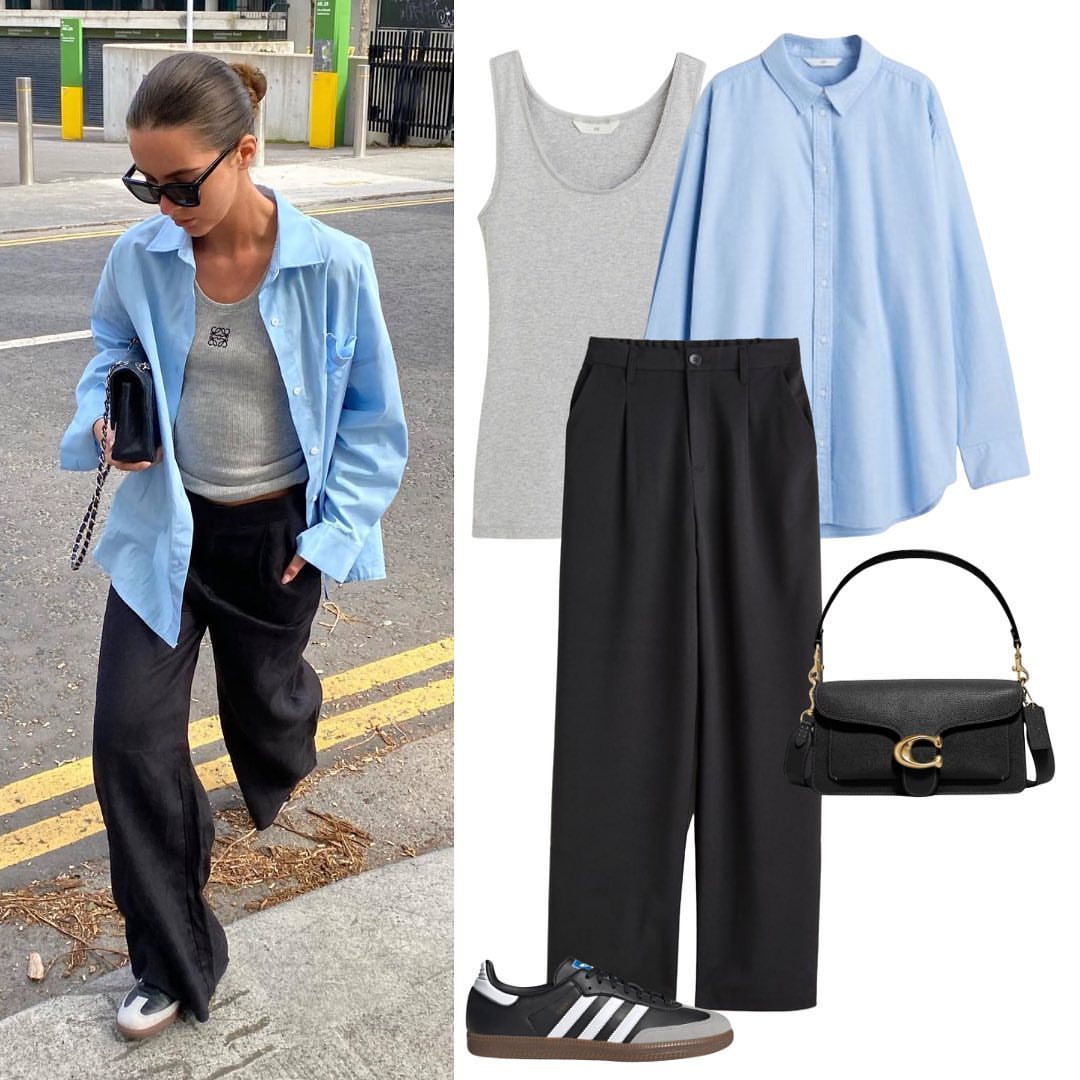 This stylish outfit has lovely color in the light-blue shirt worn over a gray tank-top, so 'quiet luxury' may be muted, but it's never dull!
Well-tailored black wide-leg trousers are a staple for every day wear and appear more often than jeans in QL outfits.
Striped black and white sneakers add a touch of pattern to break up the black and the handbag is an interesting oblong shape with an attractive golden fastener.
4. Simply Stylish White Linen Blouse & Long Black Shorts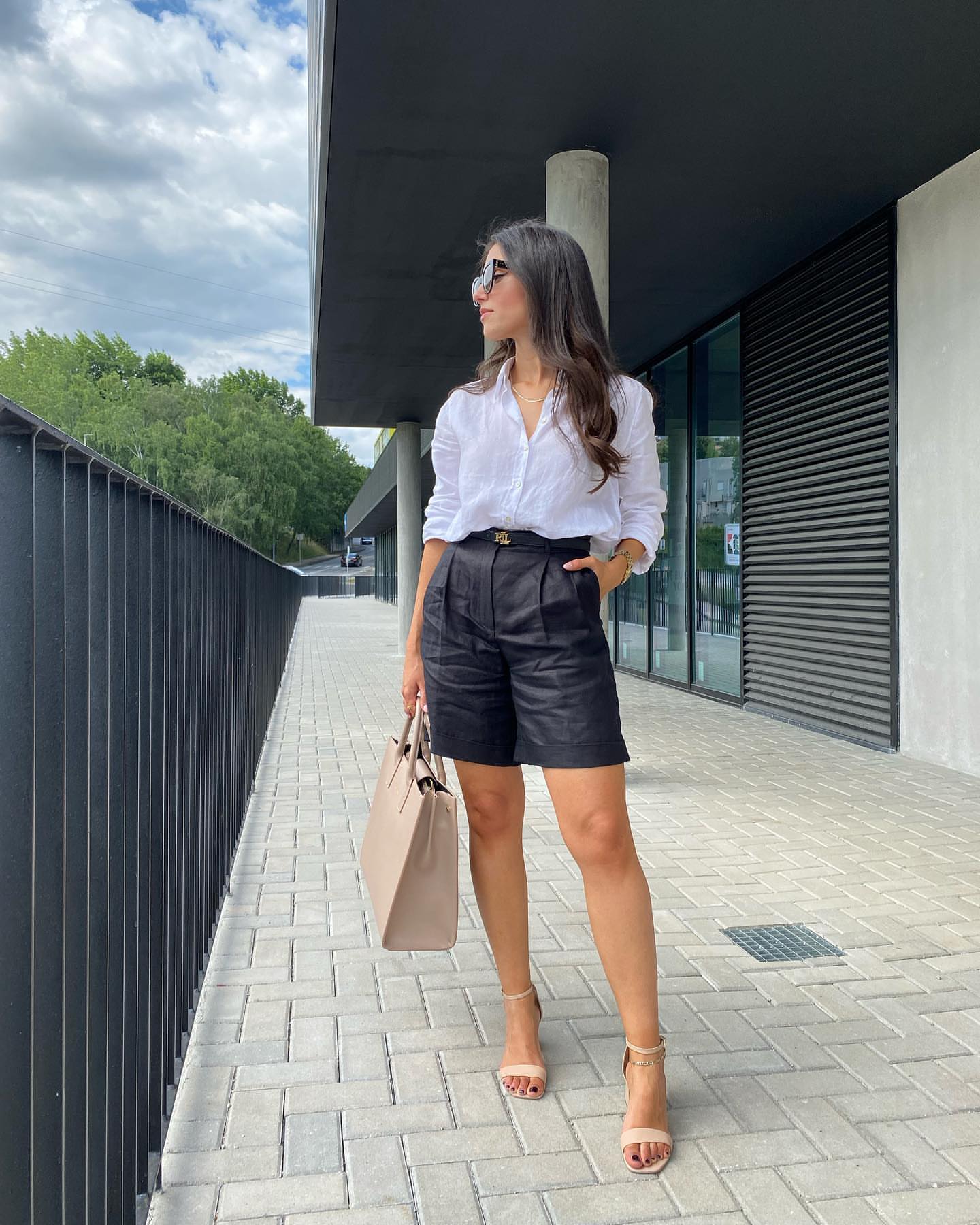 Here's another simple, but eye-catching 'quiet luxury' outfit that's very popular this year – as shorts with tailored darts at the waist are being worn on lots of different occasions!
For work, a pair of long linen shorts is smarter than a mini-skirt in hot weather and a white linen blouse is always classy.
And a large beige bag plus sandals to match will take you shopping or out for a drink with friends later in the day!
5. Smart Striped Top & Long White Shorts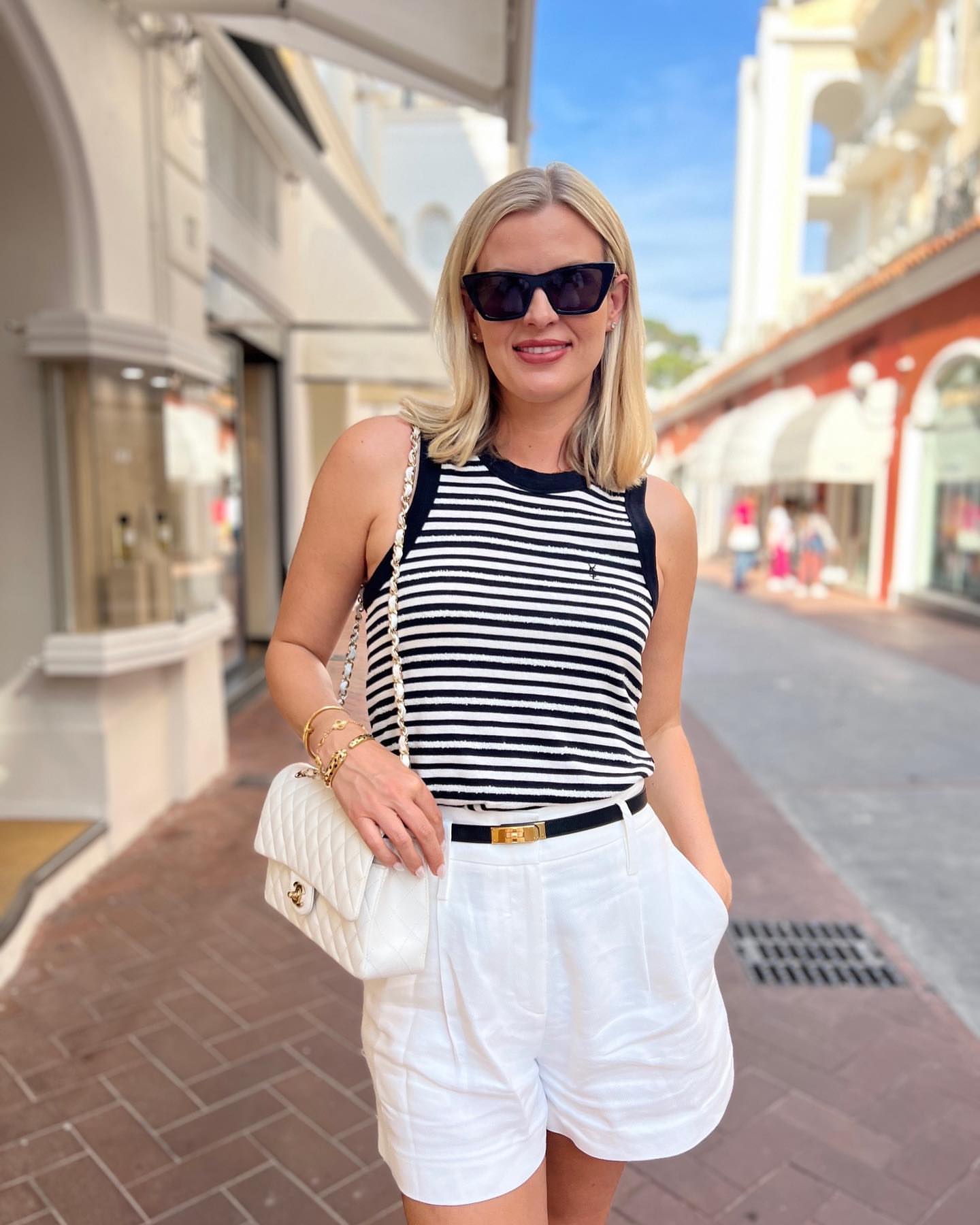 Black and white striped tops are totally trendy this year and look fabulous with white, loose fit shorts!
The top has a fashionable halter-neck style, with attractive black borders around the neck and arm-holes adding lots of style.
Always wear a belt with a decorative gold or silver buckle this year, but ensure it's dainty and not too big.
A retro Chanel quilted bag with a chain shoulder-strap is pretty much a staple this year and one that will stay fashionable for years!
6. Elegant Black Coat & Monochrome Long Skirt & Shirt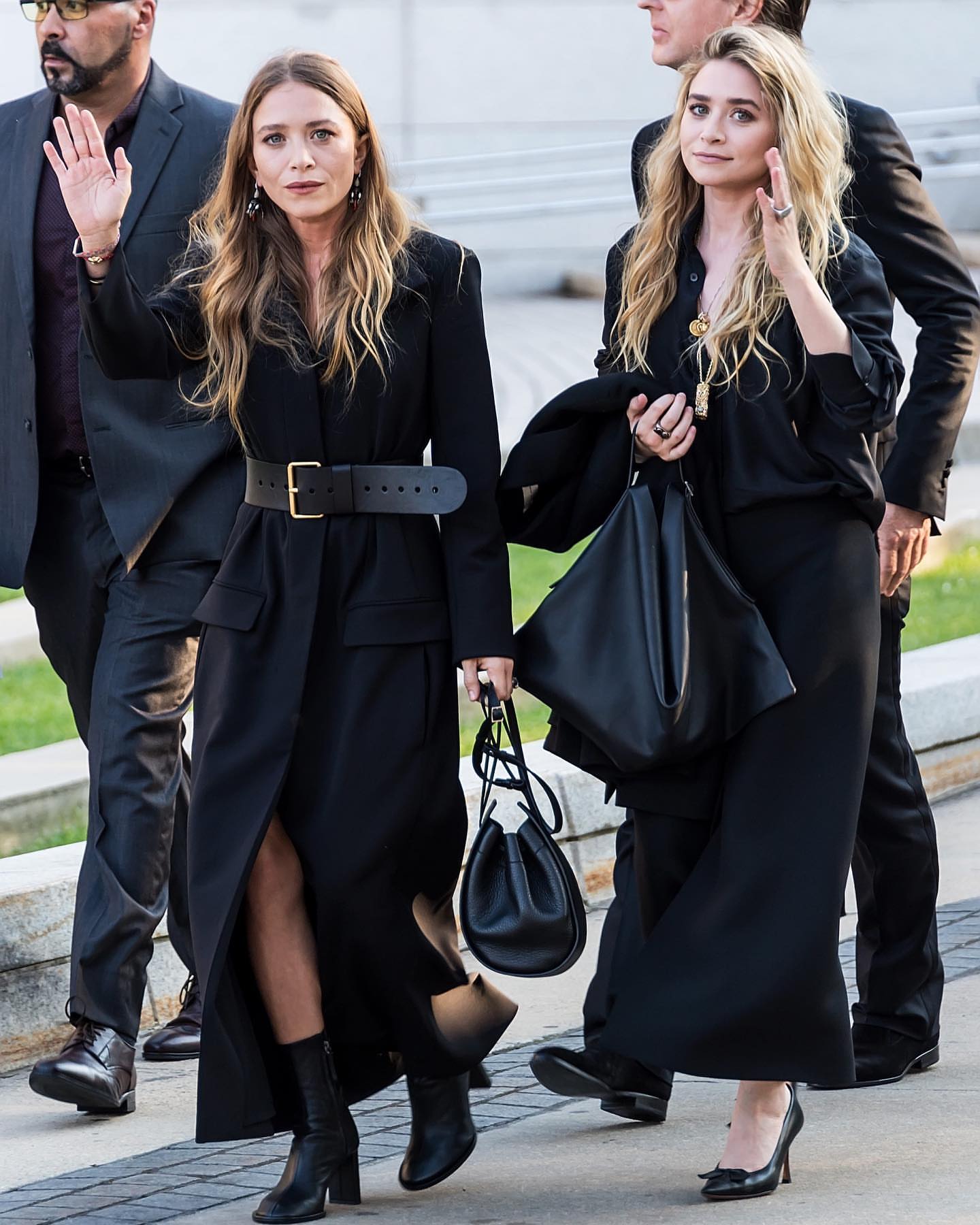 Take a leaf out of the Olsen sisters' fashion book – because their entire fashion brand, The Row, is at the forefront of quiet luxury dressing.
And they are demonstrating their love of timeless fashion beautifully with these two all-black outfits.
Mary-Kate is wearing a full-length, tailored black coat with good shoulder structure and a wide belt, with a golden buckle.
And Ashley is dressed in a black shirt, with a straight, black maxi-skirt.
Both outfits create a long, slimming silhouette and are accessorized with trendy, above-the-ankle boots and classic, dainty, pointed-toe heels with a cute bow on the toe.
7. Svelte Black Tank-Top & Gym Leggings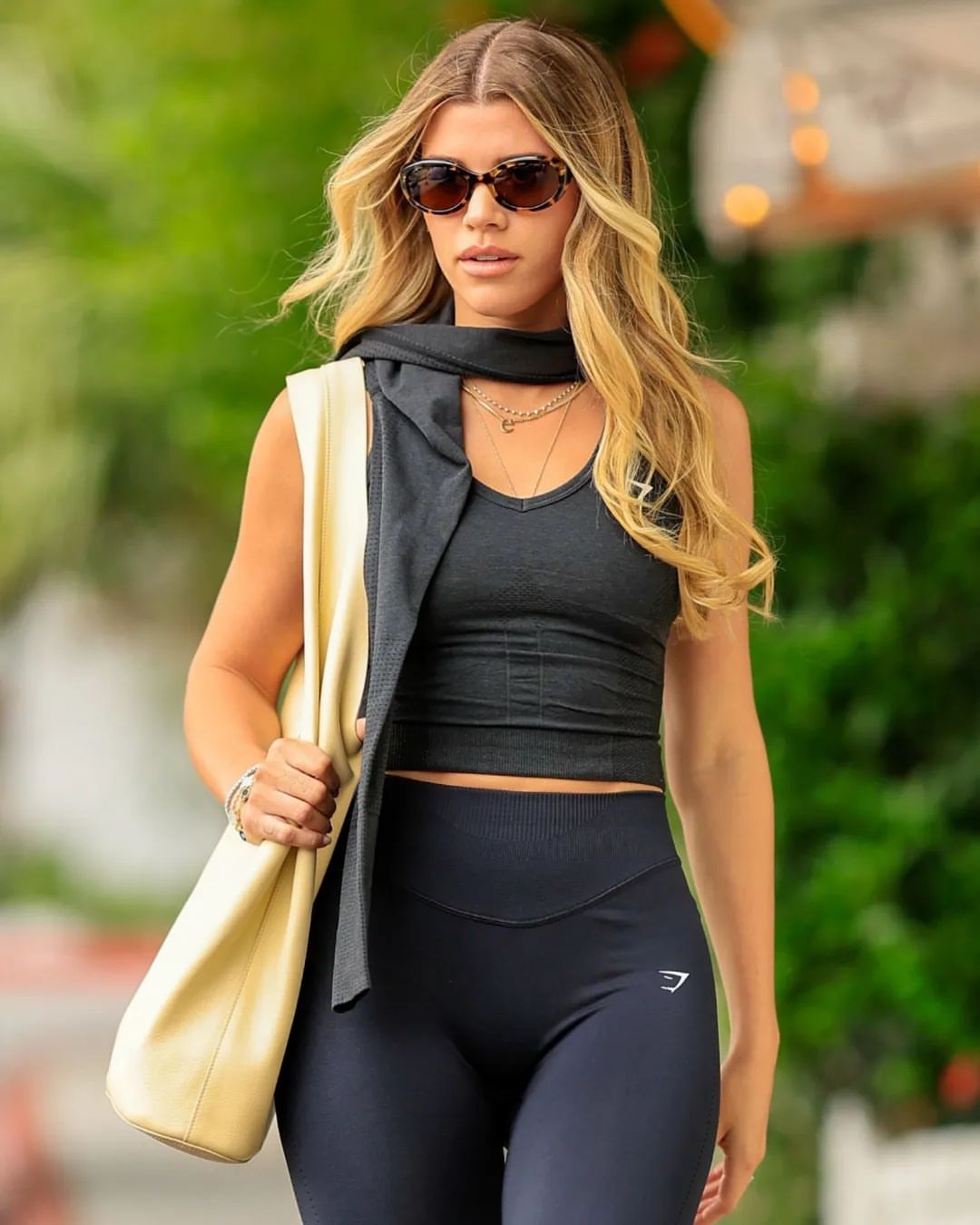 Show off a fabulous figure in a short black cropped top and a good-quality pair of gym leggings.
Showing a label isn't important in quiet luxury because flaunting designer names puts you in another fashion group entirely!
QL impresses because it is tasteful, made of high-quality fabric, has attractive details and always fits perfectly.
So choose neutral colors for your yoga and gym-wear and try not to 'live in' sports' clothes, if you don't actually do any sports.
8. Breezy Green Striped Shirt with Camel Shorts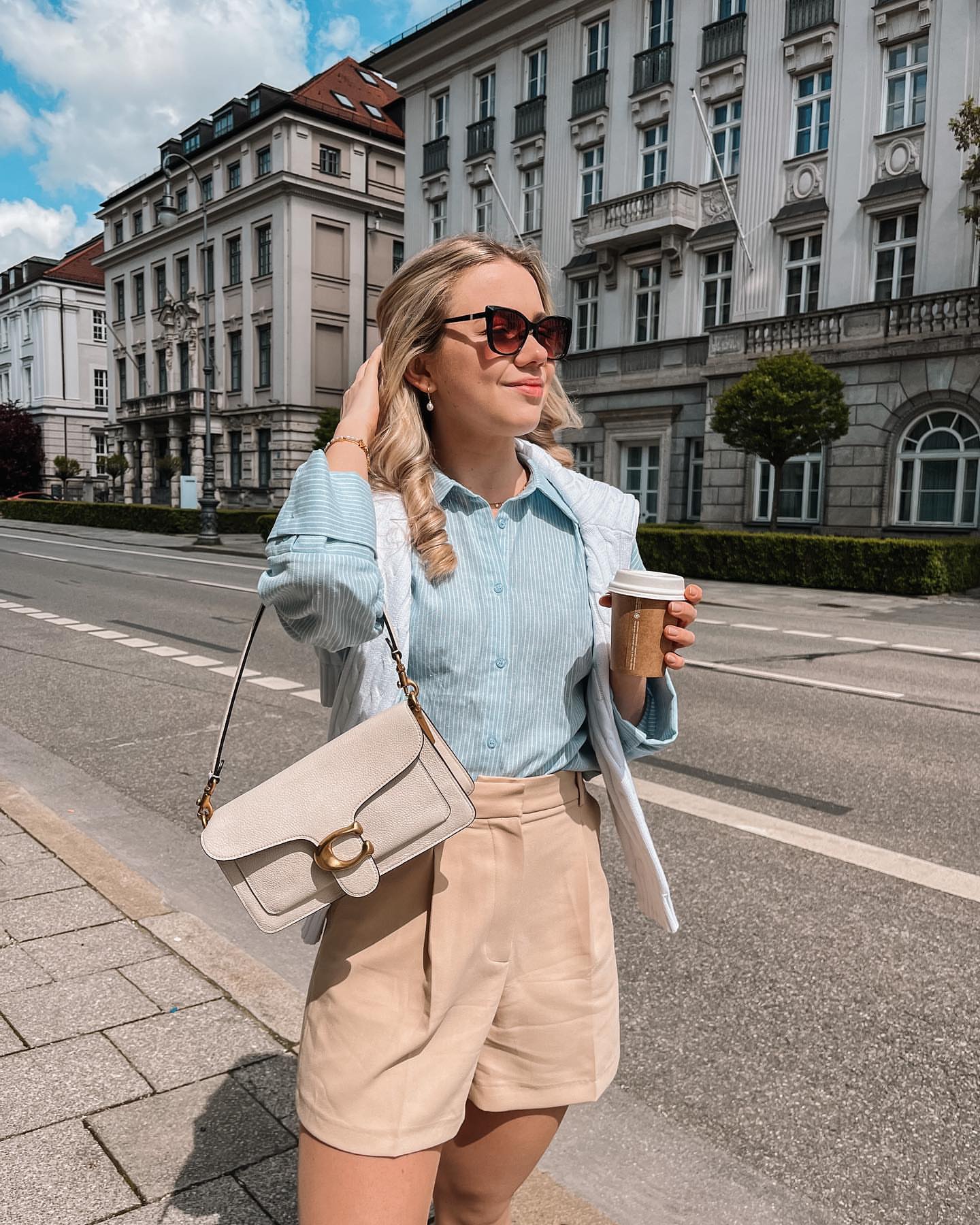 Blue and white striped shirts are never out of fashion, but at last green and white shirts have come back!
I love both, but it's nice to get away from blue for a while and enjoy the lovely look of green and camel clothes together.
This is another example of how to get the quiet luxury look in the right colors, which are attractive but not bright.
With a white, cabled sweater thrown over your shoulders, you can always rely on a shirt and long shorts outfit for smart and timeless day-wear!
Some quiet luxury fashion brands
Here are a few quiet luxury brands that have gained significant recognition for their commitment to quality, craftsmanship, and minimalist design.
Loewe: Under the creative direction of Jonathan Anderson, the Spanish fashion house Loewe has become a go-to brand for modern, understated luxury. Anderson's vision has given rise to uniquely crafted pieces that are as refined as they are contemporary.
Celine: Especially under the direction of Phoebe Philo, Celine became synonymous with a kind of effortless, understated elegance and sophistication. The brand is known for its quality materials, clean lines, and timeless yet modern designs.
The Row: Established by Mary-Kate and Ashley Olsen, The Row is known for its exceptional tailoring and minimalist designs. The brand's aesthetic leans towards sophisticated simplicity, with a focus on luxurious fabrics and impeccable fit.
Vince: Vince is a luxury brand that excels in crafting everyday essentials. Their commitment to creating functional, timeless clothes and accessories using only the finest fabrics sets them apart in the realm of quiet luxury.
Mansur Gavriel: Designers Rachel Mansur and Floriana Gavriel founded this brand in 2012 with the aim to create simple, high-quality leather goods. The brand has since expanded into clothing and is known for its minimalist aesthetic and attention to detail.
Arket: A brand under the H&M group, Arket provides quality products designed to be used and loved for a long time. They follow a minimalist design principle and focus on materials, function, and fit.
Goyard: This French brand is known for its luxurious, hand-painted leather goods. While the brand has a rich history, its lack of mass advertising and e-commerce creates an aura of exclusivity and quiet luxury.
Each of these brands represents a shift in consumer preferences towards understated elegance and lasting value, rather than ostentatious display. They are about appreciating the finer details, the quality of the materials, and the craft that goes into creating each piece. The focus is less about making a loud statement and more about embracing individuality, craftsmanship, and timeless style.
---
Where can I buy affordable Quiet Luxury Fashion Clothes?
Apart from the higher-priced brands like The Row, Objets Daso, Toteme, Hunting Season, Max Mara, Savette, Loro Piano and Bottega Venetto, you can also find affordable quiet luxury staples in the high-street collections!
The stores with the most QL options at affordable prices are:
H & M
Mango
Zara
Uniqlo
Topshop
So I hope this has given you plenty of ideas about how to get the Quiet Luxury look that's so appealing and popular.
The whole idea is to look as if you have the superb taste and minimalist approach to fashion garments that's virtually bred into families with 'old money'.
Quiet luxury demonstrates 'quality' by never showing-off or trying to be shocking or attention-grabbing.
It's the opposite of the celebrity novelty fashion we see at various awards ceremonies throughout the year!
Of course, celebs need to attract as much attention as they can to get offered work and progress in their careers.
But if you want to look like you already have a successful life, and attract other successful people to your friendship circle, why not switch to sustainable, quiet luxury fashion!