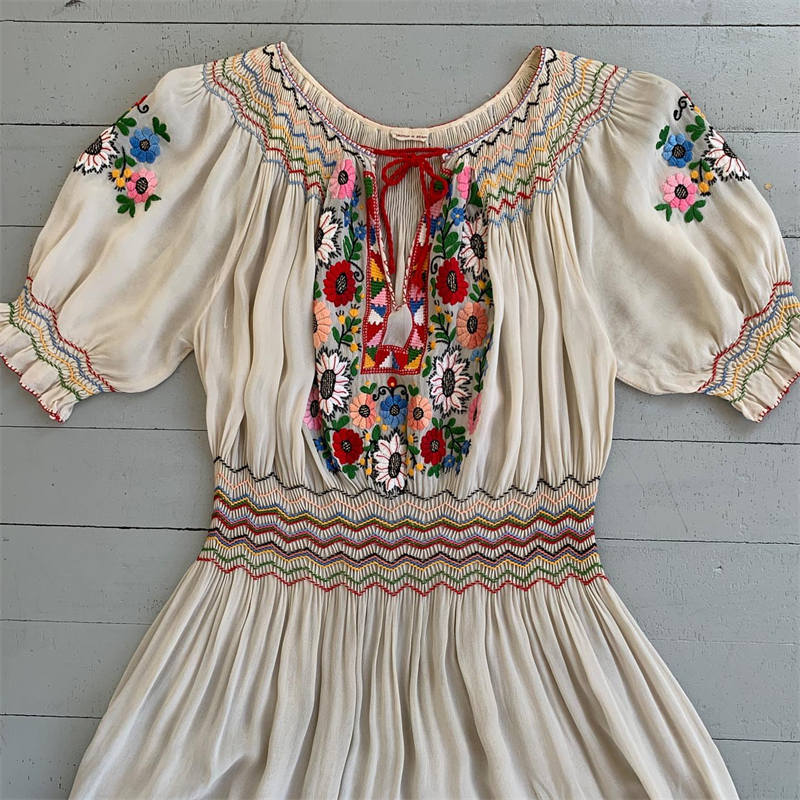 The peasant fashion style is a popular choice for many women, as it is both comfortable and stylish. This look can be achieved by pairing a flowy dress or skirt with a blouse or top. Common peasant-style clothing items include billowing sleeves, ruffles, and lace details. To complete the look, add some simple jewelry and sandals or flats. This style is perfect for a day spent exploring a new town or city.
What is Peasant Fashion?
The Peasant Fashion is a unique style that has been gaining popularity in recent years. It's characterized by its traditional and rustic aesthetic, which is often achieved through the use of natural materials and earthy colors. Peasant fashion also features loose-fitting and comfortable clothing, as well as a focus on simplicity and functionality.
This style has its roots in the traditional clothing worn by peasants and other rural workers in Europe. Over time, the style has evolved to become more refined and modern, but it still retains its original rustic charm.
Today, peasant fashion is worn by people of all walks of life, and it has become especially popular among young adults and millennials. This trend is likely to continue in the years to come, as more and more people are drawn to its unique and stylish aesthetic.
In 1976, designer Yves Saint Laurent (1936–) introduced a style that came to be known as "Rich Peasant" or "Peasant Chic." These designs featured drawstring blouses and long, full skirts with a gathered waistband called dirndl skirts. They were usually made in earth tones.
The Origins of Peasant Fashion
The history of peasant fashion is a long and varied one, full of colorful characters and interesting designs. Peasant fashion has its roots in the working class of medieval Europe, and has since evolved to become a popular style among bohemian and hippie cultures. Today, peasant fashion is still worn by many people as a way to express their individual style.
Peasant fashion first emerged in the Middle Ages, when the working class began to wear clothes that were more comfortable and practical for their everyday lives. This style of clothing was often made from rough, sturdy fabrics like wool and linen. The colors were usually muted and natural, such as brown, black, and gray. Women wore long dresses with aprons, while men wore tunics and breeches.
In the modern era, peasant fashion has been adopted by many different groups of people. Hippies and bohemians in particular are drawn to the relaxed, comfortable style of clothing. Peasant dresses, tunics, and blouses are often seen at music festivals and other events associated with these cultures.
So whatever your style, if you're looking for something unique and eye-catching, consider adding some peasant fashion to your wardrobe. With its long and varied history, there's sure to be a peasant style that's perfect for you.
Here's how to dress in Peasant fashion.
1. Peasant Long Dress
While the peasant look is often associated with rustic, country-inspired style, it can also be quite chic. To achieve a peasant look, start with a long, flowing dress. Look for a dress with intricate details like ruffles, lace, or embroidery. Pair your dress with a pair of comfortable, flat shoes. sandals or espadrilles work well.
2. Peasant Floral Prints
If you're looking for a peasant-chic look, try pairing floral prints with earthy tones. Think about pairing a flowy, printed dress with a chunky knit sweater or a denim jacket. For a more casual look, try pairing a floral print top with jeans or a denim skirt.
3. Peasant Corsete
For a peasant look, choose a corset that is made of a natural material like cotton or linen. The corset should be simple in design, without any embellishments. It should also be a neutral color, such as white or beige. To complete the look, pair the corset with a skirt or dress that falls below the knee.
4. Peasant Fur Vest
A fur vest is the perfect way to add a touch of luxury to your peasant look. It will instantly elevate your outfit and make you look like you've just stepped out of a fairytale. A fur vest can be worn over a dress, shirt, or even a sweater, and is sure to keep you warm all day long.
5. Peasant Suede Boots
Suede boots are the perfect footwear choice for achieving a peasant-chic look. They add a touch of luxury to any outfit, while still maintaining a rustic vibe. Pair them with a flowy dress or skirt for a feminine look, or with distressed jeans for a more edgy aesthetic.
6. Peasant Style: Belt
A belt is a perfect accessory to cinch in your waist and create a flattering silhouette. It also adds a touch of rustic charm to any outfit. To get the perfect peasant look, pair a belt with a flowing dress or tunic. Add some statement jewelry and boots to complete the look.
7. Peasant Fashion: Headband
A headband can really help to complete a peasant look. It can add a touch of whimsy and romance, and it can also help to keep your hair out of your face. Look for a headband that is made out of a light fabric, such as lace or linen. You can also use a scarf or a bandana.
8. Simple Jewellery
To achieve a peasant look, keep your jewelry simple. A few strategically placed pieces can add just the right amount of detail to your outfit. A delicate necklace or a pair of earrings can add a touch of femininity, while a bracelet or a ring can add a touch of glamour.
9. Peasant Oversized Shirt
The peasant look is a popular fashion trend that involves wearing oversized, comfortable clothing. This style is often associated with a more relaxed, carefree aesthetic. To achieve this look, start by choosing a loose-fitting shirt in a neutral color. Pair it with jeans or shorts for a casual look, or dress it up with a skirt or pants for a more elegant outfit.
10. Peasant Style: Ruffles
If you're looking for a peasant-chic look, a ruffle shirt is a great way to achieve it. Pair a ruffle shirt with jeans or a denim skirt for a casual look, or dress it up with a black skirt or pants for a more sophisticated take.
Do you like floral prints? What's your favourite historical time?