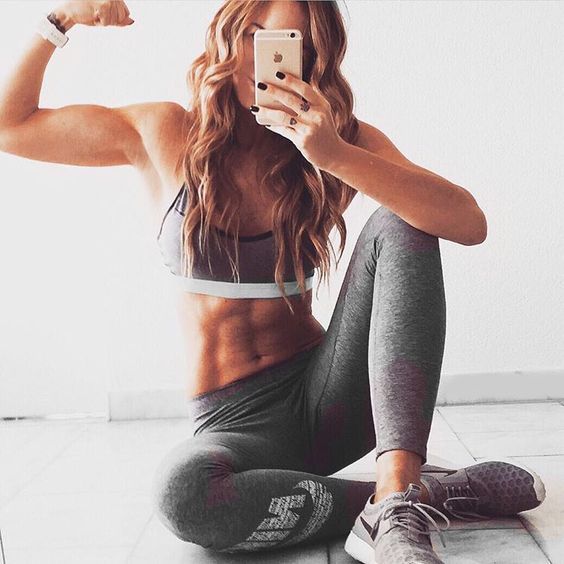 Some women want to lose ten pounds before summer or tone their legs before Others aim to lose much larger amounts of weight or have more serious long-term body transformation ambitions in mind. Regardless, most women have set some type of fitness goal at one point or another.
Anyone who has set their aim on a fitness-related target knows how difficult it can be to stay motivated and focused on these goals after you initially set them. Many people start strict diets and fitness regimes with the best of intentions, only to abandon them as soon as their motivation begins to fade. This can leave you feeling frustrated, discouraged, and ineffective at creating positive change in your own life. Fortunately, there are many healthy, positive ways to jumpstart your motivation to stay focused on your fitness goals long-term.
1. Make Healthy a Hobby
Vegetables and treadmills aren't the first things that come to mind for most people when they think of fun. However, developing your fitness routine into a hobby you enjoy greatly increases the probability that you'll stick to it.
Enjoy your workouts more by choosing activities you enjoy that also get you moving. Don't force yourself to eat foods that make you gag just because they're healthy. Instead, explore nutritious foods that you actually like eating. Don't get stuck in a rut of eating the same few healthy meals and completing the same workouts week after week. Mix up the food you eat and the exercises you do to keep your healthy habits interesting and exciting.
2. Refine Your Goals
Creating open-ended goals is of the biggest mistakes people make when they put their mind to reaching a fitness-related target. Vague statements like "I want to lose fifteen pounds" or "I want a flat stomach" are difficult to work toward and easy to lose sight of quickly.
Goals that are unrelated to losing weight or seeing visible results are some of the easiest to keep. Instead of obsessing over how quickly the numbers on the scale are dropping, make it a point to try out three new healthy recipes every week. Rather than counting the calories you burn, work toward being able to run three miles without stopping.
3. Build a Routine
The number-one reason why people fail at accomplishing their fitness goals is because they feel like they don't have the time in their schedule to do what it takes to reach them. Exercising and planning for and cooking healthy meals does require a good chunk of time, but living a healthier lifestyle and working toward a specific fitness goal is possible no matter how hectic your daily schedule is.
Time management is key to preventing your fitness regime from getting lost in the rest of your busy life. Schedule a biweekly grocery shopping trip and make a strict list beforehand to get you in and out of the store as quickly as possible. Over the weekend, prep a week's worth of healthy, portioned meals that you can take with you on the go. Don't stress about clocking in two hours at the gym every morning. Settle for short twenty to thirty minute cardio or strength training routines when you can't fit longer workouts into your schedule.
4. Do it For the Feeling
Fitness goals are often difficult to stay focused on because they don't provide instant gratification. You can't lose ten pounds or build six pack abs overnight. Waiting to see any noticeable reward for your hard work can be frustrating and discouraging.
Instead of focusing on how you look, keep your mind on how you feel. Eating healthy and working out regularly can help you feel more energized, less depressed, and more productive in all areas of your life. The positive mood-related effects of healthy food and exercise can be subtle, but they are instant. Focusing on the positive feelings that stem from your fitness habits can help keep your motivation for sticking with them.
5. Track Your Habits
Tracking the daily and long-term progress you make toward your specific goals is a very effective way to hold yourself accountable for keeping up with your fitness goals.
Many people choose to write down the food they eat and the workouts you complete in a journal. You can buy fitness journals designed specifically for this purpose, but any standard notebook or even the notes app in your phone works just fine. There are also multiple fitness apps that allow you to enter what you eat and how you exercise to automatically calculate how many calories you consume and how many you burn. You'll likely find that it's much more difficult to break your diet or skip your daily workout if you know you have to write it down later.
6. Be Flexible
Building a regular routine to incorporate your fitness habits and trying to plan your regular schedule accordingly is an important part of accomplishing your goals.
However, being flexible helps you find a way to when your schedule changes unexpectedly. When life gets in the way of your fitness plans, learn to adapt. When you're running short on time, cut your workout short by a few minutes instead of skipping it entirely. Or, pick up a pre-made salad from a grocery store instead of ordering fast food when you're on the go.
7. Forgive Yourself
One of the most important keys to moving forward with your fitness goals is learning to forgive yourself for your inevitable setbacks. No one is perfect, and it's unrealistic to expect yourself to never make mistakes.
If you hit the snooze button instead of getting up for your morning workout or order fast food on your way home from work one day, don't get discouraged or angry with yourself. Allowing your setbacks to derail your entire fitness plan will only delay your progress toward your final goals. Acknowledge your mistakes, but let them go and leave them behind as soon as possible.
Starting a new fitness routine is easy. Developing healthy habits and sticking to them until you reach your goals is much more difficult. Even if you start your fitness journey with the best intentions, it's very easy to get off track. If you have a fitness goal you're tired of giving up on, use the tips in this post to keep yourself grounded and moving forward.