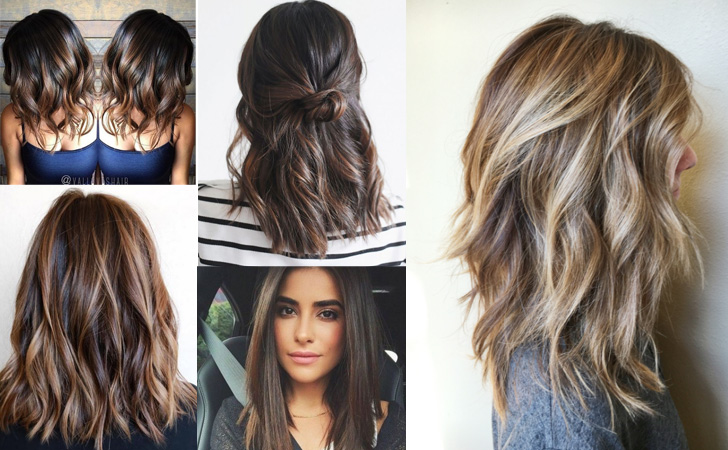 Hair that is too long to be considered short but too short to really be considered long is generally referred to as medium hair. Medium length hair is often a result of shorter hairstyles that are in the process of being grown out. However, this is not always the case. Many women choose to keep their hair at a medium length in order to reap the benefits of having longer hair without having to deal with the frustrations of having an excessively long style.
Medium hair can be gorgeous, but it can also be extremely difficult to handle. It is in between short and long hair. Unfortunately, this means that medium hair often doesn't work with styles designed for short hair or long hair. However, there are still many styles that look beautiful with hair that is at a shoulder length. You just need to find the right styles to try. If you have medium hair and struggle with this challenge, don't give up hope. You can easily find medium hairstyles that perfectly complement your in-between style without looking awkward or out of place.
Back view of medium hairstyle – brown hair colors for medium hair
Twisted, piece-y curls are a great style choice for medium hair. Big, rounded curls often look over the top on medium hair and ringlets look awkward as well. Create a balanced look with piece-y curls by twisting each section of your hair before you curl it with an iron like you normally would.
Layered medium length hair style – balayage hair
While big, round curls can look awkward and over the top with medium hair, they can look gorgeous as well. If you do choose to create large curls with a wide iron, use thinner irons on some sections to create a more balanced look. Also, keep your curls separated with hairspray to avoid a frizzy finish.
Back view of medium long hairstyle – soft wavy shoulder length hair
Very loose curls look great with hair at a medium length. These beautiful curls are actually very easy to create. All you have to do is use a wide iron and wrap each section of hair loosely around the iron. Hold each curl for about half the time you normally and spray lightly to achieve the loose look.
Chic medium hairstyle for women – babylights on dark hair
If you have a long bob, it can be difficult to see beyond the two style options of either straightening or curling your hair. However, the half-up, half-down style shown above demonstrates that there are many more styles that work perfectly with your lob. All you have to do to create this style is twist and pin the top section of your hair to secure it up against your head.
Medium ombre hairstyle – soft curly hairstyles with braids
via instagram
Many braided styles look beautiful with medium hair. The half-up style above is extremely easy to create and it looks intricate and elegant for any occasion. Easily create this style by braiding and securing the top section of your hair. Then, just curl the bottom section of your hair and you're good to go.
Soft wavy curly hairstyle for medium length hair – hair colors for brunettes
One of the worst hair frustrations for cuts of any length is limp curls. If you struggle with limp curls that fall out easily, don't worry. You can easily add volume to your hair by blowing it out before you start the curling process. Then, use a wide iron and spray each curl immediately for a lasting finish that keeps its volume all day long.
Trendy shoulder length hairstyle for black women – black to brown balayage
Use a tapered curling iron to create a balanced curled look for your medium hair. You'll end up with wide, round curls on top that curve into beautiful ringlets at the ends for a gorgeous finish, try this medium hairstyle if you like this one.
Chic medium length straight hair for girls – the long bob hairstyle
Medium hair looks gorgeous when it is straightened. In fact, medium-length hair is the perfect cut to straighten because it looks beautiful but doesn't waste your entire morning. Just make sure to add a heat protectant to your locks before straightening in order to prevent damage to your ends.
Easy messy medium hairstyle for moms – medium brown balayage hair
Create a piece-y curled look by curling your hair in large sections. Use the widest curling iron you can find for this look in order to make sure that each section gets curled thoroughly. When you finish curling, separate each section and spray to achieve the coveted piece-y finish.
Medium balayage hairstyle for thick hair
Layered Shoulder Length Hairstyles
Update: we have added more hair ideas for shoulder length hair in this post, enjoy.
A perfect hairstyle for women over 50 with thick hair.
Hair color ideas for medium thick hair – lowlights on blonde hair
When you curl your medium hair, experiment with leaving the ends uncurled. This trick creates a unique look that prevents your ends from looking too rounded or blunt when your hair is curled.
Side view of trendy medium hairstyle – balayage shoulder length hair
Don't think that you have to curl every strand of your hair to create a gorgeous, curled style. In fact, curling all of your hair when it's at a medium length can create an over the top finish. When you curl your hair, experiment with curling only the top section to produce a balanced look.
Back view of layered medium length haircut – medium bob hairstyle
Medium length hairstyles for thick hair – Light Brown Hair Color Ideas: Light Brown Hair with Highlights and Lowlights
Medium length hairstyle for women over 50
medium length hair style from instagram
Easy daily medium hairstyles for women
via instagram
Easy messy medium length hairstyle for summer on the beach
via misteranhcotran.com
Layered Medium length hairstyle for fine hair – Brown Hair with Highlights and Lowlights
Layered shoulder length hairstyle for thick hair
Medium Length Hairstyles for Thin Hair
hairstyle for fine thin hair via instagram
Shoulder length hairstyle with bangs for fine thin hair – the mob
Trendy reddish auburn medium hairstyle for thin hair
Soft wavy curly medium hairstyle for fine thin hair
Easy straight shoulder-length hairstyle for thin hair – the dark bob cut
Easy daily medium length hairstyles –
shoulder length balayage haircut for women.
Hair color ideas for shoulder length hair – Smokey Lavender Hair Color
Easy daily layered shoulder length hairstyle
Cute Medium Haircuts, Messy Waves and Medium Haircuts
Layered Medium Wavy Hairstyle with Highlights
Layered medium length hairstyle for women over 50
layered straight hairstyle with ombre highlights
Soft wavy curly medium hairstyle with bangs for Asian girls
Medium layered hairstyle
back view of shoulder-length hair for school
Funky medium hairstyle for girls
Chic everyday hairstyle ideas for medium length hair
Easy everyday medium length hair ideas
Pastel Balayage Bob