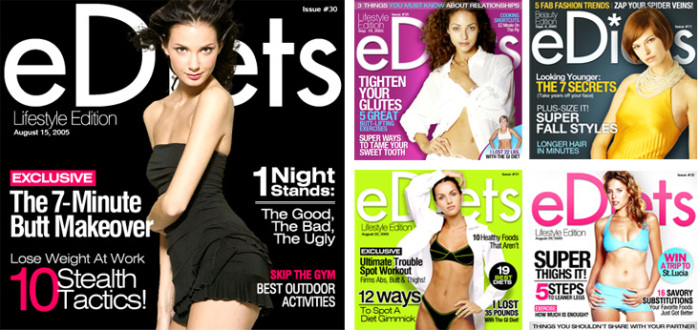 Online weight-loss services are a great way to get solid support to change your eating and exercise habits, without leaving home!   There are now so many online, it's difficult to work out which one will be best for you.  So here are the details of the Top 3 Online Weight-Loss Services, awarded in August this year.  All of them offer outstanding service and value, and prices vary so there's a great online weight-loss service here for every budget.  So get comfy and prepare to choose a fabulous online diet and exercise service to smash your weight-loss goals!
No. 3 – eDiets.com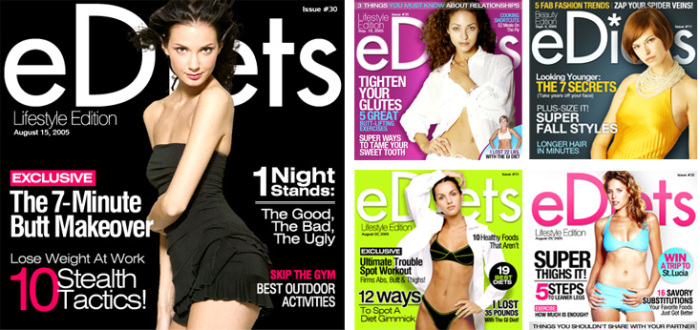 €9.03 per month approx.
Pro:  eDiets offers diet plans for people with special dietary needs.
Con: This service does not offer direct access to dietitians the way many competitors do.
Overview:  With its variety of diet plans, fitness tools and tracking capabilities that can help you get in shape, eDiets is among the best online diet services.
eDiets is different from most online diet services and doesn't offer its own weight-loss program.  Instead, it presents a number of popular diet plans and you choose one that's right for you. Fitness experts know that successful weight-loss programs combine a healthy diet with physical activity, and eDiets offers both!
Varied diet plans including diabetic & vegetarian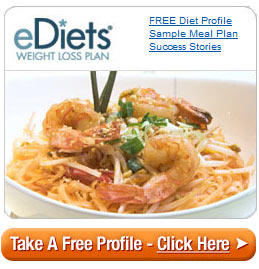 There are over a dozen diets offered on this weight-loss platform.  And they include diets for those with special requirements e.g. a vegetarian diet plan and another designed for people taking insulin treatment for diabetes.  Although diabetics must get their doctor's approval of any weight-loss diet.  If you don't know which diet is best for your requirements, this service will create a tailor-made diet and exercise plan!  And the weekly menu planner will also be based around your favorite foods.
Exercise with virtual trainer
This site will help you keep track of your body measurements, weight, work-outs and mood, to build a profile of everything that could be affecting your weight-loss.  It's easy to build individual work-out plans from a list of exercises in your account online.  And best of all, a 'virtual trainer' performs each exercise with you, which helps increase your physical effort and makes sure you're doing the movements correctly.
eDiets is an excellent online weight-loss service, which offers a lot of choice in diet plans.  There are plenty of tools to keep you inspired and help you reach your goal-weight and maintain it.  eDiets doesn't have such a strong community resource as the other two plans reviewed here.  But it's great value for money and you just have to bring more determination, safe in the knowledge it's one of the top three online weight-loss services.
No. 2 – Diet.com
€36.20 per month approx.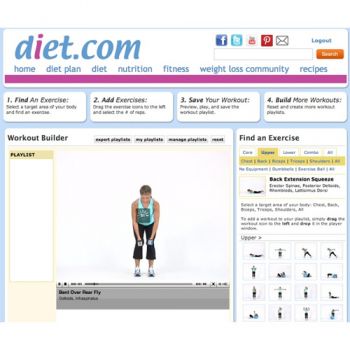 Pros:  Outstanding fitness component with videos to demonstrate correct exercise performance
Con:   Doesn't have a mobile app for tracking your progress throughout the day
Overview:  Great choice for a weight-loss plan with excellent community support, diet plans and expert fitness trainers to show how to make permanent lifestyle improvements.
Diet.com is the perfect online weight-loss service for building-up a long-term weight-loss and fitness plan.  It's like entering a whole world focused on giving you practical online tools and useful resources to support healthy weight goals and permanent lifestyle change!
Varied diet plans including nut-allergy & vegetarian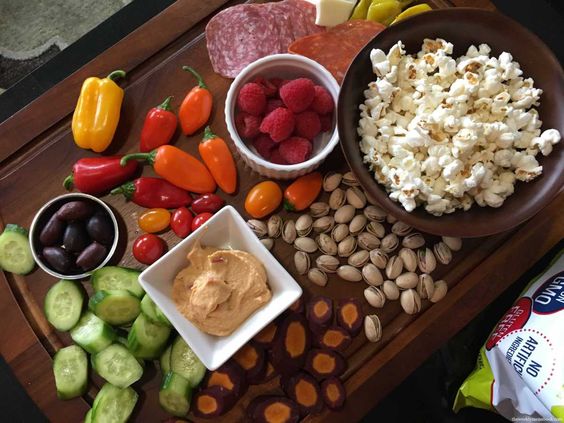 Mediterranean diet – gluten-free snacks
Diet.com offers 16 meal plans, which cater for different daily calorie intakes, food preferences and specific dietary needs.  This includes a nut-free meal plan for anyone with a nut allergy and vegetarian plans. Diet.com uses a helpful Diet Quiz, which guides you to a workable plan for your lifestyle.  Each meal plan gives a detailed 7-day menu or you can create personal menus from the vast recipe section.  All you have to do is write your shopping list and go to the store!
Comprehensive exercise plans
Diet.com has exercise plans to suit everyone, with programs for beginner, intermediate and advanced.  There's also a great work-out builder and videos showing how to perform each muscle group exercise correctly.  You can create multiple work-outs for a full-body program, too.  In addition, Diet.com has a vast library of articles by certified fitness experts and personal trainers.
With great community support and perfect balance between diet and exercise, Diet.com compensates for the absence of a phone app or client support phone access.  It's an impressive online weight-loss service with access to a dietitian, meal plans and first-rate tracking tools. Diet.com is equally suitable for a drastic, long-term weight-loss or just making some healthy-living changes to reach your goals!
No. 1 – Weight Watchers Online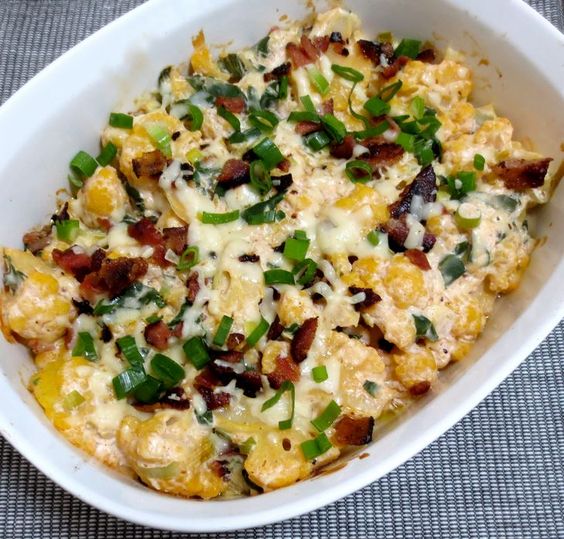 Weight-watchers Cauliflower Casserole recipe
€36.25 approx. basic cost per month, but there are several 'levels' and offers available
Pro: An added smartphone app ensures you stay focused wherever you are.
Con: No one-to-one contact with a trained dietitian or consultant available for the online-only service.  More expensive than other services.
Overview: Weight Watchers' Food Points system makes your diet flexible and uncomplicated. There's an impressive range of online tools to support clients.
Weight Watchers is a famous weight-loss brand with a 40-year track record of success. Their major advantage is that they understand we are all different and like different foods.  So on the weight Watchers Diet Service online, you can eat any foods. The points system channels people to choose healthy, filling foods of their own accord, which underpins healthy eating for life.
Food Points' system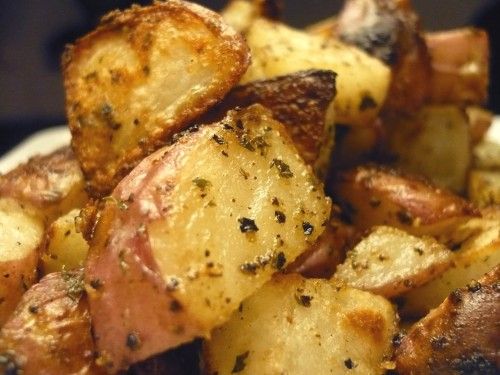 Weight Watcher Ranch Roasted Red Potatoes Recipe – 2 Points
This balanced approach aims for steady weight-loss in a healthy plan you can follow without cheating.  You learn a lot about healthy food and the benefits of becoming more physically active, but in a relaxed way, rather than a pressured environment.
This program is based on every food having a fixed 'points value', and the website lists Food Points for over 40,000 foods. You're set a daily number of points to 'spend' on foods you choose, and you add-up your Food Points at the end of the day.  You lose weight when you consume fewer Food Points than your daily allocation or by exercising more.  And as you follow the points program, you'll start changing your food choices yourself to reduce your weight.  After reaching your goal weight, you'll also be able to continue 'watching your weight' for life.  There are also hundreds of great recipes, a useful meal planner and advice for eating-out.
Exercise not focused on tough work-outs
Exercise is encouraged with points assigned to activities, including walking, swimming, cleaning and gardening etc.  Exercising Points are subtracted from your daily Food Points total, allowing you to exercise more in advance of a party or special dinner.  It's a brilliant, self-motivating system and deserves it's place as the No. 1 weight-loss system both off-line and online!