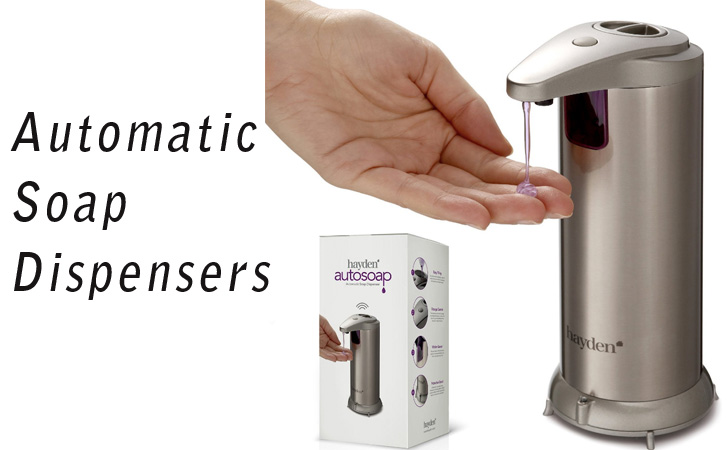 The Best Automatic Soap Dispensers You Need in Your Home
Over the years scientists, as well as doctors have all drilled in us how important it is to wash our hands frequently with soap and warm water. Washing your hands with soap and water is an effective means of removing germs and helping prevent debilitating bacterial and parasitic infections that afflict millions of people worldwide. Because we tend to touch so many things and people throughout the day it is important to keep in mind to maintain our hands clean.
A great way to maintain our hands clean is by using an automatic soap dispenser. Automatic soap dispensers are better at keeping our hands clean because you never need to come in contact with them so other people's germs are never transferred to you. This keeps you and the soap dispenser itself germ free.
With so many different soap dispensers on the market, it can be difficult to find the best ones. Here are the best 10 automatic soap dispensers you need in your home. Read the following Automatic Soap Dispenser reviews to find your favorite one.
10.

Leapair Automatic Soap Dispenser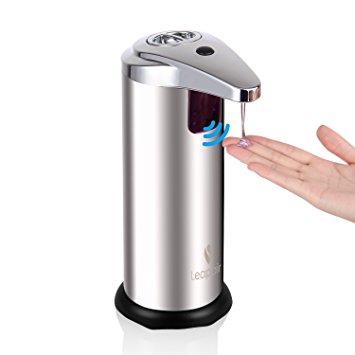 If you have an interest in an easy automatic, battery operated soap dispenser this is as simple as it gets. It is ideal for your kitchen. As someone who enjoys cooking things can become a bit messy when you are trying to work with meat and need to wash your hands. That is when an automatic soap dispenser comes in handy.
The sensors in this soap dispenser will instantly give you the perfect amount of soap that you need in order to wash your hands properly. And the best part is you never need to touch the soap dispenser.
9.

Naiver Battery Operated Automatic Wall Mount Dispenser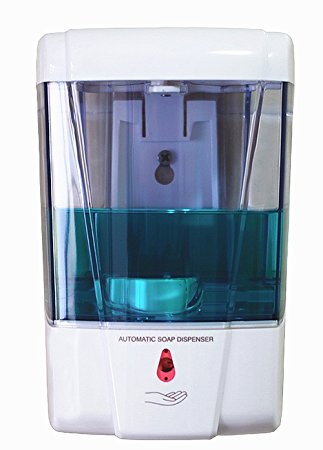 It doesn't get any more convenient than this. This soap dispenser can be mounted onto your wall in any place in your home. We recommend mounting it in your kitchen or bathroom for easy access whenever you need to wash your hands. This is suitable not only for liquid soaps but you can use it for hand lotion, shampoo, body lotion and so forth.
Once you have used up your soap in the dispenser, you are able to refill it with whatever you would like to. This makes it very convenient to have more than one in your home.
8.

Svinz Touchless Soap Dispenser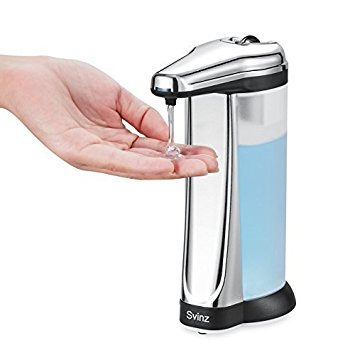 This soap dispenser is sleek and thin while having the ability to hold up to 15 oz of soap in it. What this means is you will not need to refill your soap dispenser as often. The chrome exterior makes it easier to clean while having a stylish appearance. You also have control when you use this soap dispenser.
You can control the amount of soap that comes out of it. It comes with two options to give you just the right amount of soap every time you use it. It has a 5 second trigger that will dispense the right amount of soap onto your hands in 5 seconds or less.
7.

EchoDefy Automatic Touchless Soap Dispenser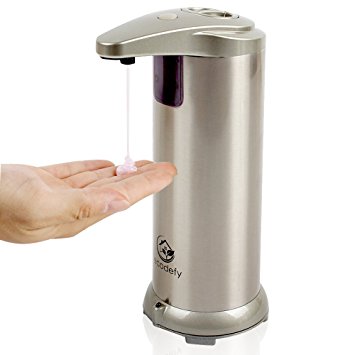 The best part about this soap dispenser is its stunning and sleek design. It is stainless steel with a fingerprint resistant coat. Which is great if you have children as this soap dispenser will not display fingerprints if your children happen to touch it. It can be located anywhere in your home from the bathroom to the kitchen or back and forth.
The inferior responsive sensor in this soap dispenser makes sure you will be dispensed your desired amount of soap every time you place your hand under it. It also comes with 3 soap volume adjusters so you can adjust how much soap is dispensed from it.
6.

GoJo Foam Soap Dispenser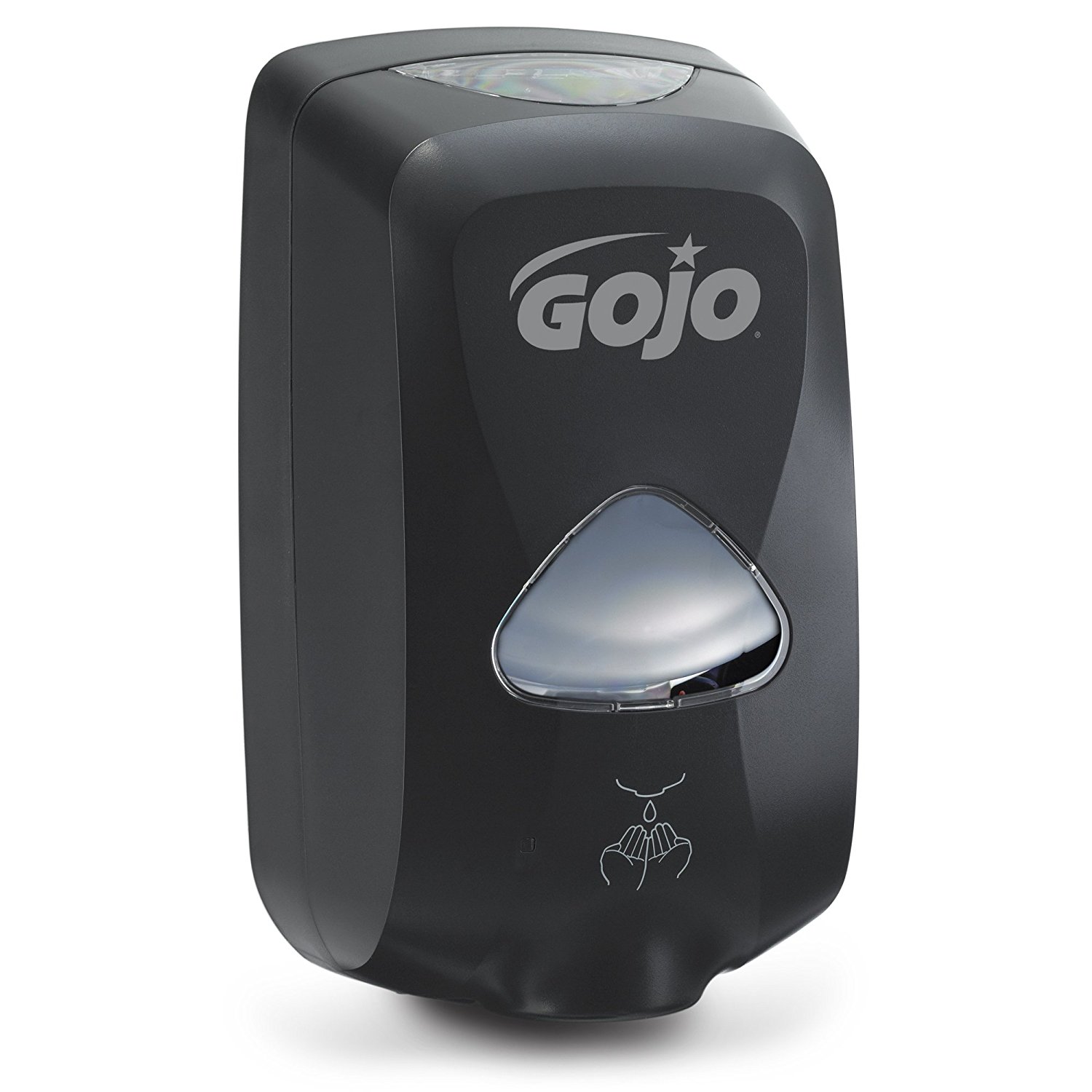 Simple and easy to use is the best way of describing this soap dispenser. It is small enough to place anywhere in your home while being easy enough to use for your entire family. Intended to fit into any small areas it is best placed in your kitchen as it allows you to always keep your hands clean even while cooking without needing to touch the exterior of this soap dispenser. It's simple to use, refill and maintain clean.
5.

Lysol Touchless Soap Dispenser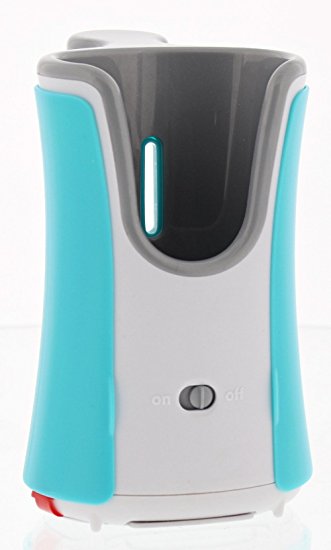 Using this soap dispenser allows you to feel good about washing your hands. Not only is it completely touch less but it kills 99.9% of germs. This soap dispenser was created to be used in conjunction with the lysol liquid soap made specifically for this soap dispenser.
It is sleek and small so you can transport this soap dispenser anywhere you may need it in your home. The design of this soap dispenser makes it easy to install, so easy you can begin to use it almost immediately.
4.

GoQee Touchless Countertop Soap Dispenser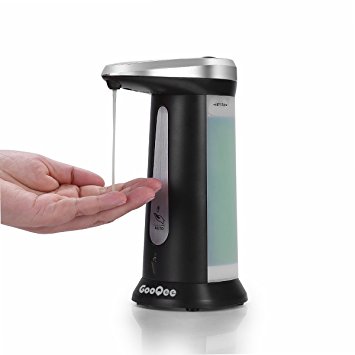 The beauty of this soap dispenser is the capacity to not spill and overfill your palm with soap. It is programed to stop dispensing soap after 4 seconds even if your hand remains under the soap dispenser it will stop dispensing soap once 4 seconds has passed.
This soap dispenser also permits you to use your favorite soap instead of a specific brand. Another great feature is its sleek, durable design that works well in any countertop of your home. It has a waterproof base which helps secure the battery compartment from getting wet.
3.

Diffson Touchless Soap Dispenser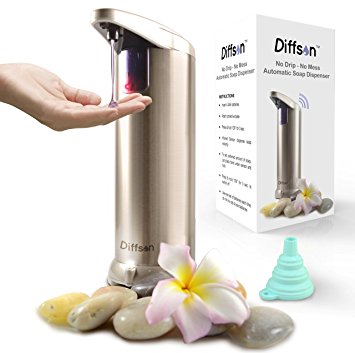 If you have an interest in a soap dispenser that has an elegant and sleek appearance this is the soap dispenser for you. This soap dispenser is also stainless steel, fingerprint proof and has a waterproof base. It comes with infrared sensors. The senors activate as soon as you place your hand under it to ensure you do not have to touch the soap dispenser.
This will minimize the spreading of germs because you do not need to touch your soap dispenser at all. It also has 3 different volumes which allows you to customize how much soap comes out of the machine.
2.

The Original Hayden Premium Soap Dispenser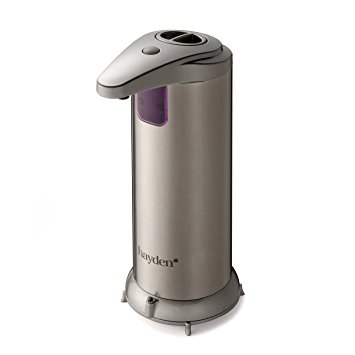 Sleek and modern is the perfect description for this soap dispenser, its stainless steel appearance comes with a fingerprint proof coating so you never have to be concerned about seeing fingerprints on your dispenser. It also comes with a waterproof base so your battery compartment never becomes wet.
The infrared sensors allow for quick and easy dispensing of the liquid soap. This soap dispenser enables you to use your favorite soap instead of a specific brand.
1.

Nivahome Automatic Soap Dispenser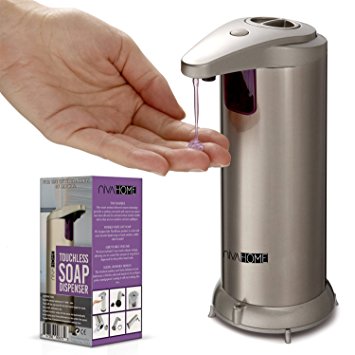 Easy to use and touch free is exactly what this soap dispenser is. It is completely touch free as its motion sensors allow you to receive the right about of soap every time you place your hand under it. It also has a sleek and elegant appearance so it can go well in any areas of your home.
With its waterproof base you do not have to worry about getting your battery compartment wet. It comes with 3 different adjustable volumes so you can customize how much soap will be dispensed when you use it.
Having a soap dispenser in your home can really be beneficial in reducing the number of germs that surround your family. It also makes washing your hands an easier and more frequent task. Please tell us which soap dispenser is your favorite and why below.