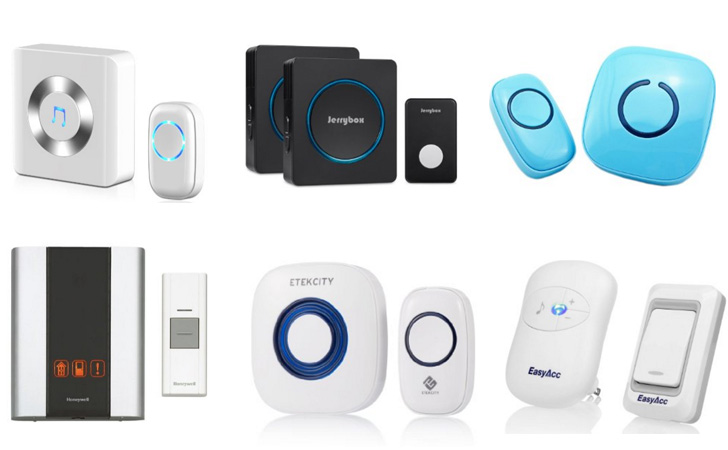 An electric doorbell can be a great and useful addition to any home. They help announce the presence of visitors loudly and clearly to ensure that you never miss a package delivery or the arrival of a dinner guest just because you didn't hear them knocking on the door.
If you're in the market for an electric doorbell, keep reading the following electric doorbells reviews to learn more about the top rated best electric doorbells that you can easily purchase for use in your own home.
10. 

NuTone Decorative Wired Two-Note Door Chime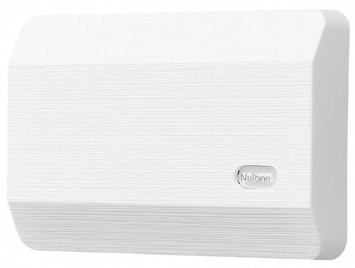 With a bright white, textured finish, this doorbell looks sleek, polished and subtle hanging outside your door. It features a simple two-note chime for your front door and a one-note chime for the secondary door of your choice to help you effortlessly determine which door your visitors have arrived at.
This sophisticated doorbell is designed to bring classic style combined with functionality to your home. It is compatible with a sixteen V transformer in order to work effectively.
9. 

Etekcity Plug-in Wireless Door

bell Kit
With this doorbell from Etekcity, it doesn't matter where you are when your guests come calling. The wireless doorbell features an extended range of up to one thousand feet, so you can be upstairs, in the bathroom, or several rooms away and still hear the bell that announces your guests' presence loud and clear.
Crafted with special IP33 materials, this doorbell is designed to withstand harsh weather including rain, sun, and snow to last as long as possible. Powered by an electric outlet and a twelve V battery, it is easy to set up and has adjustable controls that include four different volume settings and fifty-two individual chime options. You can even customize different chimes to sound at different doors so you'll always know where your visitors are coming from.
8. 

Honeywell Premium Portable Wireless Door Chime and Push Button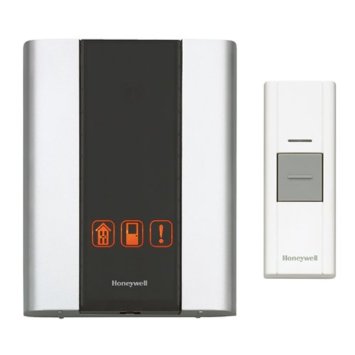 You can connect this single wireless chime doorbell to up to six push buttons located at different entrances around your house to add convenience and ease to your home security system. The doorbell system is equipped with special security features; it can be connected with motion detectors and alarm signals to increase your safety and peace of mind.
With fully adjustable volume and three different chime options, the tone of this doorbell is completely customizable. The doorbell itself features a standard range of more than two hundred feet and has a portable design that you can take with you upstairs or into the garage so you'll never miss a ring.
7. 

EasyAcc Doorbell Portable Plug-in Wireless Door Chime and Push Button with LED Indicator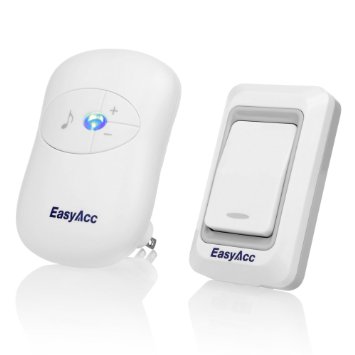 With more than three hundred feet of clear range, this wireless doorbell can be heard from anywhere in your home when it rings. Equipped with thirty-six separate versatile chime tones and built-in stereo speakers for clear, crisp sound, the doorbell and its chime tones sound great and are fully customizable.
This wireless doorbell operates with an electrical outlet and a battery. A compatible push button is included with this lightweight, dustproof doorbell set so that you can have everything you need to set up your new doorbell right away.
SHOP NOW
6. 

JETech Portable Wireless DoorBell Chime Plug-in Push Button with LED Indicator



You've never seen a doorbell with a display like this. Equipped with a special blue LED light display and indicators, this doorbell from JETech increases your home's security and ensures that you always know when someone is at your door.
With a wireless range of six hundred to seven hundred fifty feet, this doorbell ensures that you never have to worry about missing a visitor no matter where you are in your house. It features fifty separate chimes with four different levels of adjustable volumes, so you can customize it as much as you want. Simply plug the doorbell, which can work with up to ten transmitters at one time, into a standard power supply, and enjoy!
5. 

JERRYBOX Wireless Doorbell Kit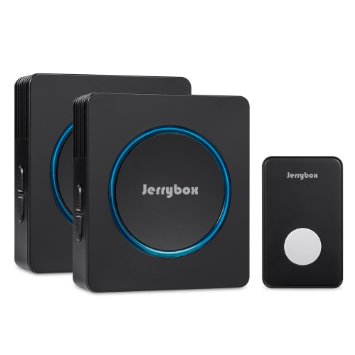 Equipped with two separate chime units, this wireless doorbell kit can be installed at different entrances so you can ensure that you always know when someone is at your door. With a wireless transmission distance of up to one thousand feet, this doorbell allows you to go anywhere in your house without worrying about missing a visitor.
This doorbell comes with forty-eight separate chime tones, including several fun, popular melodies as well as standard doorbell tones. The volume of the chime tones is also adjustable with four different built-in volume settings that allow you to maintain total control at all times.
4. 

Voye 2 Plug-In Wireless Digital Doorbell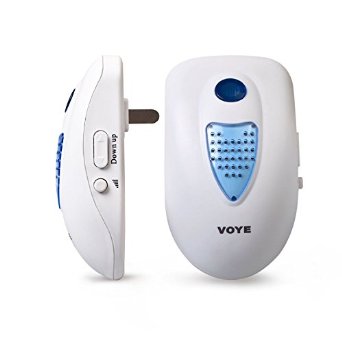 This set of two doorbells from Voye can be placed at separate entrances and controlled with one single remote to increase convenience and ease of use. The range for this wireless doorbell is up to a distance of over four hundred feet, so you can hear it clearly no matter where you are in your home.
When visitors come calling and press the remote button on the doorbell, the flashlight turns on so you can clearly see who has arrived at your door. This doorbell set includes thirty-five different chime tones with adjustable volume that can be set to your specific preferences.
3. 

Homasy Wireless Doorbell
Equipped with a wireless transmission distance of up to one thousand feet, this doorbell from Homasy ensures that you will always be able to hear an approaching visitor. The doorbell can also be used as a paging device for taking care of elderly individuals or medical patients.
With fifty-two separate chime options that includes sixteen chords and four different volume levels, the doorbell is adjustable and customizable for your satisfaction. If visitors come to your door when you're not home, they can use the doorbell's transmitter to leave you a personalized message.
2. 

Honeywell Plug-in Wireless Door Chime and Push Button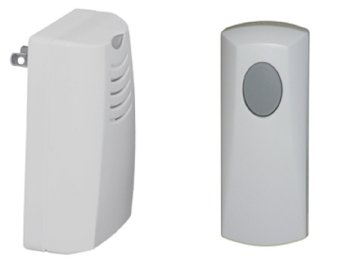 Equipped with a door chime and push button, this wireless doorbell set includes everything you need to use your new doorbell right away. With a plug-in power supply, this doorbell can be easily hooked up to any standard power supply without the need for batteries.
The doorbell features a wireless transmission distance of up to one hundred feet so you can hear it from several rooms away. It also includes three separate chime tunes so you can choose which tone you want to hear every time someone comes to your door.
1. 

SadoTech Model C Wireless Doorbell
With a modern, colorful design, this wireless doorbell adds a touch of fun whimsy to your home's exterior design. It is equipped with a wireless transmission range of five hundred to one thousand feet to make sure you never miss a visitor.
Featuring more than fifty different chime tones and four increasing levels of adjustable volume, this doorbell is one hundred percent customizable. It is also easy to use and can be effortlessly plugged into a standard electrical outlet for instant use with no batteries required.
Electric doorbells have come a long way with the progression of modern technology. With wireless features, Wi-fi control, adjustable volumes, hundreds of chime options, and more, electric doorbells are no longer limited to a simple circuit. If you want to buy a top-quality, durable electric doorbell, use the list in this post to find some of the best electric doorbells available.