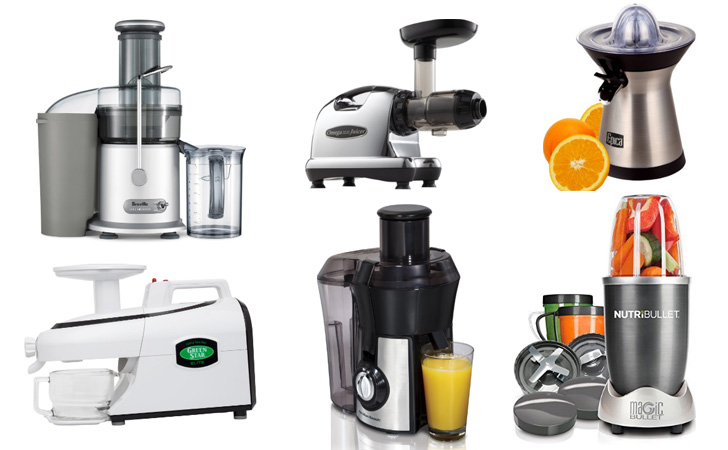 Investing in a juicer can be a great way to diversify your diet as well as add some yummy, healthy snacks into your daily food schedule. With a juicer, you can effortlessly extract pure juice from fruits and many vegetables in order to help you create smoothies, unique alcoholic beverages, or even just a pitcher of all-natural, healthy juice.
In order to make sure you end up with a juicer that works quickly and effectively, keep reading the following juicer reviews to learn more about the top rated best juicers available.
10. 

BLACK+DECKER 30-Watt 34-Ounce Citrus Juicer for beginners

Do you like pulp or not so much? This innovative juicer from BLACK + DECKER fulfills all of your consistency preferences with its unique adjustable pulp control and strainer that allows you to easily control the amount of pulp that makes its way into your juice.
A large juicer that can hold up to thirty-four ounces of juice, this juicer is designed specifically for juicing citrus fruits such as oranges, lemons, and grapefruits. Designed with a special auto-reversing reamer, it extracts the maximum amount of juice out of every piece of fruit and never wastes any usable produce.
9. Champion Juicer Commercial Heavy Duty Juicer
Do your juicing needs surpass the capabilities of the average household juicer? This commercial-grade, heavy duty juicer might just be your perfect solution. Designed with a full one-third horsepower motor, it can extract a maximum amount of juice effectively from any of your favorite fruits and vegetables in record time.
Because of the high power of this juicer, it can also be used as a homogenizer. This homogenizing capability allows you to use the juicer to effortlessly make unique homemade snacks and treats such as baby food, fruit sauce, nut butter, sorbets, and sherbets as well as juice.
8 . 

New Star Foodservice Commercial Citrus Juicer

A professional-quality product, this commercial juicer is crafted from cast iron and stainless steel. With an ergonomic, easy to grip rubberized handle, you can effortlessly extract the maximum amount of juice possible from virtually any fruit or vegetable.
The juicer is extremely powerful; its handle can withstand two thousand three hundred pounds per square inch and easily crushes even the densest fruits and hardest vegetables. It is also equipped with suction feet on its base to prevent slipping and increase stability and leverage for easy juicing.
SHOP NOW
7. 

Epica Powerful Stainless Steel Whisper-Quiet Citrus Juice
Designed specifically with quiet operation in mind, this juicer has an extremely powerful seventy-watt motor but is also virtually silent during as it juices. It is effortless to use this juicer, which is equipped with an auto stop/start feature that allows you to operate it with just one touch.
The juicer extracts juice from citrus fruits and deposits it directly into a glass to make juicing and serving easy and convenient. While it is designed specifically for use with citrus fruits, it includes two reamers in order to allow it to fit all fruit sizes. It is also equipped with a drip-free spout and a fine mesh strainer to remove seeds and pulps from your juice automatically.
6. Simple Cheap 

Prepworks by Progressive Dome Lid Citrus Juicer

This simple, small juicer is designed to extract the maximum amount of juice from citrus fruits, including lemons, limes, oranges, and grapefruits. Designed with a contoured, rounded dome and a built-in pulp and seed strainer, this juicer allows you to easily juice your citrus fruits and leaves you with pure, seedless, pulp-free juice.
The lid of the juicer is a multi-use item that can also be used as a measuring cup; it features printed measurements in tablespoons, cups, and milliliters. The non-skid base and built-in pour spout on the juicer makes juicing easier and helps prevent you from making a mess.
SHOP NOW
5. 

Magic Bullet NutriBullet 12-Piece High-Speed Blender/Mixer System
While this product is technically a blender rather than a juicer, it is a versatile, multi-use item that can be used as a fast and effective fruit and vegetable juicer as well as a blender for smoothies and protein shakes.
Designed with a high-torque power base and a powerful 600-watt motor, this juicing blender can effortlessly pulverize fruits and vegetables into a thin, pure juice within seconds. It is crafted with one flat blade and one emulsifying blade with cyclonic acid to quickly and easily juice almost any fruit and vegetable without clogging or accumulating heat.
4. Easy to clean juicer – 

Breville Juice Fountain Plus 850-Watt Juice Extractor Best juicer for fruits and vegetables

Designed for use with all fruits and vegetables, this juicer runs at two different high speeds: 6,500 RPMs to effectively juice leafy green vegetables and soft fruit and 12,000 RPMs to juice denser fruits and vegetables that are harder. It has an 850-watt motor in order to allow it to run at high speeds efficiently without experiencing heat buildup.
Equipped with an included 1-liter fruit jug and froth separator for easy storage, a micro mesh filter basket to remove seeds and pulp, and a cleaning brush designed for the mesh basket, this juicer includes everything you need to make pure juice effortlessly.
SHOP NOW
3. Omega Nutrition Center Juicer
Equipped with a powerful motor that has a low speed of 80 RPMs, this juicer employs special masticating techniques to extract the maximum amount of juice from your fruits and vegetables. It is also designed to prevent any heat buildup, foaming, or clogging to provide you with pure juice effortlessly.
Designed with a quiet operation to prevent loud machinery noises from disturbing the environment of your kitchen and home, this juicer works quickly and effectively. It ejects pulp automatically while juicing to allow it to continue juicing for a longer period of time and leave you with thinner, pulp-free juice you don't need to strain.
2. 

Tribest Green Star Elite Jumbo Twin Gear Cold Press Juice Extractor

This high-speed, powerful juicer doubles as a food mill, which can make baby foods, sorbets, nut butters, and more. As a juicer, it works efficiently to juice herbs, fruits, and vegetables and can even grind nuts and grains without sustaining any damage.
Equipped with an automatic pulp ejection feature, this juicer creates pure, clear juice and can continue juicing indefinitely without getting clogged by pulp or seeds. The juicer is portable, easy to clean, and easy to assemble to prevent frustration and make juicing effortless.
SHOP NOW
1. 

Hamilton Beach Juice Extractor – Best  Juicer for Home use
This two-speed, BPA-free juicer is equipped with a large capacity pitcher that holds up to forty ounces of juice at one time. The included pitcher, which comes with a lid and innovative froth separator, allows you to conveniently store or serve the juice you extract without having to risk making a mess by transferring it into a separate container.
Equipped with a powerful 800-wat motor, this juicer extracts the maximum amount of juice from any fruit or vegetable. It also comes with a special pulp bin that separates the pulp from the produce to provide you with clear, pure juice as well as give you the option to store the pulp and add it to recipes for extra nutrients.
A juicer can be a transformative addition to your kitchen. It can help you create a wide variety of delicious drinks that are pure and all natural. If you're in the market for a high-quality juicer, use the list in this post to find some of the best juicers available for purchase.