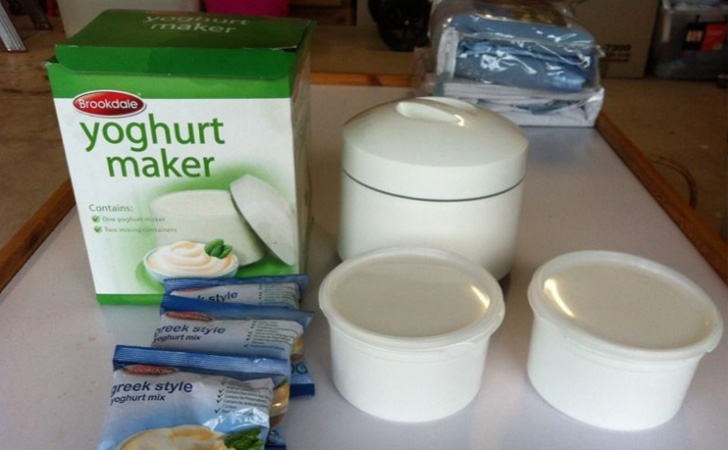 Yogurt is only good for you as the calcium that it provides is beneficial but it is also a great substitute for ice cream. If you are trying to live a healthier lifestyle than you know eating ice cream on a regular basis is not the best route to go. However, you can eat yogurt a couple of times a week without feeling guilty every time you do.
Although, yogurt is healthy for you and you can eat it without feeling guilty it can become an expensive habit to have if you decide to consume it a couple of times per week. However, if you have an interest in making your very own guilt free yogurt right at home. You may want to consider these machines as they are the best yogurt machine on the market currently.
Read the following Yogurt Maker reviews to find your favorite one.
10.

Tribest Yolife Yogurt Maker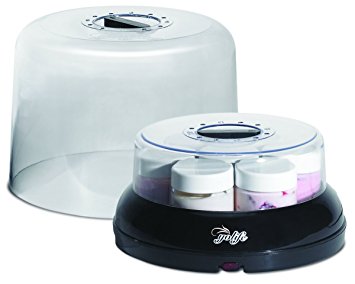 In just 8-12 hours, you can have freshly made yogurt from scratch. With this yogurt maker, you can use milk or soy milk along with yogurt starters and your choice of fruit or additives to create the perfect blend of yogurt for you.
It comes with 6 tins so you can make individual yogurt cups that are 6 oz each or you can use your own large bowl to make 80 oz of yogurt at a time. This yogurt maker allows you to make enough yogurt for your entire family every night if you decide to do so.
9.

T-fal YG232 Yogurt Maker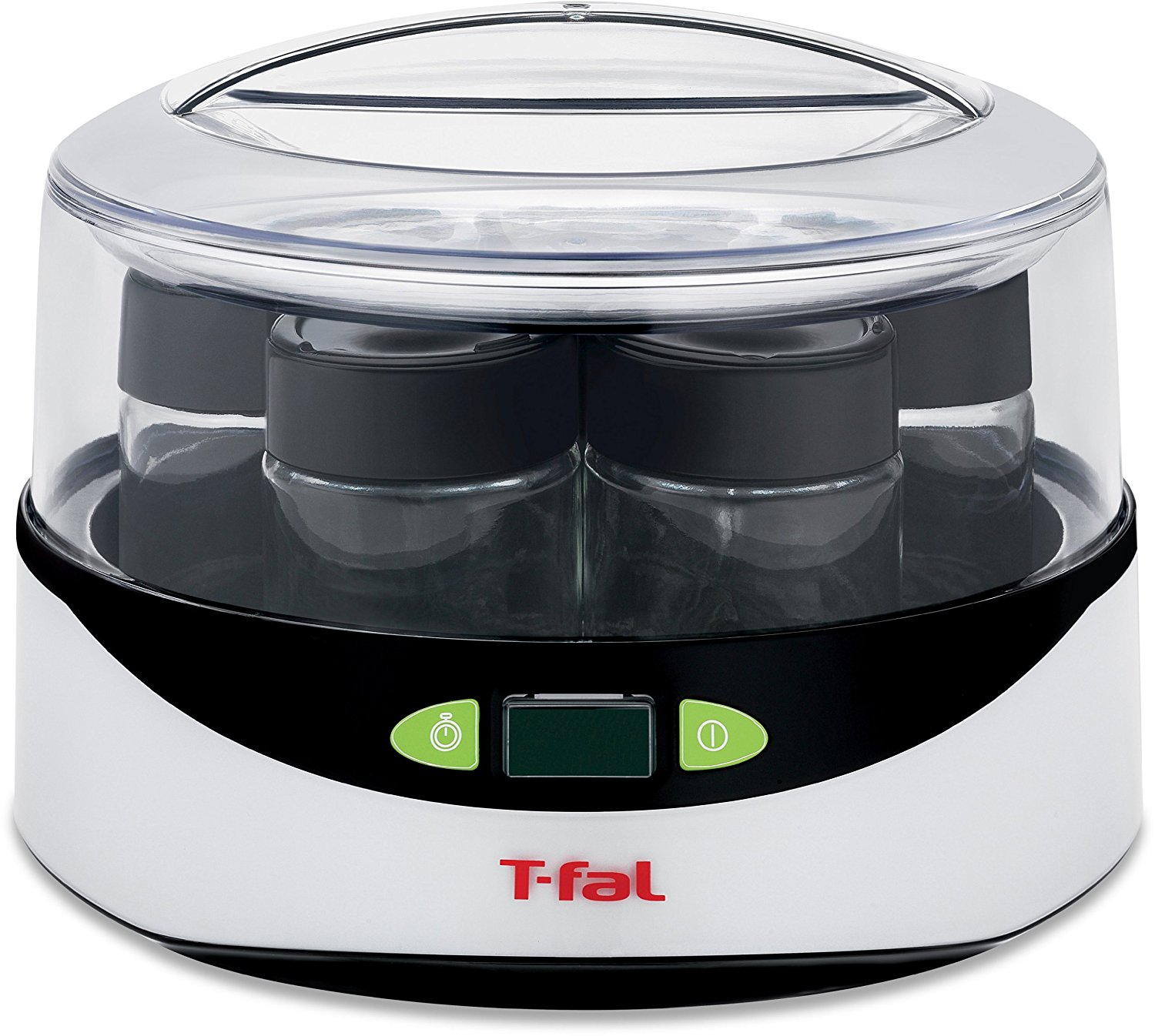 Making yogurt shouldn't be a difficult task and that is what this yogurt machine enables you to do. It is a simple machine that comes with 7 jars so you are able to make 7 servings of yogurt instantly. The jars have an adjustable date codes so you are aware of when your yogurt was made.
Yogurt can remain fresh for upto 7 days. This machine comes with a control panel so you are in a position to control when you would want the machine to begin. The control panel comes with a countdown feature so you know when your yogurt is read
8.

Vonshef Electric Yogurt Maker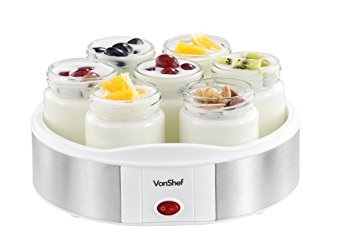 Create your own flavor combinations with this large 49 oz yogurt maker. You can create a large batch for your entire family or different individual flavors in one of the 7 jars it comes with. This allows you to create unique flavors for everyday of the week or have your children create their very own flavors. This yogurt maker is also energy efficient as it only uses 15W while it is being used.
It is economical to make your own yogurt right at home as well. It has been estimated that you spend ⅓ of the amount of money you would if you were to buy it from your local store. You also eliminate the amount of waste as you are creating your very own individual yogurt.
7.

VitaClay 2 in 1 Yogurt Maker and Slow Cooker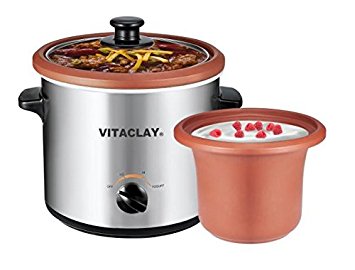 Many people are hesitant to purchase a yogurt maker because they do not think it will be used as often. Although, this may be true this 2 in 1 yogurt maker solves that hesitation by being a slow cooker as well. Not only does this yogurt maker creates yogurt that you love but it is also a slow cooker, which means it will make your favorite meal as well.
It has a large base to make large batches of your favorite yogurt or greek cheese. The base comes with a lid so you are able to make your yogurt and refrigerate it right after. It comes with different temperature settings so you can customize which works best for you.
6.

Oyster Greek Yogurt Maker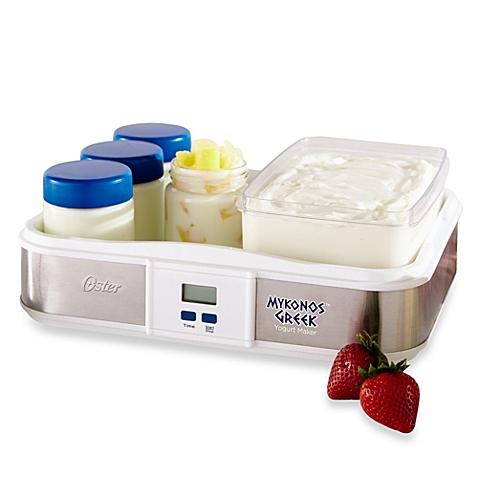 Create authentic greek yogurt right at home with these yogurt maker. With this yogurt maker, you can use any milk you would like whole milk, almond milk, fat free milk the options are endless as you can customize this yogurt maker to your liking. In 10-12 hours, you can have perfect greek yogurt every time. The key to this yogurt maker seems to be its3 step process.
In 3 easy steps, you can have a batch of your favorite flavored greek yogurt. The final step is to strain the liquids out of your yogurt and place it in the refrigerator that creates the perfect base for your yogurt to form.
5.

Dash Yogurt Maker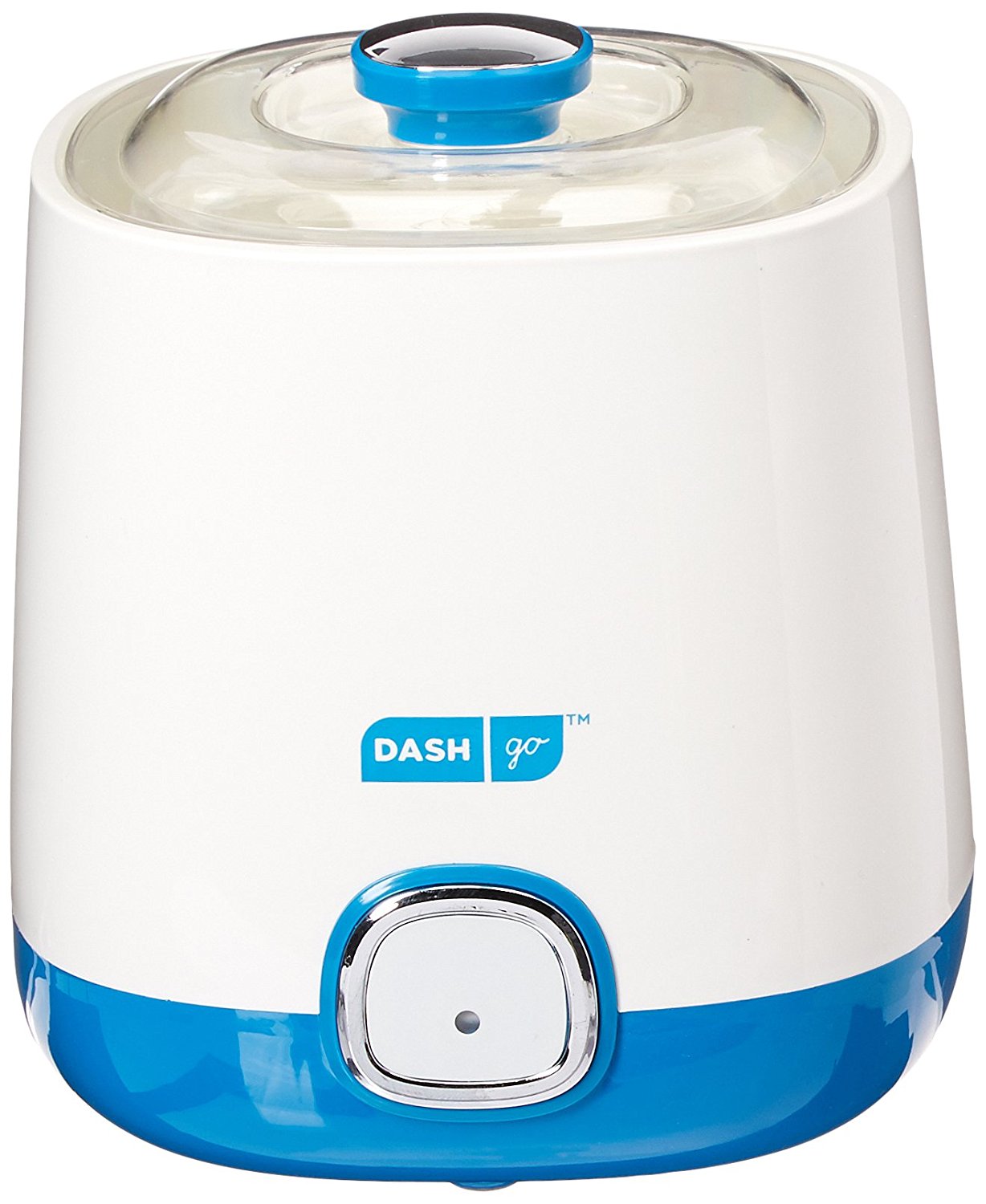 If making yogurt in bulk is what you intend to do this is the perfect machine for you. It comes with a 1 quart capacity container so you can make a large amount of yogurt instantly. This allows you to save hundreds of dollars on yogurt per year.
As you are able to make such large amounts of it you will no longer have the need to go to the store and purchase your favorite yogurt. You can customize the flavor of your yogurt as well as the toppings you use once it is made.
SHOP NOW
4.

Cuisinart  Electric Yogurt Maker Plus Automatic Cooler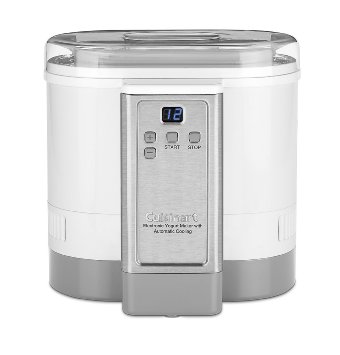 Not only do you get a yogurt maker but you also get an automatic cooling system. What this means is after 8-12 hours once your yogurt is done this yogurt maker will instantly turn down to about 43-52 degrees Fahrenheit this will cool your yogurt instantly.
It comes with a LED display that counts down the time that your yogurt has left before it is ready to go. After the countdown is over it will automatically turn cool and begin cooling your yogurt. It makes 50 ounces of yogurt in one serving.
3.

Aroma Digital Yogurt Maker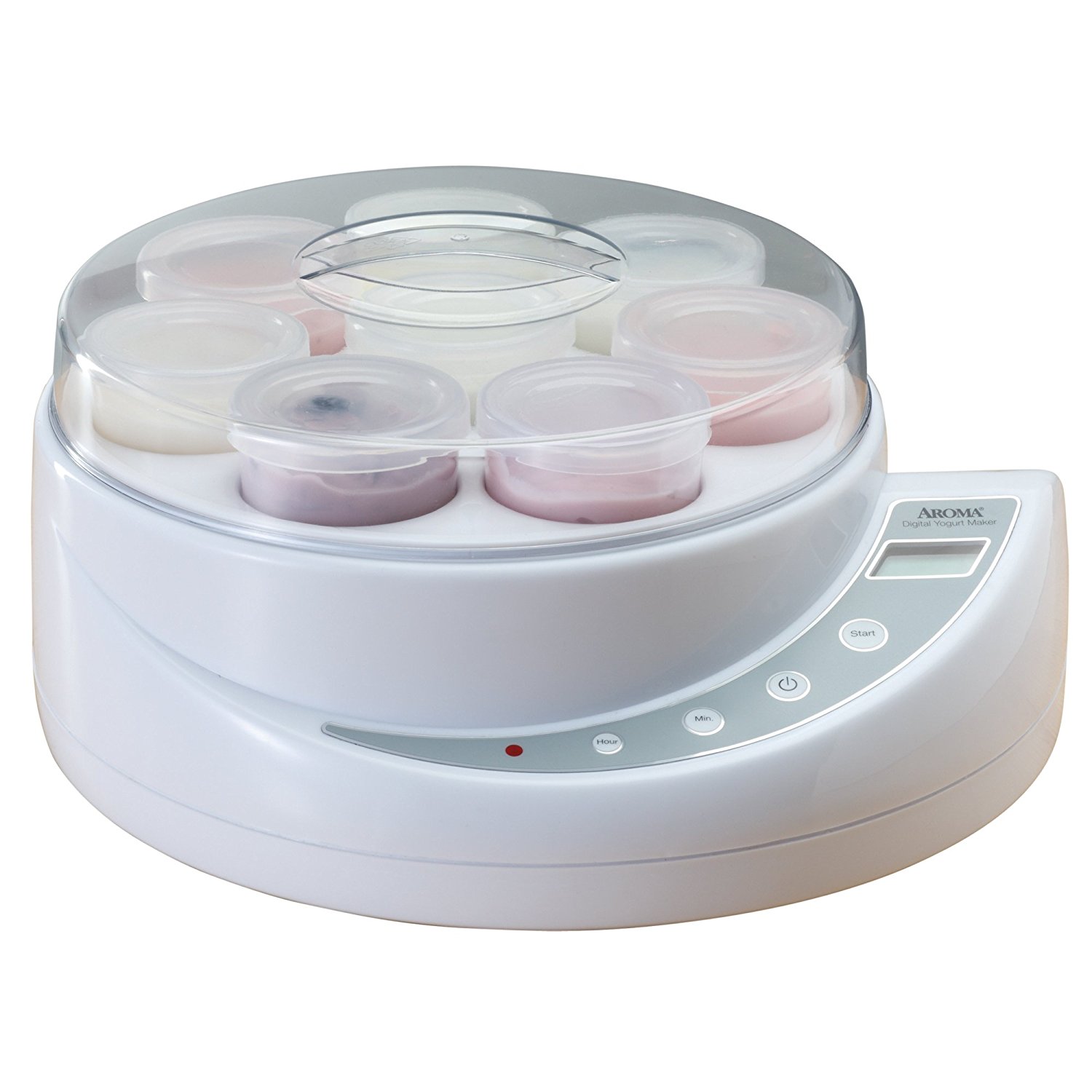 This yogurt maker comes with a user friendly control panel. The best part about this control panel is it enables you to program when you want your yogurt to be done with its programmable timer. It makes 5 cups of your favorite flavored yogurt or 8 individual cups.
This gives you the ability to build your own favorite flavor of yogurt every time you use this yogurt maker. It comes with 8 BPA free plastic cups that are spill proof so you can use them to make everyone in your family their favorite yogurt flavor.
SHOP NOW
2.

Yogourmet Yogurt Maker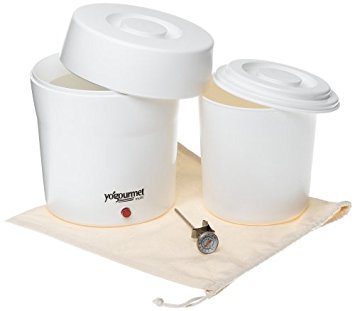 Specifically designed to maintain the perfect temperature every time you make yogurt. Countless times yogurt makers will have different temperatures which can become confusing this yogurt maker is simple yet effective as it comes with the temperature already set to give you the perfect yogurt every time.
This yogurt maker is ideal for anyone who is on a diet as you can use minimal ingredients in order to create the perfect yogurt for you and your lifestyle.
1.

Euro Cuisine YM80 Yogurt Maker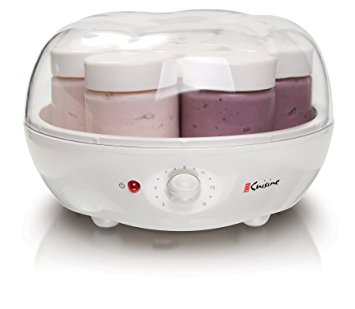 With an automatic turn off time, it allows you to set it and forget it. This yogurt maker makes 42 oz of yogurt per use or 7 individual cups of yogurt. You are able to make your favorite yogurt, set the timer and not need to worry about watching over your yogurt as it will turn off in 10-12 hours when it is completed. It does come with 7 6 oz glass jars however, you can use a large bowl to make one large batch of yogurt.
Try one of these yogurt makers to make your very own yogurt right at home. Which of these yogurt machines are you most intrigued by? Please tell us in the comments below.