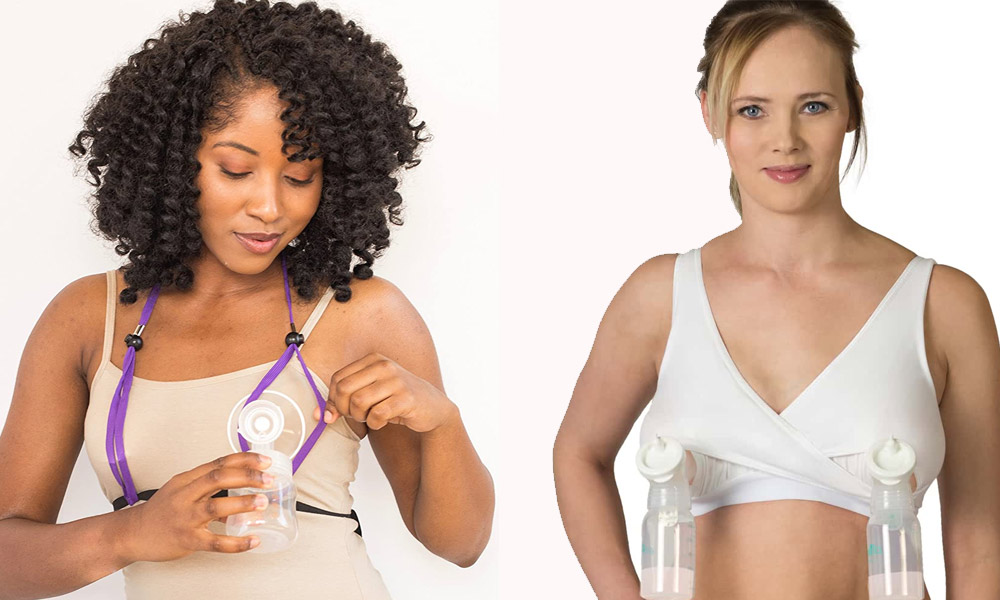 Being a new mom is a busy time, when you're focused on doing the best for your newborn. And you also need the best equipment for your own health and well-being. That's why experts recommend nursing moms use a special pumping bra, which will keep you comfortable and stress-free.
Nursing bras only facilitate easy access to your breasts, with flaps you can pull down, or which fasten and unfasten with press-studs. So you need to give your full attention to the pumping process, to avoid the pumps detaching. But it's a whole different story with a specially-designed hands-free pumping bra. No matter if you're pumping milk away from home at your workplace, or working from home, a pumping bra will help make the whole process streamlined and much more comfortable.
Hands-free pumping with a good-quality pumping bra is a totally different experience from just using a nursing bra. Pumping bras hold the pump flanges securely, allowing you to express your milk without worrying about spillage. And this means you can use your pumping time to do other important tasks, like eating, working or reading. Time and comfort can be in very short supply for new moms and this marvelous invention offers you an extra portion of both these precious commodities!
Our reviewers have tested a variety of hands-free pumping bras for breastfeeding mothers and narrowed it down to the best pumping bras based on comfort, ease-of-use, stability, adjustability and suction control. So read on to find the best pumping bra to help make your experience of breastfeeding a lot more comfortable and efficient!
1. Best Pumping Bra for Sleeping – Rumina Essential All-in-One Nursing and Pumping Bra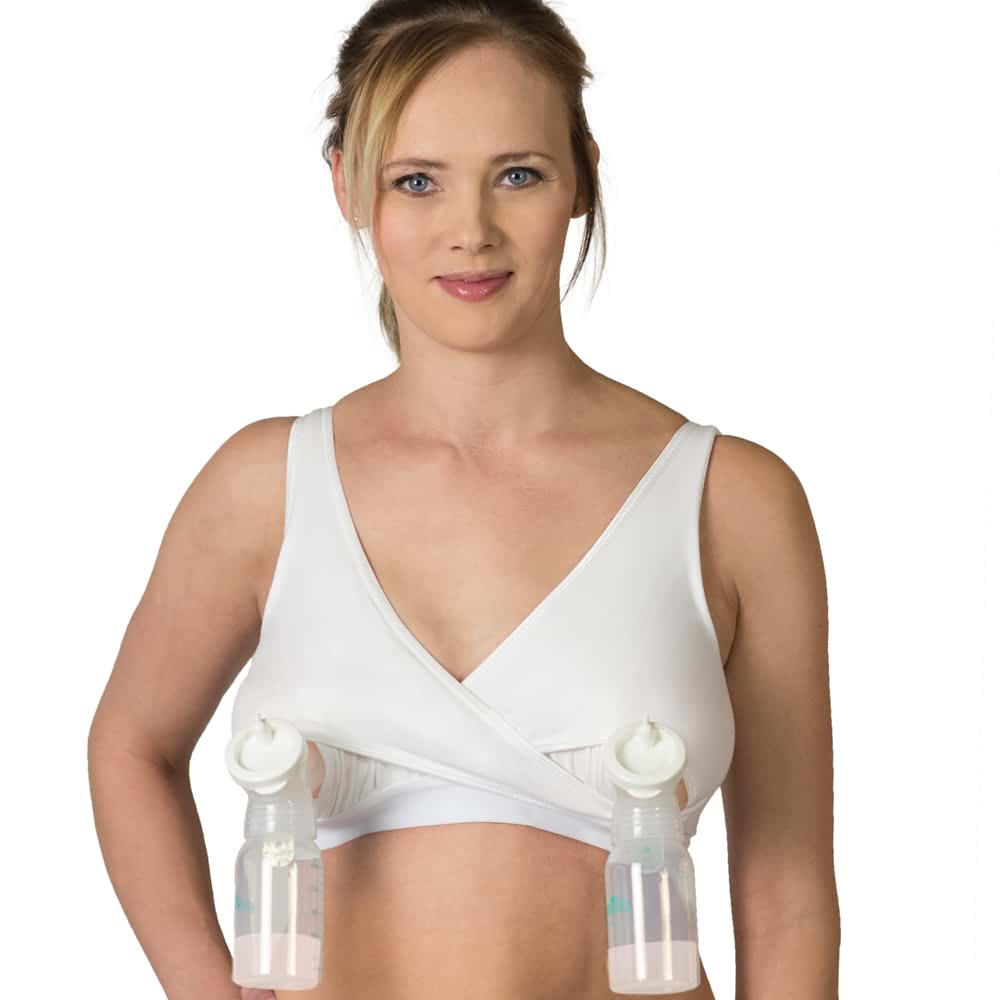 This is an efficient and comfortable one-stop pumping and nursing bra made from soft, lightweight, jersey-knit cotton fabric. It gives value for money as a pre- and post-partum bra. It gives light support and is ideal for times when you experience engorgement and for sleeping comfortably, without any clips or fasteners digging into your skin. You only need to insert the breast shield through the lower opening for fast pumping or get easy nursing access by the pull-down design. It works with all major breast pump brands. Available in 4 colors – black, blush, white and nude and 5 sizes from X-small to X-large.
Pros
Soft and comfortable enough for all-day wear
Convenient cross-over style
Cons
Only gives light support
You can't adjust the size
2. Best Pumping Bra Tank Top & Built-In Bra – Kindred Bravely Sublime Hands-Free Pumping & Nursing Tank Top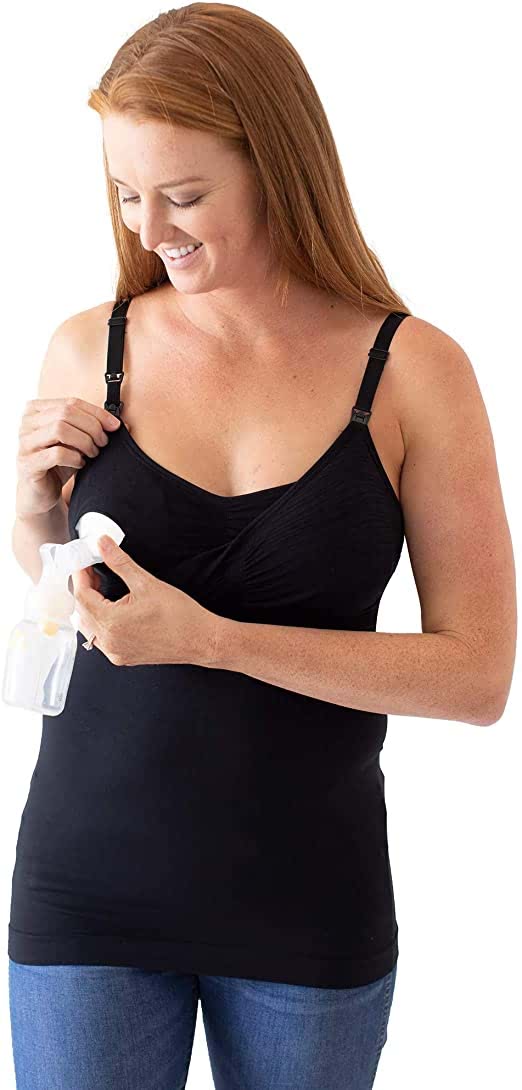 Some women prefer to wear a tank-top with built-in bra cups, for comfort, coverage and support. It has both pumping and nursing capabilities and can be worn as a summer top in warm weather, or as an underneath tee-shirt when the weather is cooler. The top is extra-long, reaching down to hip-length for extra coverage.  It's made from nylon and Spandex that's soft and comfortable and has a thin layer of removable padding for a discreet, smooth silhouette under your clothes.
The special EasyClip™ fastener is quick and simple to use and this pumping bra fits all standard pumps, and wearable pumps such as Freemie, Elvie and Willow. It's available in beige and black colors and sizes range from X-small – XX-large. The extra body coverage you get with this type of pumping bra is very popular with some women.
Pros
Dual pump and nursing access
Comfortable and attractive outerwear with built-in bra
Cons
The sizes run small, so order a bigger size than normal
3. Best Value Pumping Bra – HOFISH All-in-One Hands-Free Pumping Bra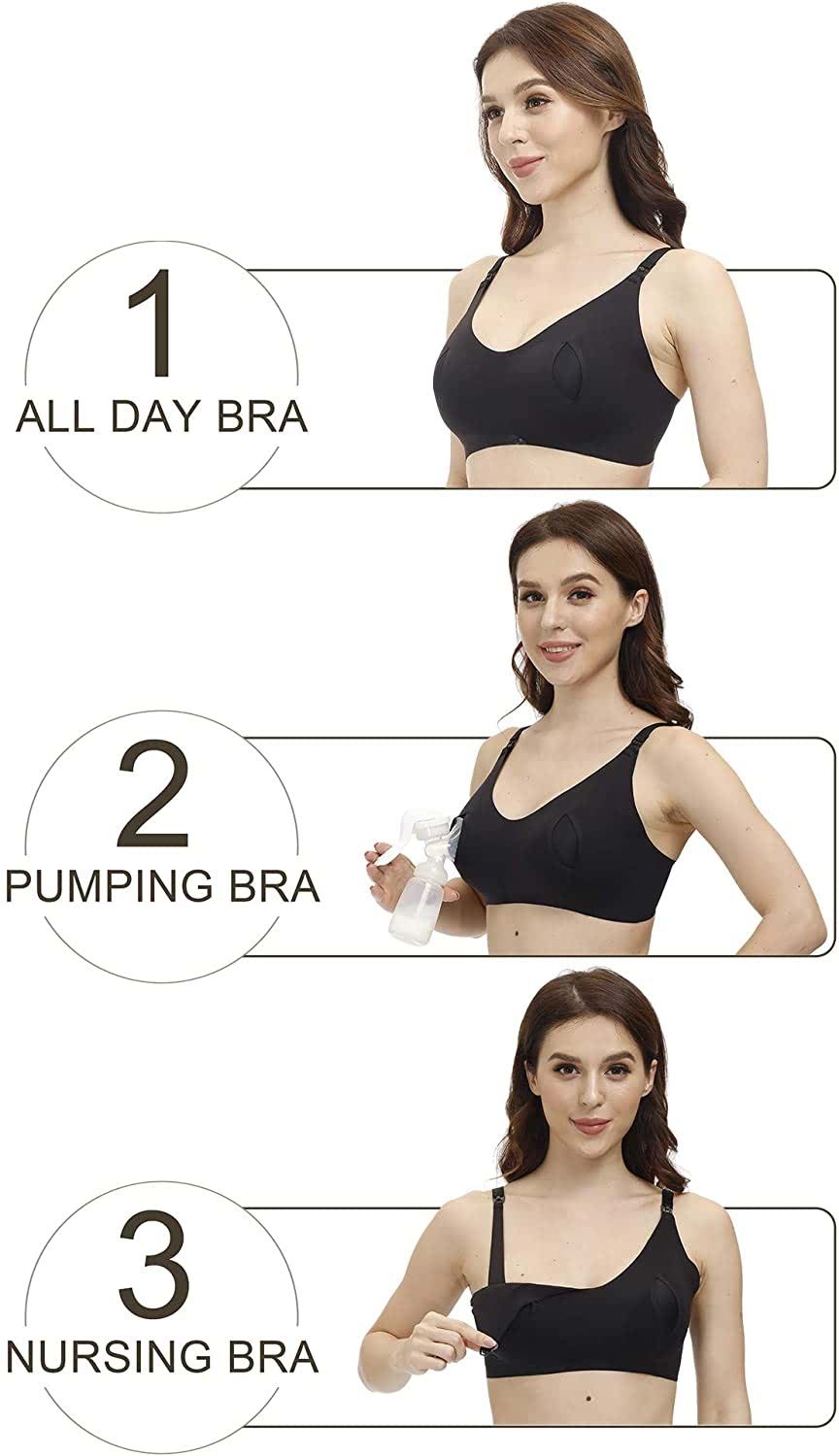 This is great value for money, with an affordable two-pack for light support all day long, plus easy pumping and nursing access. With no seams, clips or zips this simple design is valued not only for its low price, but also for its extreme comfort. It is made of super-stretch, soft nylon and Spandex fabric, with two overlapped layers. And the layers are strong enough to keep breast shields and pumps securely in place during pumping. The bra closes with a supportive 3 rows of hook-and-eyes at the back and you also receive a useful body-band extender, allowing you to increase the body-band size by 2 inches. The HOFISH pumping bra is available in two colors – black and blue-gray and four sizes – small, medium, large and extra-large.
Pros
Low price
Pumping and nursing bra
Adjustable fit and straps
Cons
4. Best Pumping Bra for All-Day Wear – Simple Wishes Convertible Sling Pumping Bra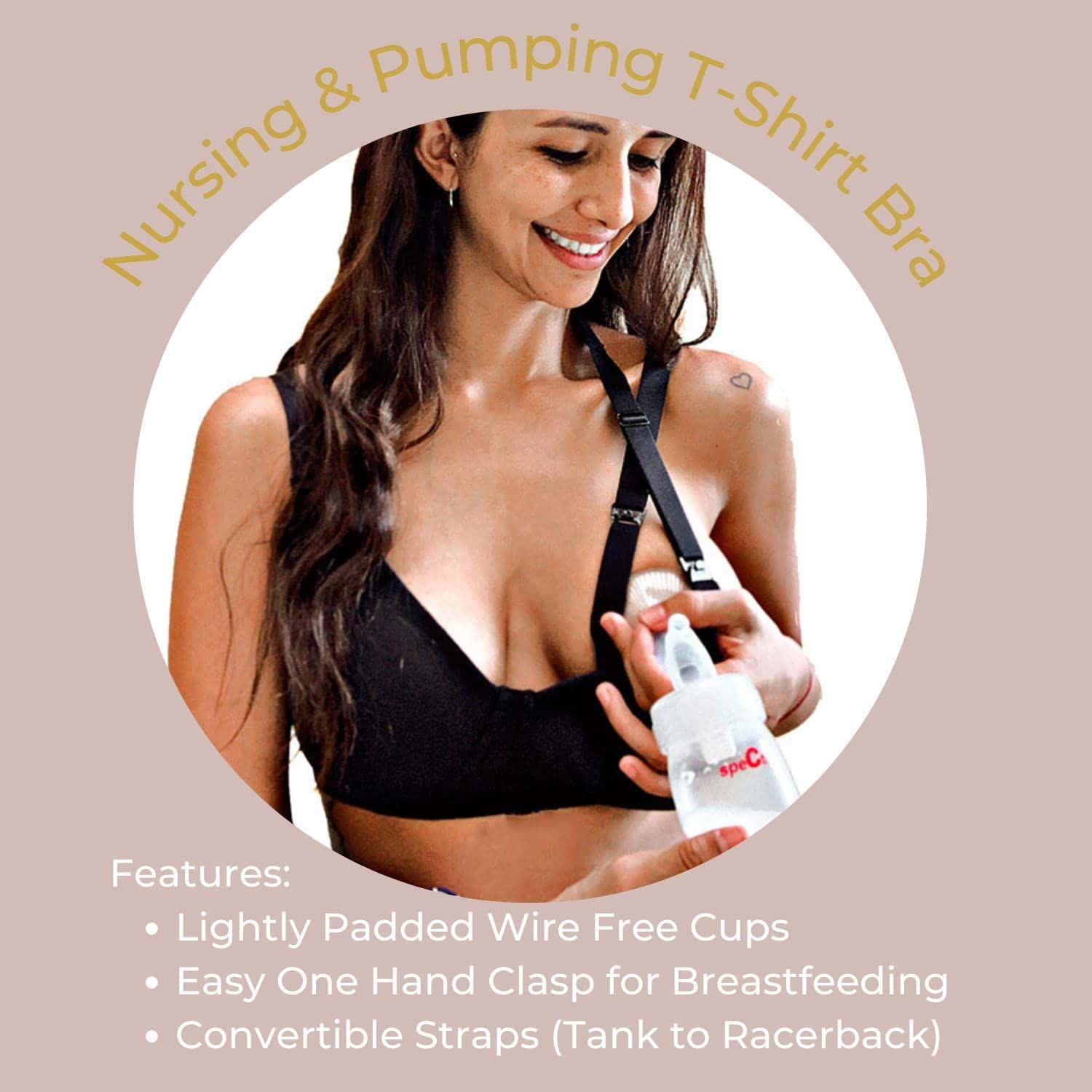 This is a good-looking, efficient bra you can wear for nursing, pumping and everyday wear, too. So it's great value for money and extremely convenient in use. For nursing, you only need to unhook the upper fastener. And to pump, you undo the lower clasp to reveal the hidden under-layer that gives access for your breast pump. To wear as a normal, tee-shirt bra you just substitute the 'cup-sling' bra straps with the 'undercover' clasp-free straps. This bra was designed by a mom and is unique in being sized like a normal bra, for a perfect fit. It comes in 10 different colors, plain and lace-covered. Band sizes fit 32 – 40 inches and cup sizes are available in C – F.
Pros
Three different uses pumping, nursing and regular daily wear
Extremely adjustable
Cons
Does not have underwires for total support in larger sizes
5. Best Pumping Bra for Small Breasts – LactaMed Simplicity Hands-Free Bra Straps' Kit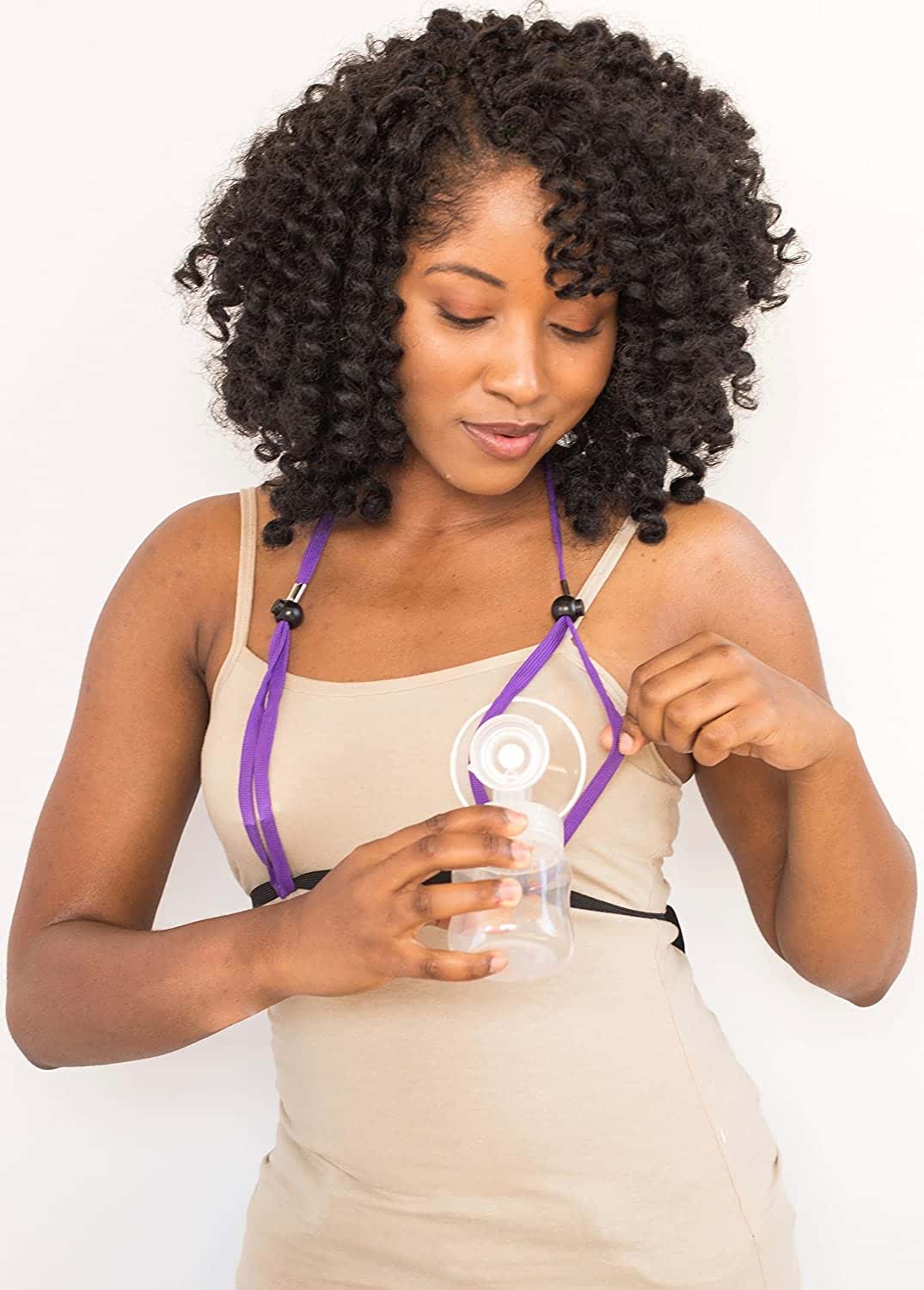 The Simplicity Hands-Free Pumping Bra Kit is a new concept in pumping bras, as it is designed to be a simple, open-sling apparatus that can hold breast pump shields in place securely, allowing easy hands-free pumping. You wear this design over a nursing bra and it can be used with any standard breast pump. And you can also wear it without any type of bra beneath. The review testers followed the manufacturer's instructions to massage their breasts while pumping and were able to empty more milk from the breast and save time on pumping sessions. It's available in a one-size design that women and several colors including bright, fashionable shades like teal-blue, pink, purple, orange, black, yellow and various other colors.
Pros
Simple to use
Enables massage technique for pumping more milk in less time
Economical hands-free pumping aid
Compact to keep in a pocket or handbag
Cons
Best for women with smaller breasts who may not always wear a bra
No bra or bra cups included
6. Best DIY Pumping Bra – Hanes Compression Racerback Sports Bra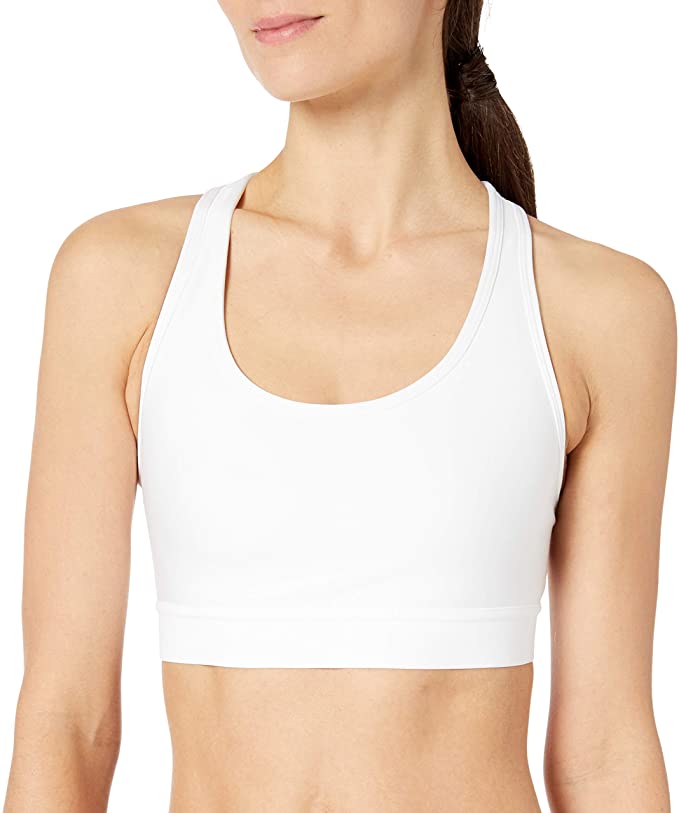 Baby equipment costs really mount up fast, but if you use your brain, you can get exactly what you need in a pumping bra for a very economical price. This low-priced sports' bra compresses the breast, which means it fits firmly but comfortably. And if you take your scissors and cut a ½" dia. hole for your nipples, you've got a compressive bra that works well with your breast shields. You can stretch the bra fabric over the flange and get good contact and pump support.
This is a comfortable sports' bra with a racer-back design that gives strong support. Available in 10 colors and in sizes X-small to XX-large in mixed polyester/Spandex synthetic fabric.
Pros
Economic alternative to a pumping bra
Comfortable and efficient
Cons
You have to cut nipple holes to your size
7. Best Plus-Sized Pumping Bra – Bravado All-in-One Hands-Free Bra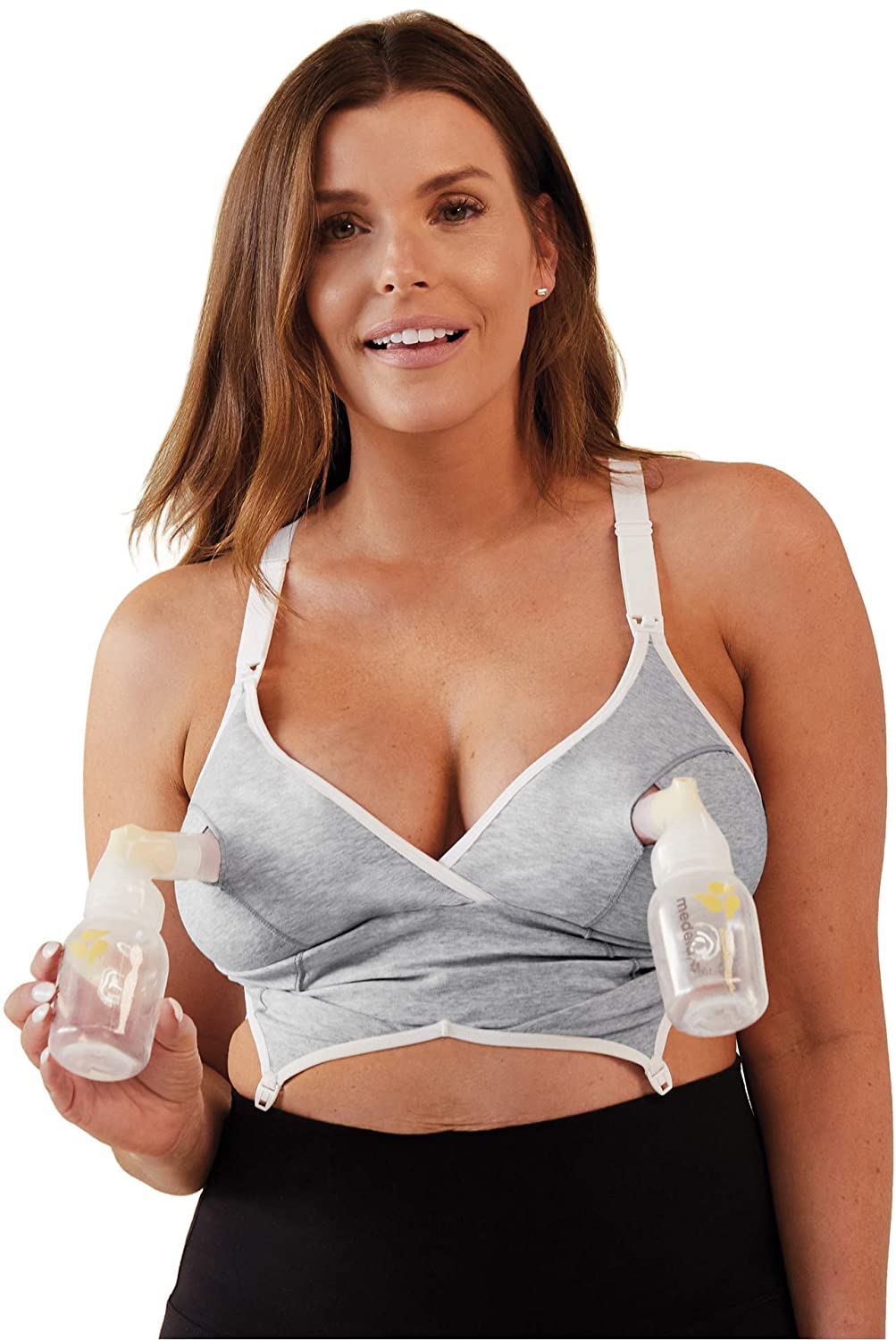 This is a highly efficient and adjustable all-in-one nursing and pumping bra. It features a 46 inch band and you can adjust the cups to fit sizes B – G. The testers found the breathable, blended cotton/modal material soft and soothing for sensitive nipples, which is very important. The bra has a double-layer, wire-free design with a wide body-band for extra support and comfort. The back is a smooth, racerback style with no back fastener. The benefits of the Bravado bra include its multi-purpose design that allows you to wear it all day and all night for nursing and pumping wherever you are. Designed for compatibility with all electric pump brands, it has a reinforced elastic opening for easy flange insertion.
Pros
Combined pumping and nursing bra
Can be worn for long periods of time
Fits B-G cup sizes
Cons
May not be supportive enough for all sizes to wear all day.
8. Best Nursing Bra with Pumping Function – Kindred Bravely Sublime Hands Free Pumping Bra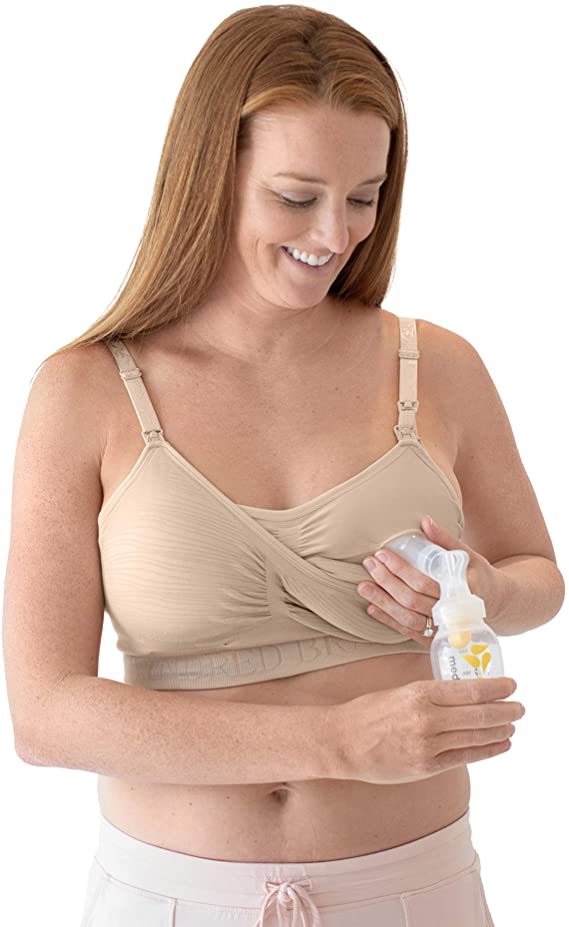 This is a combined Nursing and Pumping bra, which offers attractive style and efficient function, so you don't need to change from one bra to another. There are two separate layers with clever dual-clips, which allow easy access for hands-free pumping and for complete breastfeeding. And there's even a third option of pumping and nursing at the same time, as each side has separate clips making it an extremely convenient bra to use. Our testers loved the fit and feel of this combined bra, with its soft and stretchy fabric and an adjustable hook-and-eye fastener at the back. So we can recommend this bra for comfortable all-day wear.
Pros
Combined efficiency for both pumping and nursing
Stretchy, soft material
Suitable for all-day wear
Cons
Does not give much support or shaping
9. Best Pumping Bra for Large Breasts – Pump Strap Hands-Free Adjustable Pumping Bra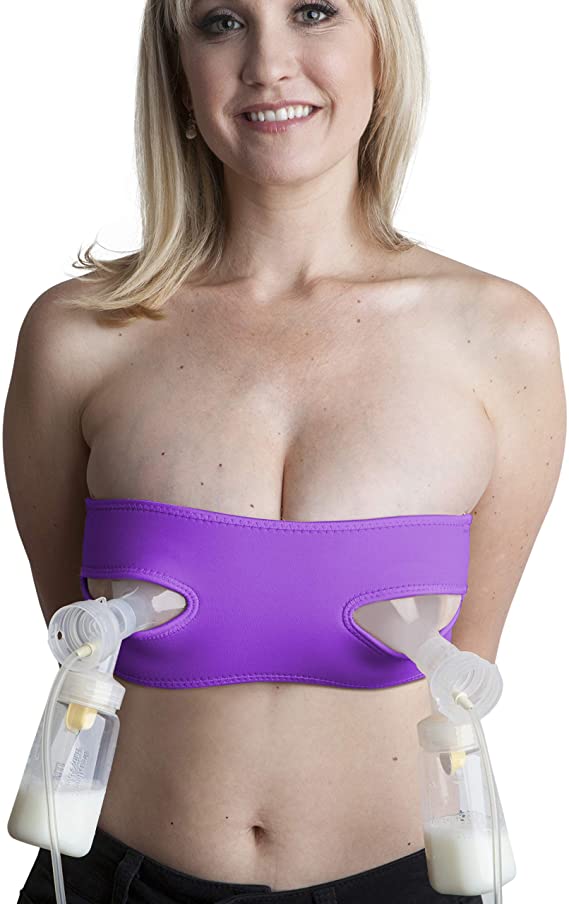 This economical, one-size pumping bra isn't as fancy or multi-function as some other pump bras, but it is specially designed for large bosoms up to a size J cup. It is extra stretchy and makes it very easy to do hands-free pumping. It is popular with users for the extra-adjustable Velcro fastener at the back, which can be worn for a close-fitting and compressive action to ensure your breast pump stays in place on its own. And if you need more support, you have an extra strap included in the purchase to ensure your full comfort.
Pros
Well-fitting and highly adjustable
Easy to put-on and remove
Corset-style gives lots of support
Cons
Functional rather than attractive
10. Best Overall Pumping Bra – Simple Wishes Signature Pumping Bra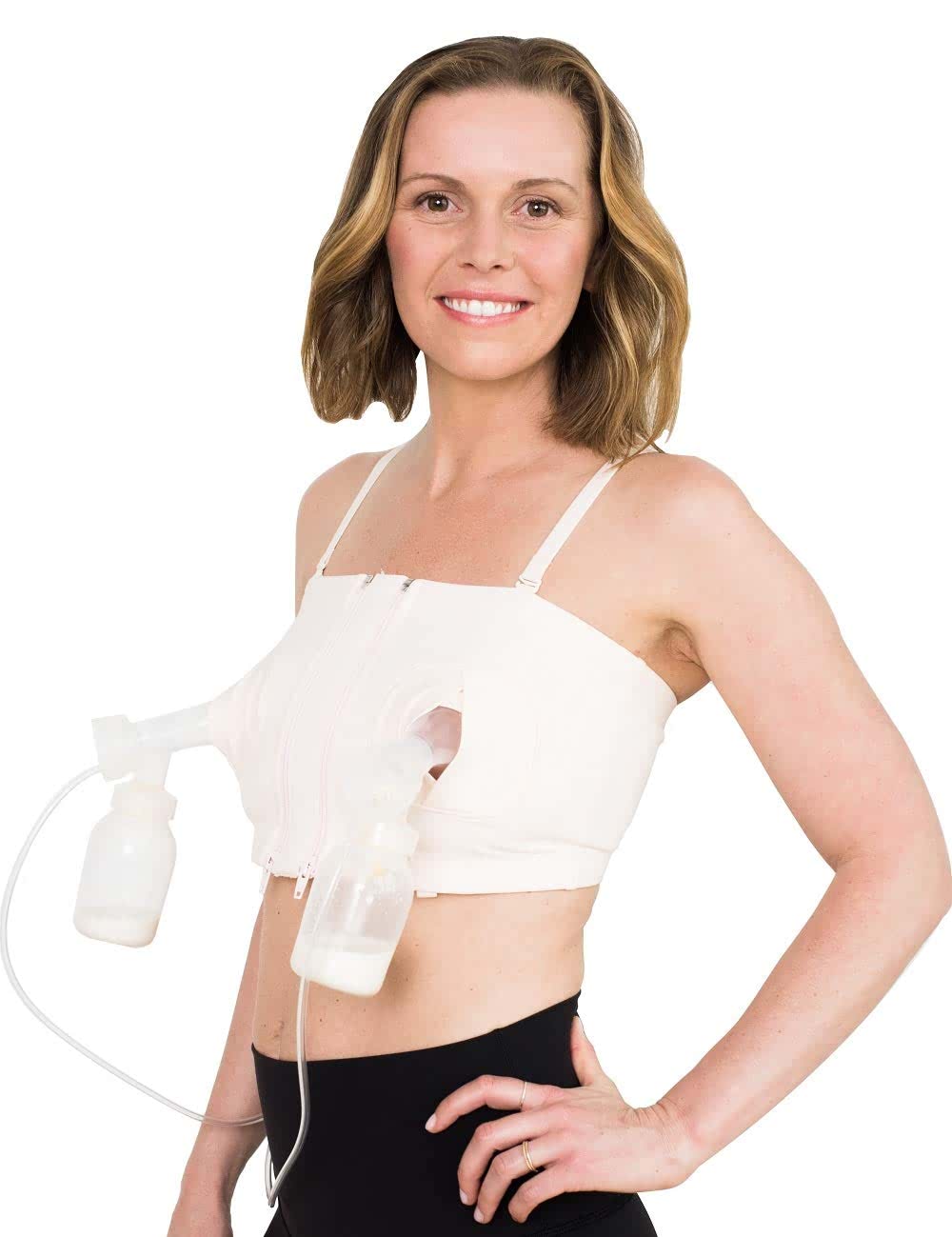 With the ability to hold breast shields and bottles securely, this well-designed pumping bra will quickly pay for itself in time saved and comfortable wear. It provides you with a convertible style, which you can wear with racer-back, strapless, tank top and halter-neck clothing for pumping wherever you happen to be. And you can also wear this bustier design along with your favorite nursing bra, so there are plenty of options available to make breastfeeding more convenient.
The stretchy, soft fabric uses an easy Velcro fastener, which has an extensive 10 inch adjustability range. This makes a pumping bra that you can rely on to fit a constantly changing, post-partum body securely and comfortably. The Simple Wishes Signature Pumping Bra comes in two sizes – XS and Plus – and two colors – Soft Pink & Black – and is compatible with all electric breast pumps.
Pros
Highly adjustable
Reasonable price
Tight, reliable seal
Cons
Not designed for all-day wear
The only purpose of a pumping bra is to allow for complete hands-free use of breast-shields, an electric pump and a bottle. Therefore, your priority is a bra that can hold the pump securely. And the ultimate test of a good pumping bra is that you can sit, stand and lean forwards without the flanges moving. Comfort is equally important, so avoid any pumping bra that doesn't fit well. If you use our guide which highlights different designs, you should be able to narrow down your search and obtain the best pumping bra for your needs!