Your quinceañera celebration is one of the biggest days in a young lady's life in Latin-American culture, so finding the best dress for you is essential.
You need to feel comfortable and look your absolute best, so wading through the racks of quinceañera dresses can seem a little daunting.
You'll have your own ideas of how you want to dress and your mother and grandmother will also probably have their own favorite style ideas.
So before you start the search, why not run through some useful tips for finding your perfect dress, before browsing my gallery of gorgeous quince gowns!
1. Set a budget
Quince dresses come in a very wide range of prices and you need to know how much you can spend before you start looking.
Have a chat with your parents to set a budget they can live with.
This will give them peace of mind and help narrow down your search by price.
2. Know What Suits Your Body Type
This is always the best way to choose your fashion clothes and is something that will help you dress well throughout your life.
So be ready to listen to advice from a consultant who knows what suits you and what doesn't.
For example, the traditional ball-gown style suits most body shapes, but you will also have the option of ruffled skirts to straight, empire-line styles.
A-line dresses are a great style for all body shapes and can cover up wide hips and thighs of a pear-shaped figure.
The popular sweetheart neckline on an A-line dress makes an attractive quince gown for most teens.
If you happen to be tall and slim, you'll look wonderful in a halter-neck top style.
And if you're on the shorter side, a strapless gown with a shorter bodice will flatter you.
If you have an ample bust, choose a dress that will give you plenty of support with straps, cap-sleeves or an 'Illusion' top, so you'll be comfortable.
Dresses with a laced-back corset design mold to your figure and give a better fit than those made with a zip at the back.
Try to shop where there is an experienced gown consultant to guide you towards the perfect fit to flatter the best features of your figure.
4. Choosing the Best Color
This is extremely important as you need to wear a color that matches with your individual natural coloring.
So find out if you have warm, cool or neutral skin undertones to help you find your best color palette.
If you want to be traditional, wear a white or pastel-colored dress with embroidered appliqué decoration.
And you can also wear crystal beading and sequins to add glamor.
However, modern quinceañera's are increasingly choosing strong, bright shades, rich dark evening-dress colors, and colors from this year's fashion palette of trendy neutrals and 'dusty' pastel tones.
And to get you started, take a look at today's gallery of gorgeous quince gowns and see which styles and colors appeal to you most, before you hit the stores!
Pre-selection can save you an awful lot of time and stress!
1. Sparkling Gold Modern Quinceañera Gown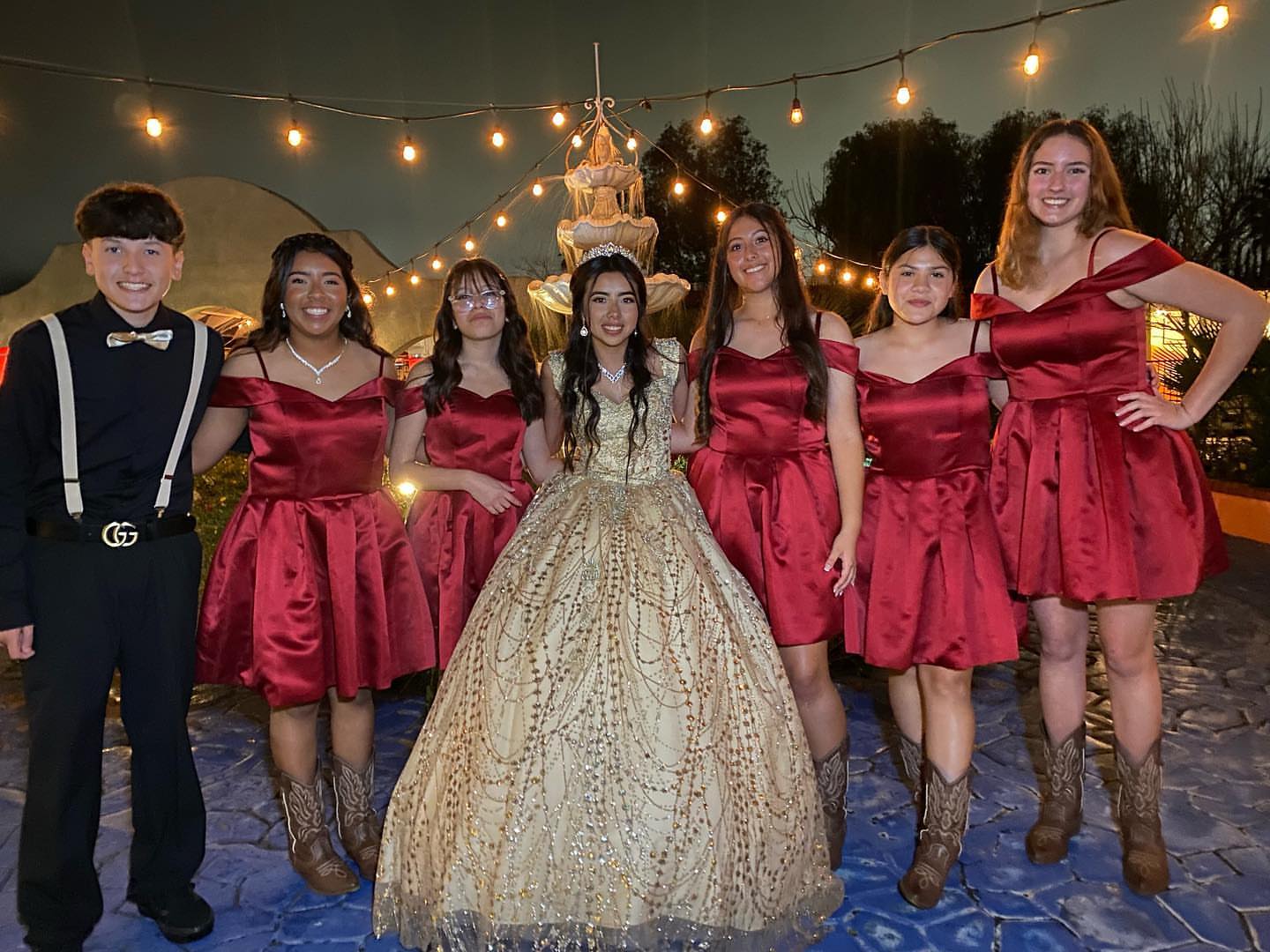 This is a lovely, chic quinceañera style that has a suitable V-necked bodice with broad, pretty shoulder straps.
It has a nice contemporary vibe with the skirt not too wide for easy movement.
And the metallic gold decorated fabric in an abstract pattern makes the dress appear trendier than the traditional embroidery or appliqué style.
2. Strapless Pale Green Gown with Embroidery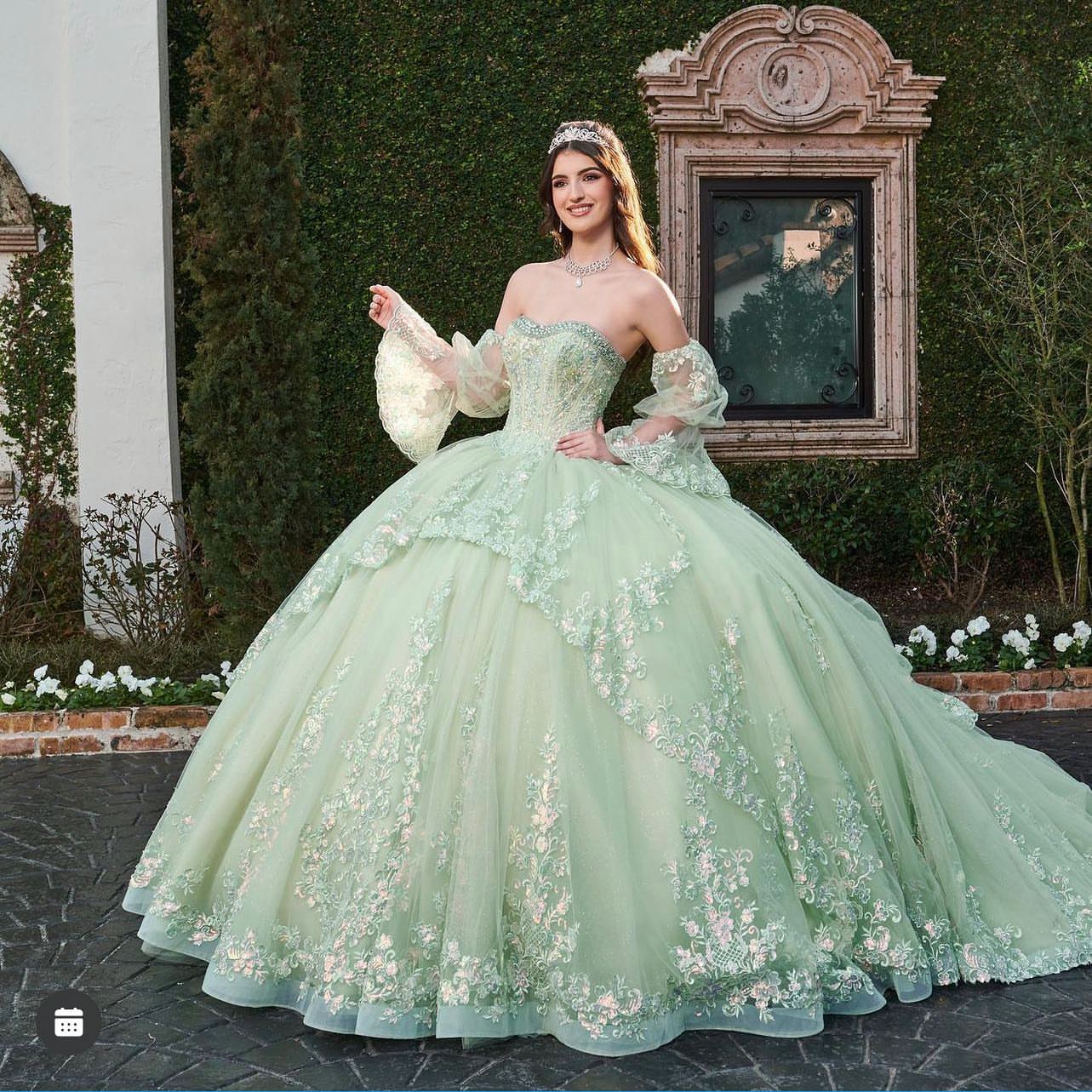 This delicate green dress is perfect for a teen who's just approaching adulthood.
The strapless bodice shows off the bustline and shoulders, and the detached sleeves with dainty flounces emphasize youthful grace.
The full-length skirt with long train shows off yards of beautifully embroidered nylon – with a pink floral theme that looks fabulous against the soft, green background!
3. Pink Drop-Sleeve Gown with Flounces & Applique Detail

This is a dainty gown with more sophisticated design features, like the beautifully flounced over-skirt draped expertly over the top.
The strapless bodice is covered with delicate, pink floral appliqué and has cute dropped sleeves for the upper arms.
I think the clever combination of white and soft pink accents in this dress make it a stunning gown for a 15 year old's birthday party!
4. Pale Blue Petal Bodiced Gown

In a traditional pastel blue color, this quinceañera gown has a lovely V neckline around the bust of the strapless bodice.
And the blue petal decoration of the fitted bodice is so cute!
The main skirt has a decorative peplum over the top and is decorated with traditional floral embroidery.
And glittering sparkles ensure that every dance movement under the venue lighting will catch and reflect light from the birthday girl!
5. Aqua-Green with Pretty Lavender Floral Applique

Aqua is one of the freshest colors you can choose and highly appropriate for a quinceañera celebration!
The strapless bodice has sexy 'fallen-down' straps decorating the upper arms and showing off bare shoulders.
And the combination of lavender, pink and white flowers on the fitted bodice create a fabulous focal point for this pretty ball-gown.
6. Sea-Green with Butterfly Appliqué

This rich, lurex fabric in deep sea-green is a more sophisticated look and very appropriate for an evening quinceañera event.
The fitted bodice is boned and has bra cups incorporated into the shape to ensure a good fit.
And dropped sleeves decorate the upper arms below the strapless shoulder area.
The added butterfly appliqué is excellent, giving the impression that the insects have just landed and are perched daintily around the young lady's skirt!
7. Ruby-Red Quince Gown with Long Train
This sophisticated, deep, rich-red color is also a great choice for an evening birthday party.
The overall theme is glamor and this is emphasized by two types of sparkles added to the fabric.
The sparkling bodice matches the line of diamanté glitter in an attractive pattern and border on the skirt.
And the full skirt, evening gloves and long train definitely give this dress a royal vibe!
8. Satiny Emerald-Green Gown with Long Train

This special, three-layered train completes a gorgeous ball-gown to showcase a quinceañera.
Rich jewel colors, like this emerald, give the birthday girl a more sophisticated and mature look that's miles away from the butterfly-decorated dresses.
The high-quality fabric looks like silk and satin combined and the metallic gold and diamanté appliqué is beautifully luxurious.
It's definitely an extravagant ball-gown style you would expect to see in a royal ballroom during the 18th century!
9. Trendy Silver Filigree on Aqua-Blue Gown

There are three 'new' blue shades in the world of fashion for this year and we have one of them on show above.
It's a medium blue shade with a touch of gray in the mix, which makes a very attractive new shade for trend-setters to showcase.
This modern quinceañera gown has contemporary puffed, detached sleeves and a lovely, gathered skirt design.
And it's made from beautifully decorated blue/silver fabric with a floral tracery pattern that glitters fabulously!
10. Chic Strapless Modern Gown with Peplum

Here's a more modern color for a quince gown, echoing the fashion for neutral colors this year.
Switching between camel and glittering metallic gold, the top skirt shimmers over the hooped underskirt, which has a more contemporary, triangular shape.
The boned bodice has individual bra cups and a beautifully textured surface.
And the waist and hips are emphasized by a lovely, sequined peplum in a delicate shade of beige!
11. Lilac Gown with Tutu Peplum & Silver Detail

The bodice and peplum of this luxurious mauve gown are inspired by the tutu of a glamorous, prima ballerina, with a stiff, net skirt and spaghetti strapped top.
And the full skirt is made from a light, transparent fabric with gorgeous silver and purple tracery pattern in vertical stripes.
This combines the traditional ball-gown shape with a modern peplum design to create something beautiful and different for your quinceañera celebration!
12. Aqua Chiffon Gown with Large Train

Summer blue skies are echoed in this gown with an exaggerated shape and extra-large train.
The skirt is covered with dainty butterfly appliqué and the traditional floral decoration is minimal – for a modern vibe.
And the pretty blue border on the fabric layers evokes a clear blue sea gently lapping around the lovely quinceañera's feet!
13. Sophisticated Pink Gown with Peplum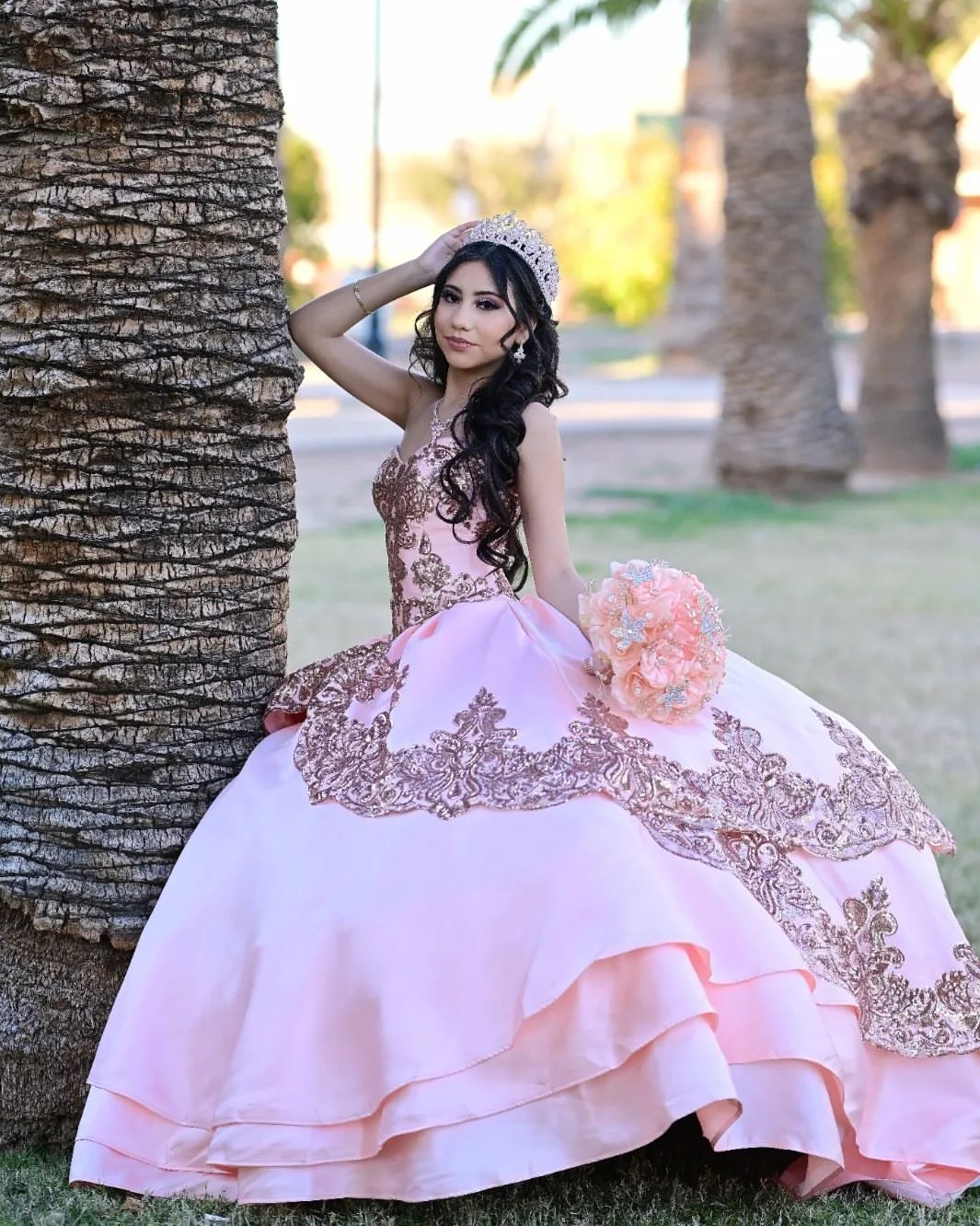 Pink is a popular choice for teenage girls, but this pink dress with burgundy/silver patterning takes pink and raises it up to a more sophisticated look.
This is an interesting design with three layers to the main skirt, creating the impression of flowing waves around the hem.
And the gorgeous double overskirt has attractive scallops and antique tracery patterns around the edge.
With a matching, strapless bodice, this pink quinceañera dress is everything a stylish, young girl dreams of!
14. Royal-Blue Gown with Lace-Up Back

This strapless gown has pretty, floral dropped sleeves decorating the upper arms.
And the royal-blue transparent skirt looks rich and fresh when draped over a white underskirt.
Royal-blue and white are always an eye-catching combination and make an interesting departure from pastel colors.
And with beautiful blue flower appliqué and a short train, this could be the perfect quince dress for your special birthday!
15. Dusty-Blue Strapless Gown with Stardust Sparkles


If you want something that's really high fashion for this year, take a look at this fabulous, dusty-blue gown.
It's one of the new blue shades and makes a sophisticated, but fresh color for an individual quinceañera.
The boned bodice is transparent around the opaque bra-cups and the style is strapless to show off the shoulders.
Butterflies, in a trendy beige shade, are sprinkled around the bodice and gown for a dainty decoration that avoids the traditional floral patterns.
16. Sophisticated Rich-Red Quince Gown

This is a very 'grown-up' look for the average 15 year old, but will look absolutely majestic on the right young lady.
The richness of the self-patterned, rusty-red fabric and the antique embroidered pattern in metallic thread adds another layer of luxury to this impressive gown.
The skirt is designed with gathers that create a fabulous shape and the lovely bow decoration at the back is the final finishing touch to an unforgettable and luxurious quinceañera dress!
17. Dusty-Pink Gown with Sparkles

Dusty-pink, with a touch of coral in the mix provides a more sophisticated alternative to sugary pink, in this lovely ball-gown design.
The transparent lacy bodice has an attractive V-shape at the waist and delicate dropped sleeves for the upper arms.
The dainty fabric is covered in fabulous silver sparkles providing a background to richly embroidered appliqué patterns featuring pastel-pink flowers!
18. Dusty Peach & Metallic Copper Gown with Flared Sleeves

The more contemporary designs have fewer floral patterns and more adventurous colors to fit with this year's neutral fashion favorites.
And this is a great example of a modern design, with a dusty peach background fabric decorated with gorgeous metallic copper appliqué.
The pretty, copper and silver bodice is complemented by lovely, detached sleeves in copper with trendy, transparent flared hems!
19. Green & Pink Gown with Chiffon Puffed Sleeves

Forest-green is a totally trendy color this year, you will already have seen in your local fashion stores!
And the new idea of matching pink and green in fashion clothes creates a fresh and interesting color palette.
The transparent puffed sleeves and modern floral appliqué separate this gorgeous gown from the traditional look and create one of the most striking, new quinceañera styles I've seen for this year!
20. French-Blue & Silver Quince Gown with Train

If your aim is to impress with the beauty and quality of your birthday gown, this must be a strong contender!
It looks like the wedding dress of any European bride from the 16th century and is designed to create an impression of luxury and wealth.
And there is a trendy twist in the use of an antique, (but new) blue-gray shade in this long-sleeved quinceañera dress.
The wonderfully decorated double layered train and the superior overall design make this a highly sophisticated choice for a special birthday celebration!
21. Lavender-Blue Quince Gown with Floral Front Section

We can't see it completely, but this bright lavender-blue dress also has an attractive feature at the back, in a small train made from a different fabric.
The strapless bodice has high bust coverage suitable for a 15 year old young lady and a plain skirt with a pretty floral pattern decorating the front.
It's a fun, birthday party dress in a lovely summery shade!
22. Pink Floral Quinceanera Dress

Slightly dusty-pink fabric takes the bubble-gum look away from a pastel pink dress and gives this cute quince dress more fashion appeal for a mid-teen wearer.
The transparent and flower-covered bodice is a lovely feature on this dress, along with the sweetheart neckline and dainty dropped sleeves.
And the full skirt is covered in beautiful traditional floral appliqué pattern!
22. Lavender Dress with Vertical Flounces & Train

For those looking for something a little different, this dress has unusual vertical flounces arranged on the skirt and hologram, rainbow-colored floral appliqué set in the gaps between!
The flounces add super 3-D dimension to the skirt and the multi-colored glitter is a modern way to add bling.
This bodice zips up the back, rather than having laces, which also looks more up-to-date in my view.
And this lovely lavender color and contemporary design will set you and your quinceañera gown apart from all your friend's dresses!
23. Chic Golden Quinceanera Gown

Achieve a more mature look in a chic, modern ochre and gold quinceañera gown like this.
The beautiful, golden bodice fits well, without being too tight and has cute, dropped sleeves that add elegance around the top.
The dainty peplum layer hovers above another layer of transparent fabric giving the skirt a light and airy, multi-layered appearance.
And the softly muted gold and ochre shades in the embroidered appliqué add a graceful touch to the beautifully gathered skirt!
24. Revealing White Shorts & Split Skirt Quince Dress

For a quinceañera who's determined to do her birthday party in strictly modern style, here's a saucy two-level look with wedding day inspiration!
And this sexy quinceañera outfit is definitely designed to show off a cute figure.
The floral bodice has a low V neck and transparent net sections, above a pair of white shorts.
And the long white skirt isn't a traditional hooped style, but a sexy, modern style slit up to the waist.
Just add quirky white cowboy boots and party on!
25. Shell-Pink Bridal Inspired Quince Gown

Being so close to a white dress, this lovely shell-pink creation is very wedding-dress inspired!
The style is dainty and contemporary, with a 3-tiered skirt with pretty pink and white floral appliqué along the hems and a short train.
The cute bodice has lovely little sleeves made of floral appliqué with an attractive texture.
And worn with a sophisticated up hairstyle, this dress projects a mature and elegant wedding day look!
26. Gentle Green Gown with Metallic Embellishment

Dusty-green is another of the new colors for this year, which is pastel green with a touch of gray added.
And all of the new colors have a more sophisticated look than the plain pastel base, especially this subtle green and silver combination.
The bodice is covered in elegant silver appliqué with a strapless top and pretty dropped sleeves.
And the hooped skirt is beautifully adorned with silver embroidery applique against a soft, green, glittering background!
27. Chic Plain Pink Skirt with Modern Floral Bodice

Want a completely new design for your quince gown? Then take a look at this lovely two-piece outfit.
The bodice is dainty and pretty with transparent sections and random flower decoration in a modern style.
And the lovely light and airy skirt is completely plain, without any type of embroidery or appliqué to spoil your enjoyment of the less-bulky shape, and yards of beautifully draped pink net!
28. Pink & Silver Quince Gown

What's more glamorous for a quinceañera dress than girly pink with silver floral patterns?
This feminine dress is a great way to show your daughter how much you value her presence in your lives.
And it's an attractive mix of traditional and modern features, to keep everyone happy, with a dainty and elegant silver, floral bodice.
And traditional floral appliqué with modern style butterflies nestling in the leaves!
29. Modern Quince Gown with Gold Thread Embroidery

And honoring the Mexican roots of the quinceañera tradition is this modern birthday gown in white satin, decorated with elegant golden thread embroidery.
It's less glittery than most quince dresses and beautifully classic in just two colors that create a chic and mature style.
Worn with a traditional, decorated sombrero, this young lady is pictured as if ready to ride to her wedding.
And this echoes the original intention of the quinceañera celebration, which was to present your daughter to local society as available for marriage.
Frequently asked questions and answers
1. What are the key parts of a Quinceañera celebration?
A Quinceañera is usually made up of several parts, including a religious ceremony, a reception with dinner and dancing, and often a court of young men and women who accompany the Quinceañera. The Quinceañera also typically includes a symbolic "changing of the shoes" where the honoree switches from flat shoes to high heels, symbolizing her transition into womanhood.
2. Do you have to be of Latin American descent to have a Quinceañera?
While the Quinceañera celebration originated in Latin American cultures, anyone can choose to have a Quinceañera. The celebration is a beautiful way to honor a girl's transition into womanhood and can be adapted to reflect any culture or family tradition.
3. What is the significance of the "Last Doll" in a Quinceañera?
The "Last Doll" is a traditional part of the Quinceañera where the birthday girl gives away her last doll to a younger sibling or family member, symbolizing the end of her childhood. The doll is usually dressed similarly to the Quinceañera herself.
4. Why are there 14 damas and 14 chambelanes at a Quinceañera?
The court of honor at a Quinceañera traditionally consists of 14 damas (girls) and 14 chambelanes (boys) who perform a choreographed dance with the Quinceañera. Each couple represents a year of the Quinceañera's life leading up to her 15th birthday.
5. How is a Quinceañera different from a Sweet 16?
While both celebrations mark a girl's transition into womanhood, they have different cultural origins and traditions. A Sweet 16 is a tradition mostly seen in the United States and Canada and doesn't have the same cultural rituals as a Quinceañera. A Quinceañera typically includes symbolic rituals and is often a larger and more elaborate celebration.
So now that you've had a look at the range of lovely birthday gowns available, I hope it helps you narrow down your search for the perfect party dress!
And as you'll only be wearing this dress for a few hours, it's worth remembering that you can hire your dress at a much more economical cost than buying it outright.
Hiring fashionable clothes is becoming more popular amongst all sections of society these days.
And even the British Prime Minister's wife set the trend in London in recent times, hiring trendy dresses for everything from her own wedding to one-off meetings with foreign leaders and their wives!
But whatever you wear make sure it's comfortable and reflects your personality, so you can truly enjoy your special birthday party with your family and friends by your side!