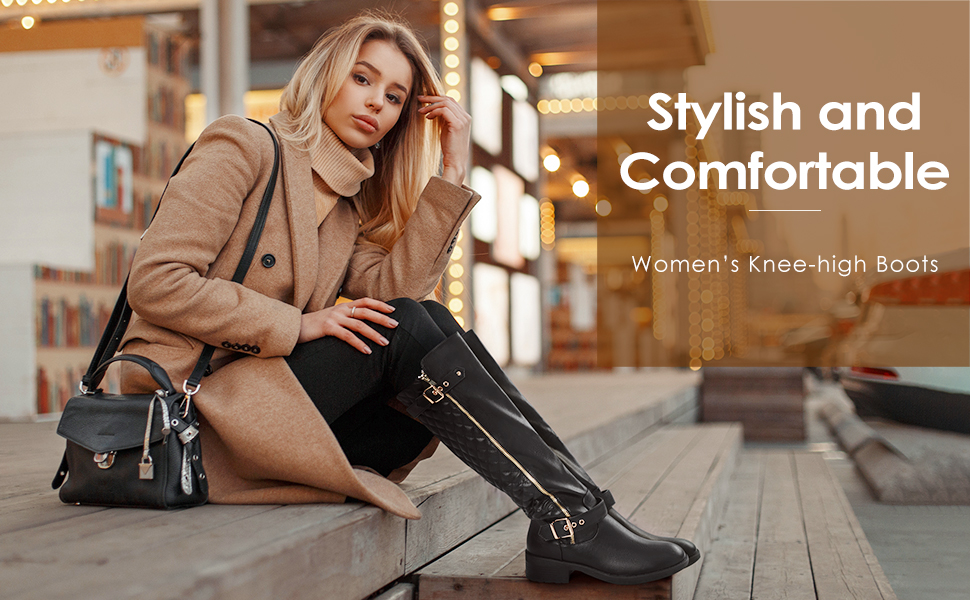 Cowboy boots and dresses are contemporary outfit choices for the spring, and summer seasons. From structured dresses to cute little dresses, cowboy boots can be effortlessly matched with the attire. If you love to steal the look by wearing cowboy boots with a dress, learn the styling tips in this article to create the best looks. Also, not every dress in your wardrobe will match your cowboy boots.
So choose the appropriate ones to look stunning in your elegant dress. Some dresses look good with tall or midcalf cowboy boots, whereas some dress styles match perfectly with short boots.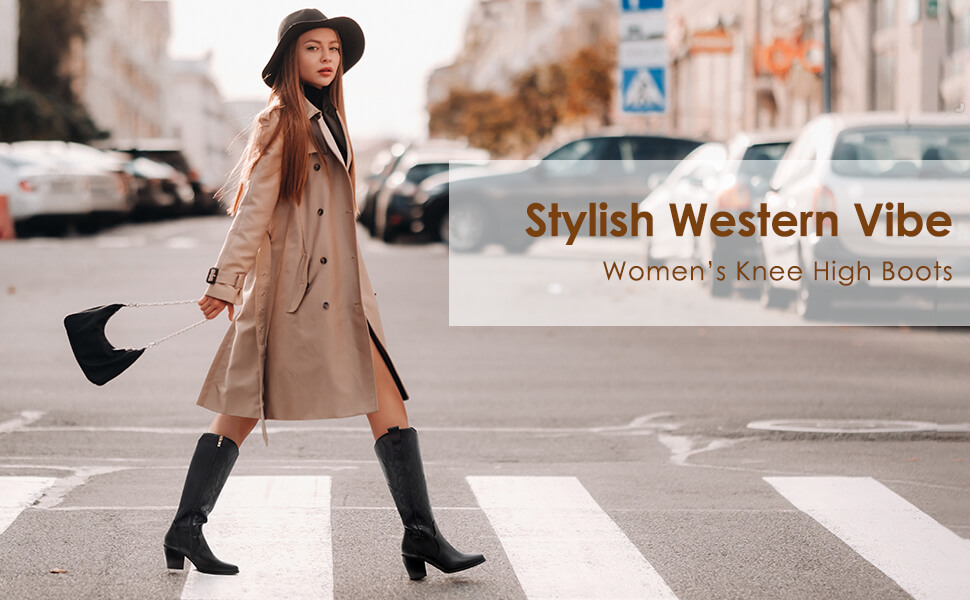 If you are interested to learn how to style cowboy boots with dresses, continue to read this article.
Boho Dress With Cowboy Boots
If you like to wear knee high cowboy boots with extra elegance, choose the Bohi dress to recreate the 70's dressing style. You will love the aesthetic-looking appearance by showing off your bohemian look. If you have doubts about how to shoe the bohemian dress, look for the details like embroidery, and cross-stitching. When it comes to overall appearance, shape and fit are essential; therefore, prefer bright-colored dresses to achieve a vibrant style. 
Maxi Dress with Cowboy Boots
Choose a long maxi dress to wear with Cowboy boots to look elegant and stylish. You can effortlessly pair the flowy embroidered dress with cowboy boots and look like a ravishing beauty. You can complete your look by wearing hoop earrings and carrying a leather shoulder bag.
Tunic Dress With Cowboy Boots
Want to pair your cowboy boots with a flawless dress? Prefer a tunic dress, which is the staple dress from the 70s. This dress looks well with high cowboy boots to look trendy you can choose an embroidery tunic dress with Frills and lace. A leather purse with a cowboy hat can help you achieve the look.
If you are confused to choose the ideal cowboy boots for you, go for high cowboy boots from Dream Pairs shoes site since they are the perfect boot choice to keep you stay on style trend. Moreover, these boots have pointed toes that are classy and versatile to provide softness and extra cushioning. 
Crochet Dress With Cowboy Boots
What can be the most fashionable dress to pair with high cowboy boots other than a crochet dress? While pairing these cowboy boots with a crochet dress, you will look incredibly beautiful. Opt for the open-weave crochet dress for a more relaxed and casual look. You can choose a crochet dress with a slit over the knee to look classier. Moreover, you can choose the fitting dress with ankle boots and complete the look with a leather jacket and a nice handbag.
White Dress With Cowboy Boots
For the women who like to flaunt their style, choose a white dress with cowboy boots. You can wear a soft flowing dress with flared bottom to look fabulous in your high cowboy boot. But to spice up the look, choose the white dress and accessorize with a thin leather belt and add a piece of fine jewelry.
For the best look, you can wear the fashionable dream pair of cowboy boots with confidence and pull off your style. Also, these boots have a latex insole that makes your walking more comfortable. People who want a relaxed fit can blindly choose the Dream Pairs high cowboy boots. These boots have a heel height of 5mm which elevates your height a little without compromising stability and comfort.
Black Dress With Cowboy Boots
Cowboy boots and a black dress are a great outfit combination; it works with bodycon dresses, slit dresses and maxi dresses in black. For a drop-dead look, you can carry a beaded straw purse and statement jewelry as a fun addition.
Denim Dress With Cowboy Boots
Denim dresses are the hot attire to pair with high cowboy boots, and it gives cowgirl vibes. Therefore you can choose the denim shirt dress with a sleek dress cut. Usually, a shorter dress goes well with ankle or knee-high cowboy boots. Whereas longer dress looks good with different boot styles. You can wear a western belt to elevate your style, or if you like to look subtle, wear minimal jewelry and carry a leather handbag.
Floral Dresses And Cowboy Boots
Have you ever wondered how to look cute in your cute dresses? You can pair your floral dresses with high cowboy boots to look extremely stylish. Prefer hoop earrings and a leather purse to achieve a cozier look. Therefore, do not hesitate to wear cowboy boots with your dress again since you can uplift your look effortlessly.
Shirtdress And Cowboy Boots
Looking for a casual breezy look? You can choose the shirt dress with high cowboy boots to look amazing. Moreover, you can effortlessly pair your denim shirt dress with western ankle boots and a denim jacket to show off your cool look. So do not be shy to uplift your look by pairing your shirtdress with cowboy boots.
Final Words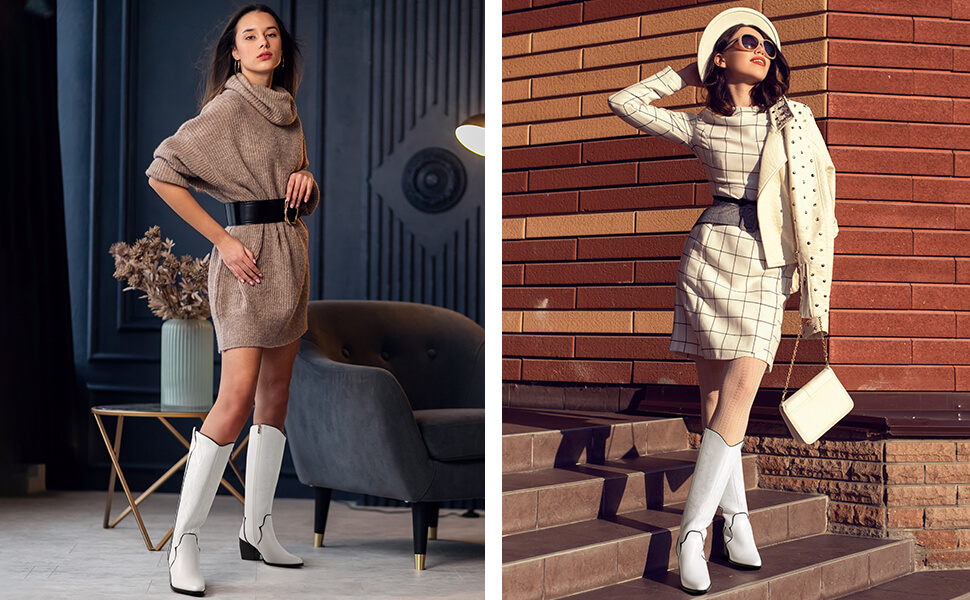 When in doubt about what to wear? Just choose the chic dress with cowboy boots and wear the oversized blazer to create the fashionista look. If you want to look subtle, choose the classic trench with your outfit, and it may become your favorite aesthetic cowgirl style. You can choose any dress style to match with cowboy boots and effortlessly pull off your style. You can wear high cowboy boots for various occasions and have fun with them. So check out your wardrobe to pair your various dress styles with cowboy boots and look pretty.