60 Easy Step by Step Hair Tutorials for Long, Medium and Short Hair
If you have long hair or shoulder length hair, the possibilities for styling it are endless. However, it is still extremely easy to get caught in the same old rut of straightening, curling, or just throwing your hair up into a messy ponytail on a lazy day. Once you get used to styling your hair in just a few different ways, it is easy to forget that there is a whole world of hairstyles out there to explore.
Another challenge comes from the misconception that you need a wide skill base to venture out of the box and try new hairstyles. Unfortunately, many people think that they don't have the required expertise to try out complicated, fancy, or intricate styles. However, this complex is mainly a total myth. While some hairstyles are overly complicated, there are many that are actually extremely easy to pull off. You should never let your styling skill level or lack thereof get in the way of you trying new styles that might look great with your hair. Always remember that your fear can easily keep you from discovering a new style that you absolutely adore.
Easy step by step hair tutorial for medium hair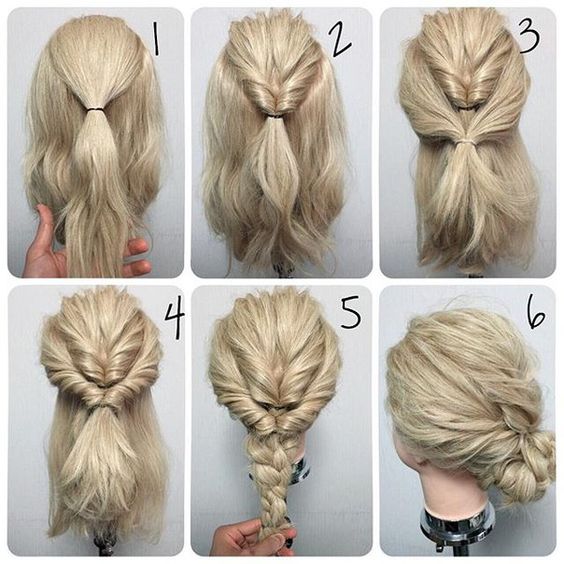 Even though it appears crazily intricate, the style above is easy for even stylists at a very beginner level to pull off. Virtually all you have to do is create two twisted ponytails with small sections of your hair. Then, just braid the bottom section and pin it up under the first ponytail. It's an extremely impressive style that takes very little work.
www herstylecode com,step by step hairstyles for medium length hair,short hair tutorials step by step,medium hair tutorials step by step,hair tutorial step by step,step to step her style,step by step hairstyles tutorial,braided hairstyles for short hair step by step,hairstyle for short hair step by step,steps in short hair style,Eay stap hair,Hair step,step by step hairstyles for short hair,hair step by step,step by step hairstyles