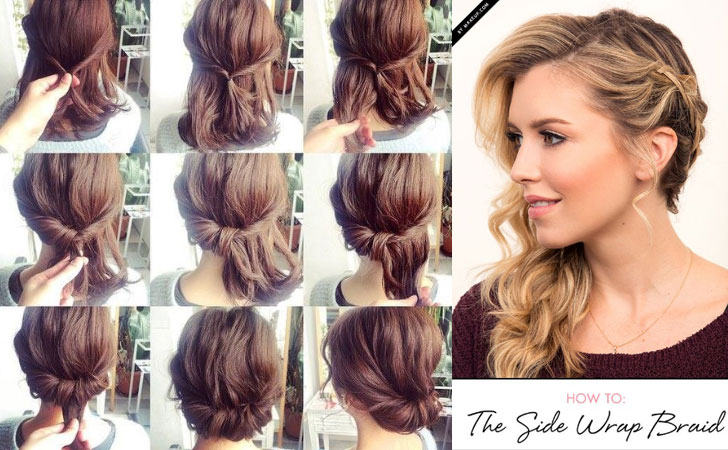 If you have long hair or shoulder length hair, the possibilities for styling it are endless. However, it is still extremely easy to get caught in the same old rut of straightening, curling, or just throwing your hair up into a messy ponytail on a lazy day. Once you get used to styling your hair in just a few different ways, it is easy to forget that there is a whole world of hairstyles out there to explore.
Another challenge comes from the misconception that you need a wide skill base to venture out of the box and try new hairstyles. Unfortunately, many people think that they don't have the required expertise to try out complicated, fancy, or intricate styles. However, this complex is mainly a total myth. While some hairstyles are overly complicated, there are many that are actually extremely easy to pull off. You should never let your styling skill level or lack thereof get in the way of you trying new styles that might look great with your hair. Always remember that your fear can easily keep you from discovering a new style that you absolutely adore.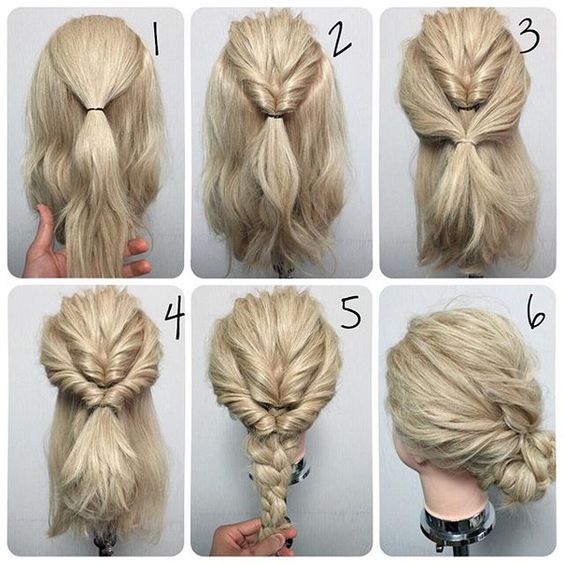 Even though it appears crazily intricate, the style above is easy for even stylists at a very beginner level to pull off. Virtually all you have to do is create two twisted ponytails with small sections of your hair. Then, just braid the bottom section and pin it up under the first ponytail. It's an extremely impressive style that takes very little work.
step by step hair tutorial for long hair – the French braid

This gorgeous, vintage style only requires a headband and a simple french braid. Secure your hair with a headband first. Then, french braid one side of your hair and tuck it into the back of the headband. Finally, just roll the ends of your hair around the headband, and you're good to go.
Easy step by step hair tutorial for beginners – the perfect ponytail for long thick hair

Say goodbye to boring ponytails and say hello to pony perfection. With a bit of twisting and curling, you can easily create a gorgeous, voluminous ponytail that blows all other ponies straight out of the water.
Step by step hair tutorial for women – the wrapped headband updo

This hairstyle combines an elegant updo with a cute and sporty headband. The contrasting combination increases the versatility of the style and makes it easy to rock anywhere from work to a date night. Also, it keeps your hair secure and out of your face. All you need is a headband and a few bobby pins to pull off this look.
Step by step hair tutorial for long straight hair – the low rolled updo

Although this hairstyle looks super intricate and fancy, it's truly not much harder to pull off than a simple low ponytail. Most noteworthy, this style takes five minutes or less to finish and works well for any occasion. However, make sure you invest in some hair product before trying this style. Apply the product as needed to smooth flyaways and keep the front of your hair looking neat and tame all day long.
Step by step messy bun updo tutorial short to medium length hair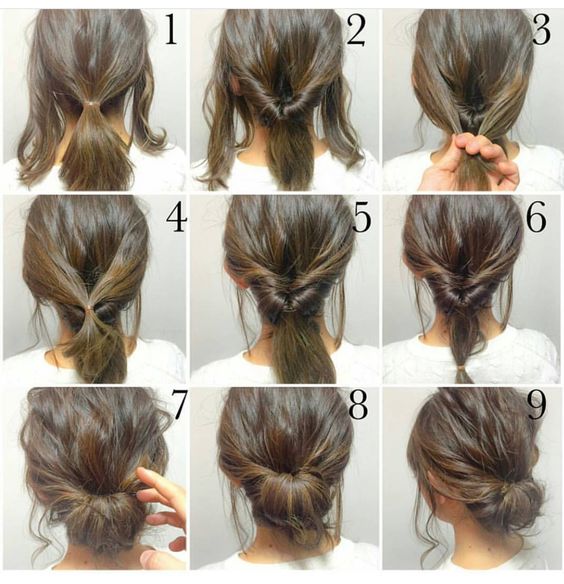 Messy bun meets intricate updo with this gorgeous hairstyle. It's extremely simple to pull off. The style is virtually the same as the rolled bun shown above. However, this style includes a fancy finish with loose, curled pieces in the front.
Step by step updo tutorial for medium hair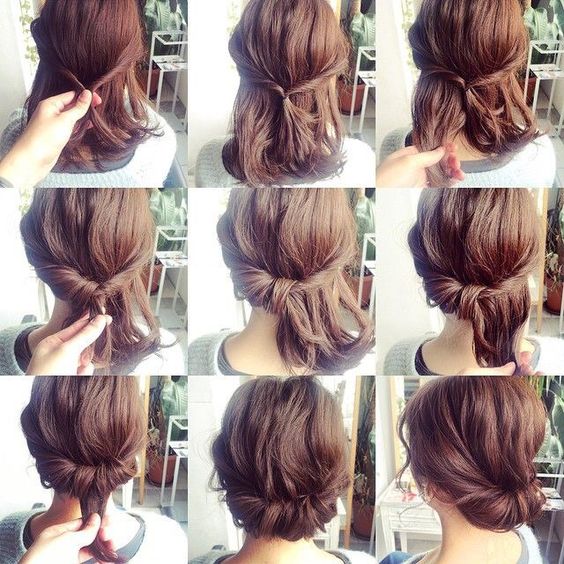 This style is just another variation on the low rolled bun. If you don't have much luck with the methods shown in the previous ideas, try the one demonstrated in the above tutorial instead. It is still very simple. Just start with a half-up ponytail and twist the bottom sections of your hair up around it. All you need is a hair tie and a few bobby pins.
Step by step hair tutorial – the side wrap braid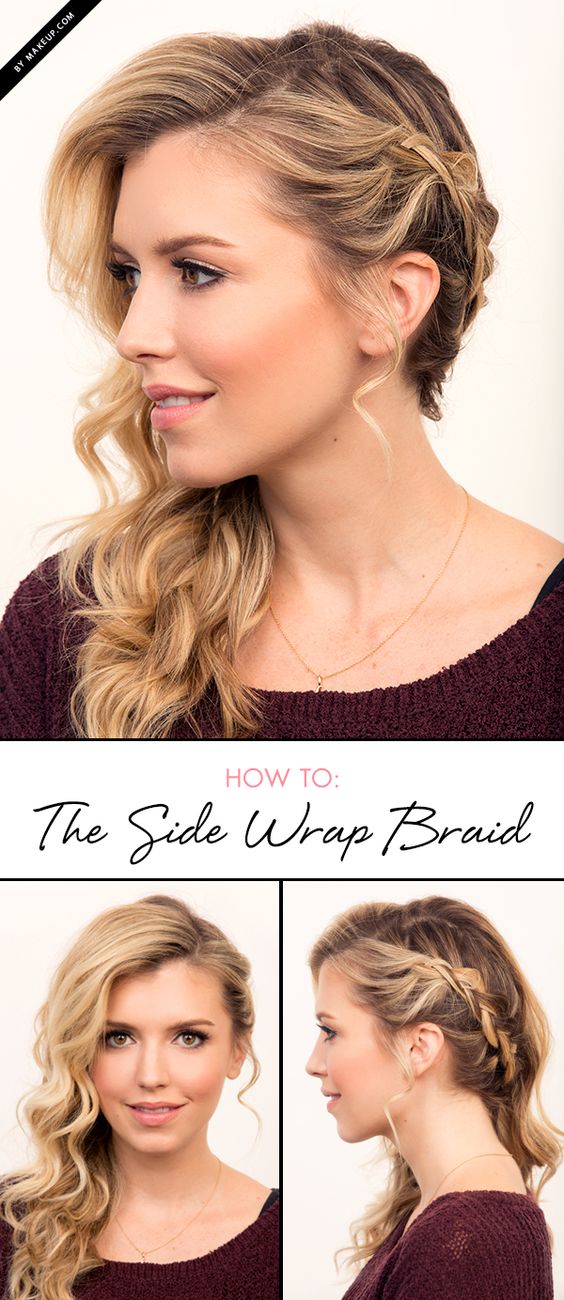 Do you know how to put a simple braid in your hair That's basically all you need to know to create this gorgeous style. Just curl one side of your hair and braid the other. Then, pin the braided side up under your curls for a beautiful asymmetrical look.
Easy Step by step hair tutorial for shoulder length hair – the half up party lob (long bob)

While having shorter hair might make you feel that you're out of luck when it comes to intricate hairstyles, this simply isn't true. In fact, you can turn your long bob into a fancy half up-do with the simple style above. All you need is a bobby pin, a curling iron, and some hairspray.
Easy Step by step hair tutorial for thick hair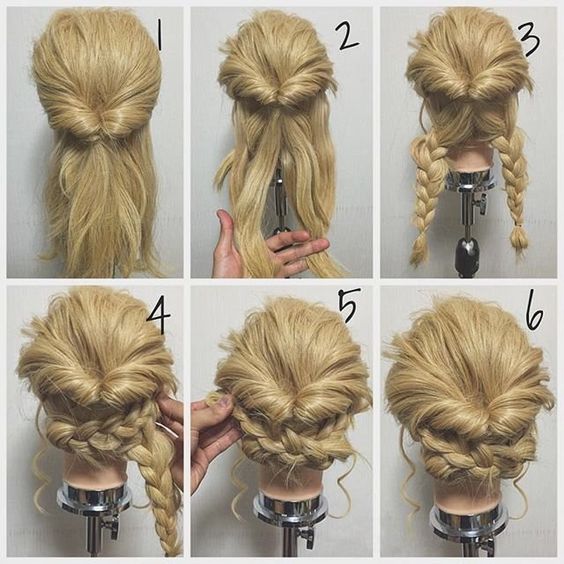 To create the beautiful style above, all you need to know is how to braid your hair and create a twisted ponytail. This look is just a combination of the two simple styles that produces a very intricate finish.
Step by step half-up boho braids tutorial for long hair

Are you craving a trendy bohemian style If so, this gorgeous, casual hairstyle is perfect for you. All you need to do is braid sections of hair around the circumference of your head and pin them to create a care-free half-up style.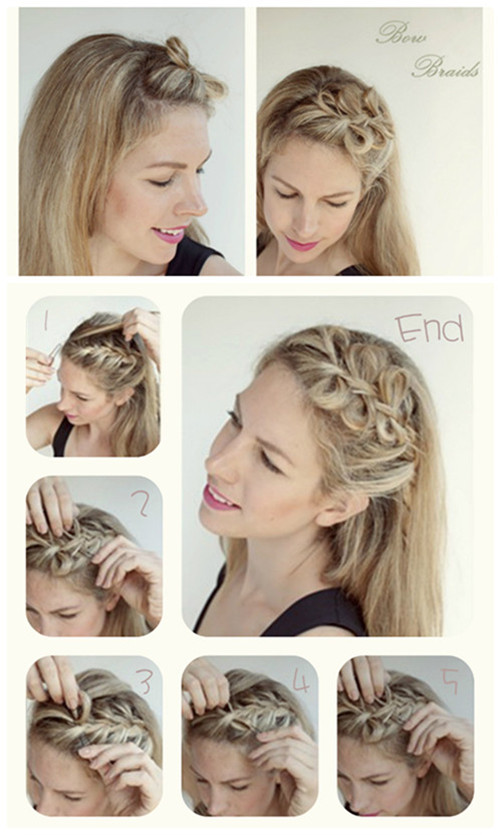 Step by step pull through braid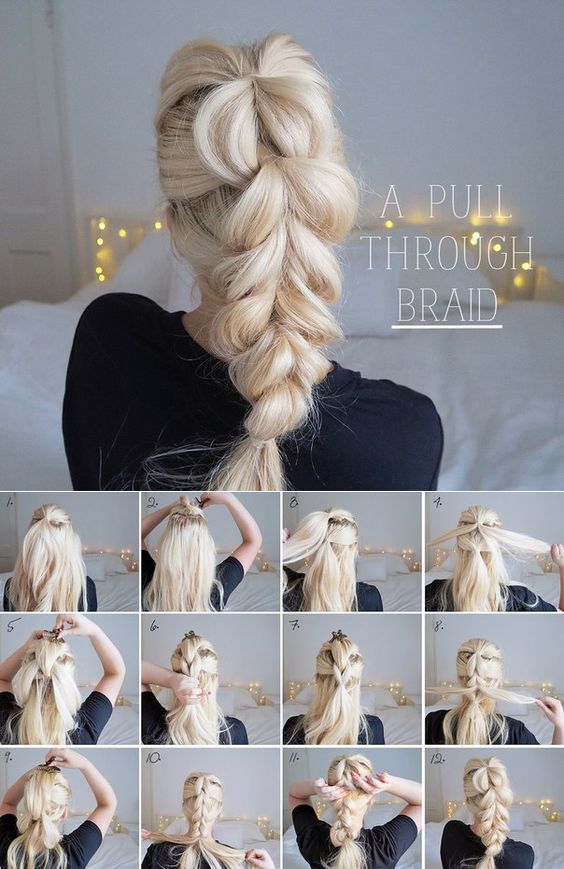 Hairstyle tutorials step by step – the half-up lace rose

DIY Wedding Hairstyles with Tutorials – the bohemian side braid hair tutorial

Step by step hair tutoral for teens – Easy Up-Do's That Will Trick Everyone Into Thinking You Adulted Today

Messy side braid for long wavy hair – braided long ombre hair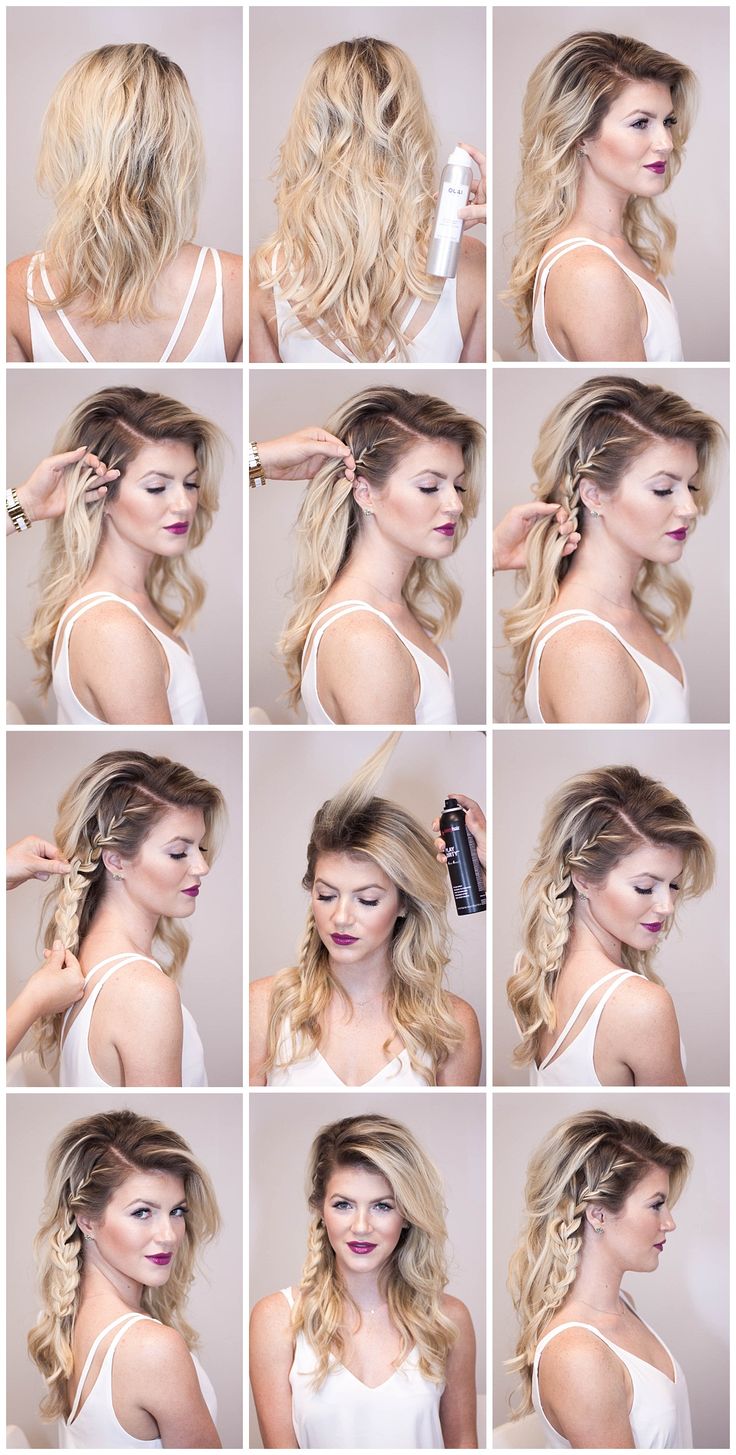 via pinterest
Step by step hair tutorial for short hair – the messy loose curly updo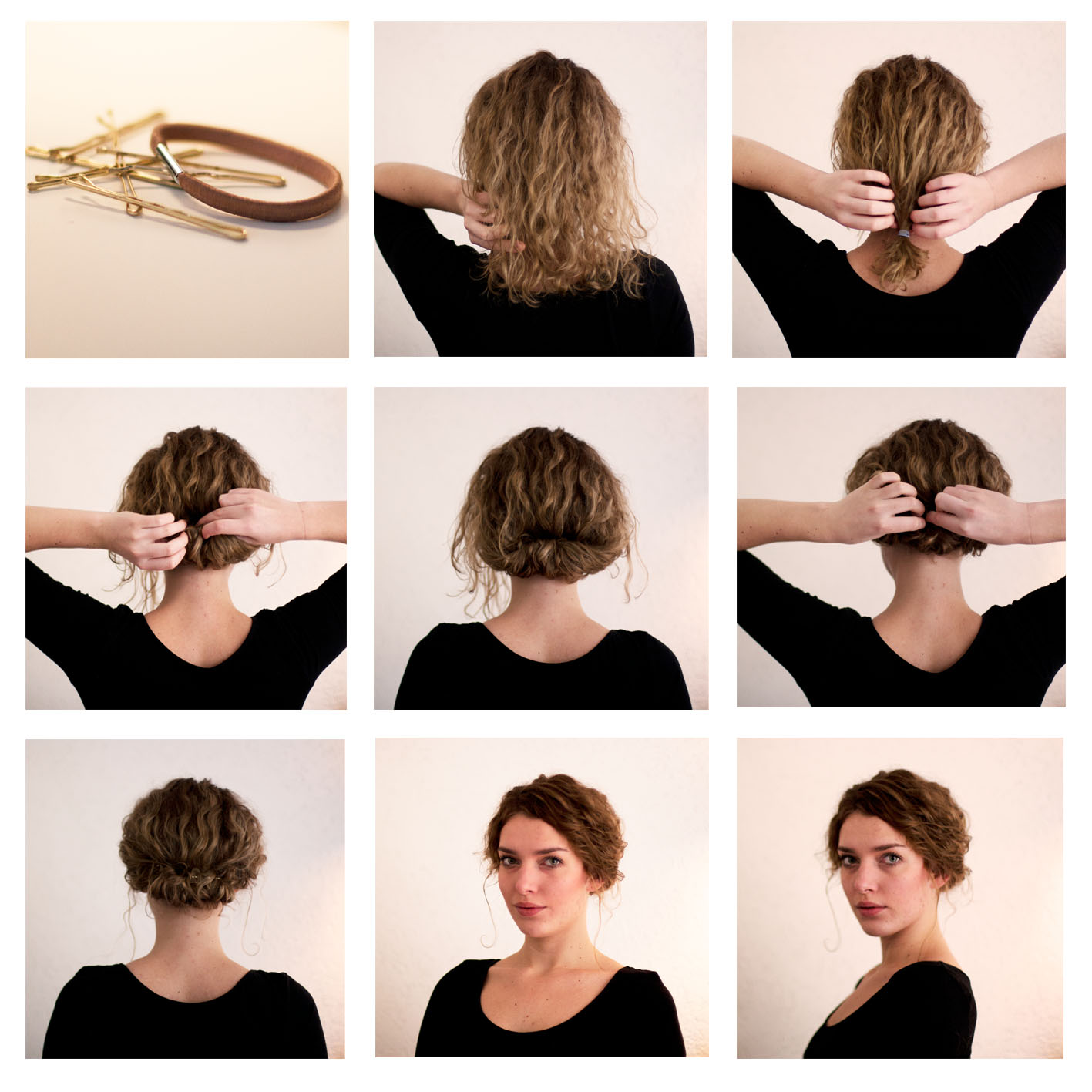 Simple hair ideas for long hair – Khaleesi inspired twist tutorial

via kokay.me
Easy Step by step messy updo tutorial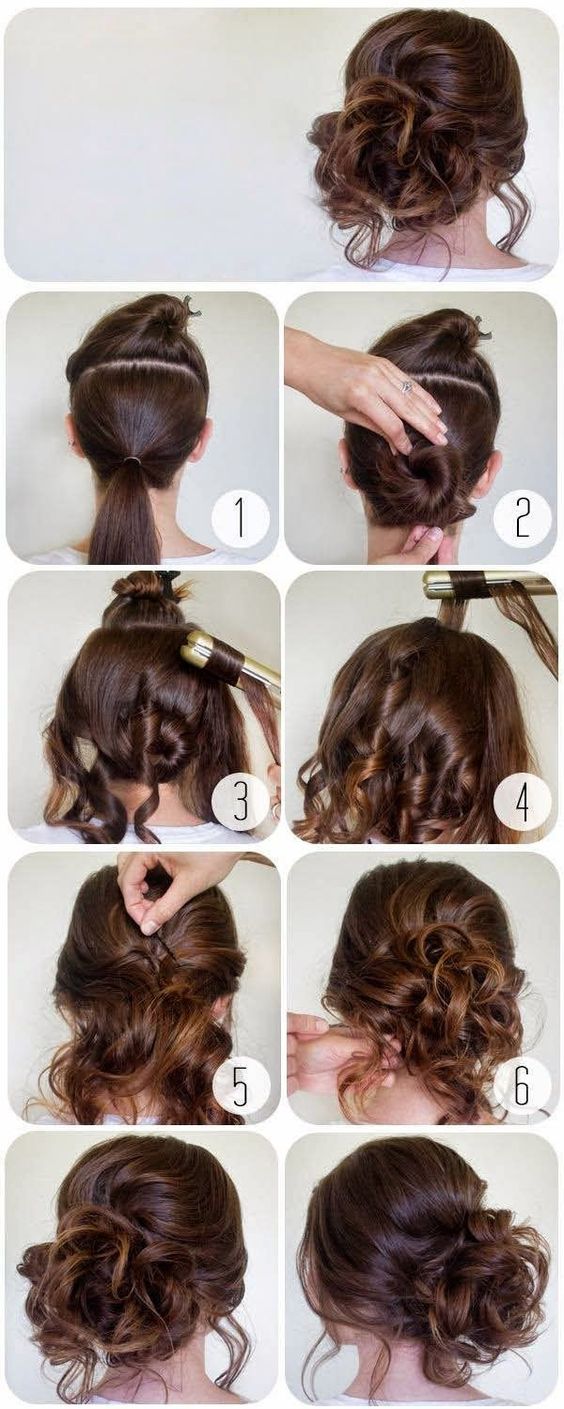 Easy hair tutorial – the braided updo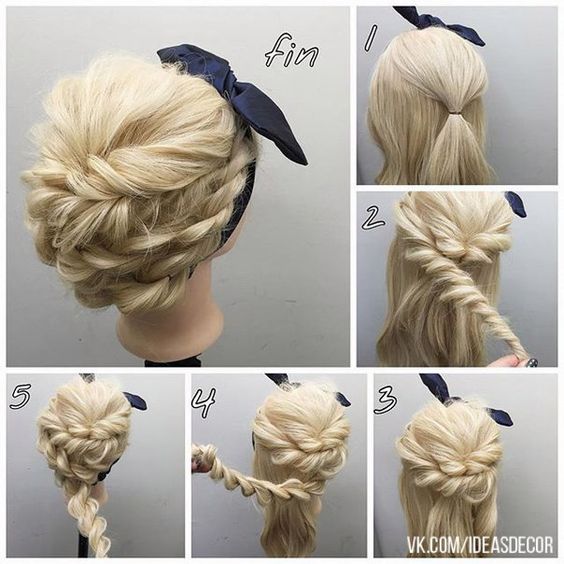 Hair Styles for Special Occasions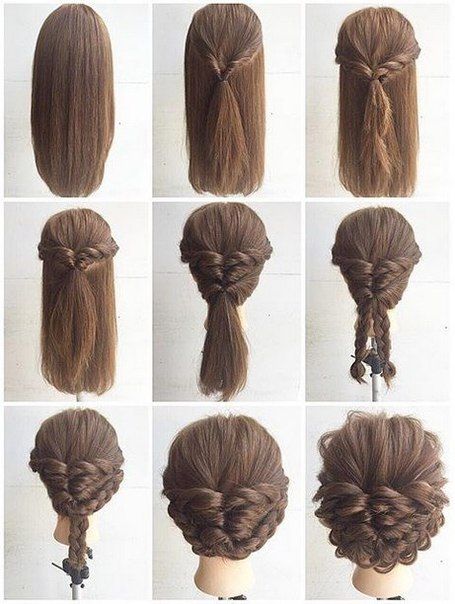 Dutch Three Strand Crown Braid tutorial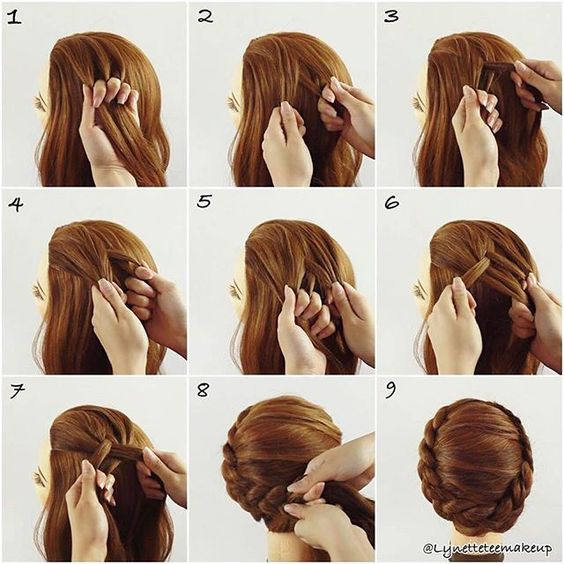 Check out the steps below :- 1.Split hair into 3 section 2.Cross middle section on the left section 3.Cross the middle section on the right section 4.Adding hair to the left section 5.Adding hair to the right 6.Repeat step 2 7.Repeat step 3 8.Keep braiding 9.Finish Happy braiding
half up hair do for long hair step by step tutorial – the half-up heart loop

Five Strand Cage Braid

Step by step faux braid tutorials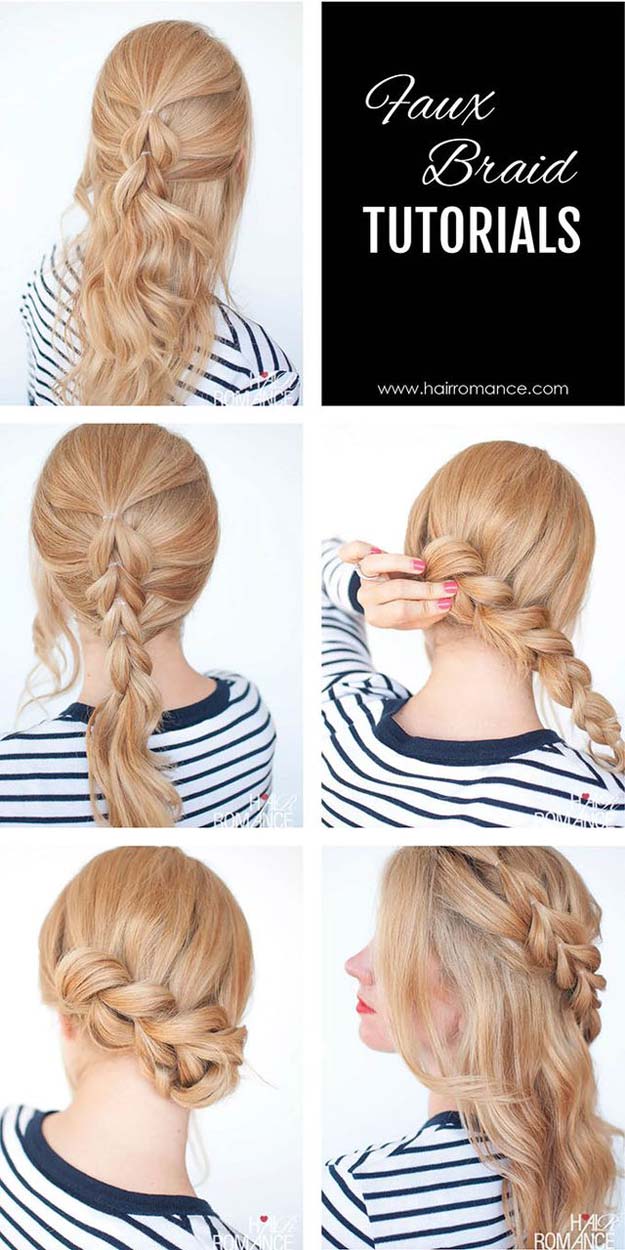 Dutch Boxer Braids

Step by step Fishtail Braid tutorial 101

Braided updo tutorial step by step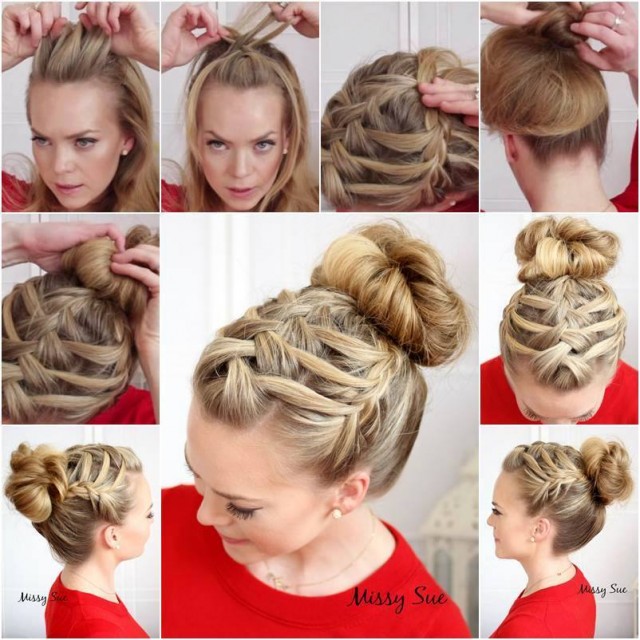 French braid bun updo tutorial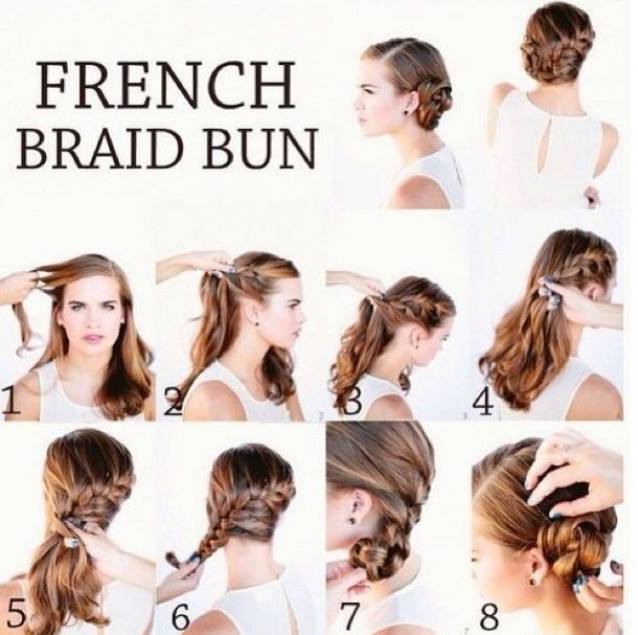 the easiest space (double) buns hair tutorials — how to

Best Hair Braiding Tutorials – Pull Through Braid Tutorial – Easy Step by Step Tutorials for Braids

Half Up Dutch Fishtail Braid

Twisted Crown Braid Tutorial

Easy Under Braid

High Braided Crown Tutorial

Easy Boho Braid Tutorial

Double Braid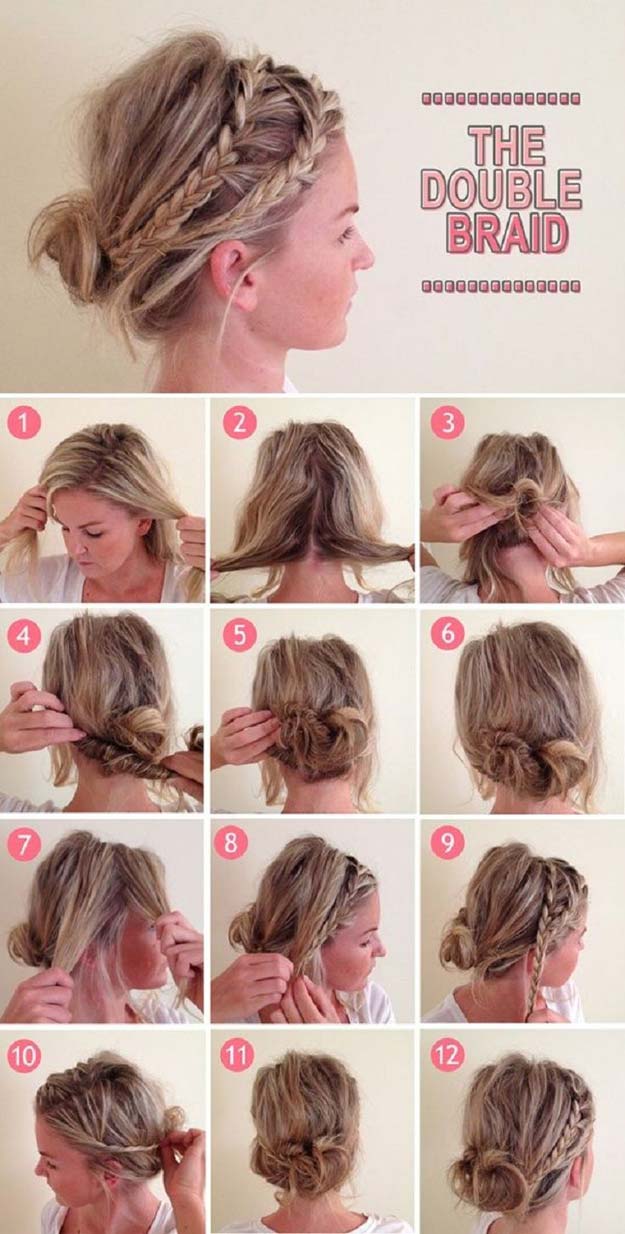 Side messy bun updo for long hair step by step

French Braid Bun Tutorial

Waterfall Braid Wedding Hairstyles For Long Hair

Lace Headband Braid

Tuxedo Braid Messy Bun

Bohemian Side Braid Festival Hair Tutorial

Cross My Heart Braid

Fishtail Braid Tutorial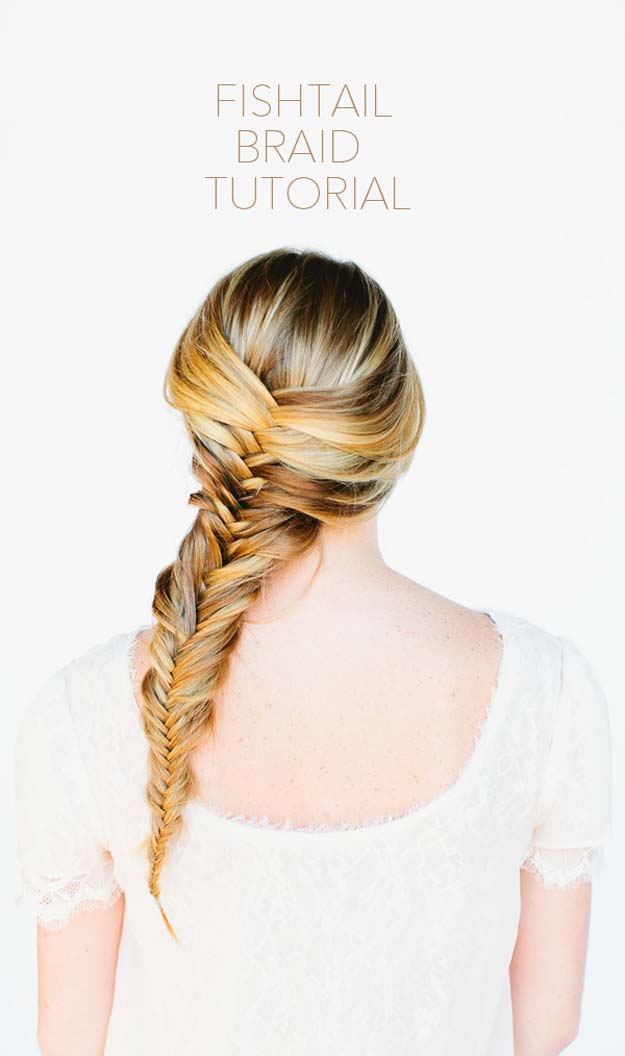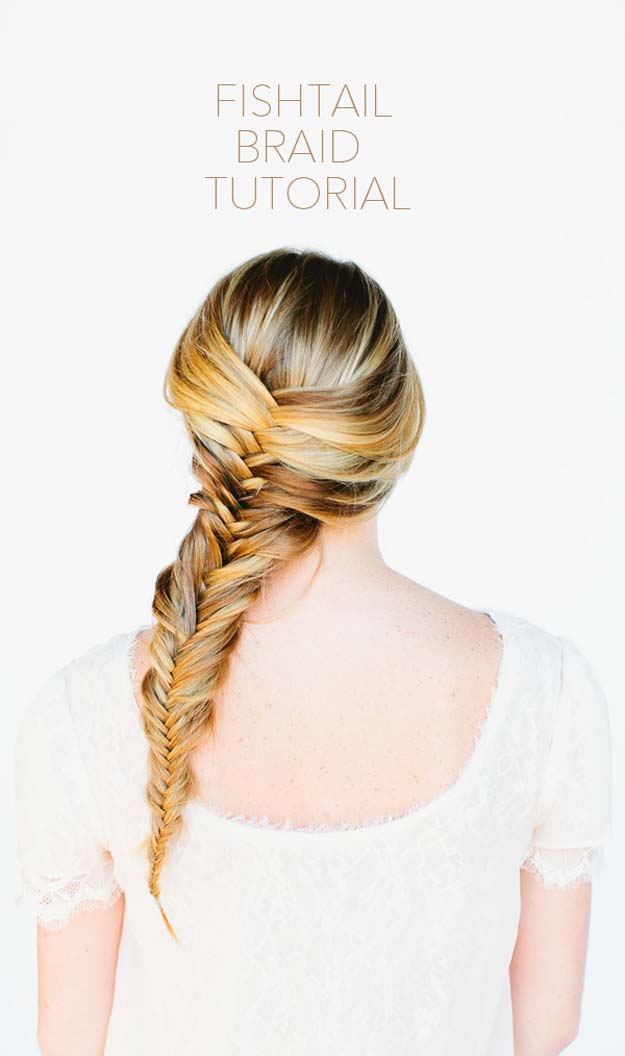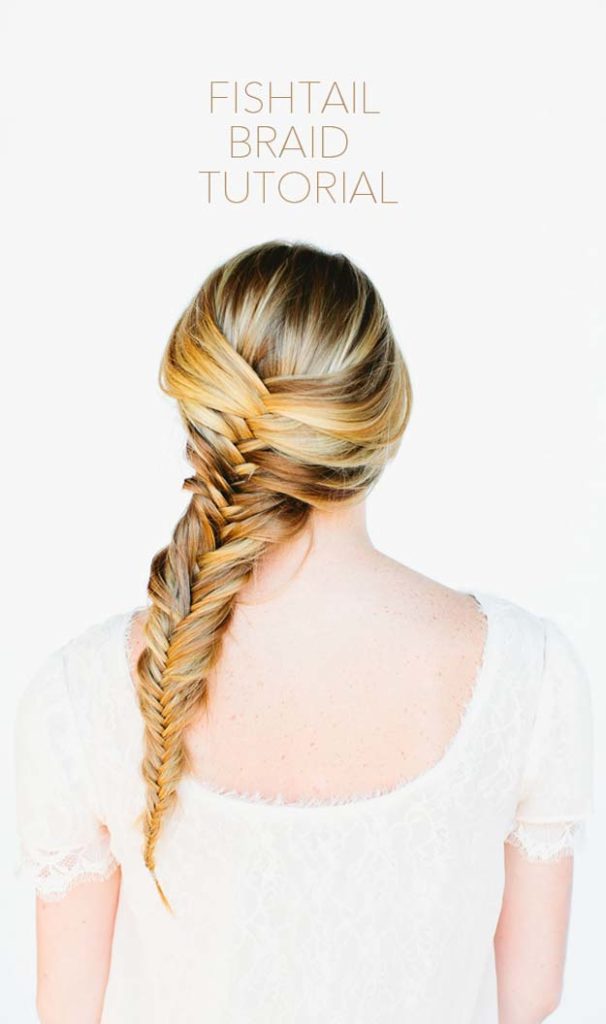 Mermaid Braid

Braid 5-Double Fishtail Braids

Step By Step updoTutorial – the wispy braid and low bun

How-To: Braided Crown Hair Tutorial – double dutch braid step by step

How-To: Knotty Updo Hair Tutorial

the beauty department easiest updo ever tutorial hair

holiday hair ideas to freshen up your look on New Year's Eve

Hair How-To: Tie The Knot with this Beautiful Braided Style

Half-Up/Half-Down Hairstyle Tutorials Perfect For Prom

Easy Step by Step Hair Tutorials for School

Cute Everyday Hairstyles: Long Hair Tutorial – the messy updo for school

Step by Step Hair Tutorials for Medium Hair – the beaded beadband updo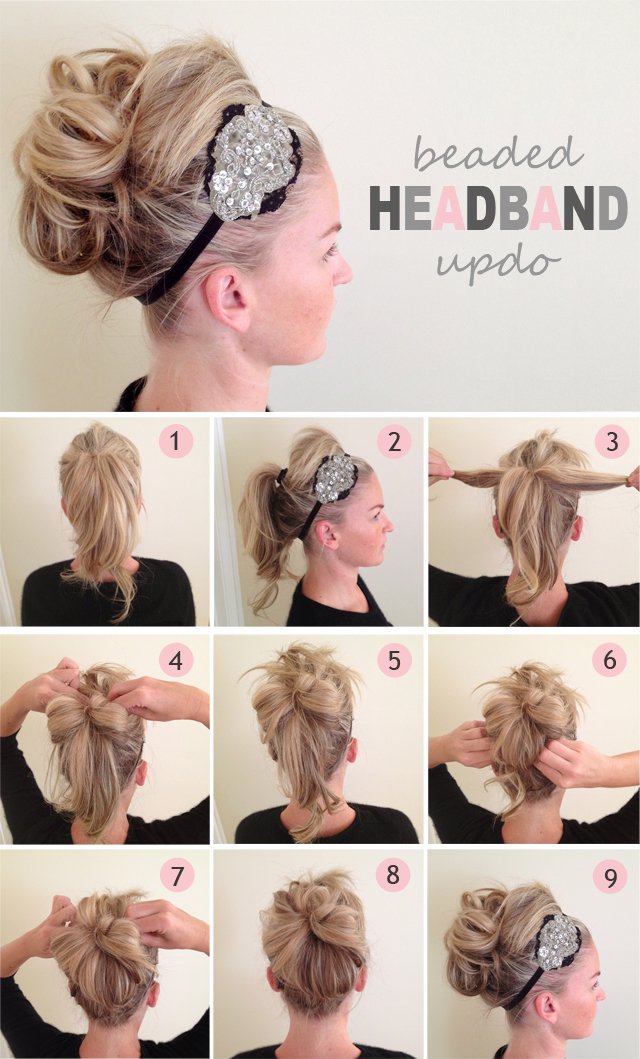 Easy Step by Step Hair Tutorials for Medium Hair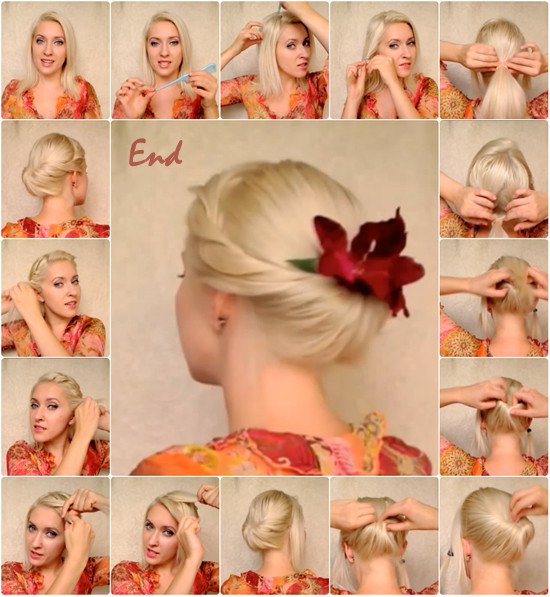 Simple Step by Step Hair Tutorials for Shoulder Length Hair