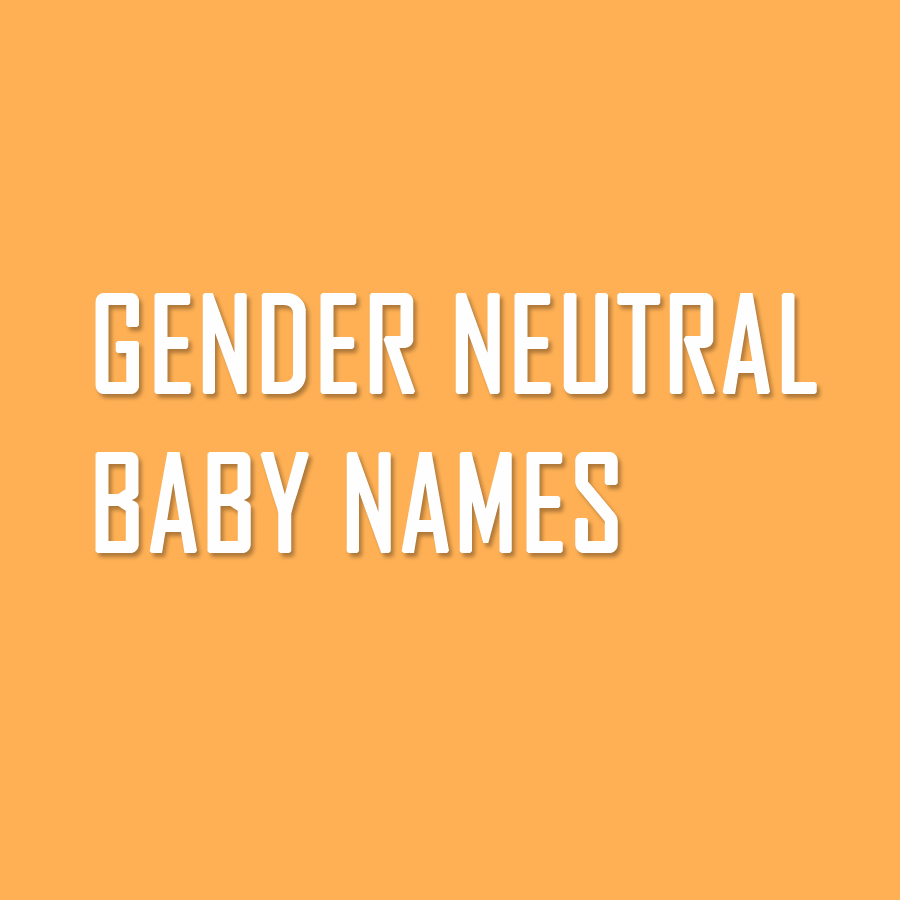 Modern, gender-neutral names are a huge trend this year, so why not refresh your memory with the most popular unisex first-names for children?
With the idea that there are only two genders starting to disintegrate, forward-thinking parents are increasingly choosing unisex or non-binary first names.
And they do this to help their child have the freedom to find their own gender identity – outside of the pressures of traditional names!
Should you choose a gender neutral baby name?
There are lots of reasons, both personal and practical, to think about choosing a gender-neutral name for your precious child.
And choosing a 'good' name will have plenty of psychological influence on your child and how she/he/they are perceived by other people.
A major reason is to eliminate some of the gender bias that exists in all of us to a certain extent, and unfortunately to a high degree in some people in authority!
Instead of the vintage-vibe of traditional bible names, gender-fluid names confer a unique, modern and fresh vibe to the child.
So baby names that obscure the child's gender are currently a huge trend in baby-naming.
And, of course, some parents are keen to prevent their child's name creating unwanted gender stereotyping or sexism in the future.
Non-binary baby-names are free of old associations that make people pre-judge and this allows a child more freedom to construct their individual identity without external pressures.
Where do modern gender neutral names originate?
Many US unisex names are actually surnames of their forebears, like Tailor, Paige and Hunter, which were originally used to distinguish families by the work they did, how they looked, or what their personality tended to be.
It was a way to keep the threads of heritage alive in the family and to emphasize what country the family originated from i.e. Brooklyn comes from a Dutch place-name, as explained below.
Others, like River, Phoenix, Rain and Apple have an affinity with the natural world and sound contemporary and eco-aware.
And we also like to borrow first names from different cultures, so there are quite a few Spanish names used as unisex baby names in the US.
Of course, you can invent your own modern, gender-neutral names and call your child anything you like – from an amalgam of the parent's first names to a random word!
Most popular modern gender-neutral names right now
However, this list includes names that have already been used and become popular, so I've been able to explain the origin of the name and the meaning behind the most popular gender neutral names right now.
In the English-speaking countries of Australia, USA, New Zealand and Canada, unisex names are often surnames of British origin, and some of these Anglo-Saxon and Celtic names are really ancient!
But when you switch a U.K. surname to be a first name, it takes on a modern, gender-neutral sound that contemporary parents – often in the US – love.
The main purpose behind this article is that as your baby's birth-day approaches, it can be worrying trying to think of the perfect name for your child's whole life.
So taking a look at these modern, gender-neutral names could be just what you need!
Gender-neutral names
Here are the Top 15 Modern Gender-Neutral Names with their meanings and origins ready for your consideration!
1. Aubrey
Origin: French and German
Meaning
This is a rather mystical name, formed by the prefix, 'alb', or 'elf/supernatural creature' and 'ric', which means, 'power'.
So its meaning is usually translated as, 'ruler of the elven folk'.
Variations
Aobry, Aobrey, Aubry, Aubree, Aubrie, Awbery
Celebrity Namesakes
Aubrey De Grey: Graduate in maths, I.T. and A.I. of the University of Cambridge who is a world-class expert in anti-aging
Aubrey Huff: Baseball-player who helped the San Francisco Giants to a World Series title in 2010.
Aubrey Plaza: Aubrey Christina Plaza is an US actor, comedian and producer.
Peak popularity
This is still a fairly rare name, according to etymologists.
However, Aubrey is now a modern gender-neutral name, which has become one of the most popular choices for boys and girls during the last 5 years.
Notable for: Aubrey Plaza's comment in People magazine that she falls in love with both main genders and feels, 'androgynous'.
2. Brooklyn
Origin: Dutch
Meaning
This was probably taken from the Dutch people who immigrated to the US from Breukelen in Utrecht, The Netherlands.
It means 'broken land' or, 'pretty brook' and was Anglicized and used as the name for an area of New York City.
Today, it has become a modern, gender-neutral name brought to many people's attention when David and Victoria Beckham chose it for their son.
Variations
Brooklyne, Brookleen, Brookelynn, Brooklynn
Celebrity Namesakes
Brooklyn Beckham: Brooklyn Joseph Beckham is a model and photographer and the son of English former-football star David Beckham and English, singer-turned-fashion designer Victoria Beckham – formerly of the Spice Girls.
Brooklyn Sudano: US actor, singer and dancer.
Brooklyn Nelson: US theatre, film and voice actor.
Brooklyn Decker: US model and actor best known for her appearances in Sports Illustrated magazine.
Peak popularity
As this name appears to combine two other, popular first names – Brook and Lynn – it has been a popular name for boys for at least a hundred years.
But now, Brooklyn is considered to be a modern, gender-neutral name favored by global celebs.
Notable for: Nick and Vanessa Lachey named their baby Brooklyn in 2015 and so did Tiki Barber and Traci Johnson.
3. Eldeah
Origin: Hebrew and French
Meaning
This is a fairly unique name amongst gender-free baby names.
It's formed by combining two words, El – god and Deah – knowledge. And there's also a French variation of this name – Eldea.
Variations
Aldea, Deea, Dea , Eldea, Eldeya, Eldeea, Aldea, Eldia
Celebrity Namesakes
Princess Alexandra of Luxembourg: Alexandra Joséphine Teresa Charlotte Marie Wilhelmine is the only daughter of Grand Duke Henri and Maria Teresa, Grand Duchess of Luxembourg. Her nickname as a small child was Eldea.
Peak popularity
This is a name that is still quite unusual and so you could use it without feeling you were just copying the name of a famous person.
It sounds beautiful and has an interesting meaning – wisdom, awareness, high intellectuality and religious faith.
Eldeah is one of this year's most popular new names, and reached the top 10 modern gender-neutral names in February.
Notable for: One of the superheroes in DC Comics US Comic Books was called Eldeah Joan Gordon.
But this was later changed to Barbara by the editor, who thought Eldeah was too unusual at the time.
4. Hayden
Origin: Welsh/English
Meaning
Hill with lots of heather or a valley that's hedged-in by shrubs
Variations
Hadan, Haden, Hadin, Hadon, Hadun, Hadyn, Haidan, Haiden, Haidin, Haidon, Haidun, Haidyn, Haydan, Haydin, Haydn, Haydon, Haydun, Haydyn
Celebrity Namesakes
Hayden Byerly: US actor
Hayden Carruth: US poet and literary critic
Hayden Christensen: Canadian-US actor and producer
Hayden Lesley Panettiere: US actor and singer
Hayden Scott Epstein: US NFL football player
Peak Popularity
This was a fairly traditional, Welsh, boy's name for hundreds of years.
It started to become popular in the US in 1990 and became popular for baby girls about 2010.
Today it is completely accepted as a modern, gender-neutral name.
Notable for: Hayden Fox was the main character on the US TV show Coach.
5. Hunter
Origin – English
Meaning
A huntsman or provider
Variations
Hunt, Huntar, Huntley, Huntor, Huntter, Huntur, Huntyr
Celebrity Namesakes
Hunter Andrew Pence: US baseball player
Hunter Davies: Scottish journalist and author
Hunter Dwight Smith: US football player
Hunter Fieri: Son of TV chef Guy Fieri
Hunter Foster: US theatre actor
Hunter Myles Mahan: US golfer
Hunter Parrish Tharp: US actor and singer
Hunter Stockton Thompson: US journalist and author
Hunter Thomsen: US guitarist
Hunter Tylo: US actor and author
Peak Popularity
This was a traditional male name in the past, but today Hunter is recognized as a suitable unisex name for babies born this year.
Notable for: Hunter Hearst Helmsley is a pro-wrestler who uses the stage-name of Triple H.
6. Jesse
Origin: Hebrew
Meaning
Wealthy or a gift from god
Variations
Jessie, Jescie, Jese, Jesee, Jesi, Jess, Jessee, Jessey, Jessi, Jessie, Jessy, Jessye, Yishai
Celebrity Namesakes
James Cleveland "Jesse" Owens: US Olympic athlete and civil rights icon
Jesse Bradford: US actor
Jessie James Decker: US singer
Jesse Adam Eisenberg: US actor
Jesse Tyler Ferguson: US actor
Jesse Louis Jackson, Sr.: US civil rights activist and politician
Jesse Woodson James: US outlaw
Jesse Eden Metcalfe: US actor
Jesse Ventura (born James George Janos): US politician and author
Peak Popularity
In the US, Jesse has been in the top 200 names for boys for more than a hundred years. In the US, it peaked in popularity in 1981 as a boy's name.
In other English-speaking countries like the UK, Australia, New Zealand and Canada, it's often used as a girl's name, often short for Jessica.
But it has emerged as a popular modern, gender-neutral name for this year.
Notable for: Jesse is a Christian name, taken from the Bible, where it was the name of King David's.
7. Logan
Origin: Scottish, Celtic, Irish
Meaning
Of the hollow; low-lying land or meadow
Variations
Llogen, Loagan, Loagen, Loagon, Logann, Logen, Logenn, Loggan, Loghan, Login, Logn, Logon, Logun, Logunn, Logyn, Logynn
Celebrity Namesakes
Logan Laurice Browning: US actor
Logan Emory: US soccer player and coach
Logan Vincent Herbert: Son of singer Tamar Braxton and producer Vincent Herbert
Logan Wade Lerman: US actor
Logan Lee Mankins: US NFL football player
Logan Maile Lei Tom: US Olympic volleyball player
Andrea Logan White: US actor
Peak Popularity
Logan has consistently been a surname and first name for boys for more than a hundred years.
But it has suddenly increased in popularity during the last 5 years and was No. 5 in the list of most-used names in 2017.
It has been a unisex name since the late 80's and is a popular choice for a modern, gender-neutral name this year.
Notable for: Mount Logan is the highest mountain in Canada with an elevation of 19,551 feet.
8. Marin
Origin: Latin
Meaning
Marin is a variant of the Latin name 'Marinus' derived from Latin, meaning "marine; or linked to the sea – like a fisherman or a sailor.
Variations
Marina, Maren, Maren, Marena, Marinn, Marren, Marrin, Maryn
Celebrity Namesakes
Marin Alsop: US conductor and violinist
Marin Elizabeth Hinkle: Tanzanian-American actor
Marin Hopper: daughter of actor Dennis Hopper
Marin Joy Mazzie: US actor and singer
Marin Yvonne Ireland: US actor
Peak Popularity
Marin has been more popular for girl babies, and it's a fairly rare name that doesn't appear on the list of top 1,000 names for boy babies.
It was most popular for girls in 2004, when it appeared at no. 837 in the top 1,000 girl's list.
Notable for: Marin Boulevard is the main road in Jersey City, New Jersey.
9. Morgan
Origin: Welsh
Meaning
Traveling or circling the sea
Variations
Maughan, Morgain, Morgana, Morghan, Morgance, Morgane, Morganette, Morganica, Morgann, Morganna, Morganne, Morgen, Morgin, Morgon, Morgun, Morgunn, Morgyn, Morrgan, Morrigan, Muirgan
Celebrity Namesakes
Morgan Mark Burnett: US football player
Morgan Colette Eastwood: Daughter of actor/director Clint Eastwood
Edward Morgan Forster: British novelist (professionally known as E.M. Forster)
Morgan Porterfield Freeman: US actor and film narrator
Morgan Elizabeth Hurd: US gymnast
Winter Morgan Williams: Daughter of actor and model Gretchen Mol and director and producer Tod Williams
Morgan Pressel: US professional golfer
Morgan Valentine Spurlock: US filmmaker
Morgan Tuck: US basketball player
Morgan Ailis Webb: US TV personality
Peak Popularity
You can see by the sheer number of variations on this name that it has been popular for more than 100 years, often as a male name.
However, it started to gain popularity for girl babies in the 70's and rose quickly to no. 22 in the top 1,000 names for girls in 1997.
It is now an established and popular unisex name.
Notable for: There's an Orca whale named Morgan living at Loro Parque, animal conservation center in Tenerife, the Canary Islands.
10. Quinn
Origin: Irish, English, Celtic
Meaning
Quincy (fifth son's estate), descendent of Conn, chief leader, intelligent person
Variations
Quenn, Quin, Quinna, Quinne, Quiyn, Quynn, Qwinn, Qwinne
Celebrity Namesakes
Quinn Sophie Arnold: Daughter of US actor Tom Arnold
William Quinn Buckner: US basketball player and coach
Quinn Carpenter: US ice dancer
Quinn Louise Cumings: US writer and entrepreneur
Quinn Lily Wolfeld-Gosk: Daughter of TV journalists Jenna Wolfe and Stephanie Goske
Frances Quinn Hunter: Daughter of politician John Edwards and Rielle Hunter
Quinn Marcus Johnson: US NFL football player
Quinn Norton: US journalist and photographer
Quinn Shephard: US actor and film director
Quinn Kelly Stone: Son of US actor Sharon Stone
Peak Popularity
Quinn is a name that is given to girl babies a little more frequently than boys.
However, it was most popular for males in 2009, when it ranked 259 in the list of top 1,000 most popular names for boys.
And since 2015, this name has been in the top 100 modern, gender-neutral names for girls.
Notable for: "Quinn" Blackwood is a character from Anne Rice's popular novel and movie, The Vampire Chronicles – first published in the 1970's.
11. Rain
Origin: English, Latin
Meaning
Wise ruler, or counselor
Variations
Reina, Raine, Rainn, Rainne, Rainnie, Rayn, Rayne, Reign, Reyne,
Celebrity Namesakes
Kiefer Rain Cropper: Daughter of US musician Jason Cropper
Rain Hart: Son of Canadian singers Corey Hart and Julie Masse
Rain Pryor: US actor and comedian (daughter of comedian Richard Pryor)
Summer Rain Rutler: Daughter of US singer Christina Aguilera
Nina Rain Sadoski: Daughter of Amanda Seyfried and Thomas Sadoski
Peak Popularity
As this name does sound the same as a weather condition – rain – it is quite unusual on the lists of popular unisex baby names.
However, when you know the correct origin, it becomes a much more appropriate name for any gender!
So if you like the idea of this name, you could choose a spelling that differentiates it from the same spelled word, rain.
Notable for: Rain is not only a first-name, but also the name of a few US towns, novels, movies, music bands, and plenty of songs.
12. Reese
Origin: Welsh, English
Meaning
Having great enthusiasm, ardor
Variations
Reace, Rease, Rece, Reece, Rees, Reice, Reis, Reise, Reiss, Reyce, Reyes, Reyse, Rhett, Rhyce, Rhys, Rhyse, Rice, Riece, Ries, Riese, Riess, Ryese, Ryez, Ryse
Celebrity Namesakes
Reese Dismukes: US NFL football player
Michael Reese Hoffa: US Olympic shot putter
Reese McCall: US NFL football player
Laura Jeanne Reese Witherspoon: US actor and entrepreneur
Peak Popularity
Reese is slightly more popular as a name for girls in the US, but more usual for boys in the UK.
It reached number 368 in the top 1,000 names for boys in 2003 and number128 for girls in 2012.
Notable for: A number of Welsh kings had this name, including Rhys ap Gruffydd who fought against the invading Normans in the 12th century.
13. Riley
Origin: Irish, Celtic, English
Meaning
Courageous and brave, or from the rye field
Variations
Reiley, Reilley, Reilly, Reily, Rhiley, Rhylee, Rhyley, Rieley, Rielly, Riely, Rilee, Rileigh, Rilley, Rillie, Rily, Rilye, Ryely, Rylea, Rylee, Ryleigh, Ryley, Rylie
Celebrity Namesakes
Coco Riley Arquette: Daughter of actors Courteney Cox and David Arquette
Riley Rose Campbell: US actor (daughter of actors Alan Campbell and Lauren Kennedy)
Riley Collins: Daughter of NFL player Kerry Collins
Riley Elizabeth Dempster: Daughter of baseball player Ryan Dempster
Danielle Riley Keough: US actor/model (Lisa Marie Presley's daughter)
Hania Riley Sinclair: US blues musician Riley "B.B." King, daughter of actor Vin Diesel and model Paloma Jimenez
Riley Norah Tracy: Daughter of TV journalist Norah O'Donnell and Chef, Geoff Tracy
Riley Elizabeth Weston: US actor
Reiley Dilys Stella Willis: Daughter of designer Stella McCartney and Alasdhair Willis
Peak Popularity
Riley is equally appropriate for all genders this year and has been a top 1,000 boy's name for more than a hundred years.
It was in the top 100 names' list for boys in 2002 and has been a recurrent, top 100 girls' name since 2002, reaching a height of number 22 in 2016.
Notable for: Used as the name of a major Disney Pixar character in the movie, Inside Out.
14. River
Origin: English, US
Meaning
Flowing body of water
Variations
Rivers, Riviera, Rivor, Ryver
Celebrity Namesakes
Journey River Green: Son of US actors Megan Fox and Brian Austin Green
River Jacob Stewart: Son of US actor Josh Stewart
River Kelly Smith: Late son of US singer Granger Smith
River Rocket Blue Dallas Oliver: Son of British celebrity chefs, Jamie and Jools Oliver
River Rose Blackstock: Daughter of US singer Kelly Clarkson and Brandon Blackstock
River Rowe Nicholson: Son of US singer Ameriie
River Russell Deary: Son of US actor Keri Russell
River Samuel Hanson: Son of US singer Taylor Handon
Peak Popularity
This name has remained a popular unisex name for the past 20 years and was at its highest rank in 2018 when it came in a number 197 for males and 244 for females.
Notable for: River has appeared as a first-name in the long-running UK TV series Doctor Who, in the movie Firefly and in the Harry Potter series.
15. Robin
Origin: English
Meaning
'Bright with fame, social' – and the name of a pretty bird with red markings, traditionally popular at Christmas-time in the UK.
Variations
Roban, Robben, Robbey, Robbi, Robbin, Robbins, Robby, Robbyn, Robee, Roben, Robene, Robenia, Robi, Robiner, Robinet, Robinette, Robinia, Robinn, Robins, Robyn, Robyna, Robynn, Robynne, Roibin
Celebrity Namesakes
Robin Alan Thicke: US singer
Robin Antin: US singer and dancer
Robin Chase: US transportation entrepreneur
Robin Hugh Gibb: US musician
Robin McLaurin Williams: US actor and comedian
Robin Ophelia Quivers: US radio personality
Peak Popularity
Owing to its connection with the bird called robin in the UK, the name Robin has probably been more favored as a name for girls, than boys.
Its most popular year for males was in 1956, when it was number 143 on the top 1,000 list for boys.
For girls, it was a top 100 name from 1953 up to 1980.
Notable for: Robin is Batman's crime-fighting, right-hand assistant in the world of DC Comics.
Choosing the best name for your child is an important matter and this review of the top 15 modern, unisex names will help get you thinking about the correct name.
As you can see, there's a definite bias towards names that begin with the letter 'R', I don't know why, but it may be that people like the sound or find it easier to pronounce than other letters!
If you view the way society is changing right now, you may feel that choosing a modern, gender-neutral name for your child is a sensible, forward-thinking choice!
Read more:
200 Best Baby Girl Names & Meanings
Your Comments
Here's your chance to have your say about modern, unisex names!
Do you love or hate gender-neutral names or feel nothing special about them?
Have you already given your children gender-neutral, or traditional names? And why?
Do you think the movement towards gender-neutral identities is a healthy change?
Is removing gender stereotypes freeing or confusing in your view?
Thank you for sharing your viewpoint with the HerStyleCode community – we all benefit from these useful discussions!