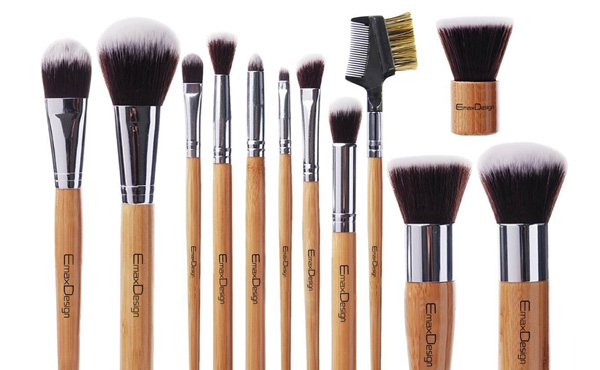 Find the latest best affordable professional makeup brush sets here! Not only is spending a fortune on makeup brush sets impossible for most of us, it's not necessary! If you have access to a retail outlet that features quality, sale-price, affordable makeup brush sets, why even think about paying full price?  You can get pro makeup brush sets you'd love to show off to your friends, at low prices. 'Cos we've hunted down the Top 10 Best Affordable Makeup Brush Sets! In our Top 10 you'll find a complete range of brush sets. There are sets in cute storage boxes, and with or without travel-pouches, but top-quality brushes all the same.
We have sleekly sophisticated black makeup brushes, girly pink makeup brush sets and trendy bamboo-handled brushes that have all been tested by our volunteers.  So if you've always dreamed of being a professional makeup artist with a 32-piece makeup brush set, you'll find it in our Top 10 Best Affordable Makeup Brush Sets.  Or if you just want a low price, luxury-quality set of 10 brushes for personal use, we've got that, too. We've reviewed lovely gift sets and every type of swanky, affordable makeup brush set.
10. Qivange Makeup Brushes, Premium Synthetic Kabuki Makeup Brush Set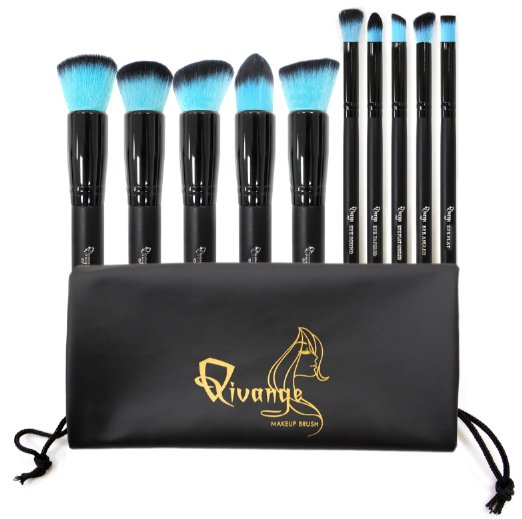 Review of cheap makeup brush sets: This 'swishy' looking makeup brush set's a perfect gift idea for friends, family and yourself!  It's labelled the Kabuki Brush Set, after the dramatic art form in Japanese culture.  They are made from synthetic hair in an attractive black and turquoise color scheme with a chic, black storage case.
There's a detailed instruction sheet that explains how to use each brush and users say brushes in this affordable makeup brush set are soft and sturdy.  They're great for applying liquid foundation and the brushes don't shed even after you've been using them for weeks and washed them!
9. BS-MALL(TM) Premium Synthetic Bamboo Blush Foundation Eye-shadow Eyeliner Bronzer Makeup Brushes Sets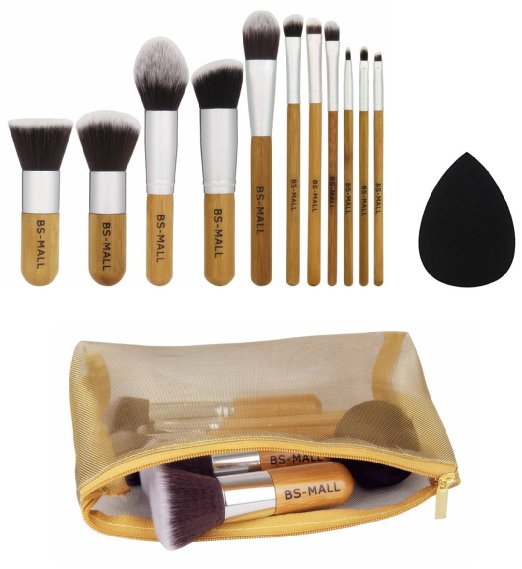 BS-MALL Makeup Brush Set Review: This 11-piece Bamboo Makeup Brush Set is a trendy addition to any woman's beauty kit.  This set is designed to meet all daily makeup application needs.  The brushes are soft, but firm enough to do a good job. Reviewers say these brushes are great for eye-shadow and face contouring.
The liquid foundation brush works very well.  Another tester loves the foundation blender and says it's smooth without pulling the skin and helps get an nice, even coverage.  There are two eyeliner brushes, which you can use with gel or the small, firm brush creates a smudgy under-eye line! Testers say 'fabulous quality and low price'!
8. SHANY Pro Signature Brush Set 24 Pieces Handmade Natural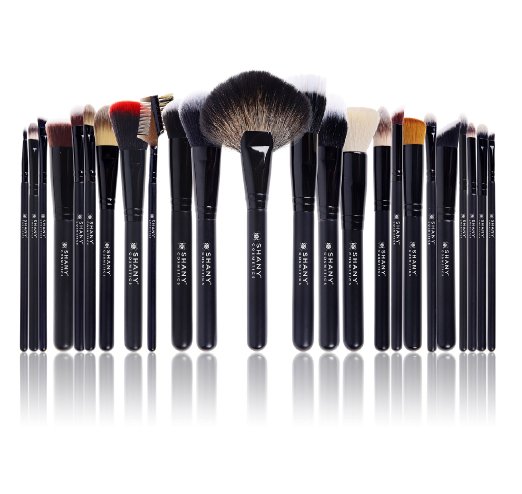 This full range of 24 brushes is a very affordable professional Makeup Brush Set with all-natural bristles.  The brushes are made from sable, goat, badger, pony and microfiber bristles, for durable wear and softness.  The Signature Collection is aimed at professional makeup artists and makeup fans who want the best tools to get the best makeup looks!
The handles are made from oak and rosewood and have a sophisticated, sleek black sheen.  The brushes have been treated with a hypoallergenic anti-bacterial agent for extra hygiene.  Users loved the brushes which they say make the entire process of applying makeup much easier!
7. BESTOPE 32PCs Professional Makeup Brushes Set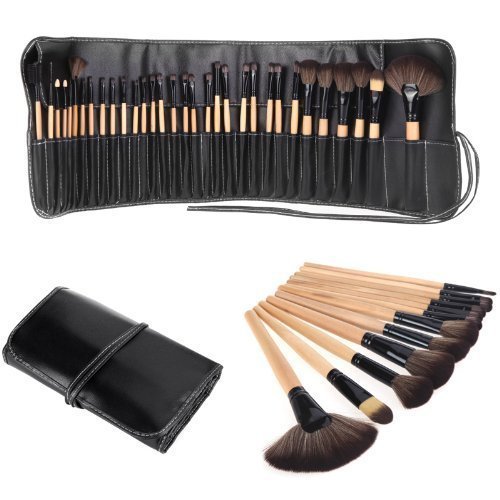 Review of makeup brush sets: This fabulous set of 32 cosmetics brushes is another affordable makeup brush set for professional use.  The brushes have wooden handles and goat hair/synthetic bristles, which are soft on normal and sensitive skin types.
The maker advises you to use makeup remover wipes or a daily-use makeup brush-cleaner, to ensure your professional tools remain in perfect condition. When you wash the brushes, make sure you squeeze out excess moisture with a paper towel, so the glue doesn't get soaked and weaken the brush head.  Store and transport your makeup brush set in the handy polyurethane case.
6. DRQ Professional Makeup Brush Set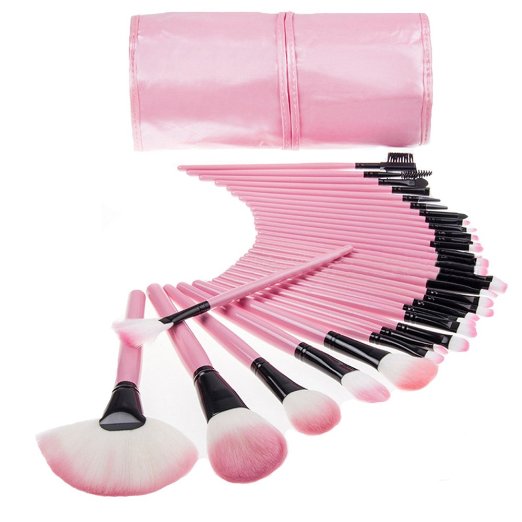 This pretty, pink makeup brush set's got a full range of 32 professional brushes at a price that's very affordable!  Makeup brush sets are a highly acceptable gift and the pink wooden handles, with white synthetic and natural hair brushes are very attractive!  Reviewers were very pleased with the softness of the brushes and their ability to apply makeup perfectly.
The brushes don't shed bristles and the smaller brushes are as firm as you need them to be for applying eye-shadow. Everyone loved the quality of the brushes, although the carry-pouch wasn't great. But it's the brushes that matter and this affordable makeup brush set's fantastic value.
5. KOLIGHT® 20 Pcs Pro Makeup Set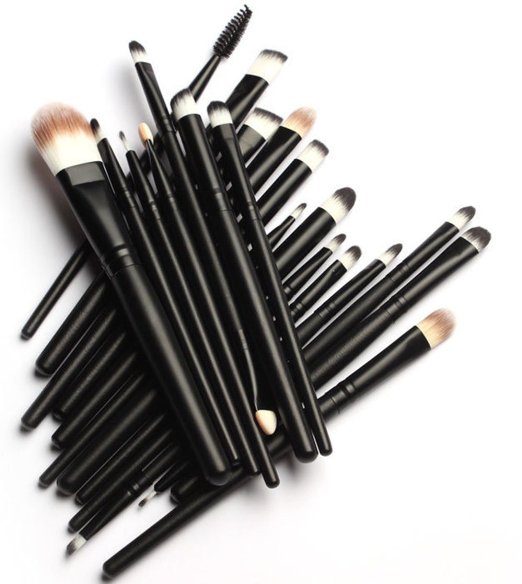 If you really don't need a professional makeup brush set, this 20 piece selection is another affordable makeup brush set to consider.  The brushes have a sophisticated, sleek, black finish to the wooden handles and soft bristles, that don't shed.  There also a little pink rubber gizmo with lines on one side to use when cleaning the brushes.
Our reviewer with a cosmetology license says this makeup brush set's the same quality as she buys for professional use, but a lot cheaper!  At this low price, you don't get a storage bag or an instruction sheet on which brushes to use for which makeup, but who cares!
4. Susenstone®20 pcs/set Makeup Brush Set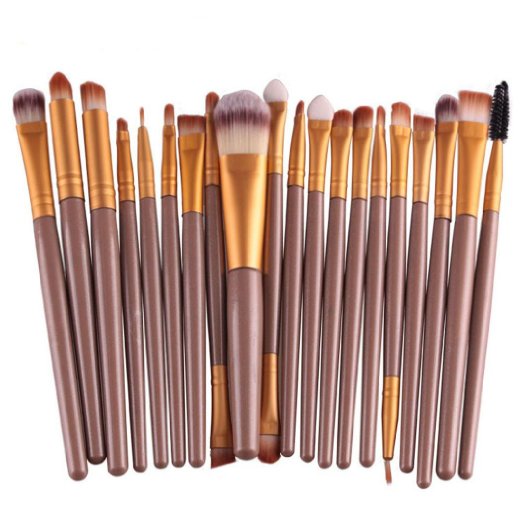 Usually the prices start rising when I get to the No. 4 spot, but this affordable makeup brush set's one of the cheapest in our top 10!  This is a 20 piece makeup brush set that's suitable for professional or personal use.  There's no storage pouch with this set, but testers say the brushes are soft and firmly attached to the handles.
After several weeks use, testers said that the brushes hadn't shed bristles.  Reviewers said the brushes had very short handles and were smaller than full-size brushes.  So this is a miniature makeup brush set with little brushes you can easily pop into your handbag!
3. BESTOPE Makeup Brushes Premium Cosmetics Brush Set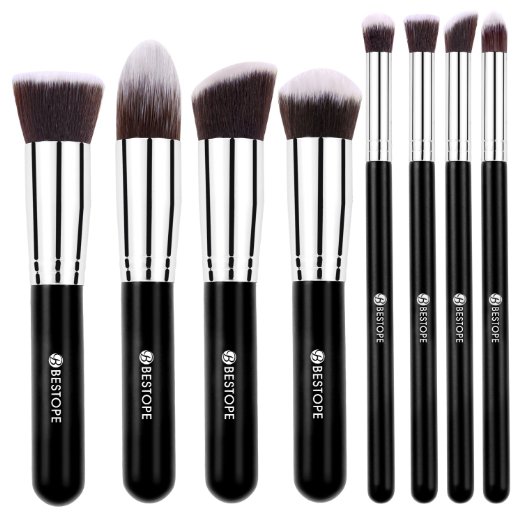 This is a very chic makeup brush set containing 8 brushes, which many women would find sufficient for personal use.  The brushes are made from synthetic bristles, which are silky and soft. They're hypoallergenic and more hygienic than some natural bristle makeup brush sets.
The brushes can be used to apply all types of cosmetics, including foundations, mineral powders and have a luxury look and feel.  There are four different types of brush: round, tapered, flat and angled. These brushes have been tested and they don't shed bristles. Great value at such a low price!
2. BS-MALL(TM) Premium Synthetic Kabuki Makeup Brush Set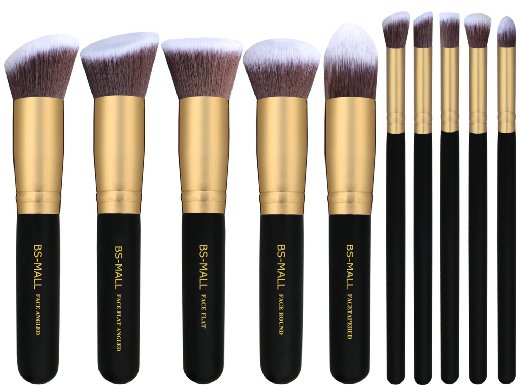 Here's a high-quality, affordable makeup brush set that users agree really does make applying makeup a luxury experience.  The brushes are very soft, like any expensive brushes our testers already owned.  And reviewers confirmed they apply mousse, liquid or powder beautifully.
The brushes are top-quality, synthetic fiber hairs, which are more hygienic than natural animal hair brushes.  The handles are chunky making them easy to manipulate and the brushes are well-shaped and dense.  Testers with sensitive-skin said these didn't irritate their skin and everyone loved them.  The price is very low and this is a great bargain buy!
1. EmaxDesign 12 Pieces Makeup Brush Set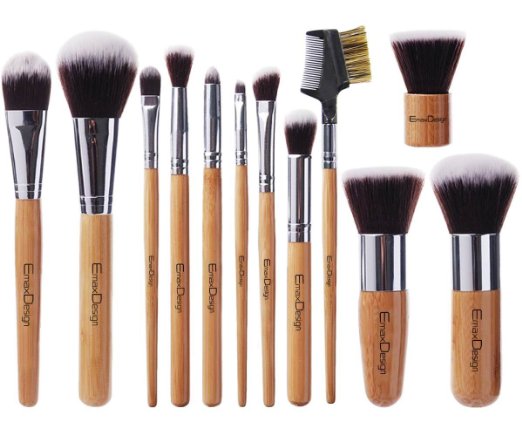 Professional makeup brush sets review: This EmaxDesign Makeup Brush Set's a worthy No. 1 in the Top 10 Best Affordable Makeup Brush Sets!  All of the brushes have high-quality bamboo handles and the brushes are made from first-rate synthetic fiber, for easy cleaning and better hygiene.
We tested them on a very sensitive skin, and there was no irritation from the super-soft brushes.  The brushes don't shed bristles and have a luxury look and feel.  The 12-piece bamboo makeup set's great for applying liquids, powders and cream cosmetics and you get a superior makeup look at a low price!