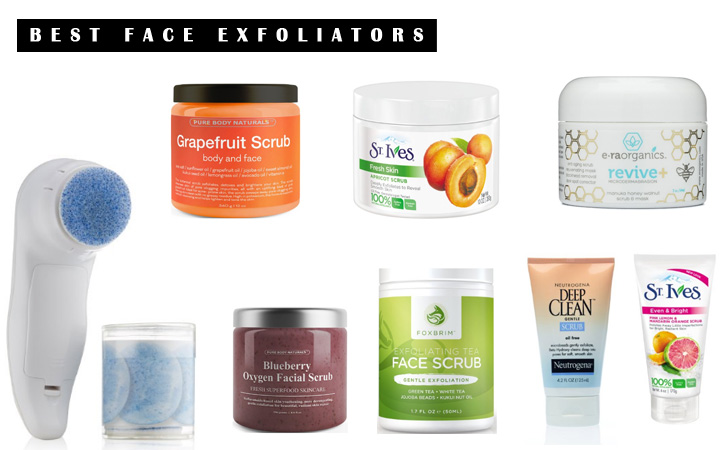 Face exfoliators can be a great addition to your regular skin care routine (you can get more beauty tips here). They help eliminate dead skin cells and dig debris from your pores in order to leave your skin bright, smooth, and soft. Face exfoliators should be used with caution; using them excessively frequently can dry out and irritate your skin.
Depending on the exfoliator, face exfoliators should be used about once a week and should never be a part of your daily routine. Choosing a face exfoliator can be difficult; there are so many to choose from, and it can be hard to figure out which ones actually work. There's no need to worry; continue reading the following Face Exfoliator reviews to discover the top rated best face exfoliators currently available on the market.
10. Pure Body Naturals Grapefruit Scrub For Face And Body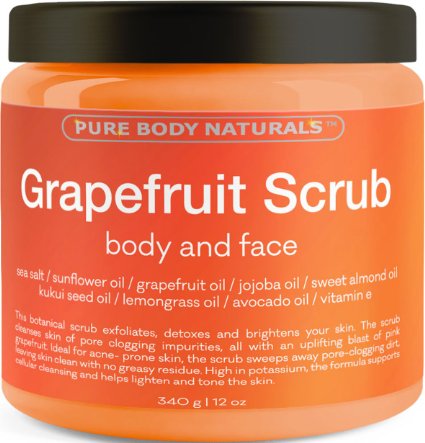 This pink grapefruit exfoliating scrub gently penetrates deep into your skin to efficiently clean out your pores. It is a great product for those who are prone to acne breakouts because it removes dirt and toxins from your skin and pores that can build up and lead to pimples.
The exfoliating scrub is infused with natural ingredients such as Vitamins A and C, sea salt, and jojoba oil. These ingredients blend together in order to minimize visible signs of aging, eliminate dead skin cells, improve blood circulation for a more even skin tone, and brighten your skin with every use.
9. Vasanti Brighten Up! Enzymatic Face Rejuvenator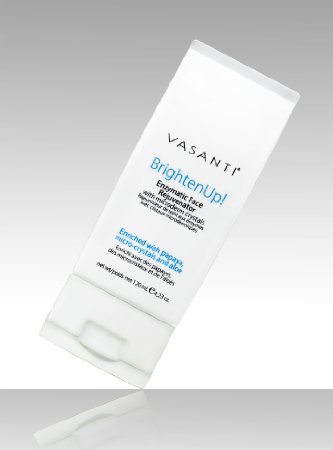 This facial rejuvenator does it all. With just one use, it immediately brightens, exfoliates, and deeply cleanses your skin, leaving it soft and smooth. It quickly reduces redness, minimizes pores, lightens age spots and acne scars, and prevents breakouts with a very gentle formula that won't irritate even the most sensitive of skin complexions.
This exfoliator is also a great face exfoliator for sensitive skin because it is almost completely natural and contains no harmful or potentially irritating ingredients. It is one hundred percent paraben-free and fully vegan. It is also never tested on animals and is completely cruelty-free.
8. Neutrogena Deep Clean Gentle Scrub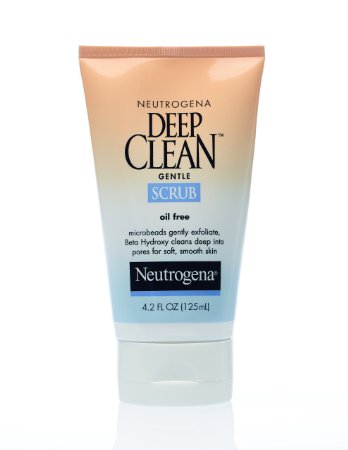 While most face exfoliators should not be used more than once a week, this facial scrub can be used every day as your daily morning face wash. It includes microbes that gently penetrate deep into your pores to clean out dirt and other toxins. This exfoliator has a foaming formula that gently cleanses and scrubs to leave skin soft and smooth without irritation.
This scrub is safe for daily use even on sensitive skin. It is also a great face exfoliator for oily skin because it is non-comodegenic and will not clog your pores. The cleanser has been tested and approved by professional dermatologists for daily use on all skin types.
7. Bee Friendly Skincare Organic Exfoliating Facial Sugar Scrub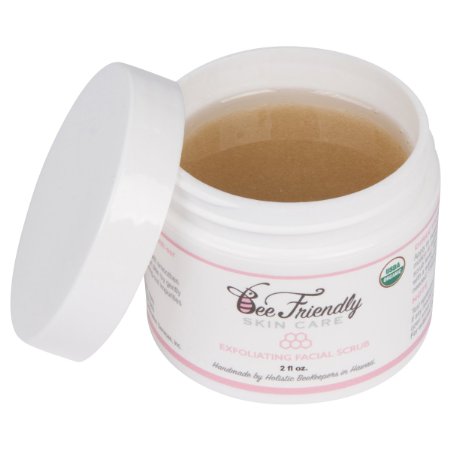 This sugar scrub contains several active ingredients to bring a wide range of benefits to your skin after use. These active ingredients are all-natural and organic; they include cane sugar, coconut oil, ginger oil, aloe butter, honey, geranium oil, and royal jelly.
These ingredients blend together to create a unique mix that is naturally healing and invigorating for your skin. The sugar scrub uses the microdermabrasion process to deeply exfoliate your skin and increase your blood circulation in order to plump and radiate your face. It is also powerful enough to remove acne scars and current blemishes but gentle enough to avoid drying out your skin.
6. St. Ives Fresh Skin Apricot Scrub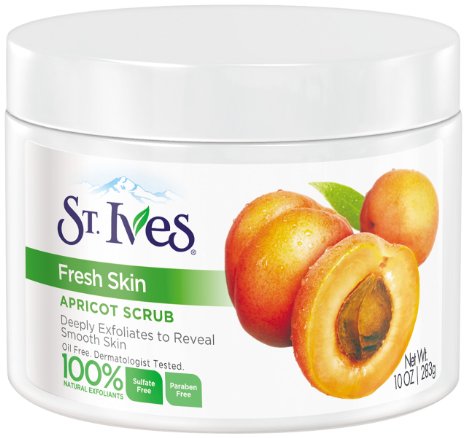 At times when your skin feels like it needs to be freshened up, this is the scrub to use. It includes one hundred percent natural exfoliants that deeply cleanse your skin to uncover and remove toxins and debris. These natural and effective exfoliants include apricot extract, corn kernel meal, and walnut shell powder.
The apricot extract within this scrub is its primary active ingredient. Apricots include a high amount of Vitamin A and anti-oxidants which nourish and moisturize your skin while the scrub exfoliates it in order to leave your skin soft, bright, and fresh.
5. St. Ives Even and Bright Pink Lemon & Mandarin Orange Scrub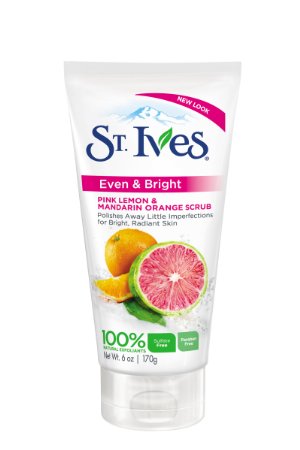 This scrub blends citrus extracts of pink lemon and mandarin orange within one product in order to brighten and tone skin quickly and effectively. The exfoliating citrus scrub polishes skin to remove marring imperfections and leave you with a bright and radiant face.
The facial scrub is free of any parabens and sulfates. It is also hypoallergenic, non-comodegenic, and includes one hundred percent natural ingredients that will not irritate even the most sensitive skin types.
4. Foxbrim Exfoliating Tea Face Scrub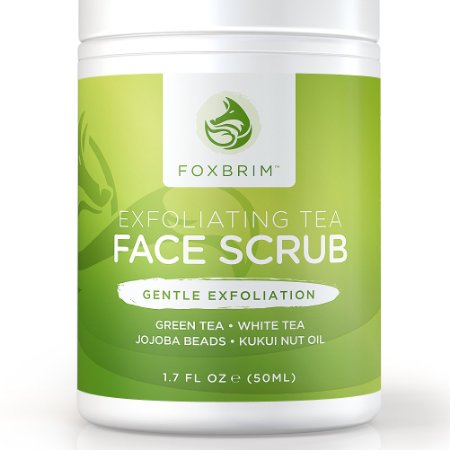 This face scrub is the perfect choice for aging skin. The natural and organic formula which includes botanical active ingredients such as green tea, white tea, aloe, avocado butter, olive butter, and a variety of herbs minimize the appearance of wrinkles, fine lines, and other visible aging signs with every application.
This scrub does not strip your skin of its natural oils that can make skin look older. Instead, it uses gentle micro beads of pumice and jojoba oil that leave behind the natural oils in your skin in order to hydrate and brighten it for a youthful and radiant glow.
3. Era Organics Revive Microdermabrasion Manuka Honey Walnut Scrub & Mask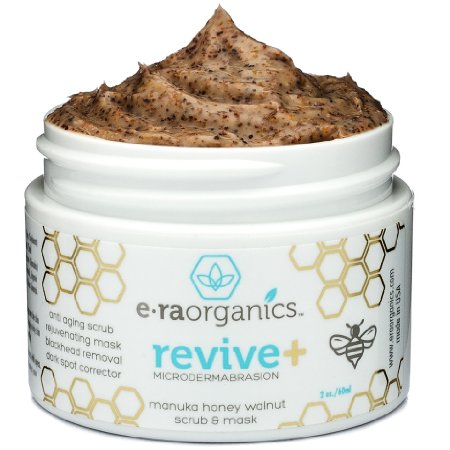 This dual-action face mask and scrub from Era Organics cleanses and exfoliates your skin to remove dull and dead skin cells while also moisturizing and brightening your skin every time you use it. The microdermabrasion formula gently exfoliates without tearing or irritating your skin in order to help you achieve healthy, youthful, and glowing skin.
You can use this exfoliating face scrub in two ways: scrub it into your skin and wash it away, or smooth it all over your face and leave it on as a face mask. When you leave the scrub on as a face mask, it penetrates deeper into your skin and allows your skin to absorb vitamins and minerals within it to help minimize the appearance of pores and visible aging signs. However, when you're looking for a quick brightening and exfoliating fix, just use the product as a wash-away scrub.
2. Neutrogena Microdermabrasion System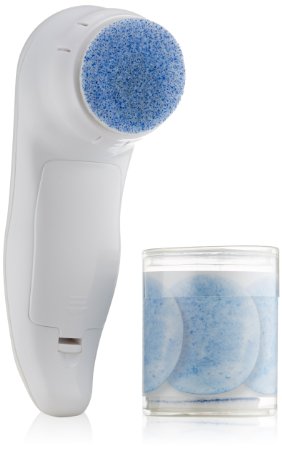 This microdermabrasion starter kit gives you everything you need to revitalize your skin for a full month. The system includes a microdermabrasion applicator, attachment head, twelve puffs, and two AA batteries that are compatible with the system.
The kit can be used three times per week to deeply cleanse and exfoliate your skin, visibly smooth your skin, minimize the appearance of fine lines and wrinkles, lighten age spots, and firm your skin. Each rejuvenating puff includes ultra-fine crystals, purifiers, and glycerin in order to gently exfoliate your skin without being too harsh like many other microdermabrasion systems.
1. Pure Body Naturals Blueberry Oxygen Facial Scrub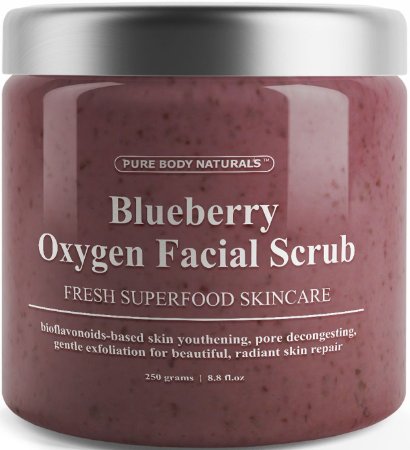 This gentle facial scrub from Pure Body Naturals comes with a variety of benefits. It is perfect for aging skin because it reduces the appearance of wrinkles and fine lines. It is also a great face exfoliator for oily skin because it gently softens and clears your skin.
The face exfoliator is infused with natural ingredients such as blueberries, cranberries, rhubarb, dandelion, and an herb blend. These ingredients help protect, cleanse, and hydrate your skin with every use.
If you're looking for an excellent face exfoliator to brighten and tighten your skin, the high-quality products listed above just might be the best face exfoliators for you.