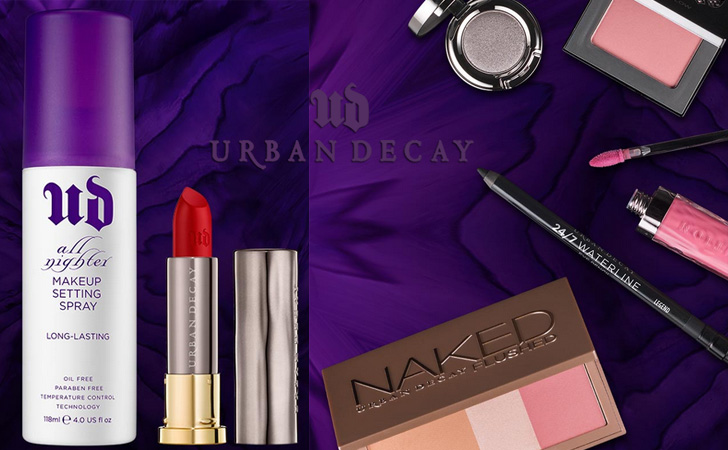 Urban Decay is a top-quality, popular cosmetic company that has created some of the makeup products that have generated the most positive hype in recent months and years. The company is entirely cruelty-free and has even been awarded the annual Best Cruelty-Free Cosmetics Line by PETA. However, even though Urban Decay is an excellent company, not all of their products are worth spending a significant amount of money to purchase. That being said, many of their products really do live up to their hype and can make excellent and valuable additions to your makeup collection. Read on to discover the top ten current Urban Decay products that are sure to live up to your high expectations.
1. Urban Decay Eyeshadow Primer Potion Tube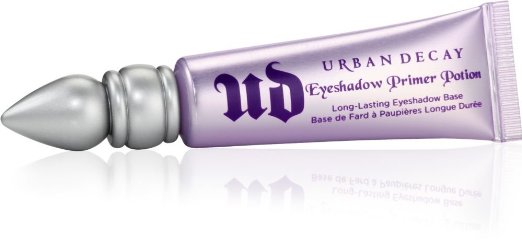 The Urban Decay Eyeshadow Primer Potion is one of the most popular Urban Decay products. No other liquid eyeshadow primer on the market delivers such a smooth application and long-lasting wear that holds your eyeshadow in place without fading or creasing all day and all night long. Once you start using this product, you won't feel right wearing eyeshadow without applying it first.
The Urban Decay Eyeshadow Primer Potion comes in a variety of finishes. Original, the first primer potion that Urban Decay released, applies and dries invisibly. Anti-Aging is invisible and gradually minimizes the appearances of fine lines and other aging signs around your eyes. Eden dries in a light nude shade that brightens your eyes and provides a smooth, matte canvas for eyeshadow application. Enigma is a clear formula, but it has a subtle shimmer that allows it to be worn alone or paired with sparkly eye makeup.
2. Urban Decay Naked 1 Eyeshadow Palette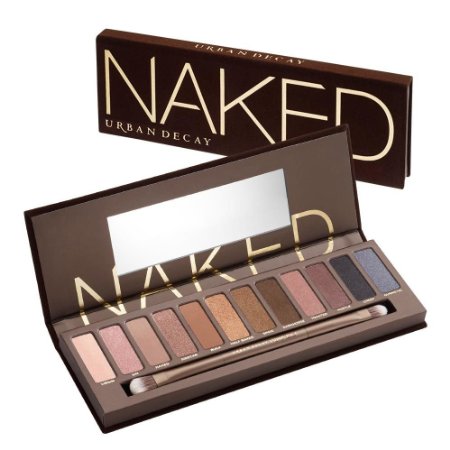 The Urban Decay collection of Naked eyeshadow palettes are some of the company's makeup products that receive the most positive hype. When the Naked 1 palette was initially released, it revolutionized the realm of neutral eye makeup and its two subsequent sister palettes have further transformed the neutral eye game.
Urban Decay's Naked 1 palette contains twelve shimmery eyeshadows in separate neutral colors, including shades of silver, champagne, and rose. Most of the eyeshadows included in the palette are lighter and brighter shades, but it also includes multiple darker colors that allow users to build a more dramatic look if desired. The Naked 1 palette also comes with a high-quality double-ended eyeshadow brush that works wonderfully for both application and blending. With the Naked 1 Eyeshadow Palette, you can create countless versatile neutral eye makeup looks for everyday wear.
3. Urban Decay Heavy Metal Glitter Eyeliner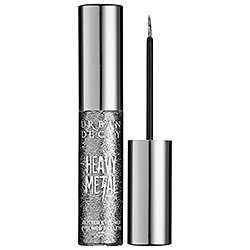 If you're looking for a pop of color and sparkle to add to your standard makeup routine, the Urban Decay Heavy Metal Glitter Eyeliner is the product for you. This liquid eyeliner is a clear formula that is filled with an abundance of sparkles in various bright and neutral colors, including gold, silver, blue, and pink.
This eyeliner applies smoothly and easily like any other liquid eyeliner. The sparkles build to an intense finish with only one or two coats of the liner and do not leave any tell-tale gaps between the glitter. The staying power of the Heavy Metal liner is incredible; once applied, it lasts all day without feeling dry or flaky or falling off onto your face. However, unlike many glittery makeup products, it is also easy to remove at the end of the day with any standard eye makeup remover.
4. Urban Decay Naked Skin Color Correcting Fluid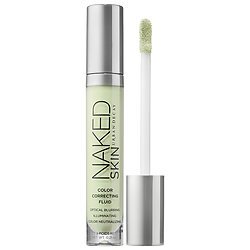 For those who suffer from uneven, blotchy, or discolored skin tones, the Urban Decay Naked Skin Color Correcting Fluid could be a game changer for you and your makeup routine. The color correcting fluid is a part of the Urban Decay Naked Skin collection, which is a line of skin makeup products that are lightweight and smooth on effortlessly without caking or looking chalky.
The Naked Skin Color Correcting Fluid is a liquid formula that is designed to correct various skin tone imperfections. It is available in a green, yellow, lavender, and peach hue; the green fluid reduces redness, the yellow fluid brightens the skin and minimizes dullness, the lavender fluid balances sallowness, and the peach fluid easily covers imperfections in the skin as well as aging and sun spots. The color correcting fluid formula can be easily applied anywhere it is needed with its sponge applicator. A little product goes a long way to even out your skin tone perfectly without feeling too heavy on your skin.
5. Urban Decay Urban Spectrum Eyeshadow Palette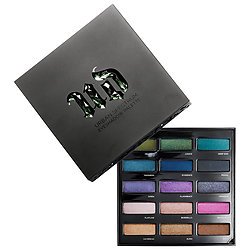 The Urban Spectrum Eyeshadow Palette is another revolutionizing eyeshadow palette from Urban Decay. It is a limited edition palette that immediately wowed consumers with its extreme range of intensely bright and colorful shades. The eyeshadow palette includes varying shades of purple, pink, blue, green, and neutral brown that allows users to create a world of versatile colorful eye makeup looks.
The quality of Urban Decay's Urban Spectrum palette eyeshadows does not disappoint. All fifteen eyeshadows included within the palette maintain the same high pigmentation and smooth application of Urban Decay's other eyeshadow palettes and singles and are designed for long-lasting wear without fading or creasing like many other intensely colorful eyeshadows.
6. Urban Decay Delirious 24/7 Glide-On Eye Pencil Travel Set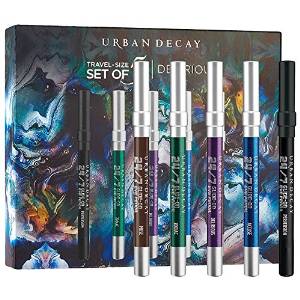 Urban Decay's Glide-On Eye Pencils are an excellent and high-quality product. They apply very smoothly without chopping or gapping like many other stick eyeliner formulas. They also feel very creamy and velvety soft on your eyelids all day long. Plus, the eye pencils are available in an extremely wide range of versatile colors, including neutrals, darker shades, and brighter, fun hues.
The Delirious 24/7 Glide-On Eye Pencil Travel Set combines several of the most popular Urban Decay Glide-On Eye Pencil colors to create a versatile set of pencils that can be used for almost any makeup look. The set comes with five travel-sized, easily transportable eye pencils in Perversion, a matte black shade, Zodiac, a black hue with blue-green sparkles, Delirious, a shimmery dark purple hue, Accuse, a bright metallic blue, and Muse, a deep brown shade with a shimmery burgundy finish.
7. Urban Decay All Nighter Long-Lasting Makeup Setting Spray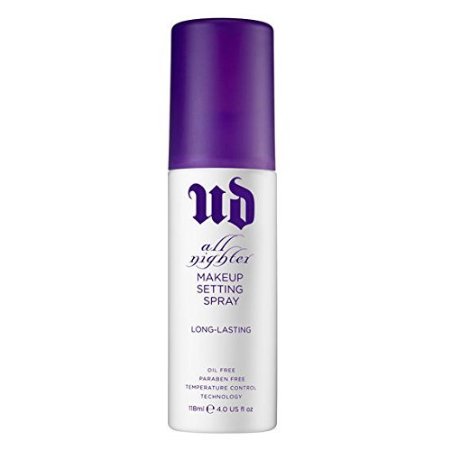 Urban Decay's Makeup Setting Spray is one of their most popular and beloved products. While there are several different formulas of Urban Decay's setting spray, their all nighter long-lasting setting spray is their most long-lasting formula. The spray claims to make your full face of makeup last up to sixteen hours without fading, creasing, melting or settling and, even if does not last completely for quite that long, it will definitely help you get through the day looking fresh.
One of the best thing about Urban Decay's Makeup Setting Spray is that it is extremely light-weight. It mists on lightly and invisibly and works efficiently without  causing your skin to feel heavy or sticky after application.
8. Urban Decay Naked 3 Eyeshadow Palette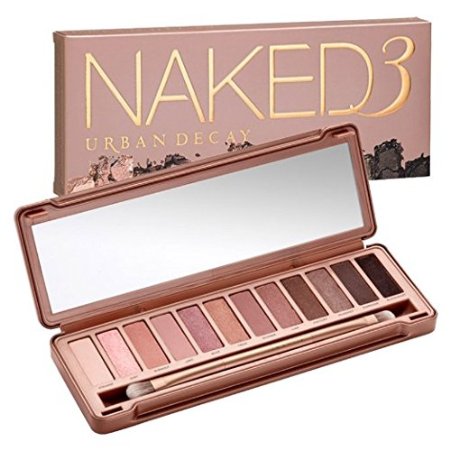 The Urban Decay Naked 3 Eyeshadow Palette is the third installation in the Naked eyeshadow palette collection. The Naked 3 palette has the same intense pigmentation and smooth application as the original Naked 1 palette that initially caused the extreme cult following of this palette collection.
Urban Decay's Naked 3 palette offers twelve neutral eyeshadow shades that can be worn as a part of many different versatile makeup looks. However, this palette is unique because it includes primarily pinky and rose-toned shades with warm undertones, as well as a few darker colors for building more dramatic looks. The pinky theme of this palette makes it perfect for adding extra color and glow to your more natural makeup looks. It also ensures that the Naked 3 palette is different enough from the original Naked 1 palette that you don't need to feel guilty about buying both.
9. Urban Decay Naked Illuminated Shimmering Powder for Face and Body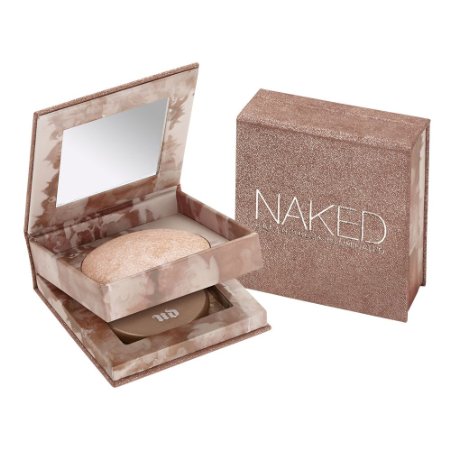 Urban Decay's Naked Illuminating Shimmering Powder is a baked pressed powder that dusts users with a subtle iridescent shimmer when applied. This product can be applied anywhere on your body; it can be used as an intense highlighter on your face or to add an extra dose of glow to your chest or legs.
This Shimmering Powder is available in three different colors, each of which has a flawless radiant finish, in order to fit as many skin tones as possible. It is available in Aura, a soft pink shade, Luminous, a champagne hue, and Lit, a classic bronzed shade.
10. Urban Decay UD X: 20 Years of Beauty With an Edge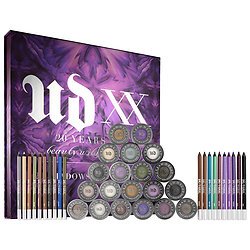 If you are a makeup artist or beauty professional (or just an uber Urban Decay fan), the 20 Years of Beauty With an Edge set might be the perfect product for you. This mega set includes the best of the best of Urban Decay's classic eye makeup collections. It includes twenty different eye pencils and twenty varied eyeshadow shades, all in a rainbow of bright, dark, and neutral colors.
This set is fairly pricey, but it's worth the investment for what you are getting if you love to experiment with different makeup colors and are a fan of the intense pigmentation and high quality of Urban Decay's eye makeup.
Urban Decay is an excellent cosmetics company that offers a wide variety of high quality, unique, and fun makeup products. By taking a look at this list, you can figure out which Urban Decay products are the best ones to try next time you decide to splurge on an updated makeup collection.