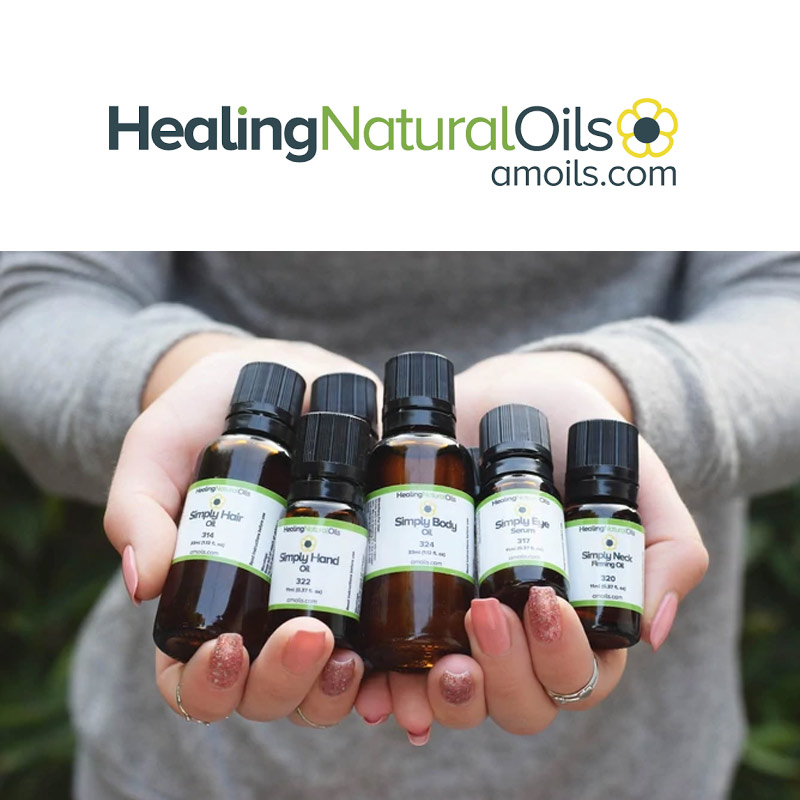 When people have skin conditions that are tough to handle, like acne, eczema, or even warts, they spend so much money on products and treatments that aim to heal their skin.
But sometimes, the expensive products they buy are full of harsh chemicals that irritate the skin. What's worse is they don't even work to solve the skin issue they had in the first place.
Fancy and trendy skincare products are still nice to have, especially if you're building up your skin and body care shelf. But when it comes to healing delicate skin conditions, your best bet is to use natural oils with healing properties. That's what American brand Healing Natural Oils believes in.
Here's a guide for some of Healing Natural Oils' bestselling products, as well as some reviews.
Overview of Healing Natural Oils
The mission of Healing Natural Oils (aka www.amoils.com) is simple. They want to create clean, 100% natural formulations using the finest, most potent oils to help heal skin conditions without the harshness of irritating products and treatments.
With their oil blend, they provide an alternative way to address skin issues that would otherwise require hundreds or even thousands of dollars to treat. Instead of using intimidating or sketchy chemicals that can harm sensitive skin, they rely on the healing properties of nature's oils.
They've created basic moisturizing oils for the face, neck, and body. They also have formulas to target sensitive skin conditions like psoriasis, eczema, acne, and the like. But what's unique about them is that they've boldly made healing oils for getting rid of moles, warts, and even hemorrhoids. Every oil formula is available in two sizes—11ml and 33ml.
Healing Natural Oils has been around since 2001, so they've been in the homeopathic oils industry for 20 years. Since its inception, the brand has been proudly American—none of their production is done elsewhere. Their headquarters are also in the US, specifically in San Diego, California.
Ironically, one of Healing Natural Oils' most sought-after products isn't meant to target the skin itself. Instead, it works to alleviate the pain caused by hemorrhoids.
This anti-inflammatory formula works to reduce swelling and give you almost instant relief when you're suffering from prolapsed, thrombosed, and external hemorrhoids (with or without bleeding). It's a great, organic alternative to surgery, which is usually what people do to get rid of hemorrhoids.
Its active ingredients are horse chestnut oil and richweed oil. They're both quite exotic, but they're very effective in pacifying the swelling and inflammation that usually comes with hemorrhoids. It also has chamomile extracts, which are known to be very soothing on red and angry skin.
Skin tags are excess pieces of skin that grow anywhere on your body, from your armpits to your groin area. They kind of look like warts, but unlike those, skin tags aren't from infections—just an overgrowth of your skin.
Even if they're harmless, many people wish to eliminate them from the skin to have a clearer complexion. This formula was made just for that. It's made with calendula, citrus, lemon balm, and tea tree extracts that are known to purify the skin, helping to get rid of blemishes like skin tags.
The gentle yet powerful oil blend is absorbed quickly into the skin when applied with a cotton bud. It then helps flake away your skin tags with consistent use of at least one week.
This FDA-listed formula assures no pain when you're trying to remove your skin tag. It doesn't leave any scars to after you've successfully eliminated it.
This formula was created to get rid of stubborn scars, whether they're flat and dark or are textured, like keloids. This is very useful for those who just recently have cured wounds on the skin, or those who are prone to acne and the subsequent hyperpigmentation.
It's infused with calendula, common hazel, wild carrot, curry, lavender, jojoba oil, and more. These ingredients have skin cell-regenerating properties that allow your skin tone to be more even over time. They're also highly moisturizing.
Those with old scars will see that their spots have diminished in about 6-8 weeks, while those with newer scars will see results sooner than that at around the four-week mark.
If you have benign moles and don't want to get a laser treatment just to get rid of them, you can check out this oil formulation. It's meant to encourage your moles to fall off the skin with no scarring, leaving you with clear and healthy skin.
The formula contains white cedar extracts, one of the active ingredients that target the mole directly to zap it away. It also contains sesame seed oil, calendula, and lavender extracts for added hydration and calming.
Using it is easy. All you have to do is take a drop or two on your fingertip and rub it onto your mole. When done daily for a few weeks, you'll see your moles just fall off.
Oils aren't just about healing skin problems and getting rid of blemishes. They've also been used for centuries to hydrate the skin and boost its elasticity and luminosity. This facial oil blend aims to do exactly that. It makes for a terrific moisturizer at the end of your skincare routine.
It's made with nourishing oils that are good for the skin, like chia and argan oils which are rich in omega fatty acids that moisturize the skin, and grapeseed and jojoba oils that are lightweight yet deeply hydrating.
It also has some essential oils from geranium and frankincense to balance the oil production in your skin, leaving your face glowy but not greasy.
Lastly, we have Healing Natural Oils' formula specifically for those who have lots of active breakouts on a regular basis. This acne-fighting oil blend works to gently treat your pimples to leave the skin smooth and clear. It also helps get rid of blackheads and whiteheads.
The formula is filled to the brim with soothing ingredients to help calm down the inflammation. These include calendula, lavender, wild carrot, geranium, and more. These help detoxify the skin as well, cleaning out the pores to prevent future breakouts.
What customer reviews think of Healing Natural Oils
There aren't that many reviews and videos about Healing Natural Oils online. However, those that do share their thoughts on the brand's formulas are always happy with their results, whether they use the oils for basic skincare or to cure some type of medical condition.
Blogger Natalie Loves Beauty is one of those that tried out Healing Natural Oils' products to elevate her skincare routine in a natural and organic way.
Among the products she tried is the popular Simply Face Oil, a moisturizer that boosts hydration and glow. What she loved a lot about this oil is that it didn't leave a sticky residue on her complexion. "It…doesn't leave my skin feeling greasy afterward which is always appreciated," she wrote in her beauty blog.
Suresh Kumar used Healing Natural Oils for a more specific reason: to remove his scars in an effort to clear up his skin. "It's very simple and easy to use," he shares in his YouTube video reviewing the H-Scars Formula, which he says can work in around two weeks.
FAQs
Yes, this is the official website of wellness brand Healing Natural Oils.
Can Healing Natural Oils really get rid of moles?
Yes, many happy buyers can attest to the power of Healing Natural Oils' H-Moles Formula. It works in as fast as a few weeks and leaves no scarring once your mole falls off.
How soon will I see the Healing Natural Oils results?
It depends on what product you're using. Oils meant to soothe inflamed skin will work almost instantly, while those that aim to eliminate skin blemishes need a few weeks to a month to show good results.
How can I contact the Healing Natural Oils customer service?
You can leave a message form on their website to reach them if you have any questions or concerns. But if it's urgent, you can also call them 866-445-5433 for US, and +1-858-794-8474 for international callers.
Can I buy Healing Natural Oils if I'm in the UK or Australia?
Yes, you can purchase your oils from the website and have them shipped internationally for an added rate. You can also visit other retailers like Stress No More in the UK to buy.
Is Healing Natural Oils worth it?
Yes, if you're looking for alternative ways to treat delicate skin conditions or get rid of blemishes like warts and moles, Healing Natural Oils is definitely worth it. It's less expensive than the laser treatments and super harsh scrubs and ointments you'll get at most clinics, but is still very effective.
Where Can I get the healing natural oils coupons?
You can get 30% Off Bundle Packs without any coupons, and you can get $10 of use this coupon code: natural
Your very own collection of Healing Natural Oils formulas is also a good investment if you're into homeopathy and are looking for high-quality oils. These American-made formulas utilize only pure and natural oils to give you the best and most effective blend possible.