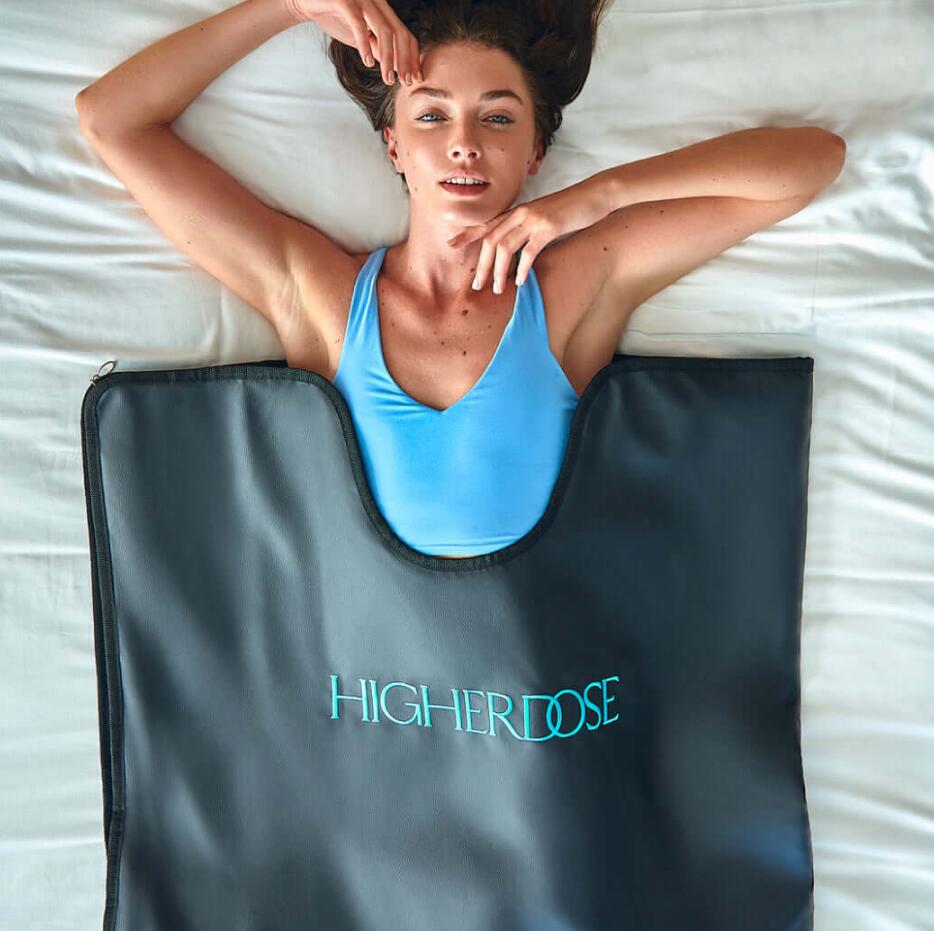 When people talk about self-care, the first things that come to mind might include skincare, shopping, or doing a little aromatherapy with essential oils. All these are great for relaxing the body and spirit, but they've become ordinary and less special for many.
But what if you could invest in something that will give you a unique and extraordinary self-care experience right in your own home? There are tons of innovative, technology-driven ways to take care of your body and mind, and sauna products are just some of them.
HigherDOSE is a brand that's committed to helping people feel healthier and more relaxed with the power of infrared lights. The best part is you don't have to book appointments at fancy spas and clinics. Their products allow you to do all of it at home! Here's a rundown of the brand and their top products.
Overview of HigherDOSE
The "dose" in HigherDOSE stands for four hormones, namely dopamine, oxytocin, serotonin, endorphins. These neurotransmitters are in charge of stabilizing your mood and mindset, so they are musts if you want to balance a stressful life with relaxation and happiness.
As a company, HigherDOSE aims to give you your extra dose of these hormones with their state-of-the-art products and technologies. They use infrared lights and other science-backed therapies to relax your body and give you a high right in your own home.
The main goal of the people behind this company is to help people care for themselves in a sustainable way, which means not spending big money to book hundreds of appointments at expensive spas each year.
With HigherDOSE's array of specialty products—ranging from sauna blankets, mats, and even masks—you can get the same spa benefits at home.
Aside from their products, HigherDOSE also has a line of spas in New York City so you can experience the magic of their tech-driven therapies in the flesh. They have services like chromotherapy, microcurrent treatments, and lymphatic drainage body work for their customers.
Not sure where to start with HigherDOSE? Here are six of their bestselling products:
1. HigherDOSE Infrared Sauna Blanket V3 Review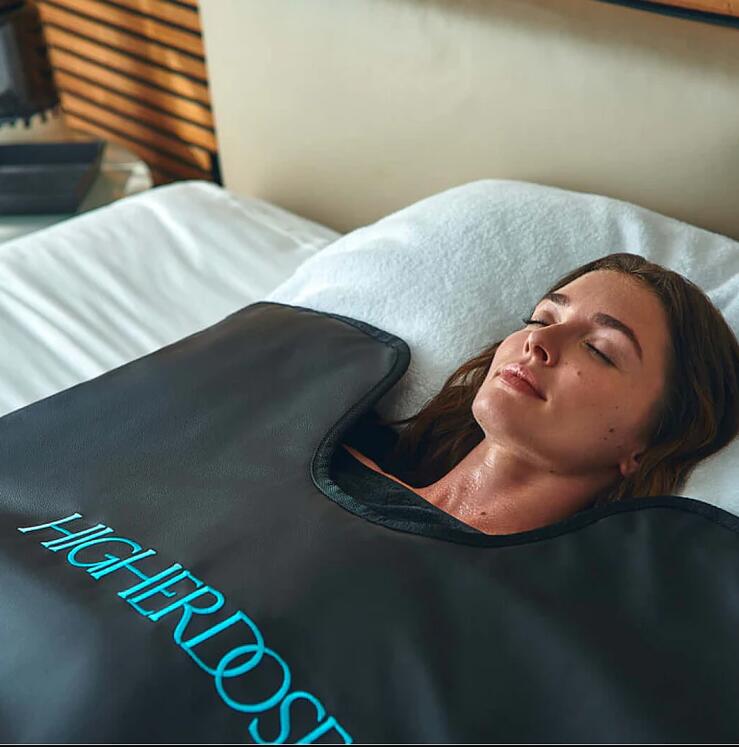 After a long day, you can crawl into this sauna blanket and get those happy hormones going. It's designed with infrared rays that detoxify your body, leaving you sweating as if you had just done an intense workout.
Since the sauna blanket makes you sweat, it can also get your heart rate up. This means a boost in blood circulation in your system, which can give your complexion a radiant and youthful glow.
You can set up your sauna blanket right on top of your bed, so you can take a quick little nap while you use it for maximum rest and relaxation.
2. HigherDOSE Infrared Sauna Blanket Insert Review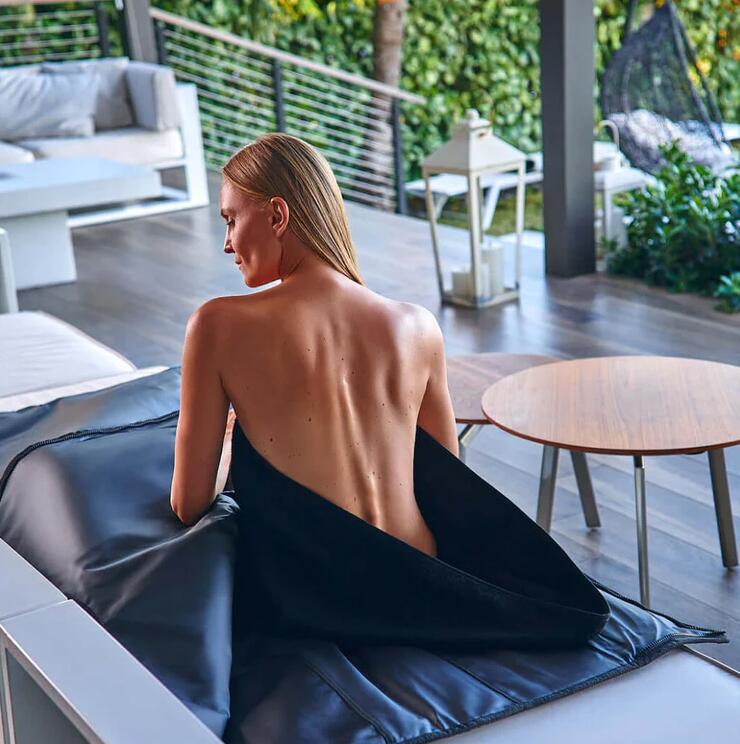 Add an extra layer of comfort to your sauna blanket with this soft, reusable, velvety-smooth insert. It's a terrific way to snuggle and feel at your best so you can rest well while the blanket does the work.
The insert is made with sustainable materials, namely 65% organic cotton and 35% bamboo. So you're getting the utmost level of comfort while making a responsible purchase for the environment.
All you have to do is lay this insert in your blanket (it fits like a glove!) and then jump in and start your session.
3. HigherDOSE Infrared PEMF Mat Review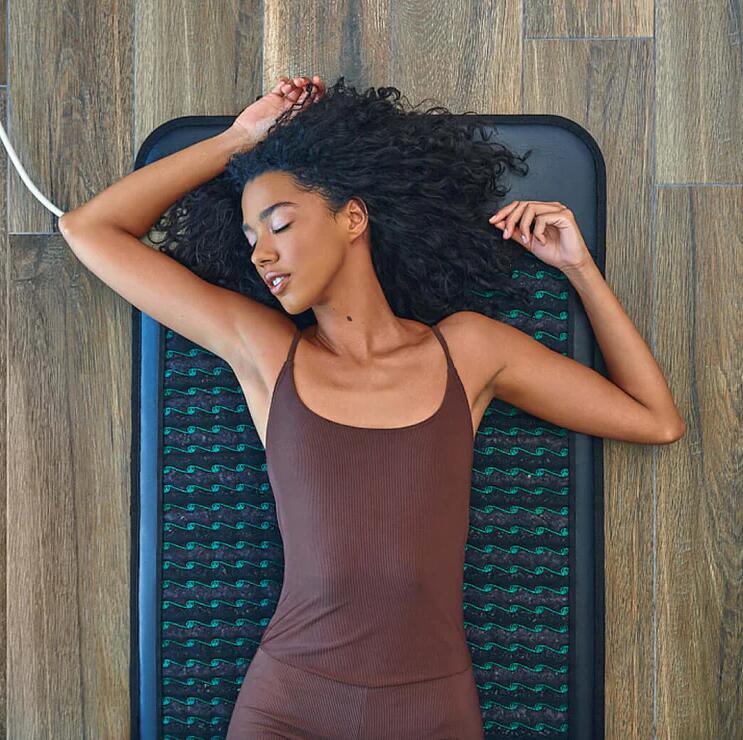 If you're not a fan of sweating too much, you can try out this infrared mat. It utilizes infrared heat to boost blood flow and get your heart rate going. It also uses the magnetic forces of PEMF to ground and relax your body. This in turn improves your sleep.
You can use this mat when you meditate or take a nap, or even when you're doing light exercises like yoga. Unlike the sauna blanket, this mat doesn't make you sweat.
4. HigherDOSE Red Light Face Mask Review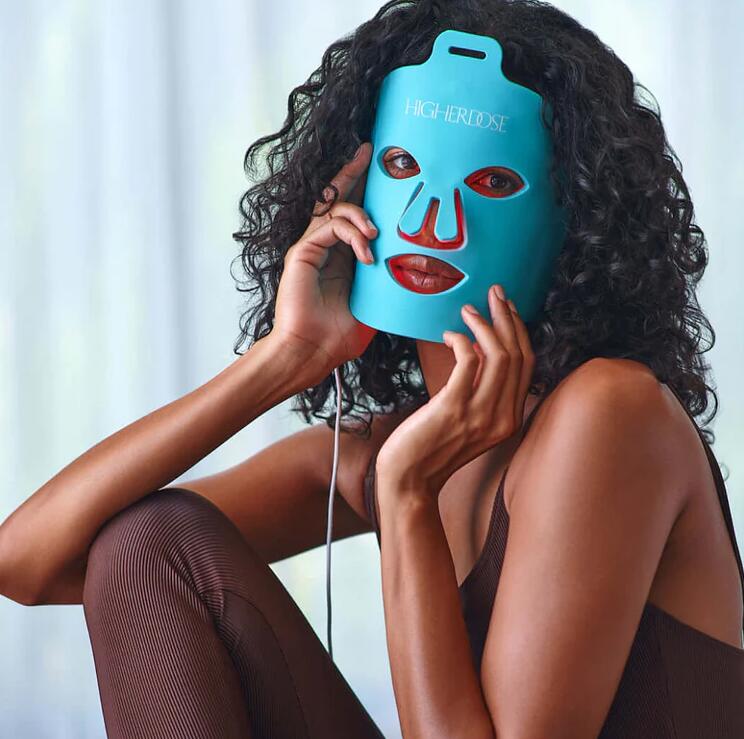 Many spas are already jumping on red light therapy facials because they're said to boost collagen levels and are terrific for anti-aging skin regimens. Instead of spending big bucks on those treatments, invest in a mask you can use whenever you feel like it at home.
This mask won't just improve and rejuvenate your skin—it will also lift your spirit and mood. LED diodes emit near-infrared light to give your skin a warm feeling, which is awesome for relaxing after a long, tiring day. It then refreshes how your skin feels, making you look more radiant.
5. HigherDOSE Supercharge Copper Body Brush Review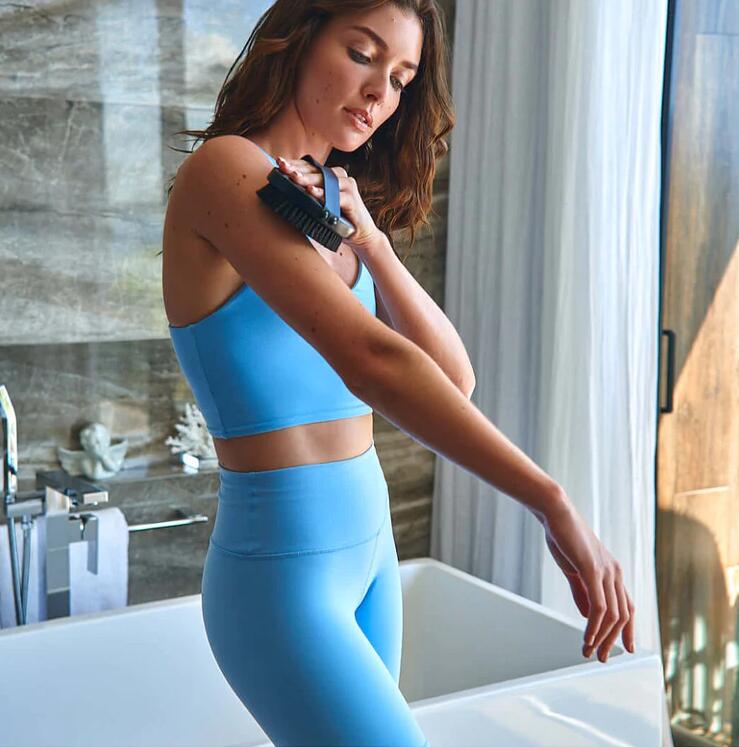 This body brush contains ion-charged bristles to relax and exfoliate your skin before doing any of these PEMF or sauna sessions. They help boost blood circulation to distribute nutrients all around your body better, and they also shed dead skin for a smoother, glowier complexion.
The bristles are made of copper, which is known to cause a kind of friction on the skin that rids it of acidity. This brings your skin and body back to a balanced state, aiding in relaxation and better overall health.
6. HigherDOSE Full Spectrum Infrared Sauna Review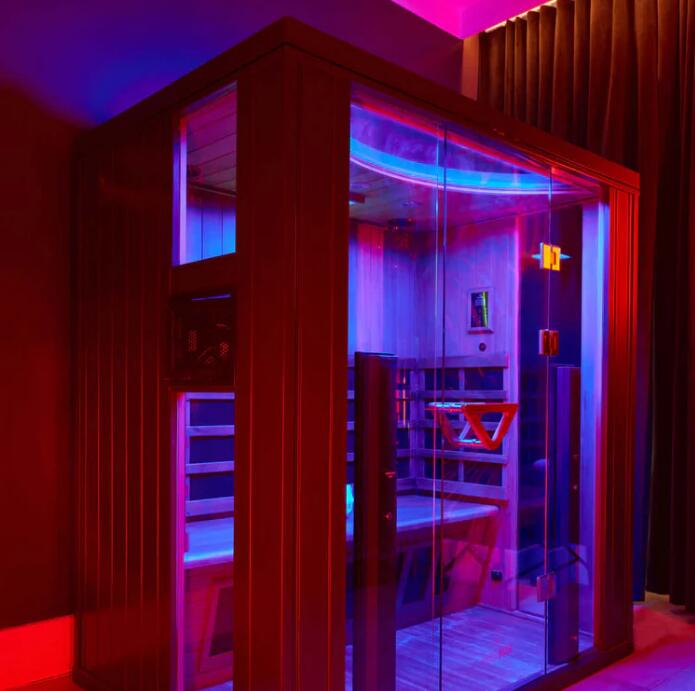 Ready to splurge for your big sauna dreams? Add a bit of luxury to your home with this full spectrum sauna. It's a terrific option if you still prefer the traditional sauna but want a bit of modernity than the usual ones in the market.
The black wooden exterior already makes it seem stylish and modern. It boasts of LED chromotherapy lights that change depending on what benefits you select for your sauna session. It also has speakers and an iPad holder for when you want to entertain yourself as you relax.
What customer reviews think of HigherDOSE
Some people might think the price tags on HigherDOSE products are a bit expensive, but many serious fitness and wellness content creators are raving about their items.
For example, the girls at Well + Good talk about how much they love the HigherDOSE sauna blanket, since they're lovers of hot yoga and other things that make them sweat. They even did a demo on their YouTube channel!
"If you're one of those people who love the feeling of sweating," one of them says, "I think these are so worth it because it's so much more fun and comfortable to do it in your own home and your own bed!"
Meanwhile, the Keto Twins are proud and happy owners of the infrared mats. They like it because it's not as intense as the sauna blanket, but you still get all the health benefits with the mat. Plus, there's little to no sweating!
"You definitely don't sweat at all when you're using it," they said, "which is kind of nice if you want to use it right before bed and you just want to crawl into bed afterward. You're not covered in sweat!"
FAQs
How do you use the HigherDOSE sauna blanket?
It's super simple to use the sauna blanket. All you have to do is plug it in and set it to the settings you prefer, and then snuggle into the blanket with your clothes on. In just a couple of minutes, you'll start sweating and feeling relaxed.
What benefits does the sauna blanket have?
Like all sauna blankets, the HigherDOSE one has cardiovascular and blood circulation-related benefits. These help get your heart rate up as if you were exercising. As a result, it boosts immunity and strength. Like real saunas, they also help you relax and unwind, improving your mood and state of mind.
How many calories does the sauna blanket burn?
You can burn up to 600 calories using the HigherDOSE blanket, but this differs for everyone.
How often should one use the sauna blanket?
It's difficult to dictate one routine for all people. It just depends on how much free time you have and how often you need to use it, so you have to listen to your body. Treat your sauna blanket like a workout—try it one or two times a week to start, and when you get the hang of it, you can increase your sessions.
Can I lose weight with HigherDOSE products?
Using sauna products makes your body sweat. Technically, this means you can burn calories simply by relaxing. So in the same way a sauna helps you lose a little bit of weight when it's a daily or weekly habit, the HigherDOSE sauna blanket can do the same.
However, weight loss using the blanket should be supplemented by a balanced, healthy diet and at least some light exercise as well.
Is HigherDOSE worth it?
If you love saunas and spend hundreds or thousands of dollars per month just to get a taste of your favorite self-care spa treatment, investing in HigherDOSE is super worth it. It might be on the pricier side, but it's a one-time purchase that can last you years.
HigherDOSE's sauna products give you all the benefits of a walk-in sauna, but you get to stay home for all of it. It's a great way to get your sweat on without having to do exercises you don't enjoy or having to be with a large crowd at your local sauna.