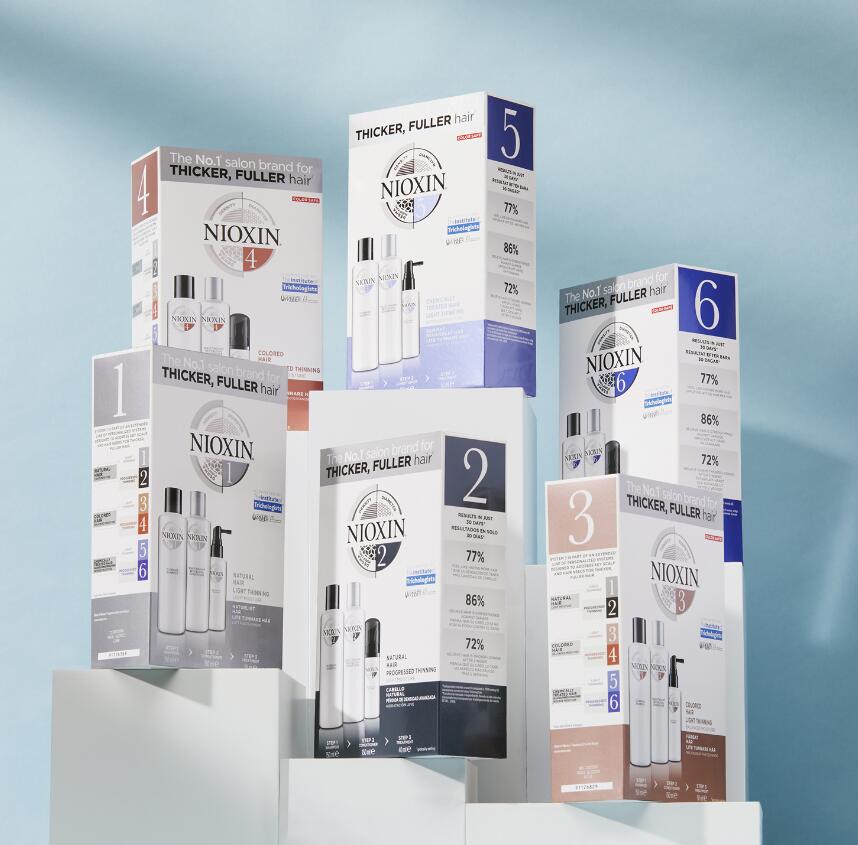 When it comes to creating full, beautiful heads of hair, stylists are quick to turn to the revitalizing properties of Nioxin products. Stylist Carla Kootsillas gave a behind-the-scenes look at her process with Matthew, an actor and model looking to grow his hair and have style versatility.
Nioxin System Review: How Nioxin Delivering a Full Look?
Matthew's hair was naturally dense with movement and a medium texture, and he didn't have many issues with his hair's natural state. But, upon inspection in the salon, it was clear there was some environmental debris that could lead to problems down the road. If not taken care of, the hair follicle would remain blocked, meaning his hair would start to lose its fullness due to shrinking hair shafts.
Carla jumped into action with four steps:
1) She started with removing the environmental debris from the scalp using Nioxin Scalp Renew's™ Dermabrasion Service to revitalize.
2) Next, Nioxin Scalp Treatment Number 5 was applied to moisturize, protect and create the appearance of fuller hair.
3) For the third step of treatment, Nioxin DIAMAX was applied as a treatment to thicken hair at the root.
4) To cut and style, Carla turned to Nioxin Rejuvenating Elixir while cutting, then used Nioxin Bodifying Foam to bring out the natural texture and bounce. His look was polished off with Nioxin Regular Hold to set the style.
For the cutting, coloring and styling process, Carla then turned to Nioxin Principles to guide her choices.
For the cut, she worked to sharpen the outline of Matthew's hair to fit in with current styles, but boost the appearance of a fuller hairline. She created pliable layers through notch-cutting to give hair flow in the direction of hair growth and make styling on his own easy. The cut was wrapped up by blending the layers for a manageable style.
Matthew's hair was also color treated with soft highlights through the ends. His natural base was maintained for the added appearance of contrast and depth throughout his hair. Carla used Wella ILLUMINA COLOR with a low volume developer, and ILLUMINA COLOR 9/60 with 20 vol as the foil formula.
When ready to style, Matthew's hair was prepped with 6 pumps of DIAMAX to boost thickness, while the Rejuvenating Elixir was used to maintain a frizz-free and smooth look. The Bodifying Foam increased volume without weighing hair down.
To dry, she finger styled the hair, working it at the base with the goal to direct hair for additional movement and overall lift. Niospray Regular Hold provided a layer of flexible hold when finished.
Curious to learn more about Nioxin Scalp Treatment Number 5? Check out this full review of the treatment. Want to try Nioxin for yourself, but not sure which treatment would best work for you? Then head to the following picture to learn the best option for your hair.