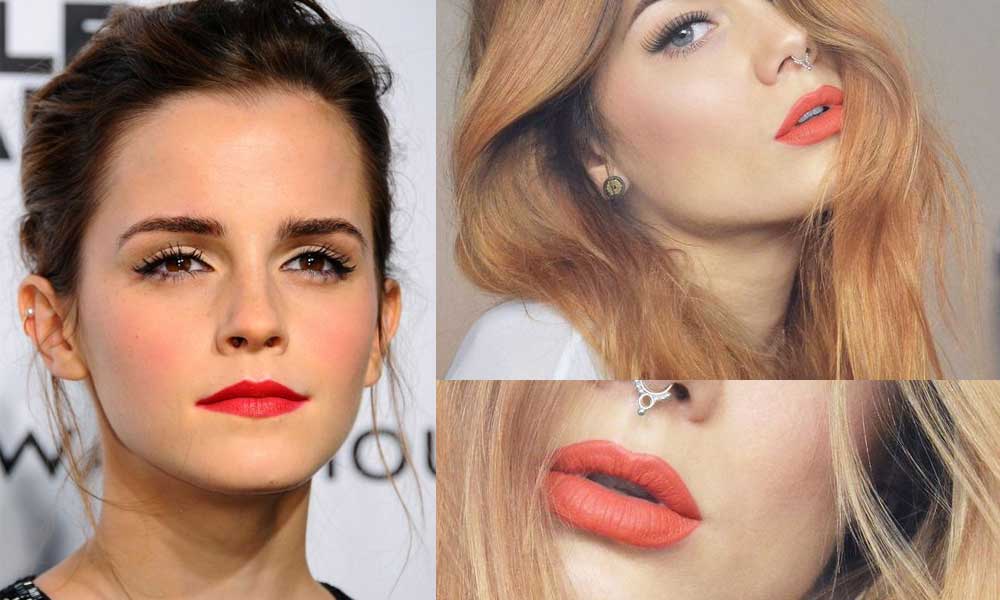 Tips on how to pull off bold blush 
Bold blush might bring to mind frightening images of clowns or the result of your toddler playing in your makeup cabinet. Many women fear blush that shows up as anything more than a subtle pink tint on your cheeks. This fear is not unfounded. It's important to be careful when applying blush because it is easy to create a clownish finish if you use it excessively.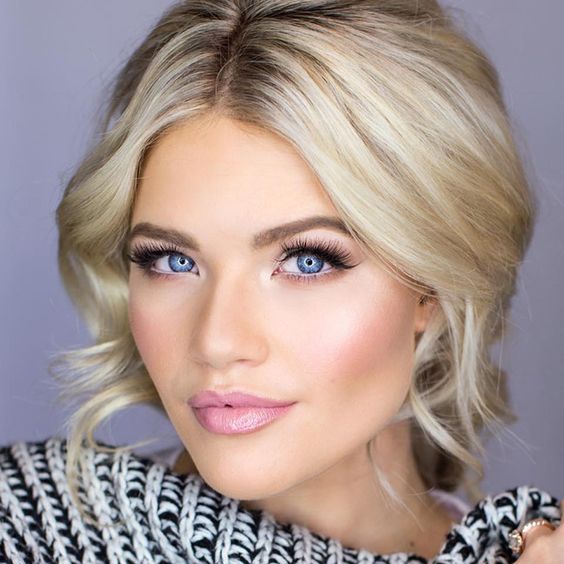 via
However, that does not mean that bold blush can't look gorgeous as well. Intense blush creates a cheerful, bright finish for your skin that's perfect for transitioning out of the cold dead of winter into the warmth of the spring season. Give bold blush a shot or risk missing out on this gorgeous, brightening trend.
1. Stay Away From Circles

Don't apply your blush in a circular shape to avoid looking like a clown. Instead, use a contour brush to apply your blush and use your cheekbones as a guiding line for its shape.
2. Remember that Blending is Your Friend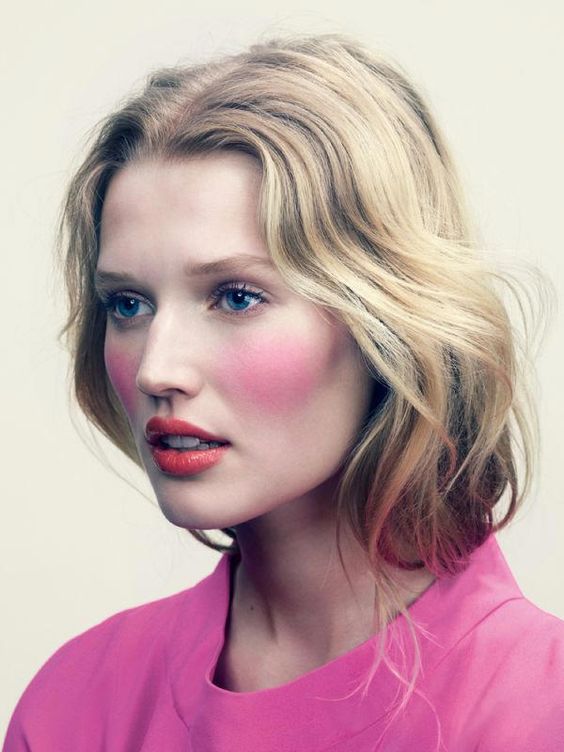 It is vital to the success of your bold blush look that you blend it sufficiently. If you don't blur the edges of your bold blush by blending it, you'll end up with blush that looks like it's sitting unnaturally on top of your skin.
However, blending bold blush can be a tricky business. If you blend your blush too far outward, you can easily end up spreading it across your face and turning your bright accent into a frightening full-face finish. Use a clean brush with no product on it to blend your blush. Blend inward rather than outward and focus on making the edges of your blush look seamless while keeping the product concentrated in the center.
3. Choose the Right Color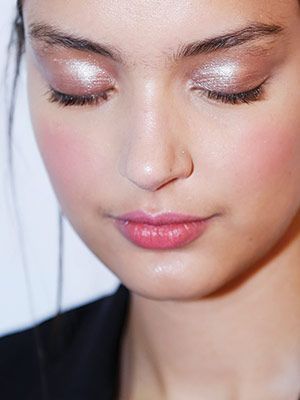 Anyone can pull off bold blush, no matter what your skin tone is. However, the same shades of blush do not complement every skin tone. The blush color you use for your bold blush look should definitely depend on your natural skin tone.
If you have fair to light skin, pick out a bright coral or peach-toned blush. Women with medium skin tones should try a fuchsia or rose-toned blush. If you have dark to deep skin, try a shade of blush with purple undertones or go with a bright pink that really stands out against your skin.
4. Pick a Formula that Works For You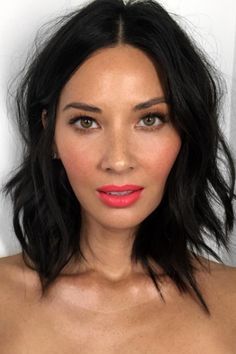 You can use either powder or cream blush to create a bold blush look. If you have naturally dry skin, powder blush is probably not the best choice because it could end up looking flaky or cakey if you apply a high amount to achieve an intense finish.
On the other hand, cream blush often smears and looks greasy on oily skin. The blush formula you use to create a bold blush look should depend on your skin type and how much product you need to use to create the intensity you want. Women with dry or light skin should generally use a cream formula, while those with more oily or darker skin should stick with a powder formula. If you aren't sure which formula you should use, experiment with both creams and powders to determine which works best for you.
5. Go High, Not Low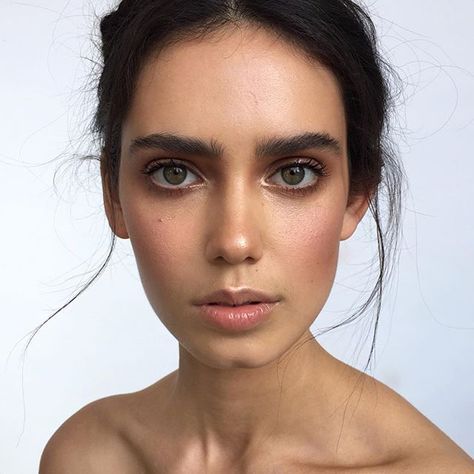 You might have heard that you should apply blush to the apples of your cheeks. When you're going for a bold blush look, however, stay away from any area of your skin below your cheekbones. Applying bold blush to the apples of your cheeks drags your face down and can make its shape seem distorted.
Instead, swipe your blush across and above your cheekbones to brighten your skin while giving it a lifted appearance.
6. Soften With Foundation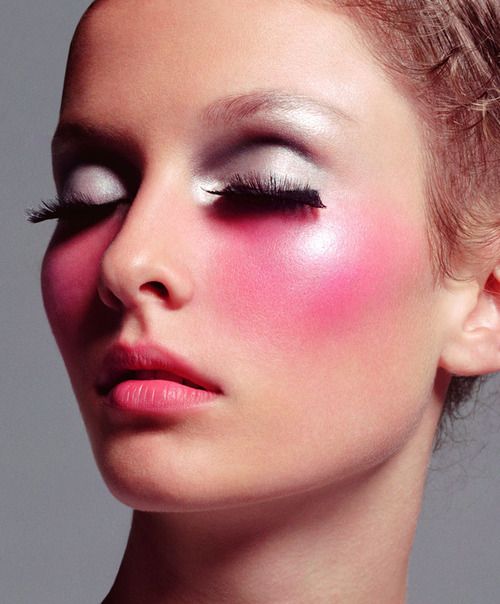 If you notice that your blush looks too bold after you finish applying it, don't freak out and grab the makeup remover. Instead, use a damp makeup sponge and apply a very thin layer of sheer liquid foundation over the blush. This technique automatically relaxes the appearance of your blush and helps remove any excessive intensity without destroying its bold finish.
7. Stay Away From Powder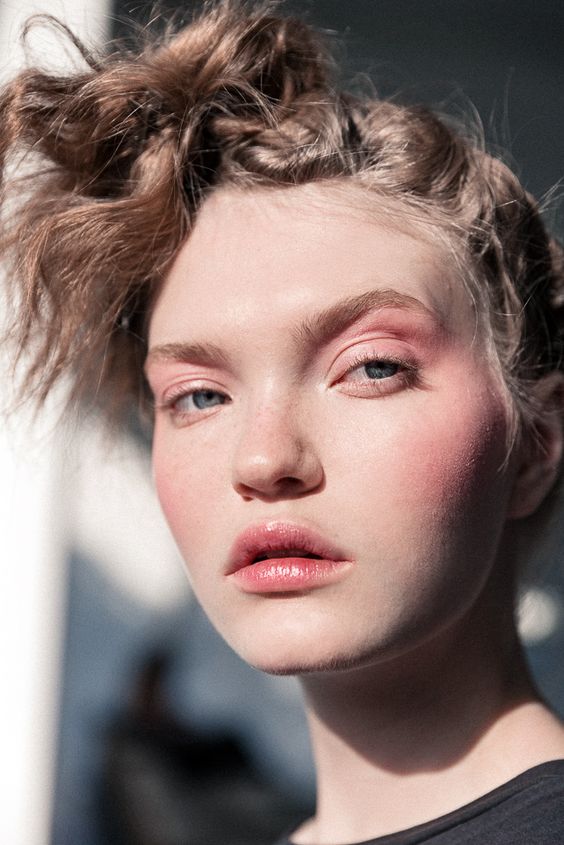 Many people think that applying a layer of powder over their blush is a great way to soften blush that looks excessively bright or bold on your skin. However, putting powder on over your blush can easily give your skin a cakey and dull finish.
Instead of using powder to soften your blush on the go, grab a tissue and press it firmly against your skin to soak up some of the blush and soften its finish if it looks too harsh.
Bold blush is a fun trend to try if you're looking for something unique to brighten up your skin and help you achieve a summery glow even when it's still cold outside. It adds the perfect warm finish to any makeup look and is sure to snap you out of the winter blues immediately.