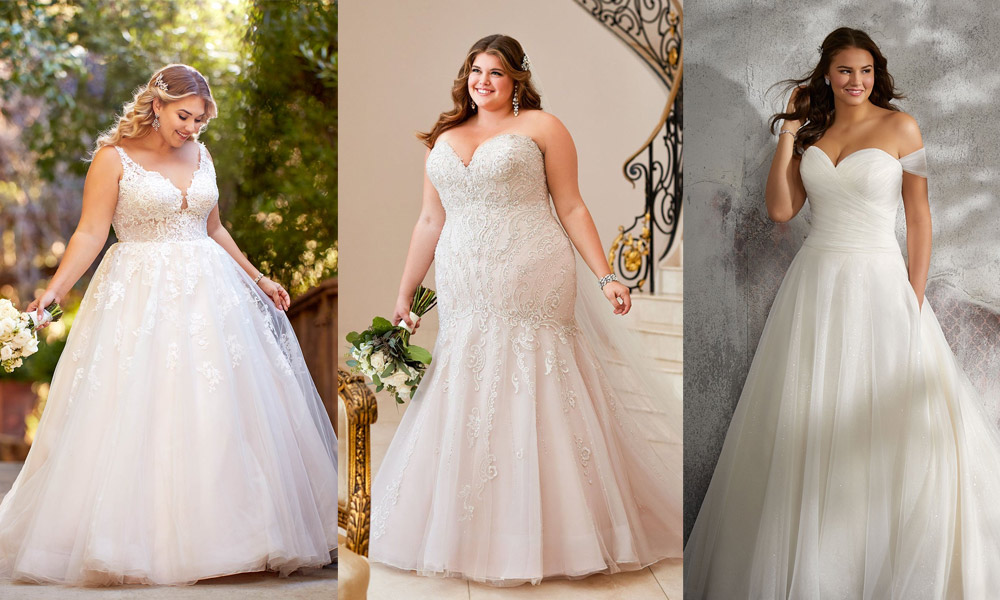 Have you already chosen your dream wedding dress in your head? Chances are, you've got an idea of how great your wedding day will be, but you don't really know which style of dress will suit your body-shape best. So before you go on the best shopping trip of your life, why not browse these plus size wedding dress silhouette tips and be well prepared. When you have a good idea of the best styles of dress for your body type, you'll save yourself a lot of time and annoyance trying on unflattering styles!
So let's get started on choosing your best wedding dress silhouette right now:
1. Dropped-waist wedding dresses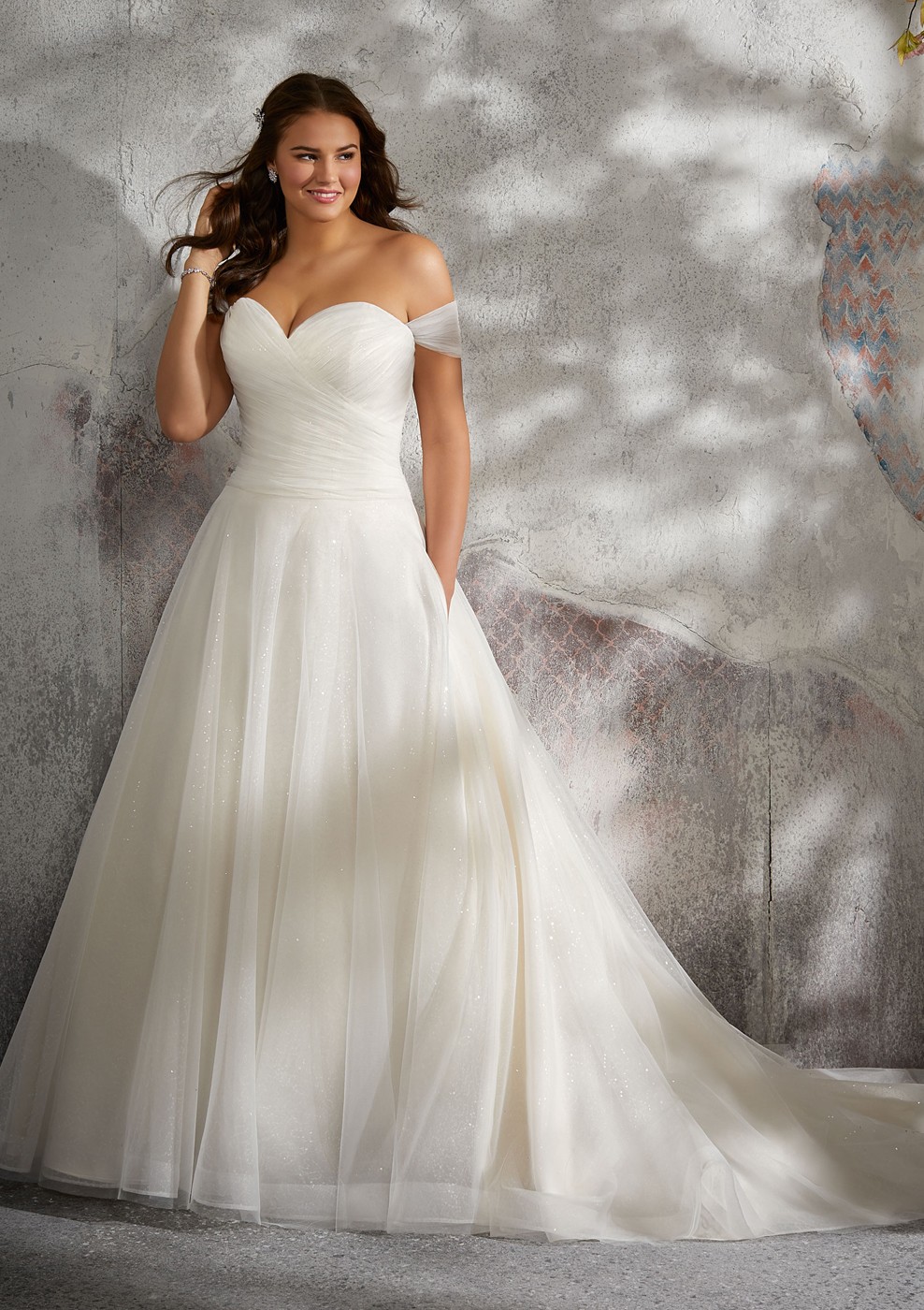 A dropped-waist wedding gown will cling to your curves and highlight a shapely figure perfectly. And by wearing a bodice top, you can create a defined waist-line, even though you don't usually have one. In addition, you have a dress with fullness at the hemline, and this will also draw attention to nicely rounded hips!
2. Trumpet-style wedding dresses
Trumpet wedding dress silhouettes are closely-fitted on the top up to half-way down the thigh. Then they flair-out to create a comfortable walking stride, which balances out your bust and creates a flattering outline. Take a look at Zac Posen trumpet gowns from the Truly Zac Posen bridal dress collection for plus-size brides. These dresses feature carefully proportioned waist and hip tailoring, to provide flattering silhouettes that are also comfy to wear on your special day!
3. High-low hem wedding frocks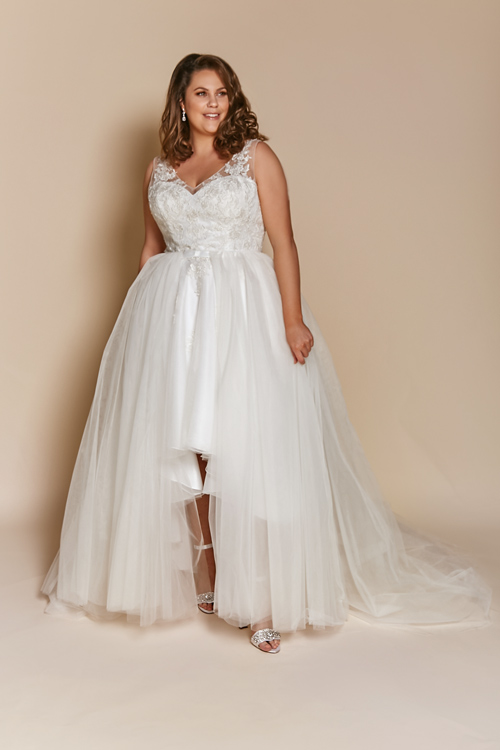 High-low hems create an optical illusion that makes your body and legs appear longer, so it's a great shape for a plus-size wedding gown. And it's also quite a contemporary, out of the ordinary shape for a bridal outfit, so perfect if you like to be 'different' in your style choices. You'll look eye-catching from the front and will have leg coverage at the back, for comfort and grace.
4. Mermaid wedding gowns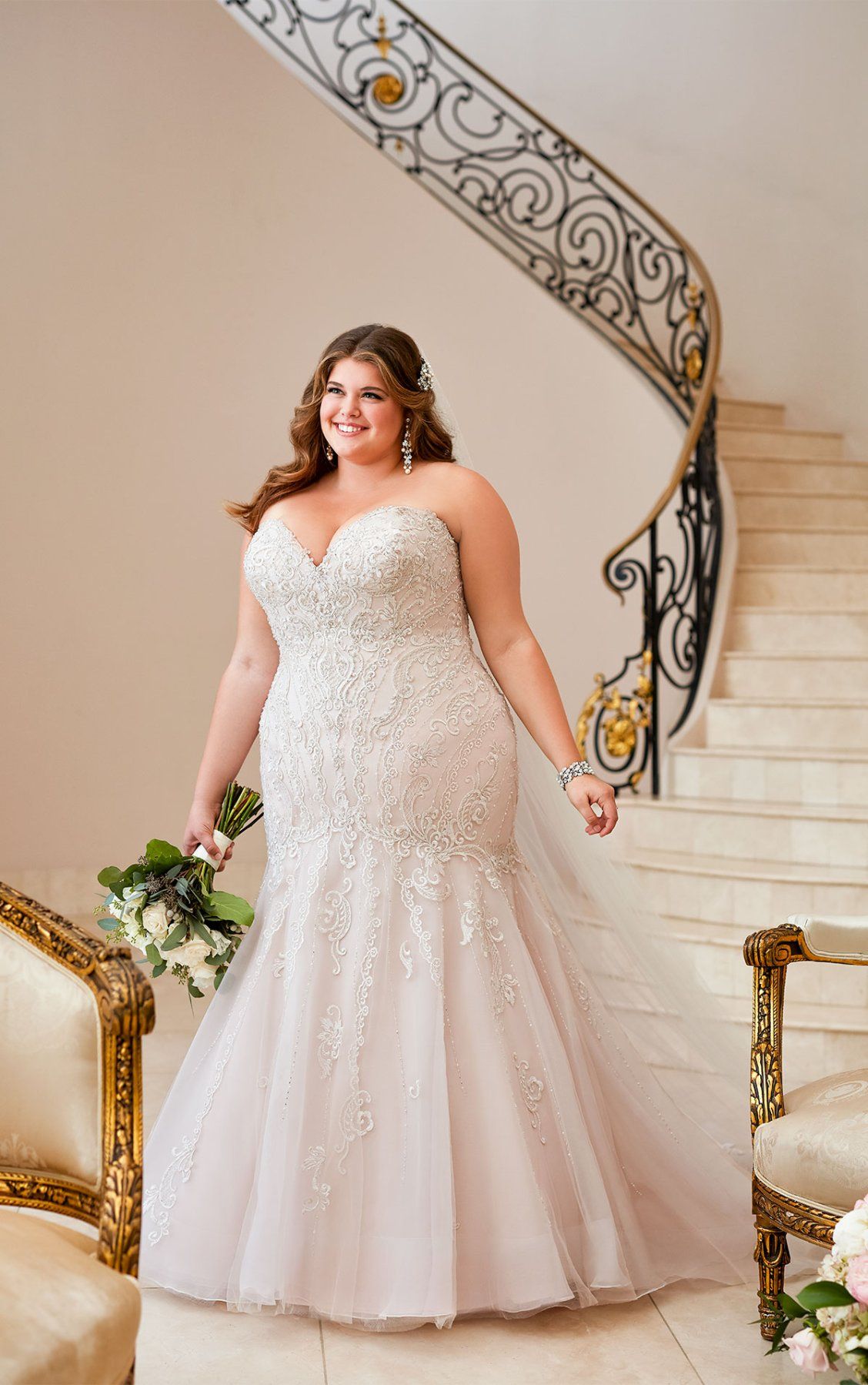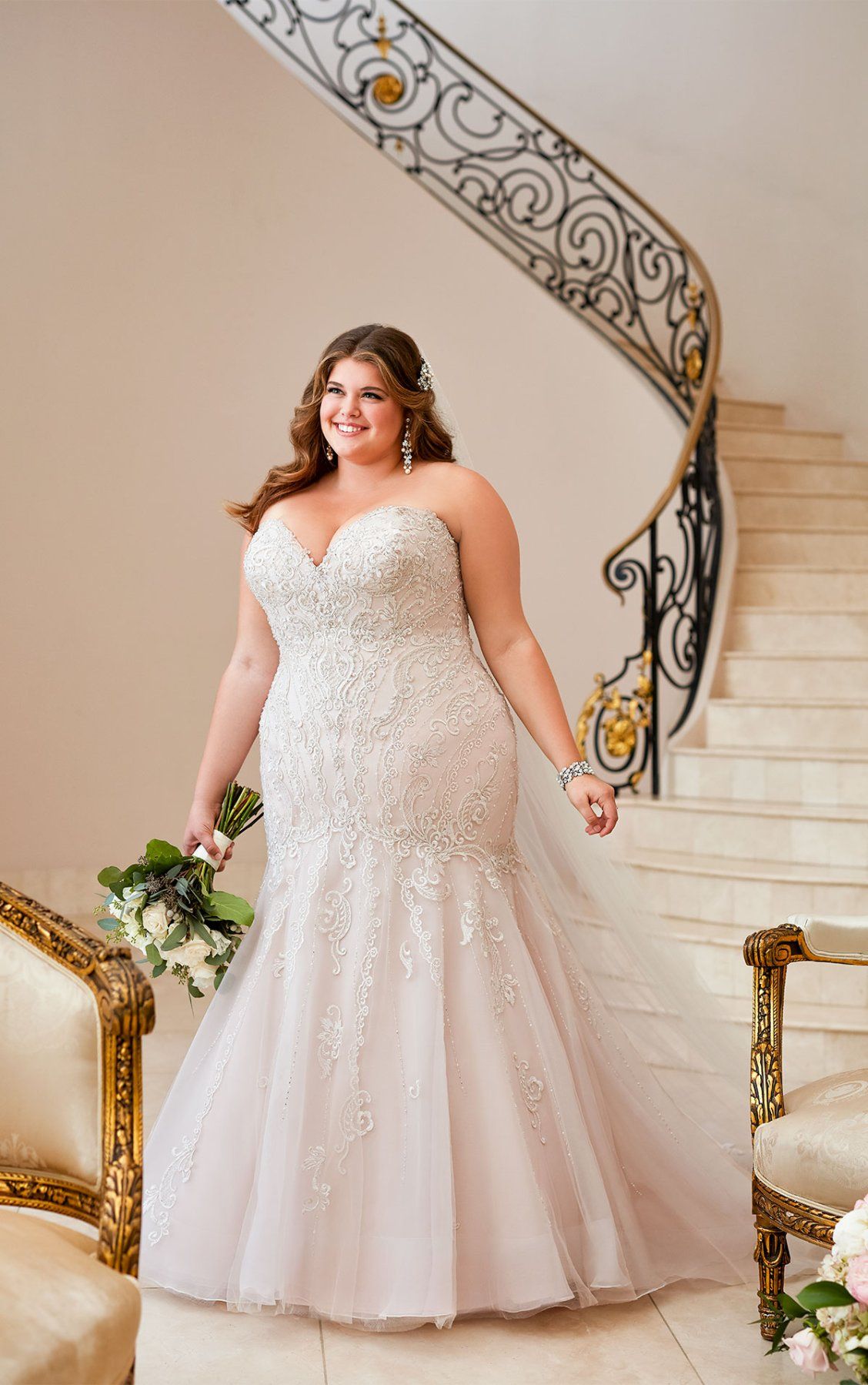 Look at the plus-size wedding dress collections from Dennis Basso and Lazaro, to see some of the best mermaid silhouette bridal gowns. And bear in mind that the mermaid tail flair should begin just above your knees, so you may need to employ a seamstress to ensure the proportions are correct. Lazaro uses lots of lovely beads and lace decoration on his collection of plus-size gowns. And Dennis Basso features flattering ruched sections and pretty organza fabric. Both designers are experts in this field and always produce dresses that create an attractive waistline!
5. A-line wedding dresses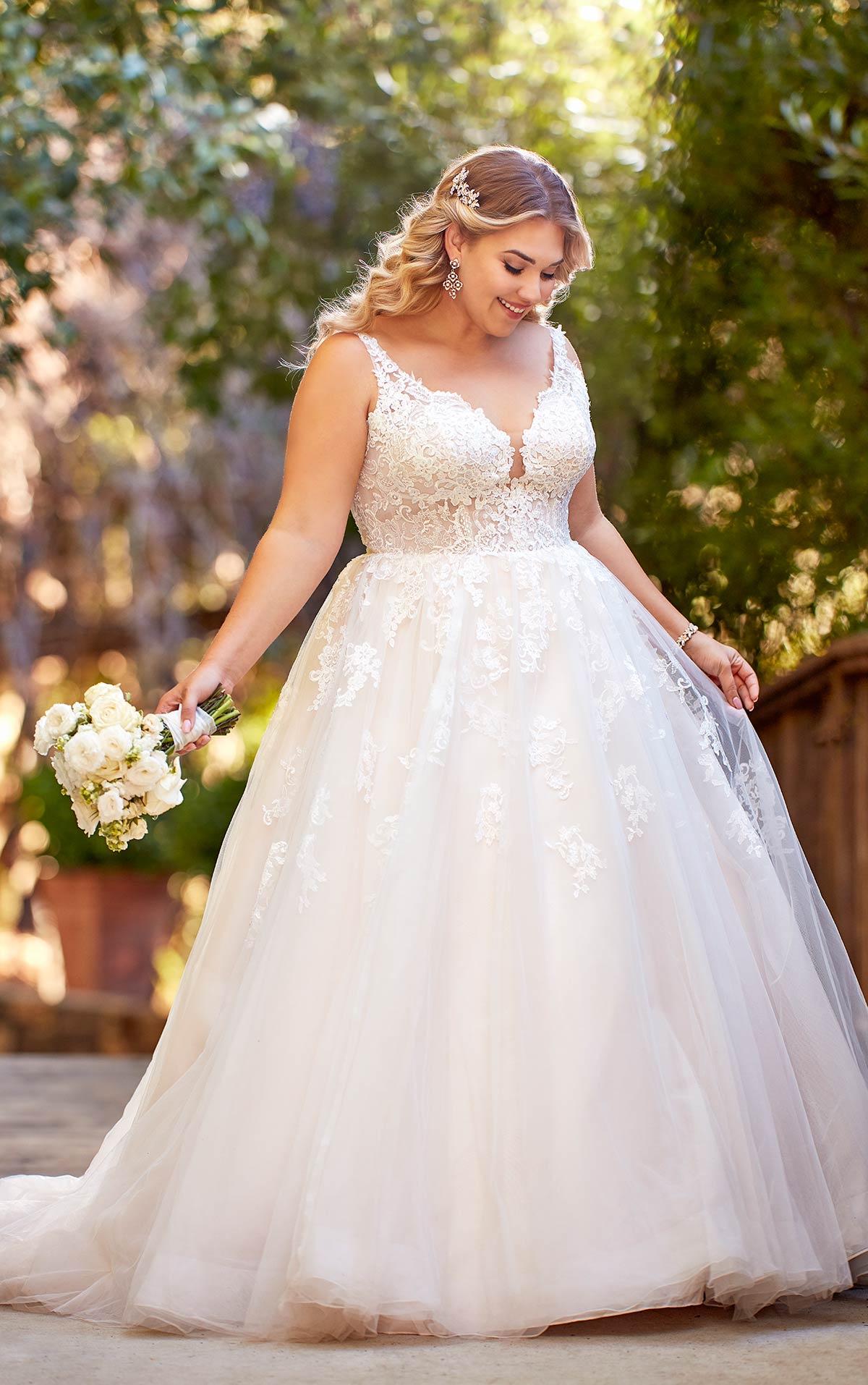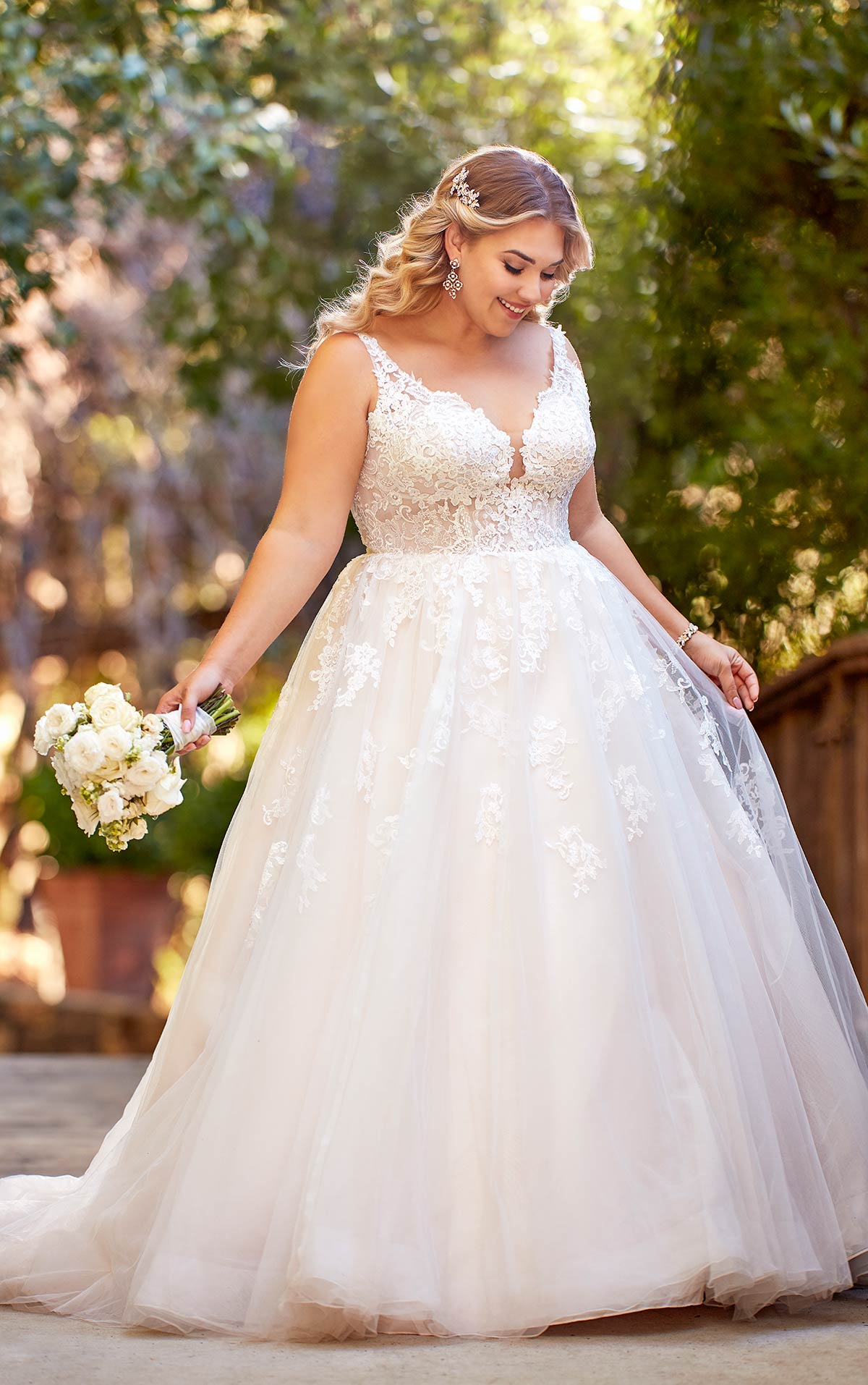 plus size wedding dress: credit
The high-waisted, A-line dress with an empire-line waist is always a flattering style and features in many wedding gown collections for plus-size brides. It's also a classic look that suits brides who want modest coverage of their bust. The skirt's waist-seam is placed just beneath the bust and flairs out from there into the A-line silhouette. And so it skims over tums and bottoms to create a lovely, smooth line!
6. Sheath Wedding Dresses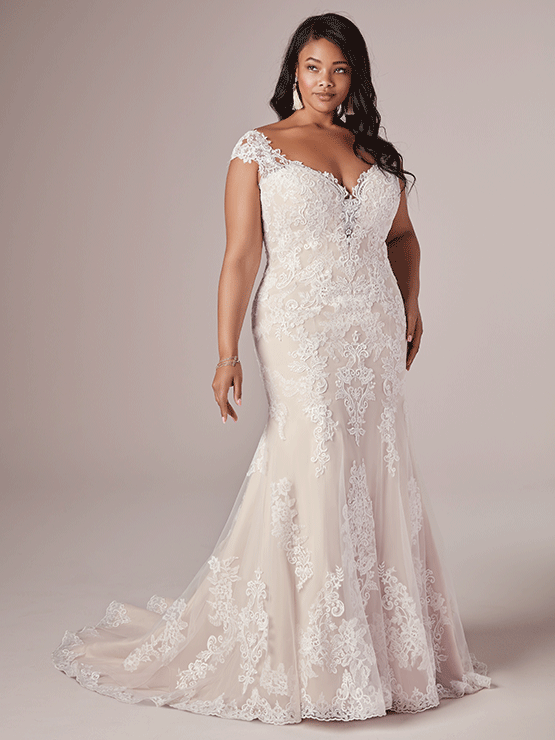 Sheath-style dresses always make the wearer appear taller with longer legs and body. This is owed to the sleek long line of the gown, especially if you keep the dress fairly plain of decoration. They are very easy dresses to shorten, so you'll save on seamstress costs and sheaths always have good interior support for a smooth silhouette!
7. Ball-gown wedding dresses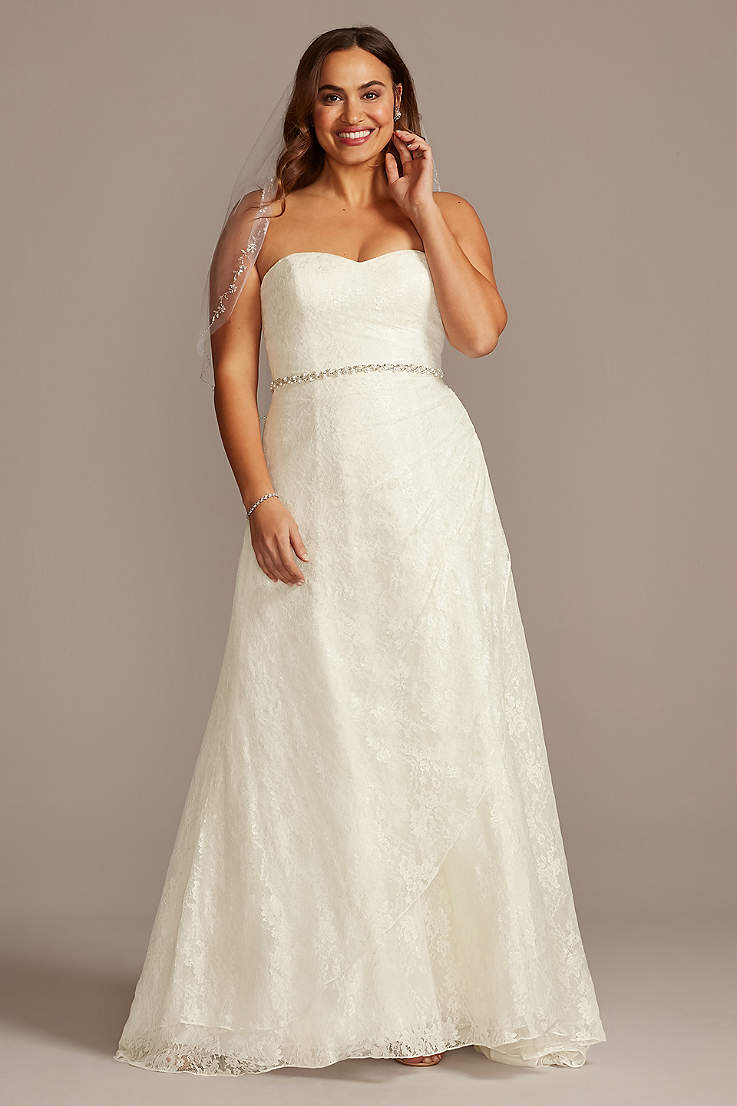 If you want to look like a fairy-tale princess on your wedding day, take a look at the Oleg Cassini designer collection of bridal ball gowns for plus size brides. These classic styles are a flattering option for pear-shaped women, as they focus on a fitted top, with a wide bell-shaped lower half. Cassini gowns are luxurious and glam, and especially cut to look wonderful on a fuller body-shape!
8. Asymmetrical exposed shoulder wedding frocks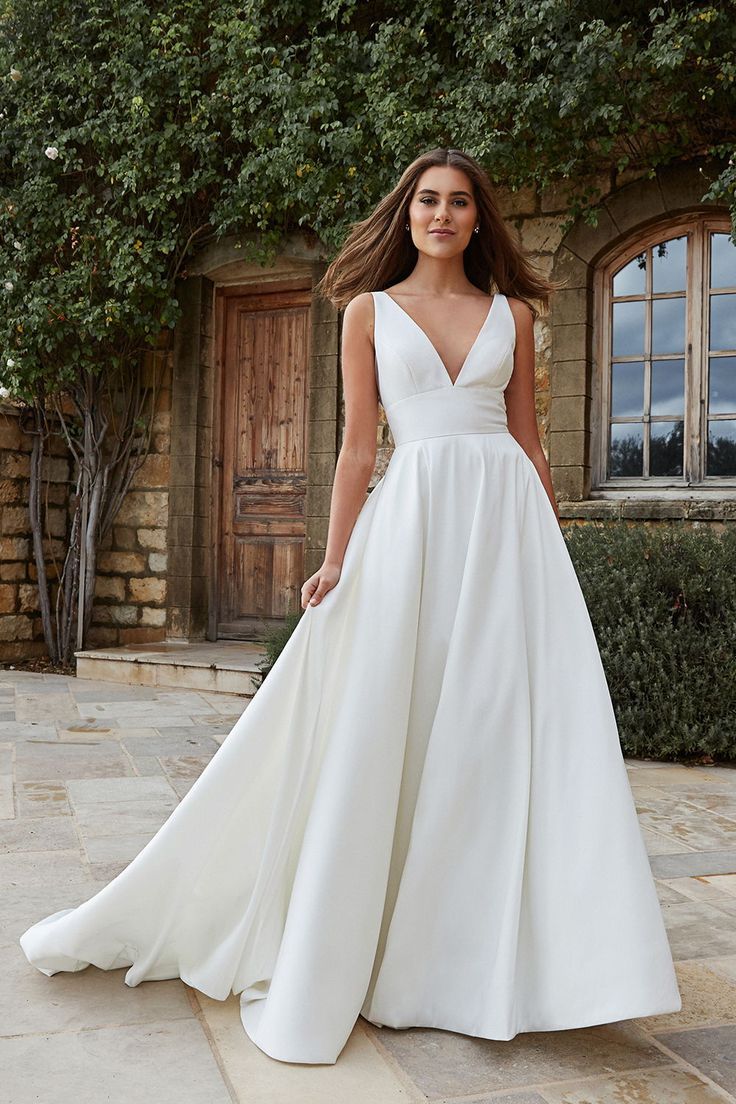 An exposed shoulder adds a definite touch of chic to a plus-size wedding dress, especially if there is also a contemporary transparent sleeve covering the upper arm. You can see exposed shoulder styles in the collections from Reem Acra and Theia. Some of the exposed shoulder gowns feature a dainty, ruffled drop-sleeve, which looks trendy and attractive, too!
9. Corset wedding gowns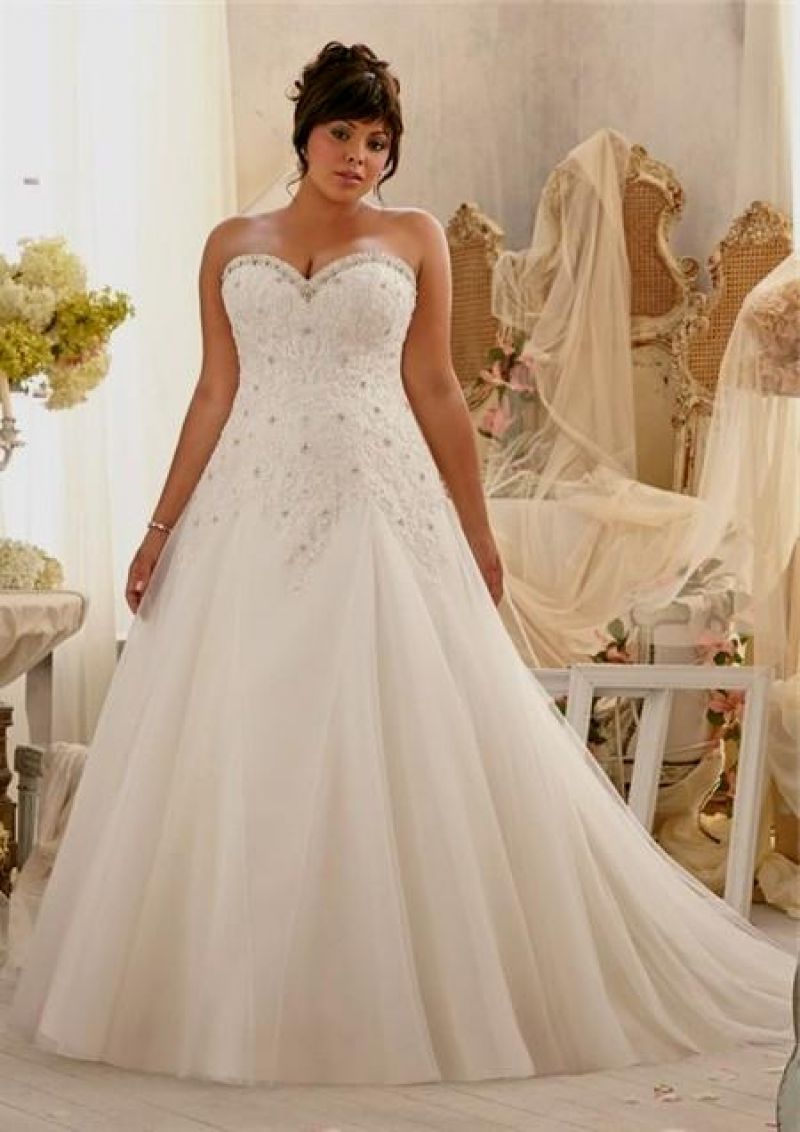 If you have a big enough budget, you can choose from a plus-size wedding gown with a cleverly built-in corset. This will shape your figure to cinch in the waist and improve the bust-line and you can find corset wedding gowns in the collections of designer Pnina Tornai. She is a well-known favorite designer for plus-size bridal wear and you'll feel totally comfortable in a strong-support dress, with a gorgeously sculpted figure for your special day!
10. Bridal Jumpsuits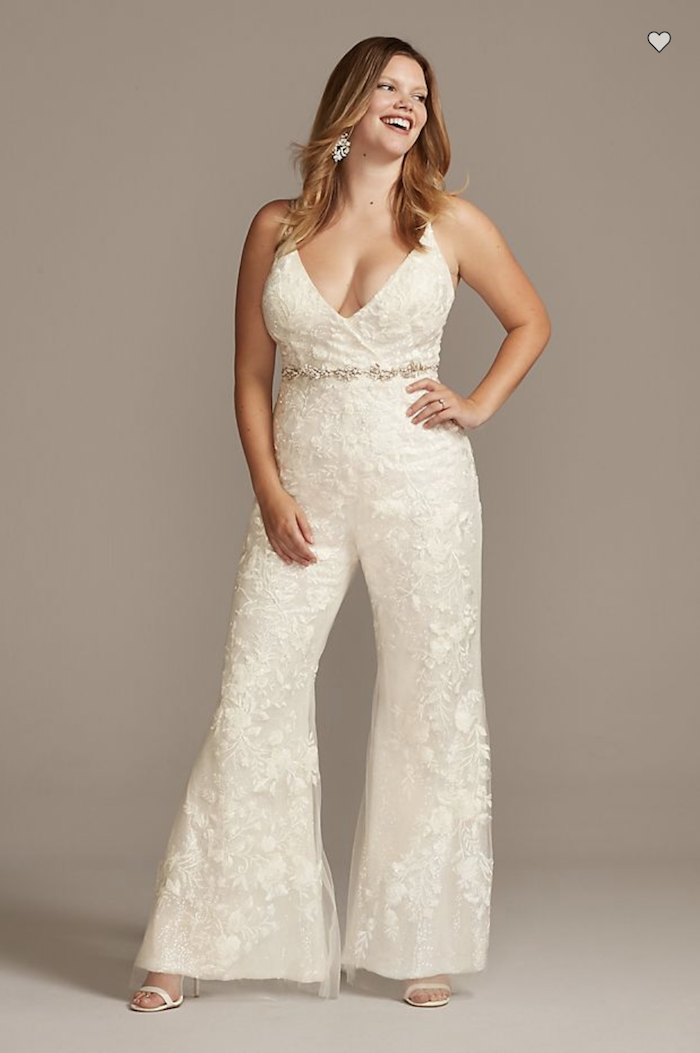 Bridal jumpsuits are becoming more popular as contemporary brides look for comfort and style on this important occasion. And a jumpsuit can be just as special and flattering as any gown, and allow you to feel relaxed and curvy.  Jumpsuits have plenty of structure, more than a gown, and this means you'll get an accentuated waistline and won't be hiding your curvy hips under a large, puffy skirt! Pop along to the designers like Naeem Khan and Gemy Maalouf to see some fabulous, modern, bridal jumpsuits for plus-size brides!
11. High-necked wedding dresses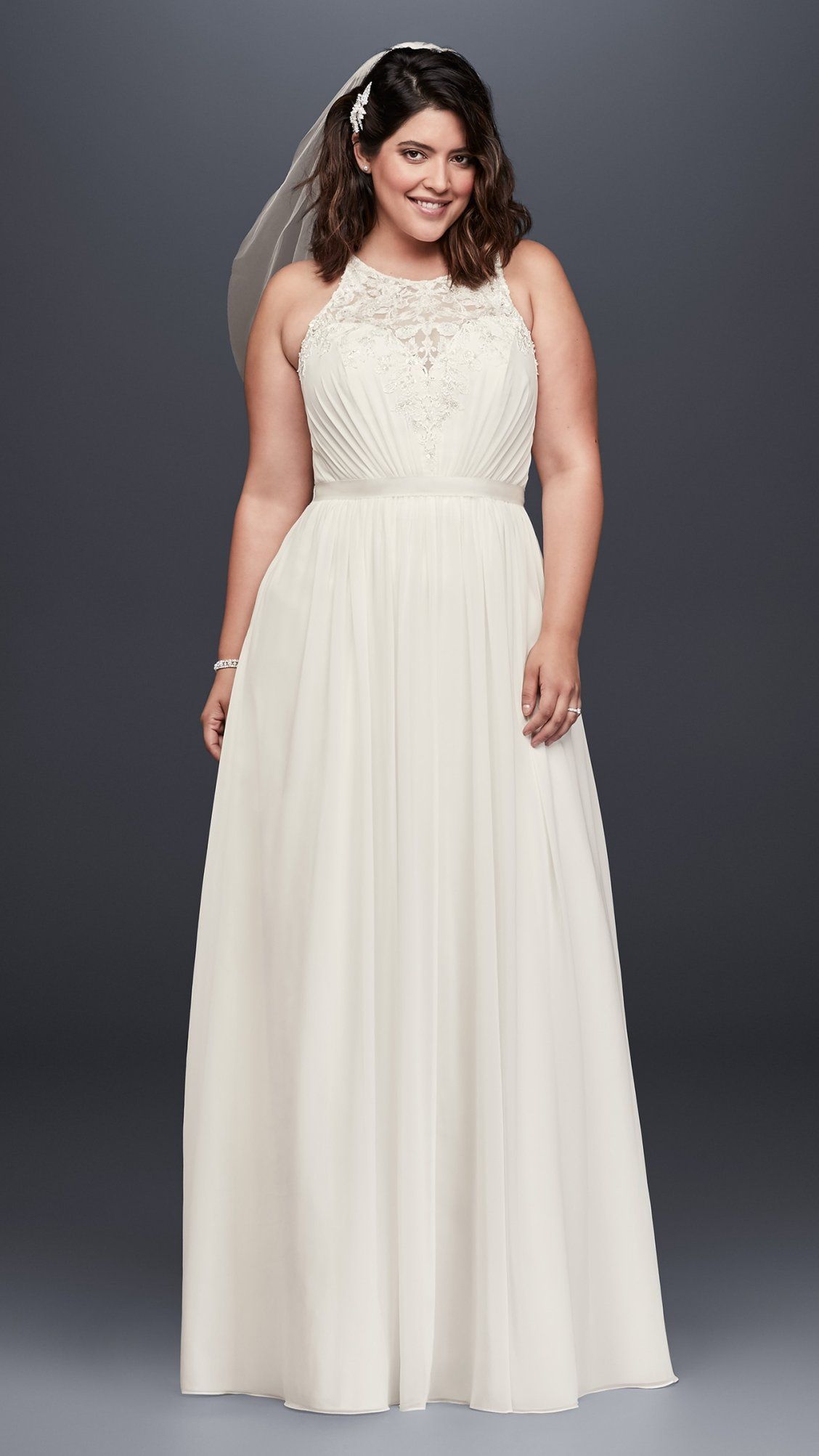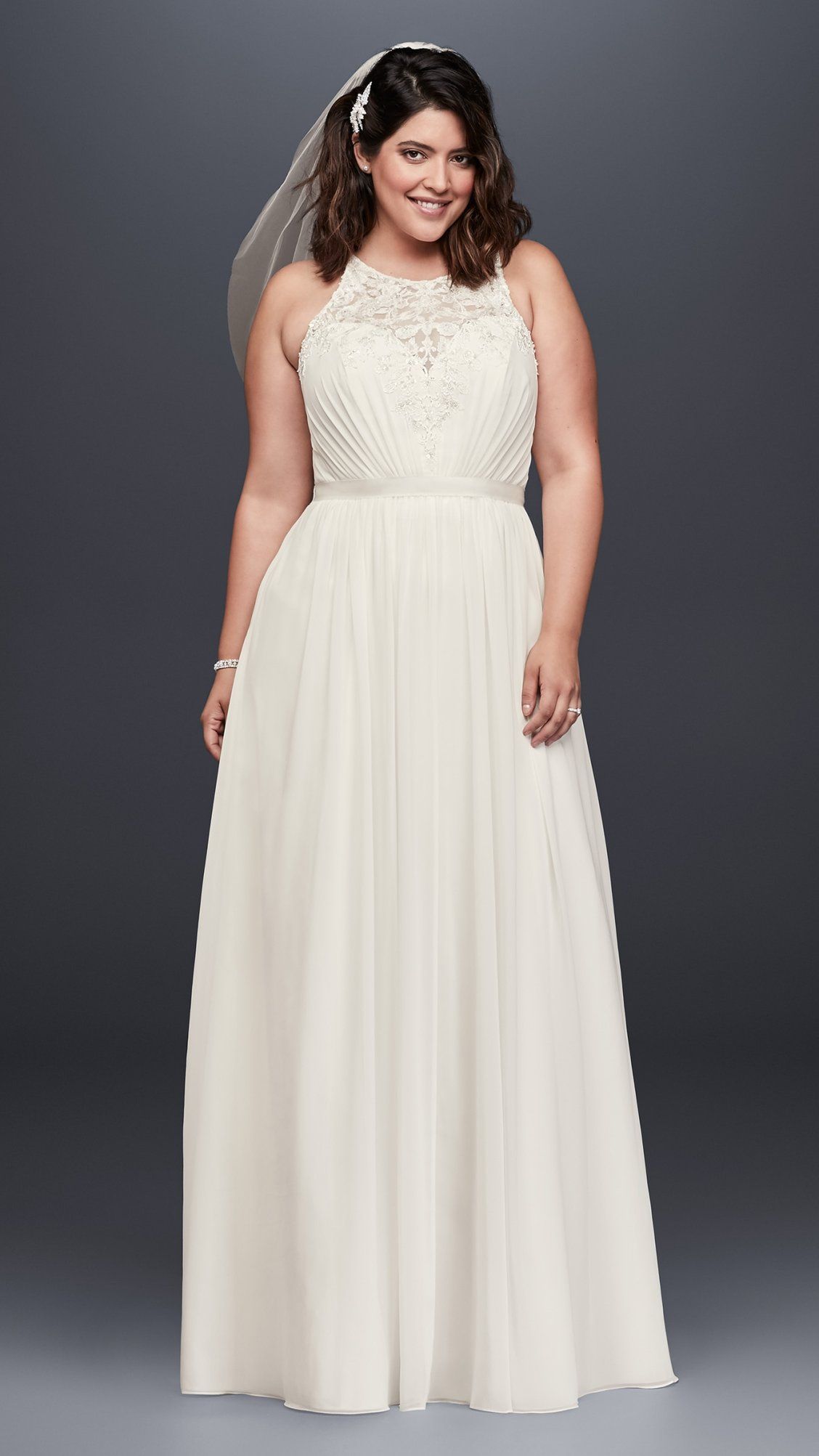 The classic, high necked wedding dress is always a good choice for any bride, who wants to look extra-stylish and feel comfortable all day. Fancy halter-neck and strap-less styles may keep moving about, and needing you to disappear for a discreet re-adjustment as the evening progresses. And you don't want to feel uncomfortable in any way, so a high-necked dress gives a flattering, long line and can include pretty, bodice decoration like beads, lace or an 'illusion' neckline. Designers, Halfpenny and Berta specialize in this style of wedding dress for plus-size brides!
More Tips for Plus-Size Wedding Dress Shopping
Steer clear of flimsy fabrics like chiffon and silk charmeuse that aren't substantial enough to offer structure or support. Opt for duchess satin, organza and taffeta for a flattering finish.
Most of us have a larger top or a larger bottom half, so always opt for the dress that fits your larger part comfortably. It's a lot cheaper for a seamstress to make part of your dress smaller, but it's difficult to make the bust or hips larger.
Look for dresses with asymmetrical ruching, as they are more flattering to a plus-size figure. Ruching on one side of the gown gives extra structure and support and adds a vertical aspect that elongates the bodyline.
Asymmetric details to a dress tend to be flattering to the body-shape and add an attractive artistic vibe. An asymmetrical hem creates volume at the bottom of the dress and this can balance out upper body fullness brilliantly!
If the dress you want doesn't come in your size, contact the designer label and ask them to make a dress in your size. They often do this and will charge a fee for a one-off order.