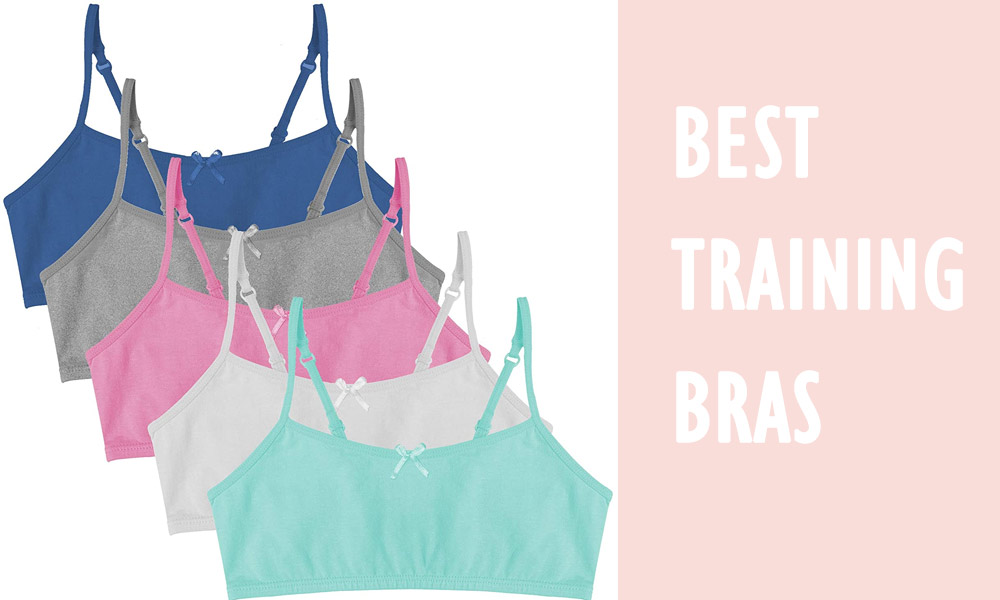 The best training bras for teens and tweens are confidence-building garments aimed at making girls feel comfortable as they develop. The styles cover a wide range of designs, from cute to athletic and they cover a wide range of years, too. So while the youngest wearers will just need a comfortable cropped top, older girls may be ready for a bra that has some light padding for modesty and support.
What is a 'training bra' for girls?
And in case our international readers don't already know, a 'training bra' is the U.S. way to refer to a young girl's bra. And although it sounds like a bra you wear for training and exercise, it doesn't actually have anything to do with sports or sports bras. Most tween training bras for girls go by clothing-based sizing. But the ones with separate cups for developing breasts usually use the traditional band and cup size system.
How to choose the right training bra
Choosing the right first bra or bralette for youngsters is a delicate business and you know that if you make an error, your child won't be happy with you. But wading through the vast amount of 'training' bras on offer online is a daunting prospect. So to guide you towards the best product for your child, you can rely on our regular, 'real-life' tests.
And for this project we recruited a group of girls and teens, who each wore a selection of girls bras for at least two days. And then the girls, and their mothers, let us know exactly which bralettes they enjoyed wearing and which ones were non-starters for them. Until finally, we had a short-list of the Best Training Bras for Tweens and Teens, to help you get it right first-time!
1. Best Overall Training Bra for Tweens & Teens
Hanes Girls – ComfortFlex Seamless Bralette 2-Pack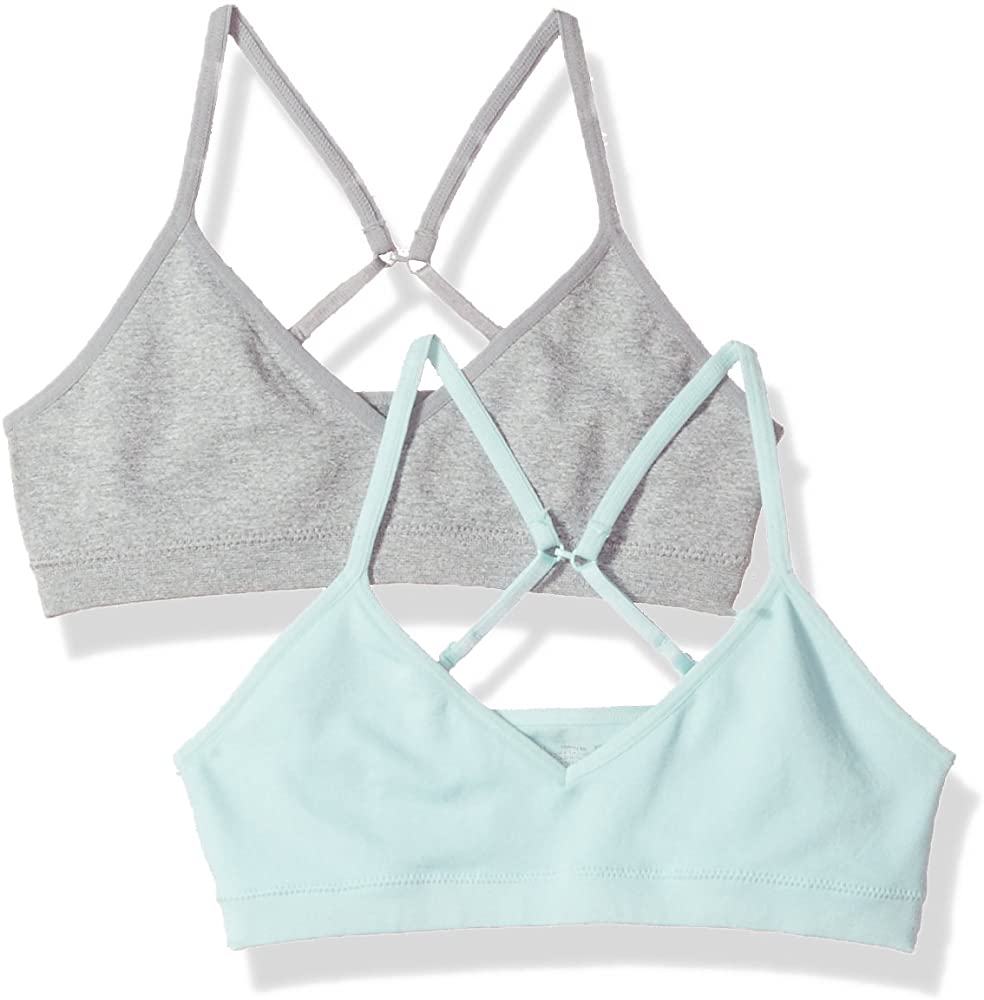 This seamless, and comfortably soft, bralette is perfect for youngsters who need extra coverage. The front is made from two-ply nylon with a little Spandex in the blend to get a good fit. The fabric is smooth and there's no padding. It comes with a J-clip, which allows girls to wear the straps in a racer-back style when preferred.
This beginner bralette was highly rated by mothers of our young testing panel. The girls preferred them to more noticeable sports bras for daily school wear. The mothers said the bralette is fine under thicker clothing, but for more coverage a sports bra is better. Overall, the girls found this bralette extremely comfortable and loved wearing it.
2. Best Coverage Training Bras for Tweens & Teens
Fruit of the Loom Girls – Sports Bra 3-Pack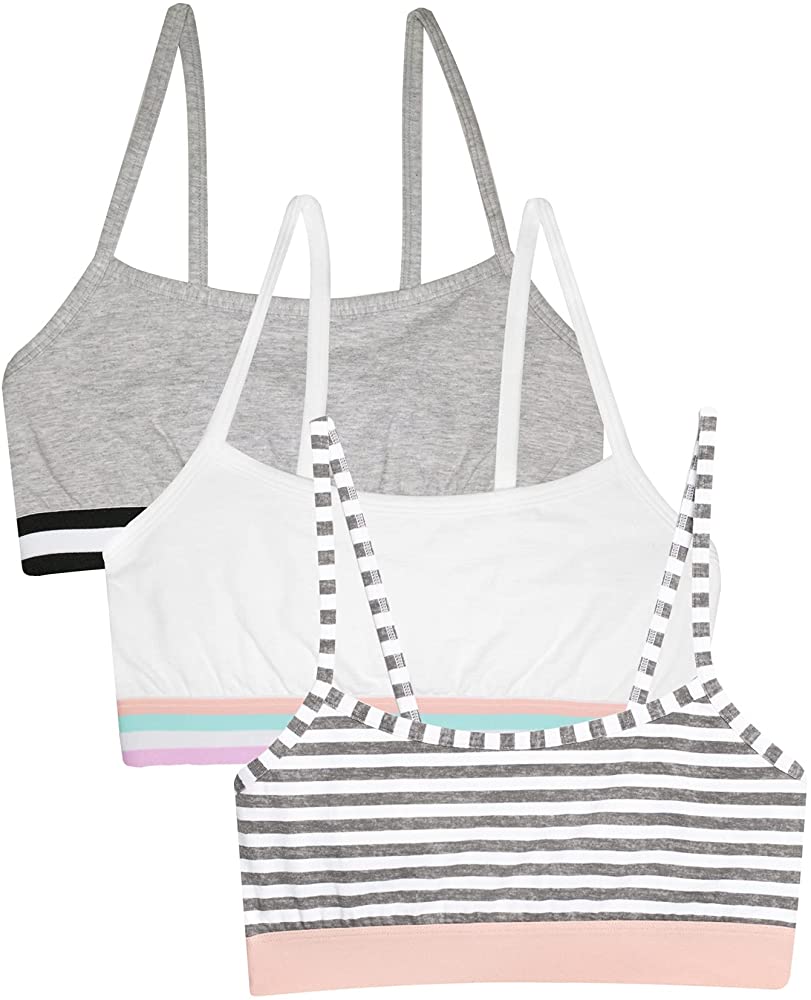 These non-padded, sports bralettes have plenty of coverage, look cute and are comfortable for sensitive skin. The spaghetti straps are fashionable this year, and don't show under normal clothing like sleeveless t-shirts and tops. The fabric is a blend of cotton and Spandex. The nipple coverage is good from a double-fabric front section.
Mothers said their daughters liked this garment because it's not like wearing a bra all the time. Girls said it is comfortable and they liked wearing it for sports activities. Both said it was a great garment that does its job well.
3. Best Trendy Training Bra for Tweens & Teens
Calvin Klein Kids – Modern Crop Bra 2-pack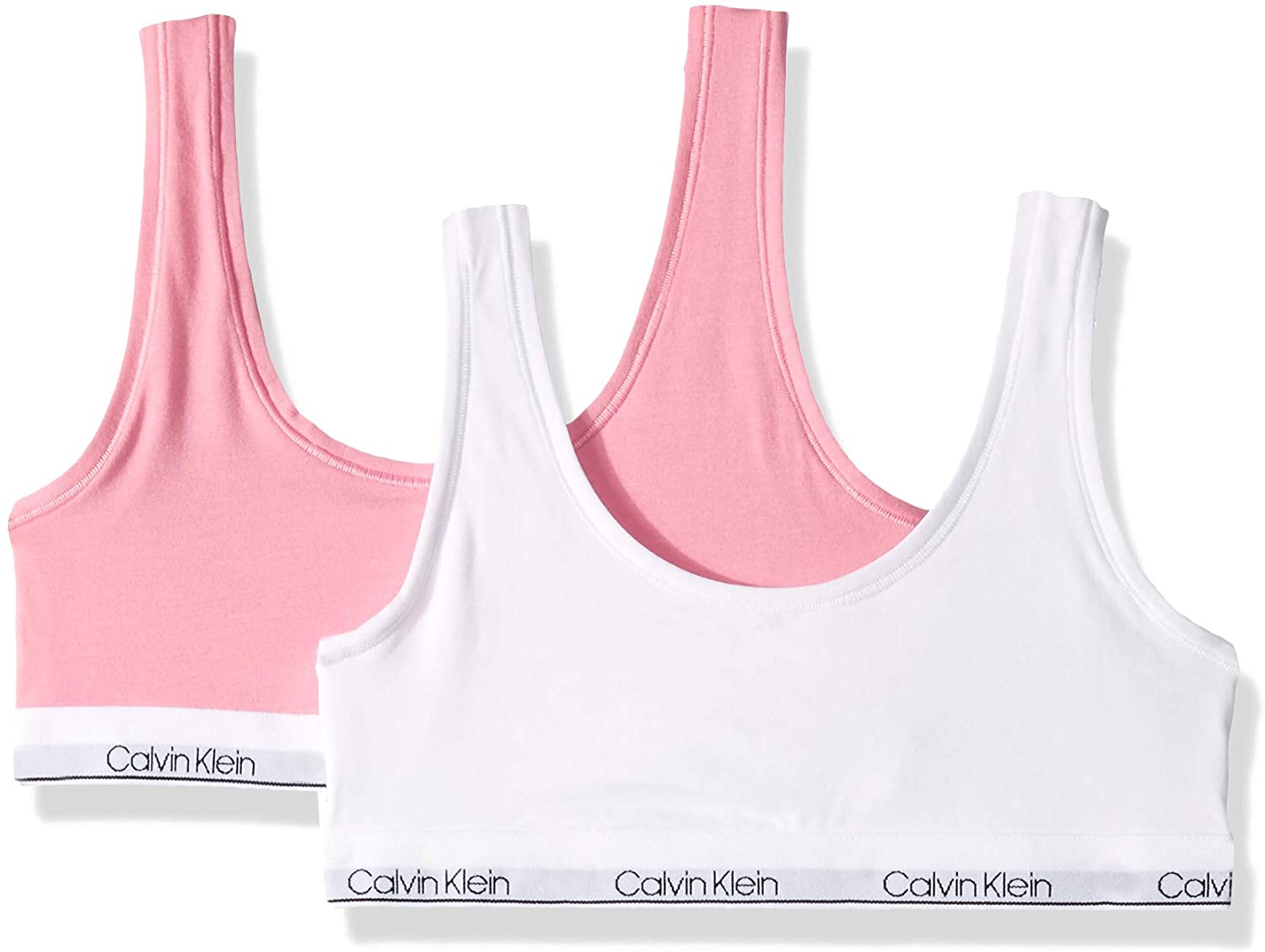 This cotton/modal/spandex gives a comfortable fit. The soft bottom band has the popular Calvin Klein logo to give a trendy touch. The wide straps make it more like a tank-top or cropped cami, rather than a sports/training bra. And even though the wider straps may be visible under some clothes, kids say that's a fashion plus!
Our testers' mothers commented that these bras are a nice, close fit – like a bra, not an undershirt. And the soft fabric is great quality that washes well. The logo may show through white school uniform blouses. Our 8 – 10 year old testers were very happy with the style, fit and comfortable, seamless fabric.
4. Best Bandeau Training Bra for Tweens & Teens
Maidenform Girls – Seamless Bandeau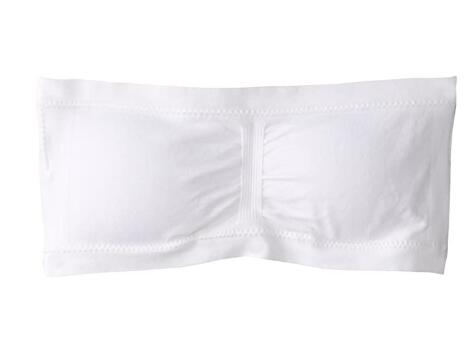 This small polyester bandeau bra has light, removable pads and a gathered center making it a suitable garment for young girls. The cups are seamless and wireless so it's a comfortable bralette for sensitive skin. And it can also be worn as a cropped-top under a shirt. Our testers said it runs big.
Mothers said the quality was impressive. And the amount of padding was just right for a young girl; thick enough for modesty but not too padded. This bra was popular with an 11 year old tester who is very fussy about her clothing and doesn't like anything itchy. It lets young girls wear spaghetti straps or strapless frocks comfortably.
5. Best Seamless Racerback Training Bra for Tweens & Teens
Maidenform Girls – Seamless Bra 3-Pack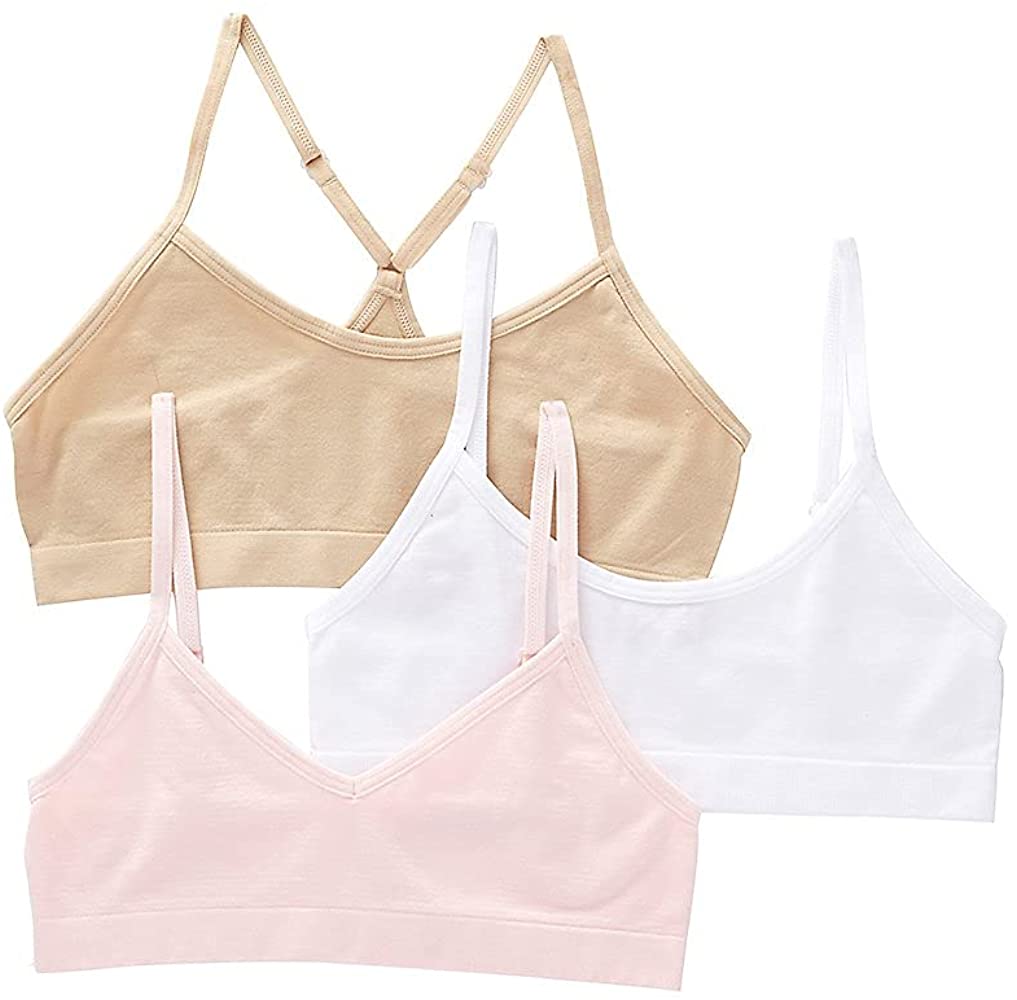 This is a seamless, racer-back style bra with no padding, which you can buy in affordable packs of three. Each pack contains a V-neck, a scoop-neck and a high-neck bralette, so they can be worn with different shirt and T-shirt necklines. The thin straps are discreet and can be worn with summer frocks and spaghetti-strap T-shirts.
This bralette has soft fabric with no labels inside, and it was loved by 8- and 11-year old testers who are fussy about how their clothes fit and feel. The mothers said the bralettes are thin, so not bulky, but with an extra layer of lining that covers modestly. And they are a great alternative to a full undershirt.
6. Best Hook-and-Eye Training Bra for Tweens & Teens
Trimfit – Wire-free Cotton Bra 2-Pack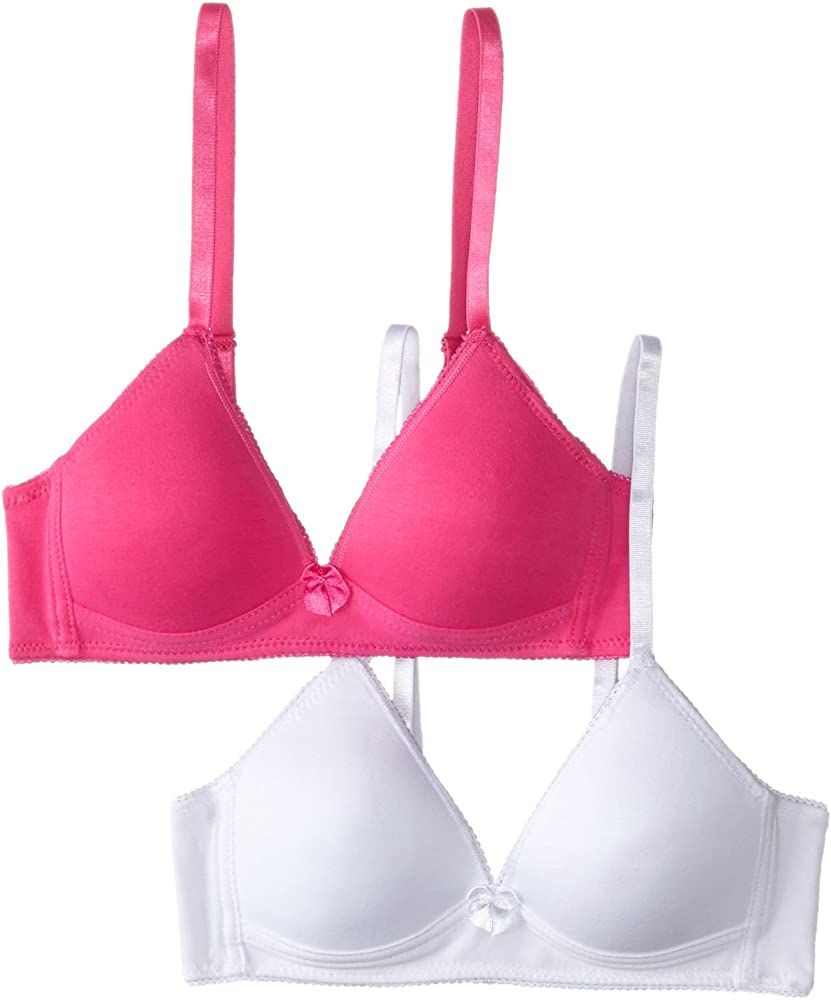 For girls who are ready for a bra-like garment, this beginner's bra in cotton and spandex may be the logical next step. It has adjustable straps, and a hook-and-eye fastener at the back, which give a snug and comfortable fit. The cups are lightly lined for modesty and this is a very popular product.
Mothers of our testers reported that it's very difficult to find a cotton, wire-free bra for a young teenager, so it was popular from the outset. They said this is good-quality and an excellent bra for young women who have developing breasts. It's comfortable, and fits well with band and cup sizes, like women's bras.
7. Best Multi-Pack Training Bra for Tweens & Teens
Popular Girls – Cotton Crop-Bra with Adjustable Straps – 5-Pack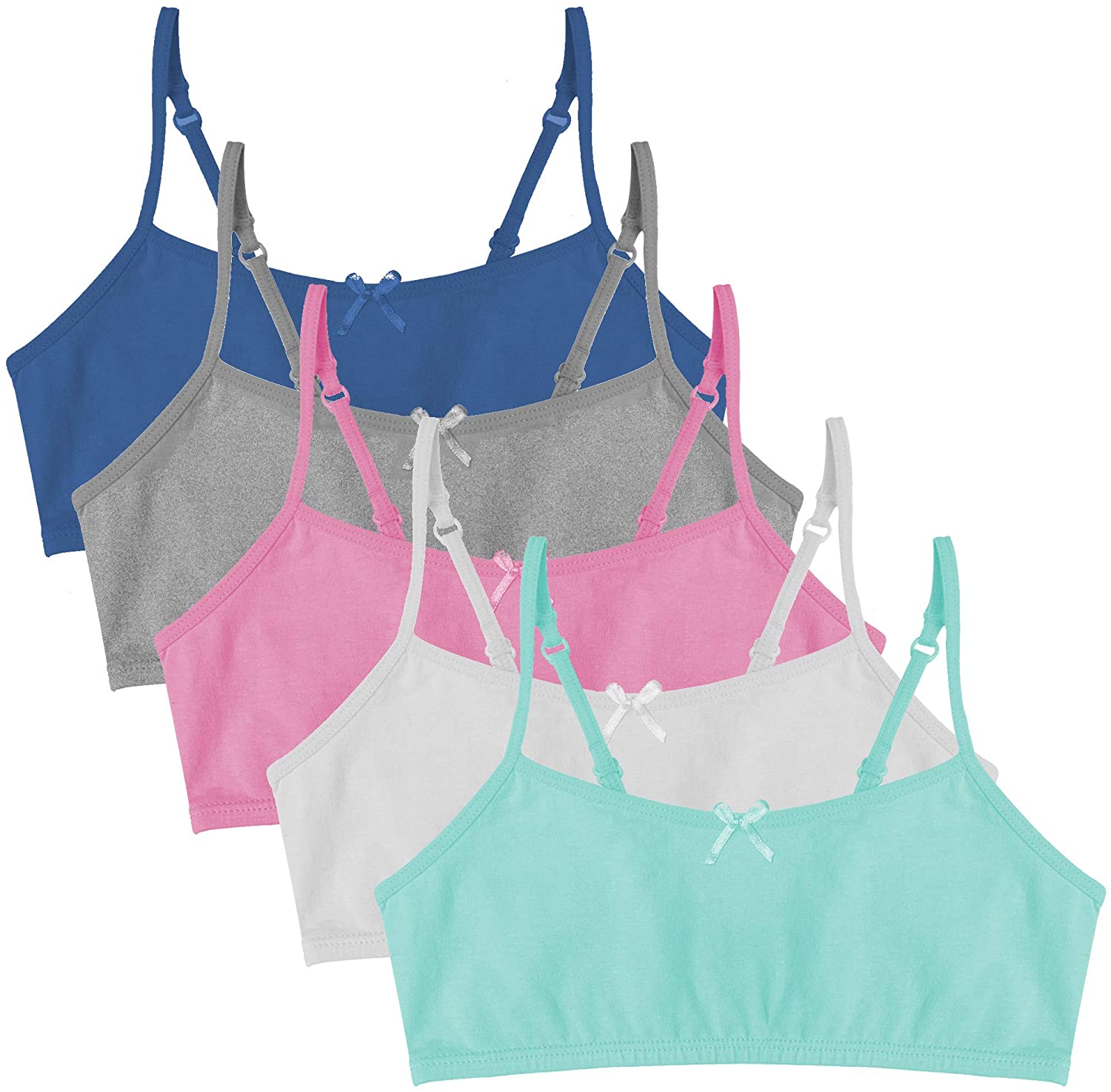 This design is made in light cotton and has a simple, cami-style look with no padding, wires or hooks. The spaghetti straps are discreet and fully adjustable to get a great fit. Our tester said this bralette is so comfortable, their daughters often slept in them.
Mothers said these bralettes are extremely popular with their under 10's who need light cover that doesn't show an outline under a shirt, but makes them feel comfortable and suitably covered. And they praised the great quality of the fabric, overall fit and excellent function.
As you can see, there's a good selection of bralettes and first bras to help girls feel secure and confident as they develop. And showing your child here what's on offer will help you make the right decision and get a comfortable and functional garment for today's well-informed youngsters!
Don't forget to leave a comment or query in the message box below! We love to hear from you – so don't be shy! 🙂