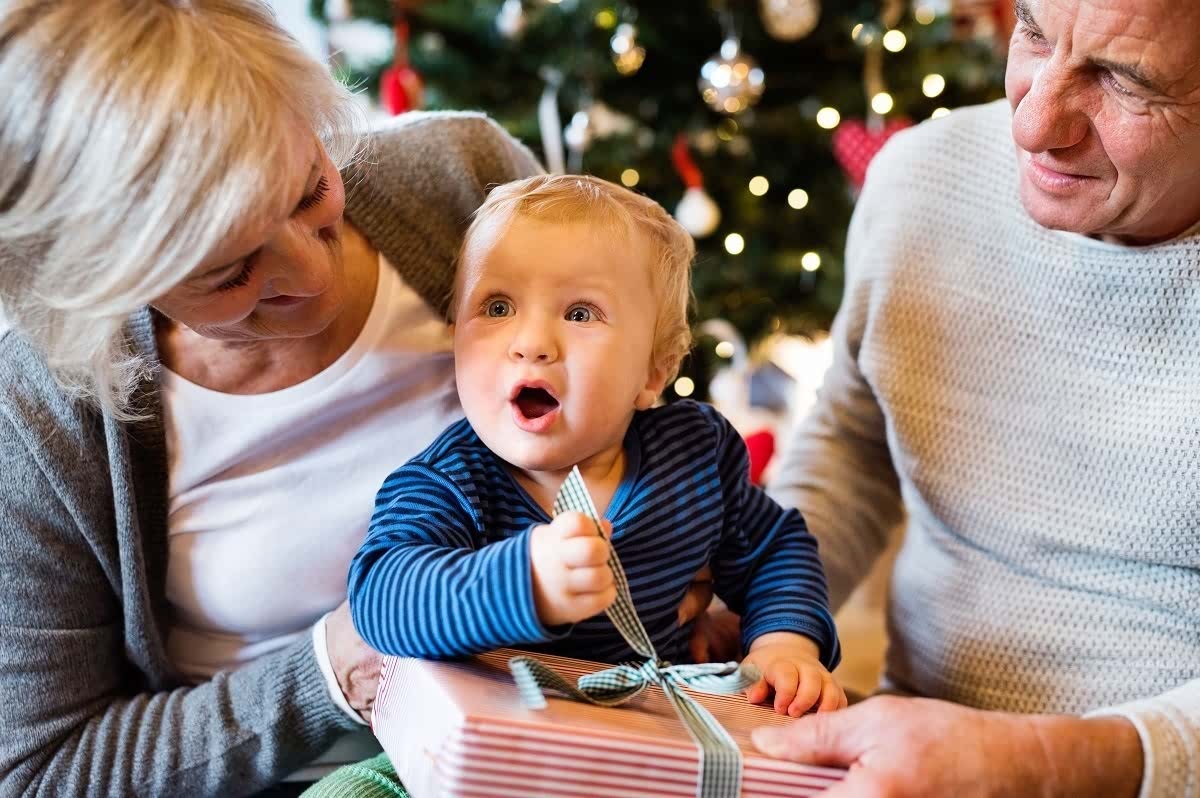 Christmas will be upon us soon and we understand how much the grandparents want to spoil their grandkids with the gifts. So, whether you're searching for educational toys or cute baby Christmas outfits, make sure to check out our top 10 best Christmas gifts for babies.
Baby Christmas Reindeer Dress
Shop Baby Girl Christmas Dresses at BabyOutlet
Baby clothes are a gift that is practical, cute, and always a parent or grandparent-pleaser. So, we guarantee your granddaughter will love this adorable reindeer dress for her Christmas. The top is made of 100% cotton for the best comfort while its tulle layered skirt is lightweight and super stylish with Christmas theme decor. Plus, there are also 2 different color options (red and green) for easy pairing with anything of your baby's existing clothes.
Baby Magic Touch Piano
Even the great Beethoven had to get his start somewhere. And, so does your little piano prodigy! Babies can compose their own music, play their own music or just enjoy the sweet tunes from this lovely piano. The toy includes three pieces of sheet music with 6 songs. Ideal for 6-month-old babies and up, this baby musical toy will give you and your grandchild plenty of fun time pianoing together!
Shop Baby Magic Touch Piano Sets at Walmart.
Babyprints Hanging Keepsake
Made of 100% baby-safe material, this unique holiday gift makes it easy to take an imprint of your grandbaby's tiny hand or foot and turn it into a delightful keepsake. Also, don't worry if you accidentally drop the keepsake since it's dried soft clay. Best of all, the print remains intact and lasts forever for you and your kids to cherish.
Shop Babyprints Hanging Keepsakes at Target.
Baby Infant Layette Set
This adorable, unisex Christmas layette set is another great clothing gift for babies this special holiday. The whole set includes 2 baby onesies, 1 headband, 1 bib, pants, and socks. And, everything is made from certified organic cotton. Even better, the print is made with a water-based fabric ink that's heat-set so it doesn't fade away easily after washing. We're sure that this mix and match set will make dressing your grandchild more fun and easier than ever this Christmas!
Shop Baby First Christmas Gifts at Target.
Baby's 1st Christmas Personalized Wood Block Ornament
Available in 3 different sizes, this cute ornament is customizable with letters, birth year, and baby's name! Simply hang it either on a Christmas tree or in the nursery room to celebrate your grandbaby's first Christmas. Or, just let the little one play with this lovely natural wood ornament fist! No matter which way you choose, we're sure that your family will have a special place for it on Christmas year after year.
Shop Baby's 1st Christmas Wood Block Ornaments at Amazon
Holiday Footed Pajamas
This baby pajama is warm and 100% chemical-free for your baby's delicate skin. Also, we really like the ankle-to-chin zipper that makes dressing babies for sleep easier. On top of that, its footed design also offers more coverage meaning it's extra cozy on cold winter nights. With its cute Christmas patterns and Santa applique, all you have to do for Christmas now is get your camera ready for all of those holiday photos.
Shop Baby Christmas Pajama Sets at Amazon
Mega Bloks Learning Construction Set
Made for baby little hands, these colorful blocks are printed with numbers and pictograms for practicing motor and cognitive skills. Plus, they also feature round edges and baby-friendly material for your grandchild's safety. So, this Christmas, spark your grandson or granddaughter's creativity and help them build anything they can imagine with these 150 big building blocks.
Shop Baby Mega Bloks Construction Sets at Target
A Cute Set of Christmas Socks
There is nothing called enough when it comes to infant and baby socks! Besides, socks are also one of the things you can't miss on Christmas. So, why not order a whole set this Christmas for the little baby? These cotton Christmas socks from Amazon are cozy and totally machine-washable for easy cleaning.
Shop Baby Christmas Socks at Amazon
Baby Santa Costume with Hat
Well, it's tough to find anything cuter than a baby Santa costume on Christmas! Designed exclusively to achieve the best comfort and the cutest look for babies and infants, this Christmas costume adds a festive atmosphere everywhere it goes! It's soft, breathable, and perfect for memorable photography shoots. Just don't forget the iconic "sleeping Santa" under the Christmas tree picture!
Shop Baby Santa Costumes at Amazon
Cute Animal Security Blanket
If you're looking for something cuddly like a stuffed animal or a cozy blanket as a Christmas gift for your grandchild, look no furthermore. This 12-inch animal security blanket comes in 5 different adorable animal choices. From elephants, chickens to a super adorable cow, this blanket will help your little one self-soothe thanks to the ultra-soft polyester and faux fleece. Since your grandkid will love to cuddle up with these thumbies everywhere they go, you would be pleased that this Xmas gift is totally machine-washable for a quick refresh when necessary.
Shop Animal Security Blankets at Amazon
Baby Moccasins
Even though shoes are more decorative than functional for babies and infants, these tiny moccasins are still one of the best baby Christmas gift ideas this holiday season. They are adorable, easy to slip on, and great for keeping those little feet extra toasty when going out. Best of all, you can choose between more than 30 styles with sizes from 0-4T.
Shop more Baby Moccasins at Amazon