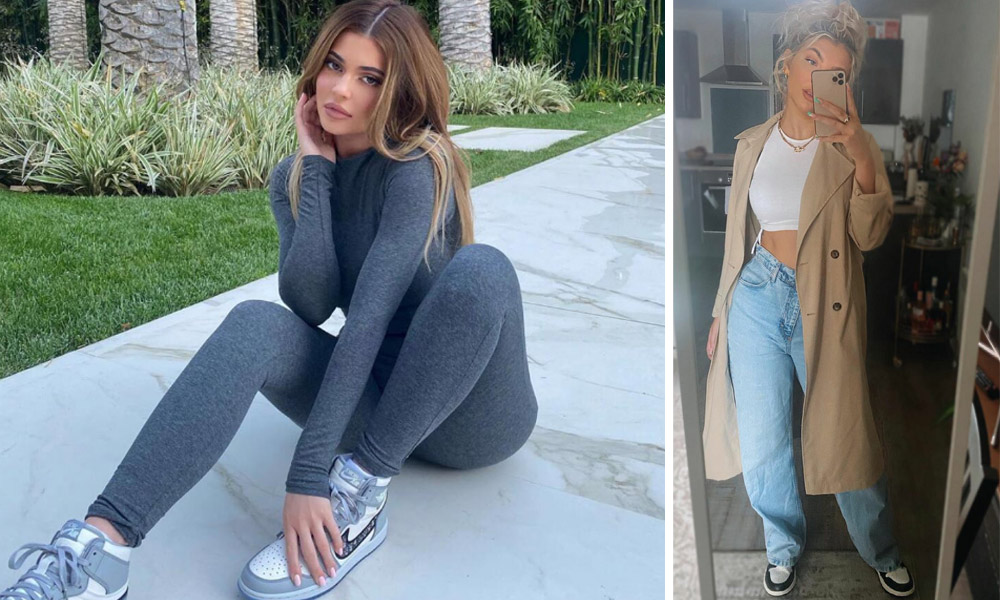 The trend for women's Jordan sneakers has been creeping up on us for a while now and it's getting to the point where almost everyone we know is wearing them! And I'm talking about the fabulous Air Jordan 1 from Nike, which is already a high-top with a popularity trail going back to 1985. And that's thanks to world-famous Michael Jordan basket-ball player and the sheer style & quality of the Jordan sneaker.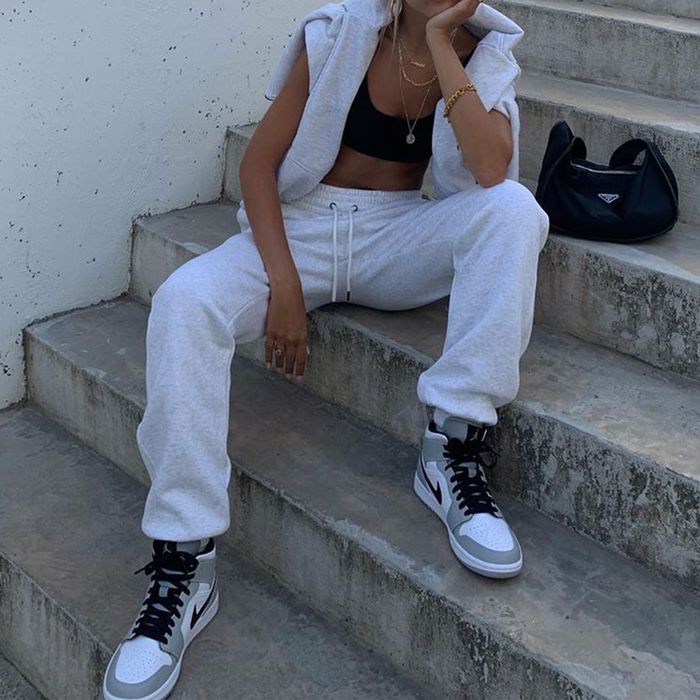 So what is it about these particular sneakers that has brought them back into the fashion spotlight? They are flat-soled, with a high, medium or low top, which gives them a selection of retro- and contemporary looks.  And they've been fashionably up-scaled and offered in cool, new colors – making it so easy to match or contrast them with all your new fashion outfits. So the reason is – that they fit in perfectly with all the new fashion trends for this year! Read on and see exactly how to wear your Jordan's this year:-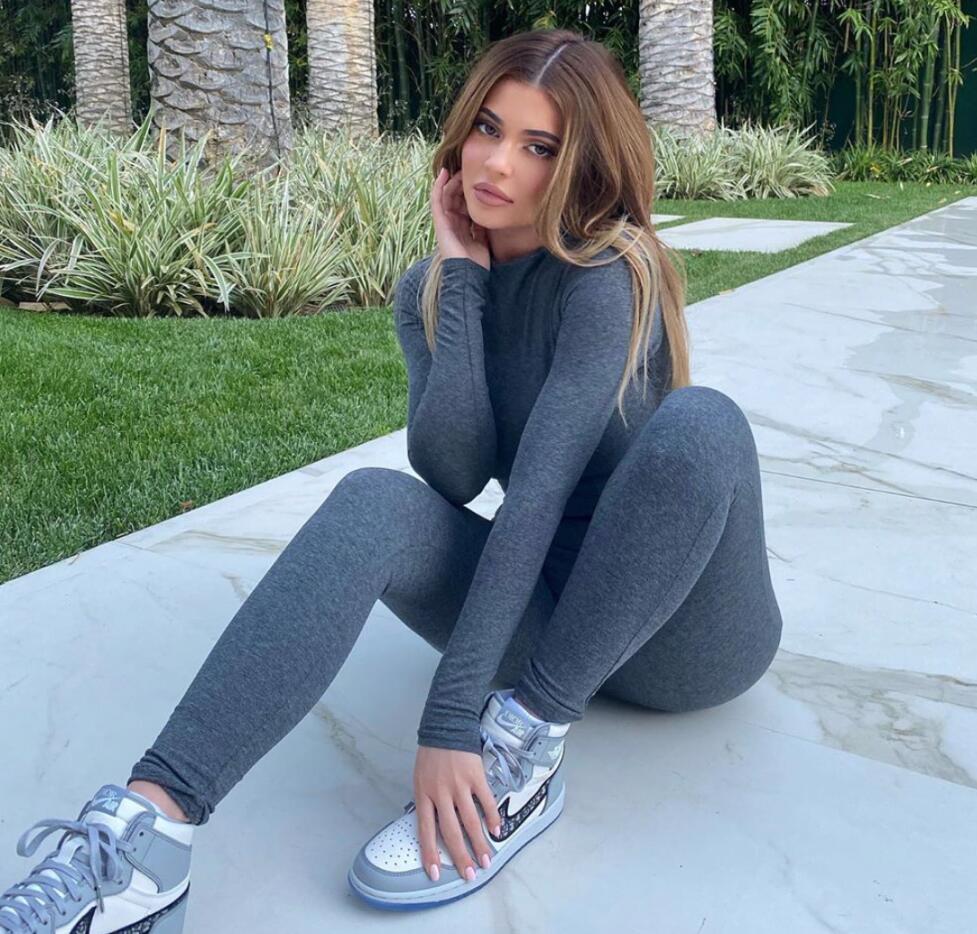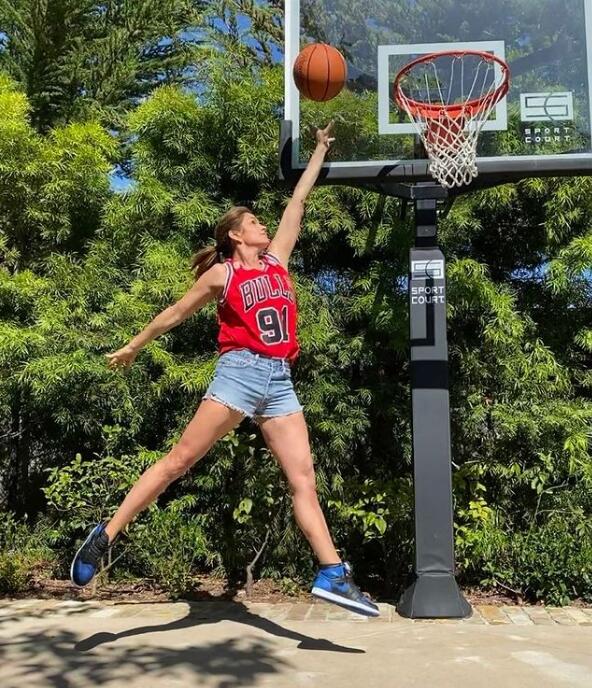 1. Jordan 1 Low Se Shoe & cropped tee-shirt/loose jeans
Wear Nike Air Jordan 1 Low Se Shoe in white, pale-blue and tan color with an edgy, backless, long-sleeved cropped tee-shirt and loose, wide-leg jeans. This Jordan design gives a cool, low-top look beneath the wide cuffs on wide, straight-leg denims. And you get a great contrast between the high-waist, relaxed jeans and a tight, backless top with a trendy, cut-out feature!
Add a tan or mustard-yellow handbag for an extra touch of personality. This shoe also comes in white, black, pink and yellow, so you can choose your favorite fashion colors to match your wardrobe.
2. Jordan 1 Mid Lightbulb sneakers & wrap dresses
These are real, rainbow-colored, mid-height sneakers that can be matched with almost any color, and used to brighten up black outfits, too. They look really fabulous with a bright, long, flowing, summer wrap dress, especially if you also wear high socks that reach the bottom of your calf and pick out a color in your dress and shoes.
They are multi-colored in this summer's fashion colors, so that's a combination of soft moss-green, lavender, pale mustard-yellow, light red, mid-purple, and white with black tick, laces and borders. And if you're wearing a fashionable plain shell-pink or all-white dress, these colors will really add a lively summer vibe!
3. Jordan 1 Hi-Flyease & monochrome dresses
And you don't always have to wear your Jordan's with jeans or trousers, because they look great with dresses of all types, too. You can wear a plain dress, with modern puffed-sleeves with Hi-Flyease Jordan's which are available in several different colors, including patterned fabrics.
Wear with matching or zany, contrasting socks up over the ankle bone, and silver anklets on one side only. This look can be dark and alternative, or light and cheerful, depending on your taste but it will always be high-fashion when you add a flash of color from your comfortable Jordan's!
4. Jordan 1 High OG UNC with white shirt & neutral trousers
And another look you can wear for a smart-casual daytime or evening look and for the office is the chic combination of a long, white shirt draped over neutral-colored, loose-fitting trousers with a crease up the front. If you add your black, red and blue or other colored Jordan's, you get that hint of color contrast that's the signature look for contemporary fashion outfits.
This oversized white-shirt look is one that everybody should have in reserve as it's such a chic look you can dress up with heels, but jazz-up with Jordan's! And you can find lots of neutral trousers this year – as all shades of light-brown, beige, sand, cream and camel are highly fashionable summer colors!
5. Jordan 1 Mid Shoe in blue with straight-leg jeans & sweater
For anytime casual wear, try the navy and light-blue, Nike Air Jordan 1 Mid Shoe, which covers the top of your foot and ends just below the ankle-bone. And match with a simple, short-sleeved, white tee and trendy white, straight-leg jeans.
For added street-edge choose ripped jeans and then create a modern style-contrast with a preppy, pink sweater draped casually over your shoulders. Wear a large, statement watch and carry a rectangular, navy or black shoulder bag.
6. Jordan 1 Nova Xx & black jacket
If you want to put together a modern trouser suit look, wear a black oversized blazer, with dark green wide-leg trousers and Air Jordan 1 Nova Xx shoes in black, red and turquoise. Wear a wide leather belt to add formality and structure. And just pop a simple, round-necked T-shirt under the jacket to put together a semi-professional look.
And this look also works with black or gray trousers with a cropped black top or dark gray short-sleeved tee-shirt. Add trendy, silver earrings and a simple necklace, plus a bright handbag in red or turquoise to pull together the touches of vivid color.
7. Jordan 1 Low Se Shoe & cropped tee-shirt/loose jeans
There's no fresher look than white and blue for chic summer wear and this year everyone's gone mad for white high-tops with a touch of 90's style. And it's good planning by the manufacturers, too, as we need chunky shoes to match with the many, new wide-leg jeans' styles flooding the market this year! So white, high-top Jordan's will match with all blue denim colors, but especially with light-washes in summer.
And non-blue pastel-colored denim also looks clean and fresh with white trainers, too. This year's jeans are not only being offered in a lot of different leg widths, but also in fashionable pastel colors, like pink, blue, aqua, light red, lavender and lots of light-brown shades. So buying a pair of high-top, all-white Jordan's guarantees you a super match with all of your cropped jeans!
8. Jordan 1 Mid in light-gray & sweatpants suit
A pale-gray sweatpants-suit outfit with gray and black accessories is another popular, fashion look you can enjoy this year, with white and gray Jordan's with black laces. Start with a cropped black top and a light-gray, slim-leg sweatpants and cover with the sweat-suit top draped over your shoulders in a casual, preppy way.
Add color with silver or gold jewelry, for instance, 3 different length necklace chains, rings, a bracelet and earrings for a low-key, but chic vibe. Finish off the look with a black, gondola shoulder bag and let the black top, bag and laces pull the look together beautifully!
9. Jordan 1 Hi-Flyease Shoe & tie-dye sweatshirt/straight jeans
Meeting friends for lunch at a pavement café? Then this is a super trendy look to wear with your Jordan's in white, black, gray and red. Tie-dye is back in fashion again, but with different colors and dye-patterns for this year's new look. So you could wear an off-white tie-dye sweatshirt, with aqua and light, cocoa-brown dye colors with high-waisted, wide, straight jeans in a light-wash.
This is a really fresh look as each item is trend-setting and individual. And it's a versatile outfit you can wear for any casual occasion. Plus all you need is to buy two or three different tie-dye, tee-shirts to wear the look in different ways all through summer. Carry a cute, off-white, 'mini-shopping bag' handbag with fabric ruffles on the outside and enjoy the envy of your pals!
10. Jordan 1 Low & fleece jackets/black jeans
For a bright, summery outfit in vivid colors, look out for bright colors with a complementary bright pattern color. For example, a golden-yellow, fleece jacket, (shirt/tee-shirt), with a royal blue and light blue pattern. Team with black, narrow jeans, white socks and lovely sky-blue Jordan's. The blue in the shoes and top match perfectly, and the golden-yellow and black add contrast to keep the look ultra-contemporary and fresh!
Or wear a lavender-pink fleece jacket over a layered set of a white tee-shirt, under a black summer dress with a pink, printed pattern. Match with pink Air 1 Jordan's and be warm, summery and trend-setting all at the same time! And Jordan's will also look great with the latest cropped, boot-cut, black jeans and a cute, leopard-print blouse with tight cuffs for a smart look for office-wear.
11. Jordan's with a fitted blazer & tan leather pants
If you're looking for a date outfit, wear tan leather trousers with straight-legs and black, gray and white Jordan's. Add a fitted black blazer, to balance out the width of your pants, which should be short enough to show your high-tops shoes. Finish off this look with a beige or tan handbag to match your leather trousers and you've got a smart, semi-formal look.
12. Experiment with new outfit combos
It can be lots of fun trying out Jordan's with clothes you never guessed would look great with them. So spend an afternoon or two trying them on with your girliest fashion clothes, like dresses and skirts. Matching sporty pieces with different fashion themes is the essence of current styling ideas. And the main idea is to find ways to harmonize colors and designs that weren't ever worn together before. Like wearing Jordan's with black, leather, pleated retro-skirts or short, plaid, tennis skirts.
It's always enjoyable breaking rules and finding new ways of doing things! And as Jordan's come in such a fantastic range of colors and styles, you'll find that you can wear them in new and flirty ways with everything from your summer shorts to your floaty evening dresses and skirts. And your mainstay, white, high-top Jordan's should always be there to up-scale any outfit to a trendy, new level!