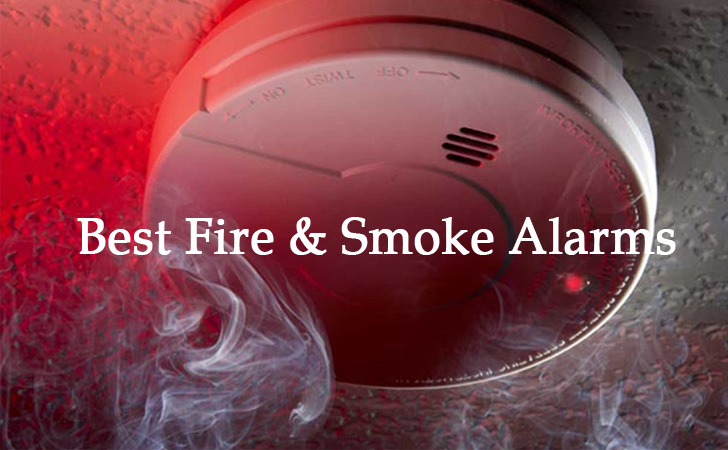 Keep Safe with The Best Smoke Detectors 
Approximately one in every three hundred homes experiences a house fire in any given year. Annually, more than two thousand five hundred innocent people die in these fires. One of the most tragic things about these statistics is that house fire deaths are completely preventable. The number-one best way to prevent injury or death in a home fire is by purchasing smoke alarms for your home. Fire & Smoke Detectors keep you and your family safe by sounding off when they recognize signs of a fire, namely smoke, anywhere near where they are positioned in your house.
Smoke alarms are extremely important because it can be surprisingly difficult to detect a fire in your home. These alarms tell you when your house is on fire much sooner than you would be able to identify it yourself. Not all smoke alarms are created equal. It is important to make sure that the smoke alarm you purchase for your home is a top-quality device that will keep you safe in the unfortunate event of a home fire. Quality smoke alarms are loud, reliable, and able to quickly and accurately sense signs of a fire in your home.
Read the following Fire & Smoke Detector reviews to buy your favorite one.
8. Kidde Wireless Smoke Alarm
This smoke alarm is completely wireless. It uses radio frequency in order to send and receive messages to sound a signal in the case of a fire in your home. The alarm is battery-powered. This feature allows you to install multiple different connected alarms without any hassle of rewiring the alarms. Because it is wireless, the alarm can be placed in detached rooms of your home, such a garages or sheds.
Because these alarms are available in a pack of one alarm or three, you can effortlessly purchase multiple alarms to place in several different rooms of your home. If the alarm sounds when it is not supposed to ring, you can use the easy smart touch button on the device to silence it without a hassle.
7. First Alert Smoke and Carbon Monoxide Alarm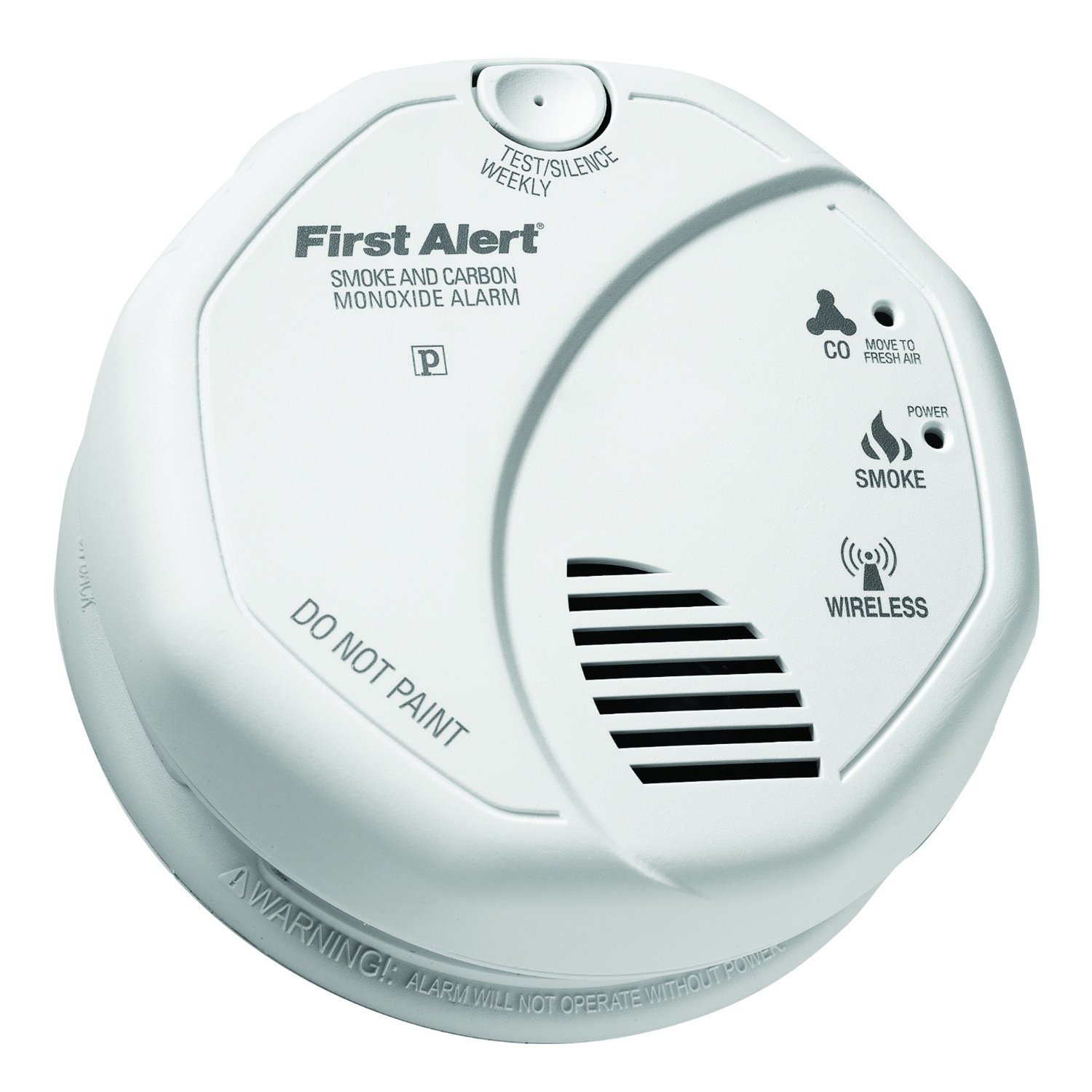 This alarm is a dual-use smoke and carbon monoxide alarm. This feature eliminates the frustrating need to install multiple different types of alarms in your house. The alarm is a Z-wave alarm that can be connected wirelessly to a separate Z-hub for easy installation. Because it is compatible with a Z-wave hub, the alarm signals you if it detects smoke or carbon monoxide in your home even when you are not home.
One of the most frustrating problems with many smoke alarms is that they sound off even when there is no actual fire. This often happens because of smoke from cooking or steam from showers. This alarm has a photoelectric smoke sensor, which prevents it from being triggered by these non-fire sources of smoke or steam. The alarm is extremely easy to use. It features a side battery drawer so that you can easily change its batteries as well as a single button that allows you to silence the device if it rings when it shouldn't.
6. First Alert Battery-Powered Smoke Alarm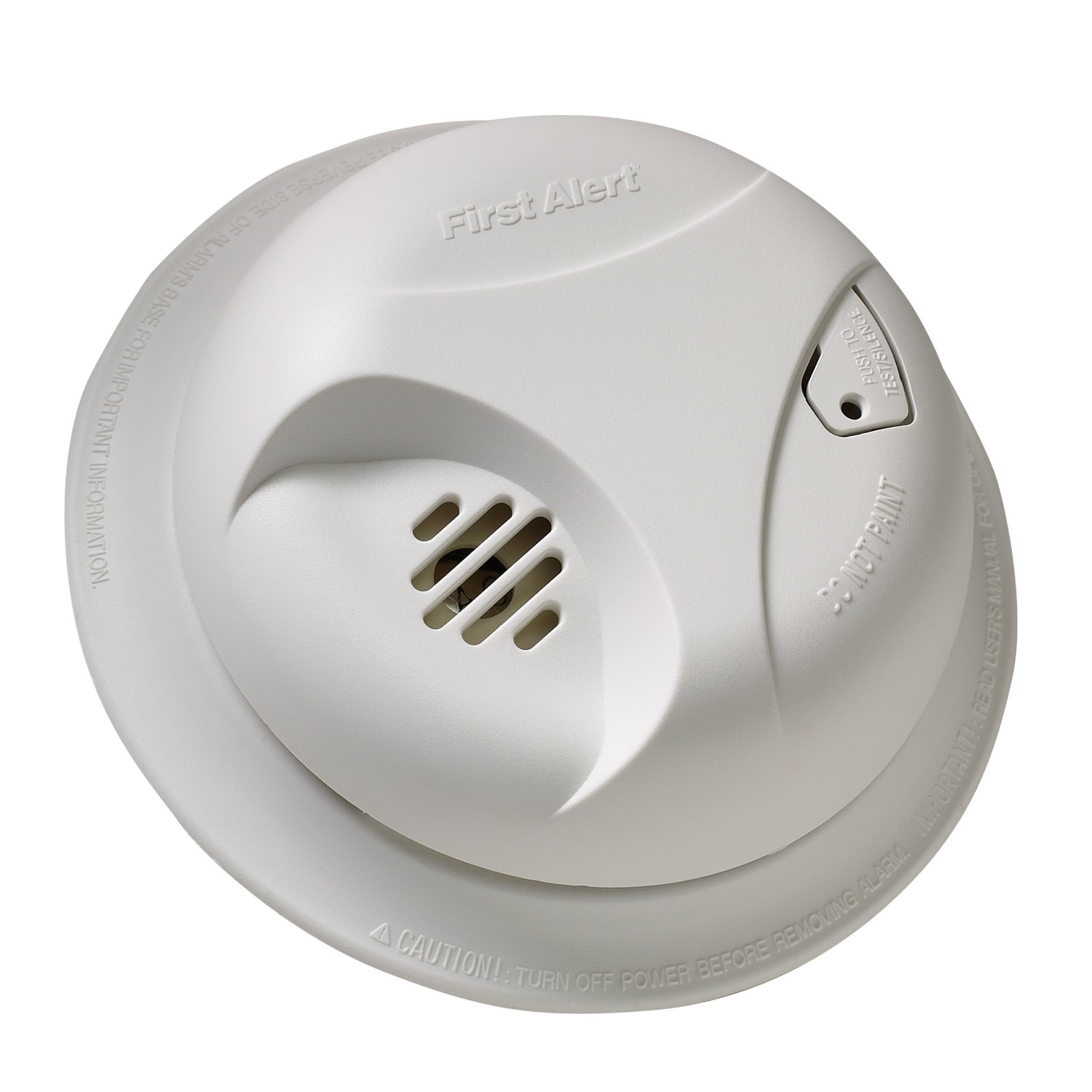 This smoke alarm is an eighty-five decibel alarm; its loud alarm ensures that you will hear its signal no matter where you are in your home or what you are doing. The alarm includes many added safety features, including a blinking power light and a low battery indicator.
The alarm's low battery indicator ensures that you will know when the alarm's batteries need changing before it is too late. When you do need to change the alarm's batteries, you can do so easily by using the slide-out battery drawer located on the side of the alarm. This alarm's blinking power light allows you to easily make sure that the alarm is receiving power and is ready to sound off if needed. The alarm also includes a missing battery guard. The guard confirms whether or not there are working batteries in the device at all times.
5. Kidde Compact Smoke Alarm

Measuring only four inches in diameter, this smoke alarm is extremely small and compact. It does not take up much room on your wall or ceiling, but it works just as efficiently as larger traditional smoke alarms. The alarm is completely wireless for effortless and quick installation without the frustration of wiring.
This alarm allows you to always know whether or not it is working correctly. By pressing the test button on the device, you can easily test the device's sound and sensor functions at any time. The smoke alarm uses innovative ionization technology to sense signs of a fire in your home as quickly as possible, even if the flames are not yet visible.
4. Kidde Smoke and Carbon Monoxide Alarm – Fire smoke detectors home depot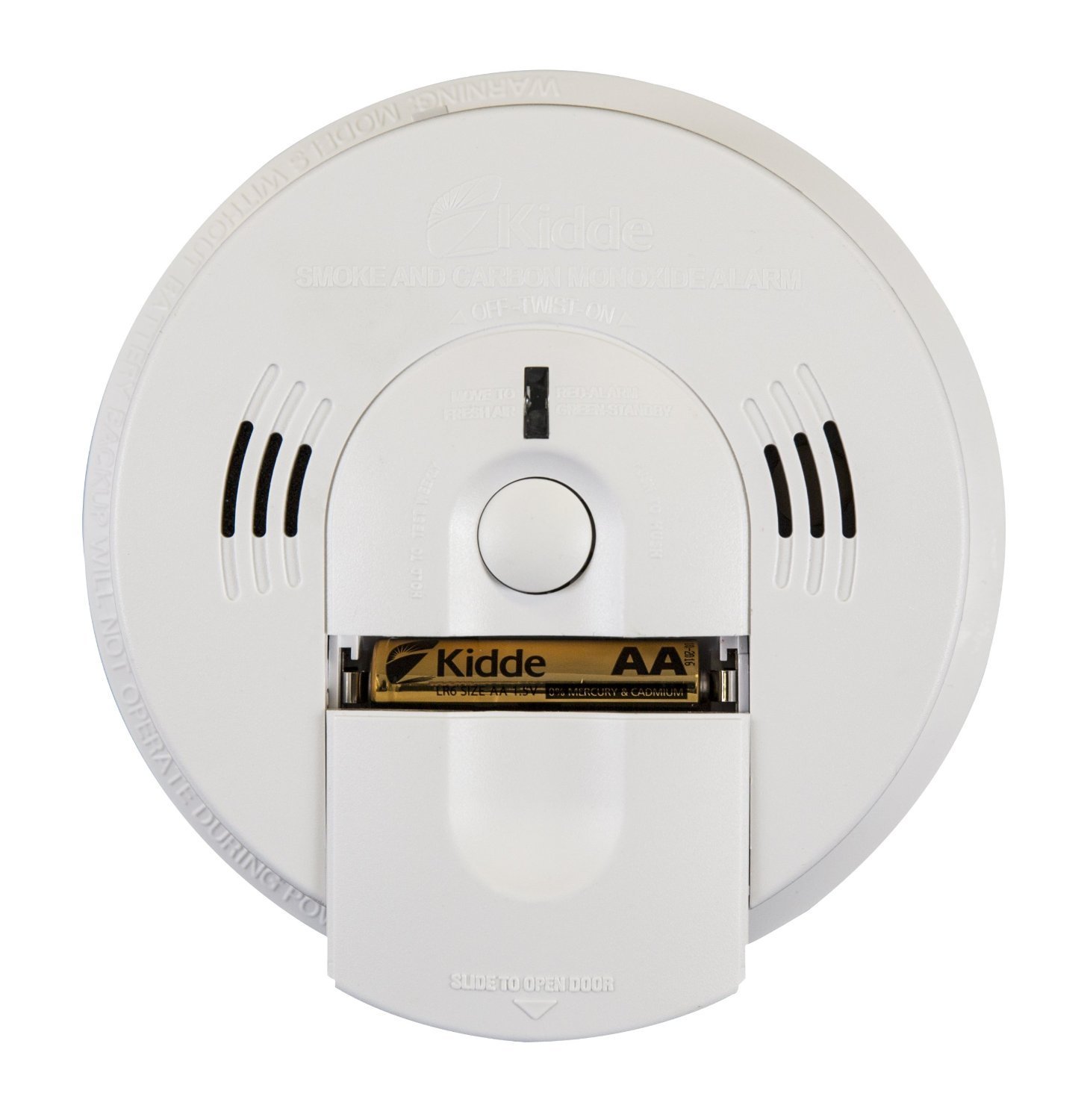 This single device is capable of detecting signs of both fire and carbon monoxide poisoning within your home. The dual function of this alarm allows you to feel safe in your home without worrying about installing many different types of alarms throughout your house. This alarm is an ionization-sensing alarm. Its ionization-sensing technology allows it to detect signs of a fire extremely quickly to give you and your family plenty of time to reach safety.
The alarm features a unique voice alert system. In the case that the alarm detects signs of a fire or carbon monoxide poisoning, it sounds off a loud voice alarm. The alarm includes different voice signals for fire, carbon monoxide, low battery, or smart hush activation. It also includes a hush button that you can press to silence the alarm if it sounds when it is not needed.
3. First Alert Dual Sensor Smoke Alarm – fire and smoke detector system
Featuring both photoelectric and ionization-sensing technology, this smoke alarm is the best of both worlds for home safety. Its smart sensing feature prevents the alarm from sounding when it detects non-fire sources of smoke or steam, such as from cooking or a shower.
Because this alarm includes dual-sensor technology, it is able to detect signs of any type of fire as quickly as possible. The alarm sounds off an eighty-five decibel warning when it detects smoke. This loud warning ensures that everyone in your home hears the sound.
2. Kidde Hardwired Smoke Alarm – Fire and Smoke Detectors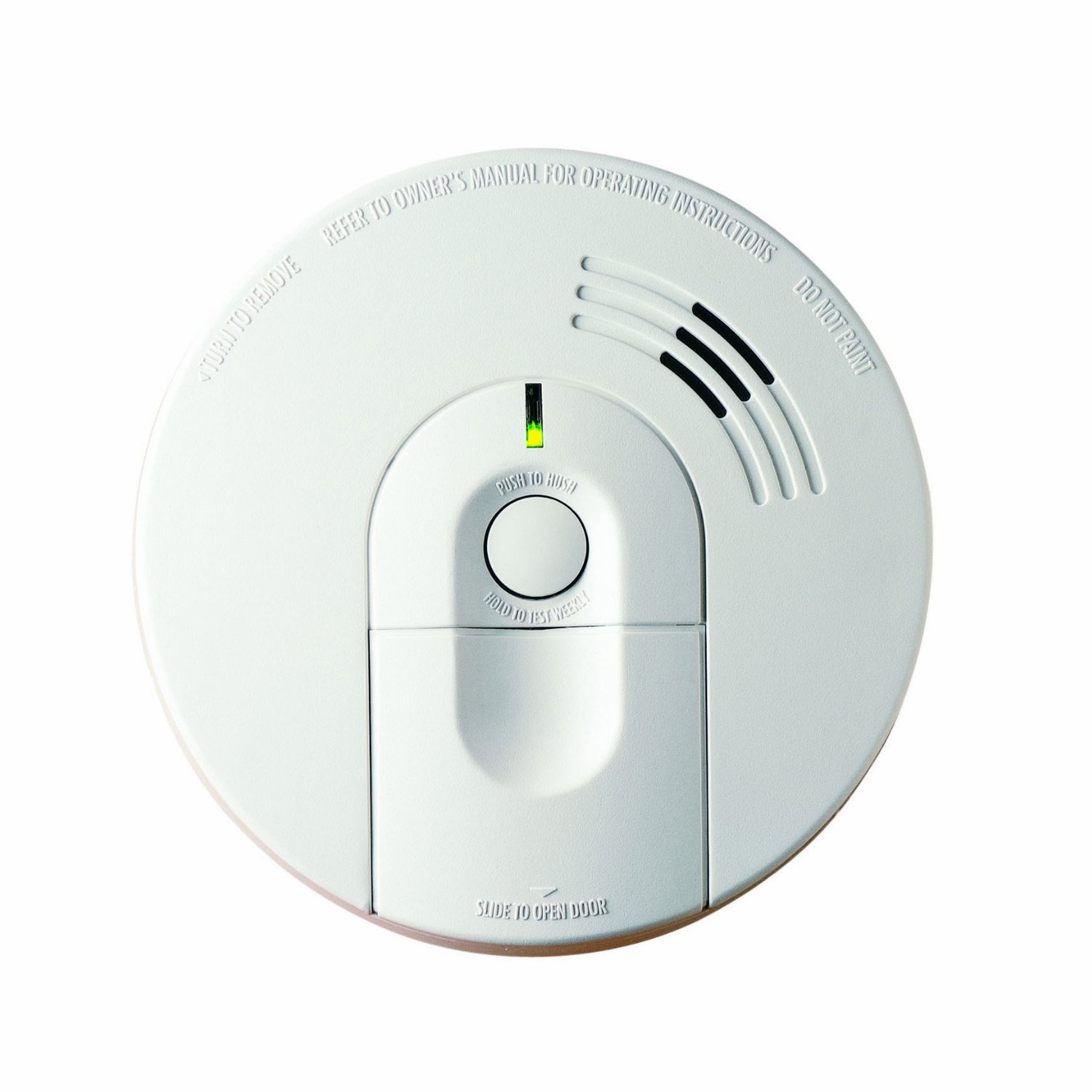 This smoke alarm features connection capabilities that allows it to easily link up with other smoke alarms to form a synced-up system of alarms for your home. It is equipped with a special false alarm feature that allows you to turn off annoying signals that sound when there is no real danger.
The alarm sends off red LED flashes when it is sounding. This feature helps you effortlessly locate which device is sending out a signal if you have a system of alarms in your home. The device also includes a low battery indicator. This indicator visibly informs you if the alarm needs replacement batteries.
1. Nest Smoke and Carbon Monoxide Alarm – Best Smoke Detectors
This smart smoke and carbon monoxide alarm connects to your Wi-Fi and sends alerts to your phone. If the alarm detects danger or has a low battery, it will send a message to your phone. This features allows you to stay informed no matter where you are.
The Nest smoke alarm uses split-sensor technology to detect signs of a fire. This technology allows the alarm to accurately recognize both slow and fast-burning fires and notify you as quickly as possible.
A top-quality smoke alarm is one of the most essential items you can own in your home. You should never compromise on the safety of yourself and your loved ones. In the case of a house fire, your investment in a high-quality smoke alarm will be well worth it.