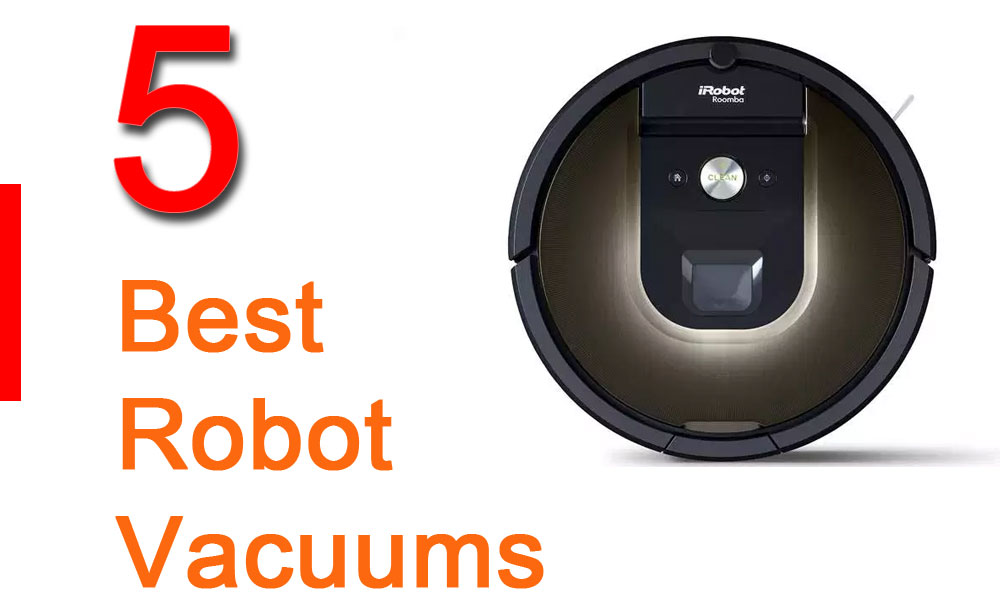 Robot vacuums have been helping people clean their homes for many years, but they have undergone major improvements in recent years as technology continues to advance.
Modern robot vacuums significantly lighten your load when it comes to housekeeping. They are almost entirely self-sufficient and require very little if any interference to clean your house and charge themselves. Many of them even connect to apps or WiFi to allow you to control and monitor their activity no matter where you are. Various object detection and avoidance technologies also keep modern robot vacuums from getting hung up on walls and furniture as they did in the past.
If you're tired of spending your precious time sweeping and vacuuming your floors–with short-lived results–try one of these modern, high-performance, high-tech robot vacuums in your own home.
1. Neato Botvac Robot Vacuum for Carpets
This high-tech, WiFi-enabled robot supports remote and hands-free control for maximum convenience and efficiency. If you have an Alexa device, you can link it with your vacuum and use voice control to operate it hands-free from anywhere in your house. Even if you're not home at all, you can still control this vacuum just by linking it with the Neato app on your mobile device.
The D-shape design of this vacuum combines with its CornerClever technology to effectively clean close to walls, in corners, and other hard-to-reach spaces. Also, it is equipped with LaserSmart mapping and navigation technology that allows this vacuum to  detect objects, avoid obstacles, map out rooms, and plan and execute a methodical cleaning route. You can choose between two modes–Eco and Turbo–every time you turn on this vacuum. When it is in Eco mode, the vacuum runs for a longer period of time, preserves energy and offers a light surface clean. In Turbo mode, it provides a high-powered clean that sucks up heavy dirt and picks up loose hair.
Pros
Connects with a special Neato app for remote cleaning
Compatible with WiFi and Alexa voice control
Cleans close to walls and in corners with its D-shape design
Uses LaserSmart mapping for efficient cleaning
Features two different modes: Eco and Turbo
2. iRobot Roomba 980 Robot Vacuum for Pet Hair
If you have pets, this robot vacuum might be the best option for your home. It is designed specifically to clean up after your pets, picking up the hair they shed and the dirt and dried mud they track in from outside. Its ultra-effective, high-powered AeroForce Cleaning System doesn't just suck up loose dirt from the floor. It actively loosens dirt and debris itself before lifting and suctioning it to pick up any residue and small particles.
Download the iRobot HOME app to gain greater control over your vacuum. This app allows you to schedule timed cleanings, adjust the settings of your vacuum straight from your smartphone, tablet, or there mobile device, and receive notifications to update you on cleaning statuses. It also features a special Clean Map report that displays details of your vacuum's cleaning activity and shows you exactly where it has cleaned.
This robot vacuum can run continuously for up to two hours and covers as much space as possible during that time. Once its batteries are running low, it automatically recharges itself and then continues to clean if it was in the middle of cleaning when it required charging.
Pros
Features AeroForce Cleaning System for high-powered cleaning
Connects to the iRobot HOME app to allow for remote control of your vacuum
Offers up to two hours of battery life and automatically recharges itself when needed
3. Samsung POWERbot Pet Robot Vacuum
Syncing this high-tech robot vacuum with the rest of the technology in your home is easy. If you have a so-called "Smart Home" that is equipped with tech systems like Alexa you can add this vacuum to your family of Smart devices. It is WiFi-enabled and connects with Alexa, Samsung Connect, Google Assistant, and Smart Home systems to allow you to easily control it remotely or hands-free using voice control.
This vacuum isn't just technologically advanced; it is also a high-performance vacuum that cleans efficiently and effectively. Its powerful suction loosens and lifts even stubborn dirt and debris from your floors. It doesn't miss a spot, cleaning along the edges of walls and in corners that many other vacuum robots can't reach.
You don't have to worry about maintenance for this vacuum very often. It is extremely self-sufficient. It holds more than ten fluid ounces of dust before it needs to be emptied and automatically cleans its own brush of hair, dirt, and debris.
Pros
Compatible with Alexa, Smart Home, Samsung Connect, and Google Assistant
Cleans in hard-to-reach places: along wall edges and in corners
Holds more than ten fluid ounces of dust
Features a self-cleaning brush that rids itself of hair and debris
4. bObi Classic Robot Vacuum Cleaner
Not only is this robot vacuum effective, it is also aesthetically pleasing. Its unobtrusive modern design blends in with virtually any decor. When you have this vacuum, you don't have to worry about a robotic eyesore constantly moving around your home. Its illuminated touchscreen buttons make controlling this vacuum easy and give it a smooth, sleek finish. If you want to control the vacuum from across the room, just use its included wireless remote. You can turn the vacuum on and off and set up its cleaning schedule directly from the remote.
Built-in soft touch sensors let this vacuum to detect objects and avoid obstacles, allowing it to maneuver around your home freely and prevent it from getting caught on your furniture or scuffing up your walls. This vacuum is built with a multi-tasking cleaning system that sweeps, vacuums, and mops your floor at the same time to remove stubborn dirt and debris and leave you with sparkling clean floors. It can run continuously for more than one hour on a single charge. After it uses eighty-five percent of its battery life, it automatically recharges itself and gets right back to wok.
Pros
Designed with a sleek, modern finish to blend into your home environment
Features illuminated touchscreen buttons and a wireless remote for easy control
Includes built-in soft touch sensors for object detection and obstacle avoidance
Multi-tasks to sweep, vacuum, and mop your floors simultaneously
Automatically recharges itself when its battery is low
5. ILIFE Pro Robot Vacuum
You don't have to worry about cleaning up after your pets when they track in dirt or shed hair all over your floors if you have this robot vacuum in your home to help you. It is designed to suck up pet hair without getting clogged. It also features a special edge cleaning mode that effectively cleans in corners and along the edges of wall. Plus, its low-to-the-ground design allows it to clean underneath beds and other furniture.
This robot vacuum comes with a remote for easy, convenient control. You can use this remote to pre-set a time for your vacuum to clean your house. It doesn't matter whether or not you'll even be home at the time you pre-set. When the vacuum runs low on battery power, it automatically returns to its charging dock and recharges itself.
Pros
Efficiently picks up dirt and hair from pets
Features an edge cleaning mode for cleaning in corners and close to walls
Comes with a remote control that includes an option for pre-scheduling cleaning
Automatically recharges itself when its battery runs low