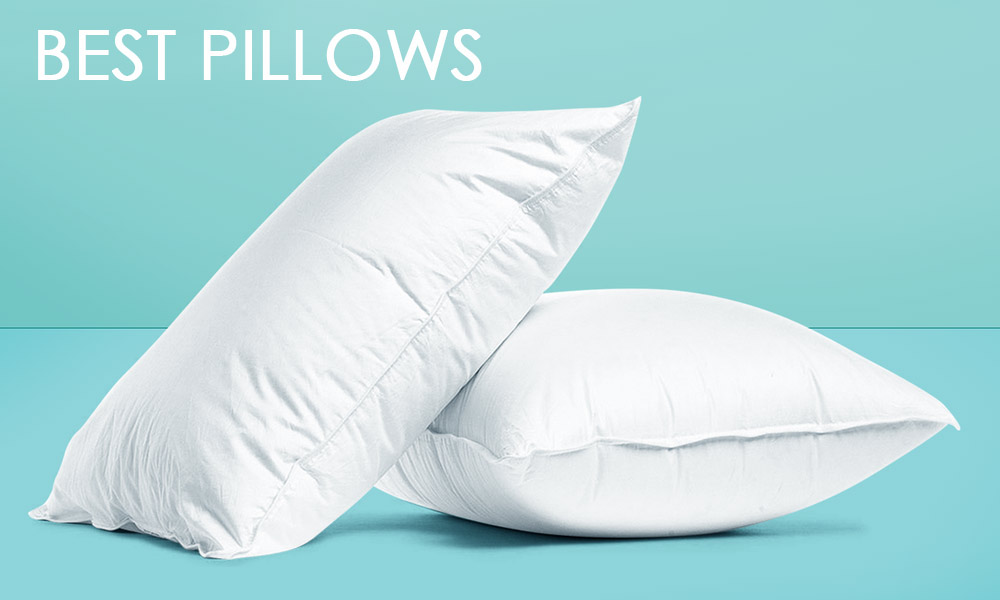 Good quality sleep, aided by the best pillows for healthful sleep, is vital for continued good health. Chiropractors are always busy with back problems caused by pillows that don't keep the neck and head supported. And the damage caused by bad pillows includes insomnia, raised blood pressure, nerve pain, tendonitis and disc issues.
So buying the best pillows for your needs is a cheap and easy way to avoid ill-health!
1. Best Down & Feather Pillow – Home Decorators' 'Down' Surround Pillow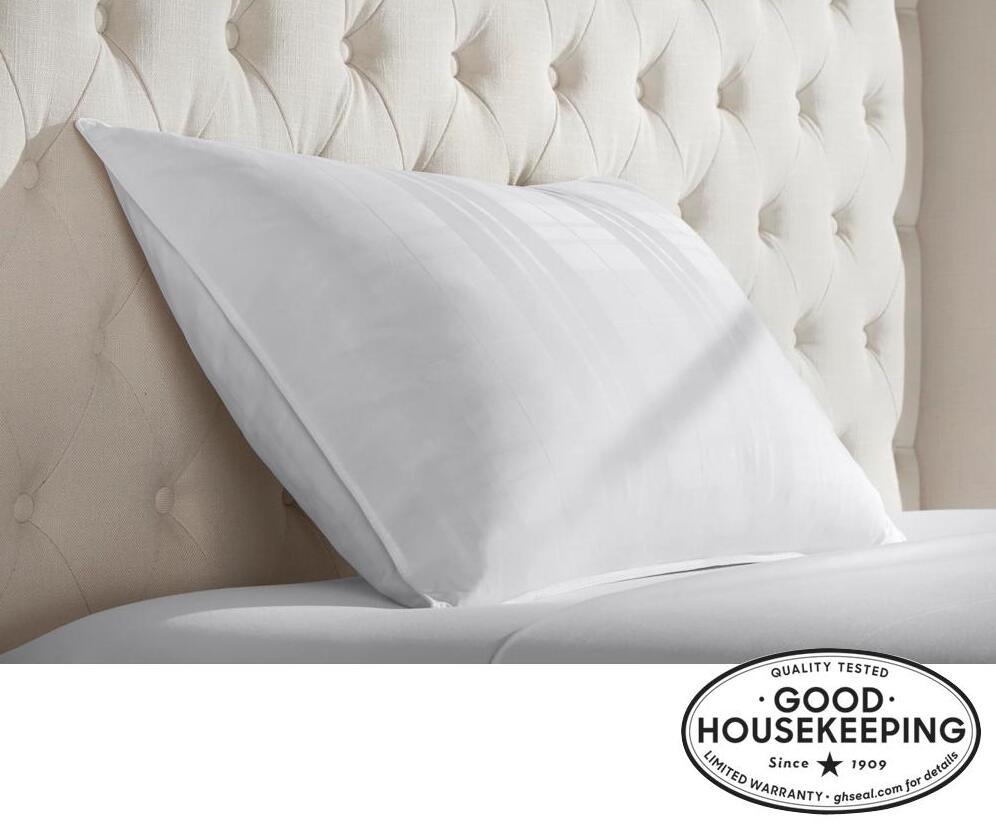 Here's another great, new idea for pillow comfort and more restful sleep! The filling is divided into two types of ethically-sourced, natural material. The core is filled with feathers for firmness, surrounded by another layer of super-soft, 'down', for a truly luxurious sleep experience. This sleep-inducing pillow is suitable for most sleeping positions and comes with a generous 2-year guarantee, which shows what a successful design this is!
2. Best Value Pillow – AmazonBasics 'Down-Alternative' Pillow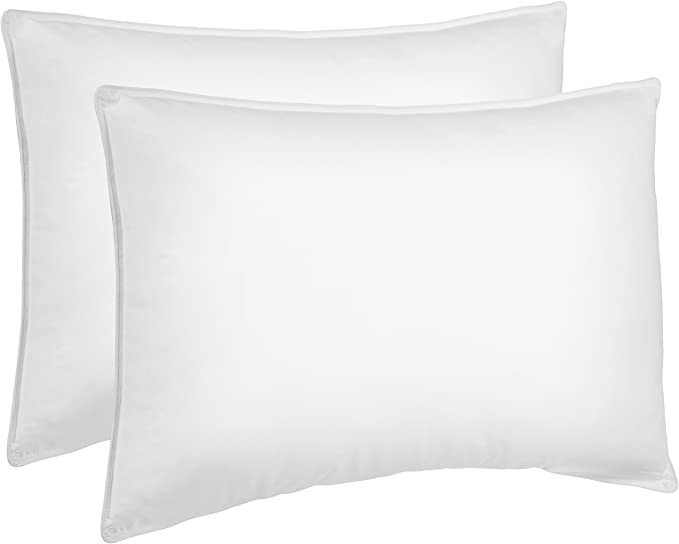 Allergy-sufferers love this 'down-alternative', polyester filling that's machine washable and quick-drying. This budget-friendly, 2 pillow pack contains soft density, flattish pillows. And this helps folks who sleep on their stomach or back to drift off to sleep more easily, and avoid waking up with a stiff neck from a too-high pillow. For those who do need more height, you can buy a thicker version of this pillow that gives a firmer base for your neck and head. So healthy sleep for all the family and a really good deal!
3. Best Down-Alternative Pillow – Wamsutta® Indulgence Soft Support Back/Stomach Sleeper Bed Pillow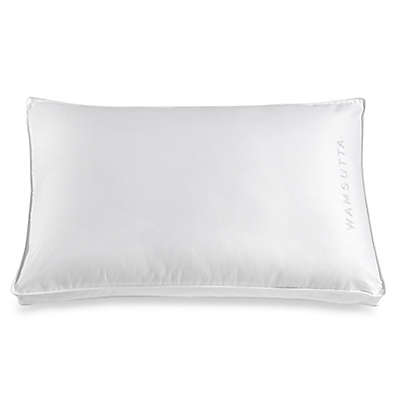 This economically-priced pillow turned out to be one of the best performers on our strict check-list. It's filled with hygienic, polyester stuffing and is as comfy and supportive as more expensive pillows. It's especially relaxing if you prefer a flatter pillow. And it's the fact that it contains less stuffing than higher pillows that allows the manufacturer to offer it a such a great price. The neat shape and cord detail add a smart, modern look to this non-allergenic pillow!
4. Best 'Down' Pillow – Boll & Branch 'Down' Pillow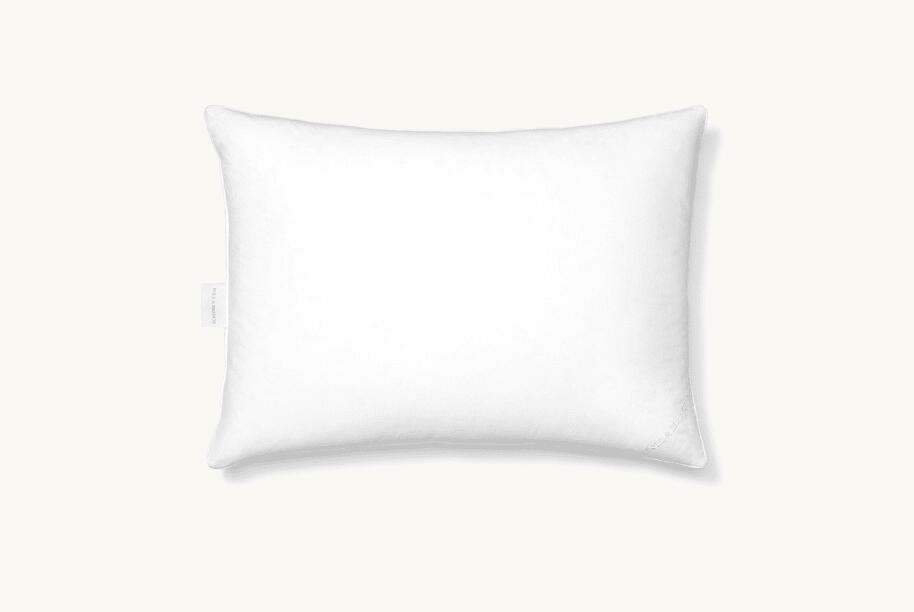 If you prefer the soft luxury of real feathery 'down', this pillow will be perfect for a great night's sleep. It's an intelligent design with sealed pockets inside the pillow to prevent lumps forming. You can choose from a dreamy-soft, 'down' pillow, or opt for a firmer version that keeps you comfy and relaxed all through the night. The cover is smooth, 100% organic cotton and this prestigious brand gives you a 30-day money-back guarantee!
5. Best Foam Pillow – Tempur-Pedic Neck Pillow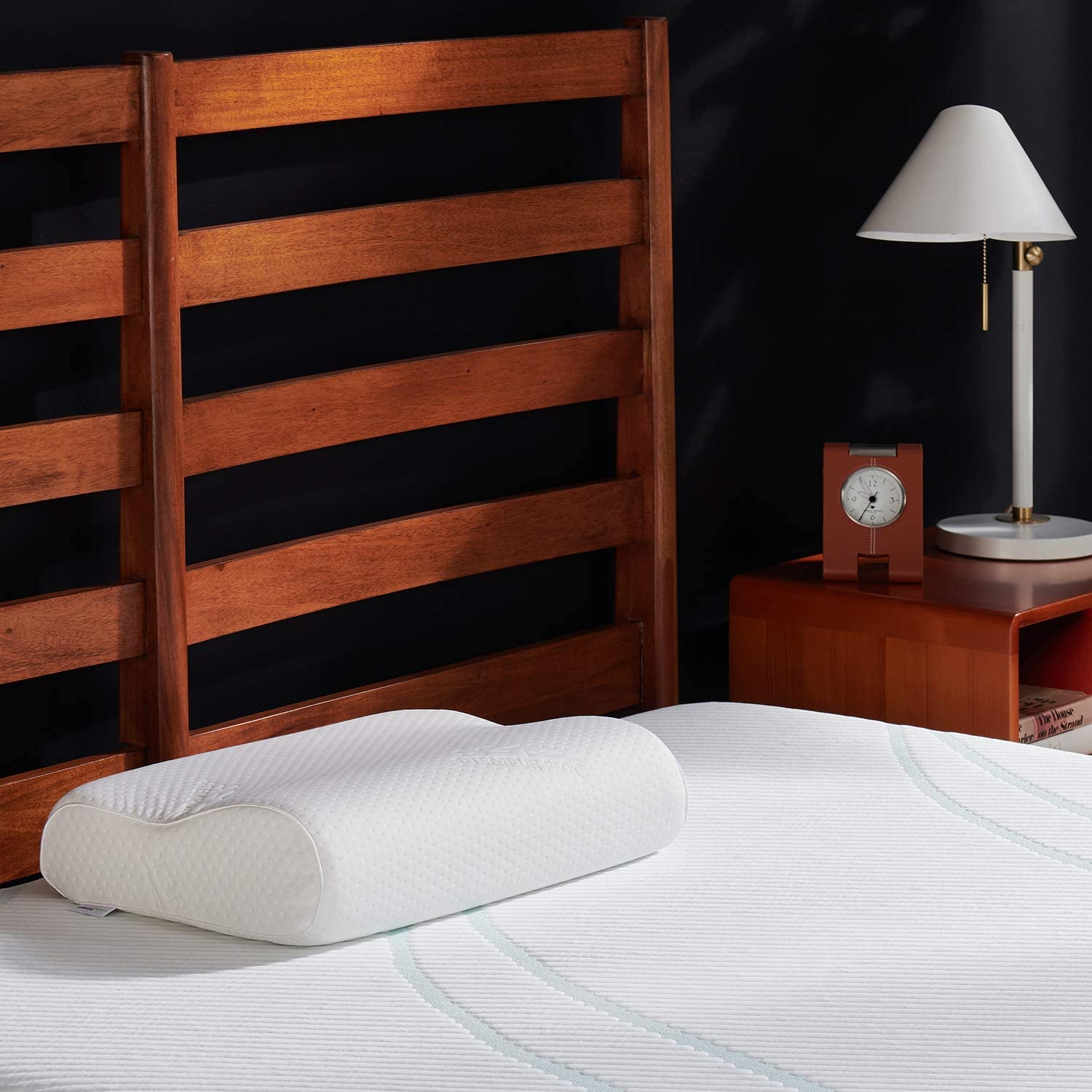 Tempur-Pedic – Amazon.com
SHOP NOW
Here's another successful, new pillow design that gives firm support from solid, memory-foam. It's specially shaped into a curve to provide healthy neck, shoulder and back alignment for side- and back-sleepers. Its profile is lower than some other firm pillows. But testers said it's the perfect shape to relax the neck and head and that they fell asleep faster than usual. So don't be afraid to try new designs, they could be the perfect answer to a long-term sleep problem!
6. Best Foam Cluster Pillow – Layla Kapok Memory Foam Pillow

Layla laylasleep.com
At last – a new surface design for a modern-looking pillow, which also provides copper-thread, cooling properties! I love the honey-combed pattern on this trendy pillow, which lulls you to sleep with a delightful mix of shredded 'memory foam' and kapok. Kapok is a cotton-like, natural fiber that feels super-soft against your cheek or neck. And if you tend to toss and turn during the night, this medium-height pillow will support you perfectly in all your weird sleeping positions!
7. Best Adjustable Pillow – Sleep Number ComfortFit™ Ultimate Pillow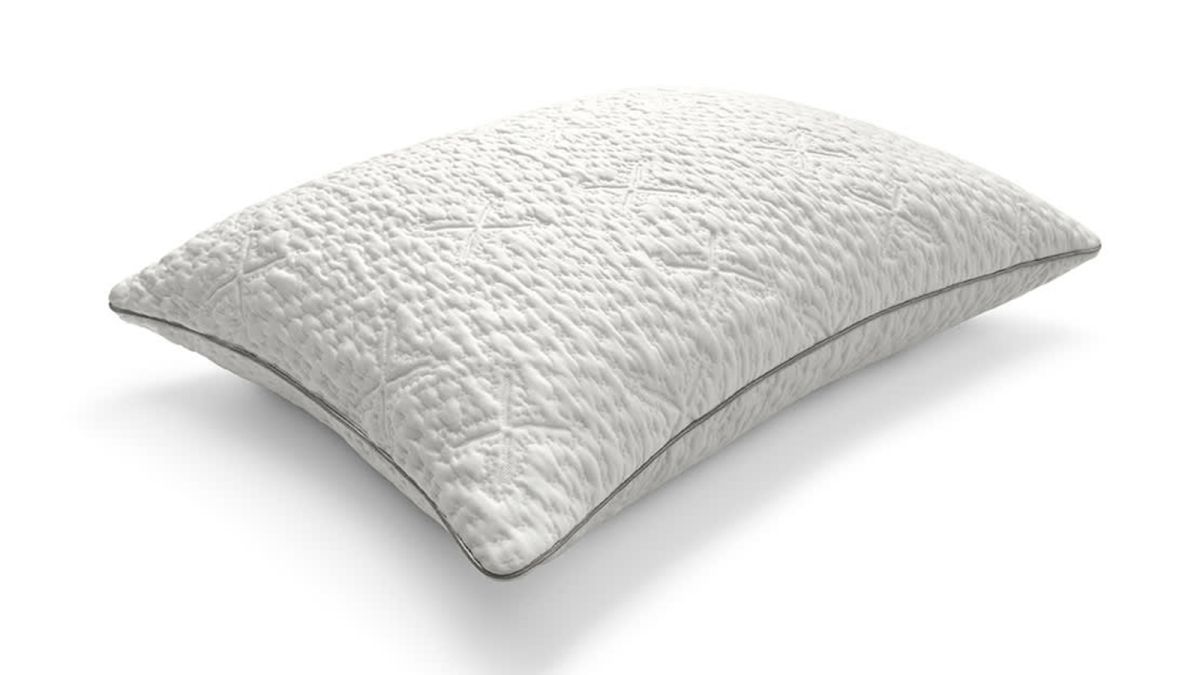 We love the trendy, textured surface of this stylish, sleep-inducing pillow! There's a webbed gusset around the edge, to encourage air-flow, and the option of three different pillow heights. The idea of providing three separate internal 'cushions' shows this manufacturer has a real understanding of its customers needs. You can buy a Sleep Number Adjustable Pillow without the dilemma of choosing the perfect height to relax your weary head!
8. Best Organic Pillow
Naturepedic Organic Sculpted Latex-Pillow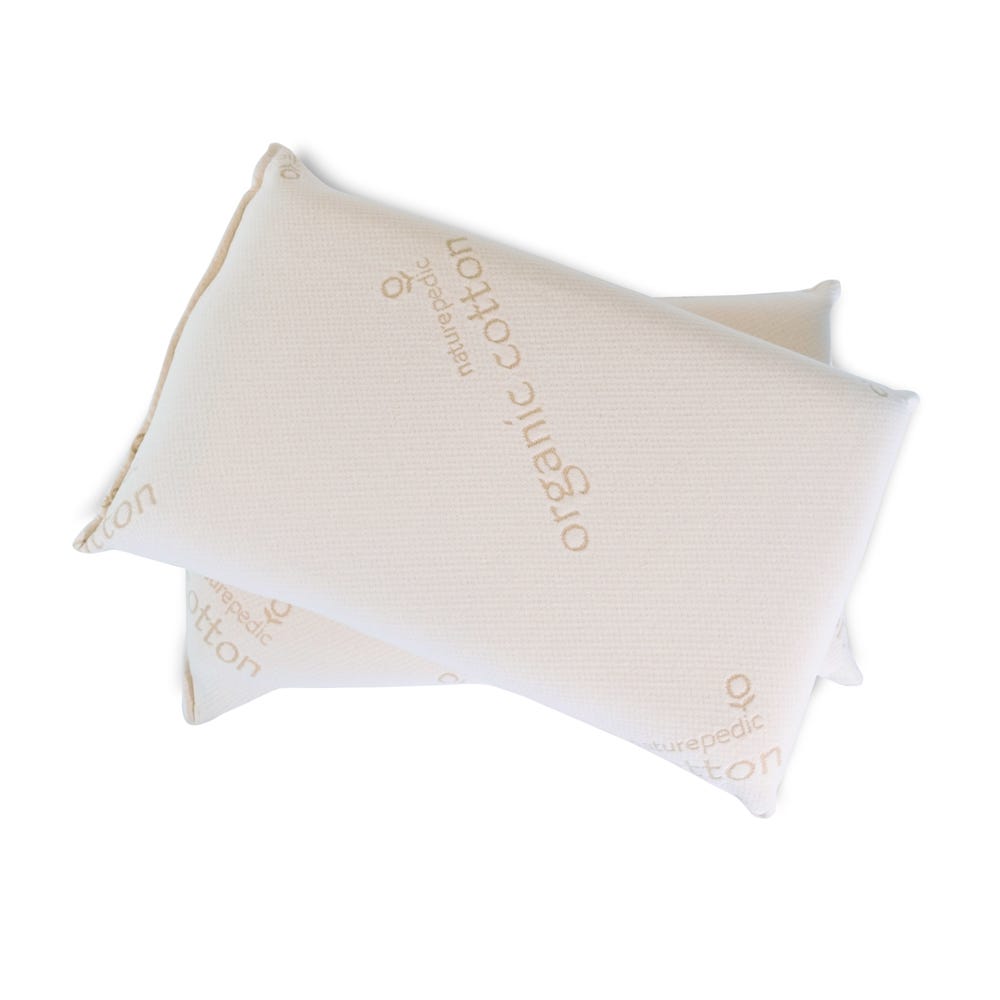 Naturepedic specializes in ultra-ecological and totally allergen-free products. And this natural latex, solid foam sleep-aid is totally organic and certified at the highest level. In addition, the Naturepedic pillow is guaranteed completely free of unsafe levels of chemicals. And that's important, because we may know the dangers of cleaning chemicals and the side effects of our medications, but many of us don't realize how many chemicals we are breathing in from the fabrics in our home!
9. Best Cooling Pillow
Slumber Cloud Cirrus Pillow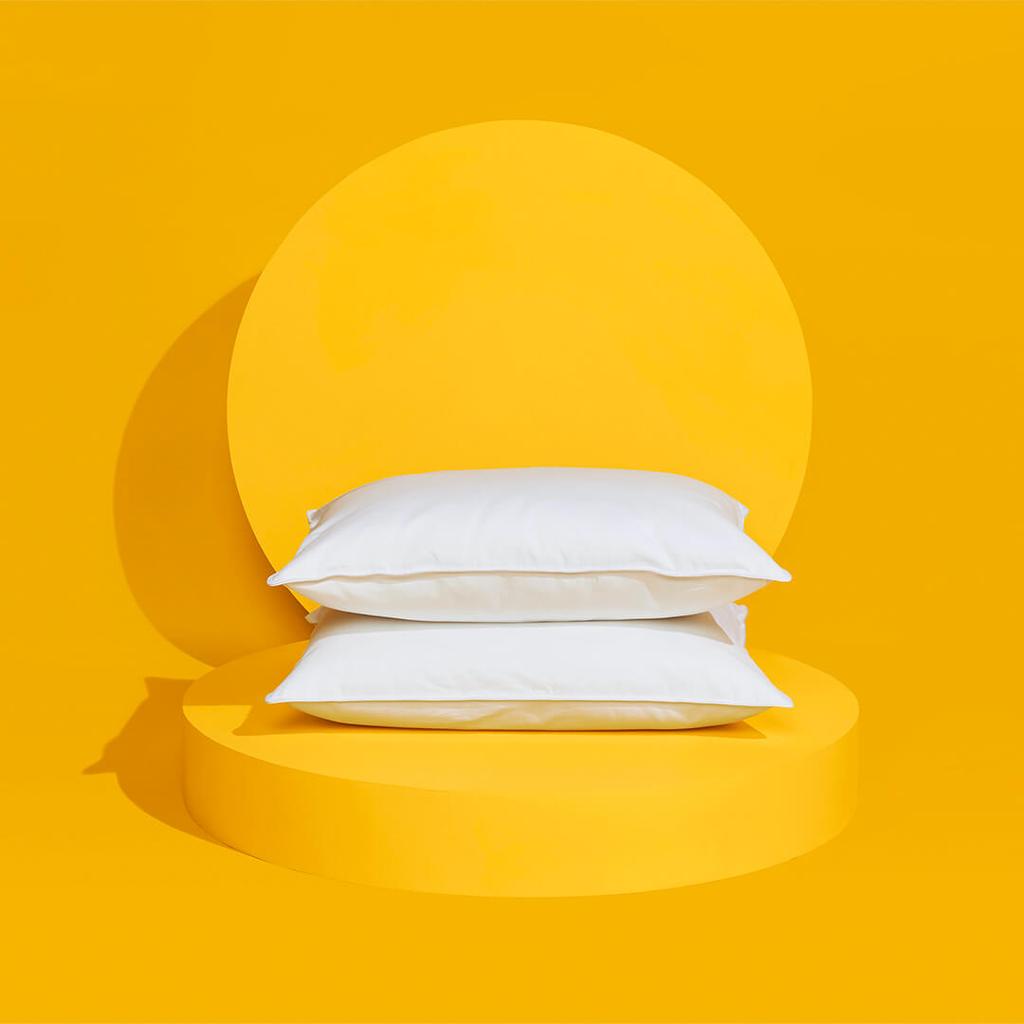 This is a truly 'smart' pillow, with keeps you cool all through the night, unlike some 'cooling pillows' which just have a cool 'feel' to the surface fabric. The secret is Outlast technology, which stores and releases body heat consistently as your temperature changes. There's a good choice of models in this design, with 'down' or polyester filling options and several grades of firmness on offer. So if you find the heat of the night keeps you awake, this may be your new best friend!
10. Best Overall Pillow – Coop Home Goods Adjustable Pillow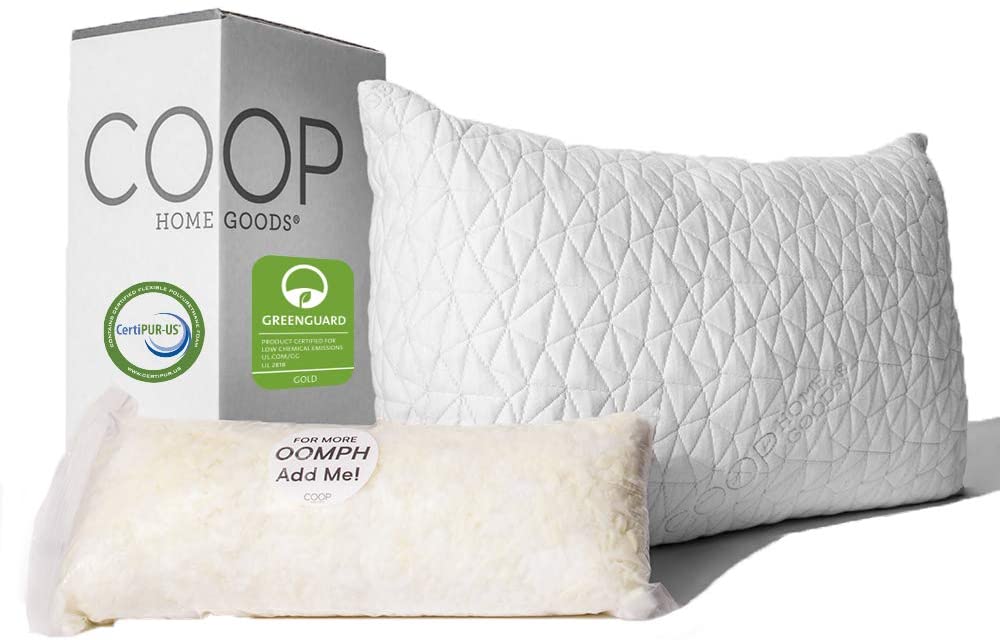 If you can't find the perfect pillow density for a good night's sleep, try this idea! It's an 'adjustable density pillow' that lets you decide just how much filling is right for your comfort. You buy the pillow with extra filling provided, and then try out different levels of stuffing in your own bed. This cuts out mistakes when you buy a pillow that's too high or too flat! The filling is a clever mix of micro-fiber clusters and shredded memory-foam, to CertiPUR-US standard. No wonder this Coop adjustable pillow is a runaway best-seller!