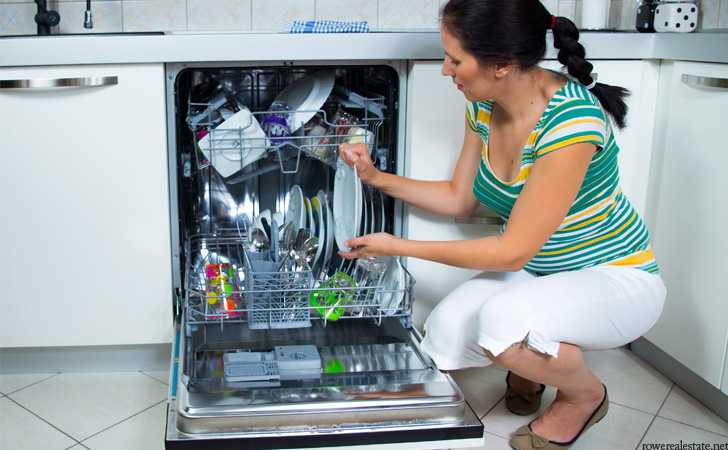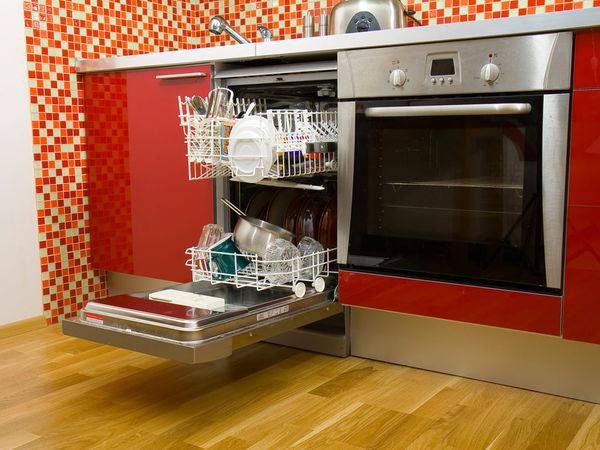 Let's face it: washing dishes by hand is the absolute worst. You are required to deal with the revolting smell of a dirty sponge which seems to smell worst and worst day by day. And let's not forget the horrible moment when you forgot to remove the extra bits of food on the bottom of your oven dish and now you must spend hours scrubbing. Plus who really wants to wash a load of dishes when you just spent hours cooking?
That is all past tense now since we have the joy of owning dishwashers. Dishwashers are the cherished appliance that cleans our dishes without us having to do so. However, just like any other appliance in your kitchen it needs to be the best to perform at it's very best. Here are the reviews of the top rated best dishwashers, also you can check the best selling dishwashers here on Amazon!
10.

Bosch 800 Series SHX68T55UC Fully Integrated Built-in Dishwasher 24″ in Stainless Steel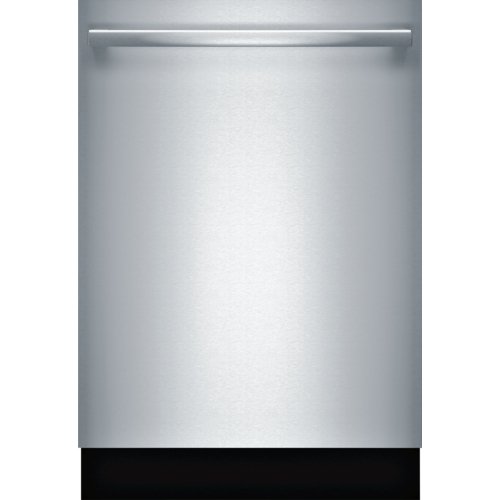 The main reason why we may purchase a dishwasher is so we can wash multiple dishes at the same time without much hassle. This fully equipped stainless steel dishwasher comes with a 16 place setting capacity what this means is it allows you to wash a week's worth of dishes in a single load. It also has 6 wash cycle selections so you can choose which cycle suits best the dishes you are putting to wash that night.
One of the cycles that it offers as a selection is The Express cycle. The express cycle will clean your dishes in 30 minutes or less. This will allow you to have your dishes fully cleaned in less time than you were to wash them by hand. It's touch screen display enables you to navigate your dishwasher with ease.
9.

18 In. Built-In Dishwasher – Stainless Steel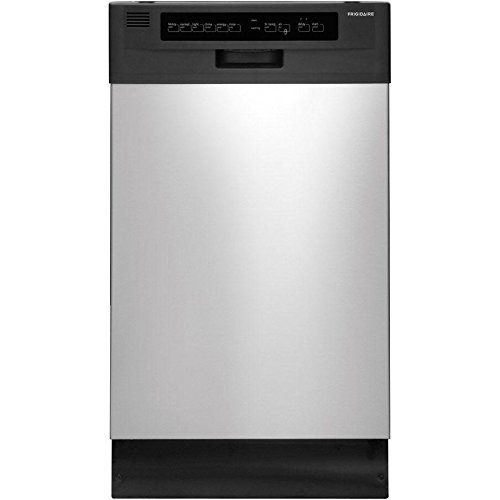 If you live in a smaller apartment or home, you may want to get an 18 inch dishwasher. Dishwashers are normally 24 inches which makes them larger in size and capacity. However, this 18 inch dishwasher will do the same or a better job in a more compact form. This stainless steel dishwasher comes with 6 different pre programmed wash cycles and 4 wash levels to help you customize it to your liking and what, you need from it.
One of the features that it has is its Energy saver dry option. This will dry your dishes without using any heat. You can also set a timer on this dishwasher, so you know exactly when your dishes will be clean and you can use them again.
8.

Avanti Model DWE1801B Built-In Dishwasher, Black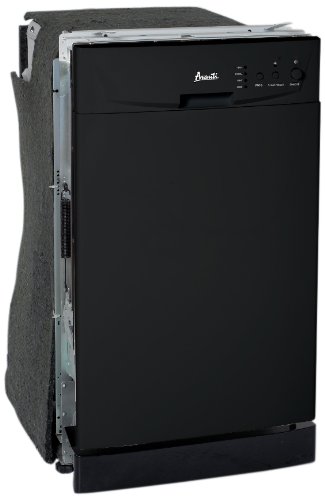 This dishwasher has an 8 place setting capacity which means you will be able to wash a load of dishes in one cycle. It will wash all your dishes regardless of how many of them you put in. There is a stainless steel interior to help with stains and other corrosions that tend to happen to a dishwasher. It has 4 automatic cycles that you can select from depending on the soil your dishes may have.
However, the best feature about this dishwasher is its automatic soap dispenser. The automatic soap dispenser will ensure your dishes always have the right amount of soap as well as they will always get a consistent clean every time.
Another unique aspect about this dishwasher is its 3 stage filtering system. These filtering systems were designed to guarantee they trap all food and soil so it is never floating around your dishes after they have gone through the wash cycle.
7.

SPT SD-2202W Countertop Dishwasher with Delay Start, White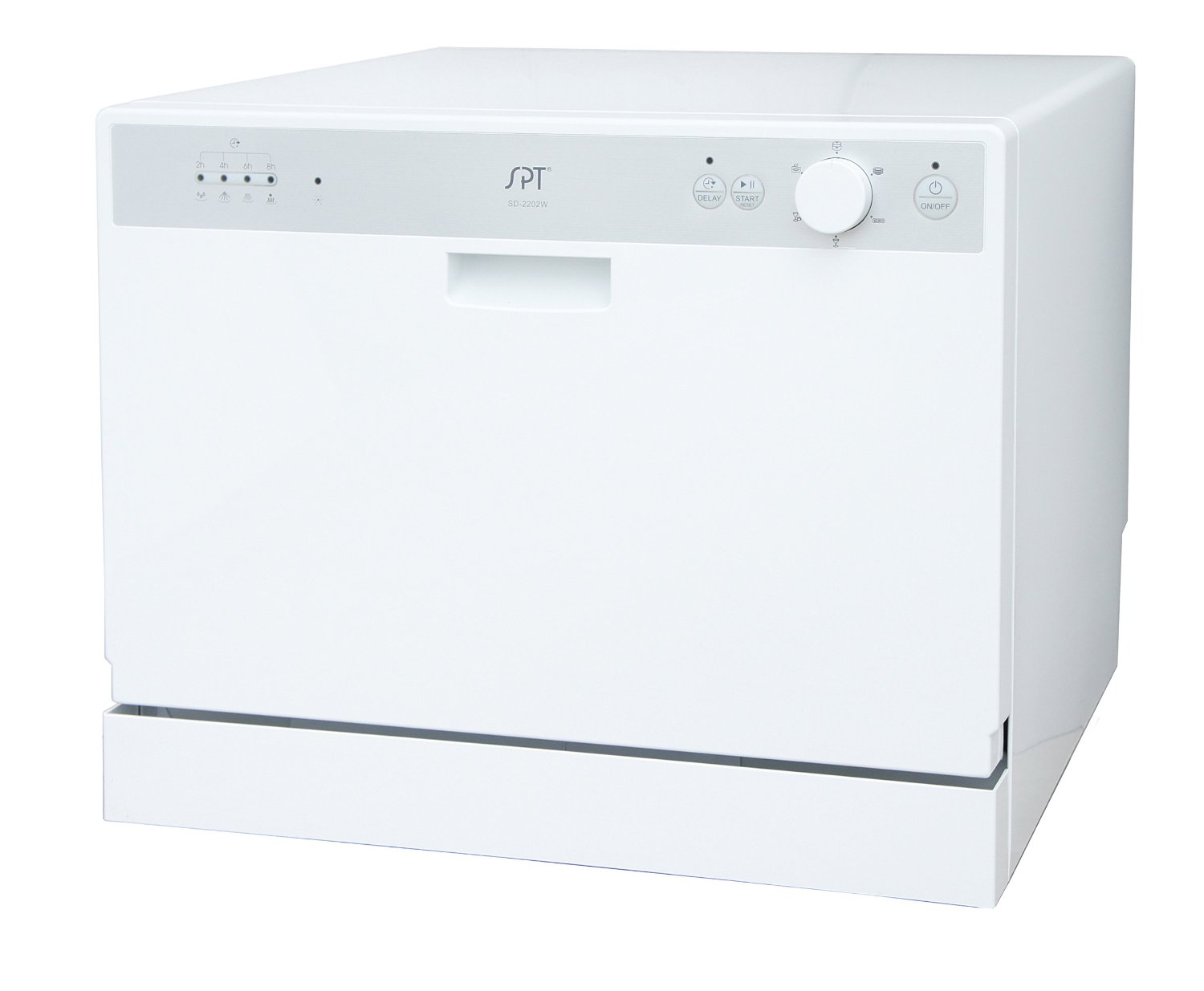 A countertop dishwasher is an excellent idea if you have never owned and operated a dishwasher before. The reason behind this is it  can be placed right on top of your countertop to wash your dishes in a matter of minutes. This one in particular is very easy to use while being very powerful on your dishes. It has a 6 standard placement settings with a stainless steel interior and delay start.
With a delay start, you will be able to program your dishwasher to the time that you would like it to wash your dishes. This enables you to program your dishwasher before you go to work and your dishes will be cleaned and ready by the time you come home.
6.

Koldfront 6 Place Setting Portable Countertop Dishwasher – Black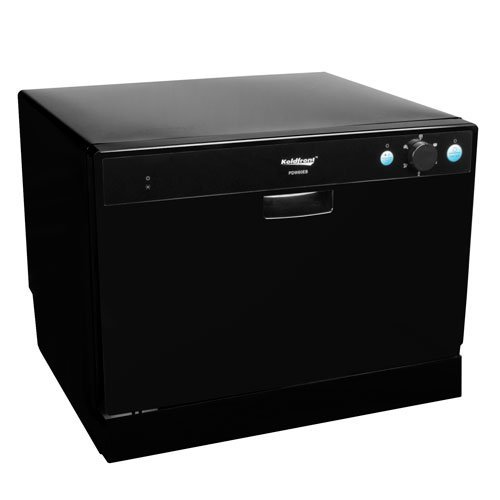 You can take this dishwasher anywhere around your kitchen as it is portable. This portable countertop dishwasher has a 6 standard place setting capacity. Which means you will be capable of washing your dishes effectively without the need of a larger dishwasher. This dishwasher consumes 61% less energy than any other dishwasher it also uses little to know water which can save you hundreds of dollars a year on your water bill.
It comes with a quick connect adapter that connects to your kitchen faucet. This allows you to have quick and easy installation. It also comes with 6 wash cycles that can be customized depending on how dirty your dishes really are.
5.

EdgeStar 6 Place Setting Countertop Portable Dishwasher – Silver
This compact countertop portable dishwasher fits in almost all countertops which makes it easy to have in your kitchen and it's even easier to install. It comes with a quick connect faucet adapter and a five foot hose to make connecting this dishwasher a breeze. This dishwasher comes with 6 wash cycles to ensure your dishes are washed the way you like them.
It also has a fully equipped touch screen display that offers child lock. Your children will be unable to open your dishwasher when you use child lock. This is a major feature to have if you have small children as we all know children love to get their little hands in everything.
4.

AMANA ADB1100AWB Built-In Tall Tub Dishwasher with 3 Cycles, 24″, Black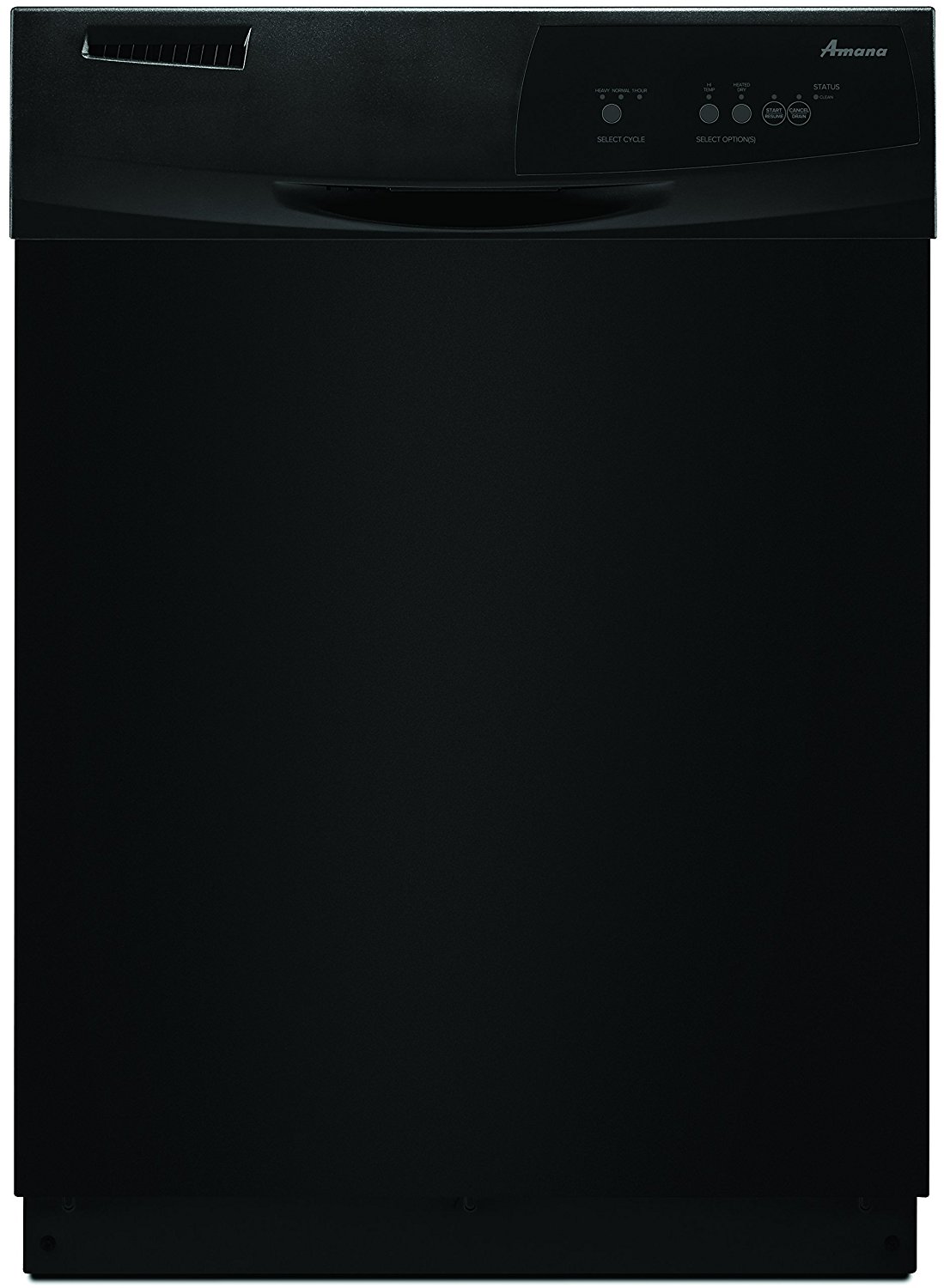 Before you place your dishes inside a dishwasher many people will give them a rinse to make the dishwasher work less. Well with this dishwasher there will be no longer a need for that as it will get the job done properly without the need of a pre rinse. It comes with 3 different wash cycle settings normal, 1 hour, heavy. The 1 hour cycle will wash your dishes in an hour or less. This is a very nice feature to have when you need your dishes washed rapidly without much hassle.
This dishwasher also comes with a heated dry feature. This feature will dry your dishes at the end of the wash cycle so you do not need to dry them manually when you are prepared to use them. It is fully customizable so you can always decide which wash cycle will work for you.
3.

Fisher Paykel DishDrawer DD24SCX7 24″ Semi Integrated Single Drawer Dishwasher Energy Star Rated in Stainless Steel
With this dishwasher, you have the option of 9 different wash programs. These wash cycles were set up to clean from the most delicate dishes such as glass and crystal cups to your most soil heavy pots and pans. It will leave everything you put in it squeaky clean every single time.
This is an energy star approved product. What that means is you have the option of using less water and heat at any given moment when you use the Eco option. It is fully touch screen operated so you can customize it to your liking at any given time.
This dishwasher has an innovative feature that has not been seen on many dishwashers just yet. Before every wash detergent will pass through a dispenser to ensure it is fully dissolved this makes cleaning your dishes easier and more hygienic
2.

SPT SD-9241SS Energy Star Portable Dishwasher, 18-Inch, Stainless Steel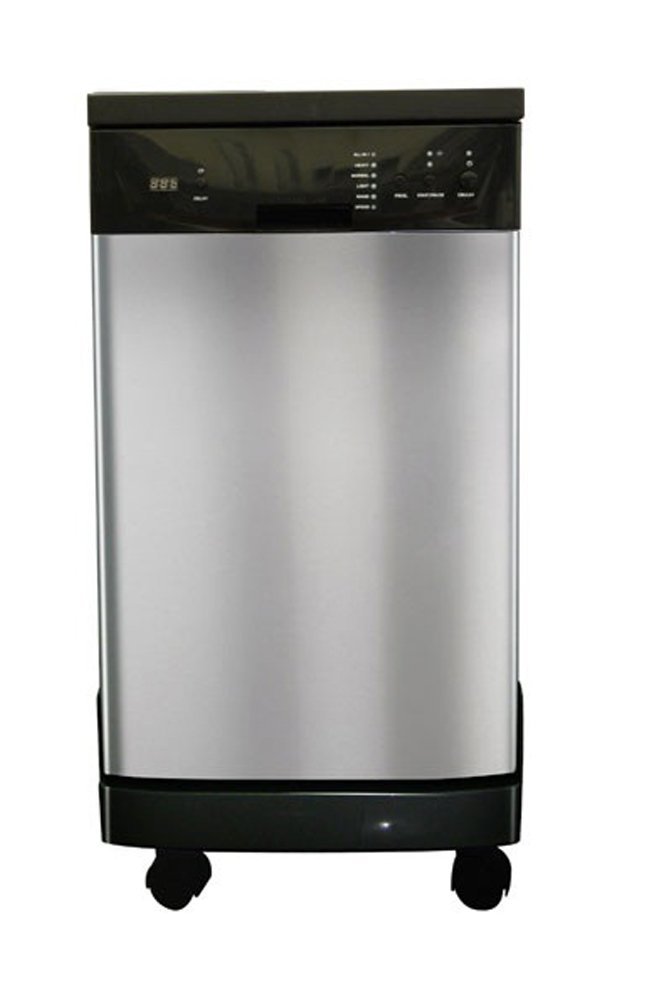 If you are in need of a portable dishwasher that you can move around your kitchen any time you need to. This is the perfect dishwasher for you. It comes with detachable wheels so you can always move it anywhere that you need to. This dishwasher is accompanied with  6 different wash programs. You will be able to wash all the dishes you need regardless of what material they are.  It also comes with an adjustable upper rack to accommodate any larger plates or pans that you may have.
It also has a time delay feature so you can delay your washing process whenever you need to. This dishwasher comes with a touch screen control. Which allows you to manage your dishwasher with the touch of a button.
1.

SPT SD-2224DS Countertop Dishwasher with Delay Start & LED, Silver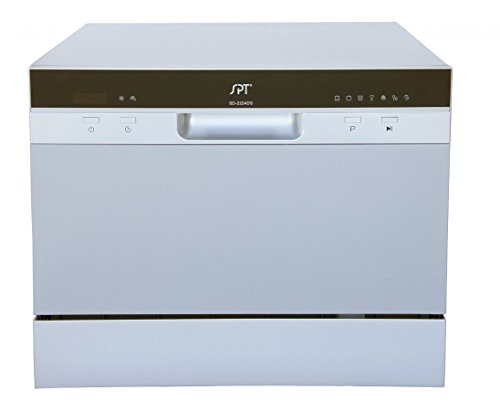 A countertop dishwasher is an excellent option if you live in a smaller apartment. Most smaller apartments do not come with a dishwasher. However, now you can have a countertop one that is effective and can be converted into your next apartment or home that you may move into. This dishwasher comes with 7 wash cycles making it one of the most powerful countertop dishwashers on the market at the moment. It also has a delay start button so you can choose when your dishes will be washed and what cycle will work best for you.
It is electronically controlled with a touch screen LED which will inform you which cycle it is on and how long every cycle will be running for. You will be able to adjust each cycle to your dishes so you have a customized experience just like you would with a larger dishwasher.
 Washing your dishes no longer has to be a hassle as a good dishwasher can do all the job for you. The less time you spend washing dirty dishes the more time you will spend with your family. Please inform us below if you have used any of these dishwashers before.