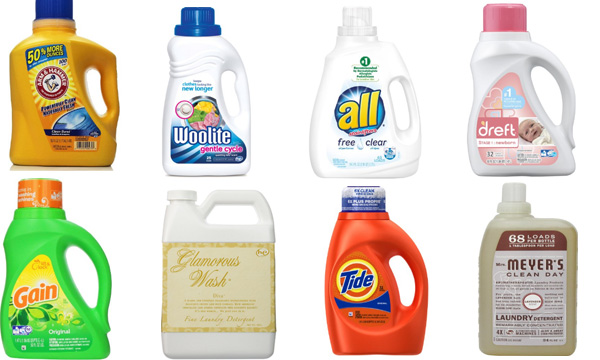 We all want the best value for money from our cleaning products, but every individual/family has different ideas of what would be the best liquid laundry detergents for them! And having powder, pod and liquid laundry products, makes it even more difficult to choose! But as the best laundry detergents are liquid, we've focused on choosing the 10 best liquid laundry detergents.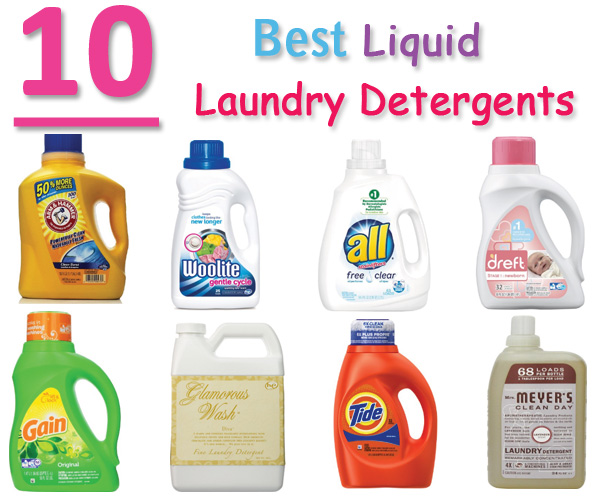 Pods are convenient to use, but the November 2015 report from the American Association of Poison Control Centers mentions 11, 552 instances of under-5's swallowing, inhaling or getting pod detergent in their eyes! So we haven't included detergent pods in our list of Top 10 Best Liquid Laundry Detergents for the Money, either.
Modern high-efficiency (HE) machines need a detergent with low-suds, and these are marked HE on the detergent's label. But HE laundry detergents can also be used in regular machines. Concentrated liquid laundry detergents do have eco-benefits; using less transport fuel, less plastic and less cardboard packaging. You have to follow the dosage instructions carefully, but there are great cost-benefits to using concentrated liquid laundry detergents. Ah – decisions, decisions! Don't get stressed – we've done the hard work, so you can quickly browse Top 10 best liquid laundry detergents and find the one that suits your needs best!
10. Woolite Gentle Cycle Liquid Laundry Detergent for HE and Regular Machines, Sparkling Falls Scent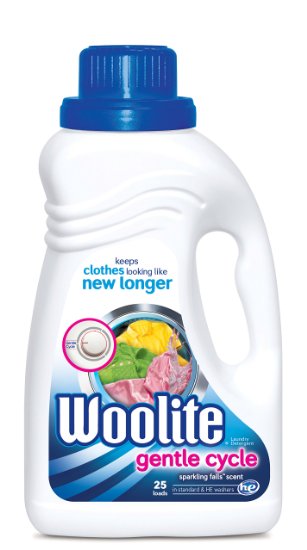 Woolite is a very long-established brand of gentle washing liquid, which was one of the best laundry detergents ever, for hand-washing delicate fabrics and real wool clothing. So it certainly has a good brand reputation. Designed to be used on the modern-day equivalent i.e. the gentle wash cycle, it doesn't fade the colors like many modern detergents, so keeps clothing looking like new.
This is an important, money-saving point for people who don't have lots of dirty, stained clothing. I always use a gentle laundry liquid detergent for my clothes, so they aren't bleached-out so much I have to buy new ones. Users praise it's cleaning action on all types of fabric and use it in their HE machines.
9.

TYLER Glamorous Wash, Diva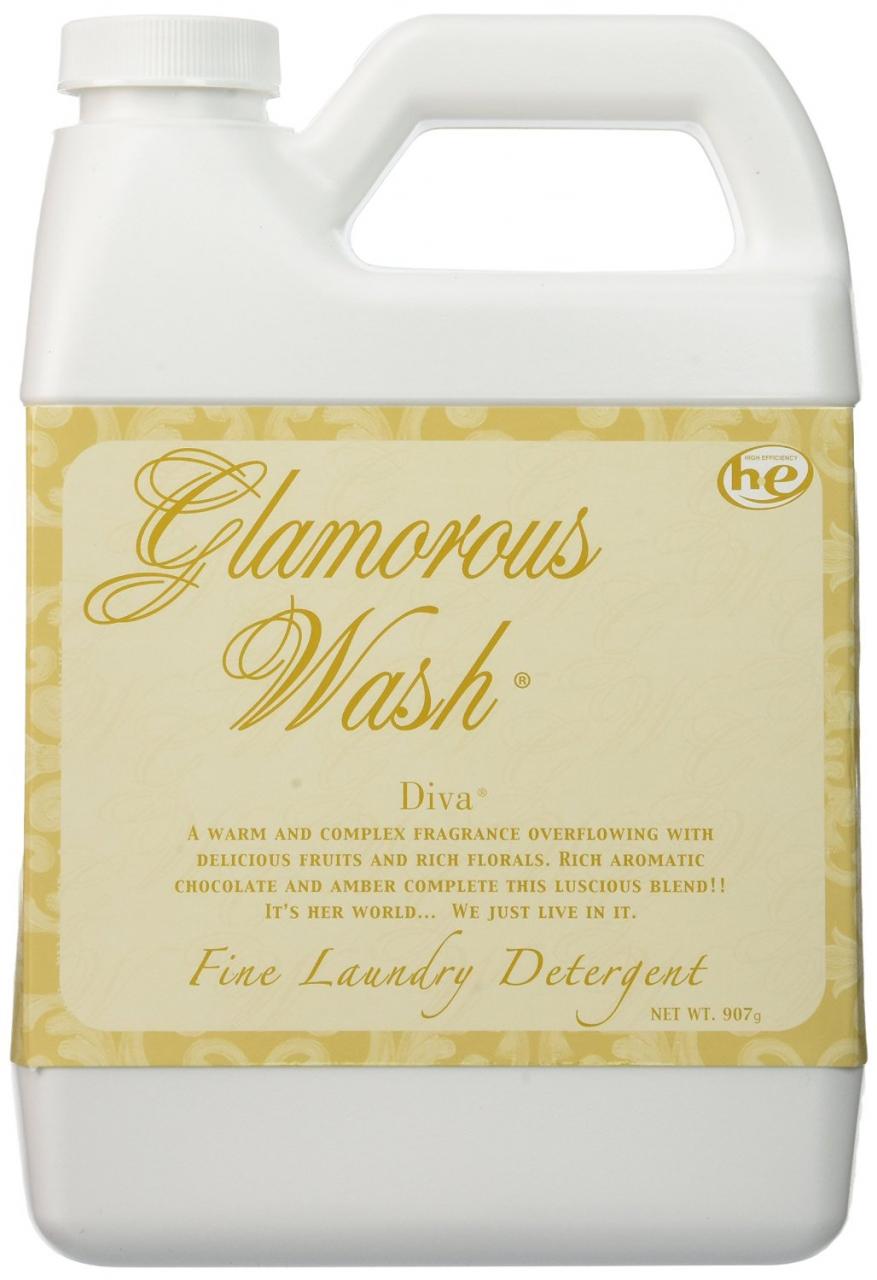 This product is substantially more expensive than Woolite and is aimed at a different market sector. Using the words 'Glamorous', 'Diva' 'chocolate' and 'luscious' on the label mean this is not a product intended for those tackling a heavy family laundry load. It is designed for use on linens, lingerie, fine fabrics and other items, leaving a superior perfumed fragrance.
People use it in their steam-cleaners and carpet-shampoo machines, too, for it's lovely Diva scent!
8. Earth Friendly Products Ecos 2x Liquid Laundry Detergent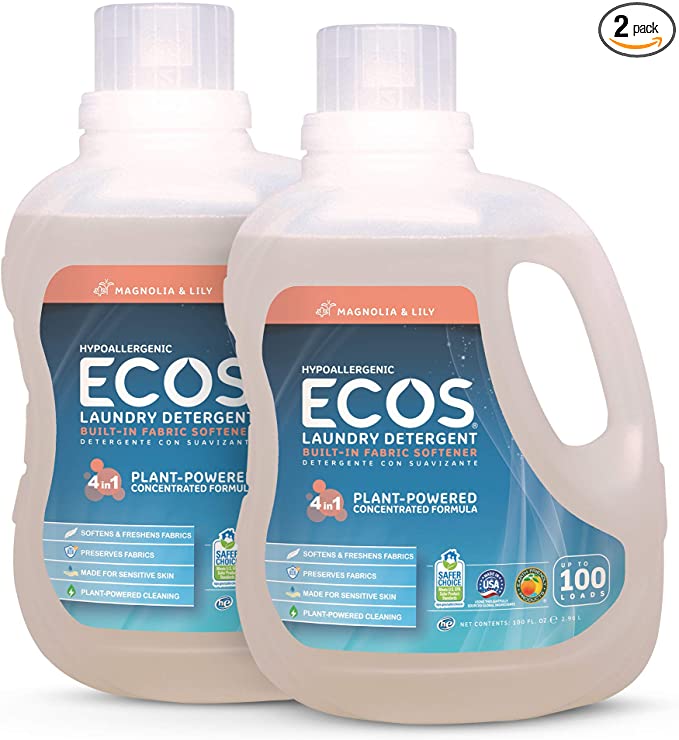 This eco-friendly natural detergent smelling of lavender is an economic choice, owing to the coconut-oil fabric softener included in the formula. This two-in-one product is made from 100% natural, plant-based, non-toxic and bio-degradable household cleaner. It's also a concentrated liquid that's certified free of phosphates, chlorine, enzymes, borine, cocamide DEA, dye and petroleum derived ingredients.
7. Dreft Stage 1: Newborn Liquid Laundry Detergent (HE)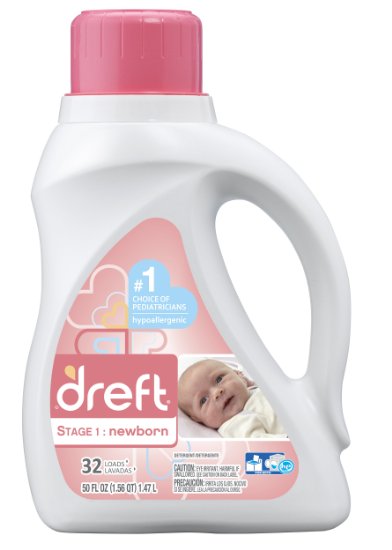 This is a product formulated to be hypo-allergenic and suitable for new-borns and it's recommended for washing all baby clothes, bedding and accessories. Just remember that 'hypo-allergenic', just means it is a 'weak irritant', rather than the opposite word, 'hyper-allergenic' which means a 'strong irritant'.
Therefore the fragrance, which a lot of reviewers love about Dreft for Newborns, is still a chemical added to the detergent. This is one of the best liquid laundry detergents for removing stubborn stains from cotton diapers, and is used by many adults, but its strong enzymes may weaken cotton or wool fibres on delicate clothes.
6. Gain Liquid Detergent with Original Scent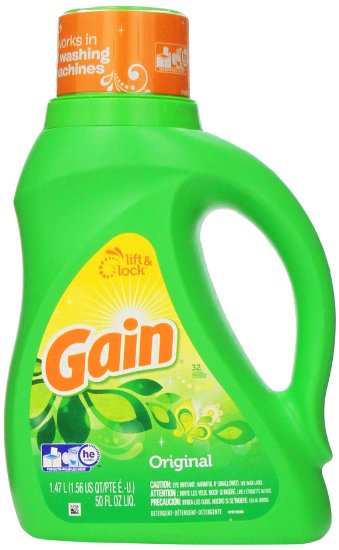 This is a very economically-priced product and considered one of the best liquid laundry detergents in terms of value for money. The Original scent is described like a women's perfume in the Product Information: Overtones: lemon, orange, blossoms with a modern, fruity green twist. Undertones: White jasmine flower with a touch of woody amber!
Male and female reviewers agree on several things about Gain: it's economical, it cleans stained clothes even on a delicate cycle, it doesn't fade colors and the fragrance in your clothes is wonderful!
5. Arm & Hammer 2X Laundry Detergent, Clean Burst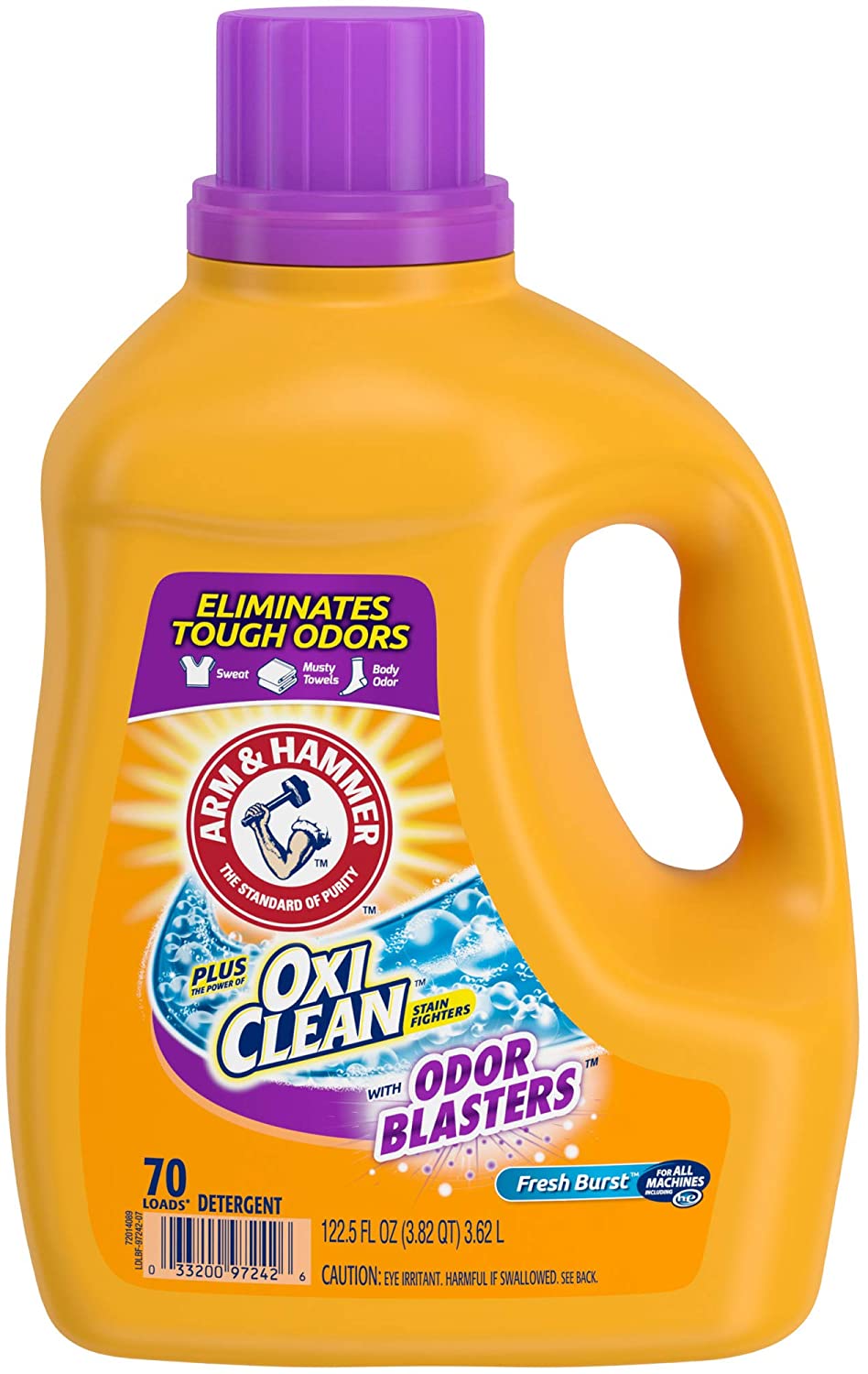 Arm & Hammer products rely on the action of baking soda and a lot of other chemicals to really clean and remove unpleasant odors. This is one of our top 10 best laundry detergents, because reviewers report it removes stains like dark chocolate without needing pre-treatment with a stain-remover.
There is no ingredients list shown on the bottle, which suggests it's full of chemicals, but if you don't have sensitive skin or allergies, and do have dirty, stained work clothes (or kids!) this is recommended. Users say it has no difficulty washing out grass and blood stains and has a great smell.
4. Method 8X Concentrated Laundry Detergent Refill, Fresh Air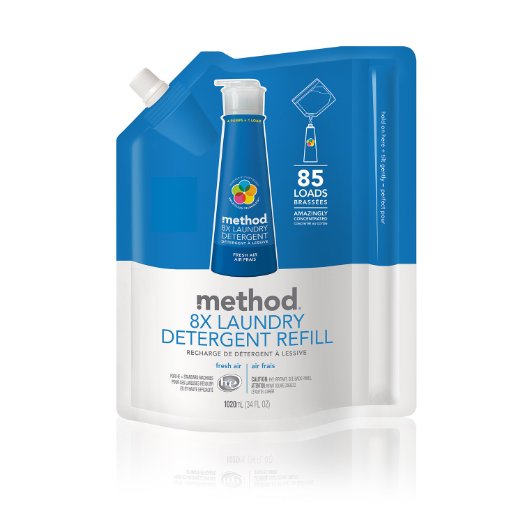 This product is recommended for its eco-credentials, as well as being one of the best liquid laundry detergents for getting stuff clean and smelling good! There's a list of ingredients to view on their Methodlaundry.com site showing their 'transparency' and preference for plant-based, bio-degradable materials.
People say it's easy to handle and dispense the right amount of detergent. Cleans well and has a 'gender neutral' fragrance.
3. All Free Clear Laundry Detergent, 94.5 Ounce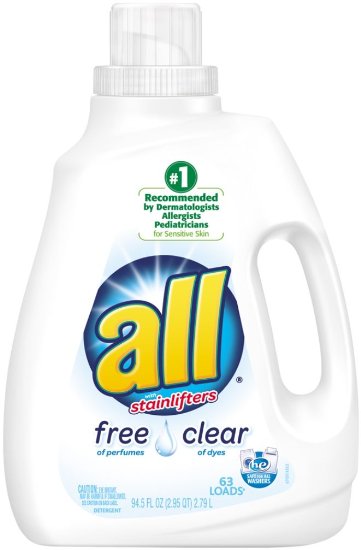 Recommended, by the manufacturers, for people with sensitive skin, this is another popular liquid detergent for family use. It doesn't contain perfumes or dyes, but does contain chemicals that give excellent cleaning-power.
2. Mrs. Meyer's Clean Day Liquid Laundry Detergent, Lavender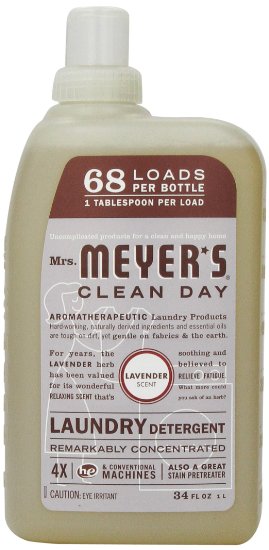 This is an eco-friendly product based on naturally derived ingredients and essential oils, with a natural lavender fragrance.
It's highly concentrated which usually means an economical price per load. Those who wash cloth diapers say it's definitely the best liquid laundry detergent for getting out stains and completely removing the smell. Clothes also come out softer than with other liquid detergents!
1. Tide Original Scent Liquid Laundry Detergent, 50 Fluid Ounce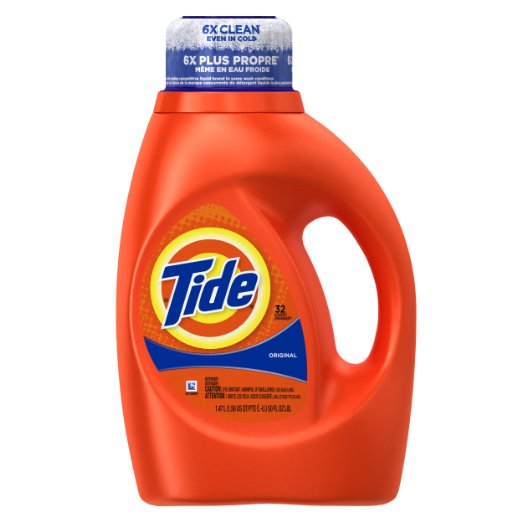 Tide is the clear winner in our list Top 10 Best Liquid Laundry Detergents for the Money. Users like it because it doesn't fade colors, can be rubbed in directly to remove heavy stains and does a solid job of cleaning all clothes.
This product has a popular fragrance and a number of users with sensitive skin have given it the thumbs-up. One reviewer reminds that for maximum effect and crisp, whites you should allow stained clothing to soak for at least 30 minutes. And the economical price means it's clearly best liquid detergent for the money!