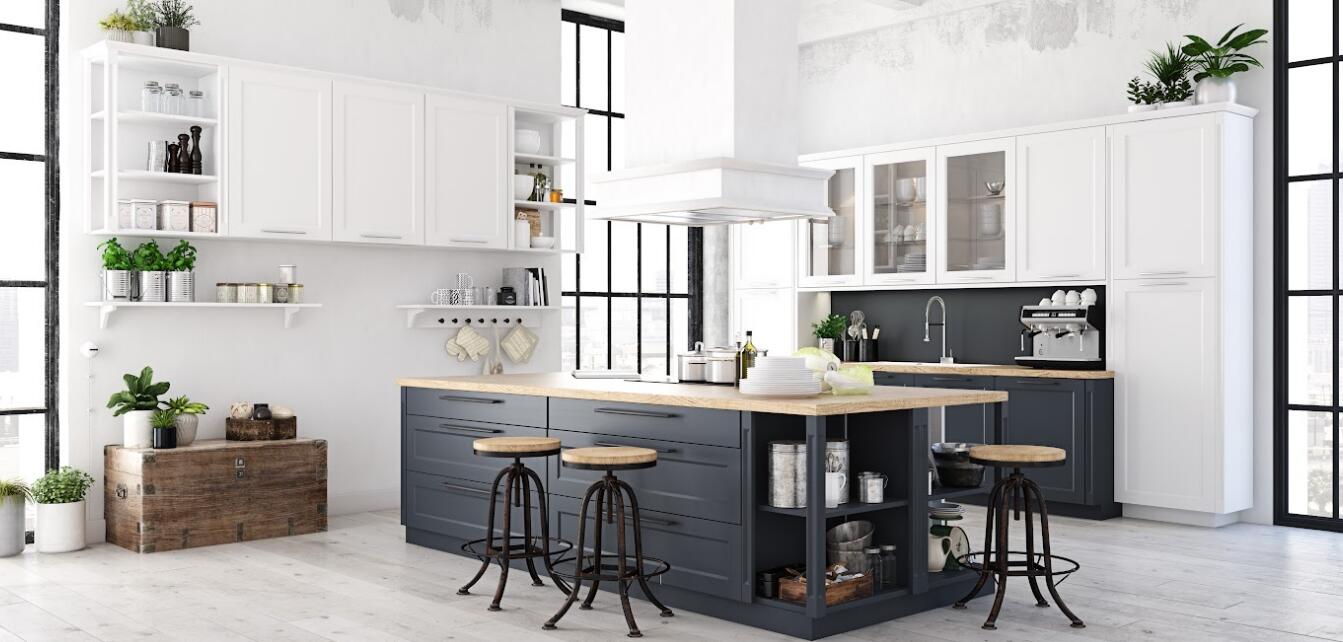 As families have spent more time indoors in recent years, many homeowners need to update their current kitchens. Whether you're one of them or currently constructing a house, it's essential to create a stylish kitchen that will fit your modern house. However, you probably feel overwhelmed with too many design choices when checking various online resources or home improvement magazines. 
It's unnecessary to feel under pressure when selecting the ideal kitchen layout. As you learn about the newest kitchen design ideas for this year, your design planning process will be much more manageable. These contemporary design concepts will help you create the modern kitchen of your dreams with cabinets, countertops, kitchen islands, and other minor elements.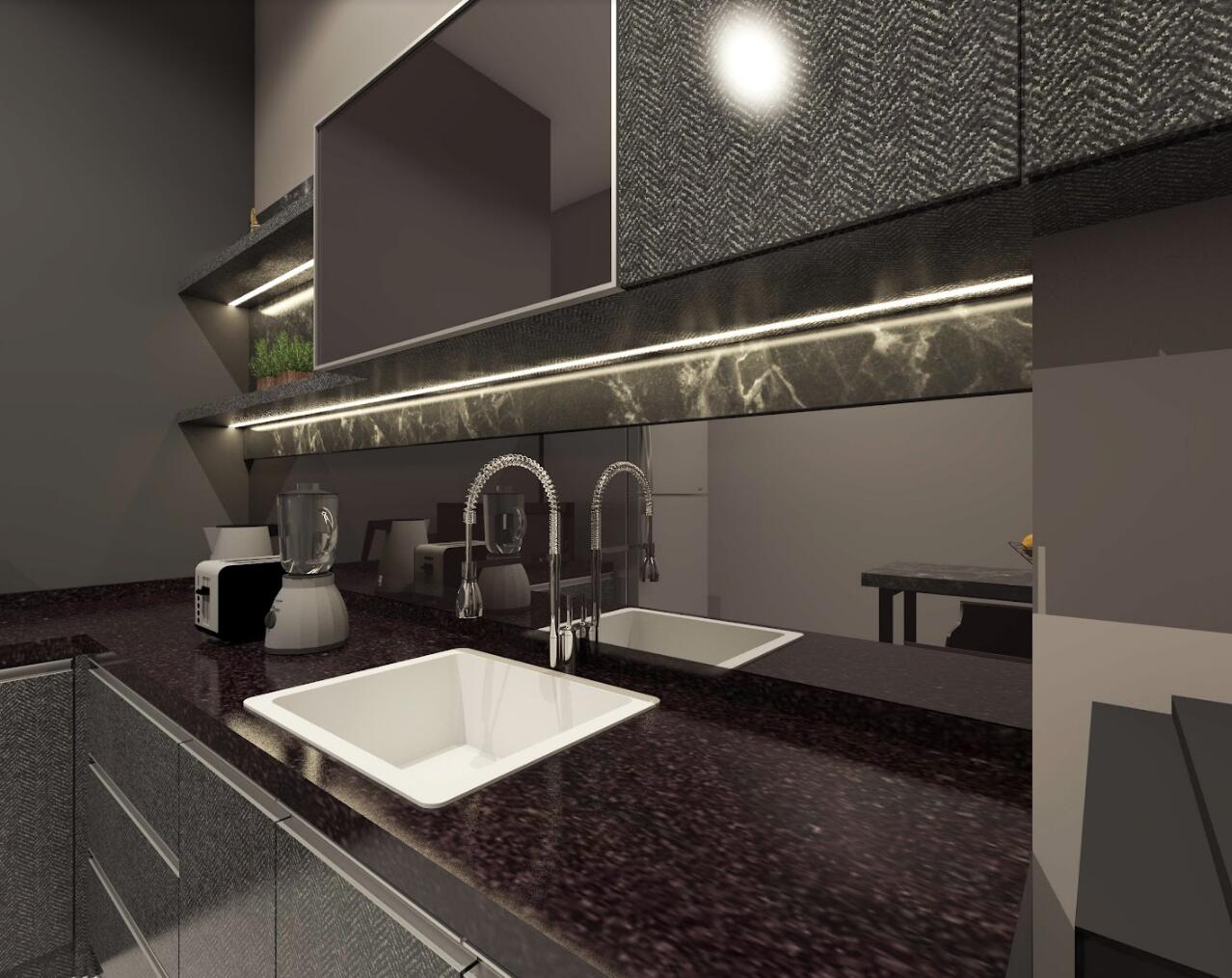 Consider the following kitchen ideas which have been trending recently for many homeowners:
High-Ceiling Cabinets
Choosing the right contractors for your kitchen renovation is crucial before executing the project. Fortunately, the reputable kitchen improvement workers at Veejay's or other reliable contractors you know can guide you through the journey. Perhaps one of the popular kitchen design ideas they'll suggest is incorporating modern cabinets into your kitchen. This year, many kitchens are incorporating high-ceiling cabinets for maximum storage purposes.
Whether you have limited floor space at home or high vertical space that seems too vacant, installing ceiling-high cabinets is the best way to go. Many modern houses also invest in statement ladders to easily access vertical cabinets. You can have the option to go for a temporary and movable ladder or install a fixed one in those high-ceiling cabinets. After all, adding a beautiful ladder and metal rail creates an interesting, eye-catching element to your kitchen.
In 2022, custom cabinets will probably be necessary if you design or renovate a kitchen. Take advantage of the uniqueness that comes with high-ceiling cabinets. If you use items occasionally or seasonally, the upper shelves will be perfect for them. In addition, you may opt for cabinets with see-through glasses so you can easily see what's inside.
Elegant Kitchen Hardware
It's time to say goodbye to understated cabinetry. This year, an exciting way to elevate your existing cabinets is to replace their hardware. If you're hesitating to replace your old kitchen cupboards, drawers, and cabinets, it's totally fine. If they're in excellent working condition, you can repaint them and replace their old hardware with elegant ones.
This year is about details; you can easily incorporate elements into your kitchen through brass knobs and handles. Aside from brass, you can explore the wide selection of kitchen hardware available. Indeed, different metallic adornments will match your kitchen's characteristics and style.
Go for gold if you want to go for something elegant. Brass or wood are also excellent choices for minimalist and modern kitchen designs. Your cabinets will instantly look refreshed simply by replacing their knobs and handles. The key is to make everything work well together.
Dark Colored Kitchen
Dark colors are definitely in this year, and it's been applied even in interior design. If you want to try something new, one great idea is to create a dark-colored kitchen. The boldness of a dark color makes your kitchen look modern and elegant. When cleverly executed, black or dark kitchens can create an impact like no other color. Not to mention, it also hides away stains, imperfections, and dirt, allowing you to make your kitchen look consistently neat and classy. For that reason, black kitchen ideas are becoming increasingly popular this year.
Although employing dark hues in your kitchen is nothing new, you'll use them a lot this year. You can choose to have dark floors, cabinets, and wall paint. If lighting your kitchen is an issue, you can rely on specific lighting fixtures to add the finishing touch. The drama in your modern kitchen is already present thanks to the dark tones. It's worth noting that, dramatic hues like black in kitchens add a bit of moodiness. Consider using this kitchen design and invite your guests and friends over to let them appreciate your boldness.
Dual Kitchen Islands
Traditionally, kitchens were only used for preparing and cooking meals. But now, kitchens are regarded as multi-functional rooms where your children may complete their homework, eat their meals, and spend time with you while you prepare a snack. This year, it would be best to consider investing in dual kitchen islands.
Having separate food preparation and entertaining areas is helpful as you begin to host parties in your homes again. Guests can gather around the second kitchen island to enjoy appetizers and drinks without being confined to a dining table. This kitchen idea is perfect if you have enough space to spare in your kitchen.
Incorporated Mirrors
Antiqued mirrored glass has been a popular backsplash option for decades, and it's now appearing in kitchen cabinet designs. This is the best method to make your kitchen appear larger and more spacious. You can use mirrors instead of glass or wood for your cabinet doors.
Additionally, mirror cabinet doors provide concealment, so you don't have to keep your cabinet contents organized. Moreover, you can also make your kitchen look brighter and more illuminated due to the lights being reflected by the mirrors.
Textured Surfaces
The variety of textures in clothing and fabrics has increased dramatically in recent years, and this year is no exception. It's the same when it comes to designing your home. Textured surfaces are especially useful in the kitchen. Although this isn't a new design concept for living rooms and bedrooms, it's coming back in the kitchen this year. Regardless of the material you choose for your countertops and backsplashes, strive to incorporate patterns and textures in your design.
Wood and metal surfaces can have textured designs on them. Moreover, concrete can also have textured designs. In this kitchen design, a layered aesthetic with a variety of tactile materials is more important than clean lines and hard surfaces. This year, try to incorporate this kitchen design into your modern home. It's an easy way to add sophistication to your kitchen layout.
Layered Lighting Fixtures
The ability to layer lighting in a kitchen is now essential for successful kitchen designs. You'll see a lot of modern kitchens on social media and in celebrities' houses where the lighting fixtures are significant. One crucial criterion is that you should only install task lighting in certain preparation areas. You may, however, assess your kitchen layout and identify areas where you might layer more lighting fixtures.
For instance, instead of using a single lighting design, you can experiment with different lighting fixtures and integrate pendants, ceiling lights, and other fixtures. In a large, open-plan kitchen, two different designs may help designate distinct areas within the space while adding flair.
Conclusion
Whether you're building a new kitchen or deciding to remodel an existing one, it's critical to incorporate modern kitchen ideas like the ones listed above. Knowing this year's popular kitchen design trends will allow you to find new inspirations and apply them to your kitchen project. Hopefully, you'll be able to use some of the suggestions above or mix and match them with your own.