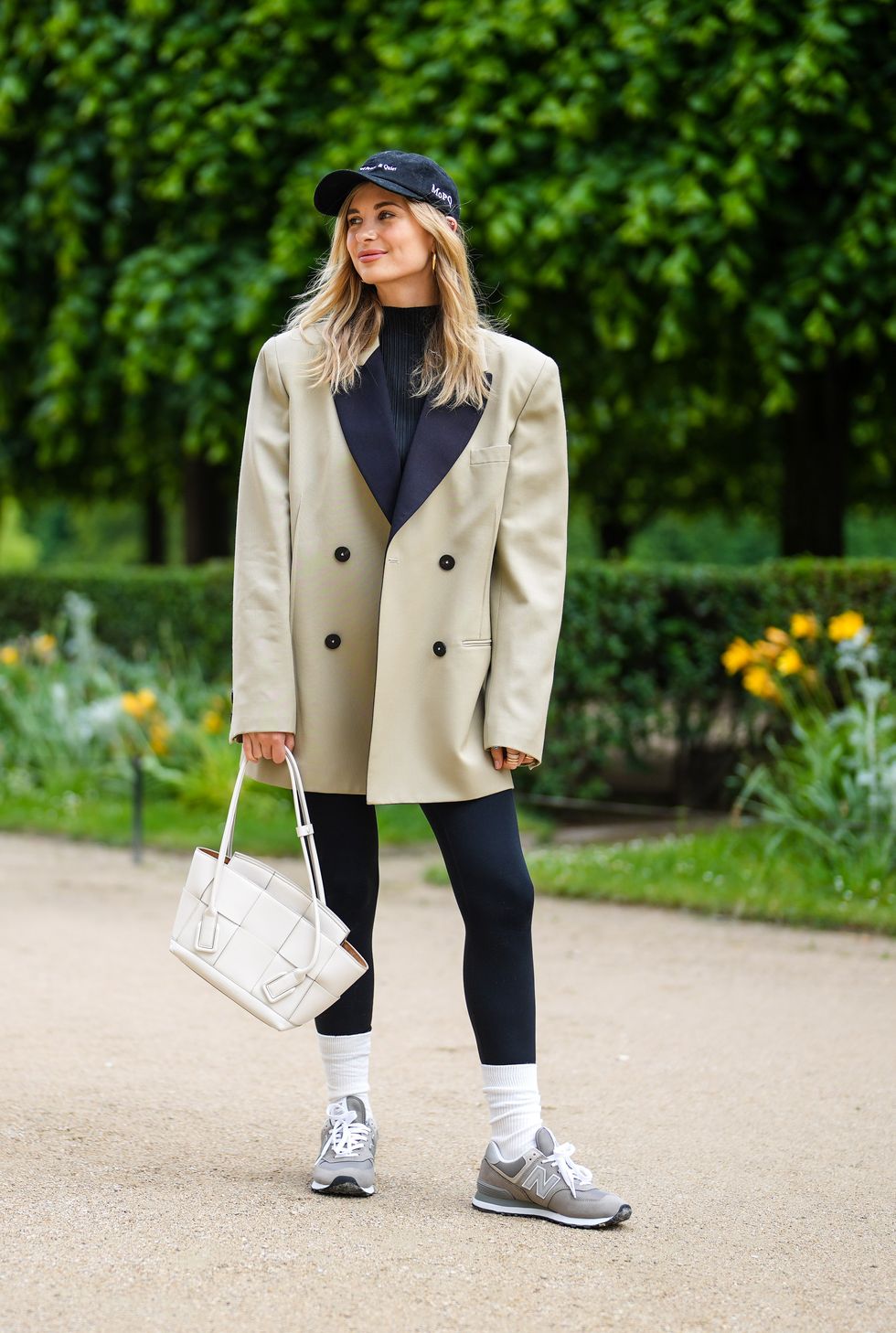 Saturday or Sunday brunch is a wonderful invention, allowing us to catch up with friends and be fully relaxed as we face a whole day, or two, away from work! It's a time to savor morning coffee, to visit new restaurants and cafés, to gossip and to show off your latest fashion clothes.
Brunch may just be the first course of your weekend banquet, before you take a stroll around an art gallery, go shopping or play sports in the local park. But it's a time when we all like to see and be seen by our fellow fashion fans as we congregate in town!
What is the proper attire for brunch?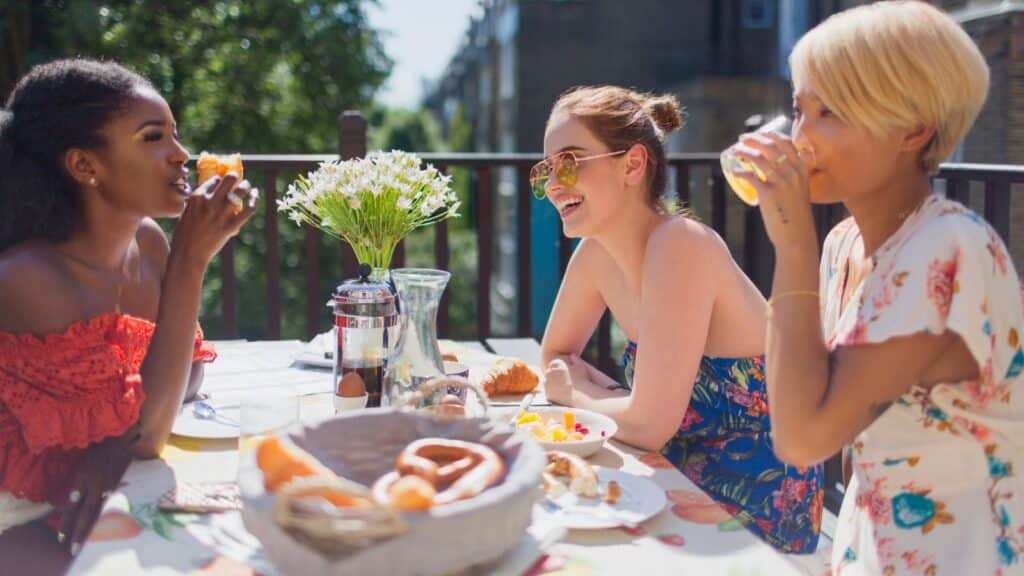 Brunch, as a hybrid meal between breakfast and lunch, invites a level of casual yet chic elegance in the way you dress. The ideal brunch outfit is a marriage of comfort and style that reflects the relaxed and sociable nature of the event.
For a typical weekend brunch, you might consider wearing a dress that's bright and airy, or a stylish blouse paired with a pair of comfortable jeans or a flowing skirt. The beauty of brunch attire is its versatility; it can be dressed up or down depending on the venue and company.
For gentlemen, a casual button-down shirt or a polo, paired with chinos or well-fitted jeans, exudes a sense of laid-back sophistication. Sneakers can be a great choice if they're clean and fashionable, but a pair of loafers or casual dress shoes can elevate the look.
When it comes to accessorizing, remember that less is more. A statement piece, such as a chic handbag, a bold necklace, or a trendy hat, can add personality to your outfit. Ultimately, the goal is to feel confident and comfortable, enabling you to focus on the delightful array of food and great company that brunch has to offer.
Can you wear sneakers or leggings to brunch?  Absolutely, you can wear sneakers and leggings to brunch, but context and styling are important to ensure appropriateness.
Sneakers have been fully embraced in the world of fashion and they can provide a nice casual touch to your brunch outfit, particularly if you're aiming for a sporty or streetwear-inspired look. Opt for clean, stylish sneakers over worn-out gym shoes for the best impression.
Leggings, too, can be brunch appropriate, but their styling should be considered carefully. Although they are very comfortable, leggings are often seen as more casual or workout attire. To elevate leggings for a brunch setting, consider pairing them with a chic, long-line blouse or a stylish tunic that provides some coverage. Layer with a long cardigan or an oversized blazer for a more put-together look. The ultimate aim is to strike a balance between comfort, style, and the formality level of the venue or event. If the brunch is at a high-end restaurant, you might want to opt for more traditional brunch attire, but for a casual get-together, trendy sneakers and stylishly presented leggings can absolutely work. Always consider the location and company when choosing your outfit.
Of course, these guidelines may change based on the specific occasion or locale. For instance, a brunch at a fancy restaurant might require more formal attire, while a beachside brunch could call for sundresses and sandals. Remember, it's all about matching the spirit of the event with your personal style.
OK,  take a moment to browse my latest gallery of cool, new looks you can try out as trendy brunch outfits!
Brunch Outfit Ideas You'll Wear Over and Over
1. Smart Waistcoat & Trouser Duo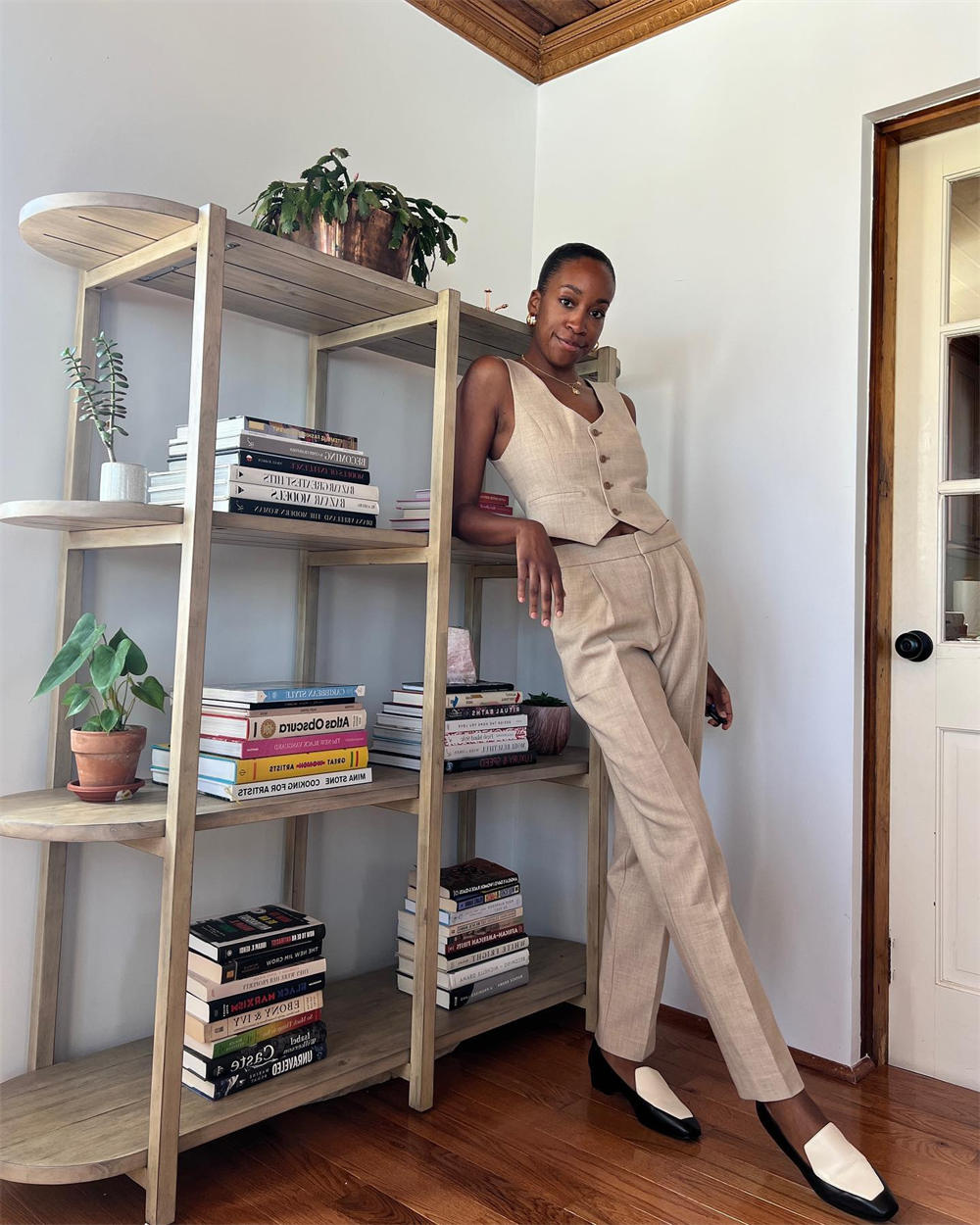 Yes, it's true – we are going to be ironing creases into our trousers again.
But the results of that little extra attention are great!
This waistcoat and slim-cut trouser set is a versatile and attractive new way to look elegant when you have a brunch date.
In trendy, oatmeal color with fabulous cream and brown two-tone shoes, you'll be ready for art-gallery browsing the rest of the day!
2. Mid-Calf Off-White Boots with White Blazer & Jeans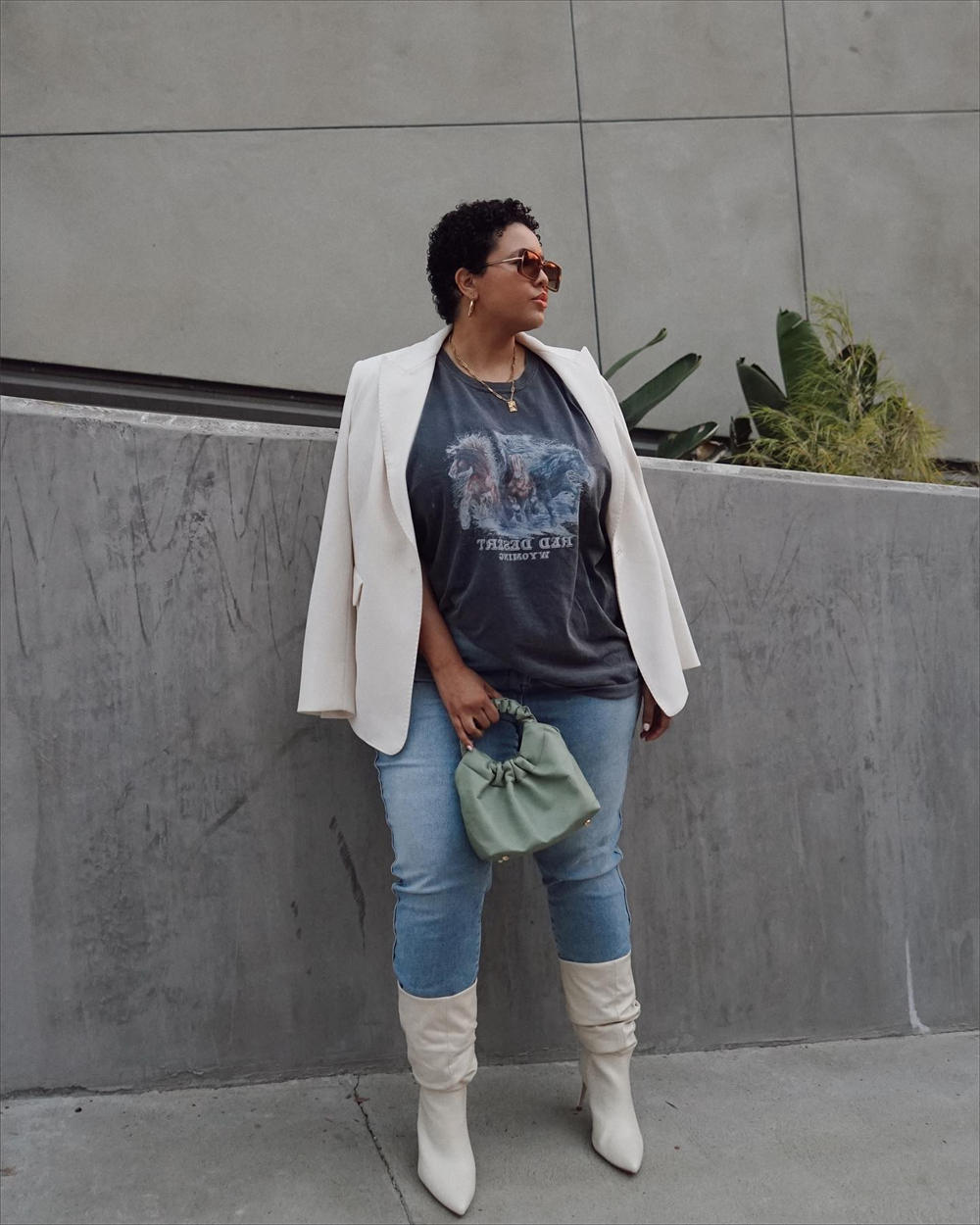 These are one of the latest types of fashion boot, which reach up to your mid-calves for a different look.
Boots are increasingly being worn in warmer weather, and in light neutral colors they add lots of style to your outfits.
The basic graphic t-shirt and skinny jeans of this outfit are lifted to a whole smarter level with the addition of a white blazer and high-heeled, pointed toe, kinky boots!
3. Chic Leather Flying Suit & Heavy Boots
This edgy vinyl/leather flying-suit is a real stunner and has cool tech vibes about it.
With its extended epaulet detail on the shoulders, you definitely get a military feel from this suit.
And if you turn up for your brunch dressed like this, the server will definitely take your order first because this outfit oozes quiet authority!
Match with heavy boots and no handbag.
4. Quirky Red Vinyl Midi-Skirt with Patterned Sweater

Midi-skirts are very fashionable this year and this scarlet, snake-skin skirt is a real eye-catcher!
It's worn with a beige and brown sweater with a funky abstract geometrical pattern, which has a retro vibe.
And the retro theme is carried on in the beige ankle socks and platform sandals.
This is the perfect, quirky outfit to wear on visits to the city for brunch with your ultra-trendy and creative pals!
5. Sexy Plus-Size Long Dress

And if you want to show your feminine side to full advantage, wear a lovely, full-length dress with an enticing low-neck.
This high-waisted, Empire-line dress suits lots of different body shapes and is especially flattering to plus-sizes.
The pretty puffed sleeves and gathered, square neckline showcase your decolletage.
So if you want to make a big impression on your brunch date, this summery look is bound to triumph!
6. Black Micro-Skirt Under Leather Camel Trench Coat

Camel trench-coats have always been considered, 'cool' since TV spy series in the 60's, but this trendy leather trench is an ultra-cool, modern twist.
And whatever you wear it with, will be instantly lifted into the polished outfit class, so it's a great investment!
Black heeled mules add to the casual, but glam vibe showing how well camel and black look together.
And a simple white t-shirt and black mini-skirt become a fabulous weekend outfit for a quick brunch before a leisurely afternoon of shopping.
7. Chic Short Zebra-Print Dress

This is one of the fabulous dresses that looks great on almost anyone and fits lots of different occasions!
It functions like a high-waisted dress and has fitted top that flatters the bust, without showing lots of cleavage.
The black and white animal-print is a classic in fashion and interior décor, with lots of visual appeal.
And as a short, fitted dress it looks perfect under an oversized greige blazer, with casual mule sandals and a black, chain-strap bag!
8. Vivid Rainbow-Banded Sweater & Wide Jeans

If you're a fan of rainbow clothes, here's another bright and breezy sweater to add to your wardrobe!
The fluffy texture of the sweater adds softness to the look with wide-legged summer jeans.
And a jaunty, lime-green shoulder bag that matches the lime band of the jumper perfectly.
Wear with heavy brogue shoes and enjoy hanging out with your pals at the weekend!
9. White Cropped Jacket & Wide-Leg Trousers

This cropped, soft-white jacket with a furry collar is super-cute with interesting details like the zipped pocket and the decorative wrist-bands!
And matched with wide-leg trousers with a trendy, sewn-down front crease, it make for an attractive, high-fashion trouser-suit.
Add a little contrast with a tiny, black bag and unexpected black socks and finish with comfy sneakers ready for a long afternoon trawling the fashion shops!
10. 'Worn' Leather Bomber Jacket & Wide Leg Jeans

Bomber jackets are big new this year and here's an updated, but retro version that looks like an authentic worn man's jacket.
It's a cool oversized look matched with light-blue, wide-leg jeans with cargo-pant pockets and long legs trailing on the floor.
And with authentic white, winkle-picker shoes from the 60's, this outfit is perfect for brunch before an afternoon of my favorite activity thrifting in second-hand stores!
11. Pleated White Mini with Sweater & Summer Coat
This is a fantastic outfit for giving you new ideas and trendy, fashion inspiration!
First of all, it shows how to use different shades of white and off-white to create more texture and interest.
And it unexpectedly mixes a cute, short 'tennis-skirt' style with a long, wintery, cable-knit cream sweater.
Then it surprises you with transparent, white knee-socks and authentic, 1960's 'winkle-picker' pointed slingbacks.
Just gather your quirky look together with a lightweight summer coat in pale cream and enjoy the fun of creating fashion!
12. Full-Length Denim Skirt & Baggy Canvas Coat

Here's a new idea – the 'duster coat', which was used in the 'old West' of America to protect a horse-rider's clothes from the dusty desert terrain.
I have started to see them in my local fashion stores and they make excellent summer coats and new way to enjoy the elegance of a 'camel' coat in warmer weather.
The lightweight duster coat is meant to fit loosely and go over all types of clothing with a comfy fit.
It looks great over a full-length, flared, denim skirt, with trendy seams – in the latest gray-blue denim color!
13. Casual White Denim Mini with Black Tights & Boots

The advantage of wearing thick tights is that you can wear your skirts extremely short and still feel sufficiently covered.
This unusual, white micro-skirt has two asymmetrical pockets on the front and a trailing cord on one side.
It gives the impression of cargo-pants style, but in an equally casual skirt.
The other outstanding style feature here are the heavy, high-leg boots that balance out the shortness of the skirt.
It's a great casual look for cooler weather, when you don't want to be covered in long, bulky sweaters and a coat!
14. Edgy Black Leather Jacket with Green Top & Blue Skirt

Like to wear quirky, original outfits?
Good for you – it's so important to your self-confidence that you develop your own style identity.
This fabulous outfit introduces us to stamped, decorative leather jackets, something I haven't seen before.
And the whole ensemble plays with texture in the Kelly-green crinkled top and the powder-blue, creased midi-skirt.
Finally, the mix of trendy colors, including gorgeous yellow-ochre sneakers, will show you're an original thinker and a very interesting person to know!
15. New Gray-Blue Jeans with Cream/Green Striped Sweater

There are three new blue colors this year and each one is based on a blue summer sky with an approaching storm.
Here's the darkest of the three new gray-blues, which we are starting to see in the latest jeans in stores like Pull & Bear.
It's a strong shade that looks fabulous with lots of other colors, like pink, cream and green in the image above.
And notice how you can now wear different shades of pink together, like pastel pink ballet slippers with a coral-pink shoulder-bag!
16. Simple Oversized Gray Blazer with Slim-Cut Jeans

I love to see gray and tan together this season!
And this simple outfit, of long, oversized blazer with slim-cut jeans and sneakers, is given an added boost from the bright tan shoulder-bag.
Adding a brighter touch of color in your accessories can break-up cool colors with an appealing touch of warmth!
17. Black Outfit with Gray Coat & Green Snakeskin Boots
All-black outfits help to create a slimmer silhouette and an imposing look, but they need extra color and texture to rescue them from being too ordinary.
So a well-cut, dark-gray coat adds plenty of style to this sweater and jeans ensemble.
And those gorgeous, forest-green, snakeskin boots are a fabulous fashion statement adding lots of polish to a plain black look!
18. Chic Short Pink Chanel Jacket with Wide Blue Jeans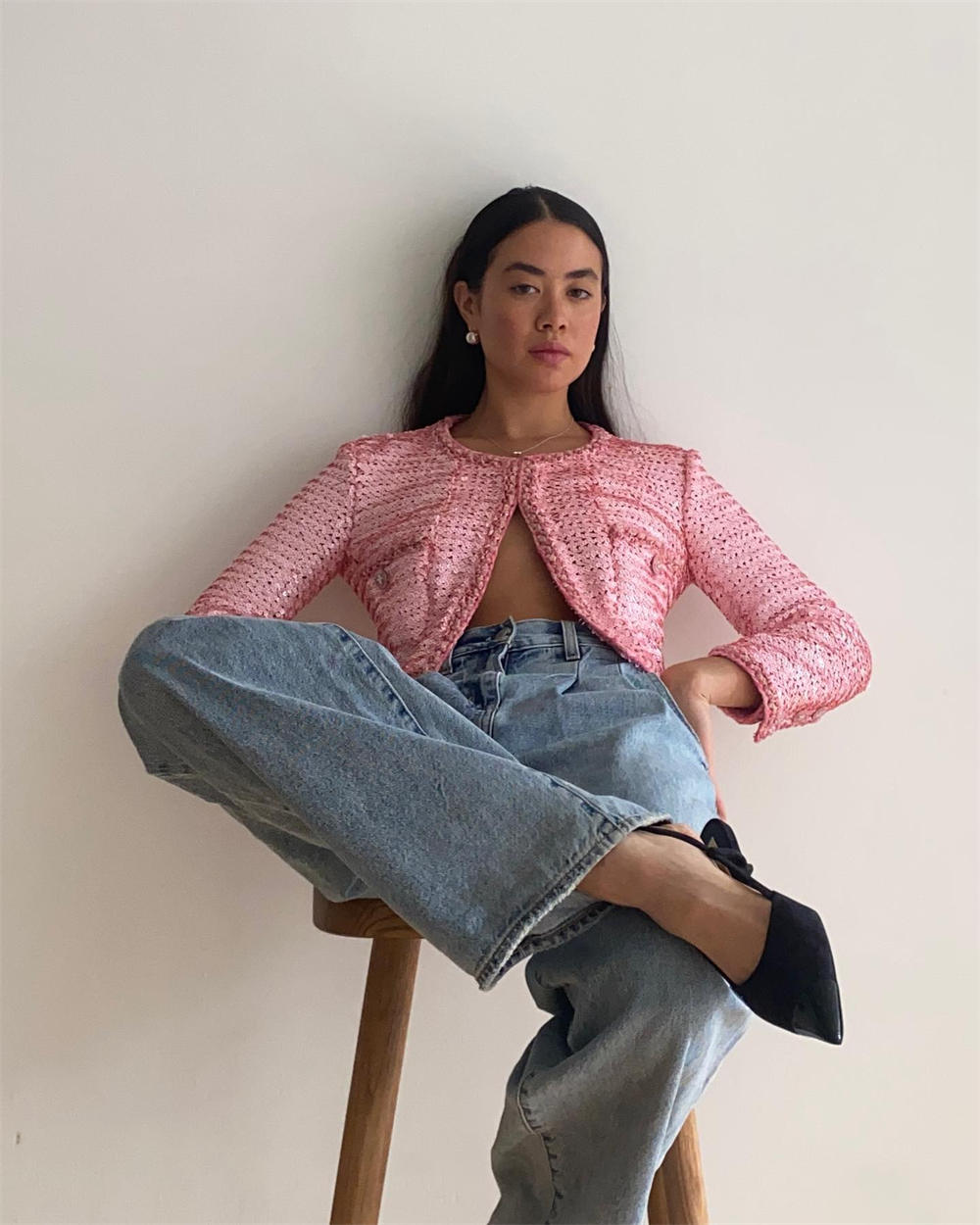 Like to blend classic garments with the latest trendsetting jeans?
It's a very attractive look you can easily use as inspiration for your own outfits.
You just need a short, Chanel-inspired jacket or cardigan in pink or a color that suits your hair and skin.
Wear it with light-wash, wide-leg jeans and 1960's pointed slingbacks to get a lovely mix of top fashion favorites past and present!
---
The secret of looking cool for your brunch dates is trying something new, which is more or less in line with the main fashion trends.
Or inventing your own style from scratch!
So you don't need to copy the outfits you see in my galleries, but observe how unusual combos of different styles, fashion eras and colors can be put together in a new way.
And then have a fun trying-on session at home, to see what you can come up with to suit your body shape and personal style.
Fashion is all about showing your personality through the outfits you choose to wear!
Bon appetit!