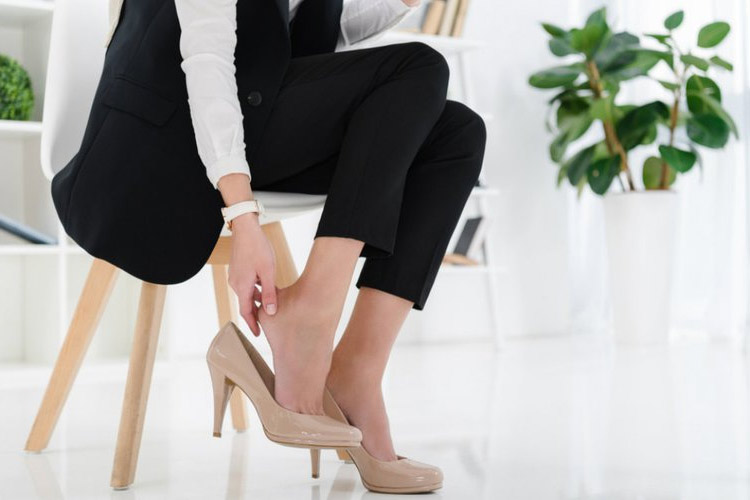 Whether you spend your week working hard or skating by and hardly working, living within the confines of an office dress code can put a serious cramp in your daily comfort and productivity. If you ask us, nothing halts a can-do attitude faster than a too-tight-to-sit pair of dress pants inflicting extremely pinched belly pain with every chair swivel.
Do yourself a favor and trade in those torture-inducing dress slacks for a pair of stylish leggings instead. Check out our suggestions of 8 ways you can feel good about wearing leggings to work (without looking lazy) and enjoy the "casual" side of "business casual" every day of the week.
1. Go for dark
When it comes to wearing leggings to work, the most important thing to consider is if your leggings can pass as workplace appropriate. In other words, they need to be able to seamlessly blend with the rest of your work wardrobe without drawing unwanted attention. Stick with leggings that are the same color as dress pants—like black and dark gray—and save the vibrant, patterned leggings for Tuesday night Zumba class instead.
2. Quality is everything
Of course, color isn't the only thing you need to consider when it comes to picking out work leggings. You need to inspect the quality and condition of your leggings too.
Are they thinning in any areas that might expose more of you than you'd like to share with your coworkers?
Can you see through them in brightly lit rooms or when you sit down or bend over?
Does the elastic band keep them around your waist or do they start to inch down after you wear them for an hour?
Are they pilling on the thighs or fraying at the ankle?
If you answered yes to any of these questions, then your leggings are not work wardrobe material. Invest in a pair of higher-quality leggings that check all of the boxes and won't make you feel self-conscious when you wear them around the office.
3. Choose your tops wisely
The trick to turning leggings from "activewear" to "office wear" is what you pair them with. Leggings, by design, are made to hug your curves—not exactly something you want to advertise at work. Balance out your professional attire and opt for longer tops that are loose, never clingy and which fall past your hips. As much as we'd like it to be true, leggings are not pants. So, play it safe and wear a shirt that adequately covers your booty.
4. Layer your look
If you're worried about looking too casual for a staff meeting or an impromptu boss check-in, try adding a tailored jacket, blazer, or belted cardigan to your ensemble. After all, nothing is more professional than a smart, stylish blazer. Plus, adding layers to the top half of your outfit will draw attention away from the bottom half, practically guaranteeing that no one will even notice that your très chic outfit is about as comfy as your PJs.
5. Stand tall
Even if you're allowed to wear casual shoes like sneakers and sandals to work on the regular, when you're wearing leggings to the office it's a good idea to step up the footwear. Wearing stylish heels or boots with your leggings will go a long way toward dressing up your outfit in any season.
Not to mention, this is a great look to rock with a long sweater in the cooler months (or when the AC is pumping year-round). And, FYI, if you want to give the illusion of longer legs, go for shoes that are the same color as your leggings.
6. Accessorize
If you're still worried that your leggings look just isn't professional enough to get you through the door, try adding a piece of statement jewelry to amp the fancy factor. Layer a few long necklaces over a tunic or add some oversized hoops to your leggings and jacket combo. Just remember not to go "too big" with your statement pieces. Anything that makes noise when you move or could catch a reflection off your computer screen is probably better suited for the clubs rather than the office.
7. Wear more dresses
Wear those sundresses you love well into fall by pairing them with leggings and some cute ankle booties. Layering a sweater or denim jacket over a shift dress and leggings is another great look for your M-F rotation. Just make sure the dress you're working with is appropriate for the office. After all, a pair of leggings can't help a plunging neckline feel less … well … plunging.
8. Put extra effort into your hair and makeup
We know how hard it is to ignore the snooze button during a never-ending week, but getting up a little early to perfect your hair and makeup is well worth the sacrifice on those days you want to lounge in leggings at work. A messy bun might be a passable hairstyle most days in the office, but a messy bun plus leggings may give off the vibe that you kind of forgot it wasn't Saturday. Balance out your cute but comfy leggings look with polished hair and makeup, and there'll be no doubt that you came ready to work the day away.
Leggings for the Win
No need to wait until Friday to start kicking back at the office. Relax at work this week by adding a pair of comfy and stylish leggings into your personal professional dress code. Don't wait.