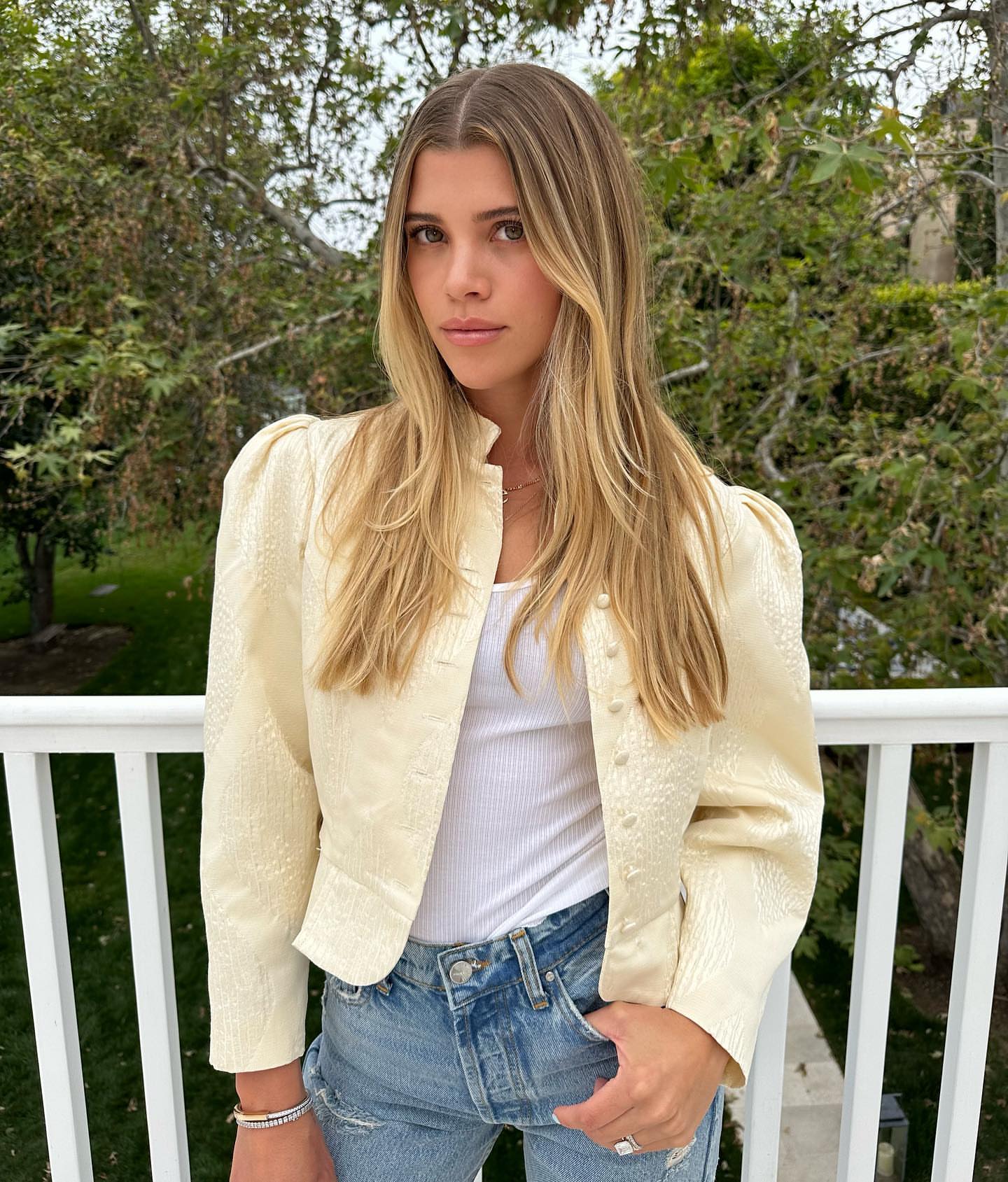 A fashionable influencer with a knack for combining elegance and effortless style, Sofia Richie's recent Instagram post showcases her impeccable style and talent for trendsetting. Posing for the camera with an undeniable allure, Sofia's chic ensemble and captivating beauty make a powerful statement about her unique personal style and understanding of contemporary fashion.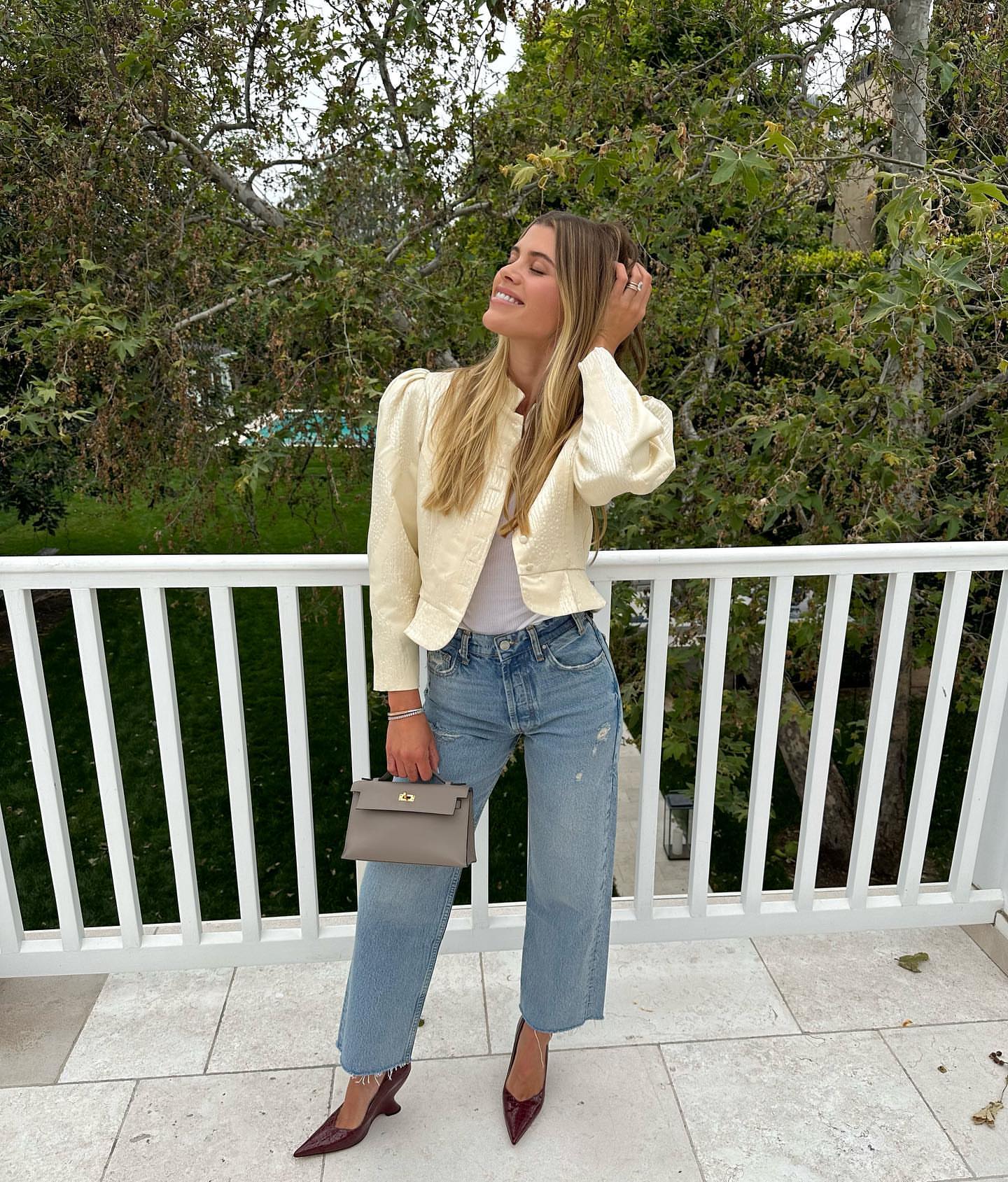 Sofia's hair is styled in a long, flowing style, radiating natural grace. Her hair color, a rich brunette shade accentuated by dark lowlights and lifted with a hint of brighter highlights and blonde hues, adds dimension and depth to her look. The strategic placement of highlights and lowlights creates a vibrant, multi-tonal effect that's visually striking, framing her face beautifully and adding a certain luminosity to her features.
The model's makeup is elegantly understated, highlighting her natural beauty. She opts for a nude palette that enhances her features subtly and perfectly complements her hair. The emphasis on her eyes, coupled with a soft blush and a neutral lip color, exudes a refined yet approachable beauty, testament to her knack for effortless elegance.
Sofia's outfit, a carefully curated ensemble of high-end pieces, underscores her flair for fashion. She dons a stylish Destree Amoako jacket, a sold-out item that speaks to her keen eye for exclusive and fashionable pieces. The jacket's design blends contemporary fashion trends with timeless style elements, resulting in a piece that's both trendy and classic.
Paired with the statement jacket are Anine Bing Gavin Jeans, priced at $172.00. The jeans' classic cut and timeless style offer a perfect balance to the more statement-making jacket. Their simplicity lends a casual chic vibe to the ensemble, highlighting Sofia's ability to merge casual and luxury fashion seamlessly.
No Sofia Richie look would be complete without some luxury accessories. In this case, Sofia selects a Hermès Kelly Pochette in the shade Gris Meyer Swift with gold hardware, a bag retailing for a whopping $25,000.00. The bag's luxe aesthetics, combined with its steep price point, further elevate her ensemble, lending a sense of timeless luxury to her overall look.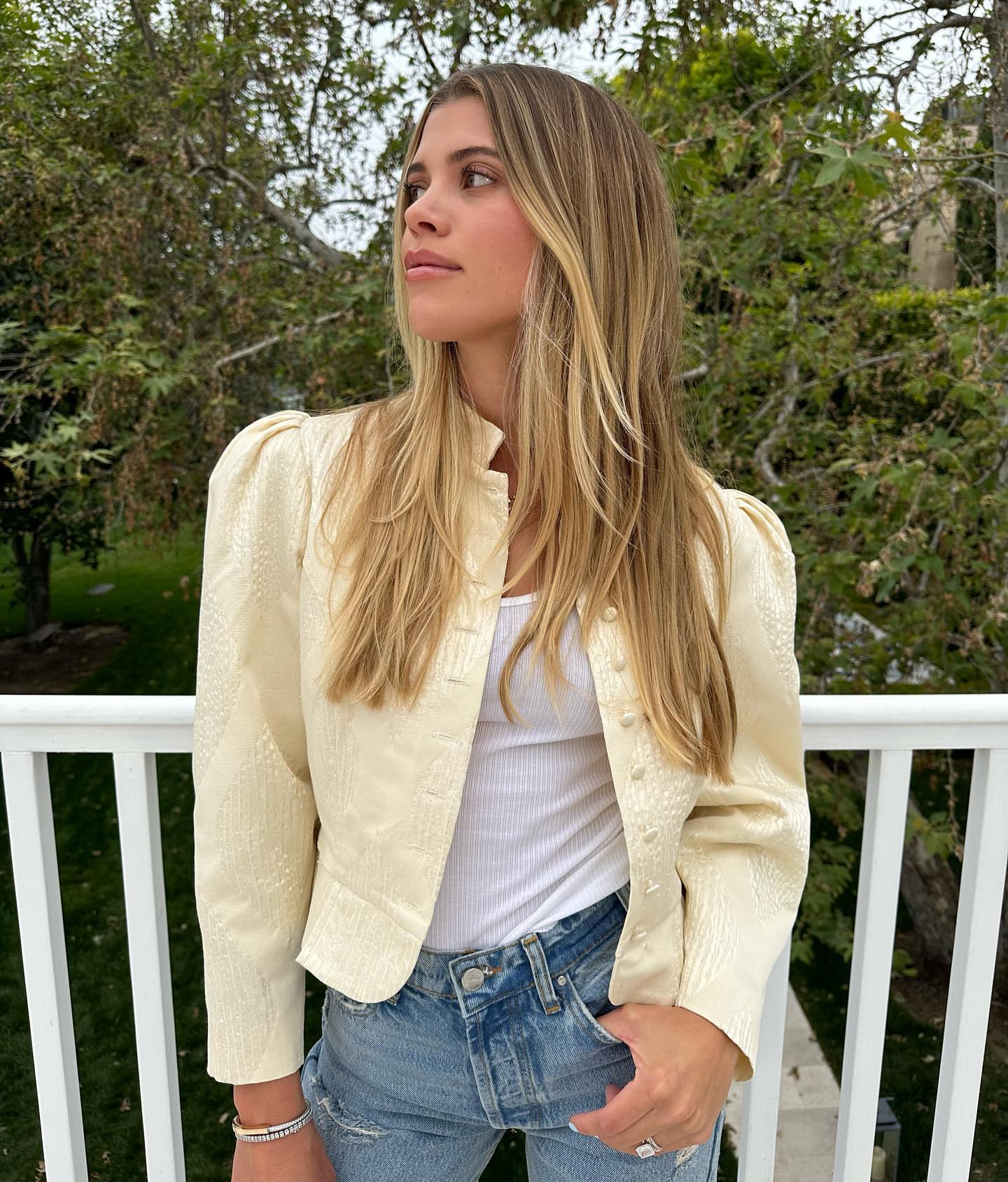 Outfit Ideas for Women in Their 20s
Lastly, Sofia completes her ensemble with a pair of Bottega Veneta Croc-Effect Leather Pumps, retailing for $1,150.00. The heels, with their distinct croc-effect, add an element of visual interest to the outfit and make for a fashionable finishing touch. The shoes' sleek design and high-end feel perfectly complement Sofia's sophisticated yet modern outfit, wrapping up her look neatly.
Sofia Richie's recent Instagram post is a powerful expression of her personal style and her command of contemporary fashion. By expertly blending high-end pieces with more accessible fashion, Sofia presents an image of chic approachability. Her ability to create visually captivating ensembles without relying on extravagance speaks to her understanding of balance in fashion.
Her long, multi-tonal hair, coupled with her understated makeup, sets the perfect canvas for her stylish outfit. The combination of the Destree Amoako jacket, Anine Bing jeans, Hermès Kelly Pochette, and Bottega Veneta pumps results in a chic and polished look that's fashion-forward yet grounded. Sofia Richie continues to inspire and captivate with her distinct style and commitment to embracing both luxury and simplicity in her fashion choices. This Instagram post is just another reminder of why she is a style icon for the modern era.