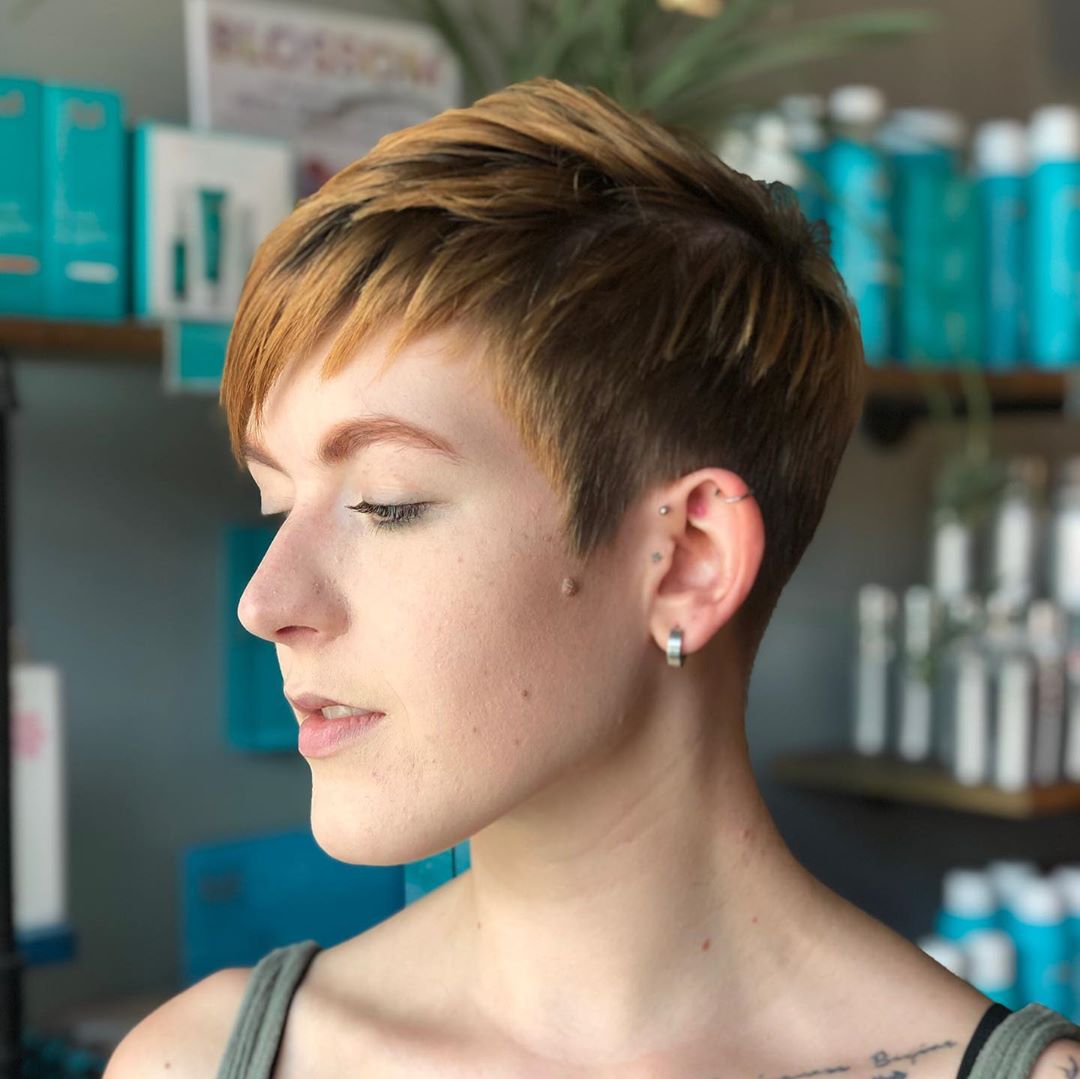 Edgy short cut hairstyles are a great way to show-off your piercings and neck tattoos! And that's not all! These edgy short cuts draw attention to a pair of pretty eyes, a cute nose or luscious lips. They are all specially designed to show off your best features, from cheekbones to a nicely arched neck. And they are also super-trendy and easy to style. What more could you ask for? So dive in right now and find your best, new season short cut!
1. Cute copper short cut with bangs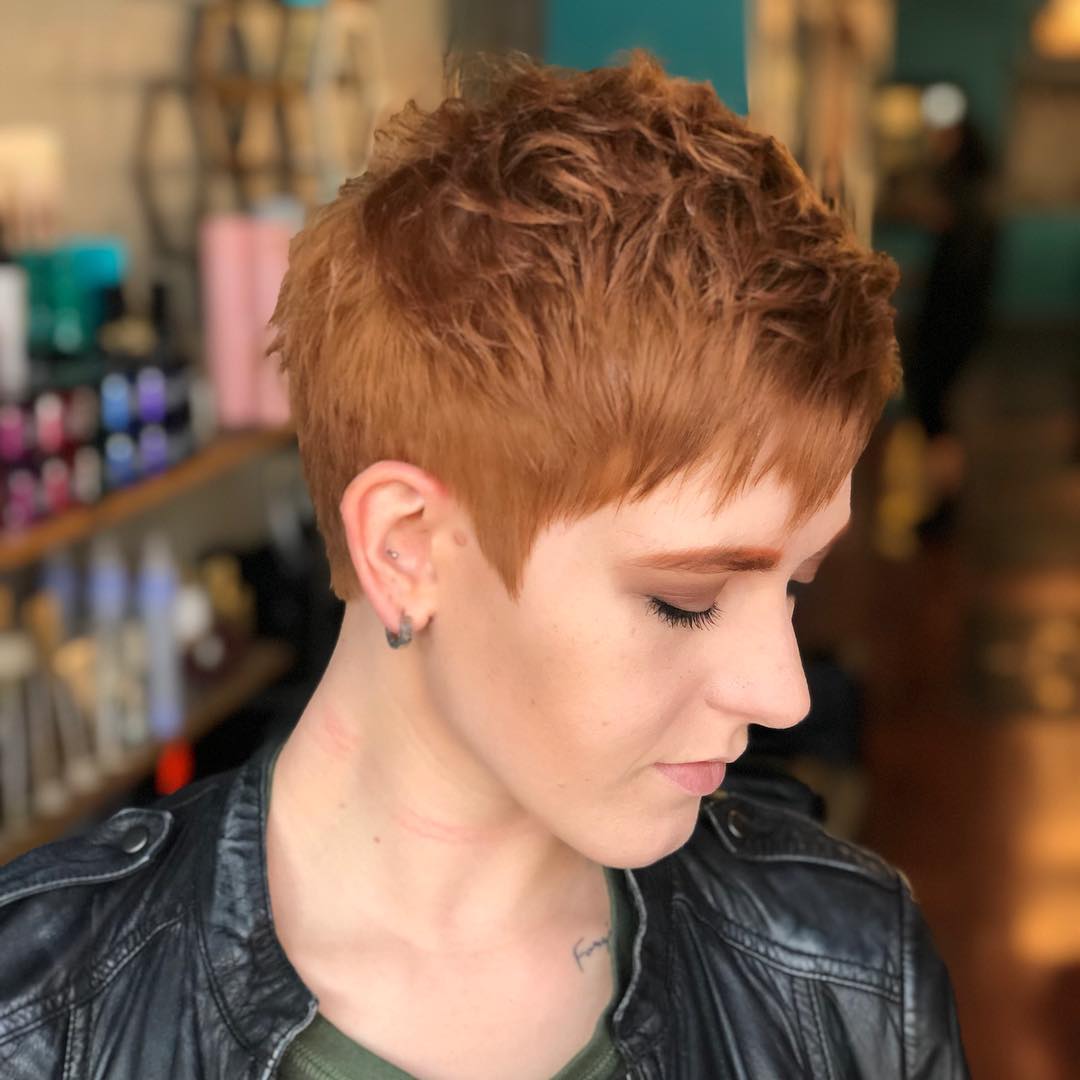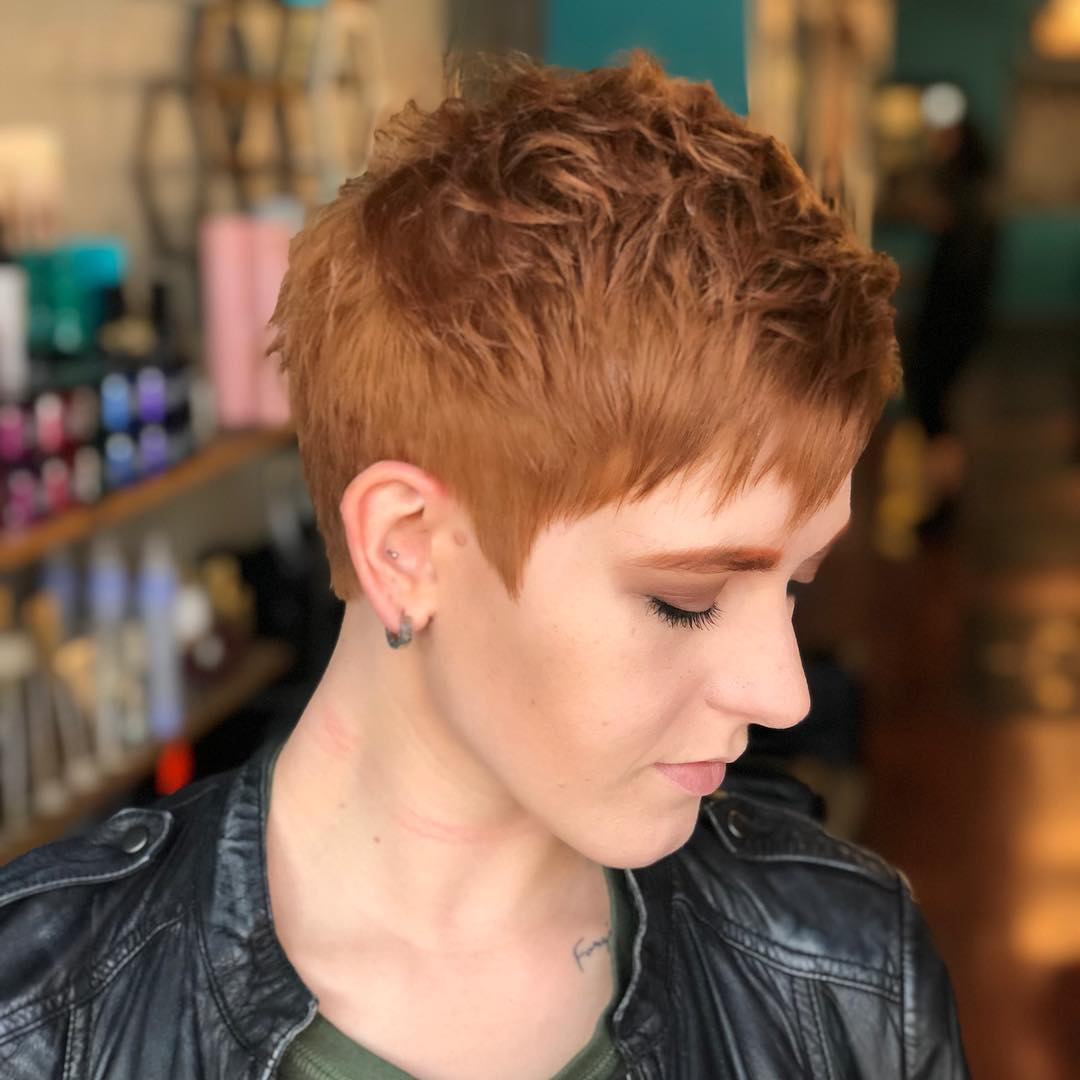 This asymmetyrical short cut has many trendy features. The uneven fringe softens the face and that sharply-cut side point highlights cheekbones. Tousled texture on top accentuates the trendy, casual look. And the gorgeously warm copper color matches the model's fashionable eyebrows perfectly! With the ear completely exposed, you can display piercings and fancy earrings to switch up your look!
2. Chic Pixie cut with bangs – Asymmetric short-cut color tricks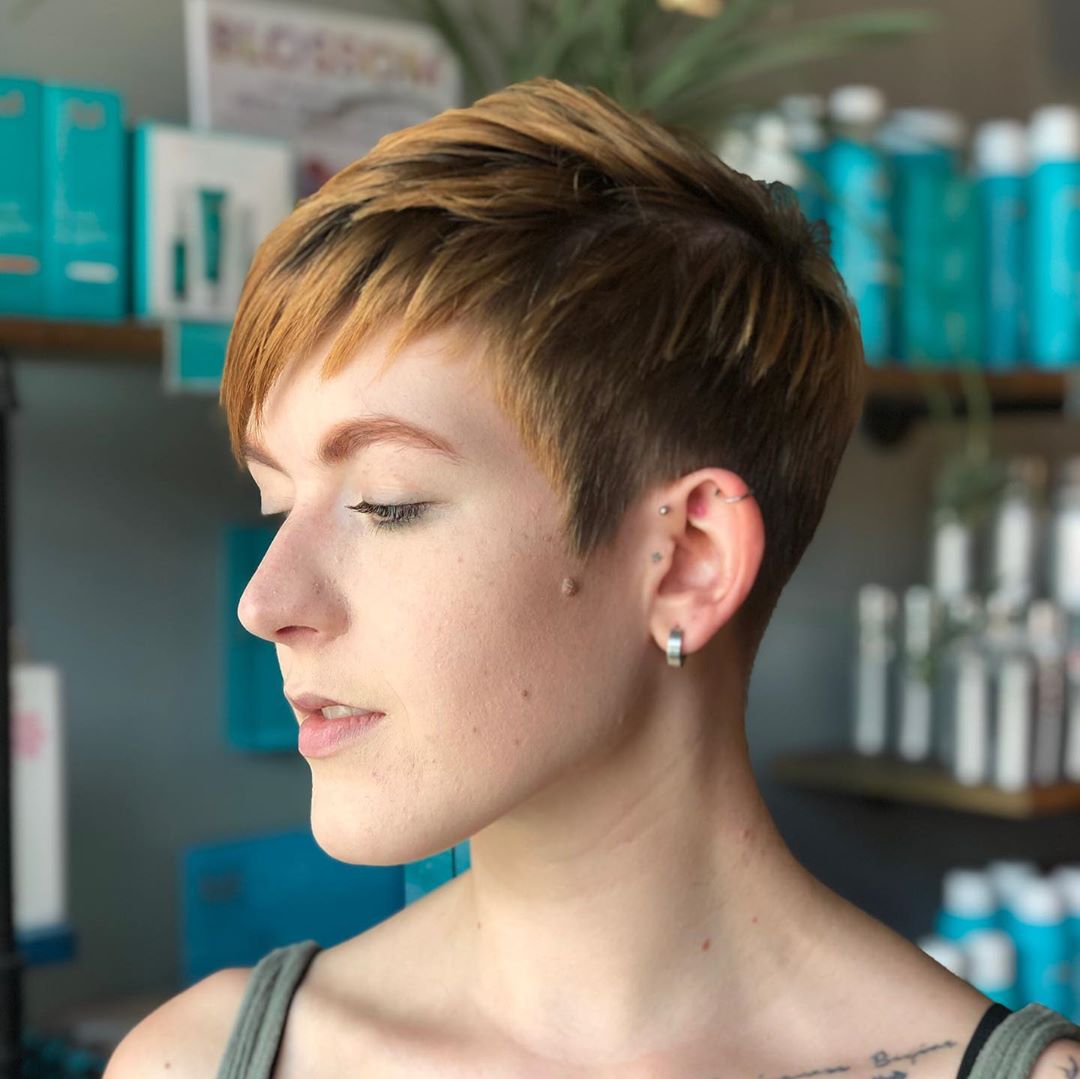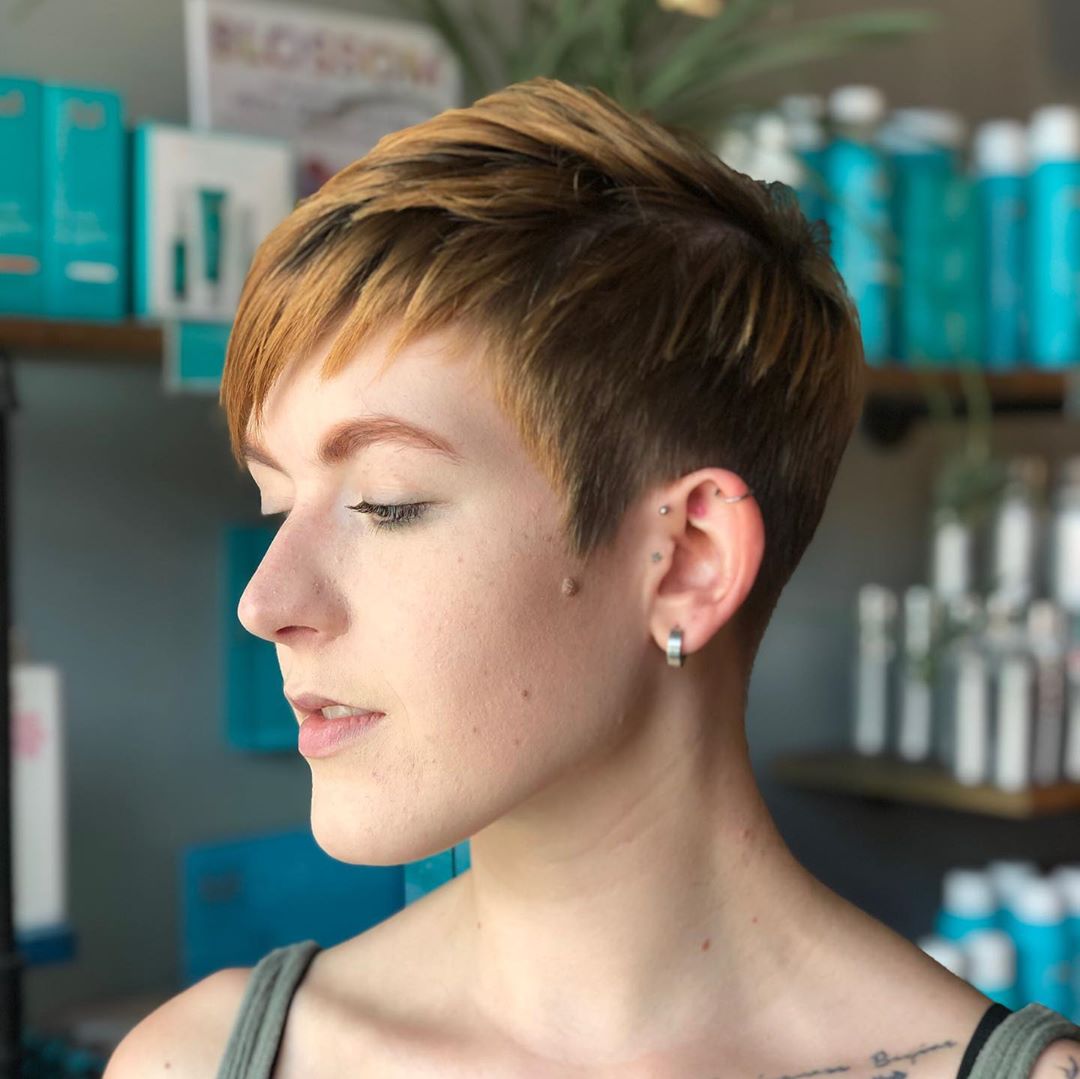 Here's the other side of the short pixie cut featured above. And you can see what a fabulously clean profile this style creates. Beneath the side part the color is muted to accentuate the asymmetry. The back and side are buzzed, and hair is styled onto the face to create an attractive rounded line. A short, blurred part adds interest to forward styled, highly fashionable short hairstyle. This cute, copper haircut is full of texture and dynamic movement!
3. Windswept long layers with undercut – short cut hairstyle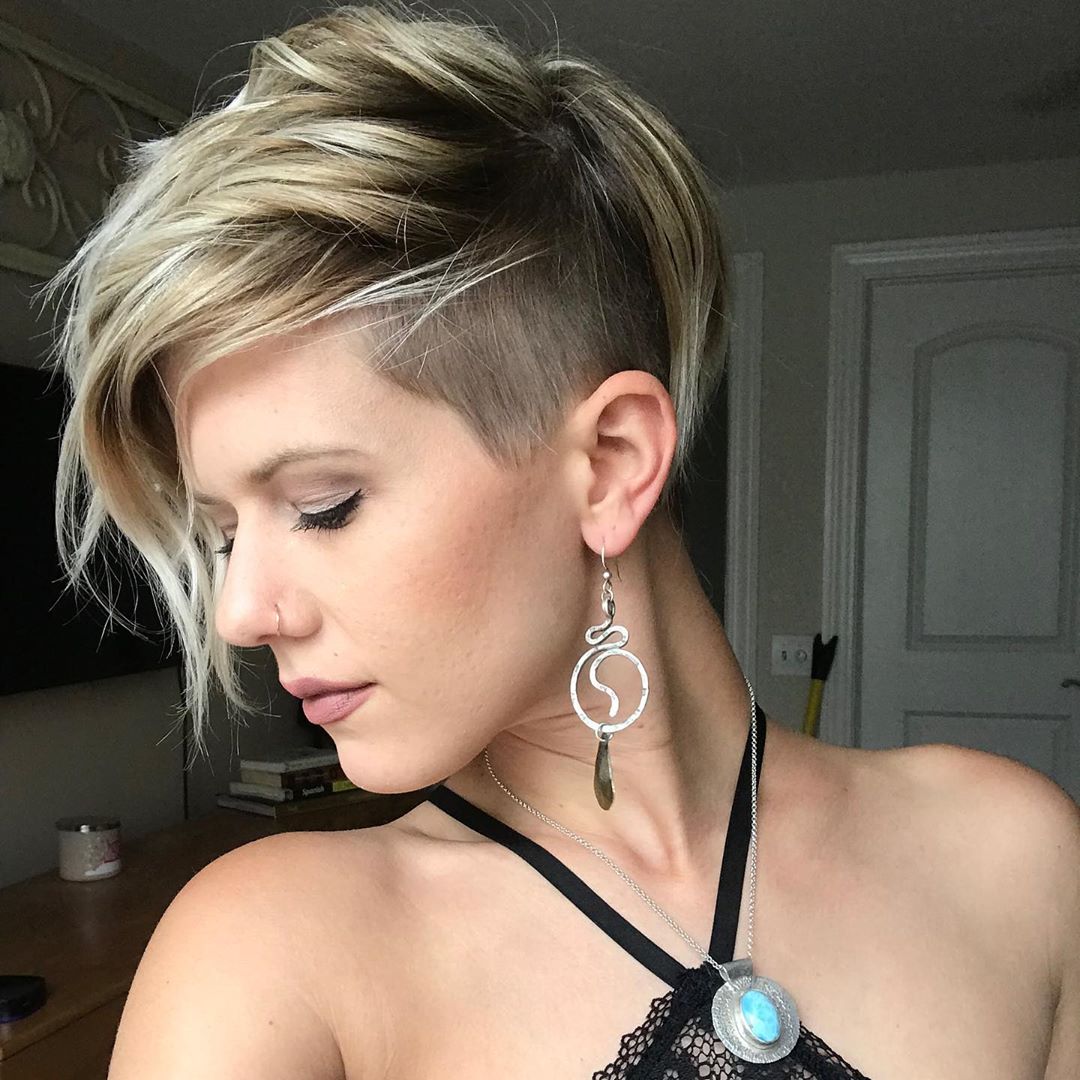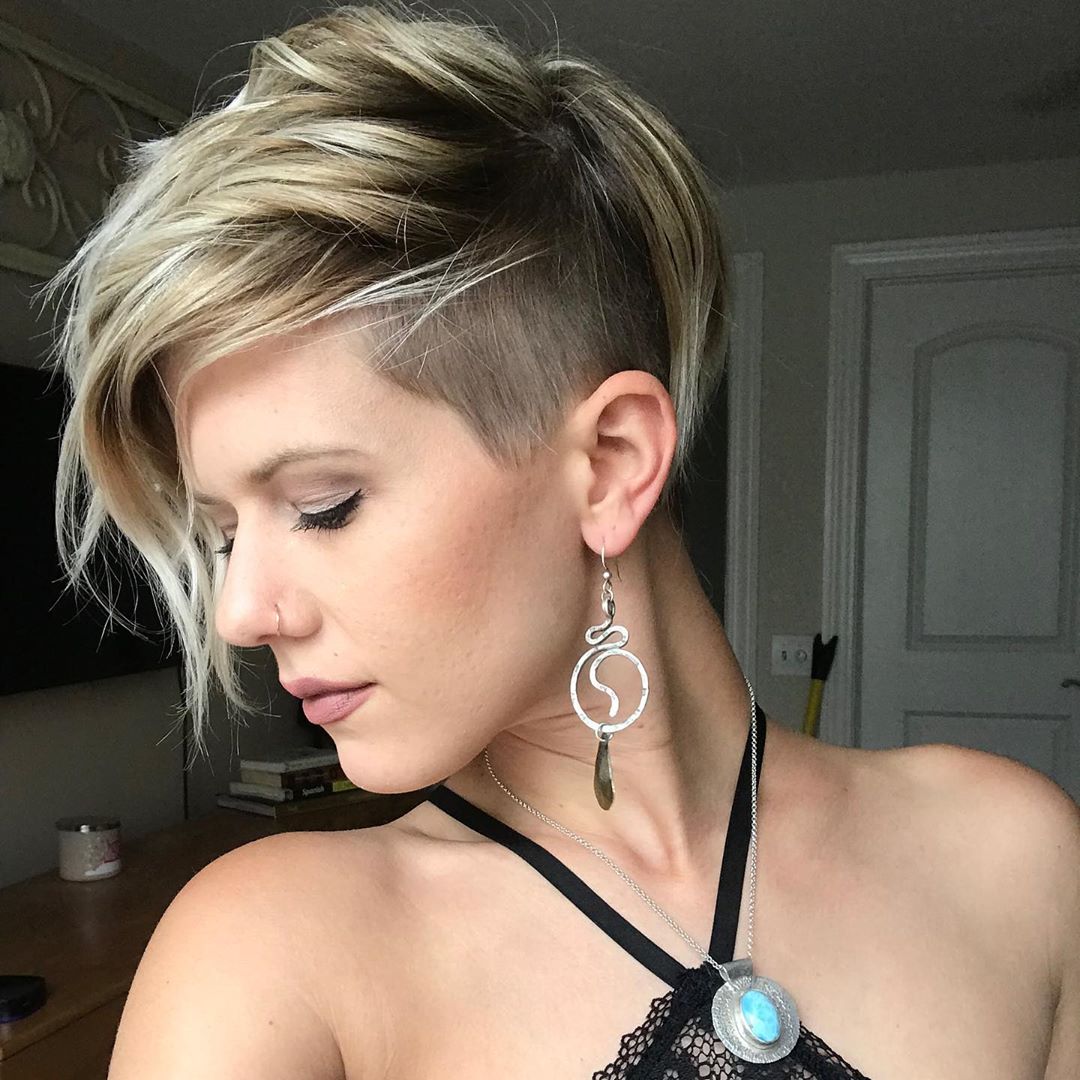 This chic look is all about 3-D color dimension, casually styled long layers and contrasts. You can achieve this on thick hair with natural volume to create height. Ask your stylist for sliced layers cut with tapered tips to create lots of texture and movement. This stylist has buzz cut beneath the side part to make a dramatic contrast with long, floppy, face-framing strands. And dark roots are the background to a fabulous, neutral blonde blend, with white balayage finishing off the 3-D effect!
4. Perky buzzed boycut hairstyle in neutral blonde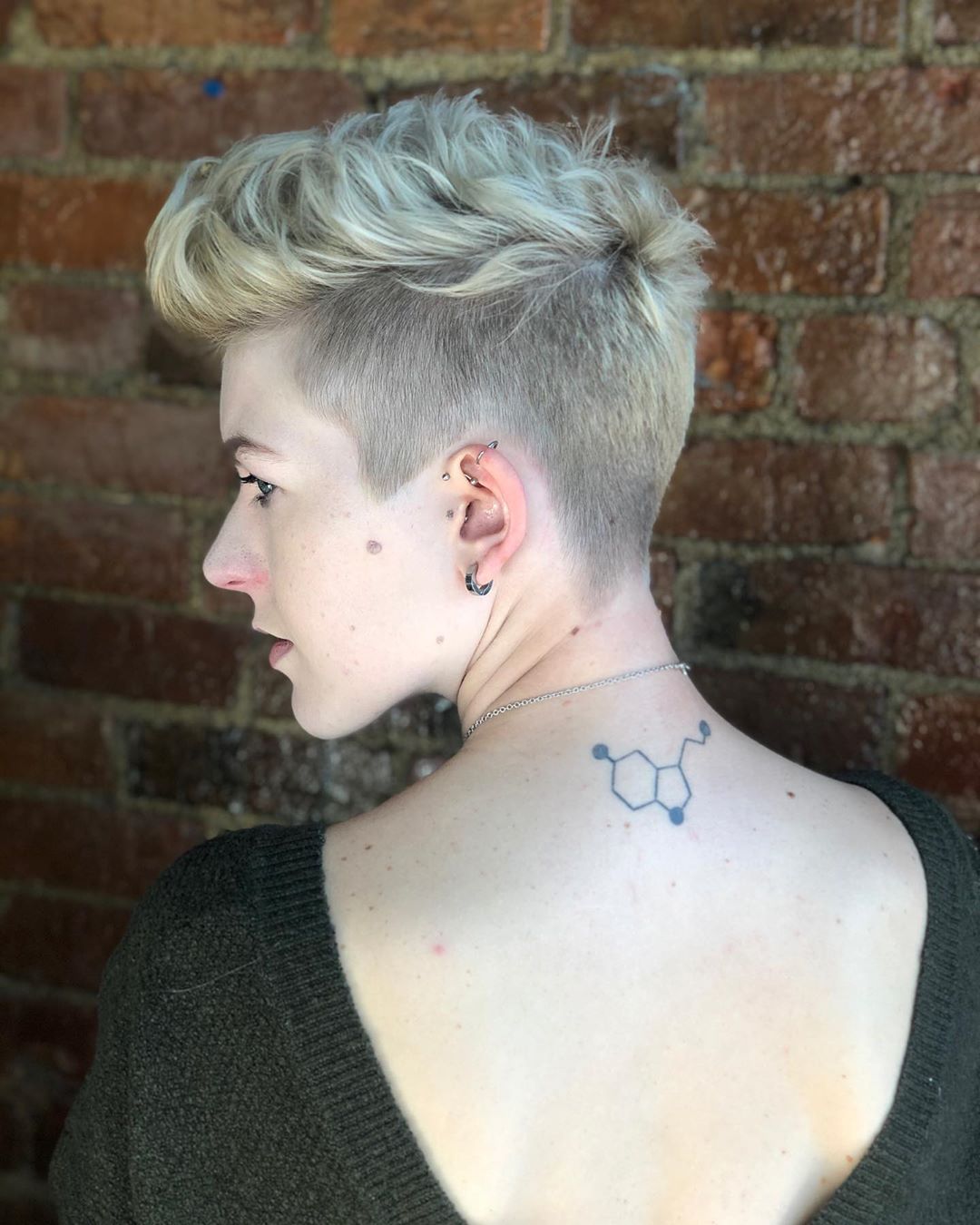 Neck tattoos have become increasingly fashionable, and to show them off properly, you need a short haircut! This ultra-smart short-back-and-sides is the sort of trendy boycut that can really accentuate a feminine face. There's face flattering height in the gorgeously styled forward curved waves. And lots of texture to contrast with the simple, buzzed lower layers. You get a fashionable 'shadow' effect in the darker roots and neutral blonde waves complete an adorable, contemporary short cut!
5. Forward-styled long bangs on short cut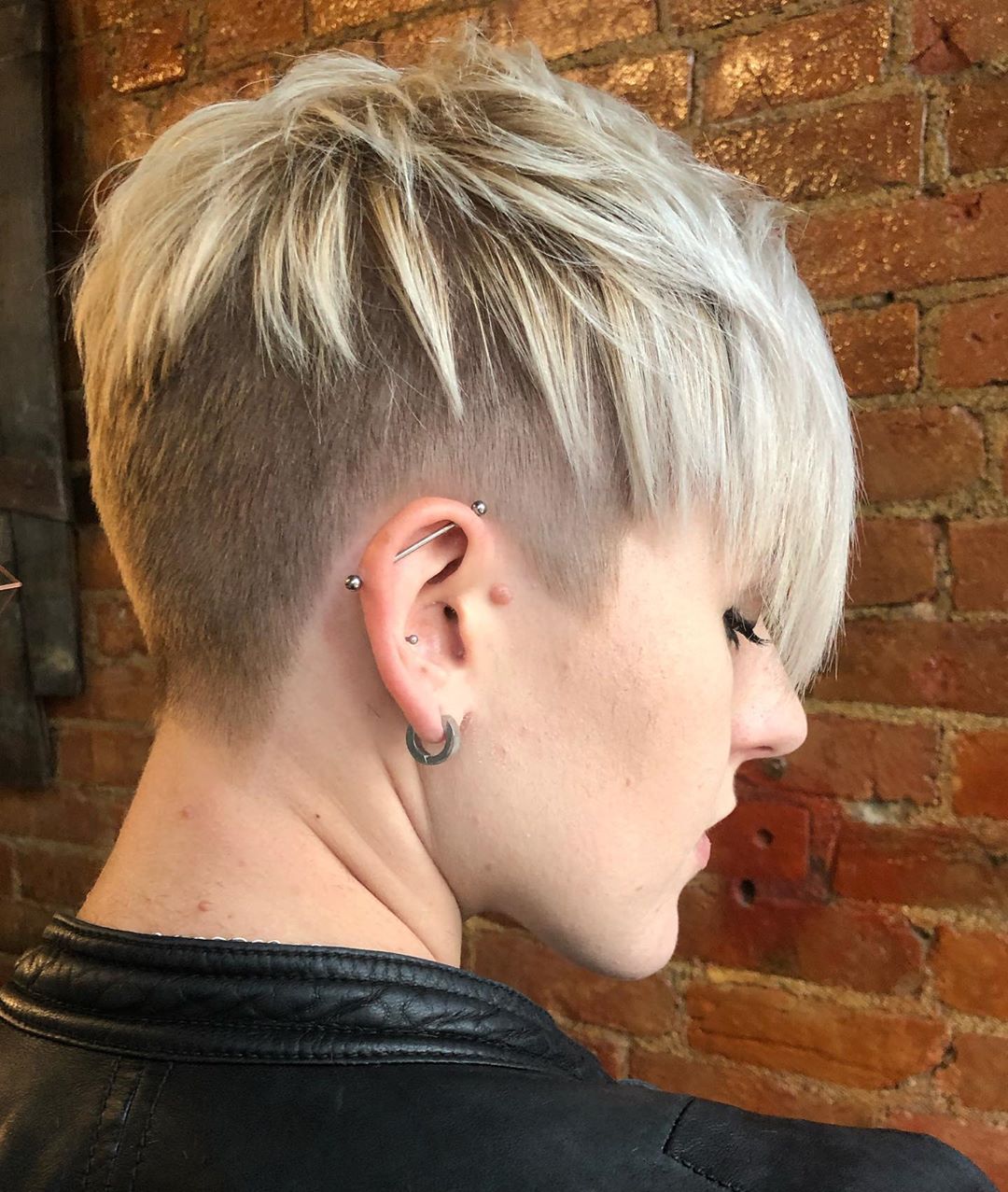 Whilst height on top is flattering to a low forehead or round face, anyone with a high forehead may look their best with a feature fringe. This buzzed short-back-and-sides rings the changes with downward movement from defined points. These create an edgy pattern in neutral blonde, decorating the 'shadow' dark sides. The stylist has filled this short cut with 3-D color contrast, dramatic texture and lots of movement. And with a long fringe flowing over one side of the face, the look is super-cool!
6. Short back & sides blonde haircut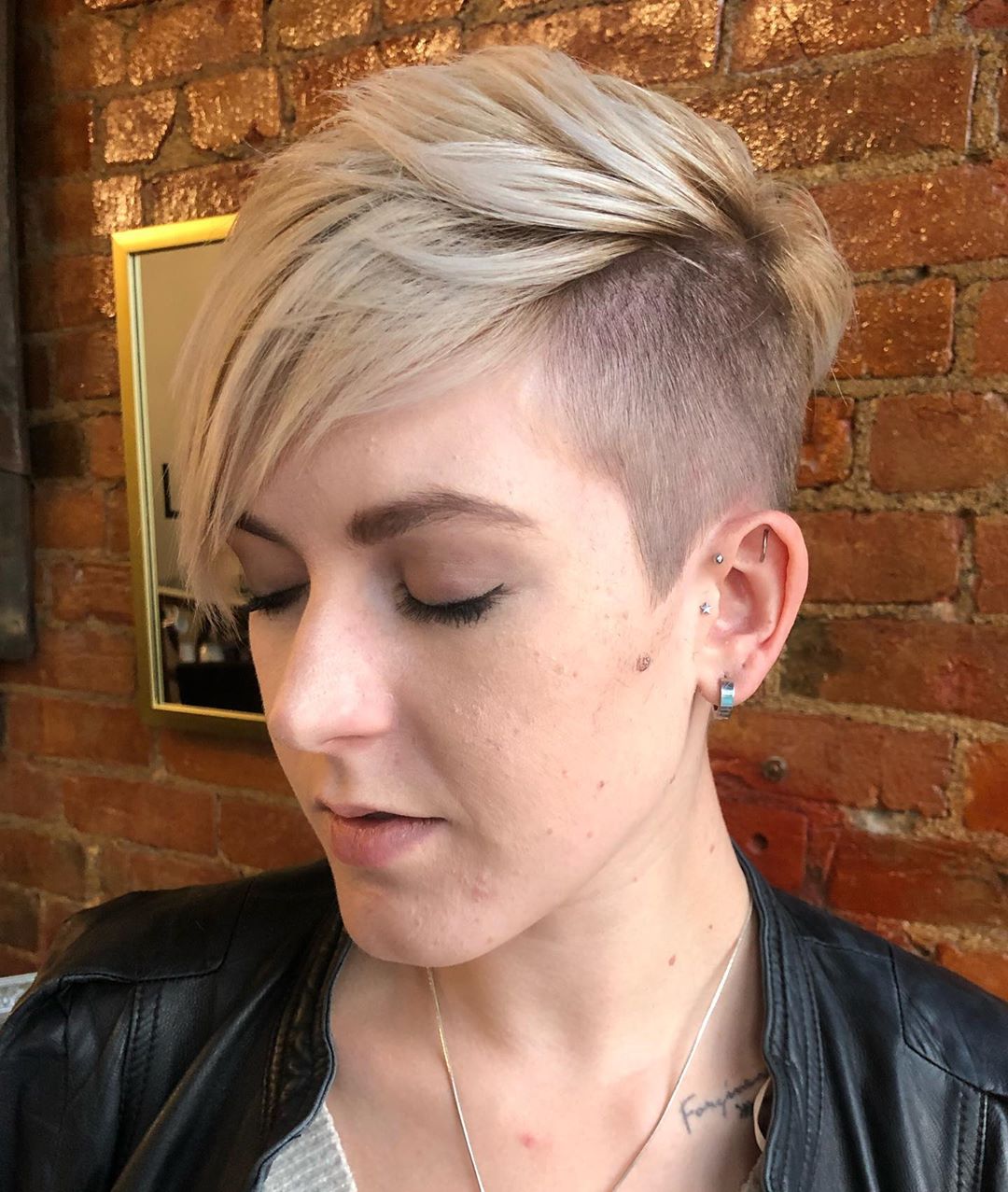 This image shows us the shorter side of the asymmetrical short haircut above. And you can see how the stylist has expertly cut the bangs to create a lovely diagonal line across the forehead. This is the perfect way to reduce the length of a long face and make it appear more oval. And it can balance a round face and give it some trendy asymmetry. With side points at cheekbone level, the focus is kept on the eyes, and away from the chin.
7. Daring fantasy blue short hairstyle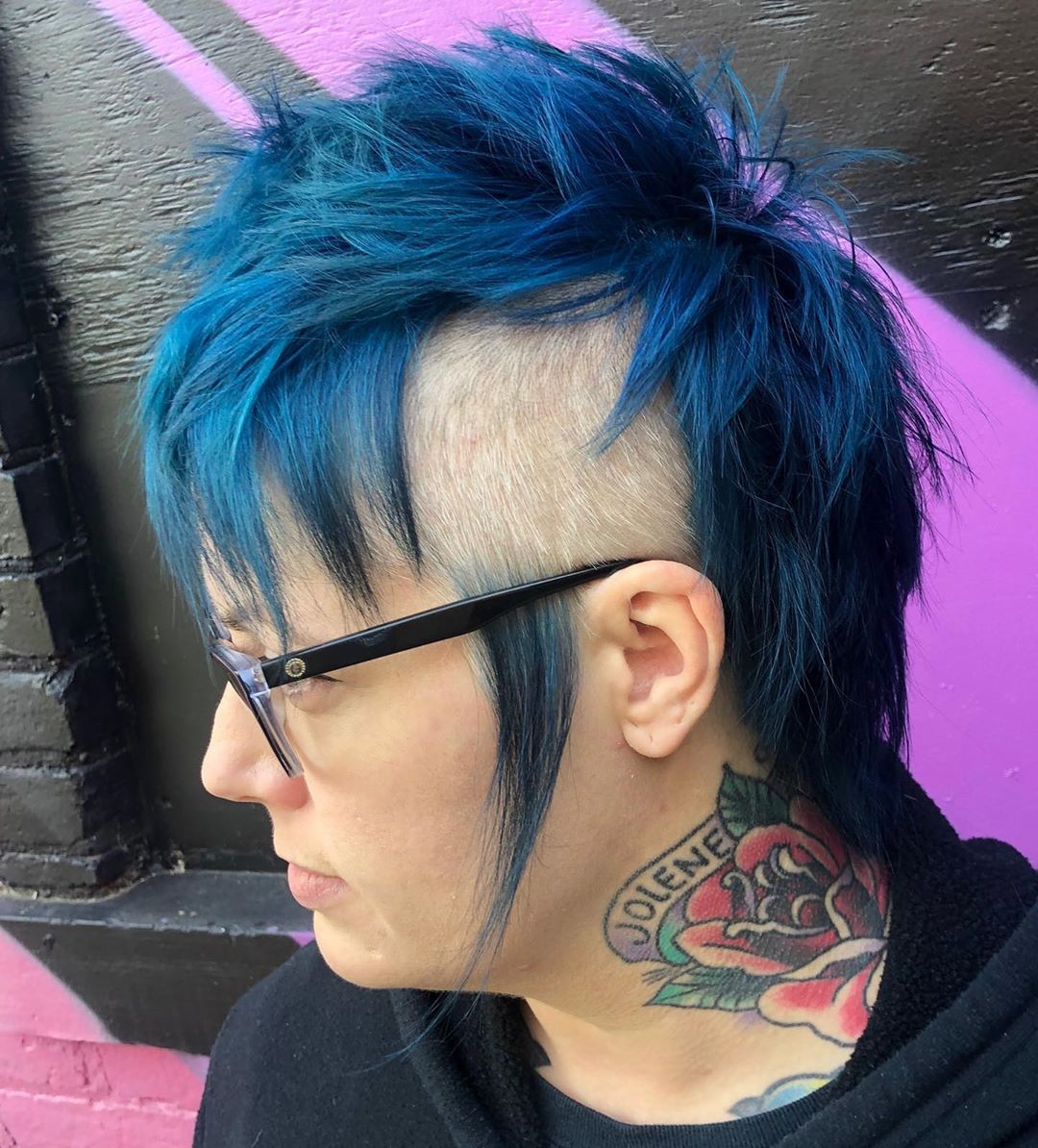 Here's a fabulous, almost 'experimental' new look that pushes the boundaries of creativity to the limit! It's not for the faint-hearted, but for confident women who love to show their individuality. The rich, royal blue hair color beautifully highlights the shaggy texture. And long side sections make a contrast with tapered, wispy tips in black and light-blue. But the focus of this hip, short haircut is the shaved undercut in stark white-blonde! This is a reverse of the current trend for darker roots and 'shadow' effect buzzed sections. Is it the first hint of a coming trend for white-blonde roots?
Well as quite a few women already have unwanted white roots, I doubt if it will become a mainstream trend! But as you can see from the fabulously creative, new short haircut ideas currently in vogue, you never know what will be the next amazing trend! If you don't like these short cuts, click here to get more short cut inspritions here (30 Best Short Hairstyles & Haircuts – Bobs, Pixie Cuts, Ombre, Balayage).