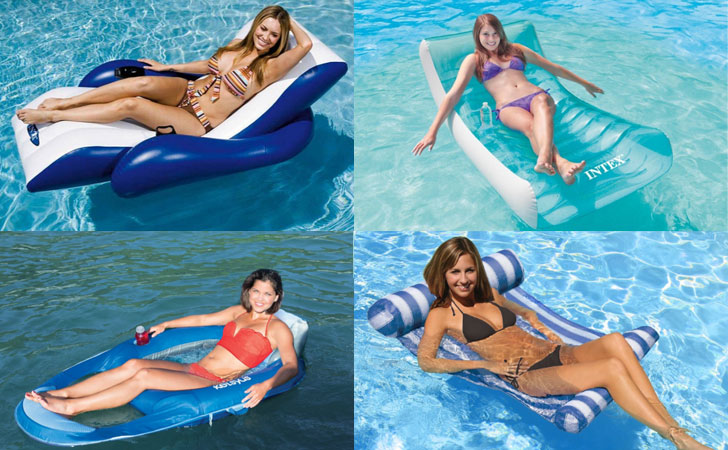 Relaxing in a swimming pool lounger is a great way to soak up some summer sun while floating aimlessly around your pool, dipping your hands and feet in the bright blue water to stay cool. Pool loungers are versatile items; you can eat or drink on them, float and lounge on them, tan on them, and the list goes on and on. The bottom line is, if you have a pool or easy access to one, a pool lounger is a necessity for your summer collection.
Keep reading the pool lounger reviews to learn more about the top-rated best Floating pool loungers currently available for purchase.
10. 

Intex Rockin' Inflatable Lounge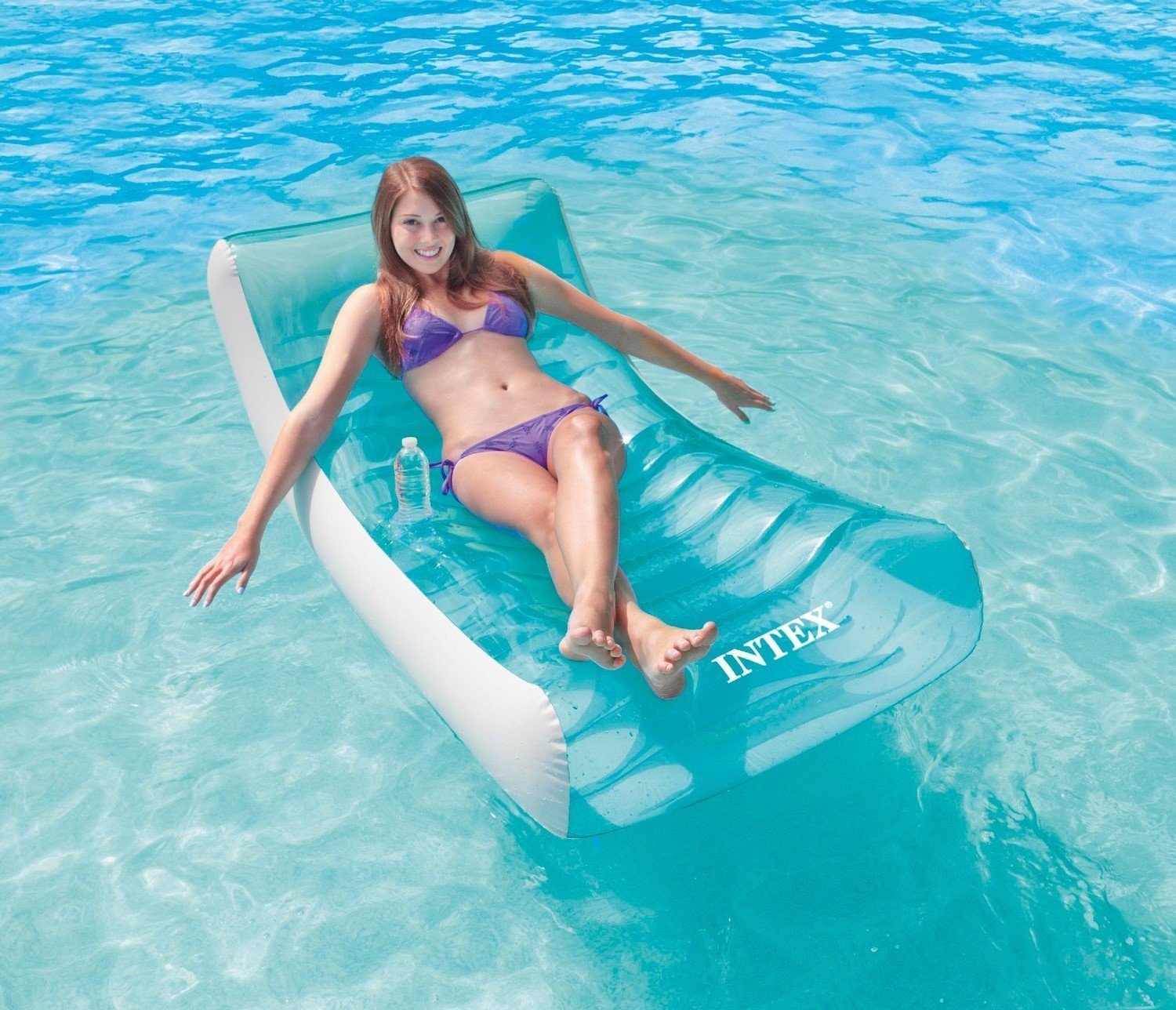 Its title isn't lying; you're sure to be 'rockin" in this pool lounger from Intex. Designed to provide you with the ultimate relaxation experience, this latex lounger is crafted with a special contoured design to give your body extra cushioning and comfort while you float.
Plus, the lounger is equipped with a built-in cup holder that allows you to stay hydrated by sipping you water bottle (or your martini) without getting off of your floating paradise. As an added bonus, it also included a repair patch so that your summer fun won't stop even if your lounger develops a hole.
9. Kelsyus Floating Water Hammock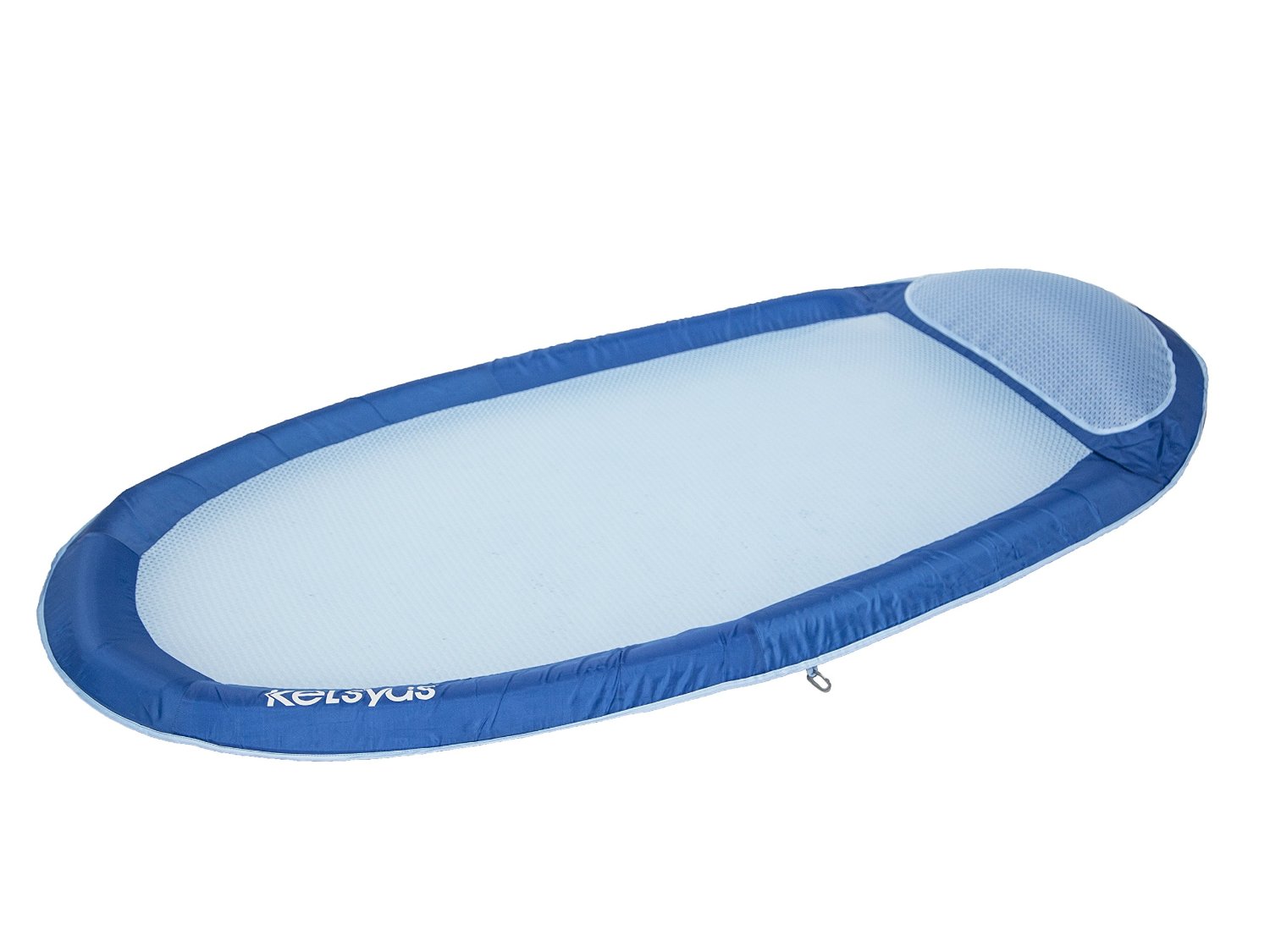 What's more relaxing than a hammock? The answer to that question is, of course, a hammock like this one that floats in the water of your swimming pool. Designed with a fabric covered outer flotation ring for security, this pool lounger features a soft and comfortable mesh bed that allows you to float effortlessly just below the surface of the water to stay cool.
If you prefer to use your water hammock at the lake instead of in your pool at home, that's no problem. Just use the lounger's built-in side clips to tether it to a dock or boat so you can soak up the sun and enjoy floating in the water without worrying about straying too far from dry land.
8. 

Intex Comfort Inflatable Lounge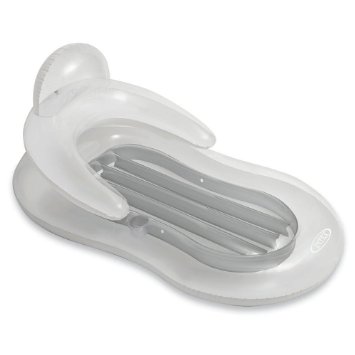 Designed with your comfort in mind, this pool lounger from Intex has a flat construction with cushy, padded arm and back rests that ensure your ultimate comfort at all times. Crafted from high-quality vinyl material, it is not prone to developing holes or leaks. However, if by chance your pool lounger does get a puncture, you can simply use the included repair patch to plug it back up in no time.
Keeping with the theme of ultimate relaxation and comfort, the lounger includes a built-in cup holder that allows you to sip your favorite drink while floating around your pool on your top-quality cushioned lounger.
7. 

Intex King Kool Inflatable Lounge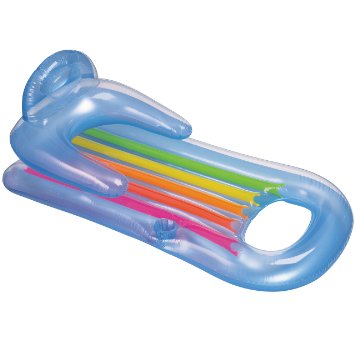 Who wouldn't want to float around in style on a pool lounger adorned with striped rainbow colors in a comfortable I-beam construction? That dream can easily become a reality with this pool lounger from Intex. Complete with cushy arm rests, a back rest, and a convenient built-in drink holder, the lounger allows you to float in maximum comfort.
A special hole at the base of this lounger allows you to dip your feet in the water while keeping the rest of your body afloat and totally dry. When you don't want your feet to get wet, no problem. Just rest your feet on the floating rim of the loungerS beyond the cut-out hole to keep your whole body dry.
6. Swimline Suntan Tub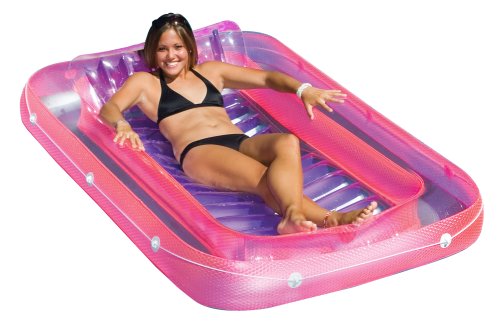 More than just a flotation device, this pool lounger from Swimline provides you with boat-like, full coverage comfort to sun yourself in style. Constructed from sturdy vinyl in an extra large design with back and arm rests, you can comfortably sit or lay down on this pool lounger and remain completely dry while floating in the water.
On hot days when you want to cool down, you can also fill this lounger with water to enjoy a shallow cooling dip. The water stays put in the secure lounger without leaking out, so you can fill it to your desired level and enjoy.
5. 

Poolmaster Water Hammock Lounge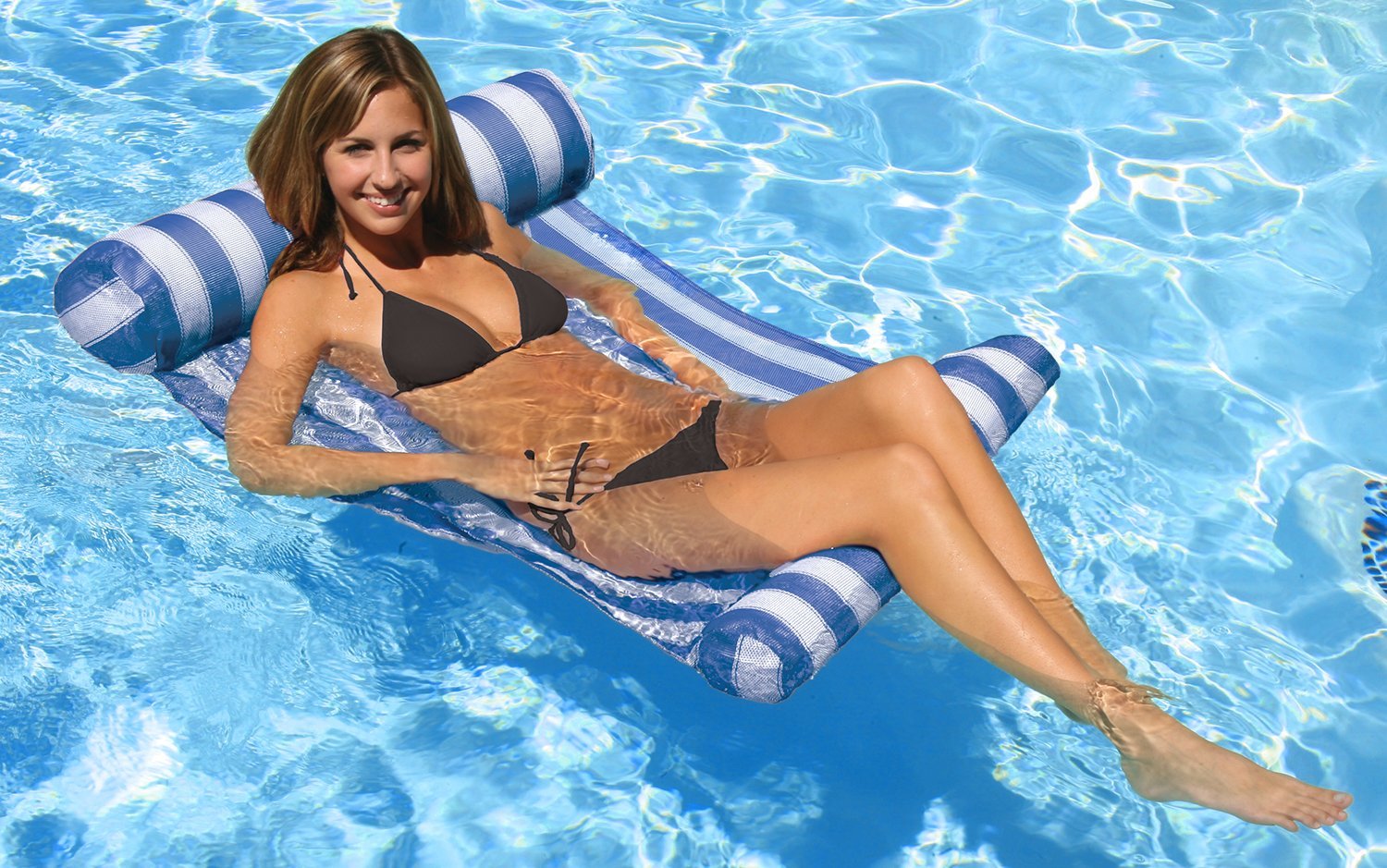 Crafted durable vinyl that is designed to last for many years, this hammock pool lounger suspends your body slightly below the water to provide you with constant cool comfort. With a built-in foot and head rest that keeps your face above the water, this lounger allows you to float and relax for as long as you want.
Designed with an easy roll-up construction, the lounger can be effortlessly packed and stored without taking up too much space in your suitcase or in your garage during off-season.
4. 

Swimways Spring Float Recliner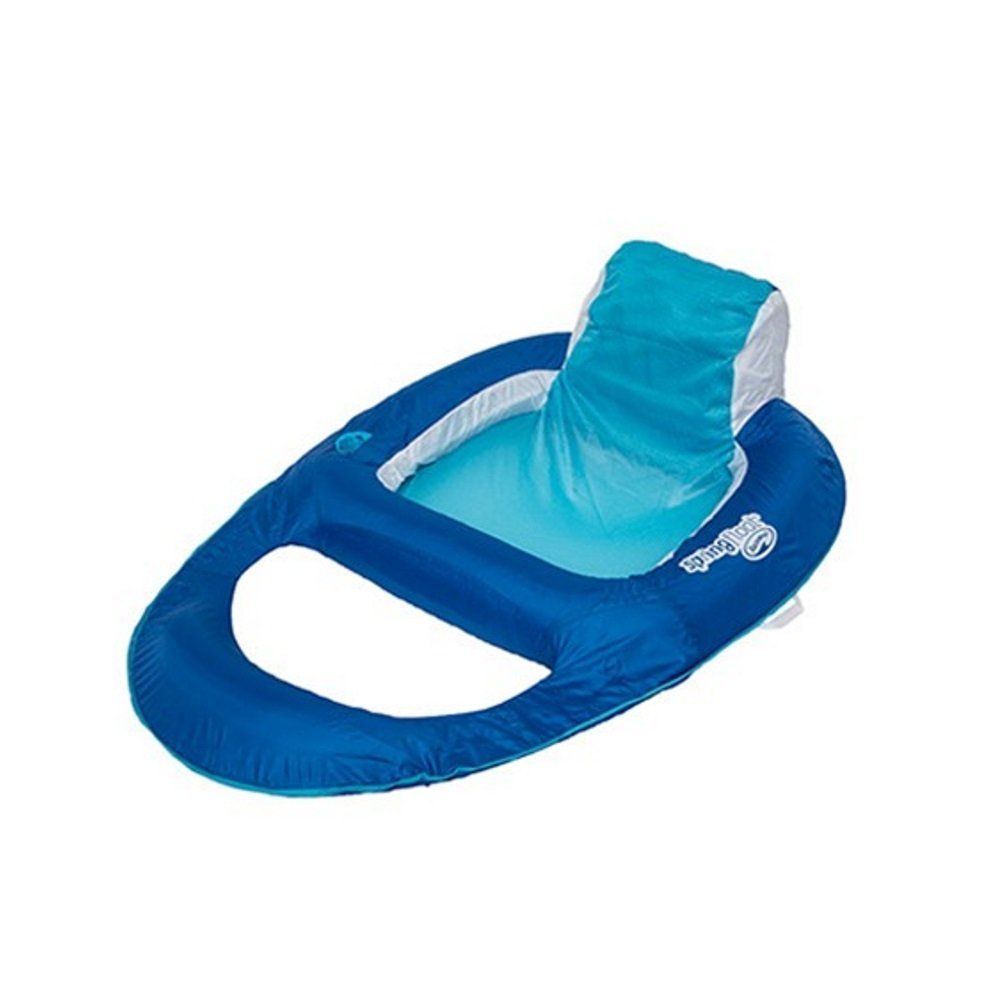 With an included back rest, arm rest, ottoman, and built-in cup holder, this pool lounger is designed to provide you with maximum comfort, convenience, and relaxation while enjoying an afternoon floating around in the water. The seat of the lounger suspends your body just underneath the water level to keep you cool on hot days, and the cut-out hole in the base of it allows you to dip your feet or keep them dry.
Storage for this pool lounger is easy for effortless transportation to the nearest pool and lake. The whole lounger folds up and fits into an included mesh carry bag to instantly eliminate the challenge of storage and transport.
3. 

SwimWays Spring Float Recliner XL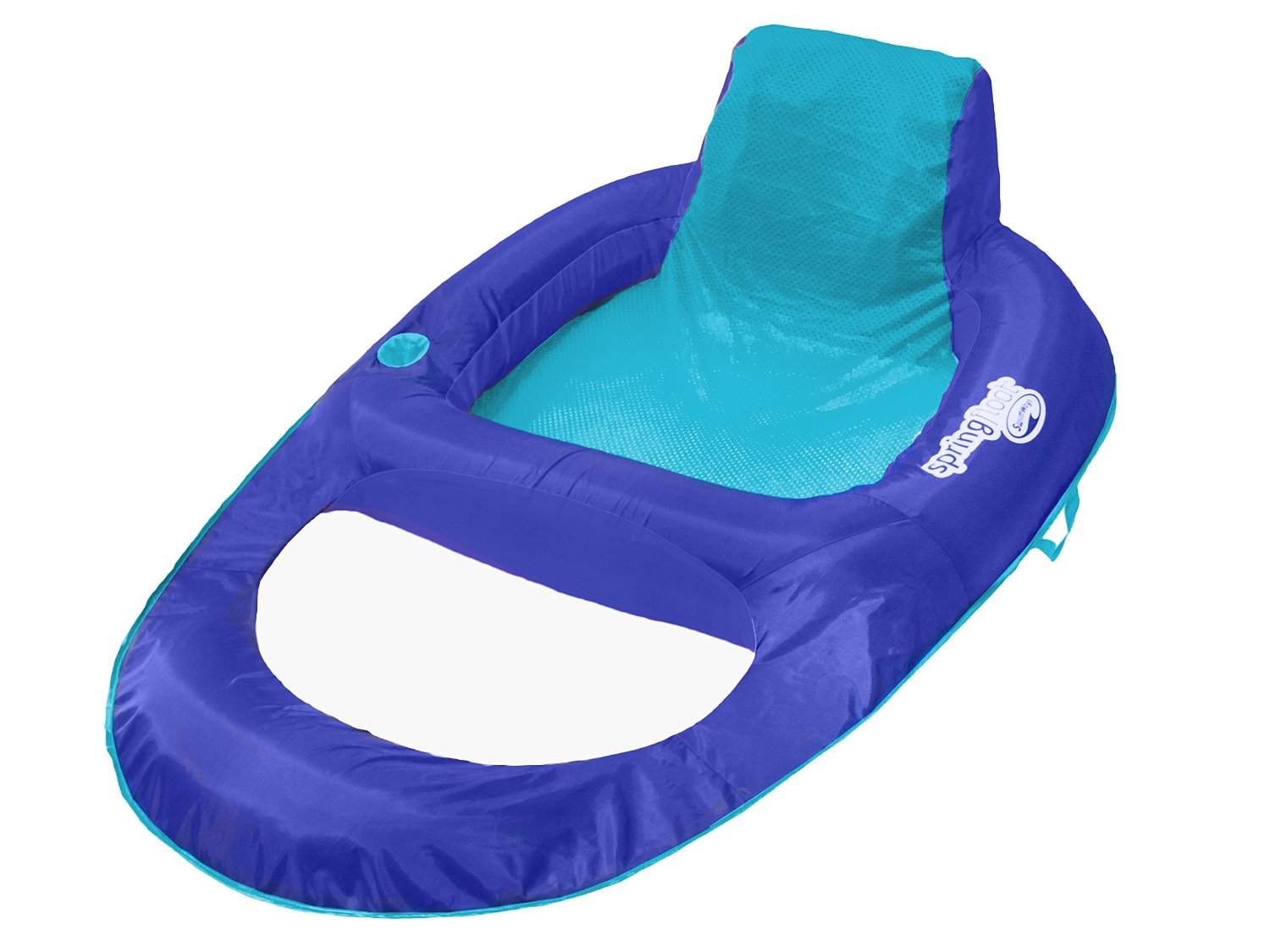 Equipped with an extra-roomy seat and an extended length, this durable, fabric-covered pool lounger from Swimways is designed to accommodate loungers of any size. With a special inner spring sewn into the outside edge, this lounger is super stable and has no trouble staying upright in the water.
This lounger's soft mesh seat keeps your lower body suspended just under the surface of the water to keep you cool. The included headrest, backrest, and built-in cup holder help you stay comfortable and give you everything you need to enjoy maximum floating relaxation.
2. SwimWays Kelsyus Floating Lounger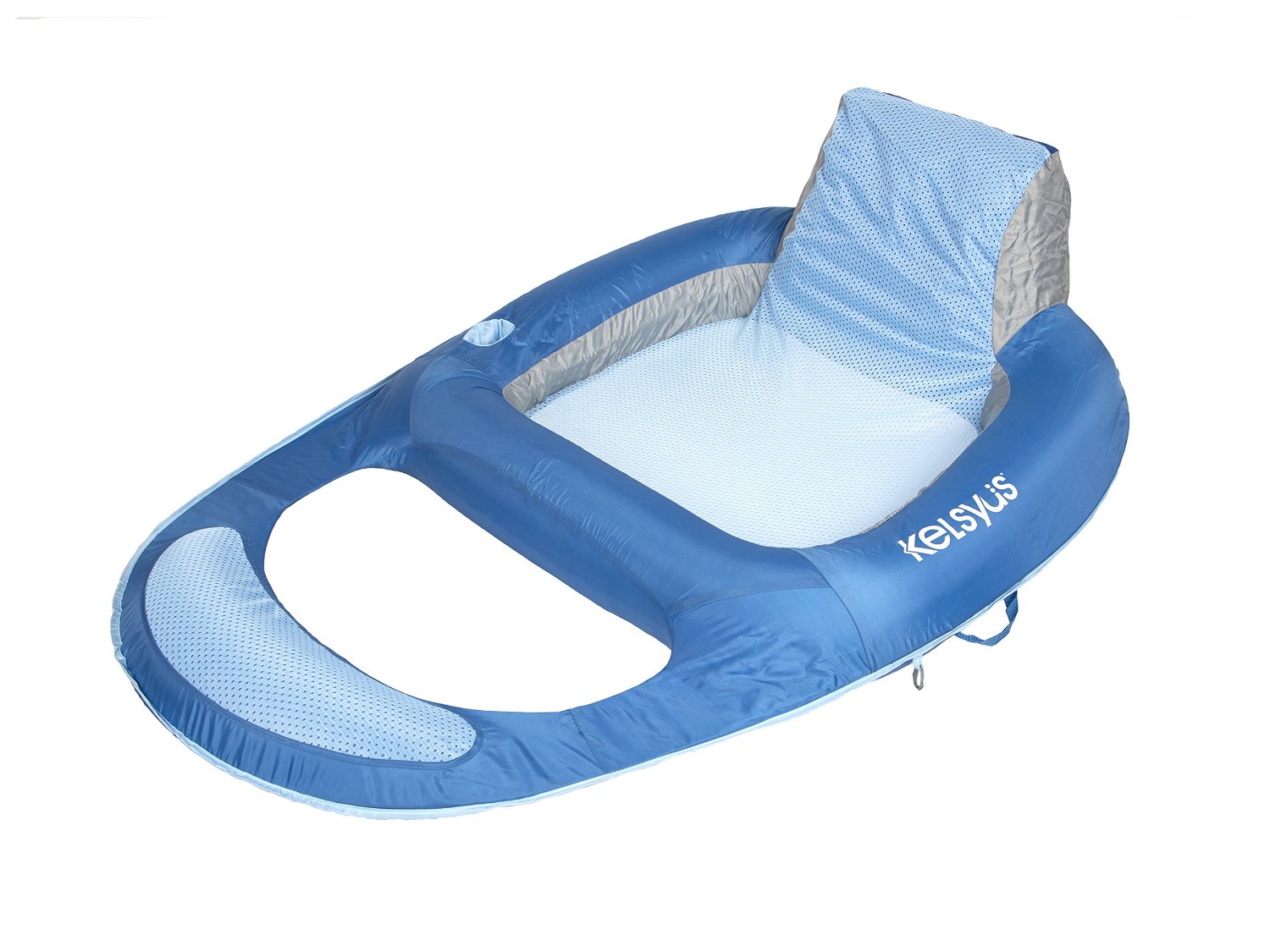 Featuring a comfortable mesh seat that sits just below the water's surface, an integrated backrest, built-in cup holder, and ottoman, this pool lounger can teach you what maximum floating relaxation means. Crafted from a fabric-covered inflatable material, it is durable, stable, and comfortable.
Equipped with a patented inner spring around its outside edge, this lounger will always stay stable and afloat in the water. It also includes built-in side clips that allow it to be tethered to a dock or boat so you can enjoy your relaxation in a lake or ocean without worrying about floating too far away.
1. 

Intex Floating Recliner Inflatable Lounge – Pool Float Chair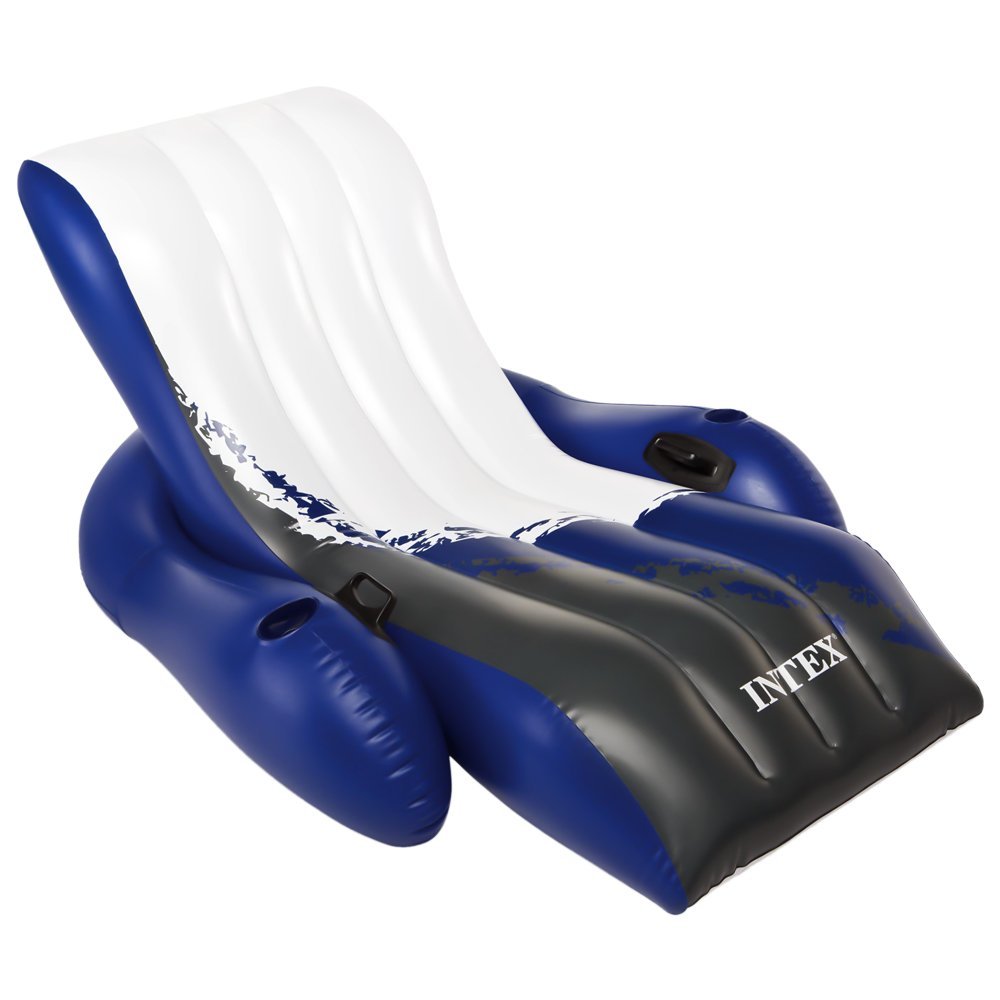 Best Floating pool chairs with cup holders: A reclining armchair that floats in the water might seem a bit far-fetched, but it's a reality with this innovative pool lounger from Intex. Crafted with a special chair-like design, handles, a backrest and armrests, and two cup holders this lounger is designed to provide you with ultimate relaxation that will make you feel like you're lounging in your armchair at home.
Constructed from eighteen-gauge vinyl, this pool lounger has maximum stability and won't develop holes or leaks. If it ever does get a hole, however, there's no need to worry; it comes with an included repair patch that anyone can apply.
If you want to get in some quality relaxation time for yourself this summer, what better way is there to do it than floating on a pool lounger? Before you buy a pool lounger, use the list best pool loungers available so you can find one that meets all of your relaxation needs and preferences.
Plus: Luxury Pool Floats: 2-3/4″ World's Finest Pool Float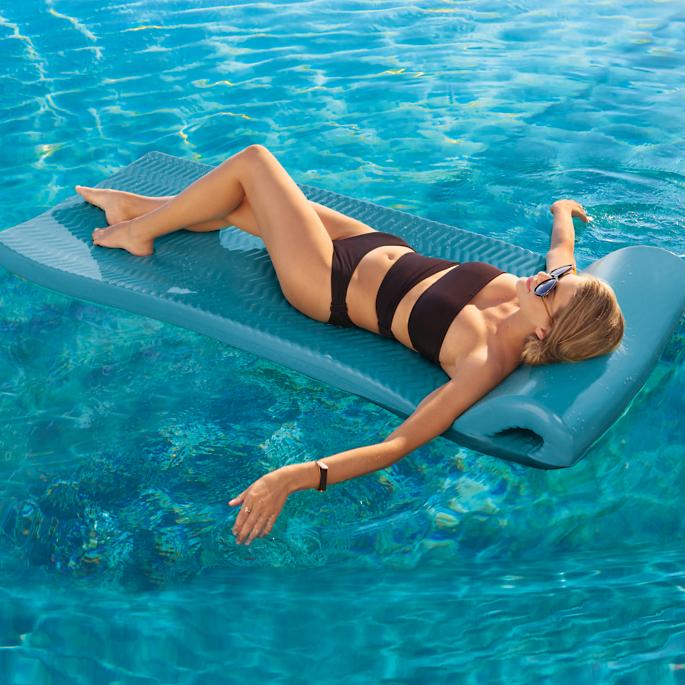 Awesome luxury float! We just opened our pool and just happened to go to the lake for the first time this year and this thing was great! It's very durable and well made. I am not a small person so I was worried that this wouldn't work well for me, but it did.
Also served another purpose, when I was out on the beach at the lake I used this to lay out on instead of laying on a towel – worked great, very comfortable I even fell asleep! Definitely recommend as a must have for summer! Also thinking of taking it camping with us to use as a sleeping bag mat!
Smooth comfortable continuous loop headrest on lounges and spa pillows. This product is crafted from the highest-quality marine-grade closed-cell foam, all of these floats can be used in saltwater or chlorinated pools, and they won't sink if punctured, though the price is higher than other floats.  PVC vinyl coating is heat processed and triple dipped to resist the effects of chlorine, sun and salt water and help prevent tears, splits and punctures.
New This Year:  Lazy Day Pool Chair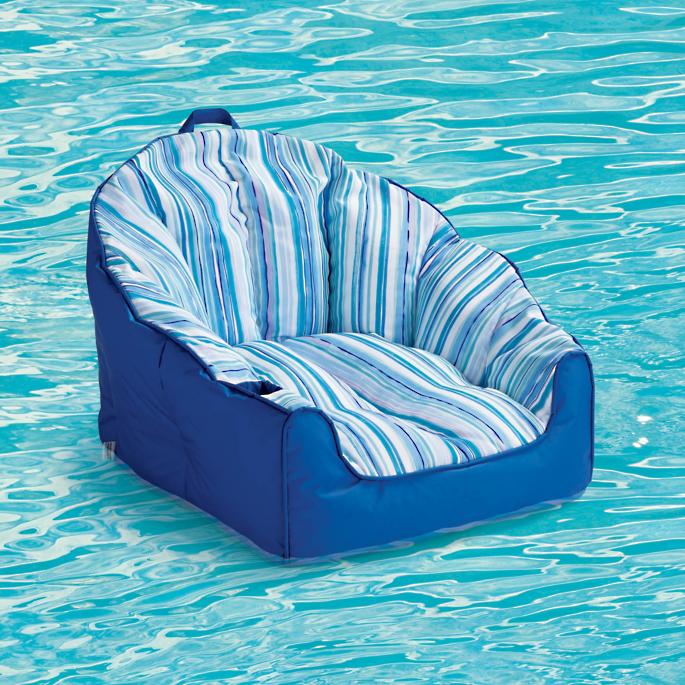 Designed for comfortably relaxing in the water, this pool chair is crafted of double-sided mesh fabric filled with soft, buoyant beads for maximum comfort. Better than I expected! Lightweight, comfortable mesh seat and great level to rest arms. Also love the pocket in front and can unzip. Great product! Great for relaxing and to exercise arms and legs which is what I do daily.
These floats are easy to move around, very comfortable, and allow you to "float" in the water and have conversations with pool friends without moving large lounge floats around. It's the best product for relaxing in the pool!
Need an attentive Bathing Suit? Check it out here and here is a post about how to choose it.