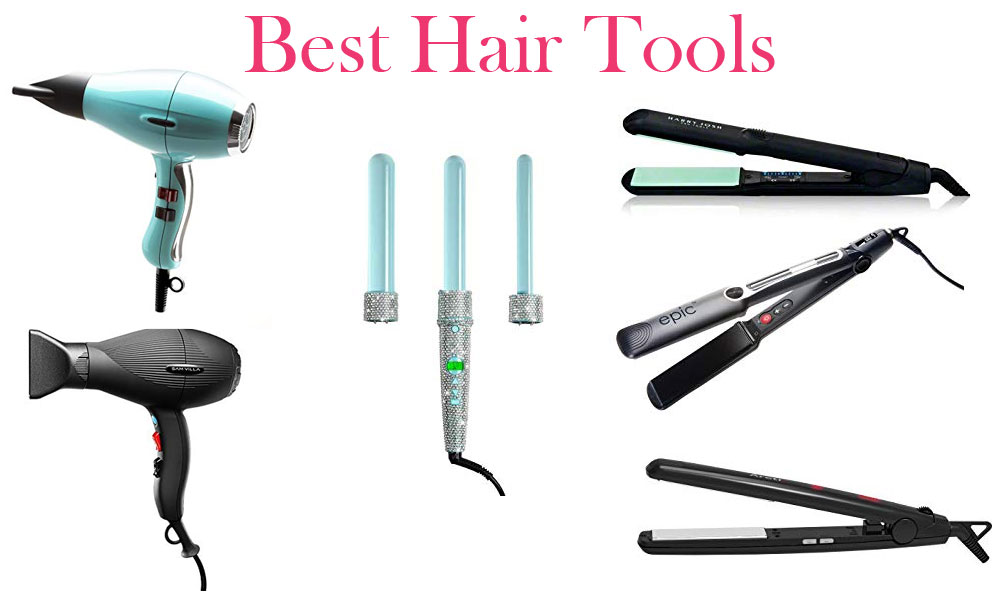 If you're like the majority of modern women, you probably rely on a blow dryer, flat iron, or curling iron (or some combination of the three) to get you out the door on time every morning. Even if you only use them occasionally, hair tools are not something to settle for when it comes to quality and functionality.
The styling tools you use make or break the health and appearance of your hair, which is why it's so important to only trust top-quality tools. Cheaply made styling tools tend to fry your hair instead of heating it gently and evenly, which leads to breakage and long-term damage to your hair. These poor-quality tools can also cause dents in your hair uneven that make achieving a smooth, natural-looking finish almost impossible. End the frustration of daily styling and the torment of damaged hair with luxury hair tools that leave you with healthy hair and an effortless, polished style every day.
10. SUTRA Magno Turbo Hair Straightener
Infused with tourmaline, the titanium plates of this SUTRA flat iron work together with the straightener's infrared and ionic technologies to prevent hair damage. This high-tech flat iron heats every strand of your hair with even precision to ensure a smooth, shiny, healthy finish.
You don't have to worry about waiting for this flat iron to heat up when you're in a hurry. Its plates heat evenly to the temperature you set in less than five seconds. With an easy-to-read digital screen and intuitive temperature control, this straightener makes it easy for you to adjust the heat to the exact temperature that best complements your hair type and texture.
9. Lunata Hair Rechargeable Touch-Up Styler
Whether you missed a piece or the weather is working against you, it seems like you're always left with at least one wavy strand out of place no matter how carefully you flat iron your hair in the morning. This touch-up flat iron from Lunata Hair makes refreshing your style while on the go more convenient and less damaging.
This professional touch-up styler is equipped with rechargeable lithium-ion batteries to sustain its sleek, wireless design. These ultra-efficient batteries last up to forty-five minutes on a single charge. The full-sized flat iron offers gentle, even heat. It won't burn your hair, but it heats to temperatures of up to four hundred degrees Fahrenheit to ensure effective styling.
8. Sam Villa Professional Light Ionic Dryer
Dry your hair in record time with this ionic hair dryer from Sam Villa. The dryer weighs in at less than one pound. Its incredibly lightweight design makes drying your hair quickly in one sitting more comfortable and less tiring.
Despite the powerful airflow it provides, this blow dryer makes very little noise. Anyone can benefit from this blow dryer, as it comes with two separate nozzles and a diffuser attachment for effective styling on any hair type or texture. Plus, the dryer's three heat and two speed settings allow you to easily adjust its temperature and power to remove moisture from your hair without overdrawing or causing static. Its ceramic/tourmaline ion generation ensures a smooth, polished, frizz-free finish.
7. Elchim Light Ionic Hair Dryer
This salon-quality Elchim blow dryer can shave half the time off your daily drying routine.
Its lightweight, ergonomic design reduces muscle fatigue and discomfort and encourages faster, more effective drying. This high-tech hair dryer features an ionic ceramic system that hydrates your hair while it dries to reduce breakage and damage. It dries even thick and curly hair within minutes and leaves hair of any type and texture smooth and shiny.
6. Leyla Milani Hair Triple Threat Curling Wand
Curl your hair in style with this Leyla Milani wand that features a handle embellished with genuine Swarovski crystals.
Save space in your bathroom cabinet with this curling iron that comes with three separate interchangeable barrel wands. The barrels come in varying sizes to help you create different types of curls using just one wand. All three barrels include a tourmaline coating that prevents damage and ensures even heat distribution for silky, long-lasting curls.
5. LAliss Ceramic Salon Styler
This flat iron is designed for both straightening and curling. Its ceramic heat technology leaves you with sleek, pin-straight strands or smooth, even, rounded curls depending on how you choose to style your hair.
Add some fun to your daily beauty routine with this trendy styler. It comes in seven different bright colors and patterns, including purple, hot pink, peacock, emerald green, and the pink leopard pattern pictured above.
4. Areti Versatile Straight Hair Iron
The unique floating ceramic plates of this Areti hair iron reduce resistance and pressure on your hair while you style. This prevents damage, breakage, and dents and ensures a smooth, natural-looking finish.
This flat iron distributes heat evenly and features a high heat range that reaches almost four hundred degrees Fahrenheit. To give you more styling options, its ceramic plates heat up from the outside as well. This external heat allows you to create both even, rounded curls and sleek, straight styles.
3. Harry Josh Pro Tools Ceramic Styling Flat Iron
Cut time out of your daily styling routine with this non-damaging, ultra-efficient Harry Josh flat iron.
The straightener features wide, ceramic/tourmaline plates that distribute heat evenly through your hair to leave each section pin-straight with just one pass. Its floating plates and tourmaline coating prevent damage and give your hair a smooth and polished finish.
2. iKonic Supernova Laser Ceramic Infrared Flat Iron
Designed with negative ion conditioning technology, this iKonic flat iron provides even heat distribution and heats up within seconds.
The floating, vented, crushed plates of the straightener heat your hair gently without burning it. Coated in crushed tourmaline, they leave your hair looking effortlessly sleek, polished, and healthy every time.
1. Enso Tools Epic Tourmaline Ceramic Flat Iron
This flat iron from Enso Tools offer salon-quality keratin straightening designed specifically for women with thick, curly, or textured hair.
With a heat range that rises to temperatures of four hundred fifty degrees Fahrenheit, the flat iron expertly smooths and straightens hair of any type or texture. Its real ceramic plates ensure even heat distribution and prevent burning and breakage.
You'll be amazed at how much upset you can save yourself by only using only luxury hair tools. These top-quality tools make daily styling effortless and prevent breakage and split ends to leave your hair smooth and healthy every day. Plus, by cutting out the expenses of replacing low-quality tools every few months and stocking up on expensive hair products to fix the damage they've wreaked on your hair, investing in luxury hair tools actually helps you save money in the long run.