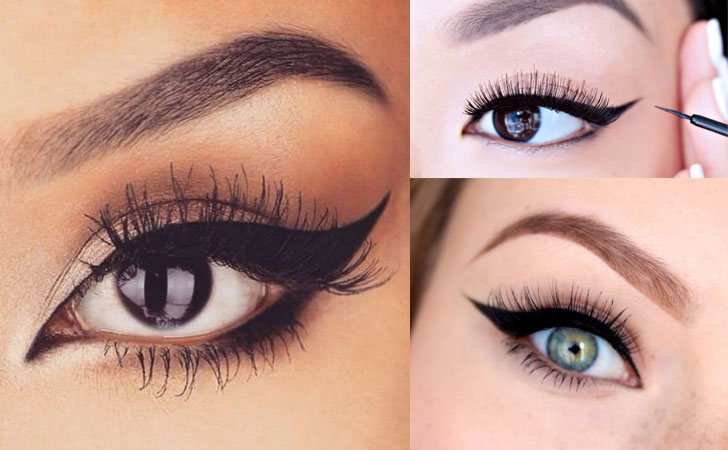 Tips for Wearing Liquid Eyeliner – How to Applying Liquid Eyeliner 
Liquid eyeliner is any type of eyeliner that comes in a liquid formula. It applies smoothly and creates a sharper, more dramatic lines along your lash lines than other liner formulas. Eyeliner with a liquid formula works well for a variety of makeup looks, including winged and graphic liner.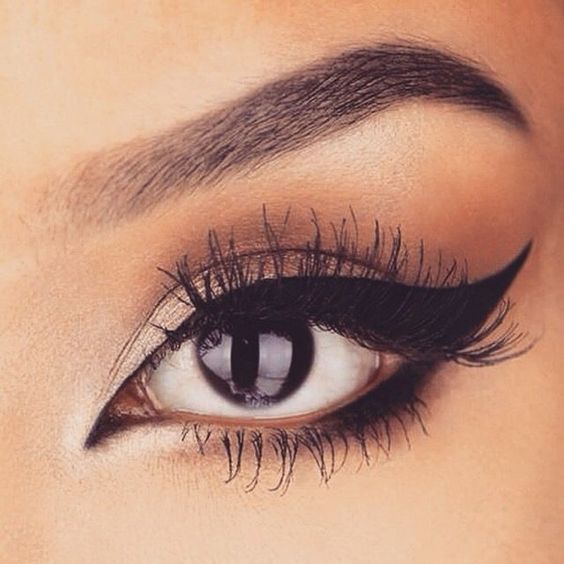 While liquid eyeliner is beautiful when applied correctly, it can be difficult to master. Using liquid eyeliner requires a much different technique than pencil or gel liners. Liquid liner requires a much more precise and careful application than other types of eyeliner. Plus, because it is wet when you apply it, liquid eyeliner can be the source of abundant frustration and black smudges where you don't want them. Don't give up on liquid eyeliner before you've given it a fair try, however. The gorgeous looks you can create using this type of liner are well worth the practice and skills its application requires.
1. Use Pencil First

When you're first getting started with liquid eyeliner, it can be difficult and frustrating to produce sharp, even lines with the liquid formula. Ease yourself into using liquid liner by tracing the liner design you want with pencil first.
Whether you want to produce a winged liner look or just a simple line along your lash line, trace it in pencil before touching the liquid liner. Then, go over the line you made in pencil with a layer of liquid eyeliner. This technique works best for dramatic winged or graphic liner that requires more precision, but it can be used for any liquid liner look.
2. Use a Brush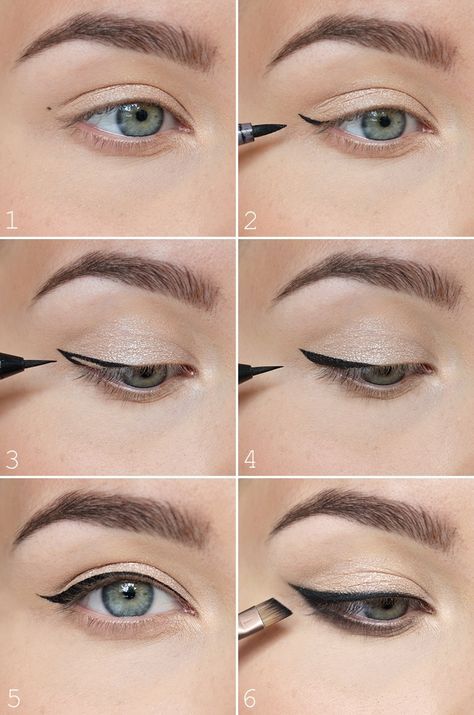 Never try to use the applicator that comes in your tube of liquid eyeliner. Instead, invest in a small, flat, angled brush for your liquid liner application. Dip both sides of your brush into your liquid liner and blot off any excess product before you try to apply it to your lash line.
Using a separate brush instead of your liner's built-in applicator brush allows you to maintain more precision over your liner application as well as more control over how much product you use. This prevents you from glopping too much liner onto your eyelid and creating a mess.
3. Skip the Bottom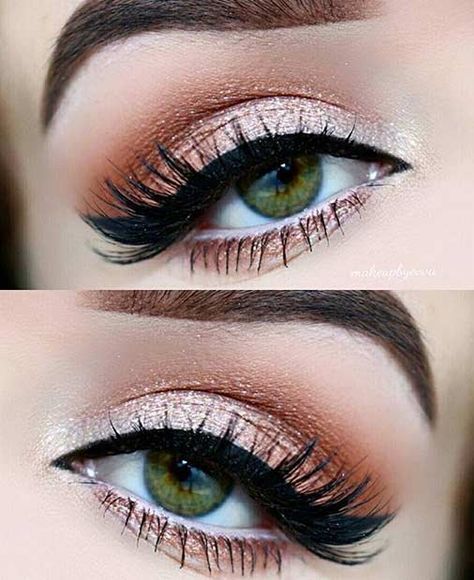 You don't always have to apply eyeliner to your bottom lash line. In fact, liquid liner often looks better when it is only applied to your upper lash line. Liquid eyeliner along your bottom lash line often appears too dramatic and raccoon-esque.
If you can't live without bottom eyeliner, feel free to mix both liquid and pencil or gel formulas. Create a precise line on your upper lash line with liquid liner and finish your look off with pencil or gel liner on your bottom lash line.
4. Experiment with Thickness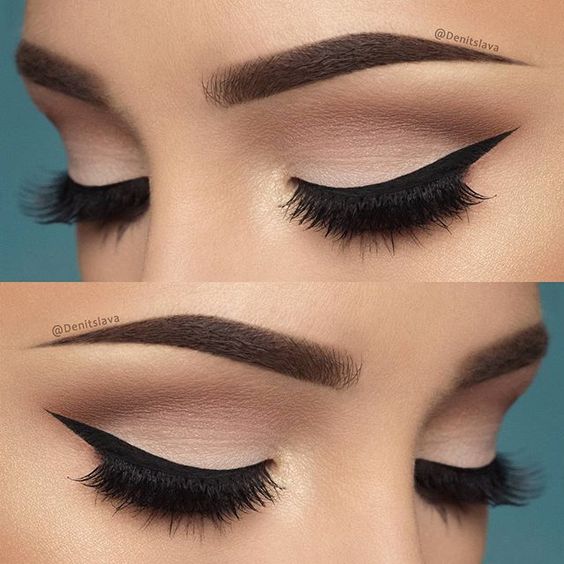 Liquid eyeliner is very versatile. When you're just starting out with it, experiment with different thicknesses using the liner in order to determine which looks you like best. Try thin lines, thick lines, graphic liner, winged liner, and more. Personalize your liquid eyeliner looks by making them unique and your own.
5. Clean Up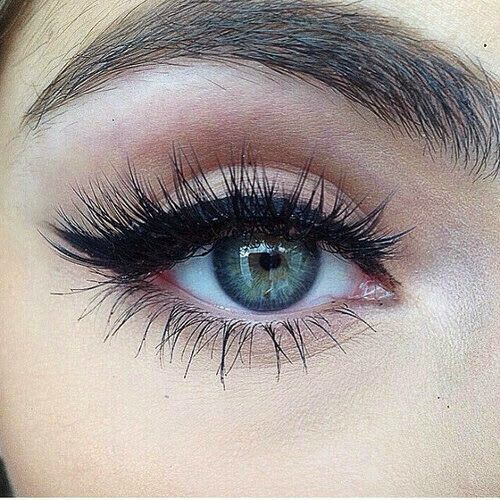 There's no getting around it. Liquid eyeliner sometimes makes a mess. In order to prevent yourself from getting frustrated when your liner smudges, be prepared to clean up your liquid liner mistakes and create a flawless finish.
After you apply your liquid liner, use a damp tissue to clean any liner that might have caked onto your eyelashes. If you don't clean your liner off of your eyelashes before applying your mascara, you'll end up with unattractive clumps in your mascara. Then, use a Q-tip dipped in eye makeup remover to easily remove any stray liner marks on or around your eyelids.
6. Match Your Makeup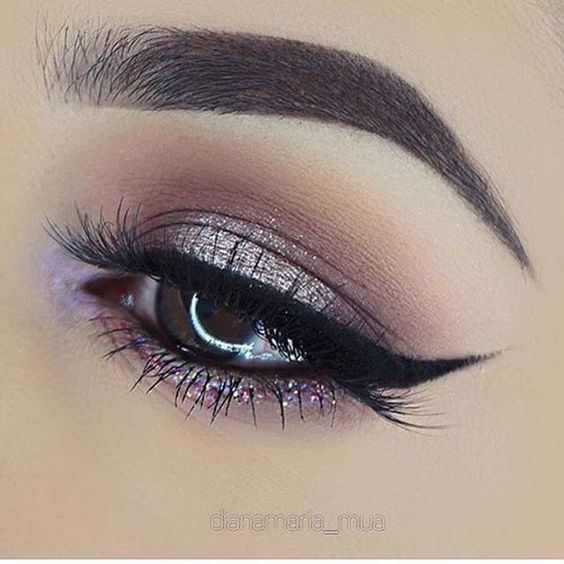 Liquid eyeliner is automatically more dramatic than other liner formulas. Therefore, you need to amp up the rest of your makeup to match your liner. There's no need to significantly dramatize your look. Just add a bit more contour or wear lipstick so that your look appears balanced as a whole.
7. Set Your Liner

It is important to set your liquid eyeliner after you apply it. Because of its formula, even long-lasting liquid eyeliner tends to run and smudge throughout the day. Prevent this frustrating disappointment by setting your liner before you finish your makeup routine.
You can set your liquid eyeliner with powder or spray. However, it is generally better to use setting spray on your liner to avoid any visible powdery residue. Just make sure you wait a minute or two for your liner to dry before you apply your setting spray in order to prevent it from running immediately.
Liquid eyeliner is one of the most difficult types of makeup to master. However, perfecting your liquid liner application techniques does not have to be as difficult as it might seem. The simple tips in this post can help you apply your liquid eyeliner more easily and achieve better results without frustration.