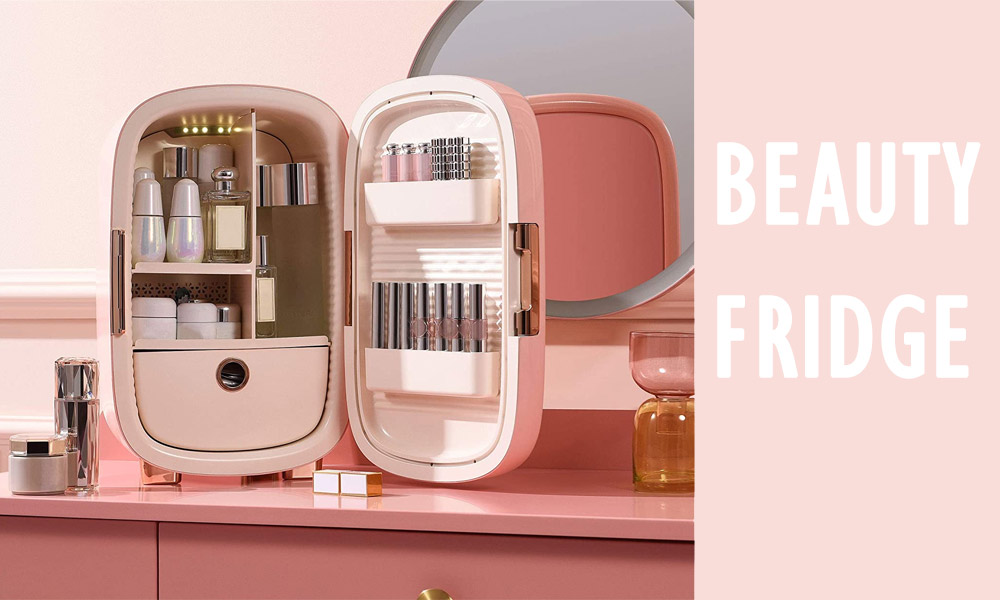 One of the best things about collecting gorgeous bottles and jumbo tubs in your skincare collection is showing them off on your bathroom shelf. But in the last year or so, skincare junkies everywhere started displaying their products in a new, stylish yet functional way—with beauty fridges.
These mini-fridges are perfect for storing your skincare products that are meant to be kept in "a cool, dark place." After all, it becomes quite a hassle to go downstairs to the kitchen to grab your vitamin C serum every single night. Why not keep a dedicated skincare fridge for all your beauty needs by your vanity, right?
There are tons of beauty fridges to choose from in the market. Some are designed specifically for skincare, while others are just cute mini-fridges that are versatile enough to hold precious beauty products. You can get ones in your favorite color or those that double as mirrors. The choice is entirely yours.
What can you use your beauty fridge for?
It's crucial to store skincare products with ingredients prone to oxidation and photosensitivity in cool places, like a beauty fridge. It's where you'll want to put your vitamin C serums or creams or treatments with probiotics. Perishables like edible collagen juices should be kept in a fridge as well.
You can also use your beauty fridge to store your facial tools, like jade rollers and a rose quartz gua sha. Keeping them cold makes them feel even more relaxing when you pamper your skin with a massage.
Sheet masks will also feel extra soothing and calming when they're cold, so it would be a bright idea to keep them in the beauty fridge, too. It could even enhance the benefits they provide, from hydration to soothing the skin
Another thing you should consider storing in your beauty fridge is your favorite facial mist. The colder your mist, the more refreshing and rejuvenating it feels when spritzed on your skin on a hot day.
Excited to store your fave skincare products in a cute and sleek beauty fridge? Check out eight of the best beauty fridges in the market today:
#1. Finishing Touch Flawless Mini Beauty Fridge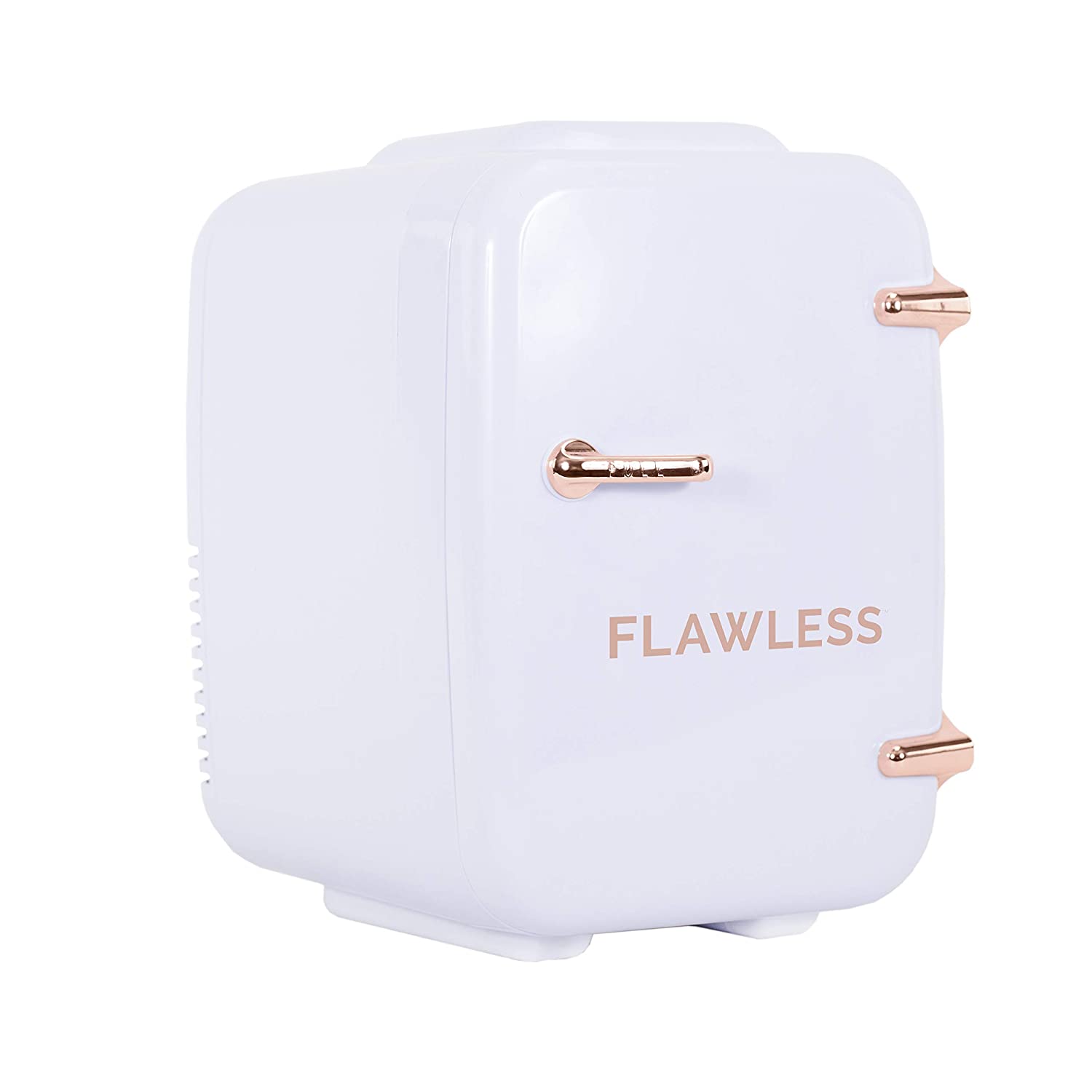 Store your skincare products in a lavish-looking fridge like this one by Finishing Touch. It has a white and rose gold design, allowing it to look chic and feminine yet still modern and sleek.
This fridge has two shelves and a mini-basket to put in all your tools and accessories you want to keep cold. The extra basket is perfect for your face rollers, gua shas, sheet masks, and more.
You can even use washable markers to write notes on your fridge, like motivational quotes to start your day on a high note as you go through your beauty routine.
#2. Cooluli Mini Fridge Electric Cooler and Warmer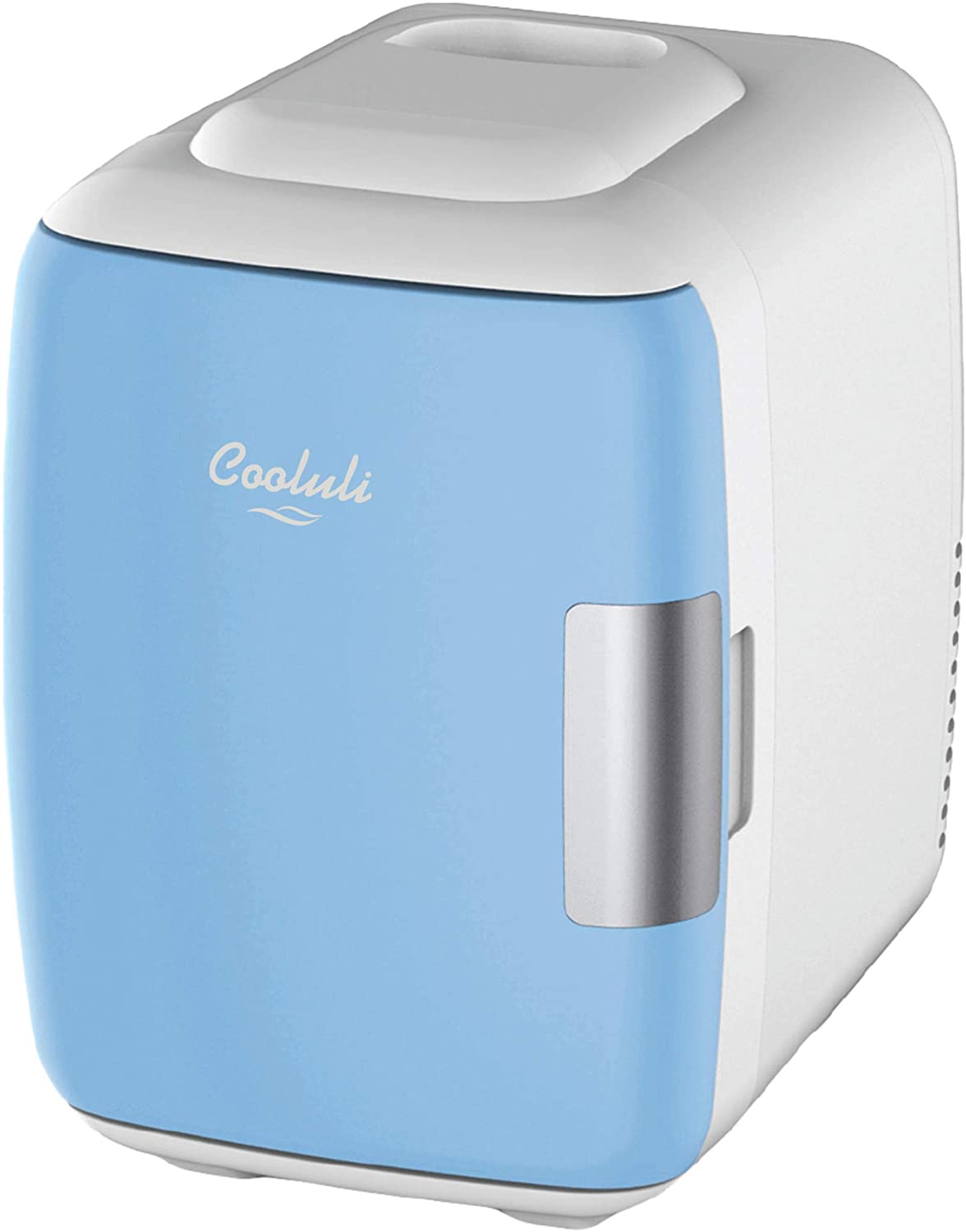 This matte, baby blue cooler by Cooluli is super lightweight, making it easy to transport and carry around. Since it's portable, you don't have to worry about bringing your skincare products to another room or even on a road trip.
You can store more than just beauty products here. It's also suitable for little snacks, baby's milk, and other edible goodies you want to snack on as you do your makeup or skincare.
Its semiconductor is more energy-efficient than other fridges, allowing it to be extra quiet. No strange hum to wake you up in the middle of the night!
#3. AstroAI Mini Fridge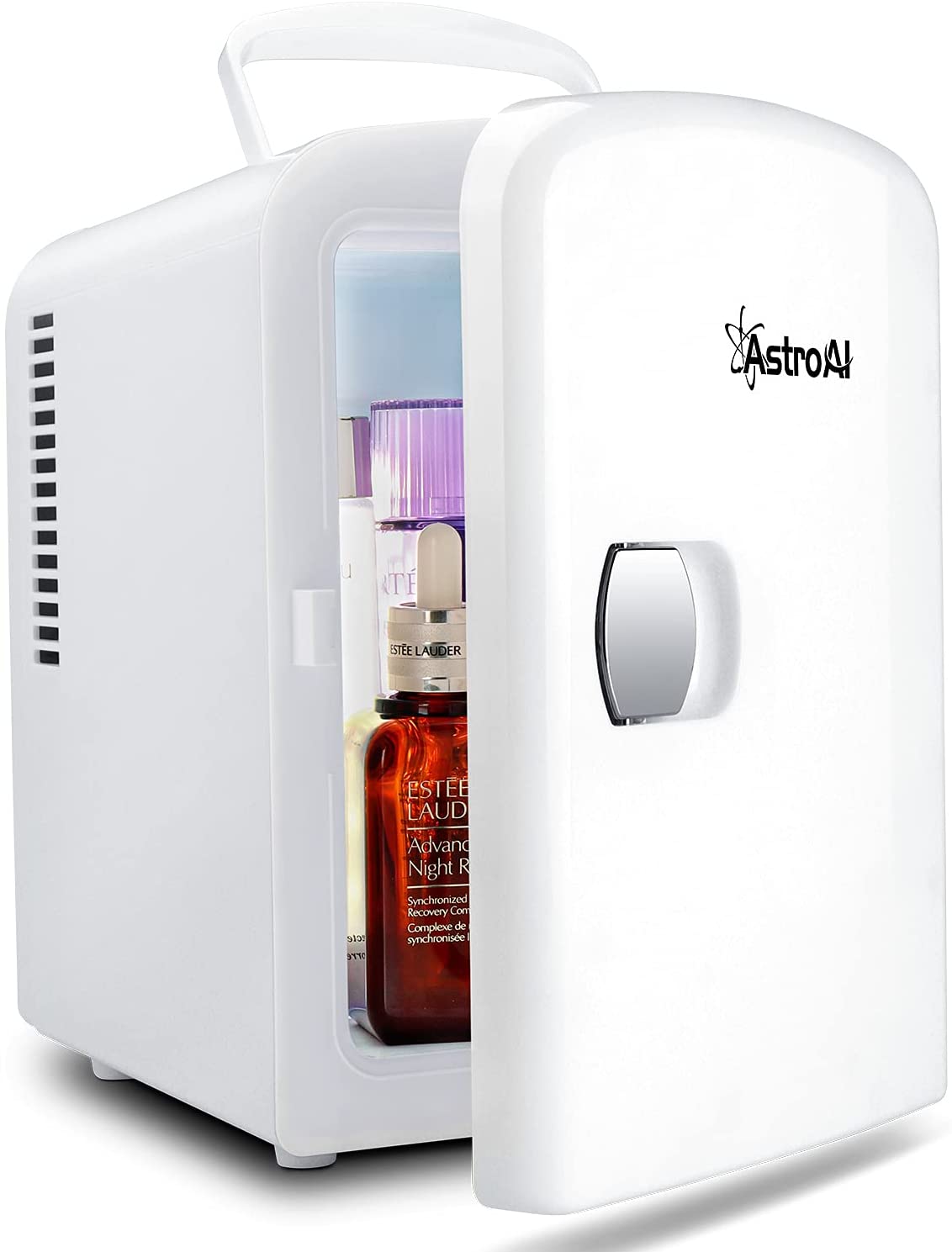 While this mini-fridge looks like any other basic fridge, it's excellent for customizing the optimal environment for your skincare products. It has cooling and warming options, so it can be used to keep your products cold or heat up special masks or eye treatments.
Its semiconductor chip is larger than the average, which maintains longer-lasting temperatures. The fridge is also made with quiet technology so no noise disrupts your sleep or beauty regimen while it's running.
#4. WERSEON 6-Liter Mini-Fridge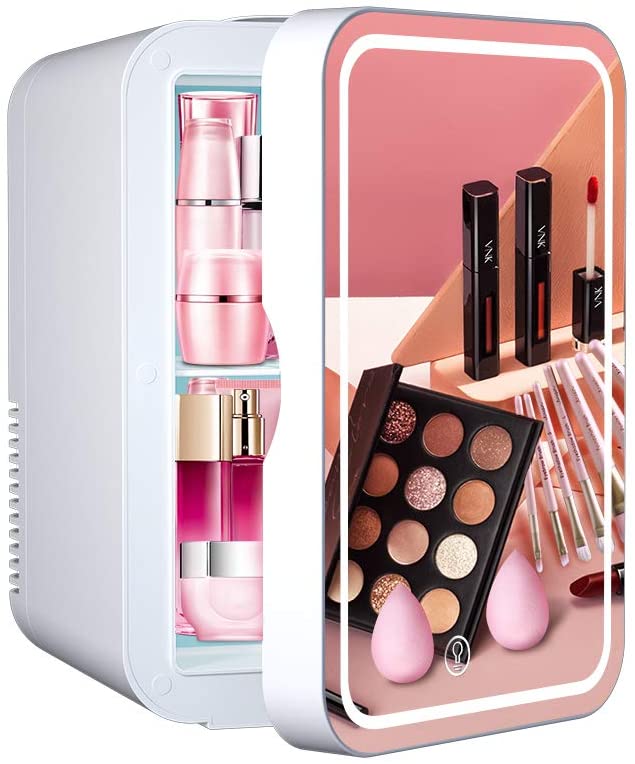 What we love about this mini-fridge by WERSEON is that it doubles as a mirror. Instead of a plain white or brightly colored surface, you see a reflection of yourself. It makes breezing through your skincare steps that much easier.
The mirror even comes with LED lights. You can activate this in particularly dim or low-light areas, or if you just want a close-up of your complexion.
This beauty fridge can hold up to six liters of product, a far cry from the usual 4-liter capacity in other fridges. You might enjoy this fridge if you have more skincare steps than the usual beauty lover—say, if you're following the 10-step Korean skincare routine.
#5. Chefman Portable Black Personal Mini-Fridge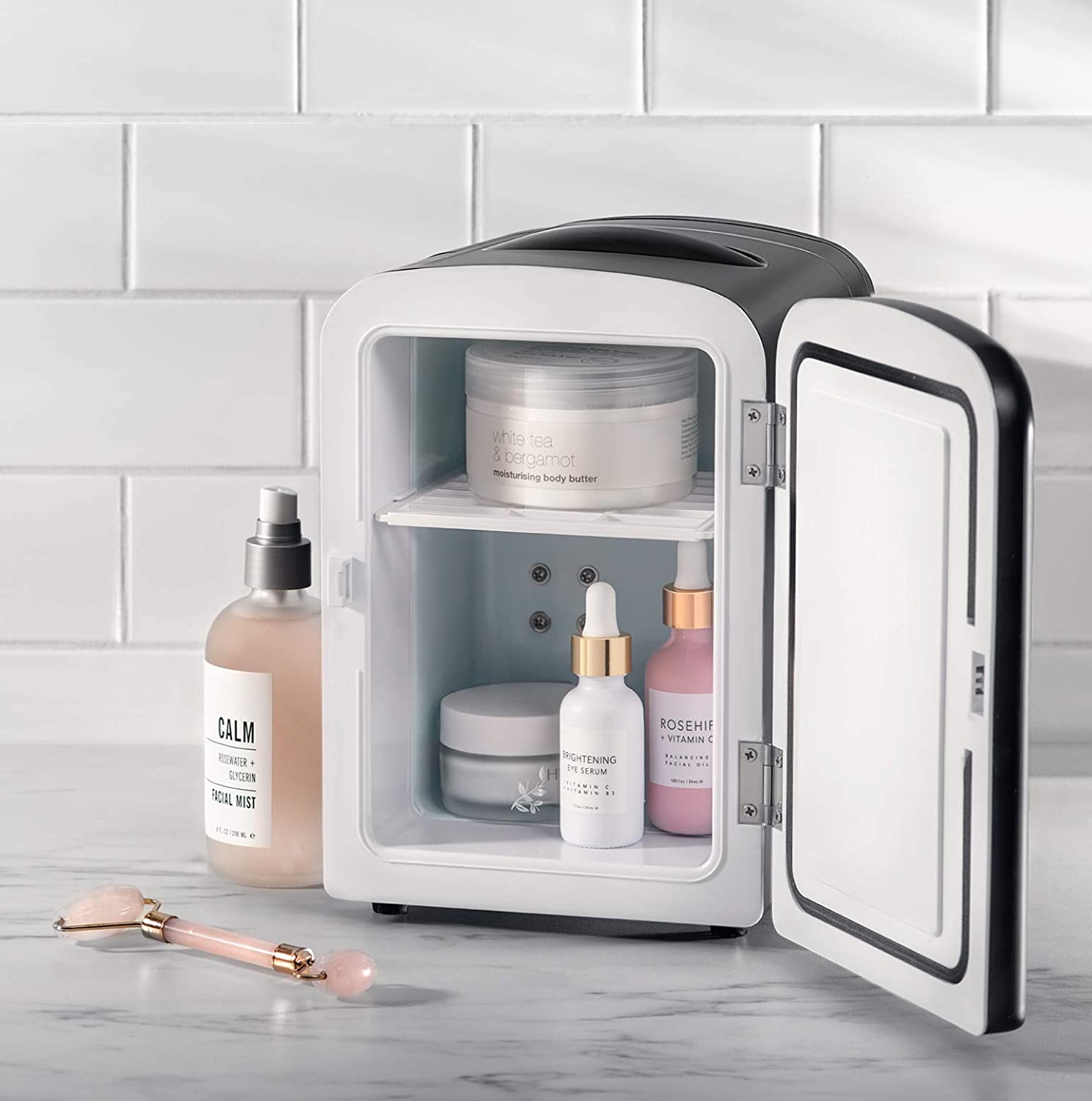 If you want something sleek and classic, you'll love this personal mini-fridge from Chefman. It's black and glossy, making it look luxe and mature.
This fridge has a removable shelf, allowing you to make use of your space however you want. You can use it for bigger, taller items, or divide it into shelves for smaller tubs and bottles. It also has a switch to adjust from warm to cool settings, giving you more flexibility.
#6. FaceTory Portable Coral Beauty Fridge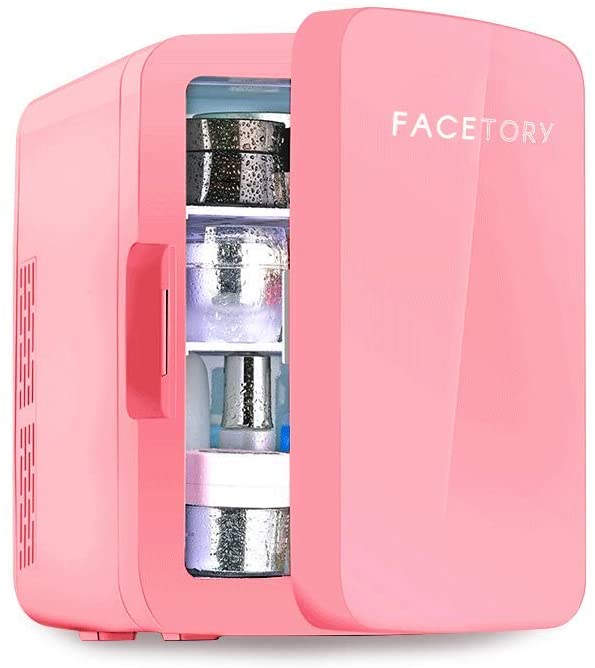 If you like your vanity bright, bold, and beautiful, check out this mini-fridge from FaceTory. It has a vibrant coral color that's sure to bring some life and vitality to your bathroom shelf or dresser. The pink surface serves as a dry-erase board, so you can write little notes and ideas on it.
This fridge provides a whopping 10-liter capacity, allowing you to store as many skincare products as possible. It's also quite taller than the usual, but still looks sleek and won't take up too much space.
#7. FRIGIDAIRE Curtis Portable Personal Fridge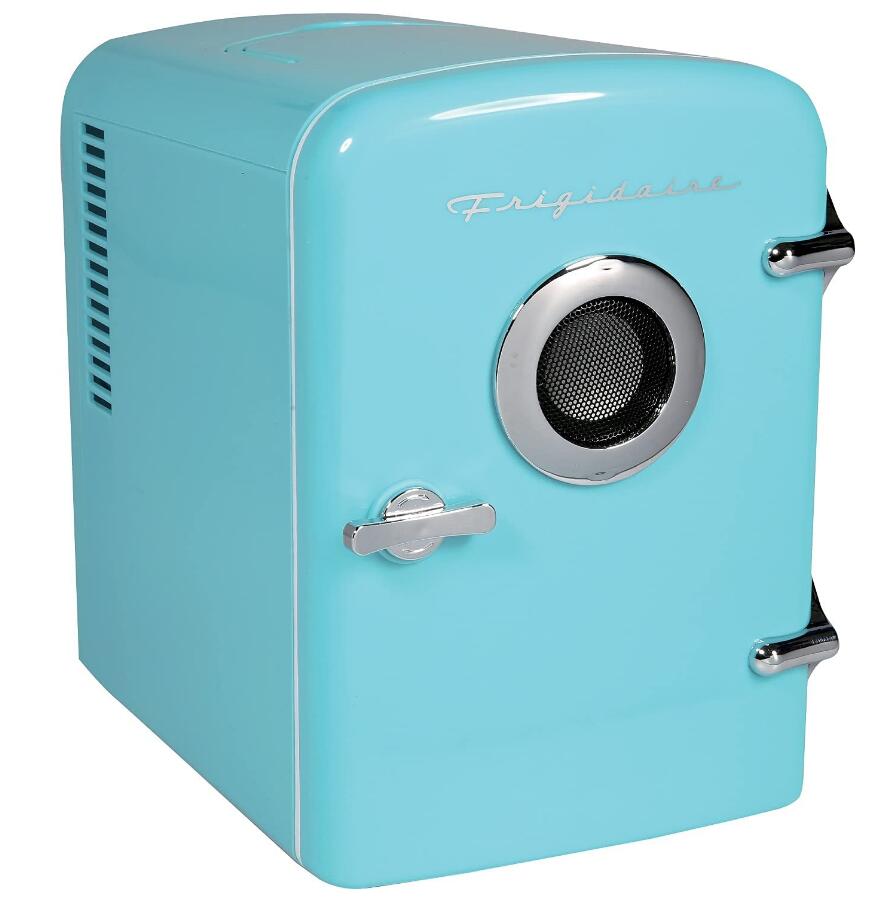 Go for a more vintage design with this eye-catching personal fridge by FRIGIDAIRE. The yellow is super cute and captivating—perfect for old souls who need a bit of sunshine while they go through their tedious skincare routine.
Inside, the fridge has glass shelves. The dividers can be slid in and out of place, making it easier to customize and clean.
The fridge is lightweight and quiet, so it's perfect for traveling.
#8. Cooluli 12-Liter Beauty Fridge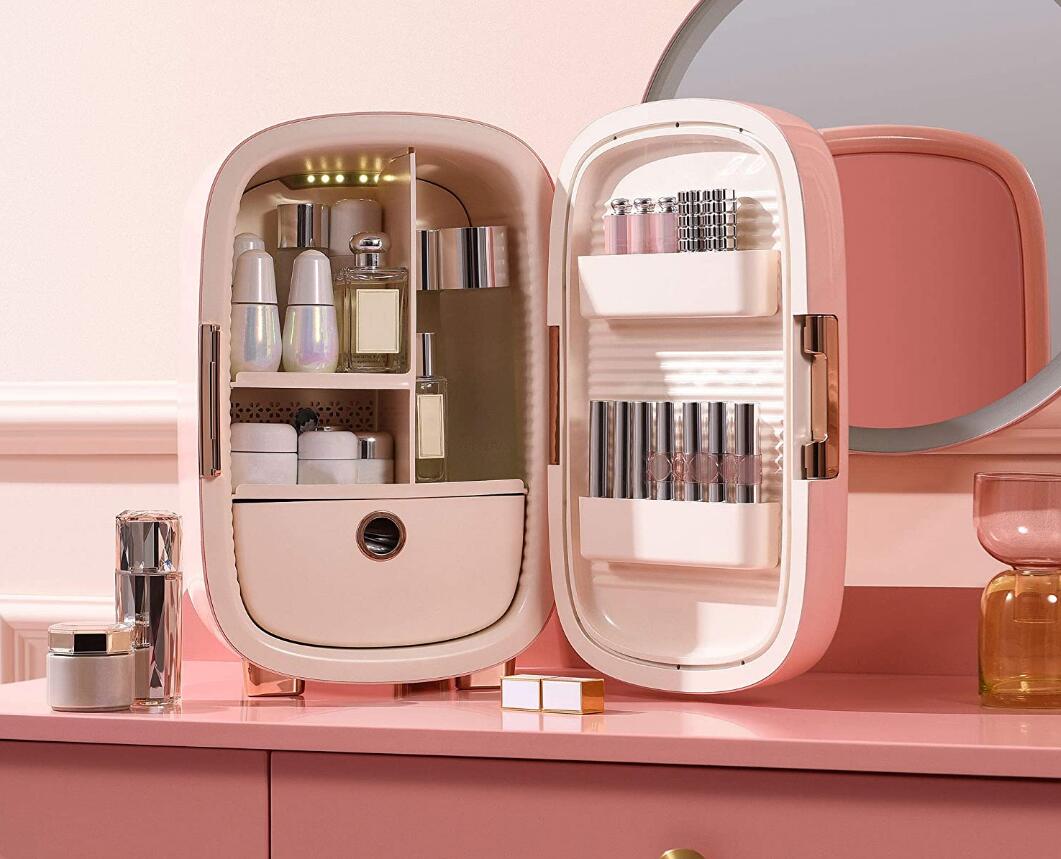 Lastly, we have this taller and bigger Cooluli mini-fridge. It can carry up to 12 liters worth of products—that's three times the average capacity of the fridges on this list! This fridge is perfect for those with a huge skincare collection or who want to store extra snacks in their room at the same time.
It comes in multiple colors, but our favorite is this one in a soft yet striking Millennial pink. It's rounded and looks sleeker than the other Cooluli fridge on this list, for a modern-yet-fun look. It's also available in mint green and pearl white.
All the drawers and shelves inside this beauty fridge are removable. You can keep or omit whatever accessories you want to personalize your use of it.
Conclusion
A fridge is a fridge—any one of these will give amazing results in storing your skincare and prolonging your products' shelf-life. All you have to do is think about the design, color, or shelving you prefer, and picking out the best beauty fridge for you will be a walk in the park.
Check out any of the beauty fridges above that caught your eye and start storing your skincare goodies in this innovative, creative, and stylish way. Subscribe to get more beauty shopping guides on herstylecode.com!