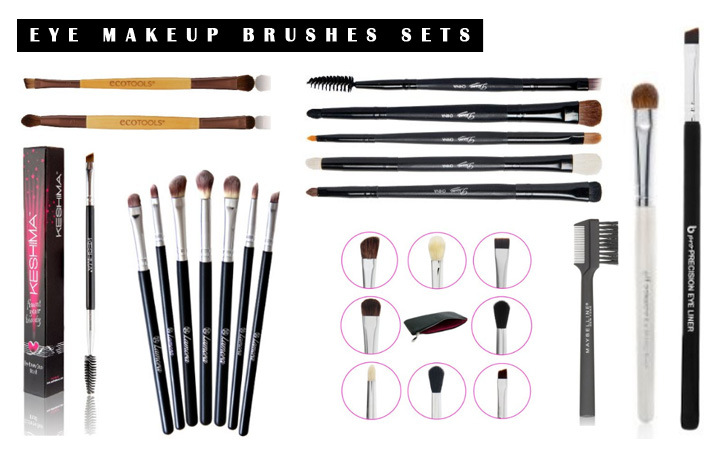 Applying eye makeup is an exact art that requires precision in order to avoid making a mess. If you don't have the right eye makeup brushes, your eyeshadow, eyeliner, and any other products you use around your eye makeup is never going to turn out how you want them to look. Unfortunately, it can be difficult to determine which eye makeup brushes are quality products and which ones aren't.
Read the following Eye Makeup Brush reviews to discover the top rated best eye makeup brushes of this year that can revolutionize the way you apply your daily eye makeup.
10. Lamora Makeup Eye Brush Set – eye makeup brushes for beginners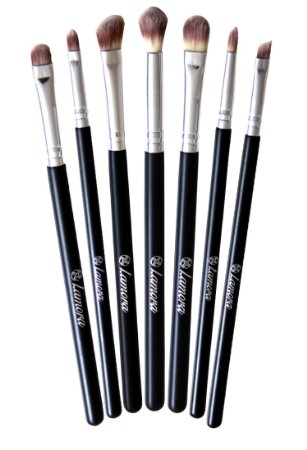 This set of eye makeup brushes from Lamora includes seven separate brushes with different purposes. The set includes a blending brush, an eye pencil brush, an eyeliner brush, and multiple eyeshadow brushes. These brushes are the essential tools you need for any eye makeup look.
The Lamora brushes are synthetic brushes that do not contain any animal hair. They are specially hand crafted and each one is individually tested for quality assurance. The bristles of each brush is soft and gentle on your skin. These eye makeup brushes pick up product without fall out and distribute it evenly onto your eyes.
9. Diane Eyeshadow Applicator Double-Sided – eye makeup brushes you need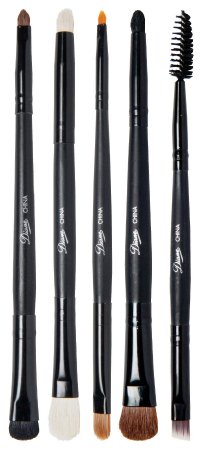 This set of five double-ended brushes from Diane is the perfect addition to your makeup collection. The set includes multiple eyeshadow, eyeliner, and mascara brushes, so you can experiment with the different brushes to see which ones you like best for applying specific products. The double-ended nature of these brushes make them easily transportable and allow them to take up less space in your makeup storage area.
The five brushes in this set are formulated differently in order to best fulfill their individual purposes. The brushes are constructed from both synthetic materials and animal hair. The materials used within the brushes are nylon, pony hair, goat hair, and boar hair. Each brush is soft and sturdy and is built with its own specific function in mind.
8. EcoTools Eye Enhancing Duo Brush Set

This eye makeup brush duo from EcoTools provides you with essential basics in the world of eye makeup brushes. Each of the brushes in the two-pack are double-ended and are formulated to allow you to blend, smudge, define, and shade your eyeshadow and eyeliner using only these two brushes.
These double-ended brushes leave plenty of space in your makeup collection and cramped travel bags. Their bristles are soft and are cut by hand in order to ensure that they are gentle and shaped perfectly for flawless application. The brush handles are smooth and sleek for a comfortable grip.
7. Mokale Professional 4 Piece Eye Brushes Set
This set of eye makeup brushes includes four separate brushes, each of which has their own unique purpose. All of the brushes in this set are formulated for eyeshadow blending, smudging, and application. They are versatile brushes and are able to efficiently apply powder, cream, and liquid products.
Each of the four brushes in this Mokale set are crafted from synthetic hair without any animal hair. The bristles are non-porous to minimize fall out and feel soft, silky, and gentle on your skin.
6. Beauty Junkees Eye Makeup Brushes – eye makeup brushes must haves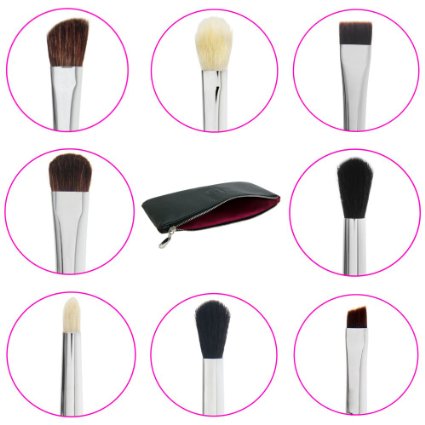 This set of eye makeup brushes from Beauty Junkees includes eight separate eye makeup brushes and a complimentary case to hold and protect the brushes in your makeup storage or while you're traveling. The set of brushes includes blending, defining, shading, and lining brushes to provide you with all of the essentials you need for a complete makeup look.
The eye makeup brushes are of a high professional quality. They never shed, even after you have had them for a long time. Each brush is crafted from soft bristles that feel velvety on your skin but are dense to ensure thorough and even product application.
5. Maybelline New York Expert Tools Brush 'n Comb

This double-sided brush from Maybelline New York is formulated specifically for eyebrow and eyelash maintenance. One side of the brush is a bristled brush that is designed to flawlessly shape and arch your eyebrows. The other side of the brush is a plastic comb that you can use to comb through your eyelashes to separate them evenly.
The bristled side of the brush is crafted from one hundred percent natural fiber bristles. These bristles are stiff in order to allow them to efficiently shape your eyebrows. However, they are still soft and never feel scratchy on your delicate skin.
4. Duo Eyebrow Brush by Keshima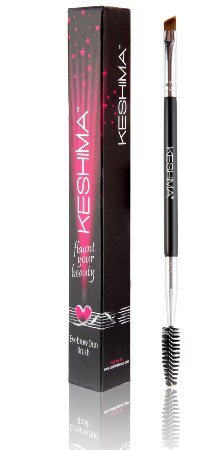 This double-ended brush from Keshima is designed to help you apply product to your eyebrows. One end of the brush is a small, angled brush that works well for filling in your eyebrows with product. The other end of the brush is a spool wand brush that you can use to shape and blend your eyebrows for a natural finish.
Both ends of this brush are formulated with high-quality synthetic hair. The handle of the brush is made of a lightweight but strong wood that feels smooth and comfortable in your hand during application.
3. e.l.f. Cosmetics Eye Shadow Brush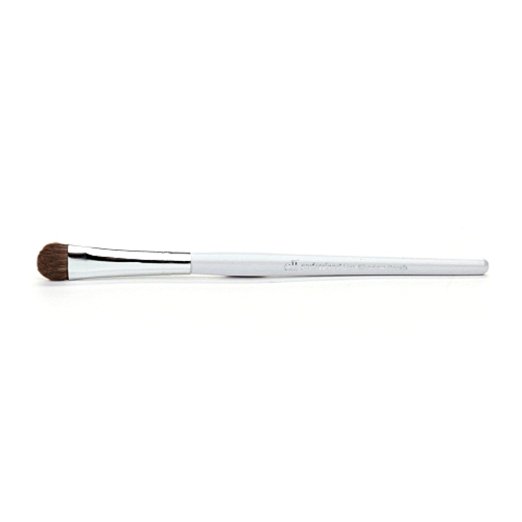 This brush from e.l.f. Cosmetics is an innovative eyeshadow brush that will be a transformative addition to your eye makeup brush collection. The brush has a rounded tip. Its bristles are soft and gentle on the delicate skin of your eyelids, but the brush is also dense and sturdy to allow thorough product application.
This eyeshadow brush is professionally designed and tested in order to ensure that each one is of the highest quality before it is sent out to a customer. The handle of the brush is smooth and is specially designed with an ergonomic shape that fits perfectly in your hand when you hold it in order to allow you to maintain maximum control of the brush while you apply your eye makeup.
2. Beauty Junkees Eyeliner Brush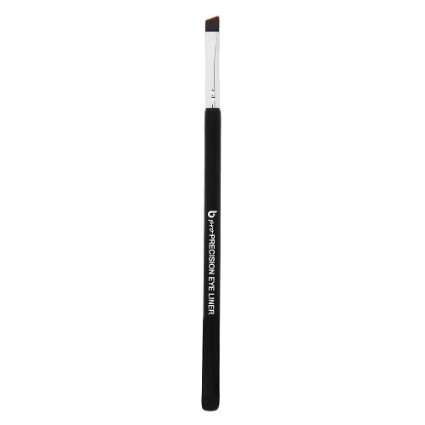 This brush from Beauty Junkees is designed for the application of liquid, cream, powder, and gel eyeliner products. The brush has a narrow and angled tip that allows you to effortlessly create sharp, precise lines of eyeliner on both your upper and lower lash lines.
The eyeliner brush is designed with bristles of the highest quality. They are soft in order to prevent irritating the delicate skin around your eyes. However, they are also dense and sturdy in order to prevent product fall out and ensure an intensely pigmented eyeliner application.
1. Real Techniques Starter Set – Best eye makeup brushes for beginners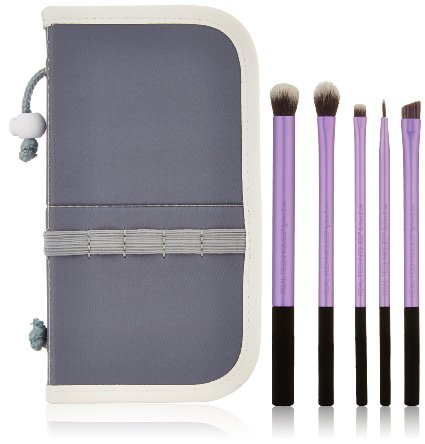 This affordable best selling eye makeup brush set from Real Techniques includes five essential brushes that you can use for your daily eye makeup application. The set includes a base shadow brush, a brow brush, a fine liner brush, an accent brush, and a crease brush.
The brushes are made out of one hundred percent synthetic taklon that feels soft, smooth, and dense. The eye makeup brush set also includes a carrying case for the brushes that hold each of them in place to prevent them from getting damaged or dirty.
Without good eye makeup brushes, you might as well give up on applying eye makeup altogether. Fortunately, there's no need to abandon your eye makeup dreams. Simply peruse this list to learn about the top ten best eye makeup brushes available on the current cosmetics market and find the brush (or brushes) you've always hoped for. If you're looking for the best makeup brush sets, please check it out here.