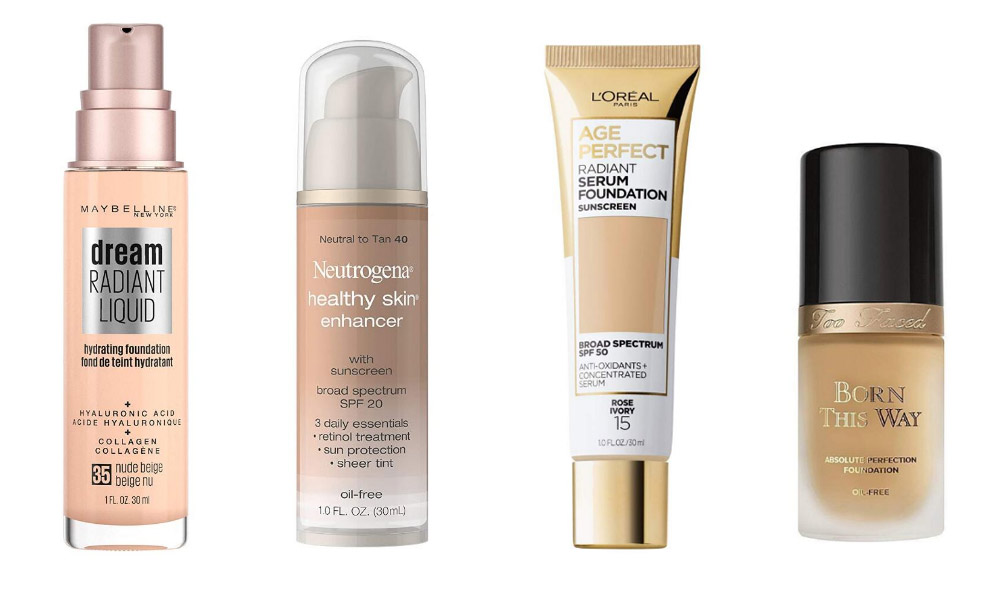 Being a woman in your forties is a liberating experience. You're no longer young and naïve, but you're also not nursing any joint pains or thinking about grandchildren yet. It's an in-between stage when you're mature but don't look elderly.
One tricky thing about this transition stage is styling yourself, specifically learning how to do your makeup. While your skin isn't as smooth and taut as it used to be decades ago, you don't necessarily see any sagging or deep wrinkles. There are a few lines here and there, but nothing too dramatic yet.
It's hard shopping for foundations when your skin is in this in-between stage. Most of them are targeted towards young women or those that are more mature in age.
So here's how to keep your eyes peeled for the best foundation at your age. Later on, we also have recommendations for the best ones you can use!
What your transitioning skin needs
Your skin probably isn't as youthful and glowy as it used to be. And while you don't have stark wrinkles and age spots yet, you're starting to feel like your skin is dry. You might also have noticed a few lines on your forehead or near your mouth when you smile.
Right now is the perfect time to incorporate anti-aging properties and ingredients in your makeup choices, especially foundation. Look for foundations formulated with ingredients that help delay the development of wrinkles. Some of these include vitamin A and hyaluronic acid.
You also want to use a foundation that will hydrate your skin. As you get older, your skin produces less sebum, leaving your skin more susceptible to dehydration. And flaky skin is never a sight to behold! Always opt for a foundation with a moisturizing effect and a dewy finish to avoid dryness.
Protection from the sun is a non-negotiable in your forties. The older your skin gets, the more sensitive it is to the sun. You need SPF all over your body, but it's important to shield your face from the sun's UV rays too. Many foundations today are formulated with SPF, so it's perfect for someone like you.
You might also love a foundation that can blur imperfections like fine lines and scars. These foundations fill in these lines to make your complexion come out smoother. Who says you can't get smooth, poreless skin when you're almost 50?
Still not sure how to find the best foundation for you? We've got your back. Here are six of the best foundations for women in their forties:
#1. L'Oreal Paris Age Perfect Radiant Serum Foundation
This L'Oreal foundation was designed explicitly for mature skin, so doubles as an anti-aging serum. It's filled with antioxidants, vitamins, and hydrating ingredients to plump up your skin and allow it to have a luminous glow. One of its key ingredients is vitamin B3, known to brighten and strengthen the skin.
The consistency of this foundation is smooth and silky, like a real serum. Because of this, it never settles in your fine lines and wrinkles, so your skin will always look flawless. The hydrating, dewy finish makes your skin look younger and healthier—you don't look a day over forty.
It also offers SPF 50 to protect you from the sun. This sun protection level is higher than most other foundations, so it's fantastic for older women who need extra UV protection while they're out.
There are 28 shades in this line, so you're sure to find the color that matches you perfectly.
#2. Shiseido Synchro Skin Self-Refreshing Foundation SPF 30
If you want to experiment with something more innovative yet sophisticated at the same time, check out this foundation by Shiseido.
This foundation was designed with responsive sensory technologies that allow the pigments of the foundation to sync with your skin to make it look as natural and seamless as possible. It also self-refreshes, making it look neat and freshly applied all day long.
It's infused with a smart-correcting powder that smoothens our your skin texture, which is perfect if you've noticed a few new smile lines or forehead lines across your face.
You can wear this while you're out and about without worrying about it melting off your face in the heat. It's made with a special ActiveForce technology that makes it sweat- and oil-resistant. It also has SPF 30, giving you extra protection when you wear it in the daytime.
The formula is gentle and is suitable for sensitive skin. It doesn't contain harsh sulfates, parabens, or hydroquinone. While it does have fragrances, it doesn't make up more than 1% of the product.
#3. Neutrogena Healthy Skin Enhancer
For a simple, everyday look, go for this Neutrogena foundation with a sheer tint. What's awesome about it is that it isn't just a makeup base—it's also a vitamin-rich retinol treatment that helps you fight the signs of skin aging.
The vitamins that make up this foundation's formula help prevent the onset of wrinkles and fine lines, keeping your skin smooth and younger-looking for as long as possible.
The formula is oil-free and non-comedogenic, which means it will never congest or clog your pores. It's terrific if you have acne-prone skin. It also helps protect you from developing lines and dark spots because of the sun, thanks to its broad-spectrum SPF 20.
#4. Maybelline Dream Radiant Liquid
If your biggest issue with your aging skin is dryness, you'll need a foundation like this from Maybelline. It's meant to hydrate your skin deeply so that your skin never looks dull, tired, and flaky.
This foundation is infused with hyaluronic acid, a humectant that draws moisture from the environment and into your skin barrier. It's amazing for replenishing your skin with hydration. There's also some collagen in the formula, which is wonderful for preventing wrinkles and lines from developing.
Your skin can stay feeling fresh and hydrated for up to 12 hours while using this foundation. The finish is lightweight, so it never feels cakey. That said, it still provides buildable medium to full coverage to conceal any imperfections and blemishes.
#5. Elizabeth Arden Flawless Finish Skincaring Foundation
Do your makeup and skincare at the same time with this nourishing, skin-loving foundation by Elizabeth Arden. It's made up of cult-favorite skincare ingredients, such as hyaluronic acid and vitamins C and E. These ingredients work to strengthen and hydrate your skin barrier while plumping up your complexion.
Even though it's meant to be moisturizing and nourishing, this foundation also works to control excess shine. That means it's perfect for all skin types, whether you have parched skin or deal with oiliness.
It provides buildable coverage, so you can go as sheer or as opaque as you wish. It lasts up to 24 hours on your skin, so it's excellent for extra-long days or events.
#6. Too Faced Born This Way Foundation
This foundation by Too Faced is enriched with hydrating botanicals and humectants to keep your skin plump and feeling fresh all day.
It's infused with coconut water and alpine rose extracts to increase your complexion's moisture levels while strengthening your skin at the same time. There's also some hyaluronic acid in it to smoothen out your skin and make it look younger and tauter over time.
This non-comedogenic foundation is long-wearing, so it's perfect for nights out. It also doesn't have any flashback or white cast issues, so you can take all the flash photos you want and feel confident that you'll look amazing.
Conclusion
While being in your forties may imply that you're getting older, it doesn't mean you should stop glamming up whenever you want to look extra nice. The foundations above will help you get the fab look that brings out your youthfulness and radiance.
Whether you're looking for anti-aging ingredients or fillers that will diminish those fine lines peeking through your skin, there's always a foundation for you. Check out the ones above to see which is most applicable to your top skin concerns as you near your golden years. Subscribe to get more beauty tips and shopping guides on herstylecode.com!