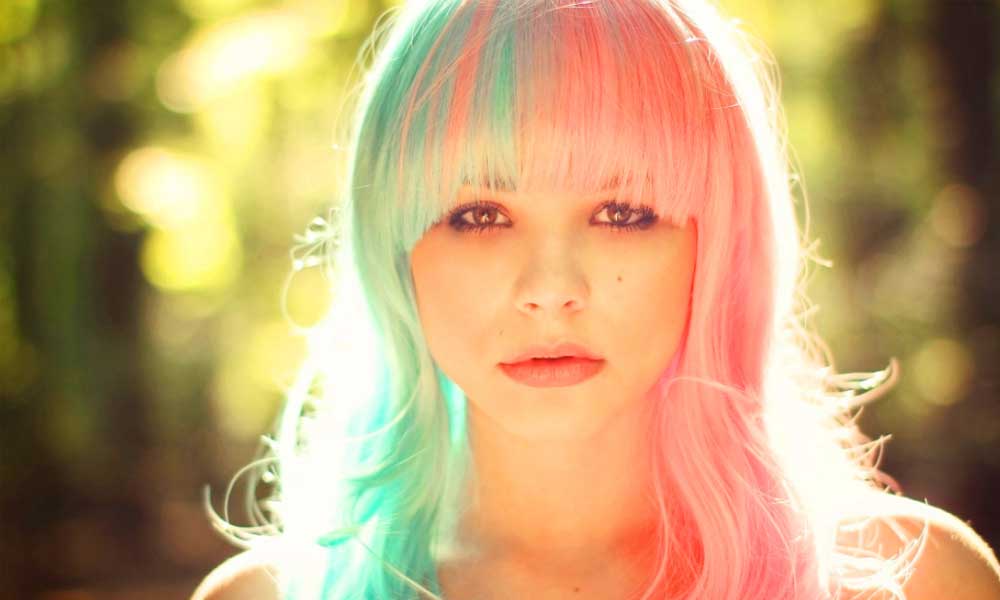 Best Color Protecting Shampoos
Many women regularly dye their hair for various reasons. Some women color their hair in order to cover up their gray roots. Others enjoy dying their hair to make a fashion statement or try something new. Regardless of why you dye it, coloring your hair requires an abundance of money, time, and effort. If you get your hair professionally dyed at a salon, you can expect to pay upwards of one hundred dollars every time you go in for an appointment. Even if you choose to dye your own hair at home, you will still likely spend hours of your day and plenty of careful effort to ensure that your colored hair looks gorgeous. Plus, dying your hair excessively frequently inflicts damage upon your natural hair and weakens it over time.
Due to the money and effort dying your hair requires as well as the havoc it can wreak on the strength of your natural hair, you probably don't want to have to re-color your hair too frequently. However, hair color tends to fade from your natural hair much more quickly than you would like. Fortunately, using shampoo that is specifically designed for use on color-treated hair significantly extends the lifespan of your hair color. These special shampoo formulas help your hair color remain vibrant and pigmented for as long as possible. (check out these hair color ideas)
8. Arvazalia Advanced Color Care System Shampoo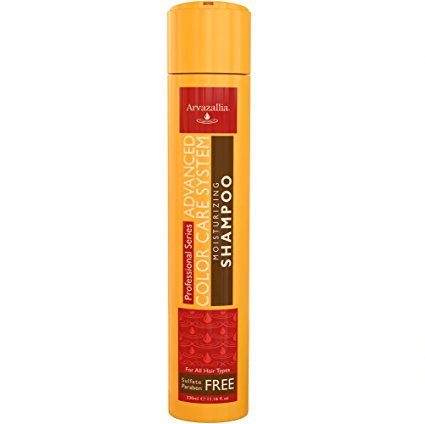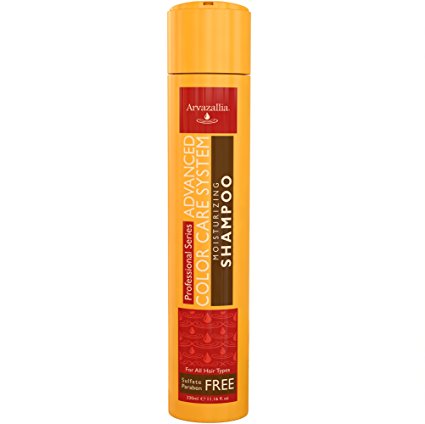 When you hair is dyed, it dries out more quickly and easily. This moisturizing shampoo from Arzavalia is designed to hydrate color-treated hair while simultaneously extending the lifespan of your color. It works to cleanse, hydrate, and moisturize your hair all at the same time without drying it or stripping out its color.
This shampoo has an extremely gentle formula and is infused with a blend of effective, non-harsh ingredients. These active ingredients include argan oil and macadamia oil that hydrate and restore your hair. The gentle formula includes no parabens, sulfates, or other harsh or harmful ingredients that can damage your hair.
7. Redken Color Extend Shampoo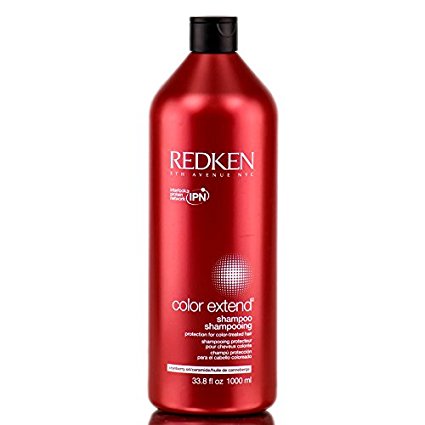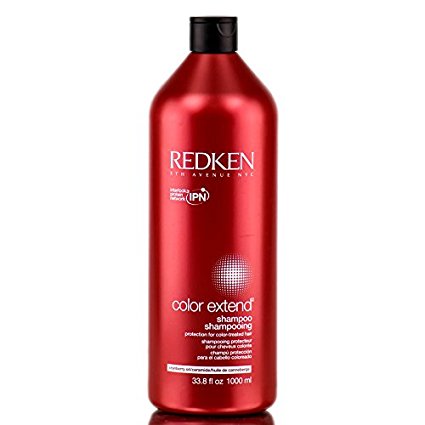 This special shampoo from Redken is designed specifically for use on color-treated hair in order to make the artificial color in your hair last for a longer period of time. It provides your hair with anti-fade protection and helps keep the color in your hair retain its vibrancy.
The shampoo's formula features a complex interlock protein network. The formula strengthens your hair as it gently protects and conditions it as well.
6. Wella Shampoo and Conditioner for Colored Hair

This shampoo and conditioner set from Wella work together to protect the artificial color in your hair. The formulas for both the shampoo and conditioner are infused with liquid crystal technology. This infusion features real diamond dust that adds shine and brilliance to your hair while keeping your strands supple and soft.
Along with liquid crystal technology, the shampoo and conditioner formulas includes an abundance of vitamin E. The vitamin E helps increase the richness of the formula and allows it to add much-needed hydration and moisture to your color-treated hair. This shampoo and conditioner duo works well with any color-treated hair, but it is designed specifically for coarse hair that benefits from extra shine and moisture.
5. Bed Head Colour Goddess Shampoo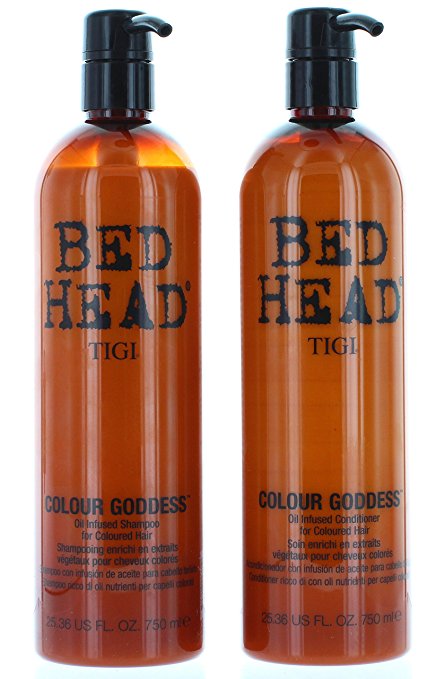 This duo from Bed Head includes two full-sized bottles: one bottle of shampoo and one bottle of conditioner. It has a delicious, light fragrance that adds a sweet scent to your hair without being too overpowering.
This shampoo and conditioner set is equipped with everything needed to help your hair retain the vibrancy of its artificial color. The formulas of the shampoo and conditioner are very effective at extending the lifespan of your color. However, they are not excessively heavy and do not weigh down your hair or make it oily like other similar formulas. The shampoo and conditioner set is guaranteed to keep your hair soft and its coloring brilliant.
4. L'Oreal Paris EverPure Color Care System Shampoo

Many shampoo formulas are packed with extremely harsh chemicals that dry out, weaken, and otherwise damage your hair. Any shampoo that contains these chemicals will likely cause the dye in your hair to dry out and fade.
This moisturizing shampoo from L'Oreal is formulated without any harsh chemicals, including sulfates. Instead, it includes infusions of natural botanicals, such as rosemary and juniper, that refresh your hair and prevent its color from fading too quickly. The shampoo is creamy without being too heavy in order to hydrate your hair without weighing it down. Plus, it includes special UV filters that prevent your hair dye from fading due to sun damage.
3. Biolage ColorLast Shampoo and Conditioner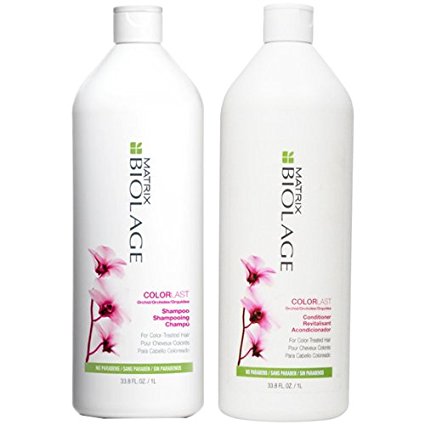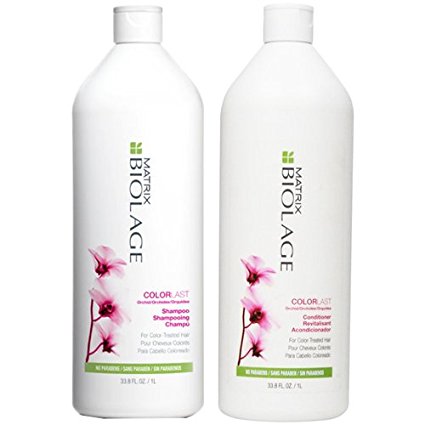 This duo set of shampoo and conditioner from Biolage has a broad range of benefits for your hair. It adds moisture to your hair, protects it from damage, keeps it shiny, and helps it remain saturated with color.
The formulas of this shampoo and conditioner set complement any type of hair from thin to thick and everything in between. It leaves your hair looking and feeling as soft and shiny as it does right after receiving a professional salon treatment. This shampoo and conditioner leaves your hair with long-lasting vibrant, true color and incomparably smooth silkiness.
2. ArtNaturals Argan Oil Shampoo and Conditioner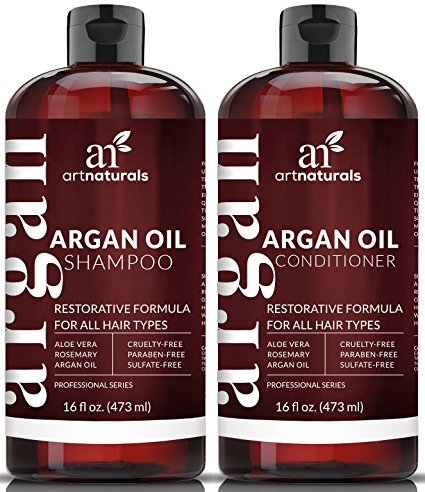 No matter how carefully you dye your hair at home or how top-quality the professional salon you visit is, your hair is inevitably damaged from the dying process. After you dye your hair, it is important to invest in a shampoo that keeps your color vibrant while it restores your hair's health and strength.
This set of shampoo and conditioner from ArtNaturals accomplishes both of these goals within one formula. The shampoo and conditioner feature one hundred percent natural ingredients, including argan oil and other oils and botanical extracts. These natural ingredients have nourishing and restorative properties that return your hair to its original strength while locking in your color treatment for long-lasting vibrancy. As an added bonus, the shampoo and conditioner formulas include no harsh chemicals, including parabens, and are completely cruelty-free.
1. Maple Holistics Argan Oil Shampoo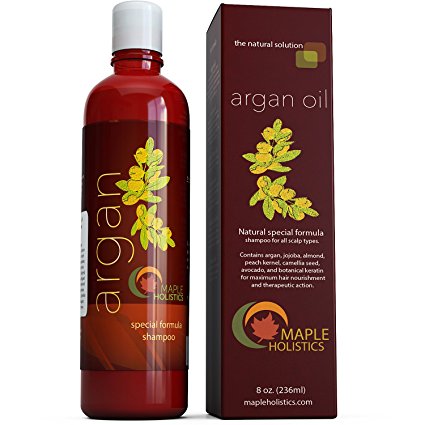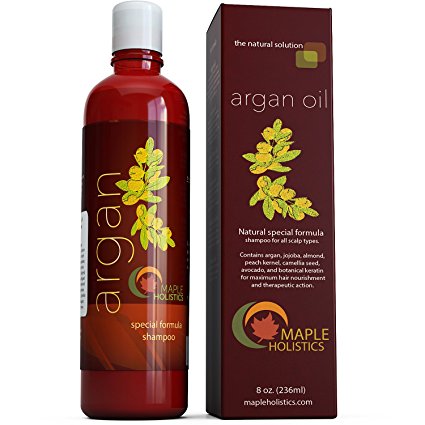 If you're searching for a nourishing and hydrating shampoo for color-treated hair, you've found it in this natural shampoo formula from Maple Holistics. Its formula includes six different oils, including argan oil, avocado oil, and jojoba oil. All of these different oils work to nourish your hair and seal in its color.
Along with multiple beneficial oils, this shampoo's formula includes a plethora of vitamins, such as vitamin A, vitamin B1, vitamin B2, vitamin D, and vitamin E. All of these vitamins serve a unique purpose for your hair.  They work together in order strengthen and hydrate your hair while locking your artificial color into your strands.
Also, checkout these top rated hair growth shampoos here.